| | |
| --- | --- |
| AceNotes Today | Thursday, March 18, 2021 |
COVID-19 Mythbuster
FACT: Drinking alcohol does NOT protect you against COVID-19. The harmful use of alcohol can cause many underlying health conditions, alcoholism, and mental health problems.
COVID-19 Vaccinations for 16 and Older at Ascension St. Vincent
Currently, the Indiana State Department of Health (ISDH) has identified the following Indiana residents as eligible to receive the COVID vaccine:
Healthcare Workers
First Responders
Teachers and school staff in pre-K through high school, child care centers, Head Start and Early Start programs
Licensed childcare providers, including center-based and family care providers
Age 16 and above
Specific groups of patients at highest risk of severe illness from COVID-19 who are identified by their healthcare provider are also eligible. These individuals will receive a unique registration link by text or email.
We will keep our patients updated as eligibility and administration sites broaden. Although currently there is no cost to patients for the vaccine, insurance information will be collected.
Vaccine Scheduling
The COVID-19 vaccine is available by appointment only. No walk-ins will be permitted. Once listed as eligible by the ISDH, go to www.ourshot.in.gov or by calling 211 or 1-866-211-9966 to schedule an appointment.
Detailed instructions
Go to www.ourshot.in.gov
Enter date of birth and attest to being over age 16
Enter zip code and Select Ascension St Vincent Vaccine Clinic location
Select appointment date and time
Complete demographic information including accurate date of birth
Confirm appointment
Ascension St Vincent Vaccine Clinic
For your convenience, the Ascension St. Vincent Vaccine Clinic is open 7 days a week and located on the hospital campus in the Manor Auditorium. When scheduling an appointment on the state website, select "Ascension St Vincent Evansville VAX" as site location. Directions: Enter the parking garage off of Bellemeade Avenue, immediately turn left and follow the directional signage to the designated vaccine clinic parking area. Patients should enter the clinic using the doors adjacent to the parking garage. Tri State Clinics patients are encouraged to call our office at 1-888-492-8722 with questions or for assistance with scheduling at the Ascension St. Vincent Vaccine Clinic.
Spencer County Residents
Spencer County Local Health Department
Heritage Hills High School
Perry County Residents
Perry County Local Health Department
Perry County Memorial Hospital
Posey County Residents
Posey County Local Health Department
Illinois Residents
Phase 1A: Healthcare workers, those in long term care facilities.
Phase 1B : Frontline essential workers, residents 65 years of age or older and under 65 with comorbidities.
Phase 1B+ : IL residents 16+ with disabilities or serious medical conditions. Higher education staff, gov workers, and media. Details and scheduling info at: https://coronavirus.illinois.gov/s/.
Kentucky Residents
Phase 1a: Long term care facilities, healthcare personnel
Phase 1b: First responders, anyone 70 or older, K-12 school personnel
Phase 1C : KY residents age 60+ AND 16 and older with serious medical conditions and essential workers
For locations and to schedule appointment go to: https://govstatus.egov.com/kentucky-vaccine-map or call the KY COVID-19 Hotline - (800) 722-5725 for more information.
Should you have any additional questions, please contact Ashley Chipps at ashley.chipps@ascension.org or Stacey Smith at stacey.smith1@ascension.org
Animal Behavior Expert to Give Crick Lecture Monday at 4:00pm
Dr. Ellen Furlong (Psychology, Illinois Wesleyan University) will deliver the Spring 2021 Crick Lecture in Cognitive Science and Neuroscience at 4:00pm Monday, March 22nd. Dr. Furlong is a renowned specialist on animal behavior (specializing in dogs and nonhuman primates), and her talk should be of broad interest. The title and abstract of Dr. Furlong's talk are listed below.
You can join us next Monday via the following link: https://evansville-edu.zoom.us/j/96575636017.
From Chimp to Chump: The deep origins of bad decisions
Despite our intelligence humans make many puzzling decisions—we compete when we should cooperate, risk when we should play it safe, and prefer receiving nothing to anything less than our perceived fair share. Why do we make such strange decisions? What are the psychological mechanisms underlying them? I will share some surprising insights my students, collaborators, and I have gained about these questions through our exploration of ape, monkey, and dog minds. Specifically I will discuss how evolution has shaped the way we reason, the mistakes we make, and why apparently irrelevant factors have such sway over our behavior.
Center for DEI & ABLE Present: Disabilities, Background and Culture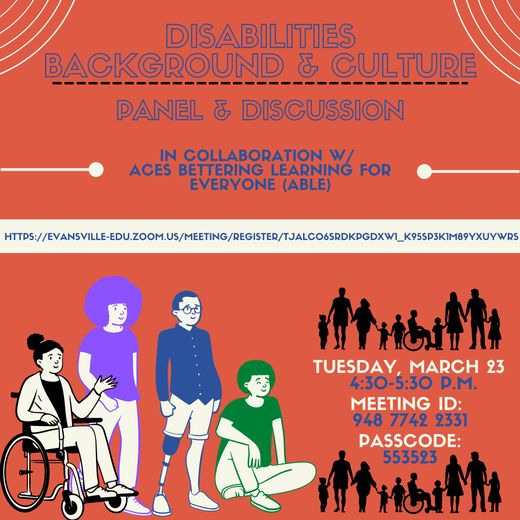 Disability is not inability. Join the Center for Diversity Equity and Inclusion in collaboration with ACES Bettering Learning for Everyone (ABLE) this Disability Awareness Month for a Disabilities, Background and Culture panel and open discussion on March 23rd at 4:30pm via Zoom.
You will hear from a group of current UE students from a range of backgrounds and identities, as well as have the opportunity to share your own thoughts and experiences. Students will discuss their lived experiences and share how the intersectionality of having a disability, individual cultures, and societal culture has impacted their experiences throughout life. This program serves as a safe, inclusive space to ask questions and tackle the stigma surrounding disabilities.
Please register for March 23rd: Disabilities, Background and Culture
Meeting ID: 948 7742 2331
Passcode: 553523
Closed Captioning Available
UE Music Concerto Competition on March 21 at 3:00 PM
The 2021 Vukovich Concerto Competition is on March 21 (Sun) at 3:00 PM. Due to the pandemic, the performance will not be open to any live audience. However, the performance will be live stream through the Department of Music YouTube Channel.
The Winner Announcement will hold through Zoom shortly after the last performer finishes the performance.
Meeting ID: 948 9245 7781
Passcode: GoAces!
This year, we have 12 musicians enter the competition to perform for you. The winner will have the opportunity to perform as a soloist with the University of Evansville Symphony Orchestra next year.
Please join us to cheer for your friends and colleagues.
University of Evansville Theatre's ZOOMBOX Series Presents DOG SEES GOD
The University of Evansville Theatre presents DOG SEES GOD, at 7:30 p.m., Friday, Mar. 19, and Saturday, Mar. 20, as part of ZOOMBOX, a student-directed play series on the online platform Zoom.
DOG SEES GOD: Confessions of a Teenage Blockhead co-opts the beloved children's characters from the Peanuts comic strip and introduces them as degenerate high school students. This "unauthorized parody" features angst-ridden teens facing the trials and traumas of adolescence in a brutally honest coming-of-age story. With crackling dialogue, Bert V. Royal's reimagined characters use heightened emotion and verbal fire to provoke pathos, as they confront the truly dark aspects of the murky waters which today's teens must navigate. Join us for this gritty look into the inner lives of characters you only thought you knew.
Gia Gleason, a senior stage management major, from Sellersburg Ind., directs DOG SEES GOD; Frank Ingalls, a first-year design and technology major, from Frisco, Texas, is the Zoom Environmental Designer; Luke Moran, a senior performance major, from Mount Vernon, Iowa, is the costume designer/stylist; Evan Lawson, a senior performance major, from Arvada, Colo., is the dramaturg; and Madison Wilson, a sophomore stage management major, from Fort Worth, Texas, is the stage manager.
The cast features Brody Ogle, a first-year performance major, from Owensboro Ky., as CB; Gabriel Smothers, a sophomore performance major, from Casper, Wyo., as Beethoven; Bryce Galvan, a sophomore performance major, from West Carrollton, Ohio, as Van; Madison G. Conway, a first-year performance major, from Jeffersonville, Ind., as CB's Sister; Avery Finn, a firstyear theatre studies major, from Terre Haute, Ind., as Van's Sister; Samantha Barklow, a first-year performance major, from Dubuque, Iowa, as Marcy; Allie Marie Wheeless, a first-year theatre management major, from Midland, Texas, as Tricia; McAllister Reed Stowell, a sophomore performance major, from Lakewood, Colo., as Matt.
Tickets are FREE, but registration is required. To secure your spot, visit www.uealumnionline.com.
Health Careers Forum 2021
The Center for Career Development and Exercise and Sports Science Club will be hosting the 2021 annual Health Careers Forum on March 31. The event will run from 6:00 to 8:00 pm. RSVPs are required by March 26 through Handshake and a Zoom link will be sent to join the forum.
Panelists will represent various healthcare fields such as Physical Therapy, Physician Assistant, Medical School, Professional Services, and Human Resources. Join us on March 31 to gain insight into future career paths, hear valuable advice, and make connections!
Disability Awareness Month/ Womxn's History Month Challenge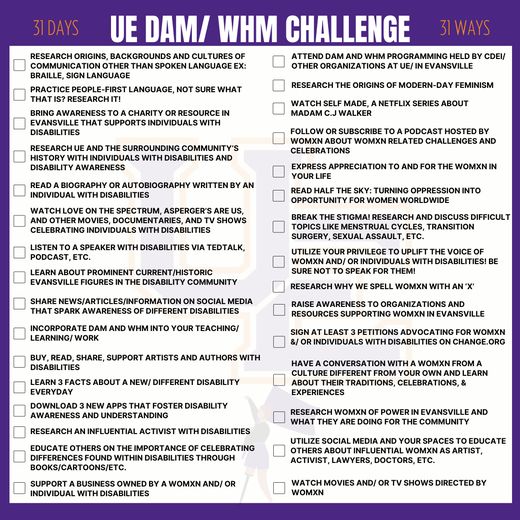 The month of March celebrates Disability Awareness Month and Womxn's History Month. Join the UE DAM/ WHM Challenge sponsored by the Center for Diversity, Equity and Inclusion! In this challenge you will find 31 ways for 31 days of Disability Awareness and Womxn's History Month to actively learn, engage, support, and uplift individual's with disabilities and womxn identifying individuals from Evansville and around the world. Items listed in the challenge can be done personally or in a social group! Hit the library and do some research on why we spell womxn with an 'x', the origins and culture of Sign Language and/ or grab a friend and binge Love on the Spectrum (available on Netflix!). However and whatever you do #DAM/WHMChallenge yourself! To make it extra fun, share what your doing on social media and be sure to tag us!
We can't wait to see the ways in which you all #DAM/WHMChallenge yourself!
Challenge Item List:
Research origins, backgrounds and cultures of communication other than spoken language ex: Braille, Sign Language
Practice People-first language, not sure what that is? Research it!
Bring awareness to a charity or resource in Evansville that supports individuals with disabilities
Research UE and the surrounding community's history with individuals with disabilities and disability awareness
Read a biography or autobiography written by an individual with disabilities
Watch Love on the Spectrum, Asperger's are us, and other movies documentaries and TV shows celebrating individuals with disabilities
Listen to a speaker with disabilities via TedTalk, Podcast, etc.
Learn about prominent current/historic Evansville figures in the disability community
Share news/articles/information on social media that spark awareness of different disabilities
Incorporate DAM and WHM into your teaching/ learning/ work
Buy, read, share, support artists and authors with disabilities
Learn 3 facts about a new/ different disability everyday
Download 3 new apps that foster disability awareness and understanding
Research an influential activist with disabilities
Educate others on the importance of celebrating differences found within disabilities through books/cartoons/etc.
Attend DAM and WHM programming held by CDEI/ other organizations at UE/ in Evansville
Research the origins of modern-day feminism
Watch Self Made, a Netflix series about Madam C.J Walker
Follow or subscribe to a podcast hosted by womxn about womxn related challenges and celebrations
Express appreciation to and for the womxn in your life
Read Half the Sky: Turning Oppression into Opportunity for Women Worldwide
Break the stigma! Research and discuss difficult topics like menstrual cycles, transition surgery, sexual assault, etc.
Utilize your privilege to uplift the voice of womxn and/ or individuals with disabilities! Be sure not to speak for them!
Research why we spell womxn with an 'x'
Raise awareness to organizations and resources supporting womxn in Evansville
Watch movies and/ or tv shows directed by womxn
Have a conversation with a womxn from a culture different from your own and learn about their traditions, celebrations, and experiences
Research womxn of power in Evansville and what they are doing for the community
Utilize social media and your spaces to educate others about influential womxn as artist, activist, lawyers, doctors, etc.
Support a business owned by a womxn and/ or individual with disabilities
Sign at least 3 petitions advocating for womxn and/ or individuals with disabilities on change.org/ other petition websites
Methodist Seminaries Fair
Are you called to professional ministry? Do you want to teach theology or Bible? Or is Christian faith a key part of your future work as a social worker, artist, musician, community organizer, or counselor? Then you should check out the virtual United Methodist Seminaries Fair on Thursday, March 25. Representatives from all 13 UMC-affiliated seminaries will be present, and as the graduate of a UMC-affiliated school, you may qualify for special scholarships.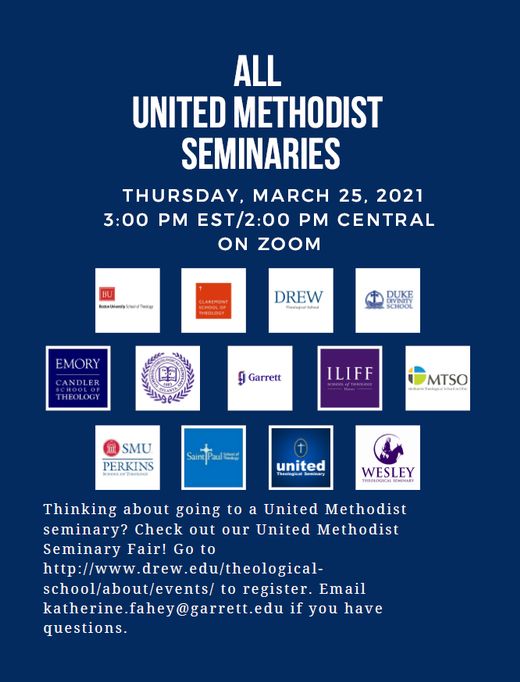 THE HUSTACE WORLD VIEW Paintings by Cedric Hustace
ART EXHIBIT IN KRANNERT GALLERY: THE HUSTACE WORLD VIEW
Paintings by
CEDRIC HUSTACE
February 21 – April 4, 2021
Public Reception for the Artist: Thursday, March 18, 2021, 6:30pm
This exhibit is part of the Emerging Contemporary Artist Lecture Series, sponsored by the Department of Art, with the generous support of the Efroymson Family Fund.
HEERF II Grant Distribution Authorization Now Open
HEERF II Emergency Grant funding is now available. All educationally related expenses are eligible for HEERF II funding and may be applied to current and/or future student account balances. Please be aware that funding is limited, and a valid 2020-21 Free Application for Federal Student Aid (FAFSA) submission is required for grant consideration. Grant recipients requesting a refund must have bank information on file as refunds will only be issued electronically via direct deposit.
Eligible students wishing to claim a portion of HEERF II grant funds are required to submit the HEERF II Grant Authorization and confirm bank account information. The deadline to accept these funds is April 15, 2021.
UE Theatre Salon Series Welcomed C. Touchet '11, Cypress Staelin '13, Stoli Stolnack '15, and Avery Reagan '17 for Panel Discussion on Lighting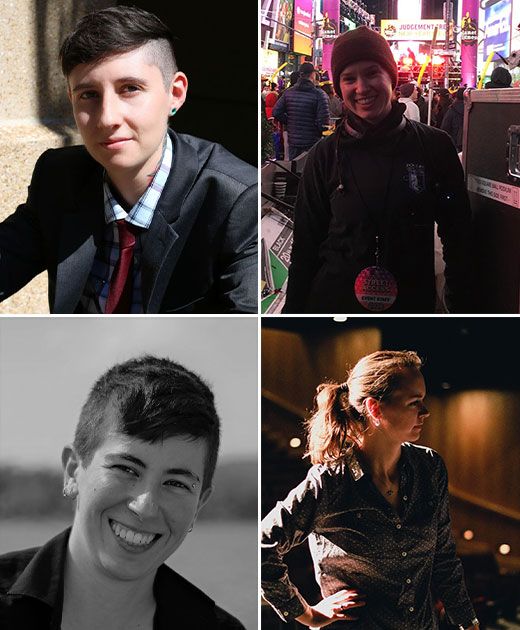 Another installment of the UET Salon Series was held on Wednesday, Mar. 10, with C. Touchet '11, Cypress Staelin '13, Stoli Stolnack '15, and Avery Reagan '17.
Touchet (top left) is currently the Instructor of Entertainment Lighting and Media Production at Louisiana State University (LSU) in Baton Rouge, Louisiana. They hold an MFA in Theatre, with a minor in Women's and Gender Studies, from LSU. In addition to teaching classes, they have been designing lighting and media for LSU Mainstage and Swine Palace for the last three years. Their additional credits include two seasons as the Festival Lighting Designer at the Texas Shakespeare Festival, two seasons as the Production Electrician at Texas Shakespeare Festival, Production Electrician at Utah Festival Opera and Musical Theatre, and Assistant Projection Designer for THE LARAMIE PROJECT at the Ford's Theatre in Washington, D.C. They have taught at The Santa Fe University of Art and Design and have freelanced at The Alley Theatre, Mildred's Umbrella Theatre, University of Houston, and New Aspect Design in Texas, Titan Theatre Company in New York City, and LSU Opera in Los Angeles.
Staelin (top right) graduated from UET in 2013 and moved to Chicago, where she worked as a stagehand across the city at a variety of theatres and production companies before moving to New York City, in 2015. Staelin freelanced for several Off-Broadway companies, as well as for television and events, before beginning to work with IATSE Local 1, in 2018. She now works primarily as both a stagehand and as an ETC programmer on network television, special events, and Broadway productions.
Stolnack (bottom left) is currently a NYC-based lighting designer and associate. Lighting design credits include: TERMINUS (Monk Parrots, NYTW's Next Door Series), QUEEN OF SPADES, STOMPING GROUNDS, and LOST LUGGAGE (Pavilion at The Glimmerglass Festival), and THE MISANTHROPE (Moliere in the Park). Assistant Designer credits include: UNDERGROUND RAILROAD GAME, THE LUCKY ONES, and DR. RIDE (Ars Nova), DANCE NATION and WIVES (Playwrights Horizons), BOESMAN and LENA (Signature Theater Center), FIRE IN DREAMLAND (The Public), SHOW BOAT and LA TRAVIATA (The Glimmerglass Festival), and WEST SIDE STORY (Atlanta Opera). Special effects work includes Assistant Special Effects Designer on BEETLEJUICE THE MUSICAL and effects crew member for New Year's Rockin' Eve 2018–2020. Stoli is also the lighting director for The Glimmerglass Festival in Cooperstown, New York.
After graduating UET in 2017, Reagan (bottom right) spent a summer with The Glimmerglass Festival. She decided to pursue graduate school and studied at the University of California, Irvine, under lighting designer Lonnie Alcaraz. While at UCI, she did as much freelance designer and assistant work as she could find, working as a theatrical, dance, and special event lighting designer. Reagan also worked at Soka University throughout her time in grad school, where she was a Lighting Supervisor. At the end of her time at UCI, she received the Hemsley Lighting internship and is currently working with them to organize this year's portfolio review. She will be continuing with the internship later this fall and early next winter/spring. During the pandemic, she has worked with an architectural lighting company. Post-COVID, she plans to continue her work with San Francisco Opera, NYC Ballet, and Alvin Ailey Dance Company. Most recently, Avery accepted a teaching position with UCI for this spring, where she will be teaching their Intro to Lighting class.
This semester, UE Theatre students will have the opportunity to experience over 25 workshops and salons with various professionals from the entertainment industry.
Crescent Magazine New Website
Be sure to check out the Crescent's brand-new website for monthly issues created by student reporters, designers, and photographers! The Crescent is now accepting content submissions and hiring for all positions. See website for more details. https://crescent.evansville.edu
Crescent Magazine is a monthly student magazine published six times during the academic year by and for the students of the University of Evansville. The magazine serves as an open forum for University of Evansville students, faculty, staff, administrators and alumni through its editorials, columns and letters to the editor. With a focus on student life, the magazine provides coverage of campus news, features and sports, and select local and general-interest items of interest to the audience. The Crescent's aim is to present relevant content in a fair, accurate and unbiased manner, to keep news items free of editorial comment, and to use editorial comment as a tool for informing and persuading through the use of factual information and opinion.
Crescent Magazine welcomes letters from UE students, faculty, staff, administrators and alumni, but material the CMEB regards as libelous, malicious and/or obscene will not be published. Letters should not exceed 250 words. For verification, letters must include the author's name, class standing or title and email address. Crescent Magazine does not print anonymous letters or those that cannot be verified. Letters will be edited as needed.
Crescent Magazine is committed to helping you bring your products and services to University of Evansville students and the UE campus community. To advertise in the Crescent Magazine or on the website email crescentmagazine@evansville.edu.
BIOL 100 Summer Online Course
Are you interested in taking a non-majors biology course with a lab this summer to fulfill one of your scientific literacy general education requirements? Then take BIOL 100 D01 – Fundamentals of Biology during Summer I (May 17 to June 18). Please contact Dale Edwards (de3) for more details.
Champion Ballroom Dance Teacher is Back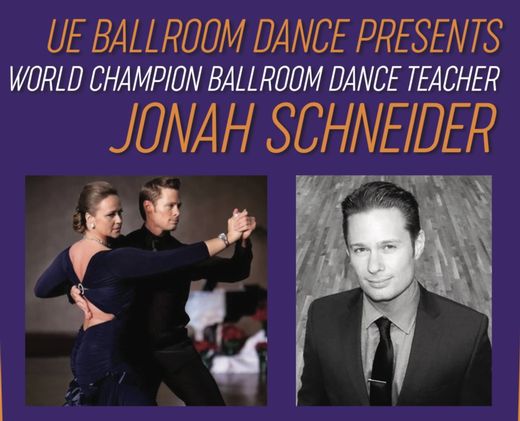 Champion Ballroom Dance Teacher is Back! Saturday, 3/27, Jonah Schneider returns to teach ballroom dance lessons to anyone interested! Ever wanted to learn Waltz, Swing, Cha Cha, Rumba, Fox Trot, Tango or more? He's teaching starting at 10am and going through 5:30pm in 45 minute blocks. First come, first serve. To sign up, text 812-449-1044 or email EL131. Private or group lessons available, masks required. All levels are welcome, no experience necessary! Final details sent upon RSVP.
Midterm Help - Online Drop-In Academic Peer Coaching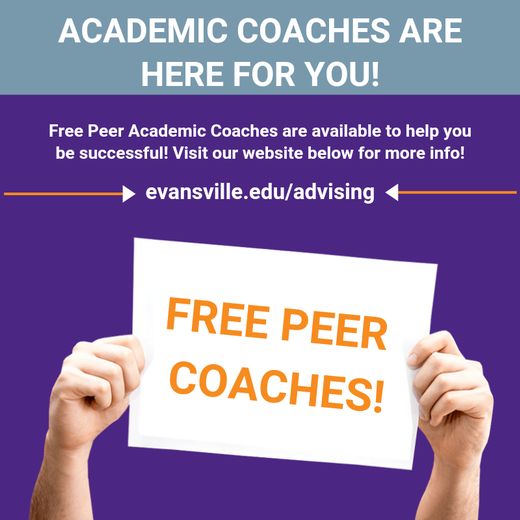 Feeling overwhelmed? Time management, study strategies, test preparation, organization, and school-life balance habits are important concepts to master. If you've found yourself struggling and you want someone to talk through the academic issues you're facing, the Academic Peer Coaches are available for drop-in coaching through Zoom!
Go here to see the online drop-in peer coaching schedule: https://www.evansville.edu/advising/academic-success-lab.cfm
Working with an academic coach can help you get your academic life back into balance and finish the semester strong.
Individual coaching is still available as well.
Questions? Contact Chad Hart at ch299@evansville.edu.
Draw Your Spirituality
Whether you are the next Monet or can only scribble a stick-figure, the Office of Religious Life needs your art! Take a normal old piece of 8.5x11 paper and draw what your spirituality looks like. Is your spirituality a swirl of colors or a single line? Does it look like a place or maybe a person? Is it a moment in time or a journey of many years? We want to see it all! Drop your masterpiece off at the Center for Diversity, Equity, & Inclusion in Ridgeway, and in April, we'll put it together with everyone else's to create a "quilt" for Neu Chapel. Students, faculty, and staff are all encouraged to participate. Contact the Director of Religious Life (jk383) with questions.
Survey for Psyc246: Parent Relationships and Home Life
Please participate in our short, 5–10-minute survey examining young adults past and current home life and understanding your relationship with your parents. Any adult, age 18 or older, is eligible to participate. For a chance to win a $15 Amazon gift card, please contact us with your email address after your completion of the survey. If your professor is offering extra credit for taking this survey, please email Kalli Britton, Anna Brough, or Haylee Harmeyer your name, your class and class section number, and your professor's name after taking the survey.
Link to survey:
https://uoebusiness.co1.qualtrics.com/jfe/form/SV_bDU63f8xrCLhUSG
Kalli Britton, kb477@evansville.edu
Anna Brough, ab695@evansville.edu
Haylee Harmeyer, hh161@evansville.edu
International Club is Recruiting Volunteers
Dear Aces,
The International Club is holding an event called International Food Festival on the 26th of March. We are currently looking for volunteers to assist in decorations and setting up for the event. We would be very grateful if you could assist us. Volunteers are more than welcome to stay longer to help. The hours will count as volunteer hours and there will be souvenirs Here's a link you can sign up! Thank you so much in advance for helping us.
https://www.signupgenius.com/go/9040D4AA4AE2BA6FA7-international
Deadline Extended: 2021-22 Dr. Marvin E. Hartig Memorial Scholarship
UPDATE: The scholarship deadline has been extended to Friday, May 7.
Family, friends and loved ones of the late Dr. Marvin E. Hartig are pleased to announce the application process for the Dr. Marvin E. Hartig Memorial Scholarship. This scholarship is dedicated to the loving memory of Dr. Hartig, Dean of Evansville College's Evening College in 1967, and administrator for the Center for Advanced Study, director of the Evansville chapter of the American Institute of Banking (AIB), and the international student advisor. In 1974, Dr. Hartig was appointed Dean of Academic Services. He retired in 1984 after serving his alma mater for thirty-five years and passed away in 2007.
This scholarship will be awarded annually to a deserving sophomore student. Preference will be given to a student working while being enrolled as a full-time student. International students are encouraged to apply.
Eligible students for the 2021-2022 Hartig Memorial Scholarship will be sophomores in the 2021-2022 academic year.
Download the 2021-22 Dr. Marvin E. Hartig Memorial Scholarship application.
Deadline: Please return all materials to the Office of Student Financial Services by April 23, 2021. The decision will be announced by June 14, 2021.
Questions: Amanda Wood, administrative assistant to the Office of Student Financial Services, at aw505@evansville.edu or 812-488-2364
Health Risk Assessment for 2020-2021 Medical Plan Year
UE Health Risk Assessments Update:
For those enrolled in the University's HRA Medical Plan, due to the pandemic and current COVID restrictions, offering onsite health screenings has not been a possibility during the 2020-2021 plan year. Due to these circumstances, medical premiums in 2021-2022 will not be affected by your health screening status. If you wish to complete your health risk assessment in order to earn HRA credits for the current plan year, please schedule your appointment with the onsite medical clinic no later than May 1 at 888-492-8722 or message your clinic nurse through the Ascension Patient Portal. Should you have any additional questions or concerns, please contact Ashley Chipps at ac375@evansville.edu.
UE Intramurals Now Offering ESports Gaming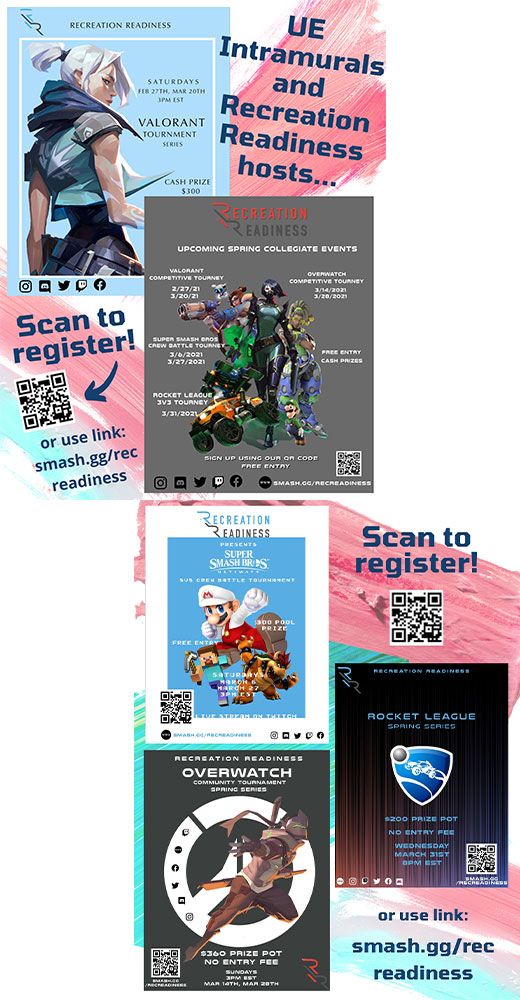 The UE Intramural program is excited to announce upcoming E Sports tournaments provided through Recreation Readiness!
Recreation Readiness invites your esports teams to participate in our FREE spring series and compete against top teams across the country to win cash prizes! For rules and eligibility please contact @ah519 or recreationreadiness@gmail.com.
Games Offered: Valorant, Overwatch, 5v5 Super Smash Bros Crew Battles, 3v3 Rocket League
Schedule:
Sat. 2/27 at 3 pm EST: Valorant ($300 prize pool)
Sat. 3/6 at 3 pm EST: Smash Bros ($300)
Sun. 3/14 at 3 pm EST: Overwatch ($360)
Sat. 3/20 at 3 pm EST: Valorant ($300)
Sat. 3/27 at 3 pm EST: Smash Bros ($300)
Sun. 3/28 at 3 pm EST: Overwatch ($360)
Wed. 3/31 at at 8 pm EST: Rocket League ($200)
Registration closes at Noon EST on day of event
Also, you can find updated info at all social media outlets below:
Discord: bit.ly/recreadiness
Twitch: twitch.tv/recreadiness
Instagram: instagram.com/recreationreadiness
Website: recreationreadiness.org
After registering to play, please contact @ah519 for further instructions.
Recreation Readiness Founders - Jason Gant and Mark Comer
Submit your 2021-2022 FAFSA
File the 2021-22 FAFSA by April 15 at https://www.fafsa.ed.gov
Continuing students should file the 2021-22 Free Application for Federal Student Aid (FAFSA) to apply for federal, state and University need-based financial aid, including all federal student loans. UE's FAFSA code is 001795.
Filing by April 15 is essential for Indiana residents to receive state aid, and highly recommended for all.
Questions regarding the FAFSA should be directed to the Student Financial Services (Olmsted Administration Hall, Room 105) at 812-488-2364.
Contribute to AceNotes
To have content considered for inclusion in AceNotes, please submit a Marketing Request Form. Deadline for submission to AceNotes is 10:00 a.m. on the requested date of publication. Only articles concerning UE related/sponsored activities will be accepted. Articles submitted to AceNotes may be edited for length and clarity. Submitter contact information is at the end of each article.