| | |
| --- | --- |
| AceNotes Today | Wednesday, March 17, 2021 |
COVID-19 Mythbuster
FACT: Drinking alcohol does NOT protect you against COVID-19. The harmful use of alcohol can cause many underlying health conditions, alcoholism, and mental health problems.
COVID-19 Vaccinations for 16 and Older at Ascension St. Vincent
Currently, the Indiana State Department of Health (ISDH) has identified the following Indiana residents as eligible to receive the COVID vaccine:
Healthcare Workers
First Responders
Teachers and school staff in pre-K through high school, child care centers, Head Start and Early Start programs
Licensed childcare providers, including center-based and family care providers
Age 16 and above
Specific groups of patients at highest risk of severe illness from COVID-19 who are identified by their healthcare provider are also eligible. These individuals will receive a unique registration link by text or email.
We will keep our patients updated as eligibility and administration sites broaden. Although currently there is no cost to patients for the vaccine, insurance information will be collected.
Vaccine Scheduling
The COVID-19 vaccine is available by appointment only. No walk-ins will be permitted. Once listed as eligible by the ISDH, go to www.ourshot.in.gov or by calling 211 or 1-866-211-9966 to schedule an appointment.
Detailed instructions
Go to www.ourshot.in.gov
Enter date of birth and attest to being over age 16
Enter zip code and Select Ascension St Vincent Vaccine Clinic location
Select appointment date and time
Complete demographic information including accurate date of birth
Confirm appointment
Ascension St Vincent Vaccine Clinic
For your convenience, the Ascension St. Vincent Vaccine Clinic is open 7 days a week and located on the hospital campus in the Manor Auditorium. When scheduling an appointment on the state website, select "Ascension St Vincent Evansville VAX" as site location. Directions: Enter the parking garage off of Bellemeade Avenue, immediately turn left and follow the directional signage to the designated vaccine clinic parking area. Patients should enter the clinic using the doors adjacent to the parking garage. Tri State Clinics patients are encouraged to call our office at 1-888-492-8722 with questions or for assistance with scheduling at the Ascension St. Vincent Vaccine Clinic.
Spencer County Residents
Spencer County Local Health Department
Heritage Hills High School
Perry County Residents
Perry County Local Health Department
Perry County Memorial Hospital
Posey County Residents
Posey County Local Health Department
Illinois Residents
Phase 1A: Healthcare workers, those in long term care facilities.
Phase 1B : Frontline essential workers, residents 65 years of age or older and under 65 with comorbidities.
Phase 1B+ : IL residents 16+ with disabilities or serious medical conditions. Higher education staff, gov workers, and media. Details and scheduling info at: https://coronavirus.illinois.gov/s/.
Kentucky Residents
Phase 1a: Long term care facilities, healthcare personnel
Phase 1b: First responders, anyone 70 or older, K-12 school personnel
Phase 1C : KY residents age 60+ AND 16 and older with serious medical conditions and essential workers
For locations and to schedule appointment go to: https://govstatus.egov.com/kentucky-vaccine-map or call the KY COVID-19 Hotline - (800) 722-5725 for more information.
Should you have any additional questions, please contact Ashley Chipps at ashley.chipps@ascension.org or Stacey Smith at stacey.smith1@ascension.org
UE Music Concerto Competition on March 21 at 3:00 PM
The 2021 Vukovich Concerto Competition is on March 21 (Sun) at 3:00 PM. Due to the pandemic, the performance will not be open to any live audience. However, the performance will be live stream through the Department of Music YouTube Channel.
The Winner Announcement will hold through Zoom shortly after the last performer finishes the performance.
Meeting ID: 948 9245 7781
Passcode: GoAces!
This year, we have 12 musicians enter the competition to perform for you. The winner will have the opportunity to perform as a soloist with the University of Evansville Symphony Orchestra next year.
Please join us to cheer for your friends and colleagues.
University of Evansville Theatre's ZOOMBOX Series Presents DOG SEES GOD
The University of Evansville Theatre presents DOG SEES GOD, at 7:30 p.m., Friday, Mar. 19, and Saturday, Mar. 20, as part of ZOOMBOX, a student-directed play series on the online platform Zoom.
DOG SEES GOD: Confessions of a Teenage Blockhead co-opts the beloved children's characters from the Peanuts comic strip and introduces them as degenerate high school students. This "unauthorized parody" features angst-ridden teens facing the trials and traumas of adolescence in a brutally honest coming-of-age story. With crackling dialogue, Bert V. Royal's reimagined characters use heightened emotion and verbal fire to provoke pathos, as they confront the truly dark aspects of the murky waters which today's teens must navigate. Join us for this gritty look into the inner lives of characters you only thought you knew.
Gia Gleason, a senior stage management major, from Sellersburg Ind., directs DOG SEES GOD; Frank Ingalls, a first-year design and technology major, from Frisco, Texas, is the Zoom Environmental Designer; Luke Moran, a senior performance major, from Mount Vernon, Iowa, is the costume designer/stylist; Evan Lawson, a senior performance major, from Arvada, Colo., is the dramaturg; and Madison Wilson, a sophomore stage management major, from Fort Worth, Texas, is the stage manager.
The cast features Brody Ogle, a first-year performance major, from Owensboro Ky., as CB; Gabriel Smothers, a sophomore performance major, from Casper, Wyo., as Beethoven; Bryce Galvan, a sophomore performance major, from West Carrollton, Ohio, as Van; Madison G. Conway, a first-year performance major, from Jeffersonville, Ind., as CB's Sister; Avery Finn, a firstyear theatre studies major, from Terre Haute, Ind., as Van's Sister; Samantha Barklow, a first-year performance major, from Dubuque, Iowa, as Marcy; Allie Marie Wheeless, a first-year theatre management major, from Midland, Texas, as Tricia; McAllister Reed Stowell, a sophomore performance major, from Lakewood, Colo., as Matt.
Tickets are FREE, but registration is required. To secure your spot, visit www.uealumnionline.com.
Purple Goes Green for St. Patrick's Day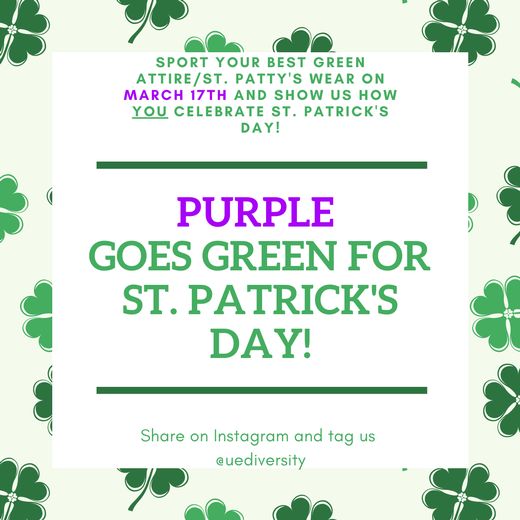 Join the Center for Diversity Equity and Inclusion in going green for St. Patrick's Day! Sport your best green or wear your best St. Patrick's Day wear in celebration of St. Patrick's Day and Irish American Heritage Month!
Share on Instagram and tag us @uediveristy or on Facebook at UE Center for Diversity Equity and Inclusion!
Lets go for the gold and turn this campus green for the day!
Center for DEI Presents: Girlfriend Hour #3
Body crazy, curvy, wavy! Our third Girlfriend Hour will be held on Wednesday, March 17th at 12pm via Zoom and the topic is- 'Body-ody-ody: Body Positivity and Its Challenges'. Lead by Liz McCormick, LCSW a Counselor here at the University of Evansville Counseling Services! This Lunch and Learn serves as a confidence boosting, safe space to discuss breaking society beauty ideals and uplifting body representation.
March is Womxn's History Month! Throughout the month of March the Center for Diversity Equity and Inclusion will host a Lunch and Learn series entitled the Girlfriend Hour every Wednesday around 12pm on Zoom! Please check Acenotes and our social media for weekly topics and links! All identifying individuals are welcome to come, share and learn from our weekly speakers.
Please register for- March 17th: Body-ody-ody: Body Positivity and Its Challenges- here: https://evansville-edu.zoom.us/meeting/register/tJ0ufuqopzkjH9atCydGyIfZ0n4oS8ctMekJ
Meeting ID: 993 9309 2952
Password: 622542
**Link is not the same for all Girlfriend Hours. Please use the specified link/ Meeting ID and Password listed for the specific week!**
UE Connect Mentoring Program Lunch & Learn
The campus community is invited to join us for a UE Connect Virtual Lunch and Learn on Thursday, March 18th at 12:15 pm with Ben Joergens as he presents Financial Empowerment. This is a great opportunity for soon-to-be-graduates to learn about financial basics. This session covers:
Setting Financial Goals – Learn to set SMART Goals
Basics of Banking – Top reasons to utilize a financial institution
Budgeting – Learn how to be in control of your money!
Saving Money – Who doesn't want more money?
Credit – The in's and out's of understanding and building a good credit history and score
Investments – Start investing when you're young so you can retire early!
Join Zoom Meeting
Thursday, March 18th at 12:15 pm
https://evansville-edu.zoom.us/j/97928758246
Meeting ID: 979 2875 8246
Health Careers Forum 2021
The Center for Career Development and Exercise and Sports Science Club will be hosting the 2021 annual Health Careers Forum on March 31. The event will run from 6:00 to 8:00 pm. RSVPs are required by March 26 through Handshake and a Zoom link will be sent to join the forum.
Panelists will represent various healthcare fields such as Physical Therapy, Physician Assistant, Medical School, Professional Services, and Human Resources. Join us on March 31 to gain insight into future career paths, hear valuable advice, and make connections!
This Week in Religious Life
SPIRITUAL OPPORTUNITIES
1. The Muslim and Christian Prayer Rooms in Neu Chapel are available for use 24/7. Contact the Muslim Student Association for keycard access to the Muslim Prayer Room.
2. The Center for Diversity, Equity, and Inclusion now offers a spirituality library, including books from eleven different religious traditions. From Brene Brown to Thich Nhat Hanh, and from Christian bead prayers to self-reiki, there is something for everyone. Stop by the Center's conference room to borrow one for yourself.
3. Newman Night on Wednesday, March 17, is St. Patrick's Day themed! Come by the Newman House (1901 Lincoln Ave) 7-9PM for a bonfire.
4. Sign up for Newman Club's Busy Person Retreat from March 28th to March 31st. https://docs.google.com/forms/d/e/1FAIpQLSe7x4W5QTwP7zqOHp3q7jNvTjmNcF9ETUtbVeJ1xao420oirg/viewform?vc=0&c=0&w=1&flr=0
CHRISTIAN WORSHIP
Due to pandemic restrictions, UE will not offer Protestant worship in Neu Chapel this semester. There are several churches in walking distance of our campus that are open for virtual and/or in-person worship on Sundays.
Methodist Temple (masks required)
8:30am, traditional worship
11:00am, contemporary worship
Redeemer Lutheran (masks required)
8:00am and 10:30am, traditional worship
A Catholic Mass is offered each Sunday in Neu Chapel at 1PM.
Pep and Vim 5K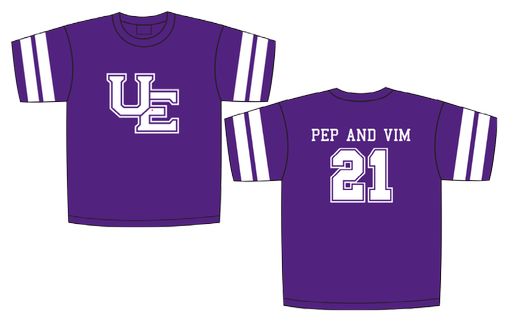 Calling all Aces!
Pep and Vim, UE's day of giving, is on Friday, April 16, and we're excited to celebrate UE's Spirit Week with you with an opportunity to participate in our Pep & Vim 5K Run.
This year, the UE Alumni Association is hosting a virtual 5K run/walk to promote a healthy lifestyle while we are all separated during this pandemic. And, by participating in Pep and Vim's Virtual 5K, you'll also be giving back to our beloved university.
The 5K can be completed indoors or outdoors between April 9 and April 16. Participants will enter their times online. All participates will receive an exclusive Pep and Vim T-shirt if registered by April 1*.
We have special pricing for students to make the opportunity more affordable while you run for UE! Your fee includes a gift to the UEvansville Fund and will also count towards the 1,854 gifts needed to unlock the Alumni Board's $25,000 Pep & Vim Challenge Gift!
On Friday, April 16, Pep and Vim, post a video or picture wearing your Pep and Vim t-shirt on social media using #UEPepandVim and #AcesGiveBack to help spread the word.
Be sure to stay tuned – Pep & Vim is all about inspiring change, so we will be rolling out many different philanthropic opportunities that may ignite your UE passion. Together, with Pep and Vim, we can make an impact while being active and connected across the globe.
If you have any questions, please contact alumni@evansville.edu.
Go Aces!
The Pep and Vim Committee
*Racers who register after April 1 will still get a T-shirt as long as supplies last, but you may not receive it before the April 16.
Register: www.uealumnionline.com/pepandvim5K
Disability Awareness Month/ Womxn's History Month Challenge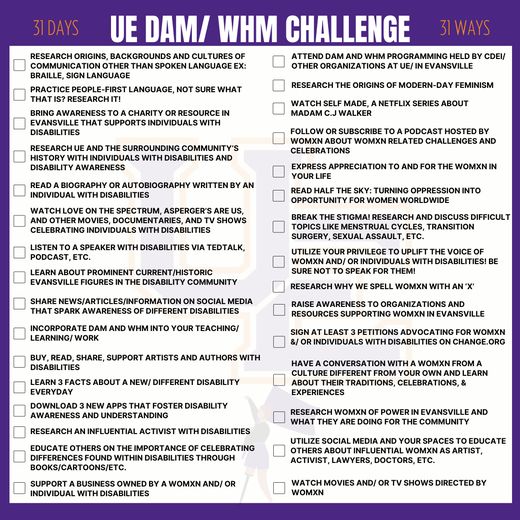 The month of March celebrates Disability Awareness Month and Womxn's History Month. Join the UE DAM/ WHM Challenge sponsored by the Center for Diversity, Equity and Inclusion! In this challenge you will find 31 ways for 31 days of Disability Awareness and Womxn's History Month to actively learn, engage, support, and uplift individual's with disabilities and womxn identifying individuals from Evansville and around the world. Items listed in the challenge can be done personally or in a social group! Hit the library and do some research on why we spell womxn with an 'x', the origins and culture of Sign Language and/ or grab a friend and binge Love on the Spectrum (available on Netflix!). However and whatever you do #DAM/WHMChallenge yourself! To make it extra fun, share what your doing on social media and be sure to tag us!
We can't wait to see the ways in which you all #DAM/WHMChallenge yourself!
Challenge Item List:
Research origins, backgrounds and cultures of communication other than spoken language ex: Braille, Sign Language
Practice People-first language, not sure what that is? Research it!
Bring awareness to a charity or resource in Evansville that supports individuals with disabilities
Research UE and the surrounding community's history with individuals with disabilities and disability awareness
Read a biography or autobiography written by an individual with disabilities
Watch Love on the Spectrum, Asperger's are us, and other movies documentaries and TV shows celebrating individuals with disabilities
Listen to a speaker with disabilities via TedTalk, Podcast, etc.
Learn about prominent current/historic Evansville figures in the disability community
Share news/articles/information on social media that spark awareness of different disabilities
Incorporate DAM and WHM into your teaching/ learning/ work
Buy, read, share, support artists and authors with disabilities
Learn 3 facts about a new/ different disability everyday
Download 3 new apps that foster disability awareness and understanding
Research an influential activist with disabilities
Educate others on the importance of celebrating differences found within disabilities through books/cartoons/etc.
Attend DAM and WHM programming held by CDEI/ other organizations at UE/ in Evansville
Research the origins of modern-day feminism
Watch Self Made, a Netflix series about Madam C.J Walker
Follow or subscribe to a podcast hosted by womxn about womxn related challenges and celebrations
Express appreciation to and for the womxn in your life
Read Half the Sky: Turning Oppression into Opportunity for Women Worldwide
Break the stigma! Research and discuss difficult topics like menstrual cycles, transition surgery, sexual assault, etc.
Utilize your privilege to uplift the voice of womxn and/ or individuals with disabilities! Be sure not to speak for them!
Research why we spell womxn with an 'x'
Raise awareness to organizations and resources supporting womxn in Evansville
Watch movies and/ or tv shows directed by womxn
Have a conversation with a womxn from a culture different from your own and learn about their traditions, celebrations, and experiences
Research womxn of power in Evansville and what they are doing for the community
Utilize social media and your spaces to educate others about influential womxn as artist, activist, lawyers, doctors, etc.
Support a business owned by a womxn and/ or individual with disabilities
Sign at least 3 petitions advocating for womxn and/ or individuals with disabilities on change.org/ other petition websites
Methodist Seminaries Fair
Are you called to professional ministry? Do you want to teach theology or Bible? Or is Christian faith a key part of your future work as a social worker, artist, musician, community organizer, or counselor? Then you should check out the virtual United Methodist Seminaries Fair on Thursday, March 25. Representatives from all 13 UMC-affiliated seminaries will be present, and as the graduate of a UMC-affiliated school, you may qualify for special scholarships.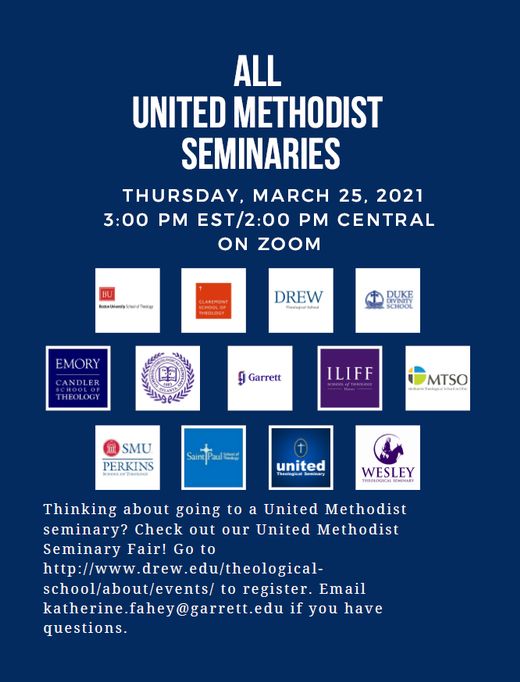 Champion Ballroom Dance Teacher is Back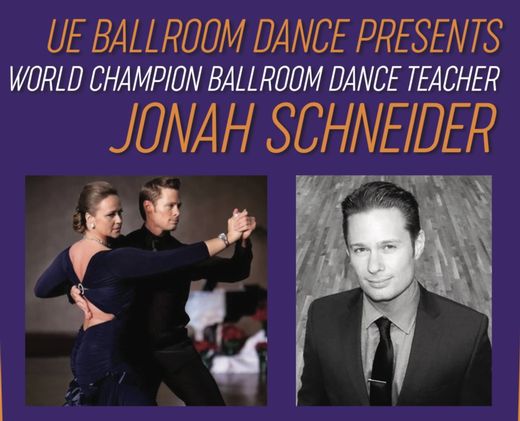 Champion Ballroom Dance Teacher is Back! Saturday, 3/27, Jonah Schneider returns to teach ballroom dance lessons to anyone interested! Ever wanted to learn Waltz, Swing, Cha Cha, Rumba, Fox Trot, Tango or more? He's teaching starting at 10am and going through 5:30pm in 45 minute blocks. First come, first serve. To sign up, text 812-449-1044 or email EL131. Private or group lessons available, masks required. All levels are welcome, no experience necessary! Final details sent upon RSVP.
Solution Station Wednesday - Need Help?
Do you need help with something and you're not sure who to ask on campus? Come by the Solution Station table in Ridgway this Wednesday from 11:00 AM to 1:00 PM and ask us! If we don't know the answer, we'll know who does! We're here to help you find solutions to issues you're facing. Let us help.
Bonus - Need a UE planner to help you stay organized? Come by the table - we're giving them away!
Questions? Contact Chad Hart at ch299@evansville.edu.
Midterm Help - Online Drop-In Academic Peer Coaching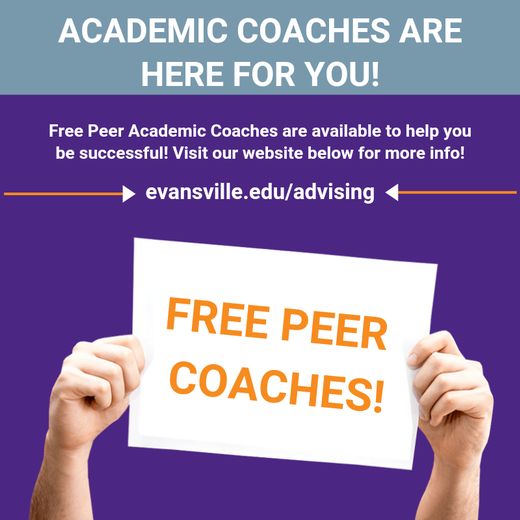 Feeling overwhelmed? Time management, study strategies, test preparation, organization, and school-life balance habits are important concepts to master. If you've found yourself struggling and you want someone to talk through the academic issues you're facing, the Academic Peer Coaches are available for drop-in coaching through Zoom!
Go here to see the online drop-in peer coaching schedule: https://www.evansville.edu/advising/academic-success-lab.cfm
Working with an academic coach can help you get your academic life back into balance and finish the semester strong.
Individual coaching is still available as well.
Questions? Contact Chad Hart at ch299@evansville.edu.
SAI Sells Good Luck Candy Grams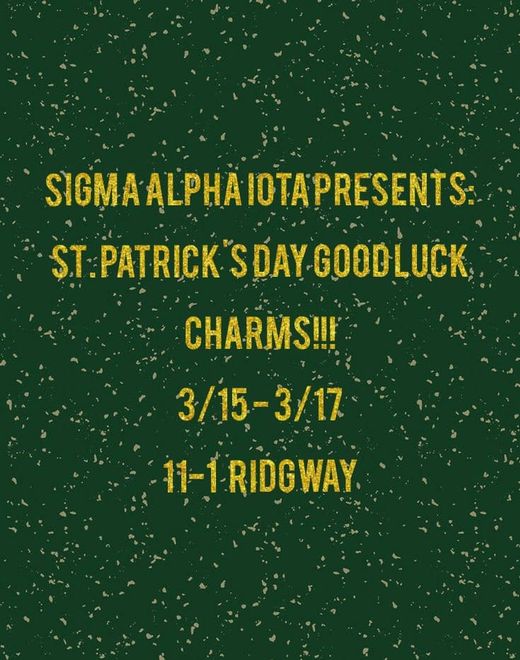 As the spring fundraiser for our chapter, Sigma Alpha Iota will be selling candy grams in advance of St. Patrick's Day from Monday the 15th through Wednesday the 17th from 11 to 1 pm. From a table in Ridgway, we will be selling individually wrapped bags of candy and will offer the opportunity for buyers to write a note to a person of their choice. Buy one as a sweet pick-me-up during midterms, or get one for a friend!
Draw Your Spirituality
Whether you are the next Monet or can only scribble a stick-figure, the Office of Religious Life needs your art! Take a normal old piece of 8.5x11 paper and draw what your spirituality looks like. Is your spirituality a swirl of colors or a single line? Does it look like a place or maybe a person? Is it a moment in time or a journey of many years? We want to see it all! Drop your masterpiece off at the Center for Diversity, Equity, & Inclusion in Ridgeway, and in April, we'll put it together with everyone else's to create a "quilt" for Neu Chapel. Students, faculty, and staff are all encouraged to participate. Contact the Director of Religious Life (jk383) with questions.
Call for Nominations: Dean of Students Leadership Awards
Call for Nominations: Dean of Students Leadership Awards
Nominations are now being accepted for consideration of The Howard S. Rosenblatt "Dean of Students Leadership Awards." These awards will be presented at the 28th Annual Leadership Awards Reception scheduled for April 22, 2021 (details of reception will follow at a later date). Invitations will be prepared by the Center for Student Engagement.
Awards are presented in the following categories:
Student Organization Advisor of the Year
Student Organization of the Year
Student Leader of the Year
Over 80% of UE students participate in at least one student organization or program. These organizations are successful because of the commitment of the student leaders and the advisors who give freely of their time and support. The recipients of these awards are selected based on their commitment to the University of Evansville as well as the development and success of their efforts within their chosen student organization.
The deadline for nominations is March 26, 2021. Submit your nomination.
Nomination/Application - Howard S. Rosenblatt Dean of Students Leadership Awards
If you have any questions, please contact the Vice President for Student Affairs/Dean of Students office at 812-488-2500 or by e-mail via cb131@evansville.edu.
Thank you in advance for celebrating our student leaders' achievements!
Summer Sessions Payment Plan
Summer session courses can be added to your monthly payment plan now with no additional set-up fee. If your student is enrolling in summer courses, anticipated summer charges can be included in the spring semester payment plan and the plan extended through May (for Summer 1 charges) or June (Summer 2 charges). The tuition rate for Summer 2021 is $570 per credit hour. Fees per summer term include a $50 registration fee and a $35 technology fee. Online courses are assessed a $50 online course fee. Payment arrangements are due prior to the start of the summer term.
Students should contact the Office of Student Financial Services no later than Reading/Study Day, April 30, 2021 to determine if financial aid is available for their summer courses.
To modify your current payment plan to include summer, contact the cashiers in the Office of Student Financial Services at 812-488-2565.
Beavers Offered AI Ethics Fellowship at Pitt
Professor of Philosophy, Tony Beavers, has been offered a fellowship at the Center for Philosophy of Science at the University of Pittsburgh for this coming fall. He will be working on the ethical implications of artificial intelligence systems, addressing issues that come with deep learning and machine learning techniques, such as bias, reliability and trust of diagnostic systems, prediction and profiling, while working on a theory that supports ethical algorithms to correct for issues in such systems. This is a continuation of work started by Beavers when on an NEH Digital Humanities fellowship at Indiana University during the 2008-2009 academic year and at the NEH Institute for Advanced Topics in the Digital Humanities held at the Institute for Pure and Applied Mathematics at UCLA in 2010.
Alondra Vazquez Named MVC Player of the Weekparker Helps UE Move into Top 10 in Final Round
Carson Parker had the low round of the day for the University of Evansville men's golf team, who rose two spots in the final rankings to finish in 9th place at the Bobby Nichols Intercollegiate.
Parker recorded his top effort of the 3-day tournament, shooting a 1-over 73 to finish in a tie for 50th place with a final tally of 226. Prior to Tuesday, Parker's low score was a 75 in Sunday's opening round. In a strong effort for the duration of the event, Spencer Wagner finished atop the UE squad, earning a tie for 15th place with his 216. He finished at even par for the tournament. After recording identical 1-under rounds of 71 to open play, Wagner carded a 76 on Tuesday.
Behind him was Isaac Rohleder. His round on Tuesday checked in at a 76 to put his final score at a 5-over 221. He tied for 32nd with his low round coming in day one – an even 72. Jessie Brumley rounded out the Aces' top three. A 74 in the third round saw Brumley wrap up the intercollegiate with a 9-over 225. He tied for 46th.
Two strokes behind Parker's tally was Henry Kiel, who finished with a total of 228 over the three rounds of play.
Evansville took 9th place on the team side. UE jumped from 11th place to a top ten finish with a score of 887. UE is next in action on April 5-6 at the Murray State Invitational.
Alondra Vazquez Named MVC Player of the Week
A huge series sweep over Southern Illinois was not the only big news of the week for the University of Evansville volleyball team. On Tuesday – Purple Aces junior Alondra Vazquez was named the Missouri Valley Conference Player of the Week for her efforts against the Salukis.
Vazquez had a spectacular week of action in leading the Aces to the two league victories. The junior recorded an average of 5.57 kills and 4.43 digs per set while accumulating four service aces, six block assists and one solo. On top of that, she hit a strong .327 in the victories.
The outside hitter opened the weekend with a 22-kill, 19-dig effort. In the win, Vazquez hit .290 while posting a solo block and four block assists. Two service aces also finished off her stat sheet. On Monday, Vazquez put forth another excellent contest, registering 17 kills and 12 digs. She had a pair of block assists and two service aces. Vazquez hit .385 in the winning effort.
She sits alone at the top of the MVC offensive rankings with 4.32 kills per set. Her average ranks 33rd in the nation while her total of 268 kills is 15th in the country. She has a total of 871 attempts in 2021, which also leads the Valley and is fifth in the nation. Perhaps even more impressive – she has accumulated 231 digs, ranking 73rd in the NCAA.
A trip to Illinois State is up next for the Aces, who face the Redbirds on Sunday and Monday in a pair of 4 p.m. contests.
Contribute to AceNotes
To have content considered for inclusion in AceNotes, please submit a Marketing Request Form. Deadline for submission to AceNotes is 10:00 a.m. on the requested date of publication. Only articles concerning UE related/sponsored activities will be accepted. Articles submitted to AceNotes may be edited for length and clarity. Submitter contact information is at the end of each article.