| | |
| --- | --- |
| AceNotes Today | Tuesday, March 16, 2021 |
COVID-19 Vaccinations for 16 and Older at Ascension St. Vincent
Currently, the Indiana State Department of Health (ISDH) has identified the following Indiana residents as eligible to receive the COVID vaccine:
Healthcare Workers
First Responders
Teachers and school staff in pre-K through high school, child care centers, Head Start and Early Start programs
Licensed childcare providers, including center-based and family care providers
Age 16 and above
Specific groups of patients at highest risk of severe illness from COVID-19 who are identified by their healthcare provider are also eligible. These individuals will receive a unique registration link by text or email.
We will keep our patients updated as eligibility and administration sites broaden. Although currently there is no cost to patients for the vaccine, insurance information will be collected.
Vaccine Scheduling
The COVID-19 vaccine is available by appointment only. No walk-ins will be permitted. Once listed as eligible by the ISDH, go to www.ourshot.in.gov or by calling 211 or 1-866-211-9966 to schedule an appointment.
Detailed instructions
Go to www.ourshot.in.gov
Enter date of birth and attest to being over age 16
Enter zip code and Select Ascension St Vincent Vaccine Clinic location
Select appointment date and time
Complete demographic information including accurate date of birth
Confirm appointment
Ascension St Vincent Vaccine Clinic
For your convenience, the Ascension St. Vincent Vaccine Clinic is open 7 days a week and located on the hospital campus in the Manor Auditorium. When scheduling an appointment on the state website, select "Ascension St Vincent Evansville VAX" as site location. Directions: Enter the parking garage off of Bellemeade Avenue, immediately turn left and follow the directional signage to the designated vaccine clinic parking area. Patients should enter the clinic using the doors adjacent to the parking garage. Tri State Clinics patients are encouraged to call our office at 1-888-492-8722 with questions or for assistance with scheduling at the Ascension St. Vincent Vaccine Clinic.
Spencer County Residents
Spencer County Local Health Department
Heritage Hills High School
Perry County Residents
Perry County Local Health Department
Perry County Memorial Hospital
Posey County Residents
Posey County Local Health Department
Illinois Residents
Phase 1A: Healthcare workers, those in long term care facilities.
Phase 1B : Frontline essential workers, residents 65 years of age or older and under 65 with comorbidities.
Phase 1B+ : IL residents 16+ with disabilities or serious medical conditions. Higher education staff, gov workers, and media. Details and scheduling info at: https://coronavirus.illinois.gov/s/.
Kentucky Residents
Phase 1a: Long term care facilities, healthcare personnel
Phase 1b: First responders, anyone 70 or older, K-12 school personnel
Phase 1C : KY residents age 60+ AND 16 and older with serious medical conditions and essential workers
For locations and to schedule appointment go to: https://govstatus.egov.com/kentucky-vaccine-map or call the KY COVID-19 Hotline - (800) 722-5725 for more information.
Should you have any additional questions, please contact Ashley Chipps at ashley.chipps@ascension.org or Stacey Smith at stacey.smith1@ascension.org
University of Evansville Theatre's ZOOMBOX Series Presents DOG SEES GOD
The University of Evansville Theatre presents DOG SEES GOD, at 7:30 p.m., Friday, Mar. 19, and Saturday, Mar. 20, as part of ZOOMBOX, a student-directed play series on the online platform Zoom.
DOG SEES GOD: Confessions of a Teenage Blockhead co-opts the beloved children's characters from the Peanuts comic strip and introduces them as degenerate high school students. This "unauthorized parody" features angst-ridden teens facing the trials and traumas of adolescence in a brutally honest coming-of-age story. With crackling dialogue, Bert V. Royal's reimagined characters use heightened emotion and verbal fire to provoke pathos, as they confront the truly dark aspects of the murky waters which today's teens must navigate. Join us for this gritty look into the inner lives of characters you only thought you knew.
Gia Gleason, a senior stage management major, from Sellersburg Ind., directs DOG SEES GOD; Frank Ingalls, a first-year design and technology major, from Frisco, Texas, is the Zoom Environmental Designer; Luke Moran, a senior performance major, from Mount Vernon, Iowa, is the costume designer/stylist; Evan Lawson, a senior performance major, from Arvada, Colo., is the dramaturg; and Madison Wilson, a sophomore stage management major, from Fort Worth, Texas, is the stage manager.
The cast features Brody Ogle, a first-year performance major, from Owensboro Ky., as CB; Gabriel Smothers, a sophomore performance major, from Casper, Wyo., as Beethoven; Bryce Galvan, a sophomore performance major, from West Carrollton, Ohio, as Van; Madison G. Conway, a first-year performance major, from Jeffersonville, Ind., as CB's Sister; Avery Finn, a firstyear theatre studies major, from Terre Haute, Ind., as Van's Sister; Samantha Barklow, a first-year performance major, from Dubuque, Iowa, as Marcy; Allie Marie Wheeless, a first-year theatre management major, from Midland, Texas, as Tricia; McAllister Reed Stowell, a sophomore performance major, from Lakewood, Colo., as Matt.
Tickets are FREE, but registration is required. To secure your spot, visit www.uealumnionline.com.
Wellness Day Yoga Tuesday at Noon - Sign up in Advance
Join the Center for Student Engagement and UE Fitness Center for a Wellness Day yoga class!
Ridgway East Terrace Lawn
March 16 - Noon-1pm
Limited space space available. Advance sign-ups are requested in UEngage, though we will take walk-ups if space allows. Masks will be worn by all participants.
Purple Goes Green for St. Patrick's Day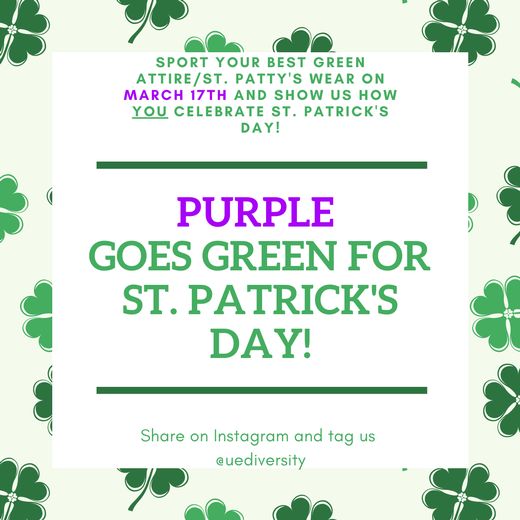 Join the Center for Diversity Equity and Inclusion in going green for St. Patrick's Day! Sport your best green or wear your best St. Patrick's Day wear in celebration of St. Patrick's Day and Irish American Heritage Month!
Share on Instagram and tag us @uediveristy or on Facebook at UE Center for Diversity Equity and Inclusion!
Lets go for the gold and turn this campus green for the day!
Center for DEI Presents: Girlfriend Hour #3
Body crazy, curvy, wavy! Our third Girlfriend Hour will be held on Wednesday, March 17th at 12pm via Zoom and the topic is- 'Body-ody-ody: Body Positivity and Its Challenges'. Lead by Liz McCormick, LCSW a Counselor here at the University of Evansville Counseling Services! This Lunch and Learn serves as a confidence boosting, safe space to discuss breaking society beauty ideals and uplifting body representation.
March is Womxn's History Month! Throughout the month of March the Center for Diversity Equity and Inclusion will host a Lunch and Learn series entitled the Girlfriend Hour every Wednesday around 12pm on Zoom! Please check Acenotes and our social media for weekly topics and links! All identifying individuals are welcome to come, share and learn from our weekly speakers.
Please register for- March 17th: Body-ody-ody: Body Positivity and Its Challenges- here: https://evansville-edu.zoom.us/meeting/register/tJ0ufuqopzkjH9atCydGyIfZ0n4oS8ctMekJ
Meeting ID: 993 9309 2952
Password: 622542
**Link is not the same for all Girlfriend Hours. Please use the specified link/ Meeting ID and Password listed for the specific week!**
UE Connect Mentoring Program Lunch & Learn
The campus community is invited to join us for a UE Connect Virtual Lunch and Learn on Thursday, March 18th at 12:15 pm with Ben Joergens as he presents Financial Empowerment. This is a great opportunity for soon-to-be-graduates to learn about financial basics. This session covers:
Setting Financial Goals – Learn to set SMART Goals
Basics of Banking – Top reasons to utilize a financial institution
Budgeting – Learn how to be in control of your money!
Saving Money – Who doesn't want more money?
Credit – The in's and out's of understanding and building a good credit history and score
Investments – Start investing when you're young so you can retire early!
Join Zoom Meeting
Thursday, March 18th at 12:15 pm
https://evansville-edu.zoom.us/j/97928758246
Meeting ID: 979 2875 8246
This Week in Religious Life
SPIRITUAL OPPORTUNITIES
1. The Muslim and Christian Prayer Rooms in Neu Chapel are available for use 24/7. Contact the Muslim Student Association for keycard access to the Muslim Prayer Room.
2. The Center for Diversity, Equity, and Inclusion now offers a spirituality library, including books from eleven different religious traditions. From Brene Brown to Thich Nhat Hanh, and from Christian bead prayers to self-reiki, there is something for everyone. Stop by the Center's conference room to borrow one for yourself.
3. Newman Night on Wednesday, March 17, is St. Patrick's Day themed! Come by the Newman House (1901 Lincoln Ave) 7-9PM for a bonfire.
4. Sign up for Newman Club's Busy Person Retreat from March 28th to March 31st. https://docs.google.com/forms/d/e/1FAIpQLSe7x4W5QTwP7zqOHp3q7jNvTjmNcF9ETUtbVeJ1xao420oirg/viewform?vc=0&c=0&w=1&flr=0
CHRISTIAN WORSHIP
Due to pandemic restrictions, UE will not offer Protestant worship in Neu Chapel this semester. There are several churches in walking distance of our campus that are open for virtual and/or in-person worship on Sundays.
Methodist Temple (masks required)
8:30am, traditional worship
11:00am, contemporary worship
Redeemer Lutheran (masks required)
8:00am and 10:30am, traditional worship
A Catholic Mass is offered each Sunday in Neu Chapel at 1PM.
Disability Awareness Month/ Womxn's History Month Challenge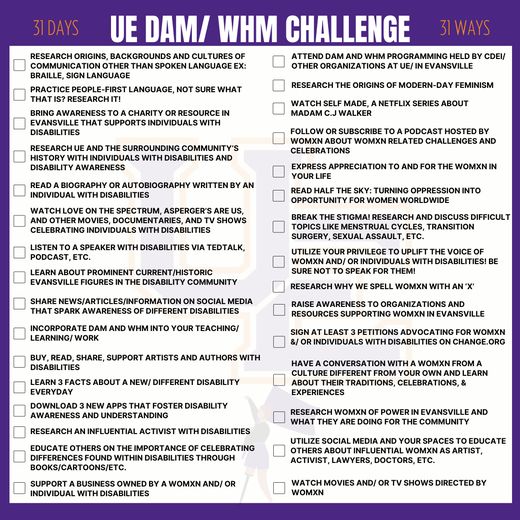 The month of March celebrates Disability Awareness Month and Womxn's History Month. Join the UE DAM/ WHM Challenge sponsored by the Center for Diversity, Equity and Inclusion! In this challenge you will find 31 ways for 31 days of Disability Awareness and Womxn's History Month to actively learn, engage, support, and uplift individual's with disabilities and womxn identifying individuals from Evansville and around the world. Items listed in the challenge can be done personally or in a social group! Hit the library and do some research on why we spell womxn with an 'x', the origins and culture of Sign Language and/ or grab a friend and binge Love on the Spectrum (available on Netflix!). However and whatever you do #DAM/WHMChallenge yourself! To make it extra fun, share what your doing on social media and be sure to tag us!
We can't wait to see the ways in which you all #DAM/WHMChallenge yourself!
Challenge Item List:
Research origins, backgrounds and cultures of communication other than spoken language ex: Braille, Sign Language
Practice People-first language, not sure what that is? Research it!
Bring awareness to a charity or resource in Evansville that supports individuals with disabilities
Research UE and the surrounding community's history with individuals with disabilities and disability awareness
Read a biography or autobiography written by an individual with disabilities
Watch Love on the Spectrum, Asperger's are us, and other movies documentaries and TV shows celebrating individuals with disabilities
Listen to a speaker with disabilities via TedTalk, Podcast, etc.
Learn about prominent current/historic Evansville figures in the disability community
Share news/articles/information on social media that spark awareness of different disabilities
Incorporate DAM and WHM into your teaching/ learning/ work
Buy, read, share, support artists and authors with disabilities
Learn 3 facts about a new/ different disability everyday
Download 3 new apps that foster disability awareness and understanding
Research an influential activist with disabilities
Educate others on the importance of celebrating differences found within disabilities through books/cartoons/etc.
Attend DAM and WHM programming held by CDEI/ other organizations at UE/ in Evansville
Research the origins of modern-day feminism
Watch Self Made, a Netflix series about Madam C.J Walker
Follow or subscribe to a podcast hosted by womxn about womxn related challenges and celebrations
Express appreciation to and for the womxn in your life
Read Half the Sky: Turning Oppression into Opportunity for Women Worldwide
Break the stigma! Research and discuss difficult topics like menstrual cycles, transition surgery, sexual assault, etc.
Utilize your privilege to uplift the voice of womxn and/ or individuals with disabilities! Be sure not to speak for them!
Research why we spell womxn with an 'x'
Raise awareness to organizations and resources supporting womxn in Evansville
Watch movies and/ or tv shows directed by womxn
Have a conversation with a womxn from a culture different from your own and learn about their traditions, celebrations, and experiences
Research womxn of power in Evansville and what they are doing for the community
Utilize social media and your spaces to educate others about influential womxn as artist, activist, lawyers, doctors, etc.
Support a business owned by a womxn and/ or individual with disabilities
Sign at least 3 petitions advocating for womxn and/ or individuals with disabilities on change.org/ other petition websites
Methodist Seminaries Fair
Are you called to professional ministry? Do you want to teach theology or Bible? Or is Christian faith a key part of your future work as a social worker, artist, musician, community organizer, or counselor? Then you should check out the virtual United Methodist Seminaries Fair on Thursday, March 25. Representatives from all 13 UMC-affiliated seminaries will be present, and as the graduate of a UMC-affiliated school, you may qualify for special scholarships.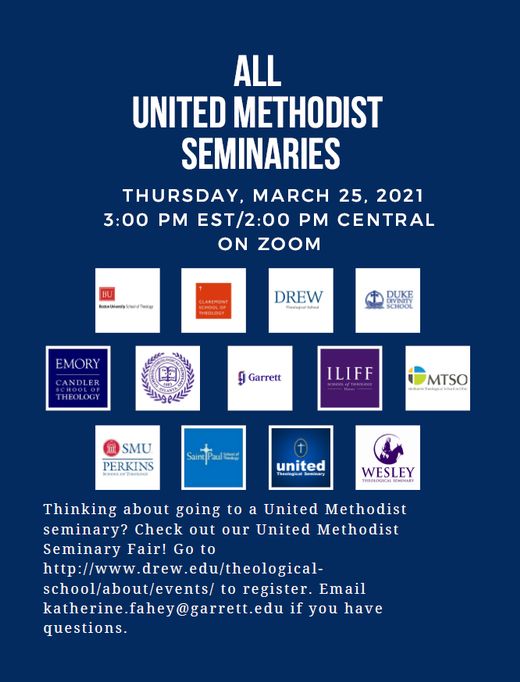 THE HUSTACE WORLD VIEW Paintings by Cedric Hustace
ART EXHIBIT IN KRANNERT GALLERY: THE HUSTACE WORLD VIEW
Paintings by
CEDRIC HUSTACE
February 21 – April 4, 2021
Public Reception for the Artist: Thursday, March 18, 2021, 6:30pm
This exhibit is part of the Emerging Contemporary Artist Lecture Series, sponsored by the Department of Art, with the generous support of the Efroymson Family Fund.
Champion Ballroom Dance Teacher is Back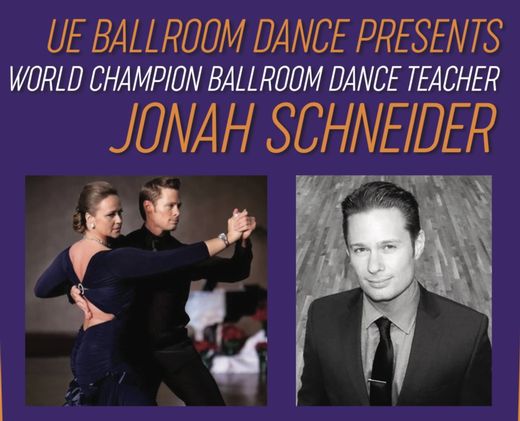 Champion Ballroom Dance Teacher is Back! Saturday, 3/27, Jonah Schneider returns to teach ballroom dance lessons to anyone interested! Ever wanted to learn Waltz, Swing, Cha Cha, Rumba, Fox Trot, Tango or more? He's teaching starting at 10am and going through 5:30pm in 45 minute blocks. First come, first serve. To sign up, text 812-449-1044 or email EL131. Private or group lessons available, masks required. All levels are welcome, no experience necessary! Final details sent upon RSVP.
Solution Station Wednesday - Need Help?
Do you need help with something and you're not sure who to ask on campus? Come by the Solution Station table in Ridgway this Wednesday from 11:00 AM to 1:00 PM and ask us! If we don't know the answer, we'll know who does! We're here to help you find solutions to issues you're facing. Let us help.
Bonus - Need a UE planner to help you stay organized? Come by the table - we're giving them away!
Questions? Contact Chad Hart at ch299@evansville.edu.
Midterm Help - Online Drop-In Academic Peer Coaching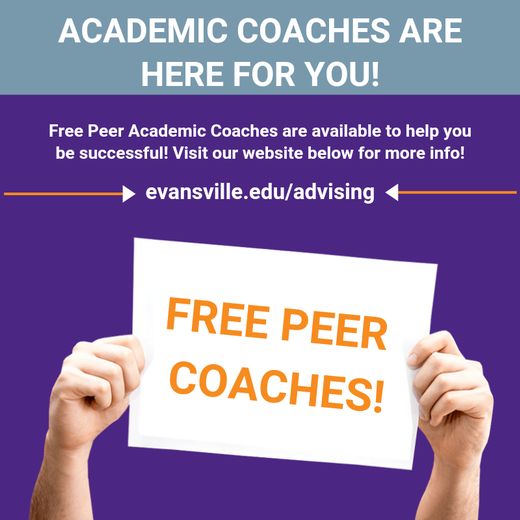 Feeling overwhelmed? Time management, study strategies, test preparation, organization, and school-life balance habits are important concepts to master. If you've found yourself struggling and you want someone to talk through the academic issues you're facing, the Academic Peer Coaches are available for drop-in coaching through Zoom!
Go here to see the online drop-in peer coaching schedule: https://www.evansville.edu/advising/academic-success-lab.cfm
Working with an academic coach can help you get your academic life back into balance and finish the semester strong.
Individual coaching is still available as well.
Questions? Contact Chad Hart at ch299@evansville.edu.
SAI Sells Good Luck Candy Grams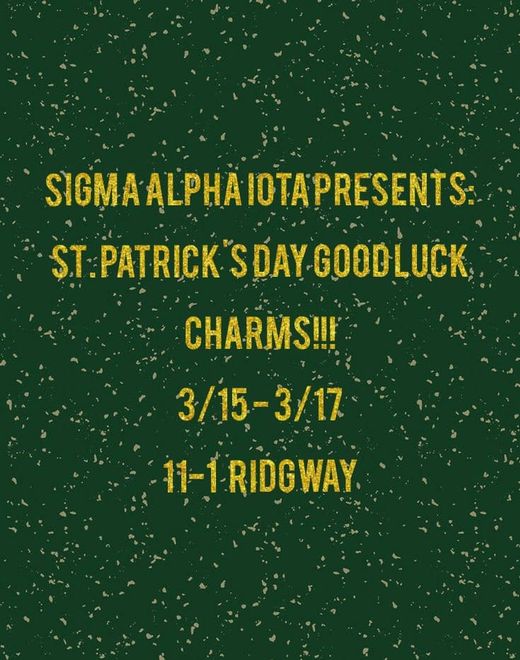 As the spring fundraiser for our chapter, Sigma Alpha Iota will be selling candy grams in advance of St. Patrick's Day from Monday the 15th through Wednesday the 17th from 11 to 1 pm. From a table in Ridgway, we will be selling individually wrapped bags of candy and will offer the opportunity for buyers to write a note to a person of their choice. Buy one as a sweet pick-me-up during midterms, or get one for a friend!
Professional School Personal Statement Workshop
Are you planning to apply to professional school this summer? If so, you will be needing a personal statement! The earlier you begin preparing for this somewhat daunting task, the more relief you will feel when it is finished! Please consider joining me for a virtual
"Professional School Personal Statement Workshop" Tuesday, March 16 at 6 PM.
All are welcome!
If you plan to attend, please email fr25@evansville.edu by Monday, March 15. You will need to complete a 15-minute exercise BEFORE the workshop. I will email you the instructions.
Use the link below to log onto the workshop.
Topic: Professional School Personal Statement Workshop
Tuesday, March 16 at 6:00 PM
Join Zoom Meeting
https://us02web.zoom.us/j/7385197423?pwd=ckMrTGpBaDJiSW82bi9kb2hBam9GZz09
Meeting ID: 738 519 7423
Passcode: 182059
Francie Renschler
fr25@evansville.edu
Draw Your Spirituality
Whether you are the next Monet or can only scribble a stick-figure, the Office of Religious Life needs your art! Take a normal old piece of 8.5x11 paper and draw what your spirituality looks like. Is your spirituality a swirl of colors or a single line? Does it look like a place or maybe a person? Is it a moment in time or a journey of many years? We want to see it all! Drop your masterpiece off at the Center for Diversity, Equity, & Inclusion in Ridgeway, and in April, we'll put it together with everyone else's to create a "quilt" for Neu Chapel. Students, faculty, and staff are all encouraged to participate. Contact the Director of Religious Life (jk383) with questions.
Survey for Psyc246: Parent Relationships and Home Life
Please participate in our short, 5–10-minute survey examining young adults past and current home life and understanding your relationship with your parents. Any adult, age 18 or older, is eligible to participate. For a chance to win a $15 Amazon gift card, please contact us with your email address after your completion of the survey. If your professor is offering extra credit for taking this survey, please email Kalli Britton, Anna Brough, or Haylee Harmeyer your name, your class and class section number, and your professor's name after taking the survey.
Link to survey:
https://uoebusiness.co1.qualtrics.com/jfe/form/SV_bDU63f8xrCLhUSG
Kalli Britton, kb477@evansville.edu
Anna Brough, ab695@evansville.edu
Haylee Harmeyer, hh161@evansville.edu
International Club is Recruiting Volunteers
Dear Aces,
The International Club is holding an event called International Food Festival on the 26th of March. We are currently looking for volunteers to assist in decorations and setting up for the event. We would be very grateful if you could assist us. Volunteers are more than welcome to stay longer to help. The hours will count as volunteer hours and there will be souvenirs Here's a link you can sign up! Thank you so much in advance for helping us.
https://www.signupgenius.com/go/9040D4AA4AE2BA6FA7-international
Deadline Extended: 2021-22 Dr. Marvin E. Hartig Memorial Scholarship
UPDATE: The scholarship deadline has been extended to Friday, May 7.
Family, friends and loved ones of the late Dr. Marvin E. Hartig are pleased to announce the application process for the Dr. Marvin E. Hartig Memorial Scholarship. This scholarship is dedicated to the loving memory of Dr. Hartig, Dean of Evansville College's Evening College in 1967, and administrator for the Center for Advanced Study, director of the Evansville chapter of the American Institute of Banking (AIB), and the international student advisor. In 1974, Dr. Hartig was appointed Dean of Academic Services. He retired in 1984 after serving his alma mater for thirty-five years and passed away in 2007.
This scholarship will be awarded annually to a deserving sophomore student. Preference will be given to a student working while being enrolled as a full-time student. International students are encouraged to apply.
Eligible students for the 2021-2022 Hartig Memorial Scholarship will be sophomores in the 2021-2022 academic year.
Download the 2021-22 Dr. Marvin E. Hartig Memorial Scholarship application.
Deadline: Please return all materials to the Office of Student Financial Services by April 23, 2021. The decision will be announced by June 14, 2021.
Questions: Amanda Wood, administrative assistant to the Office of Student Financial Services, at aw505@evansville.edu or 812-488-2364
Health Risk Assessment for 2020-2021 Medical Plan Year
UE Health Risk Assessments Update:
For those enrolled in the University's HRA Medical Plan, due to the pandemic and current COVID restrictions, offering onsite health screenings has not been a possibility during the 2020-2021 plan year. Due to these circumstances, medical premiums in 2021-2022 will not be affected by your health screening status. If you wish to complete your health risk assessment in order to earn HRA credits for the current plan year, please schedule your appointment with the onsite medical clinic no later than May 1 at 888-492-8722 or message your clinic nurse through the Ascension Patient Portal. Should you have any additional questions or concerns, please contact Ashley Chipps at ac375@evansville.edu.
Residence Hall Q & A Session
On Monday March 15, 2021, the Office of Residence Life will host a Q & A Session for students who have questions about living in the Residence Halls for 2021-22. Staff from the Office of Residence Life will be available from 5:30 p.m. – 6:30 p.m. to answer your housing questions.
This session is not required, but rather an opportunity for you to hop on Zoom to ask any questions that you may have (students will be admitted one at time so you can ask your questions individually).
Zoom Meeting ID: 928 0824 7134
Passcode: ResLife
UE Intramurals Now Offering ESports Gaming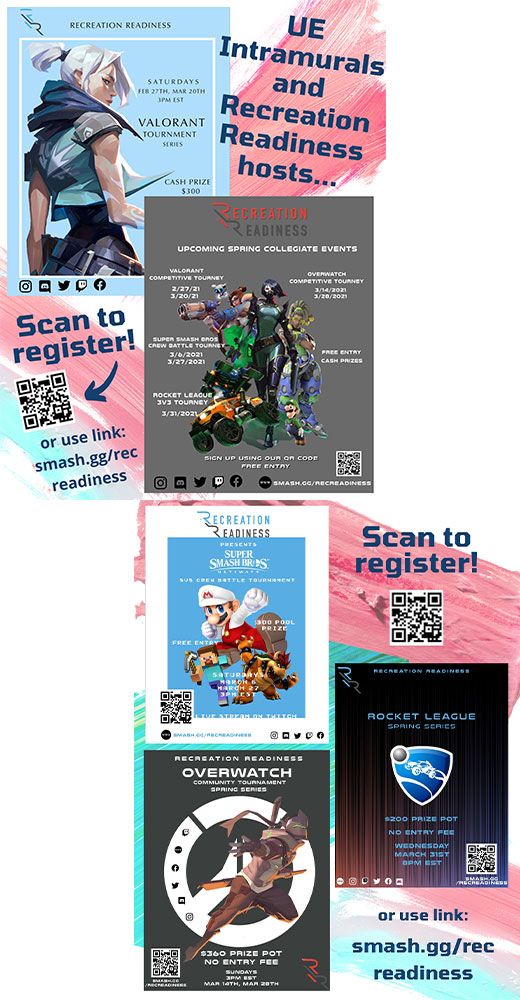 The UE Intramural program is excited to announce upcoming E Sports tournaments provided through Recreation Readiness!
Recreation Readiness invites your esports teams to participate in our FREE spring series and compete against top teams across the country to win cash prizes! For rules and eligibility please contact @ah519 or recreationreadiness@gmail.com.
Games Offered: Valorant, Overwatch, 5v5 Super Smash Bros Crew Battles, 3v3 Rocket League
Schedule:
Sat. 2/27 at 3 pm EST: Valorant ($300 prize pool)
Sat. 3/6 at 3 pm EST: Smash Bros ($300)
Sun. 3/14 at 3 pm EST: Overwatch ($360)
Sat. 3/20 at 3 pm EST: Valorant ($300)
Sat. 3/27 at 3 pm EST: Smash Bros ($300)
Sun. 3/28 at 3 pm EST: Overwatch ($360)
Wed. 3/31 at at 8 pm EST: Rocket League ($200)
Registration closes at Noon EST on day of event
Also, you can find updated info at all social media outlets below:
Discord: bit.ly/recreadiness
Twitch: twitch.tv/recreadiness
Instagram: instagram.com/recreationreadiness
Website: recreationreadiness.org
After registering to play, please contact @ah519 for further instructions.
Recreation Readiness Founders - Jason Gant and Mark Comer
Submit your 2021-2022 FAFSA
File the 2021-22 FAFSA by April 15 at https://www.fafsa.ed.gov
Continuing students should file the 2021-22 Free Application for Federal Student Aid (FAFSA) to apply for federal, state and University need-based financial aid, including all federal student loans. UE's FAFSA code is 001795.
Filing by April 15 is essential for Indiana residents to receive state aid, and highly recommended for all.
Questions regarding the FAFSA should be directed to the Student Financial Services (Olmsted Administration Hall, Room 105) at 812-488-2364.
Beavers Offered AI Ethics Fellowship at Pitt
Professor of Philosophy, Tony Beavers, has been offered a fellowship at the Center for Philosophy of Science at the University of Pittsburgh for this coming fall. He will be working on the ethical implications of artificial intelligence systems, addressing issues that come with deep learning and machine learning techniques, such as bias, reliability and trust of diagnostic systems, prediction and profiling, while working on a theory that supports ethical algorithms to correct for issues in such systems. This is a continuation of work started by Beavers when on an NEH Digital Humanities fellowship at Indiana University during the 2008-2009 academic year and at the NEH Institute for Advanced Topics in the Digital Humanities held at the Institute for Pure and Applied Mathematics at UCLA in 2010.
Aces Complete Weekend Sweep over Salukis
For the first time since the season opener at Indiana State, the University of Evansville volleyball team earned a 3-0 sweep with the Purple Aces taking down Southern Illinois by a 3-0 final on Monday evening inside Meeks Family Fieldhouse.
Alondra Vazquez led everyone with 178 kills while hitting an efficient .385. Melanie Feliciano recorded 13 kills in the Aces (5-11, 4-10 MVC) winning effort. Elise Moeller and Hannah Watkins had strong games, recording 7 and 6 kills, respectively. Feliciano led UE with 15 digs while Allana McInnis notched 26 assists. Brooke Springer added three block assists and a solo block. Imani Hartfield led the Salukis (2-14, 1-13 MVC) with eight kills while Rachel Maguire had a game-high 36 helpers.
Game 1
Southern Illinois had the upper hand to begin game one, taking a 5-3 lead before extending that to a 10-6 advantage. Evansville came right back with Allana McInnis posting an ace before Alondra Vazquez added a kill and ace to tie it up at 11. Elise Moeller picked up a kill following a long rally that put Evansville in front at 12-11. The Aces continued to roll as a Hannah Watkins kill pushed the lead to 19-14. UE's lead reached as many as six points before the Salukis cut the deficit to a pair before the Aces finished with the 25-21 win.
Game 2
The first lead for UE came at 6-5 on a solo block by Brooke Springer. Moeller continued one of her top offensive performances, adding a kill that pushed the lead to 10-8. After SIU retook an 11-10 edge, the Aces jumped back in front at 14-12 on a Saluki service error. An exciting rally that saw clutch digs by Cecilia Thon and Laura Ruiz was capped off by a Vazquez kill that set UE up with a 17-13 advantage. Things continued to go the Aces way with the group pulling away for a 25-17 win that saw Moeller and Springer combine on the clinching block.
Game 3
A kill by Hannah Watkins helped the Aces take an early 6-3 lead. Two service aces helped SIU rally back to go up 7-6 before Evansville countered to retake a 14-12 lead on consecutive Melanie Feliciano kills. SIU got back within one before two Ruiz aces Evansville to a game-high 21-14 lead. From there, the Aces held strong and wrapped up the sweep with a 25-18 decision in the third frame.
A trip to Illinois State is up next for the Aces, who face the Redbirds on Sunday and Monday in a pair of 4 p.m. contests.
Men's Golf Completes Second Round in Sevierville
Spencer Wagner finished under par for the second day in a row on Monday in the second round of the Bobby Nichols Intercollegiate.
Sunday's opening round for Wagner saw him pace the University of Evansville with a 1-under 71 and on Monday, Wagner backed that up with an identical score. His 2-under 142 has him in a tie for 11th place heading into Tuesday's final round of 18.
Isaac Rohleder is second on the Purple Aces squad and tied for 23rd on the leaderboard with a 145. He carded a 1-over 73 in round two. Next up was Jessie Brumley. Following a 73 on Sunday, Brumley recorded a 78 today and is tied for 50th with a 151.
Brumley is closely followed by Henry Kiel and Carson Parker. Kiel notched a 77 on Monday and stands with a tally of 152 while Parker is one behind him with a 153. He shot a 78 in the second round. Nick Wolf of UT Martin leads the individuals with a 9-under 135. He finished Monday's round with a 67.
On the team leaderboard, it is the Skyhawks holding a one-stroke lead over Morehead State. UTM sits with a 566 while MSU has a 567. Tennessee Tech is third with a 571. Evansville is 11th in the standings with a 590. The Aces are one behind UNI for 10th. On Tuesday, the final round of 18 will complete the event.
MVC Postpones Evansville-Missouri State Women's Soccer Match
The Missouri Valley Conference has postponed the Evansville-Missouri State women's soccer match (March 19) at The Betty and Bobby Allison South Stadium in Springfield, Mo., due to COVID-19 issues within Evansville's Tier I personnel, which consists of student-athletes, coaches, managers and staff. The Conference will announce a make-up date for the match at a later date.
MVC athletically related activities will take place only to the extent permitted by local environments and applicable national, state, local and institutional guidelines in order to safeguard the health and safety of participants, staff and fans.
University of Evansville Makes Leadership Change with Women's Basketball
University of Evansville Director of Athletics Mark Spencer has announced that head women's basketball coach Matthew Ruffing has been relieved of his duties with the Purple Aces, effective immediately.
"After evaluating our women's basketball program, I have determined that a change in leadership is necessary at this time," Spencer said. "Under Coach Ruffing's leadership, we were regrettably unable to achieve the level of competitive excellence that we expect at the University of Evansville."
"The goal of our program is to be a highly-valued member of the Missouri Valley Conference and to compete regularly on a national stage," Spencer explained. "Success in women's basketball is paramount to that strategy. This program has a solid foundation with a dedicated on-campus practice facility as well as the complete renovation of Meeks Family Fieldhouse."
"I want to thank Matt Ruffing, his staff and their families, for their tremendous commitment to serving the University of Evansville, the women's basketball program and especially the student-athletes. We wish nothing but the best for Matt and Erin in the future."
A national search for Ruffing's replacement will begin immediately.
Contribute to AceNotes
To have content considered for inclusion in AceNotes, please submit a Marketing Request Form. Deadline for submission to AceNotes is 10:00 a.m. on the requested date of publication. Only articles concerning UE related/sponsored activities will be accepted. Articles submitted to AceNotes may be edited for length and clarity. Submitter contact information is at the end of each article.