| | |
| --- | --- |
| AceNotes Today | Monday, March 15, 2021 |
Class of 2021: Sign up for the Senior Video!
Are you graduating in May with the Class of 2021? Have a favorite memory of UE or favorite professor from which you took a class or two? We want to hear what you have to say for the Senior Video!
Each year, a senior video is shared at Commencement before the processional. Plans are underway to put this video together, but we need the Class of 2021 to participate! On Monday, March 15, a video team will be set up to record your segment answering one of the questions above. All of your responses will be compiled together and shown at both Commencement ceremonies on Saturday, May 8.
Click here to sign up for a 20-minute time slot. You can be recorded by yourself, or roommates/households can be filmed together. Masks will be required and social distancing protocols will be in place.
Filming Details:
Monday, March 15
Dunigan Family Lounge (located inside the middle doors of SOBA)
3:00-6:00PM (by appointment)
Have questions? Please email Julie Bryant, university relations coordinator, at jb855@evansville.edu.
COVID-19 Vaccinations for 16 and Older at Ascension St. Vincent
Currently, the Indiana State Department of Health (ISDH) has identified the following Indiana residents as eligible to receive the COVID vaccine:
Healthcare Workers
First Responders
Teachers and school staff in pre-K through high school, child care centers, Head Start and Early Start programs
Licensed childcare providers, including center-based and family care providers
Age 16 and above
Specific groups of patients at highest risk of severe illness from COVID-19 who are identified by their healthcare provider are also eligible. These individuals will receive a unique registration link by text or email.
We will keep our patients updated as eligibility and administration sites broaden. Although currently there is no cost to patients for the vaccine, insurance information will be collected.
Vaccine Scheduling
The COVID-19 vaccine is available by appointment only. No walk-ins will be permitted. Once listed as eligible by the ISDH, go to www.ourshot.in.gov or by calling 211 or 1-866-211-9966 to schedule an appointment.
Detailed instructions
Go to www.ourshot.in.gov
Enter date of birth and attest to being over age 16
Enter zip code and Select Ascension St Vincent Vaccine Clinic location
Select appointment date and time
Complete demographic information including accurate date of birth
Confirm appointment
Ascension St Vincent Vaccine Clinic
For your convenience, the Ascension St. Vincent Vaccine Clinic is open 7 days a week and located on the hospital campus in the Manor Auditorium. When scheduling an appointment on the state website, select "Ascension St Vincent Evansville VAX" as site location. Directions: Enter the parking garage off of Bellemeade Avenue, immediately turn left and follow the directional signage to the designated vaccine clinic parking area. Patients should enter the clinic using the doors adjacent to the parking garage. Tri State Clinics patients are encouraged to call our office at 1-888-492-8722 with questions or for assistance with scheduling at the Ascension St. Vincent Vaccine Clinic.
Spencer County Residents
Spencer County Local Health Department
Heritage Hills High School
Perry County Residents
Perry County Local Health Department
Perry County Memorial Hospital
Posey County Residents
Posey County Local Health Department
Illinois Residents
Phase 1A: Healthcare workers, those in long term care facilities.
Phase 1B : Frontline essential workers, residents 65 years of age or older and under 65 with comorbidities.
Phase 1B+ : IL residents 16+ with disabilities or serious medical conditions. Higher education staff, gov workers, and media. Details and scheduling info at: https://coronavirus.illinois.gov/s/.
Kentucky Residents
Phase 1a: Long term care facilities, healthcare personnel
Phase 1b: First responders, anyone 70 or older, K-12 school personnel
Phase 1C : KY residents age 60+ AND 16 and older with serious medical conditions and essential workers
For locations and to schedule appointment go to: https://govstatus.egov.com/kentucky-vaccine-map or call the KY COVID-19 Hotline - (800) 722-5725 for more information.
Should you have any additional questions, please contact Ashley Chipps at ashley.chipps@ascension.org or Stacey Smith at stacey.smith1@ascension.org
Wellness Day Yoga Tuesday at Noon - Sign up in Advance
Join the Center for Student Engagement and UE Fitness Center for a Wellness Day yoga class!
Ridgway East Terrace Lawn
March 16 - Noon-1pm
Limited space space available. Advance sign-ups are requested in UEngage, though we will take walk-ups if space allows. Masks will be worn by all participants.
Purple Goes Green for St. Patrick's Day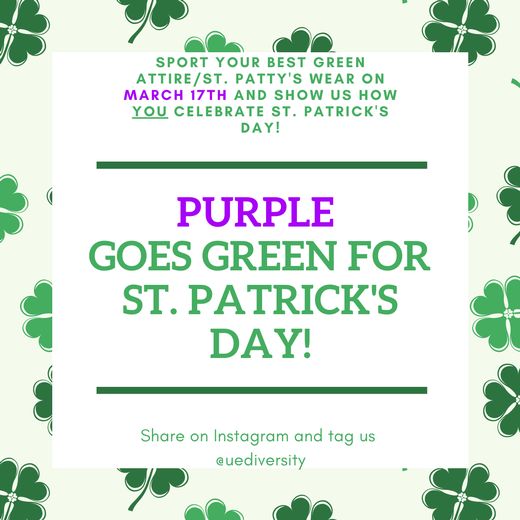 Join the Center for Diversity Equity and Inclusion in going green for St. Patrick's Day! Sport your best green or wear your best St. Patrick's Day wear in celebration of St. Patrick's Day and Irish American Heritage Month!
Share on Instagram and tag us @uediveristy or on Facebook at UE Center for Diversity Equity and Inclusion!
Lets go for the gold and turn this campus green for the day!
Center for DEI Presents: Girlfriend Hour #3
Body crazy, curvy, wavy! Our third Girlfriend Hour will be held on Wednesday, March 17th at 12pm via Zoom and the topic is- 'Body-ody-ody: Body Positivity and Its Challenges'. Lead by Liz McCormick, LCSW a Counselor here at the University of Evansville Counseling Services! This Lunch and Learn serves as a confidence boosting, safe space to discuss breaking society beauty ideals and uplifting body representation.
March is Womxn's History Month! Throughout the month of March the Center for Diversity Equity and Inclusion will host a Lunch and Learn series entitled the Girlfriend Hour every Wednesday around 12pm on Zoom! Please check Acenotes and our social media for weekly topics and links! All identifying individuals are welcome to come, share and learn from our weekly speakers.
Please register for- March 17th: Body-ody-ody: Body Positivity and Its Challenges- here: https://evansville-edu.zoom.us/meeting/register/tJ0ufuqopzkjH9atCydGyIfZ0n4oS8ctMekJ
Meeting ID: 993 9309 2952
Password: 622542
**Link is not the same for all Girlfriend Hours. Please use the specified link/ Meeting ID and Password listed for the specific week!**
UE Connect Mentoring Program Lunch & Learn
The campus community is invited to join us for a UE Connect Virtual Lunch and Learn on Thursday, March 18th at 12:15 pm with Ben Joergens as he presents Financial Empowerment. This is a great opportunity for soon-to-be-graduates to learn about financial basics. This session covers:
Setting Financial Goals – Learn to set SMART Goals
Basics of Banking – Top reasons to utilize a financial institution
Budgeting – Learn how to be in control of your money!
Saving Money – Who doesn't want more money?
Credit – The in's and out's of understanding and building a good credit history and score
Investments – Start investing when you're young so you can retire early!
Join Zoom Meeting
Thursday, March 18th at 12:15 pm
https://evansville-edu.zoom.us/j/97928758246
Meeting ID: 979 2875 8246
This Week in Religious Life
SPIRITUAL OPPORTUNITIES
1. The Muslim and Christian Prayer Rooms in Neu Chapel are available for use 24/7. Contact the Muslim Student Association for keycard access to the Muslim Prayer Room.
2. The Center for Diversity, Equity, and Inclusion now offers a spirituality library, including books from eleven different religious traditions. From Brene Brown to Thich Nhat Hanh, and from Christian bead prayers to self-reiki, there is something for everyone. Stop by the Center's conference room to borrow one for yourself.
3. Newman Night on Wednesday, March 17, is St. Patrick's Day themed! Come by the Newman House (1901 Lincoln Ave) 7-9PM for a bonfire.
4. Sign up for Newman Club's Busy Person Retreat from March 28th to March 31st. https://docs.google.com/forms/d/e/1FAIpQLSe7x4W5QTwP7zqOHp3q7jNvTjmNcF9ETUtbVeJ1xao420oirg/viewform?vc=0&c=0&w=1&flr=0
CHRISTIAN WORSHIP
Due to pandemic restrictions, UE will not offer Protestant worship in Neu Chapel this semester. There are several churches in walking distance of our campus that are open for virtual and/or in-person worship on Sundays.
Methodist Temple (masks required)
8:30am, traditional worship
11:00am, contemporary worship
Redeemer Lutheran (masks required)
8:00am and 10:30am, traditional worship
A Catholic Mass is offered each Sunday in Neu Chapel at 1PM.
Disability Awareness Month/ Womxn's History Month Challenge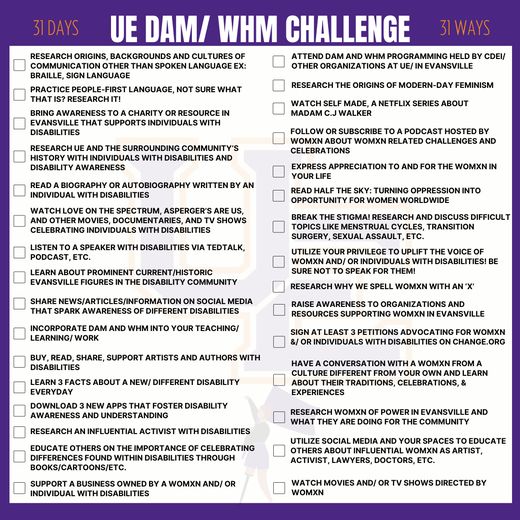 The month of March celebrates Disability Awareness Month and Womxn's History Month. Join the UE DAM/ WHM Challenge sponsored by the Center for Diversity, Equity and Inclusion! In this challenge you will find 31 ways for 31 days of Disability Awareness and Womxn's History Month to actively learn, engage, support, and uplift individual's with disabilities and womxn identifying individuals from Evansville and around the world. Items listed in the challenge can be done personally or in a social group! Hit the library and do some research on why we spell womxn with an 'x', the origins and culture of Sign Language and/ or grab a friend and binge Love on the Spectrum (available on Netflix!). However and whatever you do #DAM/WHMChallenge yourself! To make it extra fun, share what your doing on social media and be sure to tag us!
We can't wait to see the ways in which you all #DAM/WHMChallenge yourself!
Challenge Item List:
Research origins, backgrounds and cultures of communication other than spoken language ex: Braille, Sign Language
Practice People-first language, not sure what that is? Research it!
Bring awareness to a charity or resource in Evansville that supports individuals with disabilities
Research UE and the surrounding community's history with individuals with disabilities and disability awareness
Read a biography or autobiography written by an individual with disabilities
Watch Love on the Spectrum, Asperger's are us, and other movies documentaries and TV shows celebrating individuals with disabilities
Listen to a speaker with disabilities via TedTalk, Podcast, etc.
Learn about prominent current/historic Evansville figures in the disability community
Share news/articles/information on social media that spark awareness of different disabilities
Incorporate DAM and WHM into your teaching/ learning/ work
Buy, read, share, support artists and authors with disabilities
Learn 3 facts about a new/ different disability everyday
Download 3 new apps that foster disability awareness and understanding
Research an influential activist with disabilities
Educate others on the importance of celebrating differences found within disabilities through books/cartoons/etc.
Attend DAM and WHM programming held by CDEI/ other organizations at UE/ in Evansville
Research the origins of modern-day feminism
Watch Self Made, a Netflix series about Madam C.J Walker
Follow or subscribe to a podcast hosted by womxn about womxn related challenges and celebrations
Express appreciation to and for the womxn in your life
Read Half the Sky: Turning Oppression into Opportunity for Women Worldwide
Break the stigma! Research and discuss difficult topics like menstrual cycles, transition surgery, sexual assault, etc.
Utilize your privilege to uplift the voice of womxn and/ or individuals with disabilities! Be sure not to speak for them!
Research why we spell womxn with an 'x'
Raise awareness to organizations and resources supporting womxn in Evansville
Watch movies and/ or tv shows directed by womxn
Have a conversation with a womxn from a culture different from your own and learn about their traditions, celebrations, and experiences
Research womxn of power in Evansville and what they are doing for the community
Utilize social media and your spaces to educate others about influential womxn as artist, activist, lawyers, doctors, etc.
Support a business owned by a womxn and/ or individual with disabilities
Sign at least 3 petitions advocating for womxn and/ or individuals with disabilities on change.org/ other petition websites
It's not too late to take a CHANGELAB this semester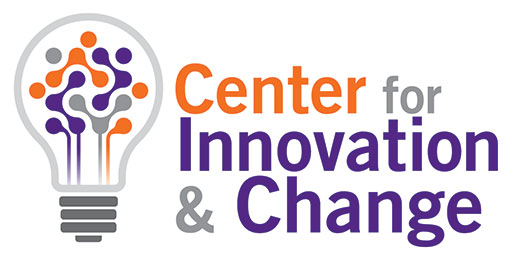 Late Start ChangeLab Courses March 15 to May 4
CHNG 310-8Y1 Transformative Action with Erin Lewis
Deeply explore your personal passions to guide your career and learn how to make change in the community. Hybrid, Online & In-Person Tuesday 2:45PM - 04:00PM, Schroeder Family Bldg., Room 170
CHNG 310-8Y2 ANTI-BIAS with Dr. Rob Shelby
This ChangeLab is focused on anti-bias exercises. Hybrid, Online & In-Person Thursday 02:45PM - 04:00PM, Schroeder Family Bldg., Room 170
Solution Station Wednesday - Need Help?
Do you need help with something and you're not sure who to ask on campus? Come by the Solution Station table in Ridgway this Wednesday from 11:00 AM to 1:00 PM and ask us! If we don't know the answer, we'll know who does! We're here to help you find solutions to issues you're facing. Let us help.
Bonus - Need a UE planner to help you stay organized? Come by the table - we're giving them away!
Questions? Contact Chad Hart at ch299@evansville.edu.
SAI Sells Good Luck Candy Grams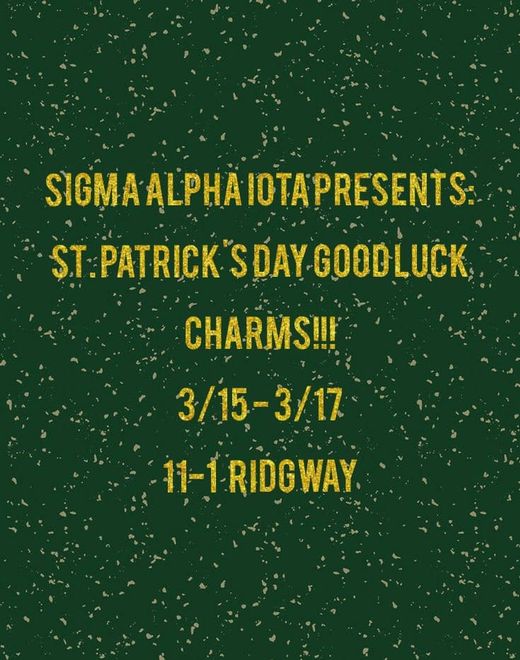 As the spring fundraiser for our chapter, Sigma Alpha Iota will be selling candy grams in advance of St. Patrick's Day from Monday the 15th through Wednesday the 17th from 11 to 1 pm. From a table in Ridgway, we will be selling individually wrapped bags of candy and will offer the opportunity for buyers to write a note to a person of their choice. Buy one as a sweet pick-me-up during midterms, or get one for a friend!
Professional School Personal Statement Workshop
Are you planning to apply to professional school this summer? If so, you will be needing a personal statement! The earlier you begin preparing for this somewhat daunting task, the more relief you will feel when it is finished! Please consider joining me for a virtual
"Professional School Personal Statement Workshop" Tuesday, March 16 at 6 PM.
All are welcome!
If you plan to attend, please email fr25@evansville.edu by Monday, March 15. You will need to complete a 15-minute exercise BEFORE the workshop. I will email you the instructions.
Use the link below to log onto the workshop.
Topic: Professional School Personal Statement Workshop
Tuesday, March 16 at 6:00 PM
Join Zoom Meeting
https://us02web.zoom.us/j/7385197423?pwd=ckMrTGpBaDJiSW82bi9kb2hBam9GZz09
Meeting ID: 738 519 7423
Passcode: 182059
Francie Renschler
fr25@evansville.edu
Summer Sessions Payment Plan
Summer session courses can be added to your monthly payment plan now with no additional set-up fee. If your student is enrolling in summer courses, anticipated summer charges can be included in the spring semester payment plan and the plan extended through May (for Summer 1 charges) or June (Summer 2 charges). The tuition rate for Summer 2021 is $570 per credit hour. Fees per summer term include a $50 registration fee and a $35 technology fee. Online courses are assessed a $50 online course fee. Payment arrangements are due prior to the start of the summer term.
Students should contact the Office of Student Financial Services no later than Reading/Study Day, April 30, 2021 to determine if financial aid is available for their summer courses.
To modify your current payment plan to include summer, contact the cashiers in the Office of Student Financial Services at 812-488-2565.
Fall 2020 Deans' List
The Fall 2020 Deans' List is currently on display at the University Libraries. The List will be on display until March 15.
Residence Hall Q & A Session
On Monday March 15, 2021, the Office of Residence Life will host a Q & A Session for students who have questions about living in the Residence Halls for 2021-22. Staff from the Office of Residence Life will be available from 5:30 p.m. – 6:30 p.m. to answer your housing questions.
This session is not required, but rather an opportunity for you to hop on Zoom to ask any questions that you may have (students will be admitted one at time so you can ask your questions individually).
Zoom Meeting ID: 928 0824 7134
Passcode: ResLife
Beavers Offered AI Ethics Fellowship at Pitt
Professor of Philosophy, Tony Beavers, has been offered a fellowship at the Center for Philosophy of Science at the University of Pittsburgh for this coming fall. He will be working on the ethical implications of artificial intelligence systems, addressing issues that come with deep learning and machine learning techniques, such as bias, reliability and trust of diagnostic systems, prediction and profiling, while working on a theory that supports ethical algorithms to correct for issues in such systems. This is a continuation of work started by Beavers when on an NEH Digital Humanities fellowship at Indiana University during the 2008-2009 academic year and at the NEH Institute for Advanced Topics in the Digital Humanities held at the Institute for Pure and Applied Mathematics at UCLA in 2010.
Volleyball Takes down SIU by 3-1 Final in Weekend Opener
Playing on its home floor proved to be a difference maker for the University of Evansville volleyball team, who opened the weekend with a 3-1 win over Southern Illinois inside Meeks Family Fieldhouse.
Alondra Vazquez had a stellar all-around performance for UE (4-11, 3-10 MVC). She led all players with 22 kills while adding 19 digs, 4 block assists, 2 service aces and a solo block. Melanie Feliciano registered 19 kills and 17 digs. Allana McInnis finished with 30 assists while Rachel Basinski had a match-high 23 digs. Brooke Springer added five block assists and one solo to her tally. Pacing the Salukis (2-13, 1-12 MVC) was Alex Washington, who had 15 kills and 15 digs.
Game 1
Evansville took its first lead of the night at 4-2 with consecutive kills by Melanie Feliciano. Southern Illinois went back in front by a 7-5 tally before the teams duked it out, swapping the lead on several occasions before tying it up at 15-15. That is when Evansville posted the next fiver tallies to take its largest lead. Another Feliciano kill got it started before Alondra Vazquez added three of her own. UE held strong from there, finishing with the 25-20 win. Vazquez and Feliciano had 7 and 6 kills in the set, respectively.
Game 2
UE took an early 2-0 lead and remained up by that amount at 5-3 when the Salukis posted consecutive service aces to go up by a 6-5 score. Evansville took advantage of two SIU errors to go back in front at 13-11, but SIU tied it back up and the teams battled to an 18-18 score. That is when UE made another late run. Chloe Bontrager got it started with a kill before Allana McInnis recorded an ace. The run continued with two more tallies that gave UE a 4-point edge. After SIU cut the gap to a pair, Feliciano ended the frame with her 10th kill to give the Aces a 25-21 win and a 2-0 lead in the match.
Game 3
After SIU scored the first point, Evansville responded with three in a row and would push the lead to 5-2 on a kill by Elise Moeller. The Salukis cut the UE lead to 8-7 but Evansville countered once again with a pair of blocks that matched its largest lead at 11-7 but Southern Illinois pushed right back, getting within one at 12-11 before tying it up at 14-14. Kills by Feliciano and Moeller were the start of a 3-0 stretch that put the Aces back on top but another SIU rally saw them go up by a 20-19 tally. A close finish saw the Salukis wrestle away a 27-25 win to force a fourth set.
Game 4
Evansville grabbed a two-point edge early in the set, taking leads of 9-7 and 11-9, but SIU came right back to tie it up each time. With the score tied at 11-11, the Aces were able to put together a 4-0 stretch to go up 15-11. Vazquez took control during the stretch, assisting on a block while adding two service aces. The lead continued to be held by the Aces as they had match point, up 24-19. One final gasp by the Salukis saw them cut the deficit to a pair before Feliciano registered the final kill to finish off a 25-22 set victory and a 3-1 triumph in the match.
Evansville Upends No. 25 SIU to Snap Streaks
In the series finale, the University of Evansville baseball team snapped a 19-game winning streak for No. 25 SIU with a 7-3 win over the Salukis on Sunday afternoon at Itchy Jones Stadium in Carbondale, Ill.
:Great team win today. SIU was one of the hottest team I've ever ran into so it was great to see us show up and play at a high level," said Evansville head baseball coach Wes Carroll. "Great to see our offense get hits and execute when needed. Bullpen came up big to close out the game."
For the first time this series, Evansville scored first, pushing across a run as redshirt senior Troy Beilsmith scored on a groundout by junior Tanner Craig in the top of the first. In the bottom half of the first, freshman pitcher Donovan Schultz got off to a strong start with a pair of strikeouts.
SIU took the lead in the bottom of the third inning as the Salukis put together a three-run inning to open up a two run advantage on the Aces. Evansville responded in the top of the next inning, inching closer with a run on freshman Simon Scherry's fielder's choice that scored freshman Brent Widder.
The sixth inning was key for Evansville on both the offensive and defensive fronts. In the top half, the Aces opened the inning with a Widder walk. Senior Ben Komonosky came to the plate next and delivered a double, advancing to third on an error, that scored Widder to tie the game at three. Evansville was not finished in the inning as the next at bat saw Beilsmith drive a sacrifice fly to center that scored Komonosky and gave the Aces a 4-3 lead. After Komonosky scored, Evansville scored two more runs in the inning on a double by freshman Mark Shallenberger and another sacrific fly, this one coming from junior Mason Brinkley as UE took a 6-3 lead to the bottom of the sixth.
SIIU threatened in the bottom half of the inning, placing runners on first and second with no outs. Junior Erif Roberts responded, getting the Salukis to ground into a fielder's choice and striking-out a batter for the second out. Roberts was replaced by Parks for what would be the final at-bat of the inning as Parks struck-out Ian Walters to end the inning.
Evansville padded-on an insurance run in the seventh as Widder opened the inning with a single and found his way home with an RBI single from Scherry.
Leading into the ninth, sophomore Michael Parks pitched valiantly, going 2.1 innings with just one hit and striking-out two.
In the bottom of the ninth, Evansville brought in closer Jakob Meyer, who continued his spectacular spring by sitting the Salukis down in order including an inning opening strikeout to secure the 7-3 win for Evansville.
The win for the Aces was the first for UE over SIU since May 27, 2016, snapping a 13-game win streak in the series for the Salukis.
Aces Clinch Series Victory with 6-2 Win over Broncos
With Missouri Valley Conference play set to begin next weekend, the University of Evansville softball team wrapped up its pre-conference slate on a winning note, defeating Western Michigan by a 6-2 final on Sunday afternoon at Cooper Stadium.
Jenna Lis paced the Purple Aces (11-6) with a 2-for-4 effort while knocking in three of her teams six runs. Eryn Gould and Marah Wood added two hits apiece with each scoring a run. Katie McLean scored twice. Izzy Vetter took the win, striking out nine batters in the complete game performance. It is her sixth victory of the year. Western Michigan (4-9) saw four players record two hits apiece.
After recording two hits in the top of the first, the Broncos were able to get on the board with a run in the second. They continued to put runners on base with the first two batters reaching in the third. After a sacrifice advanced them into scoring position, Izzy Vetter got two strikeouts to end the inning.
The offense rewarded Vetter in the third when Haley Woolf tied the game with a sacrifice fly before a 2-run single by Jenna Lis put the Aces in front by a 3-1 score. Marah Wood added a sac fly of her own in the fourth before another run came home on an error that extended the lead to 5-1. Lis added another RBI to her tally in the fifth when a single to center scored Mackenzie McFeron.
Western Michigan made a huge rally in the sixth with the first three runners reaching base. That led to their second run of the game, but Vetter shut the door once again before Jaime Nurrenbern tossed a scoreless inning of relief in the seventh.
Evansville's first MVC series will take place next weekend at Cooper Stadium when the Aces welcome Loyola.
Spencer Wagner Leads UE Men in Opening Round
After wrapping up last week's Don Benbow Invitational on a high note, Spencer Wagner led the University of Evansville men's golf team in Sunday's opening round of the Bobby Nichols Intercollegiate.
Wagner wrapped up the first 18 holes of the tournament with a 1-under 71. He is tied for 13th place. Finishing with an even 72 was Isaac Rohleder. He continued his hot start to the season with the round that has him in a tie for 21st.
Jessie Brumley is one behind Rohleder with a 1-over 73. In a tight field within the standings, Brumley is tied for 33rd. Henry Kiel and Michael Ikejiani each finished the day with a 3-over 75 and are tied for 53rd.
UE is 9th in the team standings with a 3-over total of 291. The team is just six strokes out of the top five and four behind MVC rival UNI. Morehead State sits atop the leaderboard with a 9-under 279. They are two ahead of Carson-Newman and four in front of Tennessee Tech. The second round of 18 is set for tomorrow.
Evansville Earns Doubleheader Split against WMU
An exciting doubleheader saw each game come down to the final at-bat with the University of Evansville softball team splitting a pair of contests against Western Michigan at Cooper Stadium on Saturday afternoon.
The Broncos (4-8) hit a 3-run home run in the top of the seventh in game one to give them a 4-3 victory while the second contest saw the Purple Aces (10-6) break a 4-4 tie in the bottom of the sixth when Hannah Hood drew a bases-loaded walk to score the winning run.
Game 1
Izzy Vetter faced an early test with the first two WMU runners reaching base in the top of the first. After a sacrifice advanced them to second and third, Vetter recorded the final two outs to keep the Broncos off the board. In the top of the fourth, they were able to push across the opening run of the game. After putting runners on second and third to lead off the frame, a groundout by Jordyn Swinehart gave the Broncos a 1-0 lead.
Evansville stranded two runners in each of the first three innings but could not bring the run home. That changed in the bottom of the fifth when Marah Wood drew her third walk of the game with two outs. Next up was Haley Woolf, who doubled to deep center field to tie the game at 1-1. In the bottom of the sixth, the Aces took their first lead of the game. A successful suicide squeeze saw Hannah Hood score from third on a bunt by Jenna Lis. Halie Fain would also score in the inning.
Heading to the top of the seventh, UE appeared to be in good shape, but Western Michigan struck fast. A hit and an error set the table for Sydney Stefanick, who hit a home run to left field to put WMU back on top at 4-3. Evansville was unable to tie it up in the seventh with the Broncos clinching the win. Haley Woolf had two of the Aces five hits and one RBI. Samantha Coffel recorded three hits for WMU while Stefanick had three RBI. Izzy Vetter suffered her second loss of the season, allowing four runs, two earned, on ten hits.
Game 2
Evansville's offense wasted little time getting on the board in game two. Eryn Gould led the game off with a double before Marah Wood posted her fifth home run of the season to give the Aces a 2-0 lead in the first. UE threatened again in the second, putting runners on second and third with no outs, but this time, WMU was able to pitch out of the jam.
In the third, it was Hannah Hood coming through with a big 2-out hit. She laced a single to right field that scored Woolf, who reached on a double with one out. Another run scored when Jessica Fehr recorded a bases loaded walk.
Western Michigan got on the board in the fourth inning, scoring three times on three hits to get within one before tying it up in the fifth. The Aces took advantage of a prime opportunity in the sixth, loading the bases with one out. A patient at-bat by Hannah Hood resulted in a walk that sent in the go-ahead run.
Just as they did in the opening contest, the Broncos did their best to come back in the seventh. A leadoff double got things started, but Erin Kleffman was able to record the final three outs to earn her first win of the season while giving the Aces a 5-4 victory. She threw the final three frames, allowing one run on four hits. Jaime Nurrenbern made the start, going the first four innings where she gave up three runs with just one being earned. The Aces had seven hits with Hood and Woolf posting two apiece.
The series wraps up tomorrow when the Aces and Broncos meet for a single game at 11 a.m.
Aces Drop Saturday Doubleheader at 25th-Ranked SIU
In a Saturday doubleheader, the University of Evansville baseball team dropped a pair of MVC contests to No. 25 SIU, 5-3 and 9-4, on Saturday afternoon at Itchy Jones Stadium in Carbondale, Ill.
"SIU is playing at a high level right now and we just haven't been able to beat them in any facet of the game so far," said Aces head baseball coach Wes Carroll. "Big day at the park tomorrow as I want to see how we can bounce back early in the season with this adversity."
Game One
As has been true in all three games in the series, the Salukis struck first in the bottom of the second inning as Evan Martin hit a solo home run to give SIU the early lead. A three-run home run in the bottom of the second increased the Salukis' lead to four early in the contest.
Evansville showcased plenty of fight, beginning to battle back in the fourth. In the fourth, freshman Mark Shallenberger singled through the right side, scoring redshirt senior Troy Beilsmith and fresh an Simon Scherry added another run for the Aces with an RBI sacrifice fly that scored junior Tanner Craig to halve SIU's lead.
After a rough early going, redshirt junior Jake McMahill settled in and pitched clean innings in the third and fourth innings. Junior Drew Dominik aided the Evansville effort, allowing a base runner in the fifth, but inducing a double play to get out of the inning.
In the sixth, the Aces inched closer, as Craig doubled down the left field line to score Beilsmith, cutting SIU's advantage to just one at 4-3. The bottom half of the sixth saw SIU add an insurance run to its tally as the Salukis took a 5-3 lead into the seventh.
With two outs, junior Mason Brinkley reached base after being hit by a pitch. The tying run came to the plate, but Evansville could not capitalize as a groundout ended the threat in SIU's 5-3 win.
Game Two
SIU scored first in the bottom of the first inning, hitting a two-run homer to give itself a 2-0 lead early. Evansville responded to the Salukis offense quickly as Craig blasted a two-run homer of his own to tie the game at two in the third.
The Salukis offense continued to show itself this weekend as SIU responded to Craig's game-tying home run by scoring in each of the third, fourth, and fifth innings, pushing its lead to 8-2.
In the seventh, Evansville started to chip away at the Salukis lead, as Beilsmith ripped a single down the left field line sending home freshman Brent Widder and junior Eric Roberts to put the Aces within four at 8-4.
Much like the opening game of the doubleheader, SIU added an insurance run heading into the final inning as an RBI double provided a five-run lead for the Salukis.
Beilsmith attempted to spur a late rally for the Aces with two outs in the ninth, reaching base on a walk and stealing second, but a fly out ended the Aces chances in SIU's 9-4 win.
Evansville closes its weekend series with the 25th-ranked Salukis at 1 PM on Sunday at Itchy Jones Field in Carbondale, Ill.
Fifth Inning Spoils Aces Solid Start in Loss at No. 25 SIU
Despite a strong start, the University of Evansville baseball team dropped its MVC opener to No 25 SIU, 14-5, on Friday at Itchy Jones Stadium in Carbondale, Ill.
"Giving up a 10 spot in one inning during a Friday game is rare. Too much for our offense to overcome," said Aces head coach Wes Carroll. "You have to credit their team for the offensive approach at the plate creating many extra base hits and hitting with runners in scoring position. We need to bounce back and combat their team approach tomorrow."
It was the Salukis who found the scoreboard first in the bottom of the opening inning with a run off a sacrifice fly. Evansville answered in the top of the second as junior Eric Roberts opened the Aces ledger with a double down the left field line that scored freshman Simon Scherry. The Aces continued their scoring in the second as redshirt senior Kenton Crews hit a single up the middle to score Roberts and give UE the lead.
After the early run, sophomore righty Shane Gray settled-in on the mound for the Aces, pitching three clean innings from the second to the fourth including a pair of strikeouts.
Evansville padded its advantage in the third with a run on a base hit by freshman Mark Shallenberger and added two more in the fourth with a two-run single by sophomore Danny Borgstrom that put the Aces in front, 5-1.
The bottom half of the fifth was unkind to Evansville and shaped the outcome of the ballgame. SIU opened the inning loading the bases with no outs. The Salukis trimmed into the Aces lead with a two-run single that moved SIU within a pair at 5-3. The following three at bats changed the complexion of the game as SIU belted three-straight home runs and followed it up with another homer later in the inning to take an 11-5 lead.
The Salukis would go on to score three more runs with one in the seventh and two in the eighth as SIU secured the 14-5 win.
Evansville and SIU will continue their four-game series with a Saturday twin-bill beginning at 2 PM.
Men's Golf Travels to Sevierville, Tennessee
Another tournament is on tap for the University of Evansville men's golf team with the Purple Aces set to travel to Sevierville, Tennessee for the Bobby Nichols Intercollegiate.
The River Course of the Sevierville Golf Club is the site of the tournament, which is being hosted by Tennessee Tech. A total of 54 holes will be played with 18 taking place each day between Sunday and Tuesday. Par is set for 72 and the yardage is 6,891.
A full slate of teams is set to participate including Austin Peay, Carson-Newman, Detroit Mercy, Eastern Kentucky, Evansville, Findlay, Morehead State, Murray State, Northern Kentucky, Roane State CC, Tennessee Tech, Tusculum, UNI, UT Martin and Walters State CC.
It is a quick turnaround for the Aces, who wrapped up the Don Benbow Invitational earlier this week in Jacksonville Beach, Fla. Evansville was led by Isaac Rohleder, who tied for 7th place with a 152. Following a 74 in the opening round, Rohleder carded a 78 on Tuesday. Henry Kiel wrapped up the event with a 153, one shot behind Rohleder. Kiel opened the tournament with a 78 before completing the final round with a 75. He tied for 11th with a 153.
Spencer Wagner had UE's low round of the tournament, posting a 2-over 73 to finish the tournament tied for 16th place with a 156. Teammate Michael Ikejiani posted identical scores of 78 in the 2-round event to tie Wagner's tally.
Dallas Koth came home in a tie for 25th place with a 159. Koth's rounds checked in at 78 and 81. Caleb Wassmer tied Koth for 25th. Seeing time as an individual, Wassmer posted rounds of 81 and 78.
With a score of 612, the Aces finished third on the team side. Rounds of 308 and 304 put UE solidly in the top three, eight strokes in front of 4th place Murray State. Drexel had the low round of the tournament on Tuesday, shooting a 285. The Dragons total was 17 shots lower than any other squad in the final round. Their tally of 585 saw them defeat Butler by 24 strokes with Evansville coming in third.
UE Volleyball Returns Home to Face SIU
Two of the final three series of the regular season will be at Meeks Family Fieldhouse beginning this weekend when the University of Evansville volleyball team welcomes Southern Illinois. Matches are set for 6 p.m. on Sunday and Monday...ESPN3 will have the action for both contests.
Last Time Out
- Another hard-fought series saw the Purple Aces come up just short, falling by 3-1 finals in both contests at Drake last week
- Alondra Vazquez recorded 32 kills and 32 digs on Sunday...both were career marks in a feat that has happened only a handful of times in NCAA history
- UE looked to be on the cusp of forcing a fifth game, holding a 17-13 lead in game four before the Bulldogs clinched the match with a 26-24 decision
- On Monday, it was the Aces who had the upper hand early, opening the night with a 25-17 win...Drake earned a dominant 25-11 win in the second set and went on to reel off three wins in a row to win by a 3-1 score
1-2 Punch
- Alondra Vazquez and Melanie Feliciano have combined to provide the top 1-2 offensive threat in the MVC
- They have combined for 7.87 kills per set, edging Missouri State's Brooklyn Cink and Amelia Flynn, who average 7.5
- Vazquez ranks 2nd in the MVC with 4.16 kills per set while Feliciano checks in with 3.71, putting her 6th in the league
- One of them has led the team in kills in each match so far in 2021
Making History
- In what is believed to be the first such instance in Missouri Valley Conference history, Alondra Vazquez recorded 32 kills and 32 digs on Sunday at Drake
- It is one of fewer than 10 30-kill, 30-dig performances in NCAA history and the first that the MVC has seen...Valparaiso had a 30-assist, 30-dig contest a few years ago
- Both tallies were career highs along with her 83 attempts
- Over her last six outings, Vazquez has recorded 4.8 kills per set while posting at least 20 in three of those games
- The junior currently has an average of 14.00 attacks per set, which leads the Valley and is 2nd in the NCAA
Softball Welcomes Western Michigan for 3-Game Series
A 16-game homestand for the University of Evansville softball team continues this weekend when the Purple Aces welcome Western Michigan to Cooper Stadium for a 3-game series. Action gets underway on Saturday with a noon doubleheader before a single game is on tap for 11 a.m. on Sunday. ESPN3 will carry Saturday's contests.
Last Time Out
- Last weekend, the Aces opened up the home season with a 4-game series against Purdue Fort Wayne...UE went 3-1 in the series including an 11-3 win in game two on Saturday...PFW held an 8-2 lead entering the final inning of Sunday's finale - UE plated five runs before the Mastodons recorded the final out
- Freshman Marah Wood batted an unreal .900 in the series, recording a hit in 9 out of 10 plate appearances...she added five walks to finish with an on-base percentage of .933...Wood had three homers, 11 RBI and seven runs scored in the series
- Eryn Gould batted .455 over the weekend while Katie McLean finished at .429
- Izzy Vetter went 2-0 against the Mastodons, allowing two earned runs in 14 innings of work
Two in a Row
- Marah Wood has won the last two MVC Newcomer of the Week awards with the second following her efforts against Purdue Fort Wayne
- Wood was 9-for-10 in the series while belting three home runs to finish with 11 RBI...she scored seven runs against PFW while walking five times to finish with an on-base percentage of .933
- Her season average stands at .366 but over the last nine games, she has gone 13-for-24 at the plate to raise her average from .118 to its current tally
- All 10 of her walks have come in the last eight games as she did not draw a base on ball over the course of her first six outings
Putting up the Numbers
- Eryn Gould continues to be one of the top performers in the MVC, ranking second in the league with 17 runs on the season while checking in at #3 in batting average at .444
- Since an 0-3 start to the season against UT Martin, Gould has notched 20 hits in her last 42 trips to the plate...the opening weekend saw her go 4-4 with a career-high six RBI against Alabama State
- A 5-game hitting streak came to an end on Sunday in the finale versus PFW, but she still managed to reach with two walks and scored a run
- Her power numbers are also excellent with her 17 RBIs putting her second in the league, just two off of the lead
Finding her Groove
- Izzy Vetter is pitching at her highest level since joining the Purple Aces...the junior has accumulated a 1.60 ERA through 43 2/3 innings pitched and has earned five victories on the season
- Her ERA is third in the MVC while her 54 strikeouts on the season places her second in the league
- Vetter set her career mark with 11 K's in wins over Green Bay on Feb. 27 and in the opener versus Purdue Fort Wayne on March 6
- She has thrown complete games in each of her last three appearances
- The top outing of her career saw her throw a complete game, 1-hit shutout against Green Bay on 2/27 where she posted the first 11-strikeout game of her college career
- Her strikeout total is 33rd in the nation
Contribute to AceNotes
To have content considered for inclusion in AceNotes, please submit a Marketing Request Form. Deadline for submission to AceNotes is 10:00 a.m. on the requested date of publication. Only articles concerning UE related/sponsored activities will be accepted. Articles submitted to AceNotes may be edited for length and clarity. Submitter contact information is at the end of each article.