| | |
| --- | --- |
| AceNotes Today | Friday, March 12, 2021 |
Class of 2021: Sign up for the Senior Video!
Are you graduating in May with the Class of 2021? Have a favorite memory of UE or favorite professor from which you took a class or two? We want to hear what you have to say for the Senior Video!
Each year, a senior video is shared at Commencement before the processional. Plans are underway to put this video together, but we need the Class of 2021 to participate! On Monday, March 15, a video team will be set up to record your segment answering one of the questions above. All of your responses will be compiled together and shown at both Commencement ceremonies on Saturday, May 8.
Click here to sign up for a 20-minute time slot. You can be recorded by yourself, or roommates/households can be filmed together. Masks will be required and social distancing protocols will be in place.
Filming Details:
Monday, March 15
Dunigan Family Lounge (located inside the middle doors of SOBA)
3:00-6:00PM (by appointment)
Have questions? Please email Julie Bryant, university relations coordinator, at jb855@evansville.edu.
COVID-19 Vaccinations for 16 and Older at Ascension St. Vincent
Currently, the Indiana State Department of Health (ISDH) has identified the following Indiana residents as eligible to receive the COVID vaccine:
Healthcare Workers
First Responders
Teachers and school staff in pre-K through high school, child care centers, Head Start and Early Start programs
Licensed childcare providers, including center-based and family care providers
Age 16 and above
Specific groups of patients at highest risk of severe illness from COVID-19 who are identified by their healthcare provider are also eligible. These individuals will receive a unique registration link by text or email.
We will keep our patients updated as eligibility and administration sites broaden. Although currently there is no cost to patients for the vaccine, insurance information will be collected.
Vaccine Scheduling
The COVID-19 vaccine is available by appointment only. No walk-ins will be permitted. Once listed as eligible by the ISDH, go to www.ourshot.in.gov or by calling 211 or 1-866-211-9966 to schedule an appointment.
Detailed instructions
Go to www.ourshot.in.gov
Enter date of birth and attest to being over age 16
Enter zip code and Select Ascension St Vincent Vaccine Clinic location
Select appointment date and time
Complete demographic information including accurate date of birth
Confirm appointment
Ascension St Vincent Vaccine Clinic
For your convenience, the Ascension St. Vincent Vaccine Clinic is open 7 days a week and located on the hospital campus in the Manor Auditorium. When scheduling an appointment on the state website, select "Ascension St Vincent Evansville VAX" as site location. Directions: Enter the parking garage off of Bellemeade Avenue, immediately turn left and follow the directional signage to the designated vaccine clinic parking area. Patients should enter the clinic using the doors adjacent to the parking garage. Tri State Clinics patients are encouraged to call our office at 1-888-492-8722 with questions or for assistance with scheduling at the Ascension St. Vincent Vaccine Clinic.
Spencer County Residents
Spencer County Local Health Department
Heritage Hills High School
Perry County Residents
Perry County Local Health Department
Perry County Memorial Hospital
Posey County Residents
Posey County Local Health Department
Illinois Residents
Phase 1A: Healthcare workers, those in long term care facilities.
Phase 1B : Frontline essential workers, residents 65 years of age or older and under 65 with comorbidities.
Phase 1B+ : IL residents 16+ with disabilities or serious medical conditions. Higher education staff, gov workers, and media. Details and scheduling info at: https://coronavirus.illinois.gov/s/.
Kentucky Residents
Phase 1a: Long term care facilities, healthcare personnel
Phase 1b: First responders, anyone 70 or older, K-12 school personnel
Phase 1C : KY residents age 60+ AND 16 and older with serious medical conditions and essential workers
For locations and to schedule appointment go to: https://govstatus.egov.com/kentucky-vaccine-map or call the KY COVID-19 Hotline - (800) 722-5725 for more information.
Should you have any additional questions, please contact Ashley Chipps at ashley.chipps@ascension.org or Stacey Smith at stacey.smith1@ascension.org
International Club Kahoot Night
Hello Everyone!
It's that time of the year. The 3rd International Food Festival is right around the corner (Friday, March 26th) and we want to get the ball rolling with a Kahoot game night today, Friday March 12 at 7pm. There are cool prizes to be won.
The Kahoot will take place via zoom.
Contact Akane Suzuki (as972) for a zoom link or go on UEngage to get the zoom link.
See you then!
Virtual Health Careers Forum 2021
The Center for Career Development and Exercise and Sports Science Club will be hosting the 2021 annual Health Careers Forum on March 31. The virtual event will run from 6:00 to 8:00 pm. RSVPs are required through Handshake and a Zoom link will be sent to join the forum.
A variety of health occupations will be represented on the forum panel. Panelists will include those in Physical Therapy, a Physician Assistant, Medical School student, Vice President of Professional Services, and Human Resources. Join us virtually on March 31 to gain insight into future career paths, hear valuable advice, and make connections!
Pre-Advising Workshops
Pre-Advising Workshops are here! Prepare for your faculty advising appointment.
Health Professions and Education Workshop
Wednesday, March 17th at 2:50-3:50 PM
Science, Math, and Engineering Workshop
Wednesday, March 17 at 4:00-5:00 PM
Business Workshop
Thursday, March 18 at 2:50-3:50 PM
Humanities and Social Sciences Workshop
Thursday, March 18 at 4:00-5:00 PM
Information on joining the workshops on Zoom:
https://zoom.us/j/8566203357
ID: 856-620-3357
Password: 635613
Any major is welcome at all workshops.
Advising Week | March 22 - 26
Meet with your faculty advisor this week. Make an appointment now.
Registration Week | March 29 – April 2
Don't miss your assigned registration window. Finalize your fall registration.
Disability Awareness Month/ Womxn's History Month Challenge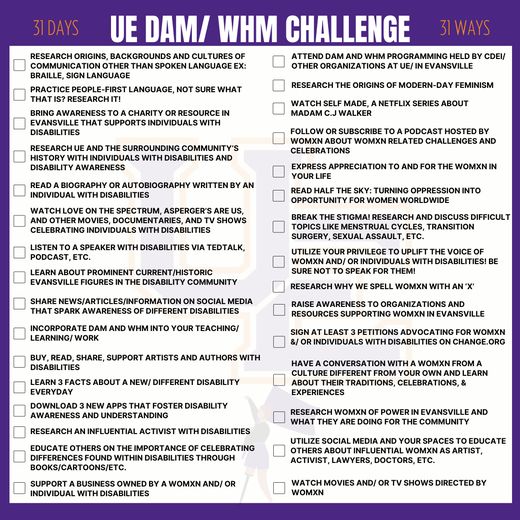 The month of March celebrates Disability Awareness Month and Womxn's History Month. Join the UE DAM/ WHM Challenge sponsored by the Center for Diversity, Equity and Inclusion! In this challenge you will find 31 ways for 31 days of Disability Awareness and Womxn's History Month to actively learn, engage, support, and uplift individual's with disabilities and womxn identifying individuals from Evansville and around the world. Items listed in the challenge can be done personally or in a social group! Hit the library and do some research on why we spell womxn with an 'x', the origins and culture of Sign Language and/ or grab a friend and binge Love on the Spectrum (available on Netflix!). However and whatever you do #DAM/WHMChallenge yourself! To make it extra fun, share what your doing on social media and be sure to tag us!
We can't wait to see the ways in which you all #DAM/WHMChallenge yourself!
Challenge Item List:
Research origins, backgrounds and cultures of communication other than spoken language ex: Braille, Sign Language
Practice People-first language, not sure what that is? Research it!
Bring awareness to a charity or resource in Evansville that supports individuals with disabilities
Research UE and the surrounding community's history with individuals with disabilities and disability awareness
Read a biography or autobiography written by an individual with disabilities
Watch Love on the Spectrum, Asperger's are us, and other movies documentaries and TV shows celebrating individuals with disabilities
Listen to a speaker with disabilities via TedTalk, Podcast, etc.
Learn about prominent current/historic Evansville figures in the disability community
Share news/articles/information on social media that spark awareness of different disabilities
Incorporate DAM and WHM into your teaching/ learning/ work
Buy, read, share, support artists and authors with disabilities
Learn 3 facts about a new/ different disability everyday
Download 3 new apps that foster disability awareness and understanding
Research an influential activist with disabilities
Educate others on the importance of celebrating differences found within disabilities through books/cartoons/etc.
Attend DAM and WHM programming held by CDEI/ other organizations at UE/ in Evansville
Research the origins of modern-day feminism
Watch Self Made, a Netflix series about Madam C.J Walker
Follow or subscribe to a podcast hosted by womxn about womxn related challenges and celebrations
Express appreciation to and for the womxn in your life
Read Half the Sky: Turning Oppression into Opportunity for Women Worldwide
Break the stigma! Research and discuss difficult topics like menstrual cycles, transition surgery, sexual assault, etc.
Utilize your privilege to uplift the voice of womxn and/ or individuals with disabilities! Be sure not to speak for them!
Research why we spell womxn with an 'x'
Raise awareness to organizations and resources supporting womxn in Evansville
Watch movies and/ or tv shows directed by womxn
Have a conversation with a womxn from a culture different from your own and learn about their traditions, celebrations, and experiences
Research womxn of power in Evansville and what they are doing for the community
Utilize social media and your spaces to educate others about influential womxn as artist, activist, lawyers, doctors, etc.
Support a business owned by a womxn and/ or individual with disabilities
Sign at least 3 petitions advocating for womxn and/ or individuals with disabilities on change.org/ other petition websites
"WERQ" Dance Classes are Back at the Fitness Center and Virtual
The popular workout class, WERQ is back and ready to help get you back in shape!
WERQ is a fun class that allows you to get a good workout in through a mix of repetitive dance steps and athletic moves. The music includes the most popular and trendiest pop and hip hop music. Join for a wildly fun time!
In person attendance will be capped at 15 people, the first 15 to sign up on Uengage will reserve their spot for the following class! Don't worry if you're not the first 15, you can still tune in via zoom to join in on the workout at home or in your own space! The zoom link will be posted to the UE Fitness Center Facebook page, if you'd like to be emailed the zoom link please email ah519.
Classes will be held every Tuesday and Thursday from 6:00 - 6:45pm throughout the month of March.
All in person participants will be required to wear a Mask and stay within their marked spots throughout the duration of the class.
It's not too late to take a CHANGELAB this semester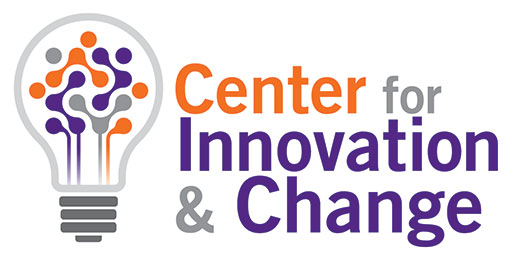 Late Start ChangeLab Courses March 15 to May 4
CHNG 310-8Y1 Transformative Action with Erin Lewis
Deeply explore your personal passions to guide your career and learn how to make change in the community. Hybrid, Online & In-Person Tuesday 2:45PM - 04:00PM, Schroeder Family Bldg., Room 170
CHNG 310-8Y2 ANTI-BIAS with Dr. Rob Shelby
This ChangeLab is focused on anti-bias exercises. Hybrid, Online & In-Person Thursday 02:45PM - 04:00PM, Schroeder Family Bldg., Room 170
Professional School Personal Statement Workshop
Are you planning to apply to professional school this summer? If so, you will be needing a personal statement! The earlier you begin preparing for this somewhat daunting task, the more relief you will feel when it is finished! Please consider joining me for a virtual
"Professional School Personal Statement Workshop" Tuesday, March 16 at 6 PM.
All are welcome!
If you plan to attend, please email fr25@evansville.edu by Monday, March 15. You will need to complete a 15-minute exercise BEFORE the workshop. I will email you the instructions.
Use the link below to log onto the workshop.
Topic: Professional School Personal Statement Workshop
Tuesday, March 16 at 6:00 PM
Join Zoom Meeting
https://us02web.zoom.us/j/7385197423?pwd=ckMrTGpBaDJiSW82bi9kb2hBam9GZz09
Meeting ID: 738 519 7423
Passcode: 182059
Francie Renschler
fr25@evansville.edu
UE Theatre Welcomed Stephen Stocking, Actor and Founder of the Artists Financial Support Group, for Workshop Series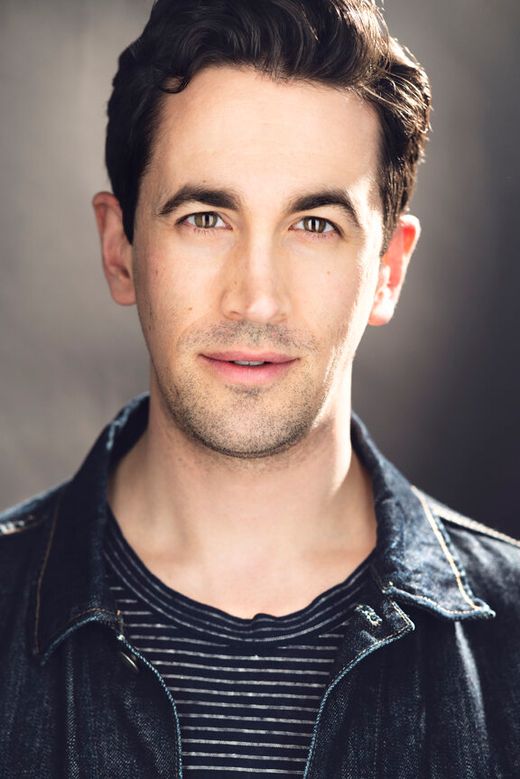 UE Theatre hosted another installment of their 2020–21 Workshop Series on March 7, 2021, with actor Stephen Stocking. In this workshop, students learned more about the complexities of the student loans, how to start a budget, and feel empowered to embrace the uncertainty of their professions while still making responsible financial decisions.
Stocking is an actor, singer and musician, based in New York City. An alum of NYU's Graduate Acting program, he recently appeared in Rajiv Joseph's Obie-winning play DESCRIBE THE NIGHT at the Atlantic Theatre Company and also starred in the world premiere of Joseph's play ARCHDUKE at the Mark Taper Forum in Los Angeles. Other select credits include: (Film and TV) THE GOOD FIGHT and Z: THE BEGINNING OF EVERYTHING. (Theatre) MRS. CHRISTIE, GREAT EXPECTATIONS, A MIDSUMMER NIGHT'S DREAM, and EVERY GOOD GIRL DESERVES FUN.
The Artists Financial Support Group seeks to educate student and professional artists on financial self-advocacy, advocate for legislative and institutional change in the cost of artist education, and innovate new ways to manage student loan debt and budget on an erratic income.
Survey for Psyc246: Parent Relationships and Home Life
Please participate in our short, 5–10-minute survey examining young adults past and current home life and understanding your relationship with your parents. Any adult, age 18 or older, is eligible to participate. For a chance to win a $15 Amazon gift card, please contact us with your email address after your completion of the survey. If your professor is offering extra credit for taking this survey, please email Kalli Britton, Anna Brough, or Haylee Harmeyer your name, your class and class section number, and your professor's name after taking the survey.
Link to survey:
https://uoebusiness.co1.qualtrics.com/jfe/form/SV_bDU63f8xrCLhUSG
Kalli Britton, kb477@evansville.edu
Anna Brough, ab695@evansville.edu
Haylee Harmeyer, hh161@evansville.edu
Summer Sessions Payment Plan
Summer session courses can be added to your monthly payment plan now with no additional set-up fee. If your student is enrolling in summer courses, anticipated summer charges can be included in the spring semester payment plan and the plan extended through May (for Summer 1 charges) or June (Summer 2 charges). The tuition rate for Summer 2021 is $570 per credit hour. Fees per summer term include a $50 registration fee and a $35 technology fee. Online courses are assessed a $50 online course fee. Payment arrangements are due prior to the start of the summer term.
Students should contact the Office of Student Financial Services no later than Reading/Study Day, April 30, 2021 to determine if financial aid is available for their summer courses.
To modify your current payment plan to include summer, contact the cashiers in the Office of Student Financial Services at 812-488-2565.
Fall 2020 Deans' List
The Fall 2020 Deans' List is currently on display at the University Libraries. The List will be on display until March 15.
Village Request Cards
Students interested in living in the Villages for 2021-22 should pick up Village request cards in the Office of Residence Life.
The Villages are reserved primarily for students with 60 plus credit hours. In order to apply to live in the Villages, each person in your group must have at least 44 credit hours on file with the University by the end of the Fall 2020 semester.
Village request cards are due back to the Office of Residence Life by 5:00 p.m., Friday, March 12.
More information on the housing assignments process can be found on the residence life section of the University website at https://www.evansville.edu/residencelife/housingapplyreturn/applying.cfm.
Submit your 2021-2022 FAFSA
File the 2021-22 FAFSA by April 15 at https://www.fafsa.ed.gov
Continuing students should file the 2021-22 Free Application for Federal Student Aid (FAFSA) to apply for federal, state and University need-based financial aid, including all federal student loans. UE's FAFSA code is 001795.
Filing by April 15 is essential for Indiana residents to receive state aid, and highly recommended for all.
Questions regarding the FAFSA should be directed to the Student Financial Services (Olmsted Administration Hall, Room 105) at 812-488-2364.
Eykamp Prize: Call for Nominations
The Eykamp Prize was established by Richard and Rita Eykamp in 2015 to honor Faculty Achievement at the University of Evansville. Recipients of the prize will receive an award of $10,000 in recognition of extraordinary contributions to the University of Evansville as University Citizens. Examples of such contributions include deep and successful involvement in recruiting students; expanding the number, scope, and competitiveness of grant funding for their department; bringing positive public awareness to the University through scholarship, knowledge, and understanding of their discipline.
Nominations for the Eykamp Prize may come from any member of the University of Evansville community. Nominees should be tenured or tenure-track faculty members at the University of Evansville who have not received the award in the previous five years. Nominations can be submitted in writing or via e-mail to Dr. Michael Austin, Executive Vice President for Academic Affairs and Provost, at ma352@evansville.edu by March 12, 2021. Nominations should include the name of the faculty member and a brief statement of the reasons that he or she is being nominated.
Recipients of the Eykamp Prize will be selected by an Awards Committee appointed by the EVPAA and Provost that includes members of the faculty and staff, academic administrators, and at least one member of the Board of Trustees. The award will be announced and presented at the May Commencement Ceremony.
Previous recipients in the last five years are: 2016 – Dr. Mark Valenzuela; 2017 – Dr. Lora Becker; 2018 – Dr. David Dwyer; 2019 – Dr. Kristy Miller; and 2020 – Dr. Jerrilee LaMar.
Feit Scores 18 as Aces Fall in Hoops in the Heartland Opener
Putting forth a strong first half, the University of Evansville fell to No. 7 seed Valparaiso, 65-52, in the opening round of Hoops in the Heartland on Thursday night inside the TaxSlayer Center in Moline, Ill.
Leading the way for Evansville was sophomore Abby Feit, who finished with 18 points and 12 rebounds. Feit scored 16 of her points in the first half, hitting all four of her early three-point attempts. Adding eight points for the Aces were junior A'Niah Griffin and sophomore Jossie Hudson as both also grabbed five rebounds a piece. Powering Valpo was Carie Weinman with 28 points, leading a trio of double-figure scorers for the brown & gold.
A tremendous effort for the Aces on the boards and shooting efficiently provided a strong first half performance for the Aces. Valpo grabbed an early 12-5 lead in the first quarter, but Evansville battled to close the opening period well. The Aces manufactured a 7-0 run to close the quarter, holding Valpo scoreless for the final 4:37 to tie the game at 12.
Evansville's run continued in the second quarter as back-to-back triples by Feit gave the Aces a 20-15 advantage. Valpo as it did all night battled back with a 12-0 run to open its own seven-point lead on the Aces with 3:47 left to play in the opening half. Feit continued her tear in the first half, closing the quarter with two more triples as Evansville trailed by just two heading to half, 32-30. The Aces impressive first half was hampered by turnovers as Evansville recorded 16 giveaways in the first 20 minutes.
Valpo took control early in the second half, scoring eight-straight points coming out of the break to take a double-digit lead. Evansville shot just 3-of-9 from the field in the third quarter and committed seven turnovers as Valpo out-scored the Aces 19-6 in the period.
The Aces were not without a last push as Evansville cut the Valpo lead to seven on a jumper by junior Anna Newman with just under five minutes remaining. Evansville created multiple opportunities for itself to cut further into Valpo's lead but were unable to hit needed shots in a 65-52 loss.
Evansville turned in one of their best rebounding efforts of the season, out-rebounding Valpo, 41-26, including an 18-6 advantage on the boards in the first half.
Evansville's season closes for 2020-21 with a 6-18 overall record.
Conference Play Opens for Aces with Series at SIU
After three non-conference weekends, the University of Evansville baseball team will open Missouri Valley Conference play against 25th-ranked Southern Illinois with a four-game series beginning at 1 PM on Friday afternoon in Carbondale, Ill.
Last Time Out: Evansville 11, Western Illinois 10 (10 inn.)
EVANSVILLE - Quickly becoming a theme for the Aces, the University of Evansville baseball team battled back to walk-off with an 11-10 win in 10 innings over Western Illinois in the series finale on Sunday afternoon at German American Bank Field at Charles H. Braun Stadium in Evansville.
The win helped secure the second series win of the season for the Aces and moved UE back to .500 at 6-6 on the year.
"I'm so proud of our club and our team. In year's past, our last nine outs of the game, we would've just walked through and accepted a split with Western Illinois," said Aces head baseball coach Wes Carroll. "I was really proud of our club stepping-up from an offensive standpoint and showing a lot of fight."
The Leathernecks got off to a quick start as three of the first batters in the top of the first inning reached base, but Western Illinois was limited to just one run in the inning. In the second frame, WIU added two more runs to open up a 3-0 lead on the Aces.
Evansville answered in the bottom of the second as the scoring got started for the Aces when senior Craig Shepherd scored in the midst of a double play.
The Aces trimmed their deficit further in the third with freshman Mark Shallenberger scoring on a groundout by junior Mason Brinkley to make it a 3-2 WIU lead.
The fifth inning appeared to be the finishing touches from Western Illinois as the Leathernecks pushed across five runs to increase their lead to 8-2.
What has been true for the Aces all season is that no lead is safe with Evansville's offense. After watching WIU put a five spot up in the top half of the inning, the Aces put up their own five spot in the bottom half.
Senior Kenton Crews got the scoring started with a base hit through the left side that sent Brinkley and freshman Simon Scherry home.
Redshirt senior Troy Beilsmith added a pair of runs for Evansville later in the half inning with a single to left that scored Crews and senior Ben Komonosky.
The final run of the inning came off the bat of Shallenberger, who roped a single through the left side, pushing Beilsmith home to cut the Western Illinois lead to just one at 8-7.
After some early pitching struggles by the Aces staff, sophomore Michael Parks came in and steadied the team.
After a wild fifth inning, Parks struck-out the side in the sixth and came back in the seventh to sit the Leathernecks down in order.
"Michael Parks gave us a chance," said Carroll on the reliever. "He came in there and really threw up some goose eggs when we needed it and gave our offense a chance to scrap by and get some important quality at-bats."
In the eighth inning, the Leathernecks looked to have done it again, pushing the game out of reach with two runs, increasing their lead to 10-7. Down to their final few outs, Evansville delivered the runs it needed.
Sophomore Danny Borgstrom opened the inning with a triple and scored the inning's opening run on a wild pitch. After Beilsmith walked and Shallenberger was hit by a pitch, it was again Scherry who stepped up.
The freshman ripped a basehit to right center scoring both Borgstrom and Shallenberger, tying the game at 10 and sending the contest into extra innings.
Freshman pitcher Jakob Meyer escaped a difficult situation in the 10th with the international tiebreaker placing a Leatherneck runner at second to start the inning.
A sacrifice bunt moved to go-ahead run to third with just one out, but Meyer slammed the door with back-to-back swinging strikeouts.
With senior Craig Shepherd opening the inning at second, Evansville got to work quickly. Junior Mason Brinkley led off the inning with a walk before Komonosky struck out.
Junior Evan Kahre followed-up with another walk, loading the base with just one out. Looking to follow up his walk-off win 24 hours prior, Borgstrom did just that. The Morris, Ill. native popped a fly ball into left field and as the Leatherneck left fielder and center fielder each tracked the ball a miscommunication led to the ball falling safely to the turf. Shepherd, prepared to take off, sprinted home, reaching safely and earning the 11-10 extra-innings win for the Aces.
"Danny Borgstrom's been on fire all weekend and locked-in at the plate," remarked Carroll on the sophomore's weekend at the dish.
The walk-off win was Evansville's second in as many days and the third of the season for the Aces.
Previewing the Matchup: No. 25 SIU
Evansville and Southern Illinois are meeting 174th time when the two sides meet on Friday with the Salukis owning a 109-64 advantage in the all-time series.
The Salukis swept a three-game series from the Aces the last time the two programs met on May 3 and 4, 2019.
SIU enters the weekend on a 16-game win streak, including amassing an 11-0 record this season.
Evansville has won back-to-back series entering this weekend for the first time since taking two games each from Bradley and DBU during March 2019.
Infield Duo on Hit Streaks
The duo of Simon Scherry and Tanner Craig have been stellar for the Aces both offensively and defensively.
Offensively, both Scherry and Craig enter Sunday with team-high eight-game hitting streak.
On the defensive side, the two are each fielding over .975 on the season with a combined 102 putouts.
Evansville in MVC Openers
Evansville has had recent success in its MVC opening series.
Since 2014, the Aces are 3-3 in MVC opening series, including a three-game series sweep of Bradley during the 2019 season, the last season in which MVC play was started.
Rohleder Earns Second MVC Weekly Honor
After winning her second tournament championship of the season, University of Evansville golfer Sophia Rohleder has added the second Missouri Valley Conference Golfer of the Week accolade to her list of accomplishments.
The Evansville native opened this spring with a medalist at the ASU Spring Classic and followed that up with another victory on Tuesday at the Don Benbnow Invitational in Jacksonville Beach, Fla. Rohleder paced the competition for the majority of the event, fending off a challenge by Olivia Loberg of Eastern Michigan to win by one stroke. On Monday, Rohleder saw atop the leaderboard with a 75 and followed that up with a 5-over 76 on Tuesday. Her final score of a 151 was one in front of Loberg's 152.
Rohlder finished the event in style, draining a 10-foot putt to clinch the victory. Up next for Rohleder and the UE women is the Pinehurst Women's Intercollegiate on March 29-30.
Contribute to AceNotes
To have content considered for inclusion in AceNotes, please submit a Marketing Request Form. Deadline for submission to AceNotes is 10:00 a.m. on the requested date of publication. Only articles concerning UE related/sponsored activities will be accepted. Articles submitted to AceNotes may be edited for length and clarity. Submitter contact information is at the end of each article.