| | |
| --- | --- |
| AceNotes Today | Wednesday, March 10, 2021 |
Faculty Promotion and Tenure
Tenure and Promotion in Rank Recommendations
Appointments Beginning with the 2021-2022 Academic Year
The following faculty members have been recommended for tenure and promotion to associate professor by the Promotion and Tenure Committee, the Executive Vice President for Academic Affairs/Provost, and the President of the University of Evansville:
Heather Fenton, Business department.
Dr. Fenton earned her PhD in Business Administration from Florida Atlantic University in 2015 and both her BBA (2008) and her MBA (2010) from the University of North Florida in Jacksonville, Florida.

Dr. Fenton joined the UE faculty in 2015 as an Assistant Professor of Management. She teaches courses in management, including Global Strategic Management, Competitive Dynamics, Managing Global Relationships, and International Business Strategy. Dr. Fenton's research interests include mergers and acquisitions, interorganizational trust, and strategic leadership.
Bethany Huebner, Physical Therapy department.
Dr. Huebner received her bachelor's degree in Biology from the University of Alabama in Huntsville in 2006, and her Doctor of Physical Therapy degree from Indiana University in 2009. She graduated from the ProRehab and University of Evansville's Sports Residency program in 2010. She is a board-certified clinical specialist in sports through the American Board of Physical Therapy Specialties. She has also received her manual therapy certification through Evidence in Motion's program in 2014.

Dr. Huebner teaches within the area of musculoskeletal, foundational sciences and clinical course work in the DPT program. In addition, she is actively engaged in patient care at ProRehab, PC in Evansville, Indiana, and is the Residency Program Coordinator for ProRehab and University of Evansville's Sports Residency Program. Dr. Huebner's research interest is with injury prevention through individualized and group training.
Su Jin Jeong, Public Health department.
Dr. Jeong received a BA degree in Communication and Information Sciences from the University of Alabama. She also earned her MPH degree in global maternal and child health and a DrPH degree in maternal and child health policy, both from the University of Alabama at Birmingham.

Dr. Jeong has extensive global experience, having traveled to numerous countries in Europe, Asia, and the Caribbean, and has conducted public health research both in the US and in developing countries. She was currently chosen for the University of Evansville Global Scholar Award for 2018-2019 to pursue research and collaborative work regarding post-partum care differences in the US versus South Korea and the implications of that difference as related to infant and maternal mortality. Dr. Jeong is also actively involved in assisting students with conducting their own research and implementing community outreach programs. Her specific research interests involvehealth disparities, minority health, immigrant health, global health, access to care, community health, organizational collaboration, and needs assessment and evaluation.
Ling-Yin Liang, Physical Therapy department.
Dr. Liang received her Bachelor and Master degrees of Physical Therapy from the National Cheng Kung University (Tainan, Taiwan) and her PhD degree in Biomechanics & Movement Science from the University of Delaware.

Dr. Liang's teaching responsibility is related to neurological rehabilitation. She served as a research assistant at the Institute of Biomedical Engineering, National Check Kung University and teaching assistant at the Department of Kinesiology & Applied Physiology, University of Delaware. Her research focuses on neuroimaging and movement control in children with disabilities.
Jessica Lofton, Mechanical and Civil Engineering.
Dr. Lofton earned a Bachelor of Science in Mechanical Engineering from the University of Evansville, and her MS and PhD degrees in Mechanical Engineering from the University of Illinois at Urbana-Champaign. She has a Graduate Minor in College Teaching. She has Graduate Certificate Programs in Citizen Scholar Certificate and Foundations of Teaching Certificate from the University of Illinois Center for Innovation in Teaching and Learning.

Dr. Lofton is a faculty advisor for the Society of Women Engineers and the American Society of Heating, Refrigerating, and Air Conditioning Engineers. She is also the Girls' Camp Director for UE's Engineering OPTIONS summer camps. Her specialty areas include Heat Transfer, Thermodynamics, and Fluid Mechanics.

Dr. Lofton's professional memberships include the American Society of Engineering Education, American Society of Heating, Refrigerating, and Air Conditioning Engineers, Pi Tau Sigma Mechanical Engineering Honor Society, Society of Women Engineers, Tau Delta Kappa U.E. Engineering Honor Society, and Tri-State Women in Science, Technology, Engineering, and Mathematics.
Katie Mullins, Creative Writing department.
Professor Mullins graduated Magna Cum Laude from UE in 2007 with a Bachelor of Fine Arts in Creative Writing. She also earned her Master of Fine Arts in Fiction from Southern Illinois University in Carbondale, and a Master of Fine Arts in Fiction from Spaulding University.

Professor Mullins has been nominated for both the Pushcart Prize and Best of the Net twice. She is the Associate editor of metrical poetry journal Measure, and she has been published or has work forthcoming in journals like The Rumpus, Hawaii Pacific Review, BOAAT Press, Harpur Palate, Prime Number, Big Lucks, Pithead Chapel, and she was a semifinalist in the Ropewalk Press Fiction Chapbook competition and in the Casey Shay Press poetry chapbook competition.
Kate Schwartzkopf-Phifer, Physical therapy department.
Dr. Schwartzkopf-Phifer teaches within the research, cardiopulmonary and musculoskeletal areas of the DPT program. She received her Bachelor and Master of Physical Therapy degrees from theUniversity of Evansville and her Doctor of Physical Therapy degree from Regis University.

She completed an orthopedic residency through Evidence in Motion and is a board-certified clinical specialist in orthopedics through the American Board of Physical Therapy Specialties. She received her PhD in Rehabilitation Sciences from the University of Kentucky with a specialization in motor control. Her research interests are in injury prediction and prevention, as well as performance in athletes. Dr. Schwartzkopf-Phifer remains actively engaged in patient care at Rehabilitation & Performance Institute, PSC in Owensboro, KY, where she also serves as a faculty member in the RPI and University of Evansville Orthopedic Residency Program.
Kristen Strandberg, Music department.
Dr. Strandberg holds a Bachelor of Music degree in Cello Performance from the University of Minnesota and a PhD in Musicology from Indiana University.

Dr. Strandberg's teaching and research is driven by her interest in how audiences hear music based on their cultural experiences and frames of reference. She frequently designs assignments, activities, and class trips that challenge students to consider the mindset and values of past musicians, composers, and audiences. Her classes not only examine music in its historical contexts, but also focus on building students' skills in researching, writing, and discussing music.

Her research focuses on the reception of violin virtuosity in mid-nineteenth-century Paris, examining concert reviews in the press to explore how critics and listeners perceived and discussed these performers. Her recent publications include articles in the Journal of Musicological Research and the Journal of Music History Pedagogy. She has presented at conferences throughout the US and Europe, recently appearing as an invited speaker at the annual conference of the National Chopin Institute in Poland.
---
The following faculty members have been recommended for tenure and promotion to professor by the Promotion and Tenure Committee, the Executive Vice President for Academic Affairs/Provost, and the President of the University of Evansville:
Michael Roscoe, Physician Assistant department.
Dr. Roscoe earned his BS degree from Butler University (Biology) and his MS (Biology) from Purdue University. He went back to school and received his second undergraduate degree in Health Science from Butler University and then a second master's from the University of Nebraska. He received his PhD from TUI University. He is also on faculty with the Indiana University School of Medicine – Evansville.

Dr. Roscoe has been a PA for over twenty years (primary specialty is in emergency medicine). He also has experience with military medicine and has had two combat tours (Afghanistan 2004-2005, Iraq 2008-2009). He has authored over eighteen journal articles and received the prestigious AAPA Paragon award for publishing in 2007. He is actively involved at the National and State levels of P.A. leadership. He is currently on the Physician Assistant Education Association Board of Directors and is the current President of the Indiana Academy of Physician Assistants. He has served on the Leadership Mission Advancement Commission and has been a faculty facilitator/mentor for the Program Directors 101 Workshop for PAEA.

Dr. Roscoe also served on several national committees with the National Commission on the Certification of Physician Assistants. He worked on the Automatic Item Generation test writing committee, as well as the Emergency Medicine Certificate of Additional Qualification test writing committee. Additional items of note are that he has been awarded the Distinguished Hoosier Award from then Governor Mitch Daniels, the Bronze Star Medal during his Afghanistan deployment, and he was the Indiana PA of the Year in 2005.
Peter Schmidt, Mechanical Engineering department.
Dr. Schmidt has a Bachelor of Science in Mechanical Engineering in 1986 from the University of Louisville. From Vanderbilt University, he received his Master of Science in Mechanical Engineering degree in 2006, and both his Doctor of Philosophy in Mechanical Engineering and a Future Faculty Preparatory Program Teaching Certificate in 2006.
He is a practicing engineer with over thirty years of experience in total. He started full time in academia over ten years ago, after working in government, manufacturing and consulting. He continues to work on projects in conjunction with industry and other external stakeholders via consulting and through supervision of student work. He has continuously been involved in capstone course delivery. Dr. Schmidt has supervised nearly thirty capstone design projects and has been funded on more than ten external research projects. His teaching experience has concentrated in the area of engineering mechanics and in project-based design courses, where he brings expertise as a practitioner to the student experience.
---
The following faculty members have been recommended for promotion to professor by the Promotion and Tenure Committee, the Executive Vice President for Academic Affairs/Provost, and the President of the University of Evansville:
Dan Byrne, History department.
Dr. Byrne graduated with a BA from Notre Dame and received his PhD from Georgetown University, where he worked under some of the most eminent scholars in the area of American foreign policy. He joined the History department in 2005 and has been an extremely active member of the faculty ever since. He studies the history of US foreign policy in all periods but is especially interested in US relations with the Arab world, particularly Algeria in the 1950s and 1960s.
Suresh Immanuel, Mechanical and Civil Engineering department.
From Anna University in India, Dr. Immanuel earned his Bachelor of Engineering in Civil Engineering in 2001 and a Master of Engineering in Highway and Transport Management in 2004. He also earned his Doctor of Philosophy in Civil Engineering from Auburn University in 2007, and he is a 2020 UE graduate with a Master of Science in Leadership degree.

Dr. Immanuel is the Chair of the Mechanical and Civil Engineering department. He is a registered professional engineer and the recipient of the 2018 Dean's Teaching Award. He received the ASCE Outstanding Reviewer award in 2012, 2014, and 2017 from the American Society of Civil Engineers Journal of Transportation Engineering. Dr. Immanuel has served as the committee member in the national level ASCE Committee on Student Members, Members Communities Committee, and currently chairing the global members task subcommittee. He was involved in many university levelcommittees such as Academic Services Committee, General Education Subcommittee, Curriculum Committee and served as the University Ombudsperson for two years. He is a civil engineering program evaluator for the Accreditation Board for Engineering and Technology, Inc.
Lesley Pleasant, Foreign Languages and Cultures department.
Dr. Pleasant received her BA in German Studies from Dartmouth College and an MA and PhD in German Literature from the University of Virginia. She teaches all levels of German language, literature, and culture, as well as International Film, First Year Seminar, and the senior capstone course for language majors. Her research interests include 19th-21st century German theater/drama (Büchner, Heiner Müller, Franz Castorf), the divided Germany (Sarah Kirsch, Christa Wolf, Wende texts and films), film (especially diasporic cinema), the image of the US in German literature and film, as well as Animal Studies and Environmental Humanities.
Kenneth Steinsultz, Music department.
Dr. Steinsultz holds a Bachelor of Science degree in Music Education from Quincy University from 1991, and Master of Music and Doctor of Musical Arts degrees from the University of Illinois at Urbana-Champaign. An active performer, Dr. Steinsultz was a guest artist for the Tuba and Euphonium Association's Midwest Conference in 2013 and 2015. He also performed at the 2014 International Tuba and Euphonium Conference. He has served as principal euphonium in the Evansville Symphonic Band. He has been featured soloist with the Bend in the River Brass Band (Evansville), the Concert Band of Central Illinois, and the Quincy (IL.) Park Band. In 2005, he was guest clinician for the Association of Concert Bands national conference and performed as a guest artist on the finale concert.

In addition to performing, Dr. Steinsultz has been a member of the Board of Directors for the Evansville Symphonic Band, serving as secretary. He has presented clinics at state conferences in Illinois and Indiana. He is a member of the College Band Directors National Association, National Band Association, Indiana Bandmasters Association, International Tuba and Euphonium Association, and Phi Mu Alpha Sinfonia (honorary membership). He has been a member of the Quincy Park Band, Quincy Symphony Orchestra, and Mississippi River Brass Band. He has performed with the Champaign-Urbana Symphony, Danville (Illinois) Symphony, Illinois Symphony of Springfield/Bloomington, and the Evansville Philharmonic Orchestra.

As a conductor, Dr. Steinsultz is a frequent guest conductor of district and regional honor bands. His university ensembles have performed at regional festivals and state organizational conferences, most recently the College Band Directors National Association 2016 North Central Division Conference at Iowa State University, Ames, Iowa. At UE, he conducts the Wind Ensemble, University Band, Aces Brass Pep Band, and teaches courses in applied low brass and conducting. Dr. Steinsultz also serves as music director and conductor for The Spirit of Evansville Sweet Adelines Chorus.
Margaret Stevenson, Psychology department.
Dr. Stevenson obtained a BS in Psychology and a BA in French from Ohio State University, and an MA and PhD in Psychology from the University of Illinois at Chicago. She has published over thirty peer-reviewed articles and book chapters related to factors that shape juror decision makingand the nature of jury deliberations. These research interests are reflected in her 2018 Oxford University Press edited book titled "Criminal Jury Decision Making in the 21st Century: Psychological Science and the Law." She also explores perceptions of vulnerable individuals, including children and minorities, who enter the legal system. Her work in this field is reflected in another Oxford University Press edited volume she published in 2020 titled "The Legacy of Racism for Children: Psychology, Law, and Public Policy."

Dr. Stevenson has received national grants for research from various divisions of the American Psychological Association, including the American Psychology and Law Society and the Society for the Psychological Study of Social Issues. She has also been honored with various teaching, research, and service, including the American Psychological Association Division 37's Section on Child Maltreatment Early Career Award, the APA Division 37 Early Career Professional Award for Service, the Sydney and Sadelle Berger Award for Research, the Arts and Sciences Dean's Teaching Award, the United Methodist Exemplary Teacher Award, the University of Evansville Chi Omega Professor of the Year, and the UE Alumni Association's Outstanding Teacher Award.
Tamara Wandel, Communication department.
Dr. Wandel earned a bachelor's degree from Indiana University (1992), her master (1997) and doctorate (2002) degrees from the University of Albany.

Dr. Wandel believes in experiential education. A former New York director of public relations and journalist, she understands the value of applied skills. She has conducted media research and data analytic projects with several professional sports teams, including the Boston Red Sox, Denver Broncos, and the Utah Jazz. Through her classes – ranging from sports promotions to media writing – she and her students have been awarded grants from national sources such as the Maurice R. Robinson Constitutional Rights Foundation and the 1 For All First Amendment campaign. She is a previous recipient of the MarCom Creative Award, Dean's Excellence in Teaching Award, and a two-time Society for New Communications Research Fellow.

Dr. Wandel's research agenda has focused mainly on the areas of social media on branding and behavioral choices, including published journal articles in the Handbook of Research on Children's Consumption of Digital Media, Driving Customer Appeal Through the Use of Emotional Branding, Journal of New Communications Research, Planning for Higher Education, and the Journal of the Society for College & University Planning.
COVID-19 Vaccinations for 16 and Older at Ascension St. Vincent
Currently, the Indiana State Department of Health (ISDH) has identified the following Indiana residents as eligible to receive the COVID vaccine:
Healthcare Workers
First Responders
Teachers and school staff in pre-K through high school, child care centers, Head Start and Early Start programs
Licensed childcare providers, including center-based and family care providers
Age 16 and above
Specific groups of patients at highest risk of severe illness from COVID-19 who are identified by their healthcare provider are also eligible. These individuals will receive a unique registration link by text or email.
We will keep our patients updated as eligibility and administration sites broaden. Although currently there is no cost to patients for the vaccine, insurance information will be collected.
Vaccine Scheduling
The COVID-19 vaccine is available by appointment only. No walk-ins will be permitted. Once listed as eligible by the ISDH, go to www.ourshot.in.gov or by calling 211 or 1-866-211-9966 to schedule an appointment.
Detailed instructions
Go to www.ourshot.in.gov
Enter date of birth and attest to being over age 16
Enter zip code and Select Ascension St Vincent Vaccine Clinic location
Select appointment date and time
Complete demographic information including accurate date of birth
Confirm appointment
Ascension St Vincent Vaccine Clinic
For your convenience, the Ascension St. Vincent Vaccine Clinic is open 7 days a week and located on the hospital campus in the Manor Auditorium. When scheduling an appointment on the state website, select "Ascension St Vincent Evansville VAX" as site location. Directions: Enter the parking garage off of Bellemeade Avenue, immediately turn left and follow the directional signage to the designated vaccine clinic parking area. Patients should enter the clinic using the doors adjacent to the parking garage. Tri State Clinics patients are encouraged to call our office at 1-888-492-8722 with questions or for assistance with scheduling at the Ascension St. Vincent Vaccine Clinic.
Spencer County Residents
Spencer County Local Health Department
Heritage Hills High School
Perry County Residents
Perry County Local Health Department
Perry County Memorial Hospital
Posey County Residents
Posey County Local Health Department
Illinois Residents
Phase 1A: Healthcare workers, those in long term care facilities.
Phase 1B : Frontline essential workers, residents 65 years of age or older and under 65 with comorbidities.
Phase 1B+ : IL residents 16+ with disabilities or serious medical conditions. Higher education staff, gov workers, and media. Details and scheduling info at: https://coronavirus.illinois.gov/s/.
Kentucky Residents
Phase 1a: Long term care facilities, healthcare personnel
Phase 1b: First responders, anyone 70 or older, K-12 school personnel
Phase 1C : KY residents age 60+ AND 16 and older with serious medical conditions and essential workers
For locations and to schedule appointment go to: https://govstatus.egov.com/kentucky-vaccine-map or call the KY COVID-19 Hotline - (800) 722-5725 for more information.
Should you have any additional questions, please contact Ashley Chipps at ashley.chipps@ascension.org or Stacey Smith at stacey.smith1@ascension.org
Virtual Health Careers Forum 2021
The Center for Career Development and Exercise and Sports Science Club will be hosting the 2021 annual Health Careers Forum on March 31. The virtual event will run from 6:00 to 8:00 pm. RSVPs are required through Handshake and a Zoom link will be sent to join the forum.
A variety of health occupations will be represented on the forum panel. Panelists will include those in Physical Therapy, a Physician Assistant, Medical School student, Vice President of Professional Services, and Human Resources. Join us virtually on March 31 to gain insight into future career paths, hear valuable advice, and make connections!
Virtual Internships & More Fair This Thursday
Looking for an internship or co-op, summer or part-time job for non-profit or otherwise? This virtual fair is open to all majors!
Thursday, March 11, 2021 from 1:00 p.m.-3:00 p.m.
Student registration is required through Handshake
Registration for group sessions and 1:1 individual 10 minute
interviews are required.
Questions - Contact the Center for Career Development
career@evansville.edu
812.488.1083
Pre-Advising Workshops
Pre-Advising Workshops are here! Prepare for your faculty advising appointment.
Health Professions and Education Workshop
Wednesday, March 17th at 2:50-3:50 PM
Science, Math, and Engineering Workshop
Wednesday, March 17 at 4:00-5:00 PM
Business Workshop
Thursday, March 18 at 2:50-3:50 PM
Humanities and Social Sciences Workshop
Thursday, March 18 at 4:00-5:00 PM
Information on joining the workshops on Zoom:
https://zoom.us/j/8566203357
ID: 856-620-3357
Password: 635613
Any major is welcome at all workshops.
Advising Week | March 22 - 26
Meet with your faculty advisor this week. Make an appointment now.
Registration Week | March 29 – April 2
Don't miss your assigned registration window. Finalize your fall registration.
Center for DEI Presents: Girlfriend Hour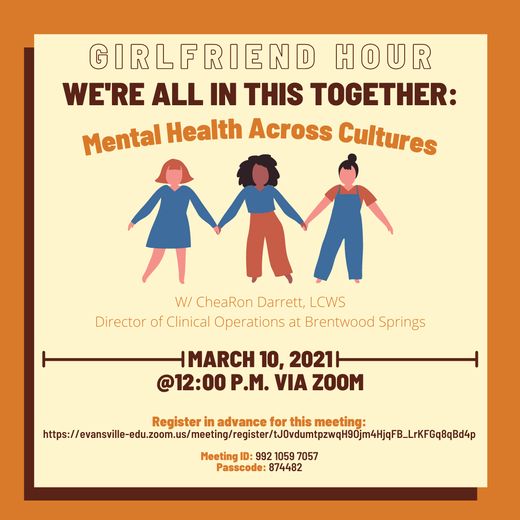 Together. We're there for each other every time! Our second Girlfriend Hour will be held on Wednesday, March 10th at 12pm via Zoom and the topic is- 'We're All in This Together: Mental Health Across Cultures'. Lead by CheaRon Darrett, LCSW the Director of Clinical Operations at Brentwood Springs! This Lunch and Learn serves as a safe space for eye opening, stigma breaking discussion surrounding the relationship between womxnhood, culture, and mental health. Come with an open mind and leave with a full heart.
March is Womxn's History Month! Throughout the month of March the Center for Diversity Equity and Inclusion will host a Lunch and Learn series entitled the Girlfriend Hour every Wednesday around 12pm on Zoom! Please check Acenotes and our social media for weekly topics and links! All identifying individuals are welcome to come, share and learn from our weekly speakers.
Please register for- March 10th: We're All in This Together: Mental Health Across Cultures- here: https://evansville-edu.zoom.us/meeting/register/tJ0vdumtpzwqH9Ojm4HjqFB_LrKFGq8qBd4p
Meeting ID: 992 1059 7057
Password: 874482
**Link is not the same for all Girlfriend Hours. Please use the specified link/ Meeting ID and Password listed for the specific week!**
This Week in Religious Life
SPIRITUAL OPPORTUNITIES
1. The Muslim and Christian Prayer Rooms in Neu Chapel are available for use 24/7. Contact the Muslim Student Association for keycard access to the Muslim Prayer Room.
2. The Center for Diversity, Equity, and Inclusion now offers a spirituality library, including books from eleven different religious traditions. From Brene Brown to Thich Nhat Hanh, and from Christian bead prayers to self-reiki, there is something for everyone. Stop by the Center's conference room to borrow one for yourself.
3. Newman Club invites freshmen to sign up for the Freshman Five! Come to Newman House for orientation and to receive materials on Tuesday, March 2, 7PM.
4. Interested in joining a Newman small group? Click on the link for more information: https://docs.google.com/forms/d/e/1FAIpQLSecFpCOiycpWm-GylEffN-8CLo9PcI15IxAp1oeVjlr70khTA/viewform?usp=pp_url.
CHRISTIAN WORSHIP
Due to pandemic restrictions, UE will not offer Protestant worship in Neu Chapel this semester. There are several churches in walking distance of our campus that are open for virtual and/or in-person worship on Sundays.
Methodist Temple (masks required)
8:30am, traditional worship
11:00am, contemporary worship
Redeemer Lutheran (masks required)
8:00am and 10:30am, traditional worship
A Catholic Mass is offered each Sunday in Neu Chapel at 1PM.
Disability Awareness Month/ Womxn's History Month Challenge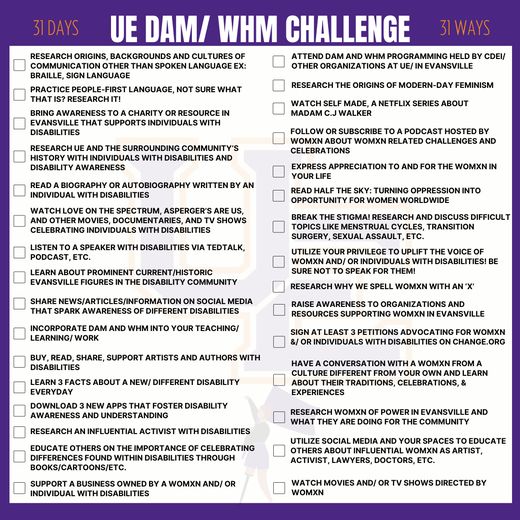 The month of March celebrates Disability Awareness Month and Womxn's History Month. Join the UE DAM/ WHM Challenge sponsored by the Center for Diversity, Equity and Inclusion! In this challenge you will find 31 ways for 31 days of Disability Awareness and Womxn's History Month to actively learn, engage, support, and uplift individual's with disabilities and womxn identifying individuals from Evansville and around the world. Items listed in the challenge can be done personally or in a social group! Hit the library and do some research on why we spell womxn with an 'x', the origins and culture of Sign Language and/ or grab a friend and binge Love on the Spectrum (available on Netflix!). However and whatever you do #DAM/WHMChallenge yourself! To make it extra fun, share what your doing on social media and be sure to tag us!
We can't wait to see the ways in which you all #DAM/WHMChallenge yourself!
Challenge Item List:
Research origins, backgrounds and cultures of communication other than spoken language ex: Braille, Sign Language
Practice People-first language, not sure what that is? Research it!
Bring awareness to a charity or resource in Evansville that supports individuals with disabilities
Research UE and the surrounding community's history with individuals with disabilities and disability awareness
Read a biography or autobiography written by an individual with disabilities
Watch Love on the Spectrum, Asperger's are us, and other movies documentaries and TV shows celebrating individuals with disabilities
Listen to a speaker with disabilities via TedTalk, Podcast, etc.
Learn about prominent current/historic Evansville figures in the disability community
Share news/articles/information on social media that spark awareness of different disabilities
Incorporate DAM and WHM into your teaching/ learning/ work
Buy, read, share, support artists and authors with disabilities
Learn 3 facts about a new/ different disability everyday
Download 3 new apps that foster disability awareness and understanding
Research an influential activist with disabilities
Educate others on the importance of celebrating differences found within disabilities through books/cartoons/etc.
Attend DAM and WHM programming held by CDEI/ other organizations at UE/ in Evansville
Research the origins of modern-day feminism
Watch Self Made, a Netflix series about Madam C.J Walker
Follow or subscribe to a podcast hosted by womxn about womxn related challenges and celebrations
Express appreciation to and for the womxn in your life
Read Half the Sky: Turning Oppression into Opportunity for Women Worldwide
Break the stigma! Research and discuss difficult topics like menstrual cycles, transition surgery, sexual assault, etc.
Utilize your privilege to uplift the voice of womxn and/ or individuals with disabilities! Be sure not to speak for them!
Research why we spell womxn with an 'x'
Raise awareness to organizations and resources supporting womxn in Evansville
Watch movies and/ or tv shows directed by womxn
Have a conversation with a womxn from a culture different from your own and learn about their traditions, celebrations, and experiences
Research womxn of power in Evansville and what they are doing for the community
Utilize social media and your spaces to educate others about influential womxn as artist, activist, lawyers, doctors, etc.
Support a business owned by a womxn and/ or individual with disabilities
Sign at least 3 petitions advocating for womxn and/ or individuals with disabilities on change.org/ other petition websites
"WERQ" Dance Classes are Back at the Fitness Center and Virtual
The popular workout class, WERQ is back and ready to help get you back in shape!
WERQ is a fun class that allows you to get a good workout in through a mix of repetitive dance steps and athletic moves. The music includes the most popular and trendiest pop and hip hop music. Join for a wildly fun time!
In person attendance will be capped at 15 people, the first 15 to sign up on Uengage will reserve their spot for the following class! Don't worry if you're not the first 15, you can still tune in via zoom to join in on the workout at home or in your own space! The zoom link will be posted to the UE Fitness Center Facebook page, if you'd like to be emailed the zoom link please email ah519.
Classes will be held every Tuesday and Thursday from 6:00 - 6:45pm throughout the month of March.
All in person participants will be required to wear a Mask and stay within their marked spots throughout the duration of the class.
It's not too late to take a CHANGELAB this semester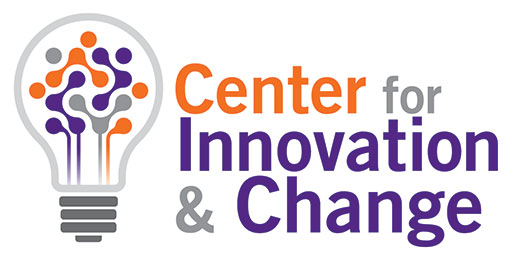 Late Start ChangeLab Courses March 15 to May 4
CHNG 310-8Y1 Transformative Action with Erin Lewis
Deeply explore your personal passions to guide your career and learn how to make change in the community. Hybrid, Online & In-Person Tuesday 2:45PM - 04:00PM, Schroeder Family Bldg., Room 170
CHNG 310-8Y2 ANTI-BIAS with Dr. Rob Shelby
This ChangeLab is focused on anti-bias exercises. Hybrid, Online & In-Person Thursday 02:45PM - 04:00PM, Schroeder Family Bldg., Room 170
Solution Station Wednesday - Need Help?
Do you need help with something and you're not sure who to ask on campus? Come by the Solution Station table in Ridgway this Wednesday from 11:00 AM to 1:00 PM and ask us! If we don't know the answer, we'll know who does! We're here to help you find solutions to issues you're facing. Let us help.
Bonus - Need a UE planner to help you stay organized? Come by the table - we're giving them away!
Questions? Contact Chad Hart at CH299@Evansville.edu.
Midterm Help - Online Drop-In Academic Peer Coaching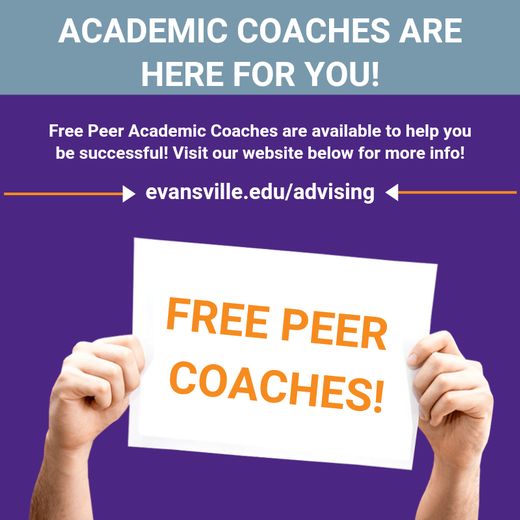 Feeling overwhelmed? Time management, study strategies, test preparation, organization, and school-life balance habits are important concepts to master. If you've found yourself struggling and you want someone to talk through the academic issues you're facing, the Academic Peer Coaches are available for drop-in coaching through Zoom!
Go here to see the online drop-in peer coaching schedule: https://www.evansville.edu/advising/academic-success-lab.cfm
Working with an academic coach can help you get your academic life back into balance and finish the semester strong.
Individual coaching is still available as well.
Questions? Contact Chad Hart at CH299@Evansville.edu.
All-Campus Art Project
Whether you are the next Monet or can only scribble a stick-figure, the Office of Religious Life needs your art! Take a normal old piece of 8.5x11 paper and draw what your spirituality looks like. Is your spirituality a swirl of colors or a single line? Does it look like a place or maybe a person? Is it a moment in time or a journey of many years? We want to see it all! Drop your masterpiece off at the Center for Diversity, Equity, & Inclusion in Ridgeway, and in April, we'll put it together with everyone else's to create a "quilt" for Neu Chapel. Students, faculty, and staff are all encouraged to participate. Contact the Director of Religious Life (jk383) with questions.
Summer Sessions Payment Plan
Summer session courses can be added to your monthly payment plan now with no additional set-up fee. If your student is enrolling in summer courses, anticipated summer charges can be included in the spring semester payment plan and the plan extended through May (for Summer 1 charges) or June (Summer 2 charges). The tuition rate for Summer 2021 is $570 per credit hour. Fees per summer term include a $50 registration fee and a $35 technology fee. Online courses are assessed a $50 online course fee. Payment arrangements are due prior to the start of the summer term.
Students should contact the Office of Student Financial Services no later than Reading/Study Day, April 30, 2021 to determine if financial aid is available for their summer courses.
To modify your current payment plan to include summer, contact the cashiers in the Office of Student Financial Services at 812-488-2565.
Fall 2020 Deans' List
The Fall 2020 Deans' List is currently on display at the University Libraries. The List will be on display until March 15.
Village Request Cards
Students interested in living in the Villages for 2021-22 should pick up Village request cards in the Office of Residence Life.
The Villages are reserved primarily for students with 60 plus credit hours. In order to apply to live in the Villages, each person in your group must have at least 44 credit hours on file with the University by the end of the Fall 2020 semester.
Village request cards are due back to the Office of Residence Life by 5:00 p.m., Friday, March 12.
More information on the housing assignments process can be found on the residence life section of the University website at https://www.evansville.edu/residencelife/housingapplyreturn/applying.cfm.
Submit your 2021-2022 FAFSA
File the 2021-22 FAFSA by April 15 at https://www.fafsa.ed.gov
Continuing students should file the 2021-22 Free Application for Federal Student Aid (FAFSA) to apply for federal, state and University need-based financial aid, including all federal student loans. UE's FAFSA code is 001795.
Filing by April 15 is essential for Indiana residents to receive state aid, and highly recommended for all.
Questions regarding the FAFSA should be directed to the Student Financial Services (Olmsted Administration Hall, Room 105) at 812-488-2364.
Dr. Sara Petrosillo Named Exemplary Teacher of the Year
Congratulations to Dr. Sara Petrosillo! She was recently presented the Exemplary Teacher Award, which is awarded annually to a UE faculty member.
Sara Petrosillo received her BA in English and Italian Literature from Colby College, and her PhD in English from the University of California, Davis. Her scholarship focuses on medieval literature and feminism and she has published articles on medieval poetry and drama in the Journal for Medieval and Early Modern Studies, Exemplaria: Medieval, Early Modern, Theory, Medieval Feminist Forum, and in a 2018 essay collection, Animal Languages in the Middle Ages: Representations of Interspecies Communication (Palgrave-Macmillan). She is currently working on a book about the cultural influence of falconry on medieval reading practices, Hawking Women: Falconry, Gender, and the Poetics of Control in Medieval Literary Culture. She teaches the first half of the British literature survey, first year seminars, world classics, and early English literature.
EECS students compete in the ICPC Mid-Central Regional Programming Contest
Congratulations to the students in the EECS department who competed in the ICPC Mid-Central Regional Programming Contest on Saturday, March 6. The contest had been postponed from its usual date in November and was held virtually rather than in person. The Evansville Purple team of Linh Trinh (senior computer engineering major), Munachimso Aneke (junior computer science major), and Ruikun Wang (senior computer science major) solved 4 out of 15 problems to place 30th out of 60 total teams competing in the contest and 2nd out of 9 teams at the University of Arkansas-Fort Smith site. The contest was won by a University of Illinois team that solved 14 of the 15 problems. Their coach, Dr. Deborah Hwang, Associate Professor of Computer Science, said "Considering the difficulty in forming a team and practicing due to COVID restrictions, the team did very well against the large D-1 research schools that fielded multiple teams."
Feit Named MVC All-Conference Honorable Mention for Second-Straight Season
For the second-straight year, University of Evansville women's basketball sophomore guard Abby Feit has been named Missouri Valley Conference All-Conference Honorable Mention, it was announced in a release from the Conference office on Wednesday morning.
Feit becomes the first Ace to receive back-to-back all-conference recognition from The Valley since Sara Dickey was named three times to the first team and once as honorable mention from 2013-14 to 2016-17.
Feit started and played in all 22 games for Evansville, while leading the team with 14.8 points (4th in MVC) and 7.6 rebounds per game (2nd in MVC). The Normal, Ill. native also got it done on the defensive end, where Feit tied for third in The Valley with 1.1 blocks per contest. Feit's 28 point, 14 rebounds, six steal, and four blocks performance against Oakland City is the only such single-game effort in NCAA DI women's basketball since at least 2014-15.
Evansville begins the postseason on Thursday at 7:30 PM against the No. 10 seed Valparaiso at Hoops in the Heartland at the TaxSlayer Center in Moline, Ill.
Spencer Wagner Leads UE Men in Final Round
Spencer Wagner took ten strokes off of his first-round tally in Tuesday's final round of the Don Benbow Invitational to help the University of Evansville men's golf team earn a third-place finish at Jacksonville Beach Golf Course.
Wagner had the low round of the tournament for the Purple Aces, firing a 2-over 73 to finish the tournament with a 156. It was a sharp improvement for Wagner, who lowered his score by ten strokes from Monday. He tied teammate Michael Ikejiani for 16th on the leaderboard. Ikejiani posted identical scores of 78 in the 2-round event.
Evansville was led by Isaac Rohleder, who tied for 7th place with a 152. Following a 74 in the opening round, Rohleder carded a 78 on Tuesday. Henry Kiel wrapped up the event with a 153, one shot behind Rohleder. Kiel opened the tournament with a 78 before completing the final round with a 75. He tied for 11th with a 153.
Dallas Koth came home in a tie for 25th place with a 159. Koth's rounds checked in at 78 and 81. Caleb Wassmer tied Koth for 25th. Seeing time as an individual, Wassmer posted rounds of 81 and 78.
With a score of 612, the Aces finished third on the team side. Rounds of 308 and 304 put UE solidly in the top three, eight strokes in front of 4th place Murray State. Drexel had the low round of the tournament on Tuesday, shooting a 285. The Dragons total was 17 shots lower than any other squad in the final round. Their tally of 585 saw them defeat Butler by 24 strokes with Evansville coming in third.
Next up for the Aces is a trip to Sevierville, Tennessee for the Bobby Nichols Intercollegiate. It is set to take place Sunday, March 14 through Tuesday the 16th.
Sophia Rohleder Wins Benbow Invitational Championship
For the second time in as many events this spring, University of Evansville golfer Sophia Rohleder is coming home with a championship. The senior paced the competition to win the Don Benbow Invitational on Tuesday at Jacksonville Beach Golf Course.
The Evansville native opened this spring with a medalist at the ASU Spring Classic and followed that up with another victory on Tuesday. Rohleder paced the competition for the majority of the event, fending off a challenge by Olivia Loberg of Eastern Michigan to win by one stroke. On Monday, Rohleder saw atop the leaderboard with a 75 and followed that up with a 5-over 76 on Tuesday.
Her final score of a 151 was one in front of Loberg's 152. Loberg had the low round of the entire tournament on Tuesday, posting a 2-over 73. A team effort across the board helped the Aces come home in second place in the team standings. UE's final total of 640 was nine off of the pace set by Southern Illinois, who won the tournament with a 631. The Salukis had the low team round of the event on Tuesday, shooting a 308.
Evansville had three players finish in the top 12 to clinch second place. UE was one stroke in front of EMU and two ahead of Butler, who took fourth.
Second on the team and tying for 12th in the tournament was the duo of Allison Enchelmayer and Mallory Russell. Enchelmayer had a strong round on Tuesday, carding an 80 and putting her final tally at a 164. Russell tied that mark; following a 78 on Monday, Russell clinched a strong finish with an 86 in round two.
Alyssa McMinn and Caitlin O'Donnell each made solid improvements between the first and second rounds. McMinn improved her opening round of 85 by four strokes, shooting an 81 on Tuesday to wrap up the event with a 166. O'Donnell made the largest jump. She dropped 11 shots off of Monday's score, going from a 92 to an 81 to take 28th place.
Carly Frazier finished with rounds of 89 and 87 to tie for 30th on the individual side.
An exciting opportunity awaits the Aces in their next tournament at the end of the month. Evansville is slated to take part in the prestigious Pinehurst Women's Intercollegiate from March 29-30 in Pinehurst, N.C.
Aces Record Overtime Draw with Southern Illinois
The University of Evansville women's soccer team picks up a 0-0 double overtime result at Southern Illinois, Tuesday evening.
The Purple Aces were led by Jayme-Lee Hunter with four shot attempts, with two aimed at goal. Hunter's shots on goal happened almost back-to-back with both being narrowly saved by SIU's goalkeeper Maddy Alaluf.
Making her first career start in goal for the Aces, Georgia Katsonouri made seven saves and faced 16 shots in the overtime shutout.
UE recorded a season high in shot attempts with 11, with five aimed true. Also recording shot attempts for the Aces, Emily Ormson (3), Alex Eyler (2), Emily Wolak (1) and Emilie Hill (1).
Evansville will have 10 days off before traveling to Springfield, Mo. to take on Missouri State on March 19 at 5 p.m.
Abby Feit Named MVC Scholar-Athlete Honorable Mention
After a tremendous season on and off the court, University of Evansville women's basketball sophomore Abby Feit has been named Missouri Valley Conference Scholar-Athlete Honorable Mention, it was announced in a release by the conference office on Tuesday morning.
The clinical laboratory science major holds a 3.49 GPA in her degree field and added strong performances on the court this season. Feit started and played in all 20 games for Evansville, while leading the team with 14.8 points (4th in MVC) and 8.0 rebounds per game (2nd in MVC). The Normal, Ill. native also got it done on the defensive end, where Feit tied for third in The Valley with 1.2 blocks per contest. Feit's 28 point, 14 rebounds, six steal, and four blocks performance against Oakland City is the only such single-game effort in NCAA DI women's basketball since at least 2014-15.
The honor is the first for an Ace since Hannah Noe was named MVC Scholar Athlete Honorable Mention in 2018.
Contribute to AceNotes
To have content considered for inclusion in AceNotes, please submit a Marketing Request Form. Deadline for submission to AceNotes is 10:00 a.m. on the requested date of publication. Only articles concerning UE related/sponsored activities will be accepted. Articles submitted to AceNotes may be edited for length and clarity. Submitter contact information is at the end of each article.