| | |
| --- | --- |
| AceNotes Today | Monday, March 8, 2021 |
Class of 2021: Sign up for the Senior Video!
Are you graduating in May with the Class of 2021? Have a favorite memory of UE or favorite professor from which you took a class or two? We want to hear what you have to say for the Senior Video!
Each year, a senior video is shared at Commencement before the processional. Plans are underway to put this video together, but we need the Class of 2021 to participate! On Monday, March 15, a video team will be set up to record your segment answering one of the questions above. All of your responses will be compiled together and shown at both Commencement ceremonies on Saturday, May 8.
Click here to sign up for a 20-minute time slot. You can be recorded by yourself, or roommates/households can be filmed together. Masks will be required and social distancing protocols will be in place.
Filming Details:
Monday, March 15
Dunigan Family Lounge (located inside the middle doors of SOBA)
3:00-6:00PM (by appointment)
Have questions? Please email Julie Bryant, university relations coordinator, at jb855@evansville.edu.
COVID-19 Vaccinations for 16 and Older at Ascension St. Vincent
Currently, the Indiana State Department of Health (ISDH) has identified the following Indiana residents as eligible to receive the COVID vaccine:
Healthcare Workers
First Responders
Teachers and school staff in pre-K through high school, child care centers, Head Start and Early Start programs
Licensed childcare providers, including center-based and family care providers
Age 16 and above
Specific groups of patients at highest risk of severe illness from COVID-19 who are identified by their healthcare provider are also eligible. These individuals will receive a unique registration link by text or email.
We will keep our patients updated as eligibility and administration sites broaden. Although currently there is no cost to patients for the vaccine, insurance information will be collected.
Vaccine Scheduling
The COVID-19 vaccine is available by appointment only. No walk-ins will be permitted. Once listed as eligible by the ISDH, go to www.ourshot.in.gov or by calling 211 or 1-866-211-9966 to schedule an appointment.
Detailed instructions
Go to www.ourshot.in.gov
Enter date of birth and attest to being over age 16
Enter zip code and Select Ascension St Vincent Vaccine Clinic location
Select appointment date and time
Complete demographic information including accurate date of birth
Confirm appointment
Ascension St Vincent Vaccine Clinic
For your convenience, the Ascension St. Vincent Vaccine Clinic is open 7 days a week and located on the hospital campus in the Manor Auditorium. When scheduling an appointment on the state website, select "Ascension St Vincent Evansville VAX" as site location. Directions: Enter the parking garage off of Bellemeade Avenue, immediately turn left and follow the directional signage to the designated vaccine clinic parking area. Patients should enter the clinic using the doors adjacent to the parking garage. Tri State Clinics patients are encouraged to call our office at 1-888-492-8722 with questions or for assistance with scheduling at the Ascension St. Vincent Vaccine Clinic.
Spencer County Residents
Spencer County Local Health Department
Heritage Hills High School
Perry County Residents
Perry County Local Health Department
Perry County Memorial Hospital
Posey County Residents
Posey County Local Health Department
Illinois Residents
Phase 1A: Healthcare workers, those in long term care facilities.
Phase 1B : Frontline essential workers, residents 65 years of age or older and under 65 with comorbidities.
Phase 1B+ : IL residents 16+ with disabilities or serious medical conditions. Higher education staff, gov workers, and media. Details and scheduling info at: https://coronavirus.illinois.gov/s/.
Kentucky Residents
Phase 1a: Long term care facilities, healthcare personnel
Phase 1b: First responders, anyone 70 or older, K-12 school personnel
Phase 1C : KY residents age 60+ AND 16 and older with serious medical conditions and essential workers
For locations and to schedule appointment go to: https://govstatus.egov.com/kentucky-vaccine-map or call the KY COVID-19 Hotline - (800) 722-5725 for more information.
Should you have any additional questions, please contact Ashley Chipps at ashley.chipps@ascension.org or Stacey Smith at stacey.smith1@ascension.org
Center for DEI Presents: Girlfriend Hour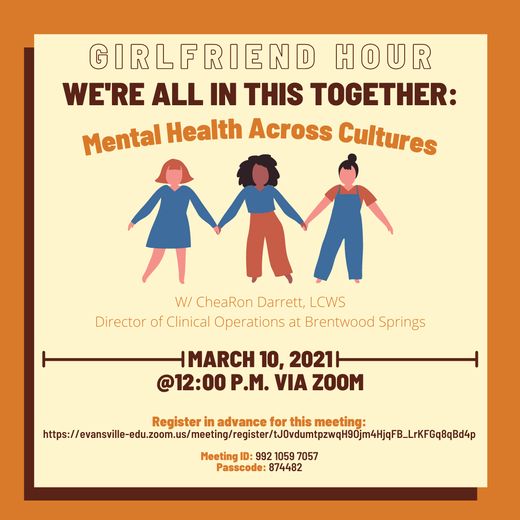 Together. We're there for each other every time! Our second Girlfriend Hour will be held on Wednesday, March 10th at 12pm via Zoom and the topic is- 'We're All in This Together: Mental Health Across Cultures'. Lead by CheaRon Darrett, LCSW the Director of Clinical Operations at Brentwood Springs! This Lunch and Learn serves as a safe space for eye opening, stigma breaking discussion surrounding the relationship between womxnhood, culture, and mental health. Come with an open mind and leave with a full heart.
March is Womxn's History Month! Throughout the month of March the Center for Diversity Equity and Inclusion will host a Lunch and Learn series entitled the Girlfriend Hour every Wednesday around 12pm on Zoom! Please check Acenotes and our social media for weekly topics and links! All identifying individuals are welcome to come, share and learn from our weekly speakers.
Please register for- March 10th: We're All in This Together: Mental Health Across Cultures- here: https://evansville-edu.zoom.us/meeting/register/tJ0vdumtpzwqH9Ojm4HjqFB_LrKFGq8qBd4p
Meeting ID: 992 1059 7057
Password: 874482
**Link is not the same for all Girlfriend Hours. Please use the specified link/ Meeting ID and Password listed for the specific week!**
This Week in Religious Life
SPIRITUAL OPPORTUNITIES
1. The Muslim and Christian Prayer Rooms in Neu Chapel are available for use 24/7. Contact the Muslim Student Association for keycard access to the Muslim Prayer Room.
2. The Center for Diversity, Equity, and Inclusion now offers a spirituality library, including books from eleven different religious traditions. From Brene Brown to Thich Nhat Hanh, and from Christian bead prayers to self-reiki, there is something for everyone. Stop by the Center's conference room to borrow one for yourself.
3. Newman Club invites freshmen to sign up for the Freshman Five! Come to Newman House for orientation and to receive materials on Tuesday, March 2, 7PM.
4. Interested in joining a Newman small group? Click on the link for more information: https://docs.google.com/forms/d/e/1FAIpQLSecFpCOiycpWm-GylEffN-8CLo9PcI15IxAp1oeVjlr70khTA/viewform?usp=pp_url.
CHRISTIAN WORSHIP
Due to pandemic restrictions, UE will not offer Protestant worship in Neu Chapel this semester. There are several churches in walking distance of our campus that are open for virtual and/or in-person worship on Sundays.
Methodist Temple (masks required)
8:30am, traditional worship
11:00am, contemporary worship
Redeemer Lutheran (masks required)
8:00am and 10:30am, traditional worship
A Catholic Mass is offered each Sunday in Neu Chapel at 1PM.
Virtual Internships & More Fair
Looking for an internship or co-op, summer or part-time job for non-profit or otherwise? This virtual fair is open to all majors!
Thursday, March 11, 2021 from 1:00 p.m.-3:00 p.m.
Student registration is required through Handshake
Registration for group sessions and 1:1 individual
meetings are required.
Questions - Contact the Center for Career Development
career@evansville.edu
812.488.1083
Disability Awareness Month/ Womxn's History Month Challenge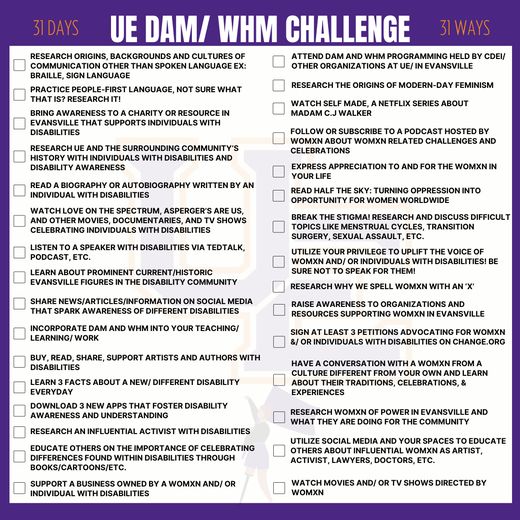 The month of March celebrates Disability Awareness Month and Womxn's History Month. Join the UE DAM/ WHM Challenge sponsored by the Center for Diversity, Equity and Inclusion! In this challenge you will find 31 ways for 31 days of Disability Awareness and Womxn's History Month to actively learn, engage, support, and uplift individual's with disabilities and womxn identifying individuals from Evansville and around the world. Items listed in the challenge can be done personally or in a social group! Hit the library and do some research on why we spell womxn with an 'x', the origins and culture of Sign Language and/ or grab a friend and binge Love on the Spectrum (available on Netflix!). However and whatever you do #DAM/WHMChallenge yourself! To make it extra fun, share what your doing on social media and be sure to tag us!
We can't wait to see the ways in which you all #DAM/WHMChallenge yourself!
Challenge Item List:
Research origins, backgrounds and cultures of communication other than spoken language ex: Braille, Sign Language
Practice People-first language, not sure what that is? Research it!
Bring awareness to a charity or resource in Evansville that supports individuals with disabilities
Research UE and the surrounding community's history with individuals with disabilities and disability awareness
Read a biography or autobiography written by an individual with disabilities
Watch Love on the Spectrum, Asperger's are us, and other movies documentaries and TV shows celebrating individuals with disabilities
Listen to a speaker with disabilities via TedTalk, Podcast, etc.
Learn about prominent current/historic Evansville figures in the disability community
Share news/articles/information on social media that spark awareness of different disabilities
Incorporate DAM and WHM into your teaching/ learning/ work
Buy, read, share, support artists and authors with disabilities
Learn 3 facts about a new/ different disability everyday
Download 3 new apps that foster disability awareness and understanding
Research an influential activist with disabilities
Educate others on the importance of celebrating differences found within disabilities through books/cartoons/etc.
Attend DAM and WHM programming held by CDEI/ other organizations at UE/ in Evansville
Research the origins of modern-day feminism
Watch Self Made, a Netflix series about Madam C.J Walker
Follow or subscribe to a podcast hosted by womxn about womxn related challenges and celebrations
Express appreciation to and for the womxn in your life
Read Half the Sky: Turning Oppression into Opportunity for Women Worldwide
Break the stigma! Research and discuss difficult topics like menstrual cycles, transition surgery, sexual assault, etc.
Utilize your privilege to uplift the voice of womxn and/ or individuals with disabilities! Be sure not to speak for them!
Research why we spell womxn with an 'x'
Raise awareness to organizations and resources supporting womxn in Evansville
Watch movies and/ or tv shows directed by womxn
Have a conversation with a womxn from a culture different from your own and learn about their traditions, celebrations, and experiences
Research womxn of power in Evansville and what they are doing for the community
Utilize social media and your spaces to educate others about influential womxn as artist, activist, lawyers, doctors, etc.
Support a business owned by a womxn and/ or individual with disabilities
Sign at least 3 petitions advocating for womxn and/ or individuals with disabilities on change.org/ other petition websites
"WERQ" Dance Classes are Back at the Fitness Center and Virtual
The popular workout class, WERQ is back and ready to help get you back in shape!
WERQ is a fun class that allows you to get a good workout in through a mix of repetitive dance steps and athletic moves. The music includes the most popular and trendiest pop and hip hop music. Join for a wildly fun time!
In person attendance will be capped at 15 people, the first 15 to sign up on Uengage will reserve their spot for the following class! Don't worry if you're not the first 15, you can still tune in via zoom to join in on the workout at home or in your own space! The zoom link will be posted to the UE Fitness Center Facebook page, if you'd like to be emailed the zoom link please email ah519.
Classes will be held every Tuesday and Thursday from 6:00 - 6:45pm throughout the month of March.
All in person participants will be required to wear a Mask and stay within their marked spots throughout the duration of the class.
UE Theatre Salon Series Welcomed Jeff Loeb '94, General Manager of the Hollywood Pantages Theatre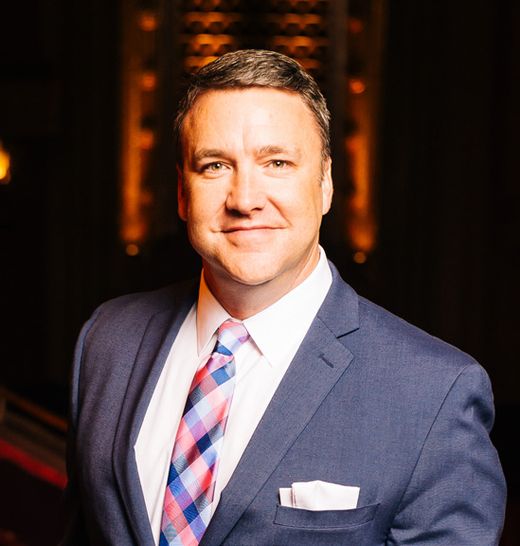 This week's installment of the UET Salon Series was held on Wednesday, Mar. 3, with Jeff Loeb '94.
Loeb is the General Manager of Broadway in Hollywood and the Hollywood Pantages Theatre, including oversight of the Nederlander West Coast regional season ticket office that manages the season ticket operations for seven touring markets. For the past 10 years, Loeb has been the chief strategist for the organization's dedication to patron loyalty, which catapulted their growth to 45,000 season ticket holders. Over the last 19 years, he has been privileged to work with over 190 Broadway touring productions and recently negotiated to expand the Nederlander Hollywood theatrical footprint by agreeing to present shows at The Dolby Theatre, home of the Academy Awards. Prior to working at the Pantages, Loeb was the Assistant General Manager of the Los Angeles Shubert Theatre, Managing Director for Seattle's UMO Ensemble, Producing Director for Open Circle Theatre in Seattle, and started his career as Assistant to the Producer at the St. Louis MUNY. A volunteer both in the entertainment industry and in the community at-large, Loeb is a member of the Broadway League's COVID Reopening Task Force and Legislative Council, West Coast Presenters COVID Reopening Task Force, TRG Arts Council, Hollywood Business Improvement District Streetscape Committee (past Chair), President Emeritus of the National Alliance for Musical Theatre, and Vice President Emeritus of the Hollywood Police Activities League.
This semester, UE Theatre students will have the opportunity to experience over 25 workshops and salons with various professionals from the entertainment industry.
Solution Station Wednesday - Need Help?
Do you need help with something and you're not sure who to ask on campus? Come by the Solution Station table in Ridgway this Wednesday from 11:00 AM to 1:00 PM and ask us! If we don't know the answer, we'll know who does! We're here to help you find solutions to issues you're facing. Let us help.
Bonus - Need a UE planner to help you stay organized? Come by the table - we're giving them away!
Questions? Contact Chad Hart at CH299@Evansville.edu.
Midterm Help - Online Drop-In Academic Peer Coaching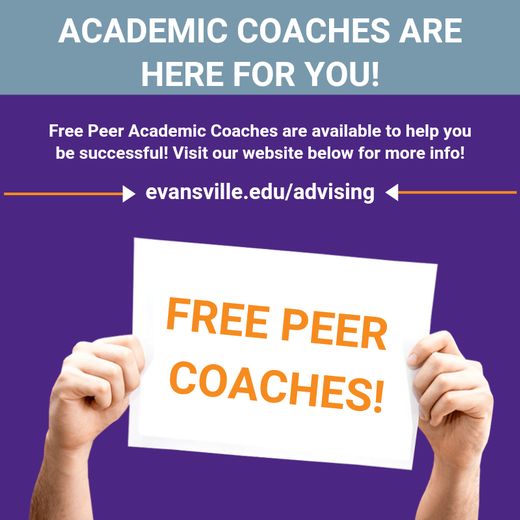 Feeling overwhelmed? Time management, study strategies, test preparation, organization, and school-life balance habits are important concepts to master. If you've found yourself struggling and you want someone to talk through the academic issues you're facing, the Academic Peer Coaches are available for drop-in coaching through Zoom!
Go here to see the online drop-in peer coaching schedule: https://www.evansville.edu/advising/academic-success-lab.cfm
Working with an academic coach can help you get your academic life back into balance and finish the semester strong.
Individual coaching is still available as well.
Questions? Contact Chad Hart at CH299@Evansville.edu.
Summer Sessions Payment Plan
Summer session courses can be added to your monthly payment plan now with no additional set-up fee. If your student is enrolling in summer courses, anticipated summer charges can be included in the spring semester payment plan and the plan extended through May (for Summer 1 charges) or June (Summer 2 charges). The tuition rate for Summer 2021 is $570 per credit hour. Fees per summer term include a $50 registration fee and a $35 technology fee. Online courses are assessed a $50 online course fee. Payment arrangements are due prior to the start of the summer term.
Students should contact the Office of Student Financial Services no later than Reading/Study Day, April 30, 2021 to determine if financial aid is available for their summer courses.
To modify your current payment plan to include summer, contact the cashiers in the Office of Student Financial Services at 812-488-2565.
Fall 2020 Deans' List
The Fall 2020 Deans' List is currently on display at the University Libraries. The List will be on display until March 15.
Village Request Cards
Students interested in living in the Villages for 2021-22 should pick up Village request cards in the Office of Residence Life.
The Villages are reserved primarily for students with 60 plus credit hours. In order to apply to live in the Villages, each person in your group must have at least 44 credit hours on file with the University by the end of the Fall 2020 semester.
Village request cards are due back to the Office of Residence Life by 5:00 p.m., Friday, March 12.
More information on the housing assignments process can be found on the residence life section of the University website at https://www.evansville.edu/residencelife/housingapplyreturn/applying.cfm.
Submit your 2021-2022 FAFSA
File the 2021-22 FAFSA by April 15 at https://www.fafsa.ed.gov
Continuing students should file the 2021-22 Free Application for Federal Student Aid (FAFSA) to apply for federal, state and University need-based financial aid, including all federal student loans. UE's FAFSA code is 001795.
Filing by April 15 is essential for Indiana residents to receive state aid, and highly recommended for all.
Questions regarding the FAFSA should be directed to the Student Financial Services (Olmsted Administration Hall, Room 105) at 812-488-2364.
Danny Wins It Again: Aces Rally for Series Win with 11-10 Walk-Off Victory
Quickly becoming a theme for the Aces, the University of Evansville baseball team battled back to walk-off with an 11-10 win in 10 innings over Western Illinois in the series finale on Sunday afternoon at German American Bank Field at Charles H. Braun Stadium in Evansville.
The win helped secure the second series win of the season for the Aces and moved UE back to .500 at 6-6 on the year.
"I'm so proud of our club and our team. In year's past, our last nine outs of the game, we would've just walked through and accepted a split with Western Illinois," said Aces head baseball coach Wes Carroll. "I was really proud of our club stepping-up from an offensive standpoint and showing a lot of fight."
The Leathernecks got off to a quick start as three of the first batters in the top of the first inning reached base, but Western Illinois was limited to just one run in the inning. In the second frame, WIU added two more runs to open up a 3-0 lead on the Aces.
Evansville answered in the bottom of the second as the scoring got started for the Aces when senior Craig Shepherd scored in the midst of a double play. The Aces trimmed their deficit further in the third with freshman Mark Shallenberger scoring on a groundout by junior Mason Brinkley to make it a 3-2 WIU lead.
The fifth inning appeared to be the finishing touches from Western Illinois as the Leathernecks pushed across five runs to increase their lead to 8-2.
What has been true for the Aces all season is that no lead is safe with Evansville's offense. After watching WIU put a five spot up in the top half of the inning, the Aces put up their own five spot in the bottom half. Senior Kenton Crews got the scoring started with a base hit through the left side that sent Brinkley and freshman Simon Scherry home. Redshirt senior Troy Beilsmith added a pair of runs for Evansville later in the half inning with a single to left that scored Crews and senior Ben Komonosky. The final run of the inning came off the bat of Shallenberger, who roped a single through the left side, pushing Beilsmith home to cut the Western Illinois lead to just one at 8-7.
After some early pitching struggles by the Aces staff, sophomore Michael Parks came in and steadied the team. After a wild fifth inning, Parks struck-out the side in the sixth and came back in the seventh to sit the Leathernecks down in order.
"Michael Parks gave us a chance," said Carroll on the reliever. "He came in there and really threw up some goose eggs when we needed it and gave our offense a chance to scrap by and get some important quality at-bats."
In the eighth inning, the Leathernecks looked to have done it again, pushing the game out of reach with two runs, increasing their lead to 10-7. Down to their final few outs, Evansville delivered the runs it needed. Sophomore Danny Borgstrom opened the inning with a triple and scored the inning's opening run on a wild pitch. After Beilsmith walked and Shallenberger was hit by a pitch, it was again Scherry who stepped up. The freshman ripped a basehit to right center scoring both Borgstrom and Shallenberger, tying the game at 10 and sending the contest into extra innings.
Freshman pitcher Jakob Meyer escaped a difficult situation in the 10th with the international tiebreaker placing a Leatherneck runner at second to start the inning. A sacrifice bunt moved to go-ahead run to third with just one out, but Meyer slammed the door with back-to-back swinging strikeouts.
With senior Craig Shepherd opening the inning at second, Evansville got to work quickly. Junior Mason Brinkley led off the inning with a walk before Komonosky struck out. Junior Evan Kahre followed-up with another walk, loading the base with just one out. Looking to follow up his walk-off win 24 hours prior, Borgstrom did just that. The Morris, Ill. native popped a fly ball into left field and as the Leatherneck left fielder and center fielder each tracked the ball a miscommunication led to the ball falling safely to the turf. Shepherd, prepared to take off, sprinted home, reaching safely and earning the 11-10 extra-innings win for the Aces.
"Danny Borgstrom's been on fire all weekend and locked-in at the plate," remarked Carroll on the sophomore's weekend at the dish.
The walk-off win was Evansville's second in as many days and the third of the season for the Aces.
Evansville opens Missouri Valley Conference play with a four-game series on Friday, Saturday, and Sunday against undefeated SIU in Carbondale, Ill.
UE Softball Splits Sunday Doubleheader
The first weekend of home action for the University of Evansville softball team came to a close on Sunday with the Purple Aces opening the day with 4-1 win before Purdue Fort Wayne held off a furious rally to take an 8-7 win in game two at Cooper Stadium.
UE (9-5) was led by Marah Wood in the opener as she belted a pair of home runs while knocking in three of the Aces' four runs. Trailing 8-2 entering the bottom of the seventh in the finale, Evansville scored five times, but could not get the tying run across the plate as the Mastodons (1-3) finished with the 1-run victory.
GAME 1
It did not take long for the Purple Aces to find their way onto the scoreboard as a 2-run shot by Marah Wood gave UE a 2-0 lead. Eryn Gould hit a leadoff single before Wood connected on her second long ball of the weekend to left field. In the bottom half of the third, it was Wood getting the job done once again, recording her second homer of the game to almost the exact location as she did in the first inning. Following Wood's solo shot, Jessica Fehr drew a 2-out walk before stealing second. Bella Coffey came through with a single to score Fehr and push the lead to 4-0.
Purdue Fort Wayne would score once in the top of the seventh, but Izzy Vetter wrapped up the game, going the distance allowing one run on two hits while striking out seven. Wood had two hits in the game – both home runs.
GAME 2
After generating some momentum on the offensive side towards the finish of the first game, the Mastodons struck first in game two with four runs in the top of the third. They took advantage of three Evansville errors as three of their runs were unearned. UE's offense got on track in the bottom of the fourth when a single by Haley Woolf scored Gould, who led off the frame with a walk. The Aces threatened to add more, but stranded the bases loaded.
Lindsay Renneisen hit a solo home run to center field, but the Mastodons extended their lead to 8-2 thanks to a 3-run top of the seventh. Down to their final three outs, UE rallied. Elyse Hickey drew a leadoff walk before the Aces loaded the bags up for Haley Woof. A single through the right side added two runs. Jenna Lis reached on a fielder' choice to load the bases up for Katie McLean, who singled up the middle to score two more to make it an 8-6 game. Mackenzie McFeron scored on a wild pitch to make it a 1-run game, but UE could not tie it up with Purdue Fort Wayne hanging on for the win.
Woolf led the Aces with three in the finale while McLean and Fain registered two hits apiece. Jaime Nurrenbern took her first loss of the season, allowing five runs (two earned) in six innings.
Next weekend, the Aces are back inside Cooper Stadium for a 3-game set against Western Michigan.
Borgstrom's Walk-off Base Hit Powers Aces to Doubleheader Split
On the second day of a four-game set, the University of Evansville baseball team earned a double-header split with a 3-2 win and 7-6 loss to Western Illinois on Saturday at German American Bank Field at Charles H. Braun Stadium in Evansville.
Game One
Western Illinois jumped on the board early in the day's first game, getting a run on a sacrifice fly to take a 1-0 lead in the top of the first. Evansville answered in the bottom half of the inning as freshman Simon Scherry doubled, scoring sophomore Danny Borgstrom and redshirt senior Troy Beilsmith to put the Aces in front 2-1.
After the Leathernecks tied the game at two in the top of the second, the game hit an offensive lull. Junior hurler Jake McMahill settled in to his spot start role, finishing the game after six innings, allowing two runs on just one hit and striking-out five.
Freshman Jakob Meyer came in for the top of the seventh and worked well middle of the Leatherneck's order allowing a double with one out, but shutting the door with back-to-back fly outs. In the Aces half of the seventh, following a foul out for the first out, junior Mason Brinkley came in to pinch hit and promptly drove a double down the left field line. After a pop out put two outs on the board, the Aces cycled back to the top of the order and Borgstrom. On a 2-2 count, Borgstrom dropped a single over the center fielders head, scoring the winning run in Brinkley.
"It was great to see Jake McMahill give us a chance to compete on the mound and for Danny Borgstrom to deliver a big barrel to walk off was an exciting college baseball game that we earned and it was great to see Danny step up in a big time situation," said Aces head baseball coach Wes Carroll.
Game Two
After a relatively light offensive game in the first half of the doubleheader, the two offensives exploded in the second game. Western Illinois pushed three runs across in the top of the first, but Evansville had an answer in the bottom half. Smashing his first home run of the season on Friday night, junior Tanner Craig drilled another homer, this one to opposite field, scoring two and cutting the Leatherneck's lead to one at 3-2.
Two more runs in the top of the second increased WIU's lead back to three. With a pair of Aces on in the fourth, the aforementioned Brinkley powered a three-run home run down the right field line that glanced off the foul pole to tie the game at five.
Down the stretch, Western Illinois regained its lead in the seven, scoring a pair of runs and forcing Evansville into a corner in the bottom half of the inning. Evansville responded to the challenge as leadoff pinch hitter Kenton Crews doubled to open the inning. After back-to-back Ks, Beilsmith made it a one-run game with an RBI double to score Crews and Craig reached base with a two-out walk. The Aces looked poised to again mount a comeback, but a strikeout ended the threat as the Leathernecks grabbed the 7-6 win.
"We just couldn't overcome a poor start from our starting pitcher and it was great to be able to have the winning run at the plate multiple times there in the bottom of the seventh," said Carroll on the second game of the day. "You've got to credit their pitcher who doubled-up a change-up there on Mark Shallenberger and just made some big pitches late in that game."
"Tomorrow's an important day for our club as we come to the yard," remarked Carroll on the opportunities ahead of the Aces on Sunday. "Experiencing a four-game weekend that we'll have to be ready for at Southern Illinois. Hopefully we come to the yard with a lot of energy and have a chance to win the series."
Evansville and Western Illinois close their four-game series on Sunday with a single game at 1 PM at German American Bank Field at Charles H. Braun Stadium in Evansville.
Vazquez records career match at Drake
Alondra Vazquez recorded a career-high 32 kills as the University of Evansville volleyball team made a furious rally but came up just short in a 3-1 defeat at Drake on Sunday afternoon.
Vazquez led the Purple Aces (3-10, 2-9 MVC) with her 32 kills while adding a career-high 32 digs. Melanie Feliciano added 16 kills and 13 digs. Allana McInnis recorded 30 assists on the day with Cecilia Thon being credited with 10. Rachel Basinski added 21 digs. Pacing the Bulldogs (7-5, 5-4 MVC) was the duo of Haley Bush and Emily Plock, who tallied 29 and 25 kills, respectively.
Game 1
Drake scored four of the first five points to open the day before the Aces clawed back within two at 9-7 as Alondra Vazquez recorded one of her seven kills in the set. Laura Ruiz got Evansville even closer, adding a service ace that made it just a one-point deficit at 13-12. The Bulldogs quickly countered with four tallies in a row and the Aces were unable to recover as Drake pulled away for the 25-18 win.
Game 2
A quick start saw Evansville go up 7-3 extending the advantage to 11-6 with Hannah Watkins and Vazquez recording kills. Drake rallied with five in a row to tie it up before jumping in front at 13-12 on a UE error. The rally for the Bulldogs continued when they went back up by three at 18-15 before Evansville fought back with back-to-back Vazquez kills to tie it up at 20 apiece. The next two points went to the Bulldogs and they fended off the challenge to take a 25-22 triumph and a 2-0 match lead.
Game 3
Evansville recorded four of the first five points to grab the early edge before Drake scored five in a row to take their first lead at 6-4. Back-to-back kills pushed the DU lead to 9-5 and they would continue to hold a slight advantage before Evansville clawed back within a pair at 16-14. Their persistence paid off soon after when they would go back in front – 21-20. The teams fought back and forth, leading to a 27-27 score before Allana McInnis notched a kill and the defense forced a Bulldog error to give UE the 29-27 win and advance to a fourth set.
Game 4
Capitalizing on their momentum, the Aces grabbed an early 6-4 lead before four in a row put the Bulldogs on top. Trailing 8-7, UE scored four of the next five to jump back in front. They took advantage of a pair of Bulldog errors to extend that advantage to 17-13. Drake came right back with a 5-1 run to knot the set at 18-18 and would jump back in front at 21-20. After the teams swapped the lead, the Bulldogs were able to wrap up the match with a 26-24 decision in the fourth set.
Gray, Craig Key Aces to Series-Opening Win over WIU
Getting its offense rolling, the University of Evansville baseball team secured a series-opening win, 11-0, over Western Illinois in eight innings on Friday night at German American Bank Field at Charles H. Braun Stadium in Evansville.
"We've been looking for a game like this just offensively to be able to pound out 15 hits and for some guys to come alive," said Evansville head baseball coach Wes Carroll on the offensive resurgence for the Aces in the win. "It was just awesome to see Brent Widder really barrel up two baseballs with two big-time doubles and two RBI. But the player of the game for me is Tanner Craig, just being able to finally go up top. Now the pressure's finally kind of off. We beat a good team tonight and it was just good that we got the extra hit in an inning to put up crooked numbers. Anytime you get a shutout you're going to be excited. With Shane Gray on the mound, we know he's going to compete at a high level and he had to work around a lot of walks."
On the mound for the Aces, sophomore Shane Gray strung together a pair of impressive innings to get the contest started, walking one. Evansville opened the scoring in the bottom of the second inning as freshman Brent Widder doubled to left, scoring fellow freshman Mark Shallenberger and giving the Aces a 1-0 lead. Junior Tanner Craig doubled the Aces advantage in the third, doubling to left field and scoring redshirt senior Troy Beilsmith.
Gray's spectacular day on the mound continued in the fourth inning as Gray continued to hold the Leathernecks without a hit. In the top of the fifth, Western Illinois tallied its first hit of the game and eventually loaded the bases, all with two outs. Gray got the Aces out of the inning, inducing a groundout to close the fifth.
A walk and back-to-back singles to lead off the bottom of the fifth put Evansville in excellent position to add to its lead. A pair of sacrifice flies by Shallenberger and freshman Simon Scherry in quick succession helped the Aces increase their lead to four heading into the sixth inning.
"I thought the key to the game was, if you look at that fifth inning, bases loaded, him being able to put the goose egg up and then us in the top of our lineup, having six-straight quality at bats and stringing across two runs to extend the game up to four, that's where I felt the game was won."
Gray's day came to a close following the top of the sixth where Gray added a strikeout to his totals.
Two more runs in the seventh pushed the Aces lead to six and Evansville broke the game wide open in the eighth. Senior Kenton Crews opened the inning with a bunt single, beating out the throw. Widder followed, recording his second double of the game and scoring Crews, followed by fellow freshman Max Malley earning a walk.
Sophomore Danny Borgstrom then delivered a double, scoring Widder and Malley to push the Aces lead to 9-0. With a run rule set at 10, Craig came to the plate and ended the game with a two-run blast to left field that earned the Aces an 11-0 win.
Evansville and Western Illinois continue their series with a pair of seven inning games beginning at Noon on Saturday at German American Bank Field at Charles H. Braun Stadium in Evansville.
Softball Opens Home Slate with Doubleheader Sweep
University of Evansville freshman Marah Wood had a doubleheader for the ages, going a perfect 6-6 with a grand slam, eight RBI, four runs scored and a 1.000 on-base percentage to lead the Purple Aces to a doubleheader sweep over Purdue Fort Wayne in Saturday's home opener at Cooper Stadium.
In the opening game, the Purple Aces (8-4) took an 8-1 win over the Mastodons (0-2) before wrapping up the day with an 11-3 triumph.
GAME 1
Evansville was the first to find the scoreboard in game one when a Marah Wood single brought home Eryn Gould, who also singled in the bottom of the first. Purdue Fort Wayne got on the board in the top of the third on a solo home run by Rachel Everson. The Aces wasted little time getting that run right back as they used some 2-out magic to retake the lead. With two batters down, Jessica Fehr drew a walk to bring Wood up to the plate. The freshman came through once again, hitting a deep double to score Fehr. Jenna Lis was up next and hit a long double of her own to put the Aces back in front by a 3-1 tally.
In the fifth inning, the Aces added some insurance with a 4-spot that sealed an 8-1 victory. Wood opened up with her third hit of the day and Jenna Lis followed with a long home run to left. With two outs, Gould capped off the scoring with a 2-RBI single. Izzy Vetter held strong from there, earning her fourth win of the season with the complete game effort. She gave up three hits while striking out 11. Her strikeout total tied her career mark, which was set just seven days ago against Green Bay.
Wood was a perfect 4-for-4 with two runs and two RBI while Gould finished with three hits in four plate appearances. She added two RBI. Jenna Lis led the Aces with three RBI. Lis went 2-3 with a run and a walk.
GAME 2
Fresh off of a big win in the opener, the Aces wasted little time striking first in game two. Eryn Gould opened with an infield single before Lindsay Renneisen reached on a walk. The duo advanced to second and third on a wild pitch before Marah Wood delivered a 2-RBI single to open the scoring. Jessica Fehr added a sacrifice fly to score the third run of the frame.
Excellent baserunning by Hannah Hood added UE's fourth run in the second. Hood drew a leadoff walk before stealing second. When Gould flew out to center, Hood tagged to reach third before scoring on the throw. The Mastodons got on the board with a pair of unearned runs scoring in the top of the third before a single run in the fourth cut the Evansville lead to 4-3. Purdue Fort Wayne chased UE starter Jaime Nurrenbern after three innings of work and loaded the bases up in the fourth against Megan Brenton. Brenton did a nice job of limiting the damage to one run and that made a huge difference heading into the bottom half of the inning.
Singles by Hood and Renneisen, along with Gould being hit by a pitch, loaded up the bases for Marah Wood. In a doubleheader for the ages, Wood added a grand slam to her tally for the day. More importantly, it turned a one-run game into an 8-3 lead for the Purple Aces. UE plated two more in the fifth, including a Mea Adams double that scored Katie McLean. The game ended on an exciting suicide squeeze in the sixth. With Mackenzie McFeron on third, Katie McLean laid down a bunt that brought home the final run with the Aces earning the 11-3 victory.
Nurrenbern picked up her fourth win of the season, going three innings allowing two unearned runs on one hit. Brenton tossed the final three frames, allowing a run on one hit while walking three batters. Wood finished the second game with a 2-2 showing at the plate. She had six RBi including a grand slam while drawing two walks and scoring twice. Hood, Gould and Renneisen also scored two runs apiece.
Another doubleheader is set for Sunday when the Aces and Mastodons meet up at 11 a.m. inside Cooper Stadium.
Rebounding key in Aces loss to No. 23 Missouri State
Taking on a ranked foe, the University of Evansville women's basketball team struggled to limit second-chance opportunities in an 87-54 loss to 23rd-ranked Missouri State on Friday night inside Meeks Family Fieldhouse in Evansville, Ind.
Scoring a team-high 16 points, sophomore Abby Feit paced the Aces on the evening. Feit also gathered a team-best five boards in the Normal, Ill. native's 37th career double-figure scoring performance. For the Lady Bears, three finished in double-figures with Jasmine Franklin and Sydney Wilson each tallying 16 points, while Elle Ruffridge finished with 14 points in the win.
Evansville did well early on, keeping pace with Missouri State during the opening 10 minutes. The Lady Bears grew their lead only as high as four in the first stanza as the Aces trailed by just two heading into the second quarter. In the second period, Missouri State's offense caught fire, shooting 58.8% (10-17) from the field, while limiting Evansville to just 2-12 (16.7%) shooting in the quarter. After leading by just two after the first, Missouri State built its lead to 20 at the break, leading 40-20.
The Aces again kept pace with the Lady Bears in the third period, being narrowly out-scored, 24-22. In the fourth, Missouri State built its lead as large as 35 with 1:04 remaining in the game as the Lady Bears captured the 87-54 win.
On the night, Missouri State out-rebounded the Aces, 48-20, with a 17-2 advantage on the offensive end. The Lady Bears took those 17 offensive boards and converted them into 17 second-chance points.
The two sides clash again on Saturday night for the regular season finale on Senior Day as Evansville will recognize Lola Reed, Jada Poland, and Kayla Casteel for their efforts in the white and purple at 6 PM inside Meeks Family Fieldhouse.
Comeback Season for UE Men Comes to an End in St. Louis
A season that saw the University of Evansville men's basketball team make one of the top turnarounds in Missouri Valley Conference history came to an end on Friday as Indiana State finished on a 7-0 run to defeat the Purple Aces by a 53-43 final in their Arch Madness meeting inside the Enterprise Center.
Evansville (9-16) saw a 7-game turnaround in its MVC record this season while finishing in the top five in the league for the first time since 2016. Friday's game was a one-possession game for most of the day before Indiana State (15-9) held the Aces scoreless over the final 5:54 of the contest before pulling away for the win.
"I thought both teams defended very hard; everyone put forth their best effort," UE head coach Todd Lickliter said following the game. "This league will challenge you every game – the coaches are great, the players are great – and our guys responded. I am proud of our guys, we made the move to the top half of the league and we need to progress from there. It was a challenging year for everyone, but being able to coach this group made it enjoyable."
"I am so proud of this group. Sometimes things do not go your way and it is easy to give in and give up, but our guys just maintained their poise. They are building an identity with how they want to play."
The duo of Noah Frederking and Evan Kuhlman led UE with 10 points apiece. Frederking was a perfect 2-for-2 from outside while Kuhlman added five boards. Shamar Givance recorded 8 points, 7 rebounds, 4 assists and 2 steals.
While the Purple Aces made it a 2-point game at the break, it was Indiana State who had the upper hand in the early moments of the game. The Sycamores took what would be their largest lead of the first half at 19-12 at the 12:45 mark. Evansville stormed back over the next two minutes, using a layup by Shamar Givance to get back within a possession at 21-18.
After ISU pushed its lead back to five, Evansville answered once again, putting together a 9-2 run to take its first lead at 29-27 with 1:43 showing on the clock. A Noah Frederking triple and a field goal from Newton tied it up at 25-25 before baskets from Gage Bobe and Givance put the Aces in front. Indiana State recorded the final four points of the half to take a 31-29 lead at the break. Frederking led all scorers with 10 points in the half.
Five minutes into the second half, UE tied it up at 34-34 on a triple by Evan Kuhlman. Indiana State retook the lead on the next trip down the floor, but the Aces held strong when a 3-point play by Iyen Enaruna cut the Sycamore lead to 40-39 at the 11:09 mark. UE trailed by five inside of the 6-minute mark when a drive by Givance saw Evansville get back within three at 46-43.
That is when the defenses took over. ISU added a free throw at the 4:43 mark, but neither team would find the scoreboard again until 83 ticks were left on the clock. Unfortunately, it was Indiana State who scored as a field goal extended the lead to six before four free throws in the final minute sealed the 53-43 victory. Evansville was held scoreless for the final 5:54 of the contest, missing its final eight shots. A turning point came as the game was nearing the final two minutes. The Sycamores assumed possession with 2:33 left and grabbed two offensive caroms before hitting a basket at the 1:23 mark that extended the lead to six.
Indiana State was led by Tyreke Key, who recorded 19 points and 9 rebounds.
Ormson's Golden Goal Secures Aces Win Over UNI
In a Missouri Valley Conference Friday night showdown at Arad McCutchan Stadium, the University of Evansville women's soccer team came out on top 1-0 in double overtime against Northern Iowa.
During regulation UNI held the lead on shot attempts, 14-4, with five aimed at goal. Junior goalkeeper Lauren Fischer made some clutch saves including a near goal in the 39th minute that was pulled back just in time.
15 seconds into the second overtime of the match, Emily Ormson intercepted a pass back by the Panthers and found a path to get to the open field. Ormson went half the length of the field to find the back of the net to secure the victory for the Purple Aces.
Ormson led the way with two shots, along with Emily Wolak, Abby Phelps, Emily Olson and Maria Alexopoulos all with a shot each.
The victory marks the first during head coach Chris Phau's second tenure leading the Aces.
Evansville will next see action on Tuesday, March 9 at 7 p.m. as they take on Southern Illinois on the road.
Softball Welcomes Mastodons for Home Opener
Sporting a 4-2 mark over their last six games, the University of Evansville softball team is set to open its home schedule this weekend with a 4-game series against Purdue Fort Wayne.
The teams will meet for an 11 a.m. doubleheader on Saturday and Sunday. This weekend marks the first action of the 2021 campaign for Purdue Fort Wayne.
Interestingly enough – the last home game for the Purple Aces came against the Mastodons on March 10, 2020 with UE earning an 11-0 shutout. That was the only game the Aces would play at Cooper Stadium in 2020. Izzy Vetter threw a 1-hit shutout on that contest while Haley Woolf led the offense with a double and three RBI.
UE is coming off of a doubleheader sweep at Bellarmine on Wednesday. Trailing 3-0 in the opener, the Aces rallied to tie it up at 3-3 after the 6th inning. In the seventh, UE broke the game open, plating six runs. Jessica Fehr hit a 3-run home run in the frame to lift Evansville to a 9-5 win. Starter Izzy Vetter threw a complete game and struck out six Knight batters.
In game two, Eryn Gould set the early tone, leading the game off with a homer. UE added two more runs in the second before adding three to its total in the fourth inning before taking a 6-0 victory. Jaime Nurrenbern scattered three hits across six innings of work before Megan Brenton finished the shutout in the seventh.
Series at Drake up Next for Aces Volleyball
Another weekend of road action is on tap when the University of Evansville volleyball team travels to Des Moines, Iowa to face Drake on Sunday and Monday. ESPN3 will have the action for both matches with the opener on Sunday set for 2 p.m. before Monday's finale starts at 5 p.m.
Last Time Out
UE left it all on the court on Monday, putting forth a resilient effort as Missouri State rallied for a 3-2 win
Melanie Feliciano set her season mark with 25 kills while hitting .368 while Alondra Vazquez added 23 kills and a career-high 73 attacks
Rachel Basinski recorded a career-high 31 digs while Allana McInnis posted 50 assists and tied Brooke Springer for the team lead with three block assists
1-2 Punch
Alondra Vazquez and Melanie Feliciano have combined to provide the top 1-2 offensive threat in the MVC
They have combined for 7.57 kills per set, edging Missouri State's Brooklyn Cink and Amelia Flynn, who average 7.44
Vazquez ranks 2nd in the MVC with 3.89 kills per set while Feliciano checks in with 3.68, putting her 6th in the league
One of them has led the team in kills in each match so far in 2021
Setting Things Up
Allana McInnis recorded a season-high 50 assists in Monday's 5-set contest at Missouri State and currently ranks 9th in the MVC with 6.45 helpers per set
She is set to leave as one of the top three setters in program history...her total of 3,283 assists ranks third in the UE record books
Racking up the Digs
Since being the primary starter as UE's libero, Rachel Basinski has gotten better and better and is coming off of a career effort at Missouri State where she recorded 31 digs
Through the first six matches of her freshman season, Basinski finished with 0.95 digs per set, but over the previous six contests, she has registered an average of 4.52
Over the last five matches, Basinski has notched 1.15 assists/set
Contribute to AceNotes
To have content considered for inclusion in AceNotes, please submit a Marketing Request Form. Deadline for submission to AceNotes is 10:00 a.m. on the requested date of publication. Only articles concerning UE related/sponsored activities will be accepted. Articles submitted to AceNotes may be edited for length and clarity. Submitter contact information is at the end of each article.