| | |
| --- | --- |
| AceNotes Today | Thursday, March 4, 2021 |
Class of 2021: Sign up for the Senior Video!
Are you graduating in May with the Class of 2021? Have a favorite memory of UE or favorite professor from which you took a class or two? We want to hear what you have to say for the Senior Video!
Each year, a senior video is shared at Commencement before the processional. Plans are underway to put this video together, but we need the Class of 2021 to participate! On Monday, March 15, a video team will be set up to record your segment answering one of the questions above. All of your responses will be compiled together and shown at both Commencement ceremonies on Saturday, May 8.
Click here to sign up for a 20-minute time slot. You can be recorded by yourself, or roommates/households can be filmed together. Masks will be required and social distancing protocols will be in place.
Filming Details:
Monday, March 15
Dunigan Family Lounge (located inside the middle doors of SOBA)
3:00-6:00PM (by appointment)
Have questions? Please email Julie Bryant, university relations coordinator, at jb855@evansville.edu.
Virtual Internships & More Fair
Looking for an internship or co-op, summer or part-time job for non-profit or otherwise? This virtual fair is open to all majors!
Thursday, March 11, 2021 from 1:00 p.m.-3:00 p.m.
Student registration is required through Handshake
Registration for group sessions and 1:1 individual
meetings are required.
Questions - Contact the Center for Career Development
career@evansville.edu
812.488.1083
BSU Movie Night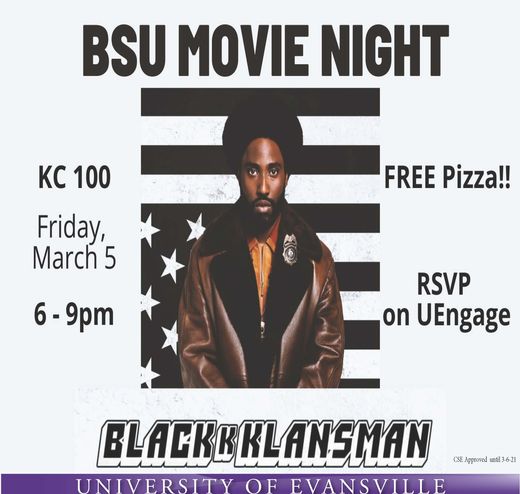 The Black Student Union (BSU) is having a movie night on March 5th from 6-9pm.
We will be watching BlacKkKlansman and have a discussion about the movie right after.
This is an opportunity to make new friends, join BSU, and have some pizza!
UE Theatre Presents THANKSGIVING PLAY
The University of Evansville Theatre continues their student-directed ZOOMBOX series with Larissa FastHorse's THANKSGIVING PLAY, at 7:30 p.m., Friday, March 5, and Saturday, March 6, on the online platform ZOOM.
Native American playwright, Larissa FastHorse, has written a searing comedy about four white people charged with creating a politically correct and respectful elementary school pageant about the first Thanksgiving. Through biting humor, THANKSGIVING PLAY takes on the mythology of people simply finding peace over a bountiful meal in what FastHorse herself calls "performative wokeness." American Theatre Magazine named this satirical powerhouse of a script as one of the ten most produced plays of the 2019–20 season. Don't miss this wickedly funny play by an important voice in the American Theatre.
Emma Tolleson, a senior performance major, from Temple Texas, directs THANKSGIVING PLAY; Corey Cagle, a junior stage management major, from Nashville, Ind., is the Zoom environmental designer; Hannah Stevens, a senior performance major, from Arlington Texas, is the costume designer/stylist; David Akinwande, a sophomore performance major, from Houston, Texas, is the dramaturg; and Morgan Bailey, a first-year stage management major, from Keller, Texas, is the stage manager.
The cast features first-year performance major Christina Tinde Jesenski, from Rancho Santa Margarita Calif., as Logan; first-year performance major Tatiana Robledo, from Houston, Texas, as Alicia; first-year performance major Davis Jolgren, from Louisville, Ky., as Jaxton; and sophomore theatre studies major Jimmy Guest from Bettendorf, Iowa, as Caden.
Tickets are FREE, but registration is required. To secure your spot, visit www.uealumnionline.com
Disability Awareness Month/ Womxn's History Month Challenge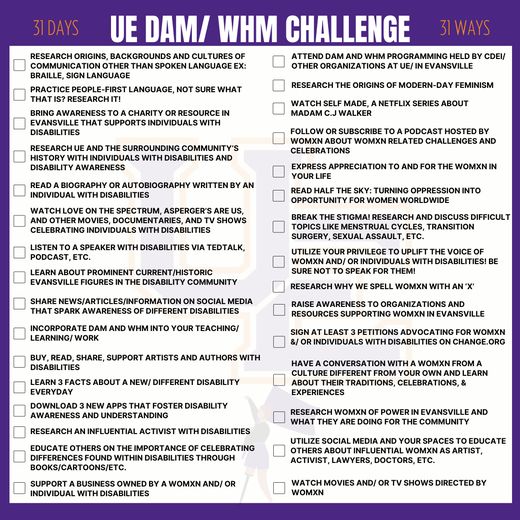 The month of March celebrates Disability Awareness Month and Womxn's History Month. Join the UE DAM/ WHM Challenge sponsored by the Center for Diversity, Equity and Inclusion! In this challenge you will find 31 ways for 31 days of Disability Awareness and Womxn's History Month to actively learn, engage, support, and uplift individual's with disabilities and womxn identifying individuals from Evansville and around the world. Items listed in the challenge can be done personally or in a social group! Hit the library and do some research on why we spell womxn with an 'x', the origins and culture of Sign Language and/ or grab a friend and binge Love on the Spectrum (available on Netflix!). However and whatever you do #DAM/WHMChallenge yourself! To make it extra fun, share what your doing on social media and be sure to tag us!
We can't wait to see the ways in which you all #DAM/WHMChallenge yourself!
Challenge Item List:
Research origins, backgrounds and cultures of communication other than spoken language ex: Braille, Sign Language
Practice People-first language, not sure what that is? Research it!
Bring awareness to a charity or resource in Evansville that supports individuals with disabilities
Research UE and the surrounding community's history with individuals with disabilities and disability awareness
Read a biography or autobiography written by an individual with disabilities
Watch Love on the Spectrum, Asperger's are us, and other movies documentaries and TV shows celebrating individuals with disabilities
Listen to a speaker with disabilities via TedTalk, Podcast, etc.
Learn about prominent current/historic Evansville figures in the disability community
Share news/articles/information on social media that spark awareness of different disabilities
Incorporate DAM and WHM into your teaching/ learning/ work
Buy, read, share, support artists and authors with disabilities
Learn 3 facts about a new/ different disability everyday
Download 3 new apps that foster disability awareness and understanding
Research an influential activist with disabilities
Educate others on the importance of celebrating differences found within disabilities through books/cartoons/etc.
Attend DAM and WHM programming held by CDEI/ other organizations at UE/ in Evansville
Research the origins of modern-day feminism
Watch Self Made, a Netflix series about Madam C.J Walker
Follow or subscribe to a podcast hosted by womxn about womxn related challenges and celebrations
Express appreciation to and for the womxn in your life
Read Half the Sky: Turning Oppression into Opportunity for Women Worldwide
Break the stigma! Research and discuss difficult topics like menstrual cycles, transition surgery, sexual assault, etc.
Utilize your privilege to uplift the voice of womxn and/ or individuals with disabilities! Be sure not to speak for them!
Research why we spell womxn with an 'x'
Raise awareness to organizations and resources supporting womxn in Evansville
Watch movies and/ or tv shows directed by womxn
Have a conversation with a womxn from a culture different from your own and learn about their traditions, celebrations, and experiences
Research womxn of power in Evansville and what they are doing for the community
Utilize social media and your spaces to educate others about influential womxn as artist, activist, lawyers, doctors, etc.
Support a business owned by a womxn and/ or individual with disabilities
Sign at least 3 petitions advocating for womxn and/ or individuals with disabilities on change.org/ other petition websites
"WERQ" Dance Classes are Back at the Fitness Center and Virtual
The popular workout class, WERQ is back and ready to help get you back in shape!
WERQ is a fun class that allows you to get a good workout in through a mix of repetitive dance steps and athletic moves. The music includes the most popular and trendiest pop and hip hop music. Join for a wildly fun time!
In person attendance will be capped at 15 people, the first 15 to sign up on Uengage will reserve their spot for the following class! Don't worry if you're not the first 15, you can still tune in via zoom to join in on the workout at home or in your own space! The zoom link will be posted to the UE Fitness Center Facebook page, if you'd like to be emailed the zoom link please email ah519.
Classes will be held every Tuesday and Thursday from 6:00 - 6:45pm throughout the month of March.
All in person participants will be required to wear a Mask and stay within their marked spots throughout the duration of the class.
THE HUSTACE WORLD VIEW Paintings by Cedric Hustace
ART EXHIBIT IN KRANNERT GALLERY: THE HUSTACE WORLD VIEW
Paintings by
CEDRIC HUSTACE
February 21 – April 4, 2021
Public Reception for the Artist: Thursday, March 18, 2021, 6:30pm
This exhibit is part of the Emerging Contemporary Artist Lecture Series, sponsored by the Department of Art, with the generous support of the Efroymson Family Fund.
Health Risk Assessment for 2020-2021 Medical Plan Year
UE Health Risk Assessments Update:
For those enrolled in the University's HRA Medical Plan, due to the pandemic and current COVID restrictions, offering onsite health screenings has not been a possibility during the 2020-2021 plan year. Due to these circumstances, medical premiums in 2021-2022 will not be affected by your health screening status. If you wish to complete your health risk assessment in order to earn HRA credits for the current plan year, please schedule your appointment with the onsite medical clinic no later than May 1 at 888-492-8722 or message your clinic nurse through the Ascension Patient Portal. Should you have any additional questions or concerns, please contact Ashley Chipps at ac375@evansville.edu.
New Residence Hall Coming to Campus
UE is excited to announce that construction will begin this May to develop a new residence hall on campus. This new hall will feature 293 beds across a mixture of four and six-bedroom "pod-style" structures, and it will include enhanced technology and space. Plans for this were developed based on feedback from current and future college students who desire a greater degree of privacy as well as enhanced spaces to gather and socialize. Learn more about the plans on the Campus Housing webpage.
The location of this new residence hall will be developed on Walnut Street where Brentano and Morton Residence Halls are currently located. Construction is expected to be completed by August 2022.
Due to this development, neither Brentano nor Morton will be available for 2021-2022 housing registration. Many students have called these spaces home, but UE is looking forward to offering a new residence hall for generations to come. Please visit the 2021-2022 Residence Halls webpage for additional housing information.
Fall 2020 Deans' List
The Fall 2020 Deans' List is currently on display at the University Libraries. The List will be on display until March 15.
UE Employees Invited to Columbia Sportswear Store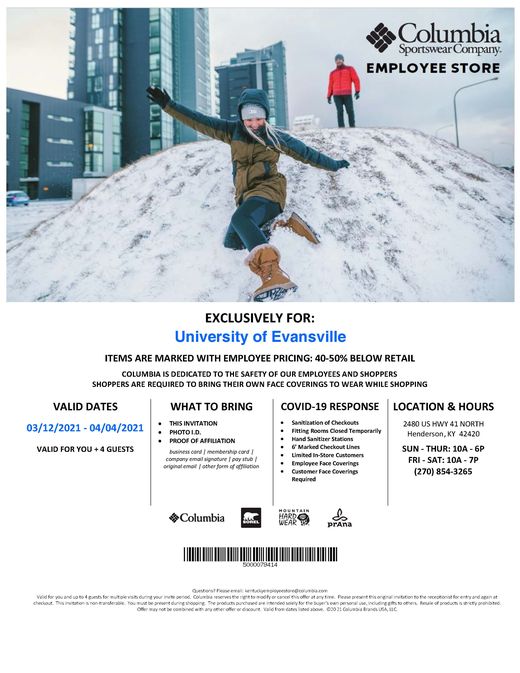 EXCLUSIVELY FOR:
University of Evansville
Items are marked with employee pricing: 40-50% below retail
Columbia is dedicated to the safety of our employees and shoppers.
Shoppers are required to bring their own face coverings to wear while shopping.
3/12/2021 - 4/4/2021
Valid for you + 4 guests
VALID DATES
· THIS INVITATION
· PHOTO I.D.
· PROOF OF AFFILIATION
(business card | membership card | company email signature | pay stub | original email | other form of affiliation)
LOCATION & HOURS
2480 US HWY 41 NORTH
Henderson, KY 42420
SUN - THUR: 10A - 6P
FRI - SAT: 10A - 7P
(270) 854-3265
Religious Life Summer Job
On June 20-27, the Office of Religious Life will host the Open Table Youth Theology Institute right here on campus. This program helps high schoolers delve deep into their faith while discovering the beauty of other religious traditions. We need two more College Mentors to co-facilitate small groups, assist in worship, and chaperone students in the dorms. Open Table includes field trips to New Harmony, St. Meinrad's Archabbey, the Evansville Islamic Center, and Temple Adath B'Nai Israel. College Mentors will be paid $500 for the week with meals and housing included. Contact the Director of Religious Life (jk383) to apply.
Room Selections for 2021-22
Students, it's time to start thinking of where you will live for next year. The Office of Residence Life has updated their website with the timeline for signing up for housing for the 2021-22 academic year. You can find important dates and information on the Residence Life website at https://www.evansville.edu/residencelife/housingapplyreturn/applying.cfm. If you need assistance in finding a roommate or have questions regarding the sign up process, please contact Brian Conner in the Office of Residence Life at bc32.
Black History Celebration with Step Afrika
Did you enjoy the #BlackHistoryMonth Celebration from Step Afrika! so much that you could watch it again, or were not able celebrate our Black and African-American community, but would love to still be able to?
You're in luck - Everyone at the University of Evansville can celebrate until March 4th, thanks to Step Afrika! setting up our very own private YouTube Channel:
Made possible with collaborations from:
Black Student Union
Alpha Omicron Pi, Chi Lambda Chapter
UE Center for Diversity, Equity, and Inclusion
UE Student Activities Board
Celebration Description:
Step Afrika! blends percussive dance styles practiced by historically African American fraternities and sororities; traditional African dances; and an array of contemporary dance and art forms into a cohesive, compelling artistic experience. Performances are much more than dance shows; they integrate songs, storytelling, humor and audience participation. The blend of technique, agility, and pure energy makes each performance unique and leaves the audience with their hearts pounding.
Student Run Marketing Agency Now Hiring
Our Story: "Embrace Marketing and Communications is a student-run agency that began work in the fall of 2018. Since then, Embrace has served multiple clients throughout the Evansville and Tri-State area, including start-up businesses, all the way to national corporations. Our diverse clientele provides us with invaluable experience to nurture and expand with each opportunity that comes our way. With guidance and leadership from our advisors, Keith Leonhardt and Emily Schuster, our multi-talented team brings fresh perspectives, creativity, and unique skills to every project. Since the beginning, our goal has been to help our clients embrace their full potential because a win for them is a win for us."
Who: Upcoming Fall 2021 Sophomore, Junior, and Senior Communications or Business majors primarily, but open to all majors
What: Openings in Account Executive, Marketing Strategist, Digital and Social Media Specialist, Creative Director, CFO, Writer, and CEO positions. The description/requirements for each of these positions can be found on the Embrace website, https://embracemarcomm.com.
When: Apply by March 10
Where: Send resume & cover letter to embracemarcomm@gmail.com.
Why: Gain real world business experience while in college! Knowledge that can't be learned in the classroom is obtained. Join a fun and innovative team of like-minded creatives.
UE Intramurals Now Offering ESports Gaming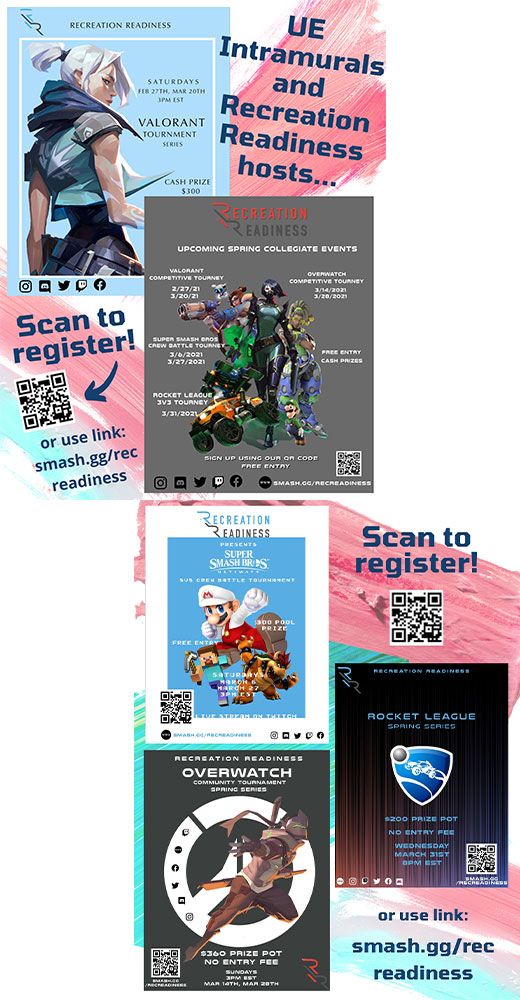 The UE Intramural program is excited to announce upcoming E Sports tournaments provided through Recreation Readiness!
Recreation Readiness invites your esports teams to participate in our FREE spring series and compete against top teams across the country to win cash prizes! For rules and eligibility please contact @ah519 or recreationreadiness@gmail.com.
Games Offered: Valorant, Overwatch, 5v5 Super Smash Bros Crew Battles, 3v3 Rocket League
Schedule:
Sat. 2/27 at 3 pm EST: Valorant ($300 prize pool)
Sat. 3/6 at 3 pm EST: Smash Bros ($300)
Sun. 3/14 at 3 pm EST: Overwatch ($360)
Sat. 3/20 at 3 pm EST: Valorant ($300)
Sat. 3/27 at 3 pm EST: Smash Bros ($300)
Sun. 3/28 at 3 pm EST: Overwatch ($360)
Wed. 3/31 at at 8 pm EST: Rocket League ($200)
Registration closes at Noon EST on day of event
Also, you can find updated info at all social media outlets below:
Discord: bit.ly/recreadiness
Twitch: twitch.tv/recreadiness
Instagram: instagram.com/recreationreadiness
Website: recreationreadiness.org
After registering to play, please contact @ah519 for further instructions.
Recreation Readiness Founders - Jason Gant and Mark Comer
Submit your 2021-2022 FAFSA
File the 2021-22 FAFSA by April 15 at https://www.fafsa.ed.gov
Continuing students should file the 2021-22 Free Application for Federal Student Aid (FAFSA) to apply for federal, state and University need-based financial aid, including all federal student loans. UE's FAFSA code is 001795.
Filing by April 15 is essential for Indiana residents to receive state aid, and highly recommended for all.
Questions regarding the FAFSA should be directed to the Student Financial Services (Olmsted Administration Hall, Room 105) at 812-488-2364.
Eykamp Prize: Call for Nominations
The Eykamp Prize was established by Richard and Rita Eykamp in 2015 to honor Faculty Achievement at the University of Evansville. Recipients of the prize will receive an award of $10,000 in recognition of extraordinary contributions to the University of Evansville as University Citizens. Examples of such contributions include deep and successful involvement in recruiting students; expanding the number, scope, and competitiveness of grant funding for their department; bringing positive public awareness to the University through scholarship, knowledge, and understanding of their discipline.
Nominations for the Eykamp Prize may come from any member of the University of Evansville community. Nominees should be tenured or tenure-track faculty members at the University of Evansville who have not received the award in the previous five years. Nominations can be submitted in writing or via e-mail to Dr. Michael Austin, Executive Vice President for Academic Affairs and Provost, at ma352@evansville.edu by March 12, 2021. Nominations should include the name of the faculty member and a brief statement of the reasons that he or she is being nominated.
Recipients of the Eykamp Prize will be selected by an Awards Committee appointed by the EVPAA and Provost that includes members of the faculty and staff, academic administrators, and at least one member of the Board of Trustees. The award will be announced and presented at the May Commencement Ceremony.
Previous recipients in the last five years are: 2016 – Dr. Mark Valenzuela; 2017 – Dr. Lora Becker; 2018 – Dr. David Dwyer; 2019 – Dr. Kristy Miller; and 2020 – Dr. Jerrilee LaMar.
D-1 Student Sets Salamander Assist Record
Freshman standout Lily Waddel set the UE school record for assists, notching data for 28 salamanders in an impressive performance at the annual Wesselman Woods salamander migration survey. Under pressure in a challenging rainstorm, and with her team's data sheet drenched, Lily quickly switched to her smartphone notes app preserving crucial data for the survey. Dr. "Coach" Gordon later commented: "it's this kind of perseverance that we try and instill in all of our D-1 Biology and ES students. Lily exemplifies that. It's not often that you can set records while assisting a local non-profit. I couldn't be happier for her."
Dr. Harmon of Physics Department published in Physical Review B
Dr. Nick Harmon, assistant professor of physics, published a new article entitled "Theory of oblique-field magnetoresistance from spin centers in three-terminal spintronic devices" in Physical Review B. The work, with a coauthor from the University of Iowa, demonstrates how signals previously ascribed to spin injection into semiconductors are better characterized by magnetic field-dependent hopping currents through interfacial defects. An application of this work is that these defect-mediated currents can be used as sensors of magnetic fields. NASA is currently investigating this idea as a field sensor for its planned mission to Europa in a few years.
The article abstract is here https://journals.aps.org/prb/abstract/10.1103/PhysRevB.103.035310.
Lowry Earns All-Conference Honors to Lead Aces at MVC Championship
Running on her home course, senior Anna Lowry captured all-conference honors to lead the University of Evansville's men's and women's cross country teams at the 2020-21 MVC Championship at Angel Mounds Cross Country Course on Wednesday afternoon in Evansville.
Lowry captured a fourth-place finish in a time of 17:35.6, helping the Aces to an eighth-place finish as a team. The all-conference honor is the second for Lowry in her career after earning it in 2019 with a fifth-place finish.
On the men's side, Evansville finished seventh with sophomore Peter Epur pacing the Aces, finishing in 31st with a time of 26:59.7.
Following Epur on the men's side was senior J.J. Pedersen, who finished in 39th, crossing the line in a time of 28:14.4. Just behind Pedersen was fellow senior Kalen Ochs in 44th, recording a time of 28:30.5.
Finishing inside the top 50 for the Aces was senior Timmy Miller with a 49th-place finish, completing the 8k course in 29:18.3.
Rounding-out the Evansville effort on the afternoon were Jackson McPheeters (30:05.0), Carson Kline (32:40.5), and Ryan Melvin (33:36.2).
For the Aces women's team, senior Lauren Meyer earned a top 50 finish for the Aces, coming in in a time of 21:03.2. Finishing in a pack of three were senior Izzy Dawson (21:15.5), junior Emma Boebinger (21:23.9), and freshman Tess Crosley (21:31.8) who all finished in 53rd through 55th place.
Closing-out Evansville's contingent on the afternoon were junior Sam Weldon (22:21.5) in 57th-place and freshman Shelby Livingston (22:23.8) in 58th.
Aces Battle with Kentucky in Narrow Road Loss
Earning an early lead, the University of Evansville baseball team fell on the road at Kentucky, 8-5, on a late Wildcats rally in a non-conference matchup on Wednesday evening at Kentucky Proud Park in Lexington, Ky.
"We just didn't do enough in all aspects of the game to take advantage of the opportunities UK gave us to win the game," said Evansville head baseball coach Wes Carroll. "There were some bright spots with Nick Smith and Drew Dominik on the mound. Also at the plate I really liked some at bats from Borgstrom, Shallenberger and Scherry. I look forward to playing more consistent complimentary baseball this weekend."
It took no time for the Aces offense to get rolling as sophomore Danny Borgstrom lifted the second pitch of the game over the right field wall to give Evansville an early run. Later in the top of the first inning, the Aces added another run on a RBI single to left by junior Tanner Craig that scored Beilsmith.
Kentucky got a run back in the bottom half of the first as a base-hit moved runners along, scoring one and cutting the Aces lead to one.
Evansville would tack that run back on in the third as senior Craig Shepherd grounded-out, scoring Tanner Craig as the Aces lead moved to 3-1. A tricky top of the fourth inning caused some damage for the Aces as the Wildcats scored two runs to tie the game, one coming on a walk and the other on a sacrifice fly. The Wildcats still threatened in the fourth after the two runs were scored, but junior Drew Dominik helped limit UK to just two runs.
The fifth inning saw Kentucky takes its first lead of the game at 4-3 on a single to center field.
Evansville had an answer in the top of the seventh as the Aces loaded the bases and Craig drew a walk to tie the game again, this time at 5 all. In the next at bat, freshman Mark Shallenberger popped a sacrifice fly to center that scored Borgstrom and regained the lead for the Aces, 6-5.
The Aces found themselves in some trouble in the seventh as a two-run double to center field regained the lead for the Wildcats at 6-5 and with more damage still being threatened. Before the conclusion of the seventh, Kentucky added another run, this time via a sacrifice fly.
The final run of the night for Kentucky came in the eighth as a runner scored from third on a balk as Kentucky went on to capture the 8-5 win.
Evansville returns to German American Bank Field at Charles H. Braun Stadium for a four-game set this weekend with Western Illinois, beginning on Friday at 6 PM.
Aces Sweep Doubleheader at Bellarmine
Trailing 3-0 in game one, the University of Evansville softball team scored six runs in the seventh inning before going on to sweep Bellarmine in a doubleheader on Wednesday afternoon.
UE (6-4) rallied to take the opener by a 9-5 final before wrapping up the day with a 6-1 triumph over Bellarmine (2-4).
"I loved the way we responded in game one," Purple Aces head softball coach Mat Mundell exclaimed. "We talked about passing the bat from girl to girl that inning (7th) and we were able to do it. We got some great baserunning and some big hits."
GAME ONE
Bellarnine jumped out to a 3-0 lead in game one tagging Aces starter Izzy Vetter for three runs in the bottom half of the third. Evansville wasted little time in responding when Eryn Gould led the fourth off with a single before Lindsay Renneisen hit a home run to make it a 3-2 game. A single run in the sixth knotted the score when Jessica Fehr came through with a 2-out single to score Alexa Davis, who was pinch running for Renneisen.
In the top of the seventh, the Aces came through in a big way, scoring six times to take their first lead at 9-3. Bella Coffey led off with a single and was pinch run for by Mackenzie McFeron. McFeron went on to steal second before scoring on a Gould single. With the bases loaded and two outs, Jenna Lis reached on an error that allowed two runs to score. Next up was Jessica Fehr, who had yet another big hit, homering to center field to break the game open and bring in three more runs. The Knights scored a pair in the bottom of the seventh, but the Aces fended off the challenge to take the 9-5 win. Fehr registered two hits and four RBI in the game. Vetter went the distance. Striking out six batters.
GAME TWO
Using the momentum gained from the opener, UE got right on the board in the top of the first to lead off game two as Eryn Gould hit a leadoff homer to left field. Two more runs crossed the plate in the second when Mea Adams drew a bases loaded walk and Gould hit a sacrifice fly.
Following a scoreless third frame, Evansville doubled its lead in the fourth, scoring three times. Jenna Lis singled to begin the frame before McFeron entered and stole second. Elyse Hickey hit a 1-out single to put runners at first and third for Mea Adams, who reached on a bunt single that scored McFeron. Next up was Eryn Gould, who came through once again, singling to left to plate two more runs and make it a 6-0 game.
Bellarmine broke the shutout with an unearned run in the fifth, but that was the only run they could muster as Jaime Nurrenbern picked up her third win of the season. She tossed six innings, allowing just three hits and walking one. She fanned five batters. Megan Brenton threw a scoreless seventh inning and struck out two.
This weekend, the Aces will be at Cooper Stadium for a 4-game series against Purdue Fort Wayne. Set for Saturday and Sunday, the squads will meet for an 11 a.m. doubleheader each day.
Men's Basketball Opens Arch Madness on Friday
With the regular season complete, the University of Evansville men's basketball team enters Arch Madness as the #5 seed and will face the #4 seed Indiana State on Friday afternoon at the Enterprise Center in St. Louis. Set for a 2:08 p.m. CT tip, the game will be carried on the MVC TV Network and the Purple Aces Radio Network. Fans in the Evansville area will be able to watch UE's contest as well as all four of Friday's league tournament games.
Setting the Scene
Only a year removed from an 0-18 mark in the Missouri Valley Conference, the University of Evansville men's basketball team won seven games...UE is just the second team in MVC history to follow a winless conference season with seven victories
Southern Illinois was 0-16 in 1980-81 but rebounded to go 7-9 a year later
The 7-game improvement for UE is the best that the conference has seen since Loyola went from eight league wins in 2016-17 to 15 a season later
Evansville is the first team to jump from 10th in the MVC standings to a top five seed since Drake went from 10th in 2017 to 4th place in 2018
The Aces face the 4th-seeded Sycamores, who finished the season with a 14-9 record and won 11 Valley games
Last Time Out
With a top five seed on the line, the Purple Aces ended a 7-game skid with an impressive 72-63 win over Missouri State on Saturday night
Evansville's defense played a crucial role in the win - over the losing streak, every opponent shot at least 53.2% from the field, including the Bears shooting 69.4% in game one...on Saturday, UE held MSU to 46.3% shooting and a 1-for-7 finish from long range
Shamar Givance tied his career mark with 22 points in the win while Jawaun Newton added 20
A Brief History Lesson
This year marks the fifth time the Aces have entered the MVC Tournament as the fifth seed...UE is 0-4 in its first four seasons in that position including 2015 where the Aces fell by a 71-67 final to Illinois State
UE has won three of its five Arch Madness match-ups against Indiana State including the last two by an average of 18.5 points per game...the Aces picked up an 83-72 win in 2017 and a 68-42 win in 2016 on the way to a berth in the championship game
Nice Start to the Week
Junior Shamar Givance has had a nice start to the week, earning MVC Player of the Week accolades on Monday before being named to the All-MVC Second Team on Tuesday
Recognition continued to flow in on Wednesday when he earned a spot on the MVC Most Improved Team
Givance recorded 21.5 PPG in the Missouri State series including a career-tying 22-point game on Saturday
Over the course of the season, he has averaged 13.5 points per game while averaging 4.0 assists (2nd in MVC) and 1.5 steals (#1 in MVC)
First Time for Everything
Through its 18-game MVC slate, the Purple Aces averaged 10.0 3-point makes per game...no other team in league history has done so in conference games only...Bradley came close with a 9.8 per contest in 2007-08
Overall, the Aces have recorded 9.8 3-point makes per game...just one team in MVC history has averaged 10 or more triples per game over the entirety of the season – Bradley in 2006-07 (10.0/game)
The 3-point line was enacted prior to the 1986-87 season
Reaching New Heights
In the series opener against Missouri State, Jawaun Newton reset his career scoring mark once again with 26 points...he was 8-of-16 from the field and hit 7 free throws...he added 20 in Saturday's win marking the first time he has posted back-to-back 20-point games in his time at UE
He continues to shoot at an impressive clip and has converted 62.0% of his 2-point attempts since January 2... during that span, he is shooting 53.8% (92-171) overall
Newton hit 5 of his 10 3-point tries in the MSU series...in the nine games prior, he was just four for his last 21 from outside
His rebounding has excelled as of late - he has posted an average of 5.5 rebounds in the last four games
Scouting the Opponent
Indiana State clinched the #4 seed in the 2021 MVC Tournament with an overall mark of 14-9 and a league record of 11-7
The Sycamores split the final weekend of the regular season at Valparaiso...ISU took a 58-43 win in the opener before Valpo struck back in the series finale, winning by a final of 70-58
Tyreke Key, who averaged 31.5 points per game against UE this season, paces Indiana State with a season average of 17.4 PPG
Jake LaRavia is next with 12.5 points and 6.1 rebounds, which is tied with Tre Williams for the team lead
Cooper Neese stands at 10.0 points
Contribute to AceNotes
To have content considered for inclusion in AceNotes, please submit a Marketing Request Form. Deadline for submission to AceNotes is 10:00 a.m. on the requested date of publication. Only articles concerning UE related/sponsored activities will be accepted. Articles submitted to AceNotes may be edited for length and clarity. Submitter contact information is at the end of each article.