| | |
| --- | --- |
| AceNotes Today | Wednesday, March 3, 2021 |
Class of 2021: Sign up for the Senior Video!
Are you graduating in May with the Class of 2021? Have a favorite memory of UE or favorite professor from which you took a class or two? We want to hear what you have to say for the Senior Video!
Each year, a senior video is shared at Commencement before the processional. Plans are underway to put this video together, but we need the Class of 2021 to participate! On Monday, March 15, a video team will be set up to record your segment answering one of the questions above. All of your responses will be compiled together and shown at both Commencement ceremonies on Saturday, May 8.
Click here to sign up for a 20-minute time slot. You can be recorded by yourself, or roommates/households can be filmed together. Masks will be required and social distancing protocols will be in place.
Filming Details:
Monday, March 15
Dunigan Family Lounge (located inside the middle doors of SOBA)
3:00-6:00PM (by appointment)
Have questions? Please email Julie Bryant, university relations coordinator, at jb855@evansville.edu.
COVID-19 Vaccinations for 16 and Older at Ascension St. Vincent
Currently, the Indiana State Department of Health (ISDH) has identified the following Indiana residents as eligible to receive the COVID vaccine:
Healthcare Workers
First Responders
Teachers and school staff in pre-K through high school, child care centers, Head Start and Early Start programs
Licensed childcare providers, including center-based and family care providers
Age 16 and above
Specific groups of patients at highest risk of severe illness from COVID-19 who are identified by their healthcare provider are also eligible. These individuals will receive a unique registration link by text or email.
We will keep our patients updated as eligibility and administration sites broaden. Although currently there is no cost to patients for the vaccine, insurance information will be collected.
Vaccine Scheduling
The COVID-19 vaccine is available by appointment only. No walk-ins will be permitted. Once listed as eligible by the ISDH, go to www.ourshot.in.gov or by calling 211 or 1-866-211-9966 to schedule an appointment.
Detailed instructions
Go to www.ourshot.in.gov
Enter date of birth and attest to being over age 16
Enter zip code and Select Ascension St Vincent Vaccine Clinic location
Select appointment date and time
Complete demographic information including accurate date of birth
Confirm appointment
Ascension St Vincent Vaccine Clinic
For your convenience, the Ascension St. Vincent Vaccine Clinic is open 7 days a week and located on the hospital campus in the Manor Auditorium. When scheduling an appointment on the state website, select "Ascension St Vincent Evansville VAX" as site location. Directions: Enter the parking garage off of Bellemeade Avenue, immediately turn left and follow the directional signage to the designated vaccine clinic parking area. Patients should enter the clinic using the doors adjacent to the parking garage. Tri State Clinics patients are encouraged to call our office at 1-888-492-8722 with questions or for assistance with scheduling at the Ascension St. Vincent Vaccine Clinic.
Spencer County Residents
Spencer County Local Health Department
Heritage Hills High School
Perry County Residents
Perry County Local Health Department
Perry County Memorial Hospital
Posey County Residents
Posey County Local Health Department
Illinois Residents
Phase 1A: Healthcare workers, those in long term care facilities.
Phase 1B : Frontline essential workers, residents 65 years of age or older and under 65 with comorbidities.
Phase 1B+ : IL residents 16+ with disabilities or serious medical conditions. Higher education staff, gov workers, and media. Details and scheduling info at: https://coronavirus.illinois.gov/s/.
Kentucky Residents
Phase 1a: Long term care facilities, healthcare personnel
Phase 1b: First responders, anyone 70 or older, K-12 school personnel
Phase 1C : KY residents age 60+ AND 16 and older with serious medical conditions and essential workers
For locations and to schedule appointment go to: https://govstatus.egov.com/kentucky-vaccine-map or call the KY COVID-19 Hotline - (800) 722-5725 for more information.
Should you have any additional questions, please contact Ashley Chipps at ashley.chipps@ascension.org or Stacey Smith at stacey.smith1@ascension.org
This Week in Religious Life
CHRISTIAN WORSHIP
Due to pandemic restrictions, UE will not offer Protestant worship in Neu Chapel this semester. There are several churches in walking distance of our campus that are open for virtual and/or in-person worship on Sundays.
Methodist Temple (masks required)
8:30am, traditional worship
11:00am, contemporary worship
Redeemer Lutheran (masks required)
8:00am and 10:30am, traditional worship
A Catholic Mass is offered each Sunday in Neu Chapel at 1PM.
OTHER EVENTS
1. The Muslim and Christian Prayer Rooms in Neu Chapel are available for use 24/7. Contact the Muslim Student Association for keycard access to the Muslim Prayer Room.
2. The Muslim Student Association is hosting a virtual callout meeting on Saturday, March 5, 6PM: https://us04web.zoom.us/j/77951296560?pwd=ODg2Q1pzQjZQVHdoSW51VGtQeHdtdz09
3. Join Newman Club for a virtual and in-person Newman Night on Wednesday, 7PM. Fr. Martin is back to speak about why Catholicism is so "rigid." Meet at Newman House or join on Zoom: https://zoom.us/j/98457338416?pwd=M2ZMekVjSFpNOXdhcTdNY3lheUNxdz09
4. Newman Club invites freshmen to sign up for the Freshman Five, beginning on Tuesday, March 2, 7PM. Come to Newman House for orientation and to receive materials.
Disability Awareness Month/ Womxn's History Month Challenge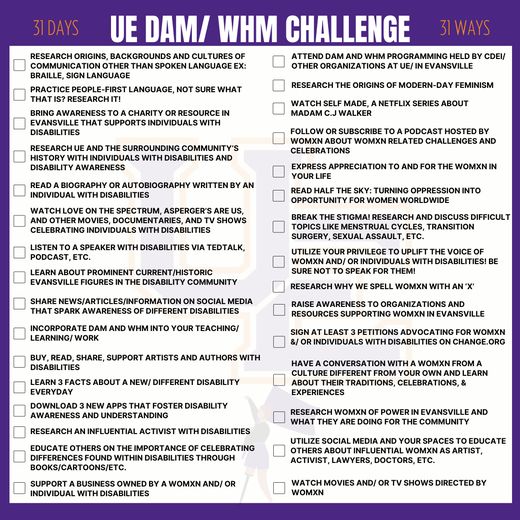 The month of March celebrates Disability Awareness Month and Womxn's History Month. Join the UE DAM/ WHM Challenge sponsored by the Center for Diversity, Equity and Inclusion! In this challenge you will find 31 ways for 31 days of Disability Awareness and Womxn's History Month to actively learn, engage, support, and uplift individual's with disabilities and womxn identifying individuals from Evansville and around the world. Items listed in the challenge can be done personally or in a social group! Hit the library and do some research on why we spell womxn with an 'x', the origins and culture of Sign Language and/ or grab a friend and binge Love on the Spectrum (available on Netflix!). However and whatever you do #DAM/WHMChallenge yourself! To make it extra fun, share what your doing on social media and be sure to tag us!
We can't wait to see the ways in which you all #DAM/WHMChallenge yourself!
Challenge Item List:
Research origins, backgrounds and cultures of communication other than spoken language ex: Braille, Sign Language
Practice People-first language, not sure what that is? Research it!
Bring awareness to a charity or resource in Evansville that supports individuals with disabilities
Research UE and the surrounding community's history with individuals with disabilities and disability awareness
Read a biography or autobiography written by an individual with disabilities
Watch Love on the Spectrum, Asperger's are us, and other movies documentaries and TV shows celebrating individuals with disabilities
Listen to a speaker with disabilities via TedTalk, Podcast, etc.
Learn about prominent current/historic Evansville figures in the disability community
Share news/articles/information on social media that spark awareness of different disabilities
Incorporate DAM and WHM into your teaching/ learning/ work
Buy, read, share, support artists and authors with disabilities
Learn 3 facts about a new/ different disability everyday
Download 3 new apps that foster disability awareness and understanding
Research an influential activist with disabilities
Educate others on the importance of celebrating differences found within disabilities through books/cartoons/etc.
Attend DAM and WHM programming held by CDEI/ other organizations at UE/ in Evansville
Research the origins of modern-day feminism
Watch Self Made, a Netflix series about Madam C.J Walker
Follow or subscribe to a podcast hosted by womxn about womxn related challenges and celebrations
Express appreciation to and for the womxn in your life
Read Half the Sky: Turning Oppression into Opportunity for Women Worldwide
Break the stigma! Research and discuss difficult topics like menstrual cycles, transition surgery, sexual assault, etc.
Utilize your privilege to uplift the voice of womxn and/ or individuals with disabilities! Be sure not to speak for them!
Research why we spell womxn with an 'x'
Raise awareness to organizations and resources supporting womxn in Evansville
Watch movies and/ or tv shows directed by womxn
Have a conversation with a womxn from a culture different from your own and learn about their traditions, celebrations, and experiences
Research womxn of power in Evansville and what they are doing for the community
Utilize social media and your spaces to educate others about influential womxn as artist, activist, lawyers, doctors, etc.
Support a business owned by a womxn and/ or individual with disabilities
Sign at least 3 petitions advocating for womxn and/ or individuals with disabilities on change.org/ other petition websites
Center for DEI Presents: Girlfriend Hour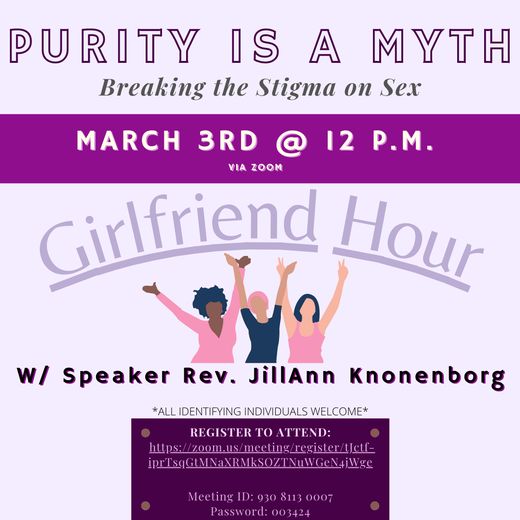 March is Womxn's History Month! Throughout the month of March the Center for Diversity Equity and Inclusion will host a Lunch and Learn series entitled the Girlfriend Hour every Wednesday around 12pm on Zoom! Please check Acenotes and our social media for weekly topics and links! All identifying individuals are welcome to come, share and learn from our weekly speakers.
Let's talk about sex, baby! Our first Girlfriend Hour will be held on Wednesday, March 3rd at 12pm via Zoom and the topic is- 'Purity is a Myth: Breaking the Stigma on Sex'. Lead by Rev. JillAnn Knonenborg the Director of Religious Life here at UE! This Lunch and Learn is sure to be an eye opening, stigma breaking, discussion surrounding the relationship between feminism, religion, and all things sex positivity! Come join the conversation. See ya there! ;)
Please register for- March 3rd: Purity is a Myth: Breaking the Stigma on Sex- here: https://zoom.us/meeting/register/tJctf-iprTsqGtMNaXRMkSOZTNuWGeN4jWge
Meeting ID: 930 8113 0007
Password: 003424
Spring Intramurals Sports Announced
The Spring Intramural season is set to begin the first of March and we're excited for what's in store! Sports include volleyball, human foosball, kickball, and wiffleball and many more! If you're interested in finding out more or registering a team, go to imleagues.com or download the imleagues.com app!
All participants will be required to wear a face mask prior, during, and after their scheduled intramural event. No walk-up, sign-ups will be allowed, all participants must be registered on imleagues.com to participate. For all other Covid related protocols please visit imleagues.com or contact ah519 for more information.
Summer Sessions Payment Plan
Summer session courses can be added to your monthly payment plan now with no additional set-up fee. If your student is enrolling in summer courses, anticipated summer charges can be included in the spring semester payment plan and the plan extended through May (for Summer 1 charges) or June (Summer 2 charges). The tuition rate for Summer 2021 is $570 per credit hour. Fees per summer term include a $50 registration fee and a $35 technology fee. Online courses are assessed a $50 online course fee. Payment arrangements are due prior to the start of the summer term.
Students should contact the Office of Student Financial Services no later than Reading/Study Day, April 30, 2021 to determine if financial aid is available for their summer courses.
To modify your current payment plan to include summer, contact the cashiers in the Office of Student Financial Services at 812-488-2565.
Solution Station Wednesday: Planner Giveaway
Do you feel like you never have enough time? Come by the Solution Station table in Ridgway this Wednesday from 11:00 AM to 1:00 PM to receive a free UE student planner! Get your time to work for you. You'll be surprised by how much you can get done when you use a planner!
As always, let us know if there's anything you need help with or if you have questions that you need the answer to. We're here to help!
Questions? Contact Chad Hart at CH299@Evansville.edu.
UE Theatre Welcomed Akron Watson, Tony, Grammy, and Emmy Award-winning Actor, for Workshop Series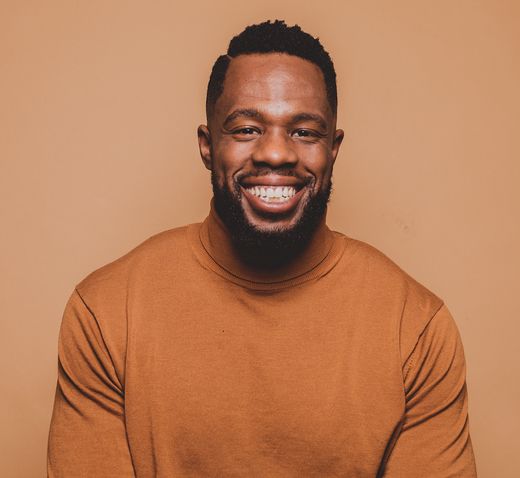 UE Theatre hosted another installment of their 2020–21 Workshop Series on Feb. 21 & 28, 2021, with actor Akron Watson. In this two-part workshop, students learned practical techniques for acting while singing.
Watson is a Dallas native and an actor/singer who has starred on Broadway, television, film, and voice overs. He won a Tony, Grammy, and Emmy as a cast member of THE COLOR PURPLE revival on Broadway. He played Trevor in the Tony-winning THE PLAY THAT GOES WRONG on Broadway, and he most recently starred as Aaron Burr in HAMILTON. He is series regular Eric Houston on Fox's EMPIRE. He can also be seen on TV as Trevor in NBC's CHICAGO MED. Watson's film credits include the recent release of MISS JUNETEENTH, as well as SPILT MILK and SEASONS OF GRAY. He is the voice of anime characters like Satoshi on Toonami's MICHIKO & HATCHIN and Wiley on JORMUNGAND. He also voices Chris in THE WALKING DEAD video game, and he plays himself in the video game, BORDERLANDS: THE PRE-SEQUEL on Playstation and Xbox. He was a golden ticket winner on season seven of AMERICAN IDOL.
UE Theatre Salon Series Welcomed Innovative Designer Ryan Kravetz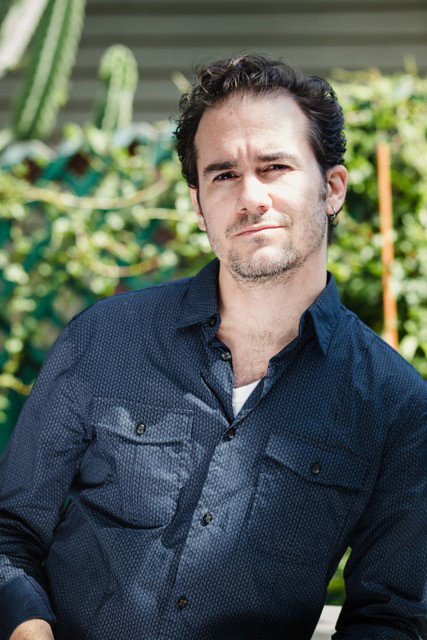 This week's installment of the UET Salon Series was held on Wednesday, Feb. 24, with Ryan Kravetz.
With a career spanning a wide range of mediums and styles, Kravetz has an ability to have a conversation with the audience using a diverse vocabulary of visual storytelling and performance. His career started in New York designing downtown and off-Broadway theatre as well as assisting Broadway designers. His work grew to include art direction for television programs on MTV, Comedy Central, HBO, NBC, and PBS. He also has experience in the live events space where he has designed environments and sets for events ranging from corporate product launches to festivals and concerts for artists like Elton John. His work includes creating impressionistic narratives for The New World Symphony, a virtual re-creation for the J. Paul Getty museum, and several shows at the Disney theme parks, including the end-of-night spectacular, "Happily Ever After," which is projected onto the castle at Magic Kingdom. Kravetz has also overseen the creation and production of original animated content projected on the Hollywood Bowl, accompanying films such as "The Nightmare Before Christmas," along with a live orchestra and performance.
This semester, UE Theatre students will have the opportunity to experience over 25 workshops and salons with various professionals from the entertainment industry.
UE Employees Invited to Columbia Sportswear Store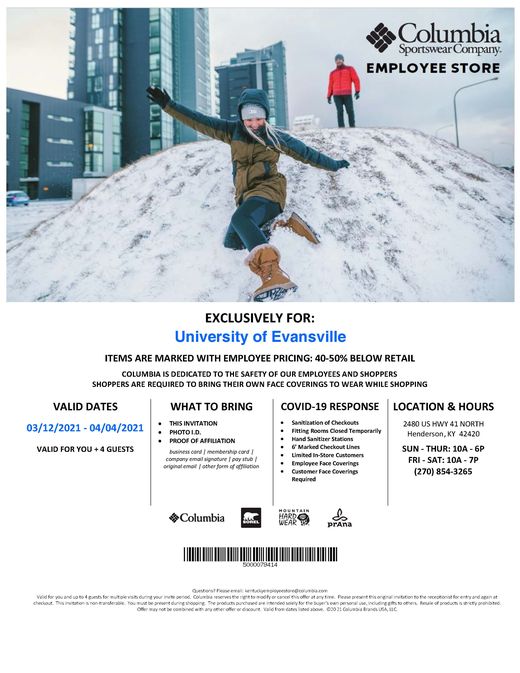 EXCLUSIVELY FOR:
University of Evansville
Items are marked with employee pricing: 40-50% below retail
Columbia is dedicated to the safety of our employees and shoppers.
Shoppers are required to bring their own face coverings to wear while shopping.
3/12/2021 - 4/4/2021
Valid for you + 4 guests
VALID DATES
· THIS INVITATION
· PHOTO I.D.
· PROOF OF AFFILIATION
(business card | membership card | company email signature | pay stub | original email | other form of affiliation)
LOCATION & HOURS
2480 US HWY 41 NORTH
Henderson, KY 42420
SUN - THUR: 10A - 6P
FRI - SAT: 10A - 7P
(270) 854-3265
Religious Life Summer Job
On June 20-27, the Office of Religious Life will host the Open Table Youth Theology Institute right here on campus. This program helps high schoolers delve deep into their faith while discovering the beauty of other religious traditions. We need two more College Mentors to co-facilitate small groups, assist in worship, and chaperone students in the dorms. Open Table includes field trips to New Harmony, St. Meinrad's Archabbey, the Evansville Islamic Center, and Temple Adath B'Nai Israel. College Mentors will be paid $500 for the week with meals and housing included. Contact the Director of Religious Life (jk383) to apply.
PAID Basketball Coaching Apprenticeship: Indiana Ambition Basketball
PAID Basketball Coaching Apprenticeship: Indiana Ambition Basketball (www.indianaambition.com) is looking for college students interested in working with kids and coaching! Monday, Tuesday and Wednesday, 5:30-8:30pm, paying $15/hour helping with practice for a wide range of age groups. Must be good with kids and love basketball. Qualified students may be eligible to receive more hours and weekend AAU tournament coaching stipends. Contact coach Mitch Lewis to apply and receive more information. Text: 210-863-9421, or mlewis.ambition@gmail.com.
Room Selections for 2021-22
Students, it's time to start thinking of where you will live for next year. The Office of Residence Life has updated their website with the timeline for signing up for housing for the 2021-22 academic year. You can find important dates and information on the Residence Life website at https://www.evansville.edu/residencelife/housingapplyreturn/applying.cfm. If you need assistance in finding a roommate or have questions regarding the sign up process, please contact Brian Conner in the Office of Residence Life at bc32.
Black History Celebration with Step Afrika
Did you enjoy the #BlackHistoryMonth Celebration from Step Afrika! so much that you could watch it again, or were not able celebrate our Black and African-American community, but would love to still be able to?
You're in luck - Everyone at the University of Evansville can celebrate until March 4th, thanks to Step Afrika! setting up our very own private YouTube Channel:
Made possible with collaborations from:
Black Student Union
Alpha Omicron Pi, Chi Lambda Chapter
UE Center for Diversity, Equity, and Inclusion
UE Student Activities Board
Celebration Description:
Step Afrika! blends percussive dance styles practiced by historically African American fraternities and sororities; traditional African dances; and an array of contemporary dance and art forms into a cohesive, compelling artistic experience. Performances are much more than dance shows; they integrate songs, storytelling, humor and audience participation. The blend of technique, agility, and pure energy makes each performance unique and leaves the audience with their hearts pounding.
Student Run Marketing Agency Now Hiring
Our Story: "Embrace Marketing and Communications is a student-run agency that began work in the fall of 2018. Since then, Embrace has served multiple clients throughout the Evansville and Tri-State area, including start-up businesses, all the way to national corporations. Our diverse clientele provides us with invaluable experience to nurture and expand with each opportunity that comes our way. With guidance and leadership from our advisors, Keith Leonhardt and Emily Schuster, our multi-talented team brings fresh perspectives, creativity, and unique skills to every project. Since the beginning, our goal has been to help our clients embrace their full potential because a win for them is a win for us."
Who: Upcoming Fall 2021 Sophomore, Junior, and Senior Communications or Business majors primarily, but open to all majors
What: Openings in Account Executive, Marketing Strategist, Digital and Social Media Specialist, Creative Director, CFO, Writer, and CEO positions. The description/requirements for each of these positions can be found on the Embrace website, https://embracemarcomm.com.
When: Apply by March 10
Where: Send resume & cover letter to embracemarcomm@gmail.com.
Why: Gain real world business experience while in college! Knowledge that can't be learned in the classroom is obtained. Join a fun and innovative team of like-minded creatives.
D-1 Student Sets Salamander Assist Record
Freshman standout Lily Waddel set the UE school record for assists, notching data for 28 salamanders in an impressive performance at the annual Wesselman Woods salamander migration survey. Under pressure in a challenging rainstorm, and with her team's data sheet drenched, Lily quickly switched to her smartphone notes app preserving crucial data for the survey. Dr. "Coach" Gordon later commented: "it's this kind of perseverance that we try and instill in all of our D-1 Biology and ES students. Lily exemplifies that. It's not often that you can set records while assisting a local non-profit. I couldn't be happier for her."
Dr. Harmon of Physics Department published in Physical Review B
Dr. Nick Harmon, assistant professor of physics, published a new article entitled "Theory of oblique-field magnetoresistance from spin centers in three-terminal spintronic devices" in Physical Review B. The work, with a coauthor from the University of Iowa, demonstrates how signals previously ascribed to spin injection into semiconductors are better characterized by magnetic field-dependent hopping currents through interfacial defects. An application of this work is that these defect-mediated currents can be used as sensors of magnetic fields. NASA is currently investigating this idea as a field sensor for its planned mission to Europa in a few years.
The article abstract is here https://journals.aps.org/prb/abstract/10.1103/PhysRevB.103.035310.
Awards Continue to Roll in for UE Men
Two more awards have been received by the University of Evansville men's basketball team with Shamar Givance earning a spot on the Most Improved Team and Samari Curtis receiving a nod on the All-Bench squad.
Shamar Givance has put together an excellent case for being the most improved player in the Missouri Valley Conference. After finishing his sophomore season with 4.0 points per game, the Toronto native improved to 13.5 points in 2020-21. He had just one double figure scoring game last season, but through UE's first 24 games, he has reached the mark on 19 occasions. Entering the season, his career scoring high was 15 points, but he has surpassed that an impressive 10 times in 20-21. On the shooting side, his accuracy has excelled greatly - over his first two years, Givance did not shoot above 34.9%, but he has upped that to 44.3% this season. His minutes have jumped from 20.7/game as a sophomore to a junior tally of 31.7, which is in the top ten in the league.
Since becoming eligible prior to the December 15 game against Southeast Missouri State, Curtis has played in 16 games while averaging 10.1 points per game. Curtis scored 19 points in his second game against Belmont, going 4-6 from the field and 8-for-10 from the line. In his top performance, he helped UE earn a huge road win at Southern Illinois, scoring a career-high 29 points on a 9-for-13 shooting day and a 6-of-8 effort from long range. Over his last five games, he has gotten back on track, averaging 11.4 points per game while shooting 55.3% (21/38).
Aces Set to Host MVC Championships Wednesday
No spectators will be permitted at the 2021 MVC Cross Country Championship.
Looking to make some noise, the University of Evansville men's and women's cross country teams host the 2021 Missouri Valley Conference Cross Country Championships at Angel Mounds State Park on Wednesday in Evansville, Ind.
Last Time Out: Murray State Open
Senior Anna Lowry captured the individual victory at the Murray State Open to highlight the day for the University of Evansville men's and women's cross country teams.
Following a season-opening win two weeks ago at the Belmont Opener, Lowry secured her second-straight win with a dominant performance at Miller Memorial Golf Course in Murray.
Lowry's time of 18:17.5 was more than 30 seconds better than the second-place finisher and more than a minute better than the closest attached runner.
As a team, the Aces women's team captured a seventh-place finish, while Evansville's men's team came home in sixth.
Following Lowry for Evansville was senior Izzy Dawson, finishing in 30th with a time of 21:13.1.
Also finishing in the top 40 for the Aces was junior Emma Boebinger with a time of 22:08.7 in 39th-place.
Senior Lauren Meyer came home in 42nd for Evansville with a time of 22:26.9.
Rounding-out the results for the Evansville contingent were a pair of freshmen in Tess Crowley, who set a PR with a time of 22:47.3, finishing in 44th and Kennedy Jester who finsihed in 46th with a time of 25:08.3.
For the men's team, it was sophomore Peter Epur who powered the Aces effort. Epur finished in 14th with a PR time of 27:12.5.
Coming in just behind Epur was senior J.J. Pedersen, who finished inside the top 25 in 22nd with a time of 27:52.4.
Another Ace picking-up a top 30 finish was freshman Joshua Myers, finishing in a time of 28:01.5 in 28th-place.
Two more Aces earned spots inside the top 50 as senior Timmy Miller completed the 8k in a time of 29:02.7 in 42nd and sophomore Jackson McPheeters recorded a 48th-place finish, crossing the line in 29:37.9.
Ryan Melvin was the next Ace to record a time, finishing in 55th with a time of 30:37.9.
Closing-out the Evansville effort were junior Carson Kline in 58th, finishing in 33:08.5 and freshman Luke Watts who set a PR with a time of 34:52.3, crossing the finish line in 59th-place.
Previewing the Championships
Senior Anna Lowry enters the championship with an impressive streak.
Lowry's win at the Murray State Open marked the sixth-straight regular season invitational win for Lowry, dating back to a win at the North Alabama Invitational on September 7, 2019.
Lowry also comes off an MVC title in the 5K at the 2021 MVC Indoor Track and Field Championships on Friday night, the first conference title for the Aces men's or women's track and field teams.
On the men's side, the Aces have been paced this season by newcomers J.J. Pedersen and Peter Epur.
Epur finished in 14th with a PR time of 27:12.5 at the Murray State Open to lead the Aces and Pedersenpaced the Aces men's team with a time of 27:10.212, finishing in 32nd place at the season-opening Belmont Opener.
Fan Policy
Following continued conversations with MVC cross country head coaches and applying guidelines outlined by local health care experts and officials, the Missouri Valley Conference has affirmed that no spectators will be permitted at the 2021 MVC Cross Country Championship, contested Wednesday, March 3, at Angel Mounds in Evansville, Ind.
MVC athletically-related activities will take place only to the extent permitted by local environments and applicable national, state, local and institutional guidelines in order to safeguard the health and safety of participants, staff and fans.
Evansville Makes Midweek Trip to Kentucky
In its only midweek contest of the season, the University of Evansville baseball team travels to take on Kentucky in Lexington, Ky. on Wednesday afternoon at 3 PM (CT).
Last Time Out: NIU 7, Evansville 4
Eyeing a sweep, the University of Evansville baseball team battled in a 7-4 loss to NIU in the final game of the three-game series on Sunday afternoon at German American Bank Field at Charles H. Braun Stadium in Evansville.
Evansville struck first offensively, scoring the game's opening run in the bottom of the second inning.
With a pair of Aces in scoring position, a wild pitch by the Huskies scored sophomore Danny Borgstrom to give Evansville the 1-0 lead.
The aforementioned big inning for NIU came in the top of the fourth as the Huskies scored five runs in the inning, including three on a home run to left center field by Jack Blazevich.
Evansville answered with a run in the bottom half of the inning as freshman Max Malley lifted a sacrifice fly to left that scored Borgstrom again.
In the fifth, NIU added two more runs on a single and a sacrifice fly to increase the Huskies lead to 7-2.
The Aces slowly pushed closer, scoring a run in the bottom of the fifth and sixth innings to close within three runs.
In the bottom of the ninth, Evansville appeared to be replicating its magic from Friday night as senior Craig Shepherd opened the half inning with a base-hit.
Following Shepherd's single, NIU pitcher Brandon McPherson recorded three-straight outs to end the game and give the Huskies a 7-4 win.
Previewing the Matchup: Kentucky
Evansville and Kentucky meet for the 19th time in the series when the two sides collide on Wednesday.
The Aces lead the all-time series with the Wildcats, 10-8.
Back during the 2018 season, the Wildcats captured the last meeting between the two teams, 8-4, on Feb. 18 in Lexington.
Kentucky enters Wednesday's game following a busy slate for the Wildcats. Wednesday's game will mark its sixth game in six days.
Because his senior season was cancelled due to the COVID-19 pandemic, Smith's appearance on the mound Wednesday will represent his first competition since his junior season at Boonville HS in 2019. During his junior campaign, Smith pitched in two no-hitters, including a five inning, solo no-hitter in which Smith threw 11 strikeouts.
Zeros for Meyer, Dominik
Evansville has gotten strong performances from a pair of relievers this season who were both newcomers to the program in 2020.
Freshman Jakob Meyer has recorded a pair of saves in three appearances, pitching 4.2 innings, striking-out four and not allowing a run.
Dominik made his season debut on Sunday, coming in and pitching 2.1 innings, allowing just one hit and holding the Huskies scoreless.
Patience at the Plate
The Aces have showcased their patience at the plate in 2021.
Evansville sits just outside the top 50 in the nation in base on balls earning 34 through seven games this season.
Scherry Impresses Early
In his first collegiate season, freshman Simon Scherry has already made a strong impression, especially in this past weekend's series against NIU.
In a series win over NIU, Scherry impressed with a bevy of extra-base hits.
On the weekend, Scherry led Evansville with a .545 batting average, recording four doubles and six RBI.
The local native recorded just two strikeouts and drew a walk and stole a base.
Defensively, Scherry finished the weekend a perfect 1.000, playing both second base and shortstop.
On the year, Scherry leads the Aces in average, doubles, and RBI.
Softball Set for Doubleheader at Bellarmine
In its first midweek action of the 2021 season, the University of Evansville softball team travels to Bellarmine for a doubleheader on Wednesday.
The Purple Aces and Knights meet up at 12 p.m. and 2 p.m. CT in Louisville.
UE is coming off of a 2-2 weekend against Green Bay. Evansville's top offensive player in the 4-game series against Green Bay was Lindsay Renneisen. The senior batted .444 while leading the Purple Aces with two home runs, five RBI and five walks. Marah Wood garnered MVC Newcomer of the Week accolades as she batted a solid .364 in the series against the Phoenix. Wood registered four hits in 11 at-bats while hitting a home run. She walked three times while scoring twice.
Over the course of two appearances against Green Bay, Izzy Vetter finished with 17 strikeouts and a 1.42 ERA while picking up her second victory of the season. In Saturday's opener against the Phoenix, Vetter struck out a career-high 11 batters while allowing just one hit over the complete game 7-inning shutout performance. She returned on Sunday to throw 5 2/3 frames where she gave up two runs on four hits while striking out six batters. Overall, Vetter threw 12 2/3 innings over the weekend while giving up two runs on five hits while walking just two batters.
Bellarmine stands at 2-2 on the season. The Knights picked up two wins over Western Michigan last weekend while falling to Morehead State in its other two games. Alexis Hargrove is their top batter, checking in at .571 with four hits in seven at-bats. She has scored three runs.
Contribute to AceNotes
To have content considered for inclusion in AceNotes, please submit a Marketing Request Form. Deadline for submission to AceNotes is 10:00 a.m. on the requested date of publication. Only articles concerning UE related/sponsored activities will be accepted. Articles submitted to AceNotes may be edited for length and clarity. Submitter contact information is at the end of each article.