| | |
| --- | --- |
| AceNotes Today | Tuesday, March 2, 2021 |
COVID-19 Vaccinations for 16 and Older at Ascension St. Vincent
Currently, the Indiana State Department of Health (ISDH) has identified the following Indiana residents as eligible to receive the COVID vaccine:
Healthcare Workers
First Responders
Teachers and school staff in pre-K through high school, child care centers, Head Start and Early Start programs
Licensed childcare providers, including center-based and family care providers
Age 16 and above
Specific groups of patients at highest risk of severe illness from COVID-19 who are identified by their healthcare provider are also eligible. These individuals will receive a unique registration link by text or email.
We will keep our patients updated as eligibility and administration sites broaden. Although currently there is no cost to patients for the vaccine, insurance information will be collected.
Vaccine Scheduling
The COVID-19 vaccine is available by appointment only. No walk-ins will be permitted. Once listed as eligible by the ISDH, go to www.ourshot.in.gov or by calling 211 or 1-866-211-9966 to schedule an appointment.
Detailed instructions
Go to www.ourshot.in.gov
Enter date of birth and attest to being over age 16
Enter zip code and Select Ascension St Vincent Vaccine Clinic location
Select appointment date and time
Complete demographic information including accurate date of birth
Confirm appointment
Ascension St Vincent Vaccine Clinic
For your convenience, the Ascension St. Vincent Vaccine Clinic is open 7 days a week and located on the hospital campus in the Manor Auditorium. When scheduling an appointment on the state website, select "Ascension St Vincent Evansville VAX" as site location. Directions: Enter the parking garage off of Bellemeade Avenue, immediately turn left and follow the directional signage to the designated vaccine clinic parking area. Patients should enter the clinic using the doors adjacent to the parking garage. Tri State Clinics patients are encouraged to call our office at 1-888-492-8722 with questions or for assistance with scheduling at the Ascension St. Vincent Vaccine Clinic.
Spencer County Residents
Spencer County Local Health Department
Heritage Hills High School
Perry County Residents
Perry County Local Health Department
Perry County Memorial Hospital
Posey County Residents
Posey County Local Health Department
Illinois Residents
Phase 1A: Healthcare workers, those in long term care facilities.
Phase 1B : Frontline essential workers, residents 65 years of age or older and under 65 with comorbidities.
Phase 1B+ : IL residents 16+ with disabilities or serious medical conditions. Higher education staff, gov workers, and media. Details and scheduling info at: https://coronavirus.illinois.gov/s/.
Kentucky Residents
Phase 1a: Long term care facilities, healthcare personnel
Phase 1b: First responders, anyone 70 or older, K-12 school personnel
Phase 1C : KY residents age 60+ AND 16 and older with serious medical conditions and essential workers
For locations and to schedule appointment go to: https://govstatus.egov.com/kentucky-vaccine-map or call the KY COVID-19 Hotline - (800) 722-5725 for more information.
Should you have any additional questions, please contact Ashley Chipps at ashley.chipps@ascension.org or Stacey Smith at stacey.smith1@ascension.org
This Week in Religious Life
CHRISTIAN WORSHIP
Due to pandemic restrictions, UE will not offer Protestant worship in Neu Chapel this semester. There are several churches in walking distance of our campus that are open for virtual and/or in-person worship on Sundays.
Methodist Temple (masks required)
8:30am, traditional worship
11:00am, contemporary worship
Redeemer Lutheran (masks required)
8:00am and 10:30am, traditional worship
A Catholic Mass is offered each Sunday in Neu Chapel at 1PM.
OTHER EVENTS
1. The Muslim and Christian Prayer Rooms in Neu Chapel are available for use 24/7. Contact the Muslim Student Association for keycard access to the Muslim Prayer Room.
2. The Muslim Student Association is hosting a virtual callout meeting on Saturday, March 5, 6PM: https://us04web.zoom.us/j/77951296560?pwd=ODg2Q1pzQjZQVHdoSW51VGtQeHdtdz09
3. Join Newman Club for a virtual and in-person Newman Night on Wednesday, 7PM. Fr. Martin is back to speak about why Catholicism is so "rigid." Meet at Newman House or join on Zoom: https://zoom.us/j/98457338416?pwd=M2ZMekVjSFpNOXdhcTdNY3lheUNxdz09
4. Newman Club invites freshmen to sign up for the Freshman Five, beginning on Tuesday, March 2, 7PM. Come to Newman House for orientation and to receive materials.
Disability Awareness Month/ Womxn's History Month Challenge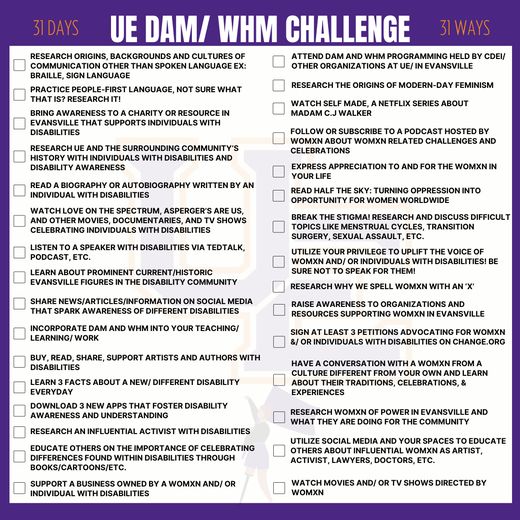 The month of March celebrates Disability Awareness Month and Womxn's History Month. Join the UE DAM/ WHM Challenge sponsored by the Center for Diversity, Equity and Inclusion! In this challenge you will find 31 ways for 31 days of Disability Awareness and Womxn's History Month to actively learn, engage, support, and uplift individual's with disabilities and womxn identifying individuals from Evansville and around the world. Items listed in the challenge can be done personally or in a social group! Hit the library and do some research on why we spell womxn with an 'x', the origins and culture of Sign Language and/ or grab a friend and binge Love on the Spectrum (available on Netflix!). However and whatever you do #DAM/WHMChallenge yourself! To make it extra fun, share what your doing on social media and be sure to tag us!
We can't wait to see the ways in which you all #DAM/WHMChallenge yourself!
Challenge Item List:
Research origins, backgrounds and cultures of communication other than spoken language ex: Braille, Sign Language
Practice People-first language, not sure what that is? Research it!
Bring awareness to a charity or resource in Evansville that supports individuals with disabilities
Research UE and the surrounding community's history with individuals with disabilities and disability awareness
Read a biography or autobiography written by an individual with disabilities
Watch Love on the Spectrum, Asperger's are us, and other movies documentaries and TV shows celebrating individuals with disabilities
Listen to a speaker with disabilities via TedTalk, Podcast, etc.
Learn about prominent current/historic Evansville figures in the disability community
Share news/articles/information on social media that spark awareness of different disabilities
Incorporate DAM and WHM into your teaching/ learning/ work
Buy, read, share, support artists and authors with disabilities
Learn 3 facts about a new/ different disability everyday
Download 3 new apps that foster disability awareness and understanding
Research an influential activist with disabilities
Educate others on the importance of celebrating differences found within disabilities through books/cartoons/etc.
Attend DAM and WHM programming held by CDEI/ other organizations at UE/ in Evansville
Research the origins of modern-day feminism
Watch Self Made, a Netflix series about Madam C.J Walker
Follow or subscribe to a podcast hosted by womxn about womxn related challenges and celebrations
Express appreciation to and for the womxn in your life
Read Half the Sky: Turning Oppression into Opportunity for Women Worldwide
Break the stigma! Research and discuss difficult topics like menstrual cycles, transition surgery, sexual assault, etc.
Utilize your privilege to uplift the voice of womxn and/ or individuals with disabilities! Be sure not to speak for them!
Research why we spell womxn with an 'x'
Raise awareness to organizations and resources supporting womxn in Evansville
Watch movies and/ or tv shows directed by womxn
Have a conversation with a womxn from a culture different from your own and learn about their traditions, celebrations, and experiences
Research womxn of power in Evansville and what they are doing for the community
Utilize social media and your spaces to educate others about influential womxn as artist, activist, lawyers, doctors, etc.
Support a business owned by a womxn and/ or individual with disabilities
Sign at least 3 petitions advocating for womxn and/ or individuals with disabilities on change.org/ other petition websites
Center for DEI Presents: Girlfriend Hour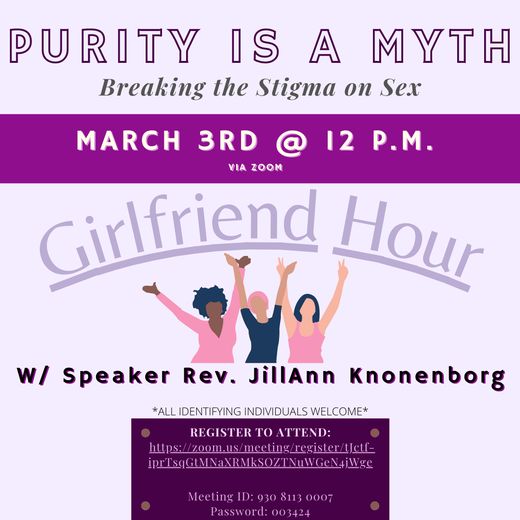 March is Womxn's History Month! Throughout the month of March the Center for Diversity Equity and Inclusion will host a Lunch and Learn series entitled the Girlfriend Hour every Wednesday around 12pm on Zoom! Please check Acenotes and our social media for weekly topics and links! All identifying individuals are welcome to come, share and learn from our weekly speakers.
Let's talk about sex, baby! Our first Girlfriend Hour will be held on Wednesday, March 3rd at 12pm via Zoom and the topic is- 'Purity is a Myth: Breaking the Stigma on Sex'. Lead by Rev. JillAnn Knonenborg the Director of Religious Life here at UE! This Lunch and Learn is sure to be an eye opening, stigma breaking, discussion surrounding the relationship between feminism, religion, and all things sex positivity! Come join the conversation. See ya there! ;)
Please register for- March 3rd: Purity is a Myth: Breaking the Stigma on Sex- here: https://zoom.us/meeting/register/tJctf-iprTsqGtMNaXRMkSOZTNuWGeN4jWge
Meeting ID: 930 8113 0007
Password: 003424
"WERQ" Dance Classes are Back at the Fitness Center and Virtual
The popular workout class, WERQ is back and ready to help get you back in shape!
WERQ is a fun class that allows you to get a good workout in through a mix of repetitive dance steps and athletic moves. The music includes the most popular and trendiest pop and hip hop music. Join for a wildly fun time!
In person attendance will be capped at 15 people, the first 15 to sign up on Uengage will reserve their spot for the following class! Don't worry if you're not the first 15, you can still tune in via zoom to join in on the workout at home or in your own space! The zoom link will be posted to the UE Fitness Center Facebook page, if you'd like to be emailed the zoom link please email ah519.
Classes will be held every Tuesday and Thursday from 6:00 - 6:45pm throughout the month of March.
All in person participants will be required to wear a Mask and stay within their marked spots throughout the duration of the class.
Student Leadership Conference
The Center for Student Engagement is now accepting registrations for the Student Leadership Conference.
The 2021 Student Leadership Conference will be held on March 13th from 10:00 am until 2:30 pm. This year the topic is Overcoming. There is so much going on in the world today that can impact students on a college campus. Throughout the conference, you will be given the opportunity to hear from peers, alumni, and guest speakers who are willing to share their experiences and stories about overcoming stress, failure, challenges, fears, the unknown, and their stories of overcoming the challenges of life in the world today. Dr. Lauren Cook will be the keynote speaker giving a talk titled "Eat Your G.R.A.P.E.S: How to Cope Through Challenging Times".
We would love to have you join us!Please register online for the Student Leadership Conference.
The deadline to register is March 5th. If you have any questions, please reach out to Kaitlyn Luczak at kl241@evansville.edu.
THE HUSTACE WORLD VIEW Paintings by Cedric Hustace
ART EXHIBIT IN KRANNERT GALLERY: THE HUSTACE WORLD VIEW
Paintings by
CEDRIC HUSTACE
February 21 – April 4, 2021
Public Reception for the Artist: Thursday, March 18, 2021, 6:30pm
This exhibit is part of the Emerging Contemporary Artist Lecture Series, sponsored by the Department of Art, with the generous support of the Efroymson Family Fund.
Solution Station Wednesday: Planner Giveaway
Do you feel like you never have enough time? Come by the Solution Station table in Ridgway this Wednesday from 11:00 AM to 1:00 PM to receive a free UE student planner! Get your time to work for you. You'll be surprised by how much you can get done when you use a planner!
As always, let us know if there's anything you need help with or if you have questions that you need the answer to. We're here to help!
Questions? Contact Chad Hart at CH299@Evansville.edu.
UE Theatre Welcomed Akron Watson, Tony, Grammy, and Emmy Award-winning Actor, for Workshop Series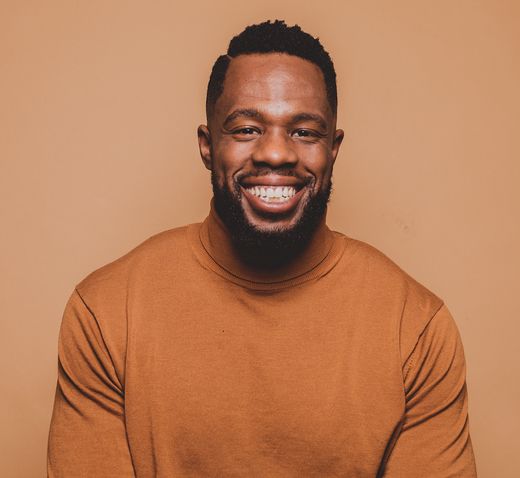 UE Theatre hosted another installment of their 2020–21 Workshop Series on Feb. 21 & 28, 2021, with actor Akron Watson. In this two-part workshop, students learned practical techniques for acting while singing.
Watson is a Dallas native and an actor/singer who has starred on Broadway, television, film, and voice overs. He won a Tony, Grammy, and Emmy as a cast member of THE COLOR PURPLE revival on Broadway. He played Trevor in the Tony-winning THE PLAY THAT GOES WRONG on Broadway, and he most recently starred as Aaron Burr in HAMILTON. He is series regular Eric Houston on Fox's EMPIRE. He can also be seen on TV as Trevor in NBC's CHICAGO MED. Watson's film credits include the recent release of MISS JUNETEENTH, as well as SPILT MILK and SEASONS OF GRAY. He is the voice of anime characters like Satoshi on Toonami's MICHIKO & HATCHIN and Wiley on JORMUNGAND. He also voices Chris in THE WALKING DEAD video game, and he plays himself in the video game, BORDERLANDS: THE PRE-SEQUEL on Playstation and Xbox. He was a golden ticket winner on season seven of AMERICAN IDOL.
UE Theatre Salon Series Welcomed Innovative Designer Ryan Kravetz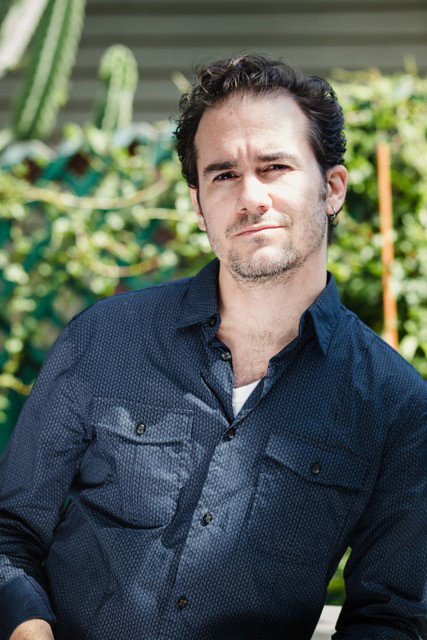 This week's installment of the UET Salon Series was held on Wednesday, Feb. 24, with Ryan Kravetz.
With a career spanning a wide range of mediums and styles, Kravetz has an ability to have a conversation with the audience using a diverse vocabulary of visual storytelling and performance. His career started in New York designing downtown and off-Broadway theatre as well as assisting Broadway designers. His work grew to include art direction for television programs on MTV, Comedy Central, HBO, NBC, and PBS. He also has experience in the live events space where he has designed environments and sets for events ranging from corporate product launches to festivals and concerts for artists like Elton John. His work includes creating impressionistic narratives for The New World Symphony, a virtual re-creation for the J. Paul Getty museum, and several shows at the Disney theme parks, including the end-of-night spectacular, "Happily Ever After," which is projected onto the castle at Magic Kingdom. Kravetz has also overseen the creation and production of original animated content projected on the Hollywood Bowl, accompanying films such as "The Nightmare Before Christmas," along with a live orchestra and performance.
This semester, UE Theatre students will have the opportunity to experience over 25 workshops and salons with various professionals from the entertainment industry.
Fall 2020 Deans' List
The Fall 2020 Deans' List is currently on display at the University Libraries. The List will be on display until March 15.
UE Employees Invited to Columbia Sportswear Store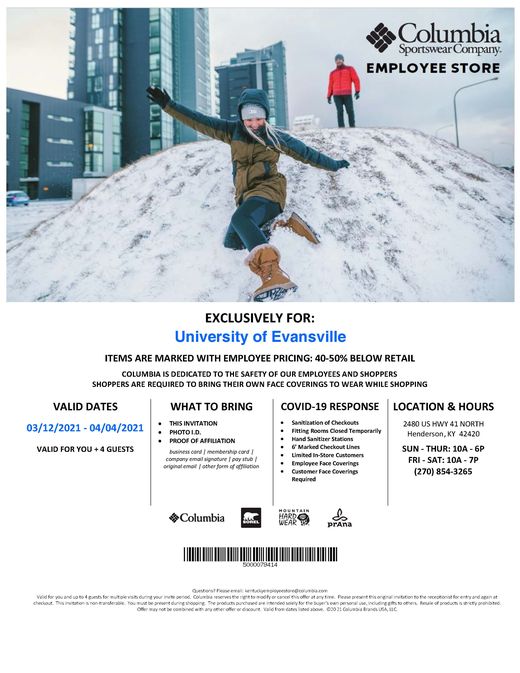 EXCLUSIVELY FOR:
University of Evansville
Items are marked with employee pricing: 40-50% below retail
Columbia is dedicated to the safety of our employees and shoppers.
Shoppers are required to bring their own face coverings to wear while shopping.
3/12/2021 - 4/4/2021
Valid for you + 4 guests
VALID DATES
· THIS INVITATION
· PHOTO I.D.
· PROOF OF AFFILIATION
(business card | membership card | company email signature | pay stub | original email | other form of affiliation)
LOCATION & HOURS
2480 US HWY 41 NORTH
Henderson, KY 42420
SUN - THUR: 10A - 6P
FRI - SAT: 10A - 7P
(270) 854-3265
Village Housing Q & A Session
The Office of Residence Life will host a Q & A Session for for students who have questions about living in the Villages for 2021-22. This session is not required, but rather an opportunity for you to hop on Zoom to ask any questions that you may have (students will be admitted one at time so you can ask your questions individually).
Zoom Meeting ID: 944 0330 7641
Passcode: ResLife
PAID Basketball Coaching Apprenticeship: Indiana Ambition Basketball
PAID Basketball Coaching Apprenticeship: Indiana Ambition Basketball (www.indianaambition.com) is looking for college students interested in working with kids and coaching! Monday, Tuesday and Wednesday, 5:30-8:30pm, paying $15/hour helping with practice for a wide range of age groups. Must be good with kids and love basketball. Qualified students may be eligible to receive more hours and weekend AAU tournament coaching stipends. Contact coach Mitch Lewis to apply and receive more information. Text: 210-863-9421, or mlewis.ambition@gmail.com.
Room Selections for 2021-22
Students, it's time to start thinking of where you will live for next year. The Office of Residence Life has updated their website with the timeline for signing up for housing for the 2021-22 academic year. You can find important dates and information on the Residence Life website at https://www.evansville.edu/residencelife/housingapplyreturn/applying.cfm. If you need assistance in finding a roommate or have questions regarding the sign up process, please contact Brian Conner in the Office of Residence Life at bc32.
Black History Celebration with Step Afrika
Did you enjoy the #BlackHistoryMonth Celebration from Step Afrika! so much that you could watch it again, or were not able celebrate our Black and African-American community, but would love to still be able to?
You're in luck - Everyone at the University of Evansville can celebrate until March 4th, thanks to Step Afrika! setting up our very own private YouTube Channel:
Made possible with collaborations from:
Black Student Union
Alpha Omicron Pi, Chi Lambda Chapter
UE Center for Diversity, Equity, and Inclusion
UE Student Activities Board
Celebration Description:
Step Afrika! blends percussive dance styles practiced by historically African American fraternities and sororities; traditional African dances; and an array of contemporary dance and art forms into a cohesive, compelling artistic experience. Performances are much more than dance shows; they integrate songs, storytelling, humor and audience participation. The blend of technique, agility, and pure energy makes each performance unique and leaves the audience with their hearts pounding.
Medical School Application Information Session
Are you applying to medical school this summer? If so, please consider attending a Zoom information session, "Preparing for Medical School Application Season" Tuesday, March 2 at 6PM. We will discuss how and when to ask for Letter's of Recommendation, getting started on a personal statement, what to expect on the application, and updated information on when to apply. I will share links to additional resources that may give you a good head start. If you are unable to attend, please email fr25@evansville.edu to schedule an advising appointment.
Use the zoom link below to join the meeting:
Francie Renschler is inviting you to a scheduled Zoom meeting.
Topic: "Preparing for Medical School Application Season"
Join Zoom Meeting
https://us02web.zoom.us/j/7385197423?pwd=ckMrTGpBaDJiSW82bi9kb2hBam9GZz09
Meeting ID: 738 519 7423
Passcode: 182059
Student Run Marketing Agency Now Hiring
Our Story: "Embrace Marketing and Communications is a student-run agency that began work in the fall of 2018. Since then, Embrace has served multiple clients throughout the Evansville and Tri-State area, including start-up businesses, all the way to national corporations. Our diverse clientele provides us with invaluable experience to nurture and expand with each opportunity that comes our way. With guidance and leadership from our advisors, Keith Leonhardt and Emily Schuster, our multi-talented team brings fresh perspectives, creativity, and unique skills to every project. Since the beginning, our goal has been to help our clients embrace their full potential because a win for them is a win for us."
Who: Upcoming Fall 2021 Sophomore, Junior, and Senior Communications or Business majors primarily, but open to all majors
What: Openings in Account Executive, Marketing Strategist, Digital and Social Media Specialist, Creative Director, CFO, Writer, and CEO positions. The description/requirements for each of these positions can be found on the Embrace website, https://embracemarcomm.com.
When: Apply by March 10
Where: Send resume & cover letter to embracemarcomm@gmail.com.
Why: Gain real world business experience while in college! Knowledge that can't be learned in the classroom is obtained. Join a fun and innovative team of like-minded creatives.
UE Intramurals Now Offering ESports Gaming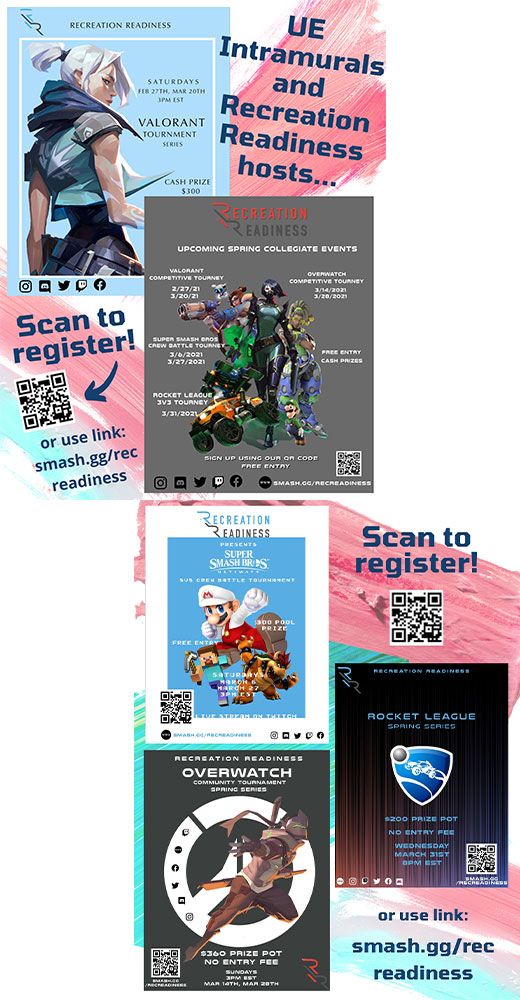 The UE Intramural program is excited to announce upcoming E Sports tournaments provided through Recreation Readiness!
Recreation Readiness invites your esports teams to participate in our FREE spring series and compete against top teams across the country to win cash prizes! For rules and eligibility please contact @ah519 or recreationreadiness@gmail.com.
Games Offered: Valorant, Overwatch, 5v5 Super Smash Bros Crew Battles, 3v3 Rocket League
Schedule:
Sat. 2/27 at 3 pm EST: Valorant ($300 prize pool)
Sat. 3/6 at 3 pm EST: Smash Bros ($300)
Sun. 3/14 at 3 pm EST: Overwatch ($360)
Sat. 3/20 at 3 pm EST: Valorant ($300)
Sat. 3/27 at 3 pm EST: Smash Bros ($300)
Sun. 3/28 at 3 pm EST: Overwatch ($360)
Wed. 3/31 at at 8 pm EST: Rocket League ($200)
Registration closes at Noon EST on day of event
Also, you can find updated info at all social media outlets below:
Discord: bit.ly/recreadiness
Twitch: twitch.tv/recreadiness
Instagram: instagram.com/recreationreadiness
Website: recreationreadiness.org
After registering to play, please contact @ah519 for further instructions.
Recreation Readiness Founders - Jason Gant and Mark Comer
2020 1095-C Forms Processed
1095-C forms have been processed for benefit eligible employees. If you have provided consent for electronic 1095-C's, you can view/print your 1095-C for your records now. Simply log into Self-Service, and go to "Tax Information". Click the option "1095-C Information" and then click on "2020 1095-C Statement".
1095-C's have been mailed for those employees who did not provide their electronic consent.
If you have any questions, please contact Dawn Bury at ext. 2159 or db287@evansville.edu.
Submit your 2021-2022 FAFSA
File the 2021-22 FAFSA by April 15 at https://www.fafsa.ed.gov
Continuing students should file the 2021-22 Free Application for Federal Student Aid (FAFSA) to apply for federal, state and University need-based financial aid, including all federal student loans. UE's FAFSA code is 001795.
Filing by April 15 is essential for Indiana residents to receive state aid, and highly recommended for all.
Questions regarding the FAFSA should be directed to the Student Financial Services (Olmsted Administration Hall, Room 105) at 812-488-2364.
Eykamp Prize: Call for Nominations
The Eykamp Prize was established by Richard and Rita Eykamp in 2015 to honor Faculty Achievement at the University of Evansville. Recipients of the prize will receive an award of $10,000 in recognition of extraordinary contributions to the University of Evansville as University Citizens. Examples of such contributions include deep and successful involvement in recruiting students; expanding the number, scope, and competitiveness of grant funding for their department; bringing positive public awareness to the University through scholarship, knowledge, and understanding of their discipline.
Nominations for the Eykamp Prize may come from any member of the University of Evansville community. Nominees should be tenured or tenure-track faculty members at the University of Evansville who have not received the award in the previous five years. Nominations can be submitted in writing or via e-mail to Dr. Michael Austin, Executive Vice President for Academic Affairs and Provost, at ma352@evansville.edu by March 12, 2021. Nominations should include the name of the faculty member and a brief statement of the reasons that he or she is being nominated.
Recipients of the Eykamp Prize will be selected by an Awards Committee appointed by the EVPAA and Provost that includes members of the faculty and staff, academic administrators, and at least one member of the Board of Trustees. The award will be announced and presented at the May Commencement Ceremony.
Previous recipients in the last five years are: 2016 – Dr. Mark Valenzuela; 2017 – Dr. Lora Becker; 2018 – Dr. David Dwyer; 2019 – Dr. Kristy Miller; and 2020 – Dr. Jerrilee LaMar.
Dr. Harmon of Physics Department published in Physical Review B
Dr. Nick Harmon, assistant professor of physics, published a new article entitled "Theory of oblique-field magnetoresistance from spin centers in three-terminal spintronic devices" in Physical Review B. The work, with a coauthor from the University of Iowa, demonstrates how signals previously ascribed to spin injection into semiconductors are better characterized by magnetic field-dependent hopping currents through interfacial defects. An application of this work is that these defect-mediated currents can be used as sensors of magnetic fields. NASA is currently investigating this idea as a field sensor for its planned mission to Europa in a few years.
The article abstract is here https://journals.aps.org/prb/abstract/10.1103/PhysRevB.103.035310.
Shamar Givance Named to All-MVC 2nd Team
University of Evansville junior Shamar Givance was named to the All-Missouri Valley Conference Second Team in an announcement by the league on Tuesday morning.
Givance has excelled in all facets of the game in helping lead the Purple Aces to their first top five seed at Arch Madness since 2016. The junior completed the regular season averaging 13.5 points, 4.0 assists and 3.8 rebounds per game. With an average of 1.5 steals per game, Givance paced the MVC.
Offensively, Givance made one of the top jumps in the entire conference. After finishing last season with an average of 4.0 points per game, he has seen that number jump by almost nine points. He has recorded double figures in 19 out of 24 games after reaching that mark just one time over his entire sophomore campaign.
The reigning conference Player of the Week tied his career mark with 22 points in Saturday's win over Missouri State that helped the Purple Aces clinch the #5 seed entering this weekend's tournament. Over his last seven games, Givance has taken his offense to a new level, recording 17.1 PPG over the last seven contests. He is coming off of a series against the Bears that saw him knock down 7 of his 12 3-point attempts.
With a total of 37 steals and an average of 1.5 per contest, he paced the MVC in the regular season. He finished second with 4.0 assists per game, recording a total of 96 in Evansville's 24 games. Givance's top efforts in that department saw him finish with eight helpers in games against Illinois State and Indiana State.
This marks the first All-Conference nod for Givance. He and the entire UE program have their sights set on Friday's matchup against #4 Indiana State at 2:08 p.m.
Marah Wood Named MVC Newcomer of the Week
University of Evansville freshman Marah Wood has been named the Missouri Valley Conference Newcomer of the Week.
Wood batted a solid .364 in the Purple Aces series against Green Bay. The Brownsburg, Indiana native registered four hits in 11 at-bats while hitting a home run. She walked three times while scoring twice. Following an 0-3 game in Saturday's opener, Wood went 2-3 with a run in game two.
She became more comfortable as the series moved along, posting the first home run of her UE career in game one on Sunday. She went 1-3 while drawing a walk. Wood added another hit and two walks in the series finale. She reached base 50% of the time in the 4-game set while slugging .818.
Aces Fall in Five Sets at Missouri State
Melanie Feliciano and Alondra Vazq uez combined for 48 kills in a 5-set match that saw Missouri State use a late rally to finish with a 3-2 victory.
Feliciano led the Purple Aces (3-9, 2-8 MVC) with 25 kills while Vazquez added 23. Feliciano hit an impressive .368 while adding 12 digs. Rachel Basinski added a career-high 31 digs on the defensive side while Brooke Springer and Allana McInnis had three block assists apiece. McInnis also had 50 assists. Leading the Bears (11-2, 7-1 MVC) was Brooklyn Cink, who had 25 kills.
Game 1
Missouri State broke a 5-5 tie by scoring four in a row. Evansville rallied back when Laura Ruiz had consecutive service aces to tie the score back up at 12-12. The Aces tied it up on two more occasions, but the Bears wrestled away a 19-15 edge before taking the set by a 25-21 final. Evansville closed within one at 21-20 on a Hannah Watkins kill, but the Bears countered with the late rally.
Game 2
In game two, a pair of Feliciano kills saw the Aces jump out to a 7-2 lead. They would add to the advantage, going up by seven points on another Feliciano tally that pushed the lead to 13-6. Missouri State closed within three points on a few occasions, but it was Alondra Vazquez who took control down the stretch, registering three late kills to tie the match up with a 25-21 decision.
Game 3
Evansville took another early lead, reeling off eight of the first 11 to go up by a score of 8-3. Chloe Bontrager had two kills in the early stretch. MSU rallied back to tie it up at 11-11, but another UE run saw them go up 18-13 in a run that saw Feliciano post four kills. Once again, Missouri State stormed back. Trailing 22-18, Missouri State scored six in a row and looked to be in control, but Evansville had other ideas. Kills by Vazquez and Watkins saw the Aces jump back in front, 25-24, before Feliciano broke a 26-26 tie by adding two more kills to her total to give the Aces a 28-26 win and a 2-1 lead.
Game 4
Up 8-7 to begin the fourth frame, the Bears six of the next seven points to take a 14-8 lead. From there, they took control, tying the match with a 25-16 win.
Game 5
With the momentum back on their side, the Bears picked up a 4-2 lead to start the fifth game. Feliciano and Bontrager registered kills that saw the Aces claw back within one at 6-5, but Missouri State put forth another big run, scoring five in a row before winning the match with a 15-7 victory in the fifth set.
Evansville remains on the road next weekend, traveling to Drake for a 2-game series.
Contribute to AceNotes
To have content considered for inclusion in AceNotes, please submit a Marketing Request Form. Deadline for submission to AceNotes is 10:00 a.m. on the requested date of publication. Only articles concerning UE related/sponsored activities will be accepted. Articles submitted to AceNotes may be edited for length and clarity. Submitter contact information is at the end of each article.