| | |
| --- | --- |
| AceNotes Today | Friday, February 26, 2021 |
Happy Birthday UE! Pick Up Your Purple Cupcake Today in Ridgway!
Happy 167th Birthday UE! In honor of the University of Evansville's Founder's Day, the Student Alumni Ambassadors are handing out purple cupcakes in Ridgway from 11:00 a.m. - 2:00 p.m. (or while supplies last). Each cupcake has a UE Founder's Day Fact. Take a picture with your cupcake and share your Founder's Day Fact on Facebook, Twitter, or Instagram (public post) and tag @UEAlumni to win UE swag! #HappyBirthdayUE
Did you know: "UE moved to Evansville in 1919, becoming Evansville College. The first classes on campus were held in Administration Hall (Olmsted Hall) in June 1922."
Enjoy your cupcake in class today, and remember, on Friday's at UE, we wear purple!
Cupcakes are provided by Student Alumni Ambassadors and the Office of Alumni and Parent Relations.
COVID-19 Vaccinations for 16 and Older at Ascension St. Vincent
Currently, the Indiana State Department of Health (ISDH) has identified the following Indiana residents as eligible to receive the COVID vaccine:
Healthcare Workers
First Responders
Teachers and school staff in pre-K through high school, child care centers, Head Start and Early Start programs
Licensed childcare providers, including center-based and family care providers
Age 16 and above
Specific groups of patients at highest risk of severe illness from COVID-19 who are identified by their healthcare provider are also eligible. These individuals will receive a unique registration link by text or email.
We will keep our patients updated as eligibility and administration sites broaden. Although currently there is no cost to patients for the vaccine, insurance information will be collected.
Vaccine Scheduling
The COVID-19 vaccine is available by appointment only. No walk-ins will be permitted. Once listed as eligible by the ISDH, go to www.ourshot.in.gov or by calling 211 or 1-866-211-9966 to schedule an appointment.
Detailed instructions
Go to www.ourshot.in.gov
Enter date of birth and attest to being over age 16
Enter zip code and Select Ascension St Vincent Vaccine Clinic location
Select appointment date and time
Complete demographic information including accurate date of birth
Confirm appointment
Ascension St Vincent Vaccine Clinic
For your convenience, the Ascension St. Vincent Vaccine Clinic is open 7 days a week and located on the hospital campus in the Manor Auditorium. When scheduling an appointment on the state website, select "Ascension St Vincent Evansville VAX" as site location. Directions: Enter the parking garage off of Bellemeade Avenue, immediately turn left and follow the directional signage to the designated vaccine clinic parking area. Patients should enter the clinic using the doors adjacent to the parking garage. Tri State Clinics patients are encouraged to call our office at 1-888-492-8722 with questions or for assistance with scheduling at the Ascension St. Vincent Vaccine Clinic.
Spencer County Residents
Spencer County Local Health Department
Heritage Hills High School
Perry County Residents
Perry County Local Health Department
Perry County Memorial Hospital
Posey County Residents
Posey County Local Health Department
Illinois Residents
Phase 1A: Healthcare workers, those in long term care facilities.
Phase 1B : Frontline essential workers, residents 65 years of age or older and under 65 with comorbidities.
Phase 1B+ : IL residents 16+ with disabilities or serious medical conditions. Higher education staff, gov workers, and media. Details and scheduling info at: https://coronavirus.illinois.gov/s/.
Kentucky Residents
Phase 1a: Long term care facilities, healthcare personnel
Phase 1b: First responders, anyone 70 or older, K-12 school personnel
Phase 1C : KY residents age 60+ AND 16 and older with serious medical conditions and essential workers
For locations and to schedule appointment go to: https://govstatus.egov.com/kentucky-vaccine-map or call the KY COVID-19 Hotline - (800) 722-5725 for more information.
Should you have any additional questions, please contact Ashley Chipps at ashley.chipps@ascension.org or Stacey Smith at stacey.smith1@ascension.org
"WERQ" Dance Classes are Back at the Fitness Center and Virtual
The popular workout class, WERQ is back and ready to help get you back in shape!
WERQ is a fun class that allows you to get a good workout in through a mix of repetitive dance steps and athletic moves. The music includes the most popular and trendiest pop and hip hop music. Join for a wildly fun time!
In person attendance will be capped at 15 people, the first 15 to sign up on Uengage will reserve their spot for the following class! Don't worry if you're not the first 15, you can still tune in via zoom to join in on the workout at home or in your own space! The zoom link will be posted to the UE Fitness Center Facebook page, if you'd like to be emailed the zoom link please email ah519.
Classes will be held every Tuesday and Thursday from 6:00 - 6:45pm throughout the month of March.
All in person participants will be required to wear a Mask and stay within their marked spots throughout the duration of the class.
Student Leadership Conference
The Center for Student Engagement is now accepting registrations for the Student Leadership Conference.
The 2021 Student Leadership Conference will be held on March 13th from 10:00 am until 2:30 pm. This year the topic is Overcoming. There is so much going on in the world today that can impact students on a college campus. Throughout the conference, you will be given the opportunity to hear from peers, alumni, and guest speakers who are willing to share their experiences and stories about overcoming stress, failure, challenges, fears, the unknown, and their stories of overcoming the challenges of life in the world today. Dr. Lauren Cook will be the keynote speaker giving a talk titled "Eat Your G.R.A.P.E.S: How to Cope Through Challenging Times".
We would love to have you join us!Please register online for the Student Leadership Conference.
The deadline to register is March 5th. If you have any questions, please reach out to Kaitlyn Luczak at kl241@evansville.edu.
Spring Intramurals Sports Announced
The Spring Intramural season is set to begin the first of March and we're excited for what's in store! Sports include volleyball, human foosball, kickball, and wiffleball and many more! If you're interested in finding out more or registering a team, go to imleagues.com or download the imleagues.com app!
All participants will be required to wear a face mask prior, during, and after their scheduled intramural event. No walk-up, sign-ups will be allowed, all participants must be registered on imleagues.com to participate. For all other Covid related protocols please visit imleagues.com or contact ah519 for more information.
Step Afrika!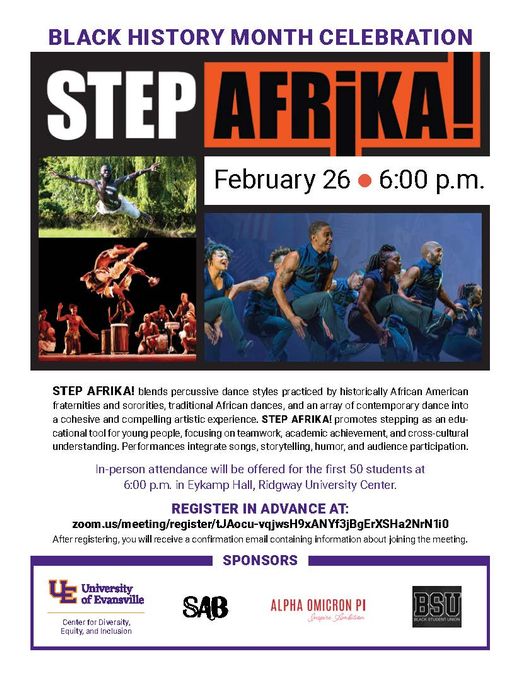 You are invited to join us for a celebration with Step Afrika! On February 26th at 6pm. The first 50 students can attend in person at Eykamp. If you plan to attend in person please register on Uengage, if you plan to attend on Zoom please register using the link below! The University of Evansville's Student Activities Board, Black Student Union, Center for Diversity Equity and Inclusion, and Alpha Omicron Pi presents special guest Step Afrika! for a Black History Month Celebration!
Step Afrika! blends percussive dance styles practiced by historically African American fraternities and sororities, traditional African dances, and an array of contemporary dance into a cohesive compelling artistic experience. Step Afrika! promotes stepping as an educational tool for young people, focusing on teamwork, academic achievement, and cross-cultural understanding. Performances are much more than dance show; they integrate songs, storytelling, humor, and audience participation.
https://zoom.us/meeting/register/tJAocu-vqjwsH9xANYf3jBgErXSHa2NrN1i0
Black History Month Challenge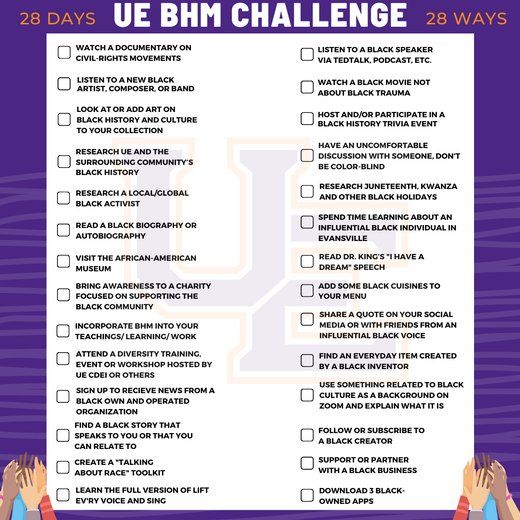 During Black History Month join the UE BHM Challenge sponsored by the Center for Diversity, Equity and Inclusion! In this challenge you will find 28 ways for 28 days of Black History Month to actively learn, engage, support, and uplift Black culture from Evansville and around the world. Items listed in the challenge can be done personally or in a social group! Do some personal research on Juneteenth or grab a friend and some popcorn and watch Just Mercy. Either way you do it, #BHMChallenge yourself! Happy Black History Month!
Watch a documentary on civil-rights movements
Listen to a new Black artist, composer, or band
Look at or add art on Black history and culture to your collection
Research UE and the surrounding community's Black history
Research a local/global Black activist
Read a Black biography or autobiography
Visit the African-American museum
Bring awareness to a charity focused on supporting the Black community
Incorporate BHM into your Teachings/ Learning/ Work
Attend a diversity training, event or workshop hosted by UE CDEI or others
Sign up to receive news from a Black own and operated organization
Find a Black story that speaks to you or that you can relate to
Create a "Talking about Race" Toolkit
Learn the full version of Lift Ev'ry Voice and Sing
Listen to a Black speaker via TedTalk, PodCast, etc.
Watch a Black movie not about Black trauma
Host and/or participate in a Black history trivia event
Have an uncomfortable discussion with someone, don't be color-blind
Research Juneteenth, Kwanza and other Black holidays
Spend time learning about an influential Black individual in Evansville
Read Dr. King's "I Have a Dream" speech
Add some Black cuisines to your menu
Share a quote on your social media or with friends from an influential Black Voice
Find an everyday item created by a Black inventor
Use something related to Black culture as a background on zoom and explain what it is
Follow or Subscribe to a Black creator
Support or partner with a Black business
Download 3 Black-owned apps
Medical School Application Information Session
Are you applying to medical school this summer? If so, please consider attending a Zoom information session, "Preparing for Medical School Application Season" Tuesday, March 2 at 6PM. We will discuss how and when to ask for Letter's of Recommendation, getting started on a personal statement, what to expect on the application, and updated information on when to apply. I will share links to additional resources that may give you a good head start. If you are unable to attend, please email fr25@evansville.edu to schedule an advising appointment.
Use the zoom link below to join the meeting:
Francie Renschler is inviting you to a scheduled Zoom meeting.
Topic: "Preparing for Medical School Application Season"
Join Zoom Meeting
https://us02web.zoom.us/j/7385197423?pwd=ckMrTGpBaDJiSW82bi9kb2hBam9GZz09
Meeting ID: 738 519 7423
Passcode: 182059
Recycling Alternative
Did you know that the Vanderburgh District contracts with Wesselman Nature Society to conduct monthly drop-off recycle days in various locations. Typically, the 2021 drop-off recycling days are on Saturdays from 8:00 am – 12:00 monthly. Dates and locations are available at https://www.evansvillegov.org/city/department/division.php?structureid=260.
The next recycling drop-off day is this Saturday, February 27, at the Vanderburgh 4-H Center. Items accepted include aluminum cans, #1 - #7 plastic, cardboard, metal food cans, junk mail, catalogs, magazines and newspaper. NOT ACCEPTED are glass, styrofoam and plastic bags.
Student Run Marketing Agency Now Hiring
Our Story: "Embrace Marketing and Communications is a student-run agency that began work in the fall of 2018. Since then, Embrace has served multiple clients throughout the Evansville and Tri-State area, including start-up businesses, all the way to national corporations. Our diverse clientele provides us with invaluable experience to nurture and expand with each opportunity that comes our way. With guidance and leadership from our advisors, Keith Leonhardt and Emily Schuster, our multi-talented team brings fresh perspectives, creativity, and unique skills to every project. Since the beginning, our goal has been to help our clients embrace their full potential because a win for them is a win for us."
Who: Upcoming Fall 2021 Sophomore, Junior, and Senior Communications or Business majors primarily, but open to all majors
What: Openings in Account Executive, Marketing Strategist, Digital and Social Media Specialist, Creative Director, CFO, Writer, and CEO positions. The description/requirements for each of these positions can be found on the Embrace website, https://embracemarcomm.com.
When: Apply by March 10
Where: Send resume & cover letter to embracemarcomm@gmail.com.
Why: Gain real world business experience while in college! Knowledge that can't be learned in the classroom is obtained. Join a fun and innovative team of like-minded creatives.
2020 1095-C Forms Processed
1095-C forms have been processed for benefit eligible employees. If you have provided consent for electronic 1095-C's, you can view/print your 1095-C for your records now. Simply log into Self-Service, and go to "Tax Information". Click the option "1095-C Information" and then click on "2020 1095-C Statement".
1095-C's have been mailed for those employees who did not provide their electronic consent.
If you have any questions, please contact Dawn Bury at ext. 2159 or db287@evansville.edu.
Final Week for Bargain Book Blowout
This is the final week for the bookstore's bargain book blowout! All bargain books, as well as some rare and out-of-print titles, are only $1! You will not be able to get any of these titles after this week, so make sure to stop by and grab them before it's too late!
Bargain Book Blowout
Do you need a gift for a loved one? Or just looking for something new to read? Well look no further than the campus bookstore! We're having a big bargain book blowout, with all bargain titles priced for only $1! This sale will run until March 2nd and quantities are limited, so come visit us as soon as possible! [Please note, this is an in-store only sale.]
Men's Basketball Welcomes Missouri State
Just one more weekend remains in the regular season with the University of Evansville welcoming Missouri State to the Ford Center for a pair of games this week. The 2-game series will take place on Friday and Saturday evening with both games beginning at 6 p.m....ESPN+ and the Purple Aces Radio Network will have the coverage.
Setting the Scene
Evansville enters the final weekend of the season in 5th place in the MVC and hopes to clinch one of the top six seeds at Arch Madness while avoiding Thursday's play-in round
Missouri State comes to town with a 6-game win streak and boast the top scorer and rebounder in the Valley
Facing a tough streak of playing the conference's top four teams in consecutive series, the Aces look to finish on a high note with its final two home contests
Last Time Out
On Monday, Evansville and Drake wrapped up their series in Des Moines with the Bulldogs finishing with a 74-63 victory at the Knapp Center
Evansville led by a score of 35-31 at halftime, but the Bulldogs rallied in the early minutes of the second half to take the lead for good...Drake outscored UE by a 43-28 margin in the final 20 minutes
Playing over 37 minutes, Shamar Givance led the team with 17 points while Evan Kuhlman chipped in 16
Joseph Yesufu scored 36 in the contest...in two games, Yesufu averaged 34 points
Looking Back
The last time the Aces and Bears wrapped up their regular season at the Ford Center came on Feb. 25, 2012
Evansville won in overtime by a final of 75-70 and forced a 5-way tie for third in the MVC standings at 9-9...by way of the tiebreaker, UE became the #3 seed and faced Missouri State in the first game and went on to take a 72-62 win in St. Louis to go 3-0 against the preseason MVC favorites
A loss that day in 2012 would have slid the Aces to 8th place in the final standings
What Can't He Do?
UE junior Shamar Givance continues to do it all on the floor...his average of 3 steals per game at Drake lifted his season average to a league-leading 1.6 per game
He remains second in the league with 4.0 assists, 11th in scoring (12.8 PPG) and is tied for 8th with 31.6 minutes per contest
After leading the team with 18 PPG in the Drake series, Givance raised his average over the last eight games to 14.4 PPG...his recent streak came on the heels of the series at Bradley where he scored a total of five points
Pinpoint Accuracy
Jawaun Newton continues to shoot at an impressive clip and has converted 64.7% of his 2-point attempts since January 2... over that span, he is shooting 55.3% (78-141) overall, 64.7% (66-102) from inside and has shot 57% or higher on eight occasions
While his accuracy saw a slight dip in the Drake series (8-for-21), his output remained strong as he averaged 11 points per game...in the opener, he tied his career mark with eight rebounds
Scouting the Opponent
Missouri State enters the final weekend of the regular season with a record of 15-5 overall and 11-5 in the MVC
Since a 70-50 loss to Loyola on February 1, the Bears have reeled off six wins in a row including a 68-53 win at Southern Illinois on Feb. 17
The Bears are fourth in the conference standings
MSU has the top scorer and the top rebounded in the MVC as Isiaih Mosley paces the league with 19.7 points per game and Gaige Prim leads the conference with 9.3 caroms
Mosley is also the top free throw shooter in the conference, hitting 86.7% of his tries
Prim is third in the Valley in scoring, checking in at 16.0 points per game
Baseball Comes Home for Weekend Series with NIU
After winning the season-opener at #12 Georgia last weekend, the University of Evansville baseball team makes its season debut at German American Bank Field and Charles H. Braun Stadium with a three-game set against NIU on Friday, Saturday, and Sunday in Evansville, Ind.
Last Time Out: #12 Georgia 4, Evansville 1
True freshman Donovan Schultz got his first start and appearance of his collegiate career and handled a big stage well.
After Georgia threatened by putting three runners on in the bottom of the first, Schultz settled in and worked through the Bulldogs lineup, sitting Georgia down in order in the second.
Evansville got on the board first in the top of the third as the Aces had senior Troy Beilsmith on second with no outs after a walk and a throwing error.
Beilsmith moved to third following a fly out from Shepherd and was brought home on a RBI sacrifice fly by junior Tanner Craig to give the Aces a 1-0 lead.
The Bulldogs answered immediately in the bottom half of the third, scoring twice, once on an error and another coming unearned on a sacrifice fly.
Schultz's day came to an end following the fourth inning as the Wisconsin native closed his debut allowing three hits, one earned run, and striking-out two.
Schultz was replaced by newcomer Zac Cummins, who pitched a strong fifth and sixth innings, allowing just two hits and keeping the Bulldogs from adding to their lead.
Previewing the Matchup: NIU
Evansville and NIU are meeting for the eighth time in series history with the Aces owning a 4-3 advantage in the all-time series.
The two sides last met during the 2017 season as the Huskies captured both games, 5-2, 1-0, on April 21 and 23 in Evansville.
NIU's season-opening series against Memphis was cancelled last weekend, so the Huskies will open their season this weekend at UE.
In 2020, NIU compiled a 7-10 record, including wins over Boston College and SEMO.
Evansville returns to German American Bank Field at Charles H. Braun Stadium after playing just one game at the renovated field in 2020. The Aces opened the newly minted turf field on March 10 with a 5-4 victory over Indiana before the season ended just days later due to the COVID-19 Pandemic.
Clean ERAs
A pair of Aces finished the weekend series with ERAs of 0.00 after facing the 12th-ranked team in the nation.
Freshman Jakob Meyer and sophomore Eric Roberts each pitched more than two innings in the series and did not allow a run.
Meyer played in two games, pitching a total of 2.2 innings of scoreless baseball's striking out one.
Roberts pitched two innings in Saturday's first game of the doubleheader, striking out one and not allowing a hit.
SEC Win for Evansville
Friday's season opening win for Evansville over #12 Georgia was the first of its kind in more than six seasons for the Aces.
It marked the Aces first win over an SEC opponent since Feb. 26, 2014 when the Aces defeated Vanderbilt on the road, 8-3.
Gray Named MVC Pitcher of the Week
After a stellar performance on Friday, University of Evansville baseball sophomore right-handed pitcher Shane Gray was named Missouri Vally Conference Pitcher of the Week, it was announced in a release by the Conference office on Monday morning.
Leading Evansville to a season opening win over #12 Georgia, sophomore Shane Gray turned in an impressive performance on the mound Friday.
Against the nationally-ranked Bulldogs, Gray pitched six innings, allowing just one earned run and four hits, while striking-out four.
Gray's pitcher of the week honor is the first an Aces pitcher since Nathan Croner and Adam Lukas went back-to-back winning the award on March 11 and 18, 2019.
Softball Shifts Weekend Location and Schedule
Due to inclement weather in the forecast for Chattanooga, Tennessee, the University of Evansville softball team has announced an updated opponent and location for the weekend due to the cancellation of the Frost Classic.
The Purple Aces will now travel to Decatur, Ill. to face Green Bay. A 4-game series will be on tap on the campus of Millikin University. The Purple Aces and Phoenix will open up the series on Saturday with a doubleheader at 11 a.m. with Sunday's action beginning at 10 a.m.
UE opened its season last weekend, going 2-2 at the Black & Gold Tournament in Montgomery, Alabama. The Aces wrapped up the weekend on a high note, defeating Alabama State in the final two games. Mea Adams led the team with a .583 batting average in the opening weekend while Eryn Gould batted .500 with a team-high six RBI.
In the circle, Jaime Nurrenbern picked up a win while throwing 8 1/3 innings and allowing just two unearned runs. Izzy Vetter also had a nice start to the season, tossing 10 innings while allowing one earned run.
Contribute to AceNotes
To have content considered for inclusion in AceNotes, please submit a Marketing Request Form. Deadline for submission to AceNotes is 10:00 a.m. on the requested date of publication. Only articles concerning UE related/sponsored activities will be accepted. Articles submitted to AceNotes may be edited for length and clarity. Submitter contact information is at the end of each article.