| | |
| --- | --- |
| AceNotes Today | Thursday, February 25, 2021 |
COVID-19 Vaccinations for 16 and Older at Ascension St. Vincent
Currently, the Indiana State Department of Health (ISDH) has identified the following Indiana residents as eligible to receive the COVID vaccine:
Healthcare Workers
First Responders
Teachers and school staff in pre-K through high school, child care centers, Head Start and Early Start programs
Licensed childcare providers, including center-based and family care providers
Age 16 and above
Specific groups of patients at highest risk of severe illness from COVID-19 who are identified by their healthcare provider are also eligible. These individuals will receive a unique registration link by text or email.
We will keep our patients updated as eligibility and administration sites broaden. Although currently there is no cost to patients for the vaccine, insurance information will be collected.
Vaccine Scheduling
The COVID-19 vaccine is available by appointment only. No walk-ins will be permitted. Once listed as eligible by the ISDH, go to www.ourshot.in.gov or by calling 211 or 1-866-211-9966 to schedule an appointment.
Detailed instructions
Go to www.ourshot.in.gov
Enter date of birth and attest to being over age 16
Enter zip code and Select Ascension St Vincent Vaccine Clinic location
Select appointment date and time
Complete demographic information including accurate date of birth
Confirm appointment
Ascension St Vincent Vaccine Clinic
For your convenience, the Ascension St. Vincent Vaccine Clinic is open 7 days a week and located on the hospital campus in the Manor Auditorium. When scheduling an appointment on the state website, select "Ascension St Vincent Evansville VAX" as site location. Directions: Enter the parking garage off of Bellemeade Avenue, immediately turn left and follow the directional signage to the designated vaccine clinic parking area. Patients should enter the clinic using the doors adjacent to the parking garage. Tri State Clinics patients are encouraged to call our office at 1-888-492-8722 with questions or for assistance with scheduling at the Ascension St. Vincent Vaccine Clinic.
Spencer County Residents
Spencer County Local Health Department
Heritage Hills High School
Perry County Residents
Perry County Local Health Department
Perry County Memorial Hospital
Posey County Residents
Posey County Local Health Department
Illinois Residents
Phase 1A: Healthcare workers, those in long term care facilities.
Phase 1B : Frontline essential workers, residents 65 years of age or older and under 65 with comorbidities.
Phase 1B+ : IL residents 16+ with disabilities or serious medical conditions. Higher education staff, gov workers, and media. Details and scheduling info at: https://coronavirus.illinois.gov/s/.
Kentucky Residents
Phase 1a: Long term care facilities, healthcare personnel
Phase 1b: First responders, anyone 70 or older, K-12 school personnel
Phase 1C : KY residents age 60+ AND 16 and older with serious medical conditions and essential workers
For locations and to schedule appointment go to: https://govstatus.egov.com/kentucky-vaccine-map or call the KY COVID-19 Hotline - (800) 722-5725 for more information.
Should you have any additional questions, please contact Ashley Chipps at ashley.chipps@ascension.org or Stacey Smith at stacey.smith1@ascension.org
Student Leadership Conference
The Center for Student Engagement is now accepting registrations for the Student Leadership Conference.
The 2021 Student Leadership Conference will be held on March 13th from 10:00 am until 2:30 pm. This year the topic is Overcoming. There is so much going on in the world today that can impact students on a college campus. Throughout the conference, you will be given the opportunity to hear from peers, alumni, and guest speakers who are willing to share their experiences and stories about overcoming stress, failure, challenges, fears, the unknown, and their stories of overcoming the challenges of life in the world today. Dr. Lauren Cook will be the keynote speaker giving a talk titled "Eat Your G.R.A.P.E.S: How to Cope Through Challenging Times".
We would love to have you join us!Please register online for the Student Leadership Conference.
The deadline to register is March 5th. If you have any questions, please reach out to Kaitlyn Luczak at kl241@evansville.edu.
Collegiate Career Expo
11:00 a.m. – 2:00 p.m. CDT
Thursday, February 25, 2021
All majors are welcome to attend this virtual career fair,
providing you access to more than 65 recruiters from top companies!
Fair registration is required through Handshake.
Click Fairs Tab -> Collegiate Career Expo 2021
Students must register by Wednesday, February 24, 2021.
Succulent Painting
UE Greek Life is hosting our annual succulent event! Stop by Eykamp on Thursday, February 25th from 6-8 to decorate and plant your very own Succulent in a COVID safe fashion! All are welcome! Must sign up for a time on UEngage.
Step Afrika!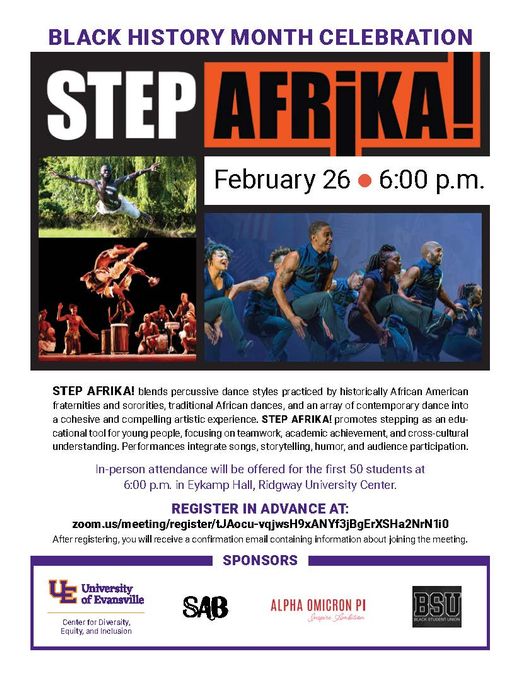 You are invited to join us for a celebration with Step Afrika! On February 26th at 6pm. The first 50 students can attend in person at Eykamp. If you plan to attend in person please register on Uengage, if you plan to attend on Zoom please register using the link below! The University of Evansville's Student Activities Board, Black Student Union, Center for Diversity Equity and Inclusion, and Alpha Omicron Pi presents special guest Step Afrika! for a Black History Month Celebration!
Step Afrika! blends percussive dance styles practiced by historically African American fraternities and sororities, traditional African dances, and an array of contemporary dance into a cohesive compelling artistic experience. Step Afrika! promotes stepping as an educational tool for young people, focusing on teamwork, academic achievement, and cross-cultural understanding. Performances are much more than dance show; they integrate songs, storytelling, humor, and audience participation.
https://zoom.us/meeting/register/tJAocu-vqjwsH9xANYf3jBgErXSHa2NrN1i0
THE HUSTACE WORLD VIEW Paintings by Cedric Hustace
ART EXHIBIT IN KRANNERT GALLERY: THE HUSTACE WORLD VIEW
Paintings by
CEDRIC HUSTACE
February 21 – April 4, 2021
Public Reception for the Artist: Thursday, March 18, 2021, 6:30pm
This exhibit is part of the Emerging Contemporary Artist Lecture Series, sponsored by the Department of Art, with the generous support of the Efroymson Family Fund.
Department of Art presents: DUALITY-Reagan Furqueron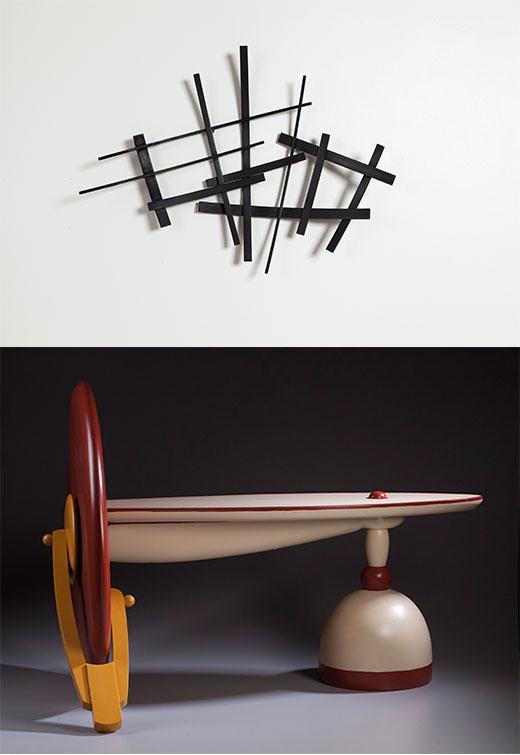 Melvin Peterson Gallery
January 19 – February 27, 2021
Reagan Furqueron is an artist and educator living in Indianapolis, Indiana. He received his BFA from Texas Tech University and a MFA from Rochester Institute of Technology's School for American Crafts in Woodworking/Furniture Design. He is an Associate Professor at Herron School of Art and Design IUPUI He has work in international and national private and permanent collections including The Museum of Art and Design in NYC. This exhibition is sponsored by The Efroymson Family Fund.
Artist's Exhibition: January 19 - February 27, 2021
Student Lecture: Wednesday, February 3, 10:00am
Student Workshop in the Sculpture Studio: Wednesday, February 3, 2:00pm
Public Reception for the Artist and Lecture: Thursday, February 4, 6:30, Lecture at 7p.
Masks and Safe-Distancing are required at all events.
Gallery Hours
MTFS: Noon - 3:00pm
WTH: Noon – 6:00pm
Recycling Alternative
Did you know that the Vanderburgh District contracts with Wesselman Nature Society to conduct monthly drop-off recycle days in various locations. Typically, the 2021 drop-off recycling days are on Saturdays from 8:00 am – 12:00 monthly. Dates and locations are available at https://www.evansvillegov.org/city/department/division.php?structureid=260.
The next recycling drop-off day is this Saturday, February 27, at the Vanderburgh 4-H Center. Items accepted include aluminum cans, #1 - #7 plastic, cardboard, metal food cans, junk mail, catalogs, magazines and newspaper. NOT ACCEPTED are glass, styrofoam and plastic bags.
UE Intramurals Now Offering ESports Gaming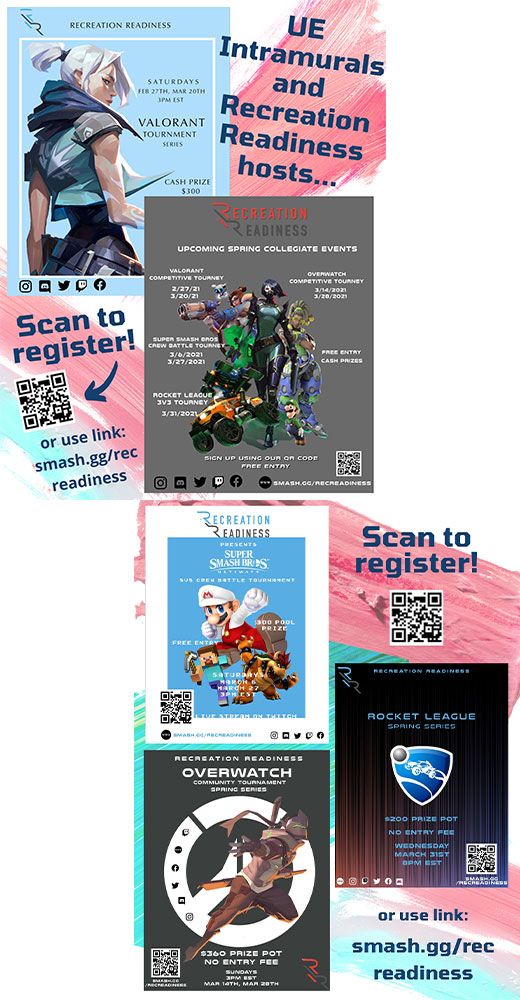 The UE Intramural program is excited to announce upcoming E Sports tournaments provided through Recreation Readiness!
Recreation Readiness invites your esports teams to participate in our FREE spring series and compete against top teams across the country to win cash prizes! For rules and eligibility please contact @ah519 or recreationreadiness@gmail.com.
Games Offered: Valorant, Overwatch, 5v5 Super Smash Bros Crew Battles, 3v3 Rocket League
Schedule:
Sat. 2/27 at 3 pm EST: Valorant ($300 prize pool)
Sat. 3/6 at 3 pm EST: Smash Bros ($300)
Sun. 3/14 at 3 pm EST: Overwatch ($360)
Sat. 3/20 at 3 pm EST: Valorant ($300)
Sat. 3/27 at 3 pm EST: Smash Bros ($300)
Sun. 3/28 at 3 pm EST: Overwatch ($360)
Wed. 3/31 at at 8 pm EST: Rocket League ($200)
Registration closes at Noon EST on day of event
Also, you can find updated info at all social media outlets below:
Discord: bit.ly/recreadiness
Twitch: twitch.tv/recreadiness
Instagram: instagram.com/recreationreadiness
Website: recreationreadiness.org
After registering to play, please contact @ah519 for further instructions.
Recreation Readiness Founders - Jason Gant and Mark Comer
2020 1095-C Forms Processed
1095-C forms have been processed for benefit eligible employees. If you have provided consent for electronic 1095-C's, you can view/print your 1095-C for your records now. Simply log into Self-Service, and go to "Tax Information". Click the option "1095-C Information" and then click on "2020 1095-C Statement".
1095-C's have been mailed for those employees who did not provide their electronic consent.
If you have any questions, please contact Dawn Bury at ext. 2159 or db287@evansville.edu.
Final Week for Bargain Book Blowout
This is the final week for the bookstore's bargain book blowout! All bargain books, as well as some rare and out-of-print titles, are only $1! You will not be able to get any of these titles after this week, so make sure to stop by and grab them before it's too late!
Spirituality Lending Library
The Center for Diversity, Equity, & Inclusion now offers a lending library of spiritual resources. From prayer books to memoirs, from poetry to theology, the library includes selections from eleven religious traditions, including no tradition at all. Anyone from the UE community is welcome to stop by the Center's conference room and check out a book. Contact the Director of Religious Life (jk383) with questions.
Submit your 2021-2022 FAFSA
File the 2021-22 FAFSA by April 15 at https://www.fafsa.ed.gov
Continuing students should file the 2021-22 Free Application for Federal Student Aid (FAFSA) to apply for federal, state and University need-based financial aid, including all federal student loans. UE's FAFSA code is 001795.
Filing by April 15 is essential for Indiana residents to receive state aid, and highly recommended for all.
Questions regarding the FAFSA should be directed to the Student Financial Services (Olmsted Administration Hall, Room 105) at 812-488-2364.
Eykamp Prize: Call for Nominations
The Eykamp Prize was established by Richard and Rita Eykamp in 2015 to honor Faculty Achievement at the University of Evansville. Recipients of the prize will receive an award of $10,000 in recognition of extraordinary contributions to the University of Evansville as University Citizens. Examples of such contributions include deep and successful involvement in recruiting students; expanding the number, scope, and competitiveness of grant funding for their department; bringing positive public awareness to the University through scholarship, knowledge, and understanding of their discipline.
Nominations for the Eykamp Prize may come from any member of the University of Evansville community. Nominees should be tenured or tenure-track faculty members at the University of Evansville who have not received the award in the previous five years. Nominations can be submitted in writing or via e-mail to Dr. Michael Austin, Executive Vice President for Academic Affairs and Provost, at ma352@evansville.edu by March 12, 2021. Nominations should include the name of the faculty member and a brief statement of the reasons that he or she is being nominated.
Recipients of the Eykamp Prize will be selected by an Awards Committee appointed by the EVPAA and Provost that includes members of the faculty and staff, academic administrators, and at least one member of the Board of Trustees. The award will be announced and presented at the May Commencement Ceremony.
Previous recipients in the last five years are: 2016 – Dr. Mark Valenzuela; 2017 – Dr. Lora Becker; 2018 – Dr. David Dwyer; 2019 – Dr. Kristy Miller; and 2020 – Dr. Jerrilee LaMar.
Feit Scores Career-High as Aces Fall at Indiana State
University of Evansville sophomore Abby Feit scored a career-high 29 points as the Aces dropped a road contest at Indiana State, 85-69, on Wednesday evening at the Hulman Center in Terre Haute, Ind.
Feit scored 14 in the opening half and added 15 in the second 20 minutes for her career-high outing and paired it with 12 rebounds for her fifth double-double of the season. Joining Feit in double-digits was junior Anna Newman, who tallied 13 points, while adding six boards and four assists. Leading the Sycamores was Adrian Folks with 23 points and 13 rebounds.
A high-scoring contest started as such early as the two sides ran-up the score in the opening quarter. The two sides combined for 47 points in the first as the Sycamores took a narrow one-point lead. The middle quarters proved key for Indiana State as the Sycamores gained control of the game. Indiana State out-scored the Aces, 38-24, in the second and third quarters as the Aces shot just 8-30 (26.7%) from the field during the stretch and the Sycamores hit 11 shots and got to the line 13 times. Late in the contest, Evansville mounted a run, cutting what was a 23-point deficit down as low as 12, but Indiana State pushed its lead back to 16 to close out the 85-69 win.
Both teams limited turnovers on the night with Evansville committing just eight turnovers, its fewest turnovers since recording five at Bradley on Feb. 10, 2019, while the Sycamores turned the ball over just seven times.
The Aces face a quick turnaround with a trip to face UNI in Cedar Falls, Iowa ahead for the on Saturday and Sunday
Contribute to AceNotes
To have content considered for inclusion in AceNotes, please submit a Marketing Request Form. Deadline for submission to AceNotes is 10:00 a.m. on the requested date of publication. Only articles concerning UE related/sponsored activities will be accepted. Articles submitted to AceNotes may be edited for length and clarity. Submitter contact information is at the end of each article.