| | |
| --- | --- |
| AceNotes Today | Wednesday, February 24, 2021 |
Happy Founders Day!! UE Turns 167!
Happy Founders Day! UE turns 167 this year. Each year we celebrate UE in honor of our Founder's Day with the entire campus at UE's Purple Birthday. While we won't be able to all celebrate in person this year, we are still encouraging campus to swing by Ridgway University Center to pick up a purple cupcake this Friday, February 26 from 11:00 am - 2:00 pm. And remember, on Friday's at UE, we wear purple!
Cupcakes are provided by Student Alumni Ambassadors and the Office of Alumni and Parent Relations.
Did you know: "In February 1967, the university was renamed for a 2nd time, changing from Evansville College to the University of Evansville."
Share your Founder's Day Fact on Facebook, Twitter, or Instagram (public post) and tag @UEAlumni to win UE swag! #HappyBirthdayUE
Spring Intramurals Sports Announced
The Spring Intramural season is set to begin the first of March and we're excited for what's in store! Sports include volleyball, human foosball, kickball, and wiffleball and many more! If you're interested in finding out more or registering a team, go to imleagues.com or download the imleagues.com app!
All participants will be required to wear a face mask prior, during, and after their scheduled intramural event. No walk-up, sign-ups will be allowed, all participants must be registered on imleagues.com to participate. For all other Covid related protocols please visit imleagues.com or contact ah519 for more information.
Collegiate Career Expo
11:00 a.m. – 2:00 p.m. CDT
Thursday, February 25, 2021
All majors are welcome to attend this virtual career fair,
providing you access to more than 65 recruiters from top companies!
Fair registration is required through Handshake.
Click Fairs Tab -> Collegiate Career Expo 2021
Students must register by Wednesday, February 24, 2021.
Succulent Painting
UE Greek Life is hosting our annual succulent event! Stop by Eykamp on Thursday, February 25th from 6-8 to decorate and plant your very own Succulent in a COVID safe fashion! All are welcome! Must sign up for a time on UEngage.
Step Afrika!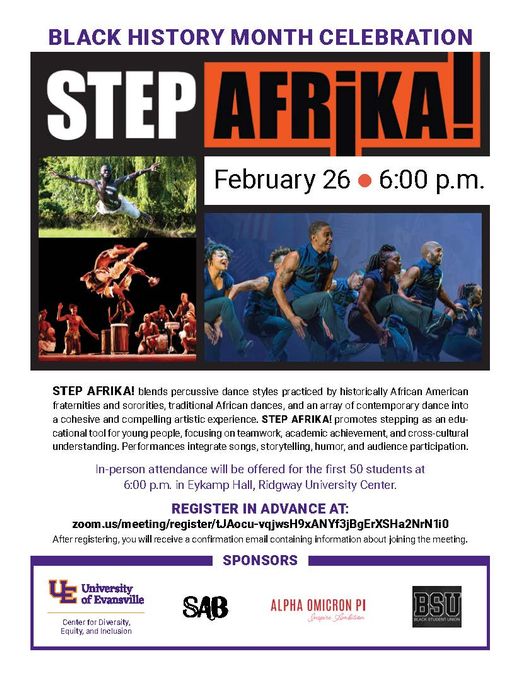 You are invited to join us for a celebration with Step Afrika! On February 26th at 6pm. The first 50 students can attend in person at Eykamp. If you plan to attend in person please register on Uengage, if you plan to attend on Zoom please register using the link below! The University of Evansville's Student Activities Board, Black Student Union, Center for Diversity Equity and Inclusion, and Alpha Omicron Pi presents special guest Step Afrika! for a Black History Month Celebration!
Step Afrika! blends percussive dance styles practiced by historically African American fraternities and sororities, traditional African dances, and an array of contemporary dance into a cohesive compelling artistic experience. Step Afrika! promotes stepping as an educational tool for young people, focusing on teamwork, academic achievement, and cross-cultural understanding. Performances are much more than dance show; they integrate songs, storytelling, humor, and audience participation.
https://zoom.us/meeting/register/tJAocu-vqjwsH9xANYf3jBgErXSHa2NrN1i0
This Week in Religious Life
CHRISTIAN WORSHIP
Due to pandemic restrictions, UE will not offer Protestant worship in Neu Chapel this semester. There are several churches in walking distance of our campus that are open for virtual and/or in-person worship on Sundays.
Methodist Temple (masks required)
8:30am, traditional worship
11:00am, contemporary worship
Redeemer Lutheran (masks required)
8:00am and 10:30am, traditional worship
A Catholic Mass is offered each Sunday in Neu Chapel at 1PM.
OTHER EVENTS
Visit the UE YouTube page to see the new video series, "Spiritual Practices in Tough Times." Twice a month, this series will highlight a spiritual practice from Christianity, Judaism, or Islam that can help you de-stress.
The Muslim and Christian Prayer Rooms in Neu Chapel are available for use 24/7. Contact the Muslim Student Association for keycard access to the Muslim Prayer Room.
If you'd like to try out a Newman small group, you can signup at https://docs.google.com/forms/d/e/1FAIpQLSecFpCOiycpWm-GylEffN-8CLo9PcI15IxAp1oeVjlr70khTA/viewform?usp=pp_url.
There will not be a Newman Night on Wednesday, February 24.
See flyer below to learn about an Ignatian Lenten Reflection series for single women, meeting virtually on Mondays in Lent.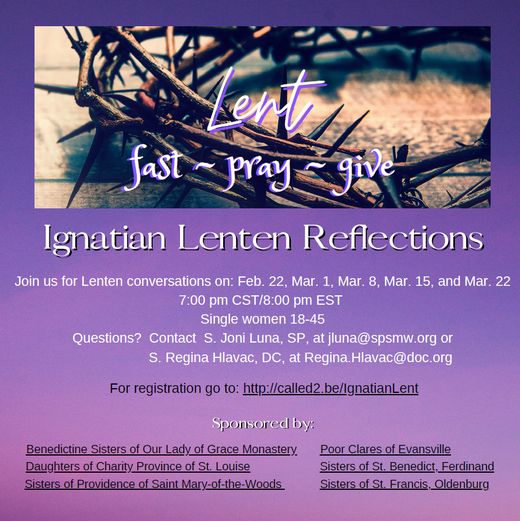 Black History Month Challenge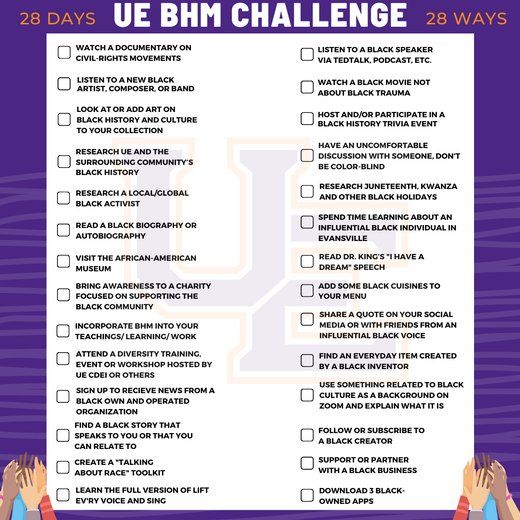 During Black History Month join the UE BHM Challenge sponsored by the Center for Diversity, Equity and Inclusion! In this challenge you will find 28 ways for 28 days of Black History Month to actively learn, engage, support, and uplift Black culture from Evansville and around the world. Items listed in the challenge can be done personally or in a social group! Do some personal research on Juneteenth or grab a friend and some popcorn and watch Just Mercy. Either way you do it, #BHMChallenge yourself! Happy Black History Month!
Watch a documentary on civil-rights movements
Listen to a new Black artist, composer, or band
Look at or add art on Black history and culture to your collection
Research UE and the surrounding community's Black history
Research a local/global Black activist
Read a Black biography or autobiography
Visit the African-American museum
Bring awareness to a charity focused on supporting the Black community
Incorporate BHM into your Teachings/ Learning/ Work
Attend a diversity training, event or workshop hosted by UE CDEI or others
Sign up to receive news from a Black own and operated organization
Find a Black story that speaks to you or that you can relate to
Create a "Talking about Race" Toolkit
Learn the full version of Lift Ev'ry Voice and Sing
Listen to a Black speaker via TedTalk, PodCast, etc.
Watch a Black movie not about Black trauma
Host and/or participate in a Black history trivia event
Have an uncomfortable discussion with someone, don't be color-blind
Research Juneteenth, Kwanza and other Black holidays
Spend time learning about an influential Black individual in Evansville
Read Dr. King's "I Have a Dream" speech
Add some Black cuisines to your menu
Share a quote on your social media or with friends from an influential Black Voice
Find an everyday item created by a Black inventor
Use something related to Black culture as a background on zoom and explain what it is
Follow or Subscribe to a Black creator
Support or partner with a Black business
Download 3 Black-owned apps
Solution Station Today: Planner Giveaway
Do you feel like you never have enough time? Come by the Solution Station table in Ridgway today from 11:00 AM to 1:00 PM to receive a free UE student planner! Get your time to work for you. You'll be surprised by how much you can get done when you use a planner!
As always, let us know if there's anything you need help with or if you have questions that you need the answer to. We're here to help!
Questions? Contact Chad Hart at CH299@Evansville.edu.
Recycling Alternative
Did you know that the Vanderburgh District contracts with Wesselman Nature Society to conduct monthly drop-off recycle days in various locations. Typically, the 2021 drop-off recycling days are on Saturdays from 8:00 am – 12:00 monthly. Dates and locations are available at https://www.evansvillegov.org/city/department/division.php?structureid=260.
The next recycling drop-off day is this Saturday, February 27, at the Vanderburgh 4-H Center. Items accepted include aluminum cans, #1 - #7 plastic, cardboard, metal food cans, junk mail, catalogs, magazines and newspaper. NOT ACCEPTED are glass, styrofoam and plastic bags.
2020 1095-C Forms Processed
1095-C forms have been processed for benefit eligible employees. If you have provided consent for electronic 1095-C's, you can view/print your 1095-C for your records now. Simply log into Self-Service, and go to "Tax Information". Click the option "1095-C Information" and then click on "2020 1095-C Statement".
1095-C's have been mailed for those employees who did not provide their electronic consent.
If you have any questions, please contact Dawn Bury at ext. 2159 or db287@evansville.edu.
Final Week for Bargain Book Blowout
This is the final week for the bookstore's bargain book blowout! All bargain books, as well as some rare and out-of-print titles, are only $1! You will not be able to get any of these titles after this week, so make sure to stop by and grab them before it's too late!
Spirituality Lending Library
The Center for Diversity, Equity, & Inclusion now offers a lending library of spiritual resources. From prayer books to memoirs, from poetry to theology, the library includes selections from eleven religious traditions, including no tradition at all. Anyone from the UE community is welcome to stop by the Center's conference room and check out a book. Contact the Director of Religious Life (jk383) with questions.
Bargain Book Blowout
Do you need a gift for a loved one? Or just looking for something new to read? Well look no further than the campus bookstore! We're having a big bargain book blowout, with all bargain titles priced for only $1! This sale will run until March 2nd and quantities are limited, so come visit us as soon as possible! [Please note, this is an in-store only sale.]
Contribute to AceNotes
To have content considered for inclusion in AceNotes, please submit a Marketing Request Form. Deadline for submission to AceNotes is 10:00 a.m. on the requested date of publication. Only articles concerning UE related/sponsored activities will be accepted. Articles submitted to AceNotes may be edited for length and clarity. Submitter contact information is at the end of each article.