| | |
| --- | --- |
| AceNotes Today | Tuesday, February 23, 2021 |
Happy Founders Day!! UE Turns 167!
Happy Founders Day! UE turns 167 this year. Each year we celebrate UE in honor of our Founder's Day with the entire campus at UE's Purple Birthday. While we won't be able to all celebrate in person this year, we are still encouraging campus to swing by Ridgway University Center to pick up a purple cupcake this Friday, February 26 from 11:00 am - 2:00 pm. And remember, on Friday's at UE, we wear purple!
Cupcakes are provided by Student Alumni Ambassadors and the Office of Alumni and Parent Relations.
Did you know: "The University of Evansville was originally called Moores Hill Male and Female Collegiate Institute, and was founded in the small town of Moores Hill in southeastern Indiana"
Share your Founder's Day Fact on Facebook, Twitter, or Instagram (public post) and tag @UEAlumni to win UE swag! #HappyBirthdayUE
Spring Intramurals Sports Announced
The Spring Intramural season is set to begin the first of March and we're excited for what's in store! Sports include volleyball, human foosball, kickball, and wiffleball and many more! If you're interested in finding out more or registering a team, go to imleagues.com or download the imleagues.com app!
All participants will be required to wear a face mask prior, during, and after their scheduled intramural event. No walk-up, sign-ups will be allowed, all participants must be registered on imleagues.com to participate. For all other Covid related protocols please visit imleagues.com or contact ah519 for more information.
Collegiate Career Expo
11:00 a.m. – 2:00 p.m. CDT
Thursday, February 25, 2021
All majors are welcome to attend this virtual career fair,
providing you access to more than 65 recruiters from top companies!
Fair registration is required through Handshake.
Click Fairs Tab -> Collegiate Career Expo 2021
Students must register by Wednesday, February 24, 2021.
Succulent Painting
UE Greek Life is hosting our annual succulent event! Stop by Eykamp on Thursday, February 25th from 6-8 to decorate and plant your very own Succulent in a COVID safe fashion! All are welcome! Must sign up for a time on UEngage.
Step Afrika!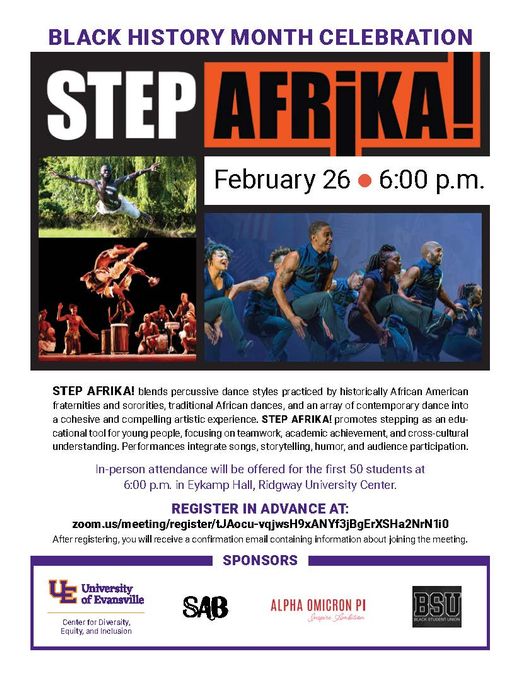 You are invited to join us for a celebration with Step Afrika! On February 26th at 6pm. The first 50 students can attend in person at Eykamp. If you plan to attend in person please register on Uengage, if you plan to attend on Zoom please register using the link below! The University of Evansville's Student Activities Board, Black Student Union, Center for Diversity Equity and Inclusion, and Alpha Omicron Pi presents special guest Step Afrika! for a Black History Month Celebration!
Step Afrika! blends percussive dance styles practiced by historically African American fraternities and sororities, traditional African dances, and an array of contemporary dance into a cohesive compelling artistic experience. Step Afrika! promotes stepping as an educational tool for young people, focusing on teamwork, academic achievement, and cross-cultural understanding. Performances are much more than dance show; they integrate songs, storytelling, humor, and audience participation.
https://zoom.us/meeting/register/tJAocu-vqjwsH9xANYf3jBgErXSHa2NrN1i0
This Week in Religious Life
CHRISTIAN WORSHIP
Due to pandemic restrictions, UE will not offer Protestant worship in Neu Chapel this semester. There are several churches in walking distance of our campus that are open for virtual and/or in-person worship on Sundays.
Methodist Temple (masks required)
8:30am, traditional worship
11:00am, contemporary worship
Redeemer Lutheran (masks required)
8:00am and 10:30am, traditional worship
A Catholic Mass is offered each Sunday in Neu Chapel at 1PM.
OTHER EVENTS
Visit the UE YouTube page to see the new video series, "Spiritual Practices in Tough Times." Twice a month, this series will highlight a spiritual practice from Christianity, Judaism, or Islam that can help you de-stress.
The Muslim and Christian Prayer Rooms in Neu Chapel are available for use 24/7. Contact the Muslim Student Association for keycard access to the Muslim Prayer Room.
If you'd like to try out a Newman small group, you can signup at https://docs.google.com/forms/d/e/1FAIpQLSecFpCOiycpWm-GylEffN-8CLo9PcI15IxAp1oeVjlr70khTA/viewform?usp=pp_url.
There will not be a Newman Night on Wednesday, February 24.
See flyer below to learn about an Ignatian Lenten Reflection series for single women, meeting virtually on Mondays in Lent.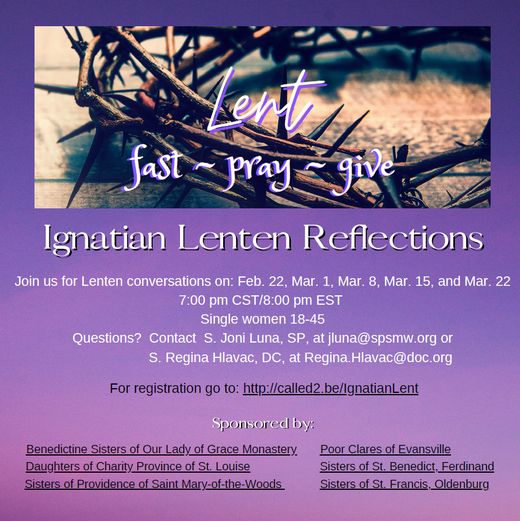 Join Us Today! - UE Connect Virtual Lunch and Learn "Turning Your Degree Upside Down"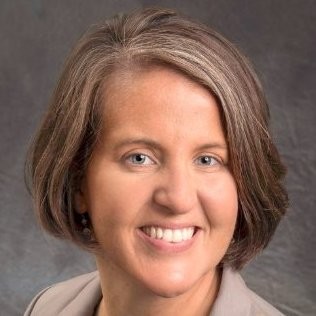 UE campus members and alumni are invited to join us virtually today at 12:15 p.m. CST for the UE Connect Virtual Lunch and Learn "Turning Your Degree Upside Down," presented by Betsy Knott '99.
Currently, Betsy is the Director of the Career Center at Marietta College in Marietta, OH. Betsy earned her bachelor's degree in Accounting from the University of Evansville in 1999. She then earned her master's in Management from the University of Denver in 2001.
Betsy, who is originally from Indiana, is enjoying her second stint as an Ohio resident after previously working at Kenyon College. She has spent nearly 20 years in higher education, and enjoys working with students and alumni, and helping them find the very best version of themselves. Betsy brings to Marietta College extensive experience in higher education and career development. Her background includes posts at Kenyon College, Augustana College, Wabash College and most recently the University of Indianapolis.
She is a former NCAA Division I volleyball player (UE) and is still among the leaders in assists, attack percentage and games played at the University of Evansville. She enjoys spending time with her rescued dog Bongo.
Topic: UE Connect Virtual Lunch and Learn - Flipping Your Degree Upside Down
Time: Feb 23, 2021 12:15 PM Central Time (US and Canada)
Join Zoom Meeting
https://zoom.us/j/97582202086
Meeting ID: 975 8220 2086
Passcode: 291170
Comments or Questions? Contact Nichole Coffey at 812-488-2900 or ns50@evansville.edu.
THE HUSTACE WORLD VIEW Paintings by Cedric Hustace
ART EXHIBIT IN KRANNERT GALLERY: THE HUSTACE WORLD VIEW
Paintings by
CEDRIC HUSTACE
February 21 – April 4, 2021
Public Reception for the Artist: Thursday, March 18, 2021, 6:30pm
This exhibit is part of the Emerging Contemporary Artist Lecture Series, sponsored by the Department of Art, with the generous support of the Efroymson Family Fund.
Department of Art presents: DUALITY-Reagan Furqueron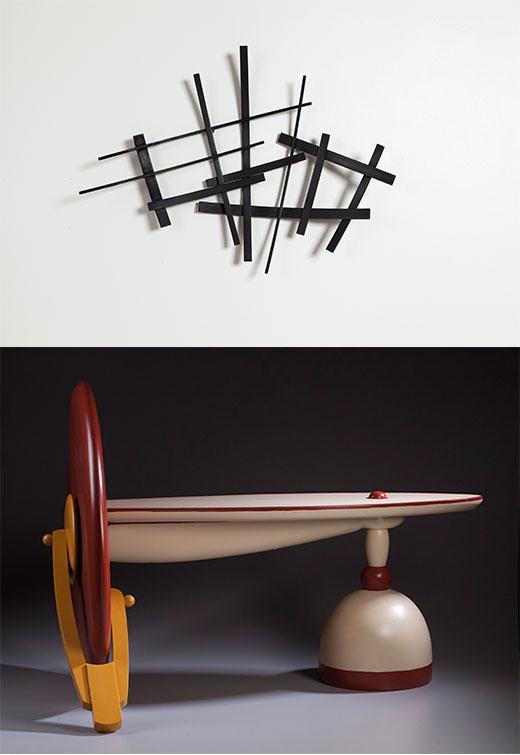 Melvin Peterson Gallery
January 19 – February 27, 2021
Reagan Furqueron is an artist and educator living in Indianapolis, Indiana. He received his BFA from Texas Tech University and a MFA from Rochester Institute of Technology's School for American Crafts in Woodworking/Furniture Design. He is an Associate Professor at Herron School of Art and Design IUPUI He has work in international and national private and permanent collections including The Museum of Art and Design in NYC. This exhibition is sponsored by The Efroymson Family Fund.
Artist's Exhibition: January 19 - February 27, 2021
Student Lecture: Wednesday, February 3, 10:00am
Student Workshop in the Sculpture Studio: Wednesday, February 3, 2:00pm
Public Reception for the Artist and Lecture: Thursday, February 4, 6:30, Lecture at 7p.
Masks and Safe-Distancing are required at all events.
Gallery Hours
MTFS: Noon - 3:00pm
WTH: Noon – 6:00pm
UE Intramurals Now Offering ESports Gaming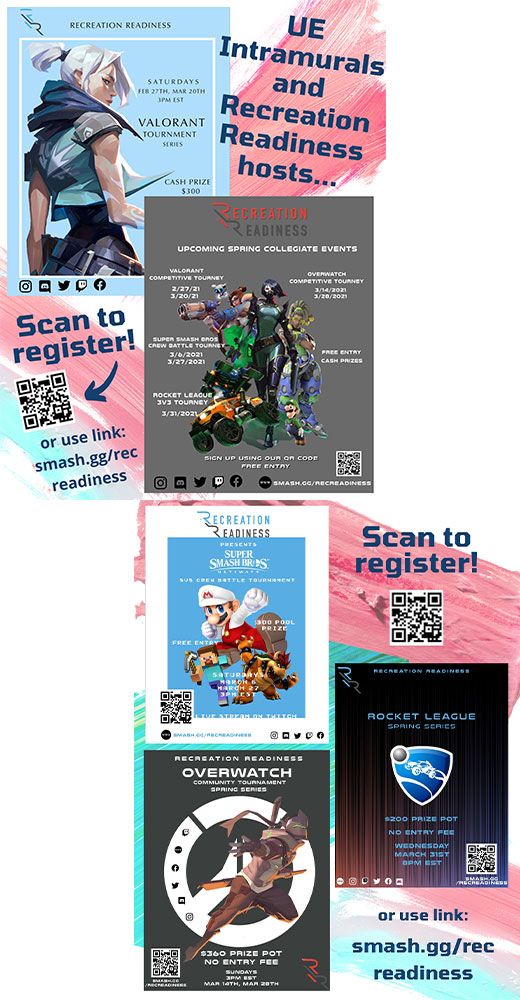 The UE Intramural program is excited to announce upcoming E Sports tournaments provided through Recreation Readiness!
Recreation Readiness invites your esports teams to participate in our FREE spring series and compete against top teams across the country to win cash prizes! For rules and eligibility please contact @ah519 or recreationreadiness@gmail.com.
Games Offered: Valorant, Overwatch, 5v5 Super Smash Bros Crew Battles, 3v3 Rocket League
Schedule:
Sat. 2/27 at 3 pm EST: Valorant ($300 prize pool)
Sat. 3/6 at 3 pm EST: Smash Bros ($300)
Sun. 3/14 at 3 pm EST: Overwatch ($360)
Sat. 3/20 at 3 pm EST: Valorant ($300)
Sat. 3/27 at 3 pm EST: Smash Bros ($300)
Sun. 3/28 at 3 pm EST: Overwatch ($360)
Wed. 3/31 at at 8 pm EST: Rocket League ($200)
Registration closes at Noon EST on day of event
Also, you can find updated info at all social media outlets below:
Discord: bit.ly/recreadiness
Twitch: twitch.tv/recreadiness
Instagram: instagram.com/recreationreadiness
Website: recreationreadiness.org
After registering to play, please contact @ah519 for further instructions.
Recreation Readiness Founders - Jason Gant and Mark Comer
2020 1095-C Forms Processed
1095-C forms have been processed for benefit eligible employees. If you have provided consent for electronic 1095-C's, you can view/print your 1095-C for your records now. Simply log into Self-Service, and go to "Tax Information". Click the option "1095-C Information" and then click on "2020 1095-C Statement".
1095-C's have been mailed for those employees who did not provide their electronic consent.
If you have any questions, please contact Dawn Bury at ext. 2159 or db287@evansville.edu.
Final Week for Bargain Book Blowout
This is the final week for the bookstore's bargain book blowout! All bargain books, as well as some rare and out-of-print titles, are only $1! You will not be able to get any of these titles after this week, so make sure to stop by and grab them before it's too late!
Religious Life Summer Job
On June 20-27, the Office of Religious Life will host the Open Table Youth Theology Institute right here on campus. This program helps high schoolers delve deep into their faith while discovering the beauty of other religious traditions. We need two more College Mentors to co-facilitate small groups, assist in worship, and chaperone students in the dorms. Open Table includes field trips to New Harmony, St. Meinrad's Archabbey, the Evansville Islamic Center, and Temple Adath B'Nai Israel. College Mentors will be paid $500 for the week with meals and housing included. Contact the Director of Religious Life (jk383) to apply.
Submit your 2021-2022 FAFSA
File the 2021-22 FAFSA by April 15 at https://www.fafsa.ed.gov
Continuing students should file the 2021-22 Free Application for Federal Student Aid (FAFSA) to apply for federal, state and University need-based financial aid, including all federal student loans. UE's FAFSA code is 001795.
Filing by April 15 is essential for Indiana residents to receive state aid, and highly recommended for all.
Questions regarding the FAFSA should be directed to the Student Financial Services (Olmsted Administration Hall, Room 105) at 812-488-2364.
Givance Leads Aces in Finale at Drake
Shamar Givance scored 17 points while Evan Kuhlman finished with 16 as the University of Evansville men's basketball team fell to Drake by a 74-63 final on Monday night at the Knapp Center.
Givance hit six shots and finished with three assists while Kuhlman was 6-of-9 from the field while hitting four triples. Jawaun Newton scored 14 while Samari Curtis had 13. Drake was led by a 36-point outing from Joseph Yesufu.
Shamar Givance got the Aces on the board first, knocking down a triple on the first possession. UE would take a 5-2 edge before the Bulldogs took their first advantage at 7-5 when Garrett Sturtz hit a layup at the 16:34 mark. Evan Kuhlman, who had 13 points in the first half, put his team back in front on a triple two minutes later before Drake reeled off five in a row to hold a 14-10 lead with 13:05 remaining.
With seven minutes left in the opening frame, Drake held its largest lead at 24-19. That is when Evansville fought back thanks to its effectiveness from outside, coupled with solid defense. UE outscored Drake by a 16-7 tally to go to the break with a 35-31 lead. Consecutive triples by Samari Curtis capped off an 8-0 run at the Aces would hold the lead for the final 4:06 of the half.
Kuhlman hit three triples in the half with UE hitting seven as a team. Joseph Yesufu paced the Bulldogs with 18 first-half points following his 32-point effort on Sunday.
Out of the break, the Bulldogs chipped away at the UE lead, tying it up at 38-38 before going ahead by a 41-39 tally over the first three minutes. As the second half reached the midway point, the Bulldogs extended the lead to nine points at 54-45. They continued to apply the pressure as the Aces hit a shooting drought that saw them convert one out of 11 attempts while Drake went up by double figures. A 6-0 run by the Bulldogs was halted by a pair of Shamar Givance free throws that got UE back within 11 at 59-48 inside of the 5-minute mark.
The momentum for UE was short-lived with Drake bouncing back to lead by as many as 15 – 65-50 – inside of the final three minutes. Evansville was able to force two late turnovers and get back within 10 in the last minute but the deficit was too large to overcome with the Bulldogs finishing the night with a 74-63 win.
Later this week, the Aces wrap up the regular season at the Ford Center with games against Missouri State. UE welcomes the Bears on Friday and Saturday with each game beginning at 6 p.m.
Aces Volleyball Battled but Falls to Bradley
Battling throughout, the University of Evansville volleyball team could not fight off the hot streaks from Bradley, on Monday at Meeks Family Fieldhouse, falling 3-0.
GAME 1
Back-to-back kills by Chloe Bontrager set the Aces up with a 4-1 lead. The early barrage of kills saw Melanie Feliciano, Elise Moeller and Alondra Vazquez add one of their own to push the UE lead to 10-3. Feliciano added two more in a run that gave the Aces their largest advantage at 18-9. Bradley never gave up and started to fight back. They cut the lead to five (21-16) but Evansville looked to be in good shape, taking a 24-18 advantage. Unfortunately, the Braves had other ideas. A 6-0 stretch tied it up before they completed their rally with a 27-25 decision.
GAME 2
Bradley broke a 6-6 tie with a 4-0 stretch. Evansville clawed its way back, cutting the deficit to 15-14 on another kill from Feliciano. A BU error tied the game back up at 18-18, but the Braves regrouped in a big way, scoring the next six points before taking a 2-0 lead with a 25-19 win.
GAME 3
In the third set, Bradley jumped out to a 10-1 lead. The Aces fought back to within seven before Bradley broke free finishing the set 25-14.
Evansville will next travel to Springfield, Mo., to take on Missouri State, February 28 and March 1.
Sophia Rohleder Wins ASU Spring Classic
University of Evansville golfer Sophia Rohleder finished with a 3-round tally of 233 to take top honors at the ASU Spring Classic at RTJ Golf Trail at Capitol Hill.
Rohleder recorded a 78 in the first round before shooting her low tally of 77 in round two. Her 6-over 78 in the final round saw her defeat Alabama State's Alma Garcia by two strokes. Her 233 was 17 over par. Her efforts helped the Purple Aces come home in second place, six strokes behind Western Illinois. The Leathernecks finished the three rounds with a 965 while the Aces posted a 971.
"I am thankful to have gotten to play after a long break. Playing in a group with the team was different than what we're used to, but it was a good change due to COVID," Rohleder exclaimed after the victory. "I'm excited to see what the rest of the season holds and can't wait for our next tournament."
In his first season leading the UE golf programs, head coach John Andrews was excited to get the season started.
"I am very pleased that our ladies had a chance to compete. This event should give them areas in their games to focus and practice. The team is very competitive and focused," Andrews said. "I am very happy for Sophia. Winning any collegiate golf tournament is a great accomplishment, especially when we have not had a chance to have any practices outside. I look forward to seeing what our ladies can do in early March in Jacksonville Beach."
Finishing third in the event was Alyssa McMinn. Her low round of the event saw her card a 77 in the second round before her 80 clinched third place. Tying for 7th was Mallory Russell. The freshman rebounded from an opening-round tally of an 85 to record rounds of 79 and 81 on Monday. Her final total was a 245.
Next up for UE was Caitlin O'Donnell, who tied for 14th with a 257. Her low round was an 82 in the final trip around the course on Monday. Allison Enchelmayer placed 17th with a 266, which included a low round 86. Carly Frazier and Taylor Keating played as individuals with Frazier placing 18th with a 267 and Keating coming home 23rd with a tally of 288.
UE will be back in action at the Benbow Invitational on March 8-9 in Jacksonville Beach, Fla.
Shane Gray Named MVC Pitcher of the Week
After a stellar performance on Friday, University of Evansville baseball sophomore right-handed pitcher Shane Gray has been named Missouri Vally Conference Pitcher of the Week, it was announced in a release by the Conference office on Monday morning.
Leading Evansville to a season opening win over #12 Georgia, sophomore Shane Gray turned in an impressive performance on the mound Friday. Against the nationally-ranked Bulldogs, Gray pitched six innings, allowing just one earned run and four hits, while striking-out four. Friday's season opening win for Evansville over #12 Georgia was the first of its kind in more than six seasons for the Aces. It marked the Aces first win over an SEC opponent since Feb. 26, 2014 when the Aces defeated Vanderbilt on the road, 8-3.
Gray's pitcher of the week honor is the first an Aces pitcher since Nathan Croner and Adam Lukas went back-to-back winning the award on March 11 and 18, 2019.
Evansville makes its home debut this weekend when the Aces host NIU for a weekend series at German American Bank Field at Charles H. Bruan Stadium on Friday, Saturday, and Sunday.
Contribute to AceNotes
To have content considered for inclusion in AceNotes, please submit a Marketing Request Form. Deadline for submission to AceNotes is 10:00 a.m. on the requested date of publication. Only articles concerning UE related/sponsored activities will be accepted. Articles submitted to AceNotes may be edited for length and clarity. Submitter contact information is at the end of each article.