| | |
| --- | --- |
| AceNotes Today | Monday, February 22, 2021 |
Succulent Painting
UE Greek Life is hosting our annual succulent event! Stop by Eykamp on Thursday, February 25th from 6-8 to decorate and plant your very own Succulent in a COVID safe fashion! All are welcome! Must sign up for a time on UEngage.
This Week in Religious Life
CHRISTIAN WORSHIP
Due to pandemic restrictions, UE will not offer Protestant worship in Neu Chapel this semester. There are several churches in walking distance of our campus that are open for virtual and/or in-person worship on Sundays.
Methodist Temple (masks required)
8:30am, traditional worship
11:00am, contemporary worship
Redeemer Lutheran (masks required)
8:00am and 10:30am, traditional worship
A Catholic Mass is offered each Sunday in Neu Chapel at 1PM.
OTHER EVENTS
Visit the UE YouTube page to see the new video series, "Spiritual Practices in Tough Times." Twice a month, this series will highlight a spiritual practice from Christianity, Judaism, or Islam that can help you de-stress.
The Muslim and Christian Prayer Rooms in Neu Chapel are available for use 24/7. Contact the Muslim Student Association for keycard access to the Muslim Prayer Room.
If you'd like to try out a Newman small group, you can signup at https://docs.google.com/forms/d/e/1FAIpQLSecFpCOiycpWm-GylEffN-8CLo9PcI15IxAp1oeVjlr70khTA/viewform?usp=pp_url.
There will not be a Newman Night on Wednesday, February 24.
See flyer below to learn about an Ignatian Lenten Reflection series for single women, meeting virtually on Mondays in Lent.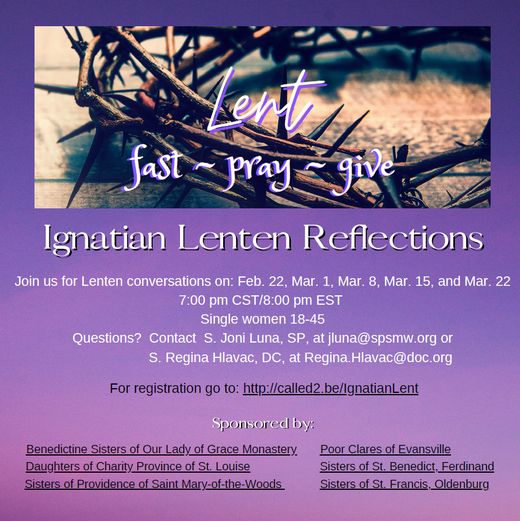 Campus is Invited - UE Connect Virtual Lunch and Learn presents Betsy Knott '99 "Turning Your Degree Upside Down"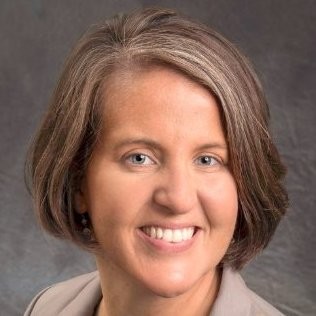 UE campus members and alumni are invited to join us virtually Tuesday, February 23 at 12:15 p.m. CST for the UE Connect Virtual Lunch and Learn "Turning Your Degree Upside Down," presented by Betsy Knott '99.
Currently, Betsy is the Director of the Career Center at Marietta College in Marietta, OH. Betsy earned her bachelor's degree in Accounting from the University of Evansville in 1999. She then earned her master's in Management from the University of Denver in 2001.
Betsy, who is originally from Indiana, is enjoying her second stint as an Ohio resident after previously working at Kenyon College. She has spent nearly 20 years in higher education, and enjoys working with students and alumni, and helping them find the very best version of themselves. Betsy brings to Marietta College extensive experience in higher education and career development. Her background includes posts at Kenyon College, Augustana College, Wabash College and most recently the University of Indianapolis.
She is a former NCAA Division I volleyball player (UE) and is still among the leaders in assists, attack percentage and games played at the University of Evansville. She enjoys spending time with her rescued dog Bongo.
Topic: UE Connect Virtual Lunch and Learn - Flipping Your Degree Upside Down
Time: Feb 23, 2021 12:15 PM Central Time (US and Canada)
Join Zoom Meeting
https://zoom.us/j/97582202086
Meeting ID: 975 8220 2086
Passcode: 291170
Comments or Questions? Contact Nichole Coffey at 812-488-2900 or ns50@evansville.edu.
Black History Month Challenge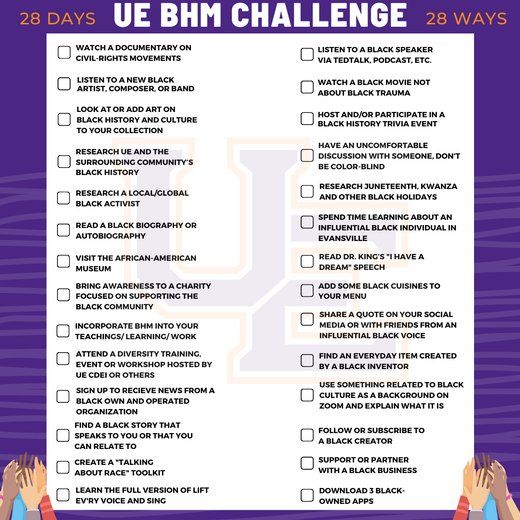 During Black History Month join the UE BHM Challenge sponsored by the Center for Diversity, Equity and Inclusion! In this challenge you will find 28 ways for 28 days of Black History Month to actively learn, engage, support, and uplift Black culture from Evansville and around the world. Items listed in the challenge can be done personally or in a social group! Do some personal research on Juneteenth or grab a friend and some popcorn and watch Just Mercy. Either way you do it, #BHMChallenge yourself! Happy Black History Month!
Watch a documentary on civil-rights movements
Listen to a new Black artist, composer, or band
Look at or add art on Black history and culture to your collection
Research UE and the surrounding community's Black history
Research a local/global Black activist
Read a Black biography or autobiography
Visit the African-American museum
Bring awareness to a charity focused on supporting the Black community
Incorporate BHM into your Teachings/ Learning/ Work
Attend a diversity training, event or workshop hosted by UE CDEI or others
Sign up to receive news from a Black own and operated organization
Find a Black story that speaks to you or that you can relate to
Create a "Talking about Race" Toolkit
Learn the full version of Lift Ev'ry Voice and Sing
Listen to a Black speaker via TedTalk, PodCast, etc.
Watch a Black movie not about Black trauma
Host and/or participate in a Black history trivia event
Have an uncomfortable discussion with someone, don't be color-blind
Research Juneteenth, Kwanza and other Black holidays
Spend time learning about an influential Black individual in Evansville
Read Dr. King's "I Have a Dream" speech
Add some Black cuisines to your menu
Share a quote on your social media or with friends from an influential Black Voice
Find an everyday item created by a Black inventor
Use something related to Black culture as a background on zoom and explain what it is
Follow or Subscribe to a Black creator
Support or partner with a Black business
Download 3 Black-owned apps
Final Week for Bargain Book Blowout
This is the final week for the bookstore's bargain book blowout! All bargain books, as well as some rare and out-of-print titles, are only $1! You will not be able to get any of these titles after this week, so make sure to stop by and grab them before it's too late!
Religious Life Summer Job
On June 20-27, the Office of Religious Life will host the Open Table Youth Theology Institute right here on campus. This program helps high schoolers delve deep into their faith while discovering the beauty of other religious traditions. We need two more College Mentors to co-facilitate small groups, assist in worship, and chaperone students in the dorms. Open Table includes field trips to New Harmony, St. Meinrad's Archabbey, the Evansville Islamic Center, and Temple Adath B'Nai Israel. College Mentors will be paid $500 for the week with meals and housing included. Contact the Director of Religious Life (jk383) to apply.
Student Safety Event: Situational Awareness & Pre-Attack Indicators
Join VERUS SECURITY in learning the secret signs of deception on February 22, 2021 at 12 pm in Eykamp 251.
Recognizing threats is a key element in preventing them. How well are you able to recognize and identify the warning signs of risk? In this course, VERUS SECURITY teaches you how to understand both the verbal and nonverbal cues attackers provide - even when they are unaware of doing so! Protect yourself! Through videos, class participation, and lecture focusing on real-life attack situations and outcomes, you'll learn:
The secret cues and clues found in body language
Grooming gestures
Facial Tells
Eye accessing (Neuro-Linguistic Programming)
The importance of de-escalation
And much more.
P r e p a r e . P r e v e n t . P r o t e c t .
Sponsored by the Office of Counseling Services.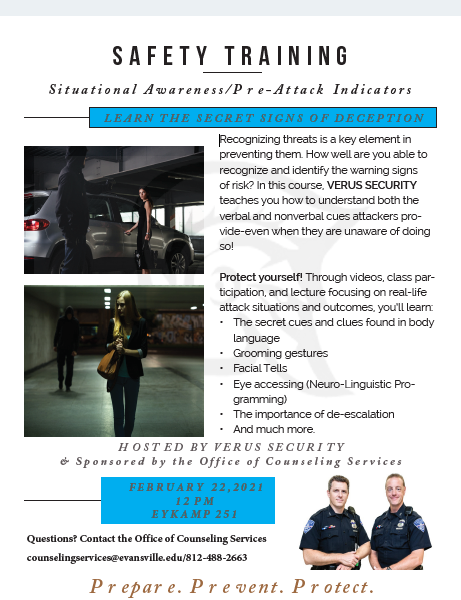 Bargain Book Blowout
Do you need a gift for a loved one? Or just looking for something new to read? Well look no further than the campus bookstore! We're having a big bargain book blowout, with all bargain titles priced for only $1! This sale will run until March 2nd and quantities are limited, so come visit us as soon as possible! [Please note, this is an in-store only sale.]
UE Volleyball Drops Opener to Bradley
Trailing 2-0, the University of Evansville volleyball team picked up a win in the third set and was one point away from forcing a fifth set before a late Bradley rally gave them a 3-1 win on Sunday at Meeks Family Fieldhouse.
UE (3-6, 2-5 MVC) was paced by Alondra Vazquez, who recorded 24 kills with Melanie Feliciano just behind with 19. Cecilia Thon recorded 27 assists with Allana McInnis adding 25. Vazquez had a team-best 20 digs, finishing with a big 20-20 performance. Rachel Basinski added 18 digs for UE. Bradley (4-3, 4-3 MVC) saw Hannah Thompson lead the way with 18 kills while Kora Kauling added 42 helpers.
GAME 1
A quick start to the day saw the Braves jump out to a 6-2 lead in the opening game. Evansville made its first rally, cutting the gap to one (10-9) on a kill by Elise Moeller. A kill by Melanie Feliciano a few points later saw UE back within one at 14-13, but the Aces could not get over the hump with the Braves countering to open the day with a 25-19 win and a 1-0 lead.
GAME 2
A kill by Alondra Vazquez helped UE jump out to a 3-1 lead in the second frame before the Braves grabbed their first advantage at 5-4. After Evansville tied it up, Bradley scored the next three points and did not relinquish the lead for the remainder of the set. They extended the lead to 17-12 before Evansville got within a pair at 19-17 when Vazquez posted a kill and Cecilia Thon added a service ace. Bradley regrouped and pulled away for a 25-20 decision.
GAME 3
Bradley picked up an early 5-3 edge before the Purple Aces knotted it at 5-5 before going in front, 8-7. Two Vazquez kills coupled with one from Moeller finished up the stretch. The Braves wrestled the lead back in their favor, going up 12-10, but the Aces countered with a 5-2 spurt to go back in front. After taking a time out, Bradley tied it up at 15-15, but it was Vazquez who give her team the lead for good. Her kill was the start of a 6-0 run that gave the Aces a 21-15 lead and Evansville would cruise to a 25-18 win.
GAME 4
Using the momentum gained from its win in game three, Evansville broke a 6-6 tie by scoring three points in the fourth set. Vazquez had two kills in that stretch. A pair of Feliciano kills, coupled with another ace by Thon set the Aces up with a 17-10 lead. The Braves took a time out and responded with six in a row to get within one. UE countered to jump back in front at 22-19 on a Springer kill. Bradley had one final run left, rallying back to tie it up at 23-23. UE retook the lead and was one point away from forcing a fifth set before the Braves stormed back to clinch the match with a 27-25 win in the fourth.
On Monday, the squads meet again in a 6 p.m. match inside Meeks Family Fieldhouse.
Rohleder Paces UE Women on Opening Day
On Sunday, the University of Evansville women's golf team wrapped up the opening day of the ASU Spring Kickoff, hosted by Alabama State.
The teams wrapped up the opening 18 holes before finishing 13 holes in the second round. Monday's action will begin with the final five holes of the second round before the teams begin the third and final round of play.
Sophia Rohleder had the lowest opening round of the day for Evansville. She carded a 78. Just behind her was Alyssa McMinn, who shot an 80. Mallory Russell wad third on the team with an opening-round score of 85.
Caitlin O'Donnell checked in with an 88 with Allison Enchelmayer posting a 93. Carly Frazier and Taylor Keating finished the opening round with scores of 94 and 101, respectively.
Full team scores and results will be posted as soon as they become available.
Aces Drop Series Finale at #12 Georgia, 4-1
Closing-out its four-game set, the University of Evansville baseball team took an early lead, but could not continue scoring in a 4-1 loss to 12th-ranked Georgia on Sunday at Foley Field in Athens, Ga.
"We bounced back from a walk-off yesterday with a competitive effort today," said Aces head baseball coach Wes Carroll. "Great to see Donovan Schultz compete in his first start as an Ace. Also had a great effort from Zac Cummins as well. We couldn't get anything going offensively to take advantage of 10 walks. Had a lot of growth over the weekend and were competitive in every game. I look forward to our home opener next Friday."
True freshman Donovan Schultz got his first start and appearance of his collegiate career and handled a big stage well. After Georgia threatened by putting three runners on in the bottom of the first, Schultz settled in and worked through the Bulldogs lineup, sitting Georgia down in order in the second. Evansville got on the board first in the top of the third as the Aces had senior Troy Beilsmith on second with no outs after a walk and a throwing error. Beilsmith moved to third following a fly out from Shepherd and was brought home on a RBI sacrifice fly by junior Tanner Craig to give the Aces a 1-0 lead.
The Bulldogs answered immediately in the bottom half of the third, scoring twice, once on an error and another coming unearned on a sacrifice fly.
Schultz's day came to an end following the fourth inning as the Wisconsin native closed his debut allowing three hits, one earned run, and striking-out two. Schultz was replaced by newcomer Zac Cummins, who pitched a strong fifth and sixth innings, allowing just two hits and keeping the Bulldogs from adding to their lead.
The Bulldogs did go on to add to their tallies in the seventh and eighth innings, scoring a run in each, opening a 4-1 advantage.
Men's Basketball Falls in Weekend Opener
Drake shot 78.3% in the first half before extending their lead in the second frame to defeat the University of Evansville men's basketball team by a final of 85-71 on Sunday afternoon at the Knapp Center.
Shamar Givance had another outstanding effort for the Purple Aces (8-13, 6-9 MVC), leading the team with 19 points on a 9-of-14 shooting day. Evan Kuhlman and Iyen Enaruna registered 13 points apiece. Kuhlman knocked down five of his seven attempts while Enaruna finished 6-of-11. Leading the Bulldogs (22-2, 13-2 MVC) was Joseph Yesufu, who hit 12 out of 14 attempts to score 32 points. D.J. Wilkins added 13 tallies.
Drake knocked down its first four shots of the day to take an 8-5 advantage in the opening minutes. At the 15:40 mark, Evan Kuhlman hit a long jumper that gave the Aces their first lead. Shamar Givance continued a 4-for-5 start that pushed Evansville's lead to 11-8. The Bulldogs countered with a 12-2 stretch that pushed their lead to 20-13 eight minutes in.
In a half that saw them shoot an unbelievable 78.3%, the Bulldogs extended their lead to 20- points – 47-27 – in the final minute. Kuhlman, who scored 13 points in the first half, hit a triple at the buzzer that made it a 17-point game at the break. Joe Yesufu registered 16 first-half points going 6-for-7 from the field as the Bulldogs hit 18 out of 23 attempts and six of their eight outside tries in the opening frame.
The lead for the Bulldogs was extended to 22 points thanks to a 5-0 stretch to open the second half before a triple from Noah Frederking cut the lead back under 20. Drake rebounded to go up by as many as 31 points (79-48) with 8:30 remaining. The Aces made a late run, outscoring the Bulldogs by a 17-4 margin in the final minutes to close it to an 85-71 final. UE's late rally saw them lift their final shooting tally to 51.7%. Drake finished the game at 65.4%.
Jawaun Newton led the Aces with a game-high 8 rebounds. It tied his career mark, which was set twice before. Samari Curtis scored 11 points on an efficient 4-for-6 game.
Ue Softball Team Finishes Weekend with Another Win
Bella Coffey and Mea Adams recorded three hits apiece to push the University of Evansville softball team to a 5-1 victory over Alabama State in Sunday morning's final game of the Black & Gold Tournament.
"It was great to be back on the field after almost a year. I really love the way the team ended the weekend competing on every pitch," UE head softball coach Mat Mundell exclaimed. "It took us a bit to get going but we talked about making adjustments and the team really stepped up."
UE (2-2) recorded 12 hits on the day with Adams going a perfect 3-for-3 and Coffey adding three hits in four at-bats against the Hornets (1-7). Macey Harrington had a 2-4 effort while knocking in a pair of runs. In the circle, Izzy Vetter threw five scoreless innings of 2-hit ball. She tied her career mark with 10 strikeouts; she previously accomplished the feat on April 27, 2019 against Valparaiso.
Following three scoreless frames, the Purple Aces broke the tie with three runs in the top of the fourth. Lindsay Renneisen hit a leadoff single before Macey Harrington hit a home run to left to give the Aces a 2-0 lead. The third run saw the Aces play some small ball. Mea Adams reached on a double before stealing third and crossing home on a sacrifice fly by Hannah Hood.
Evansville added some insurance with single runs in both the fifth and sixth innings. A single by Adams plated Coffey in the 5th while it was Coffey with an RBI knock in the 6th. Her single brought Halie Fain home for the final run of the game.
With the opening weekend of action in the books, the Aces now set their sights on next weekend's Frost Classic in Chattanooga, Tenn. UE faces both Tennessee Tech and Chattanooga twice.
Feit, Newman Lead Aces as Evansville Drops Series Finale to Valpo
In the series finale, the University of Evansville dropped a 71-56 decision to Valparaiso on Saturday evening at the ARC in Valparaiso, Ind.
Evansville was powered on the evening by sophomore Abby Feit and junior Anna Newman. Feit led the Aces in scoring, tallying 13 points and adding seven rebounds in less than 30 minutes on the floor. Newman was the driving force to Evansville's offensive effort on the night, dishing-out 11 assists to go along with six points and three rebounds. The only other Ace besides Feit to reach double-figures was freshman Rylie Stephens, finishing with 11 points.
For Valpo, Carie Weinman led three players in double-figures for Valpo, accumulating 21 points on 8-11 shooting from the field.
It was a much different offensive showing for Valpo early in the contest as the hosts scored 20 points in the opening quarter, while the Aces kept pace with their performance from a night ago with 13 points. After Valpo's lead grew as large as 11 in the early portions of the first quarter, Evansville pushed back as sophomore Jossie Hudson scored six of the Aces eight points during a 8-2 Evansville run that saw Valpo's advantage cut to just five. What proved to be the theme for the night transpired down the stretch of the second period as Valpo continued to hit shots and took a 34-23 lead at the break.
In the second half, Evansville kept pace with Valpo, scoring 17 as the hosts did in the third quarter. The Aces grew as close as six in the third on a layup by Feit, but Valpo pushed its lead back to 11 heading into the final 10 minutes. The lead would reach as high as 22 for Valpo in the fourth before Evansville chipped away at it late in Valpo's 71-56 win.
The Aces and Valpo finished just one tenth of a percentage point off of one another in shooting percentage on the night. Evansville shot 39.6% (19-48), while Valpo shot 39.7% (23-58). What proved to be the key to the game was points off turnovers as Valpo out-scored Evansville 30-12 in the category.
The Aces continue a five-game road trip next week with a midweek matchup at Indiana State at 5 PM on Wednesday in Terre Haute, Ind.
Softball Picks up Win over Alabama State
The bats came alive for the University of Evansville softball team as they earned a 13-0 victory over Alabama State to wraps up the second day of the Black & Gold Tournament.
UE (1-2) had its top offensive game to finish the day against the Hornets (1-6). Evansville's first game of the day saw UT Martin (4-0) finish with a 6-1 win.
GAME 2 – Alabama State
Evansville's bats had a big game against Alabama State, scoring 13 runs on 15 hits. UE broke a scoreless tie in the top of the second, scoring four times. One run scored in the third before the Aces broke it open with eight scores in the fourth. A walk by Macey Harrington was followed by singles from Mea Adams and Jenna Lis, loading the bases for Hannah Hood. Hood was hit by a pitch to plate the first run of the game. Next up was Eryn Gould, who singled to right to bring in two more runs. Hood would later score on a double steal. UE's run in the third came home when Marah Wood singled to bring in Lindsay Renneisen, who doubled to lead off the inning.
An 8-run fourth broke the game wide open for UE. Renneisen, Harrington and Hood each had RBI hits before a grand slam by Eryn Gould completed the scoring as UE took a 13-0 win in five innings. Gould was a perfect 4-4 in the game with six RBI. Renneisen had three hits and two RBI while Fain and Adams each finished with two hits.
Jaime Nurrenbern threw the complete game for Evansville, tossing five scoreless frames while allowing four hits.
GAME 1 – UT Martin
Saturday's opening contest saw the Aces fall to UT Martin by a 6-1 final. In a similar fashion as they did on Friday, UE got on the board first. Eryn Gould hit a leadoff triple before crossing home on a sacrifice fly by Halie Fain. Evansville would hold the lead until the Skyhawks posted their first score in the bottom half of the third.
Three more Skyhawk runs crossed the plate in the fourth. After a stellar game on Friday, UTM's Kaci Fuller was at it again in the rematch. She singled and scored the run in the third frame before hitting a 2-RBI single in the fourth.
In an effort to come back, the Aces put runners in scoring position in both the sixth and seventh innings. Fain hit a leadoff bunt single before stealing second in the sixth, but three consecutive strikeouts left her stranded. In the seventh, Mea Adams hit a 1-out double down the left field line, but could not cross home. UTM plated two runs in the bottom of the 6th on their way to a 6-1 win. Seeley Layne earned the win for UTM, throwing 4 2/3 innings. Izzy Vetter made the start for the Aces and threw five frames allowing four runs, but only three were earned. UE had six hits with Eryn Gould accounting for two while scoring UE's run.
Records Fall for the Aces at EIU Friday Night Special
The University of Evansville track and field teams sets more records, at the EIU Friday Night Special.
Keeping up her pace for the Purple Aces, Anna Lowry took more time off her school record in the mile run, pacing the event at 4:58.53. Lowry finished the race 11-seconds faster than the next runner. Lowry was also a part of the 4x400-meter team, taking second at 4:27.81.
Trey Riggs broke a 41-year record in the long jump, posting a 6.64-meter jump to finish seventh. Riggs also took second in the triple jump with a 12.85-meter leap.
Taiza Alexander finished seventh in the long jump, hitting the 5.36-meter mark on her final attempt of the day.
JJ Pederson took seventh place in the 3,000-meters at 9:02.71, finishing just .10 seconds behind the sixth-place finisher.
Zach Dove set a new personal best in the men's weight throw posting a 14.88-meter attempt to finish ninth. Dove also finished tenth in the shot put at 13.48-meters.
Evansville will take the week to prepare for the Missouri Valley Conference Championship, held in Cedar Falls, Iowa on Feb. 26-28.
Aces Battle Valiantly in Saturday Doubleheader at #12 Georgia
Playing a pair of seven-inning games, the University of Evansville baseball team put up a great fight, but came up short in 7-3 and 6-5 losses to Georgia on Saturday at Foley Field in Athens, Ga.
Game One: Georgia 7, Evansville 3
In the opening game of the double header, it was Georgia who struck first, getting a big offensive effort in the second inning. The Bulldogs began the inning with an RBI sac fly that scored a run and continued to add little-by-little. Three more RBI singles pushed Georgia's lead to 4-0 as errors began to pile-up and aid the effort for UGA. The Bulldogs closed the second with another RBI sacrifice that added the final run of the inning.
The fourth inning saw Georgia add two more runs with a single to center that brought home a pair of Bulldogs, giving UGA a 7-0 advantage.
Starter Nathan Croner's line finished with the senior pitching four innings, allowing four earned runs, and striking out five as much of the Bulldogs offense came due to defensive miscues by the Aces.
Evansville did not go away quietly, though, as freshman Brent Widder smashed his first collegiate home run to left field in the seventh to close within five runs. With two outs, the Aces loaded the bases in their final chance in the seventh with junior Tanner Craig coming to the plate. Craig drew a walk to trim the Georgia lead to 7-3 and bring the tying run to the plate in Danny Borgstrom. The sophomore looked to deliver for the Aces, but lined out to second to close the game.
Game Two: Georgia 6, Evansville 5
The second game was a completely different contest with Evansville this time the aggressors in the early going. Evansville jumped on the scoreboard first in the top of the second as Borgstrom launched a home run to right field. The Bulldogs answered the Aces, scoring a run on a sac fly to center field to tie the game. Georgia went in front in the fourth inning with an RBI single to take a 2-1 lead.
The fifth inning was all Evansville with the Aces tying the game on a homer by redshirt senior Kenton Crews to left field, his ninth of his career. Evansville took the lead later in the fifth as senior Craig Shepherd scored freshman Max Malley and then Borgstrom brought home Shepherd and redshirt senior Troy Beilsmith to take a 5-2 lead.
Junior Caleb Reinhardt exited before the start of the bottom of the fifth, finishing with a strong line, giving up five hits, two earned runs and striking out one Bulldog. Senior Jake McMahill replaced Reinhardt and worked his way out of some trouble in the fifth. In the sixth, McMahill was again challenged as the first two batters reached base. Evansville saw its three-run lead evaporate with the next batter as Chaney Rogers hit a three-run home run to tie the game.
After Evansville was unable to score in the seventh, Georgia loaded the bases with no out. The Bulldogs capitalized on the opportunity with a single to right field, scoring Ben Anderson and earning the walk-off win for UGA.
On the day, Borgstrom helped lead the Aces, going 2-for-6 from the plate and recording two RBIs and a run.
Evansville returns to close out the weekend series with Georgia with the final game of the four-game set at 11 AM (CT) on Sunday at Foley Field in Athens, Ga.
Solid All-around Performance Propels Aces to Win over #12 Georgia
The moment was not too big for the University of Evansville baseball team as the Aces handled high-pressure situations in a 3-2 victory over 12th-ranked Georgia at Foley Field on Friday afternoon in Athens, Ga.
"Great way to start the season and such a great performance on the mound from Shane Gray, Michael Parks and Jakob Meyer," said Aces head baseball coach Wes Carroll. "We handled pressure late in the game from a really good team, so we really had to earn the win."
The tone for the afternoon was set by starting pitcher Shane Gray, who sat the Bulldogs down in order in the bottom of the first. Gray faced his first threat in the bottom of the second as Georgia put two on with one out. The sophomore got out of the inning with a strikeout and then a little help from senior catcher Ben Komonosky, who threw-out Corey Collins attempting to steal third.
In the third, Evansville's offense got rolling with two outs. Senior Troy Beilsmith sent a base-hit to right field and subsequently stole second. Fellow senior Craig Shepherd then proceeded to single to right field, scoring Beilsmith to give Evansville its first run of the afternoon. After junior Tanner Craig and sophomore Danny Borgstrom were walked in the next two at bats, newcomer Simon Scherry scored Shepherd with an error-inducing grounder to third base that pushed the Aces lead to 2-0.
Evansville looked poised for another two-out rally in the fourth, placing runners at first and second with two down, but the Aces could not convert.
Georgia halved Evansville's lead in the fifth as the leadoff batter Corey Collins belted a solo shot to right field, but Gray was able to keep the Bulldogs to just one run in the inning.
The Aces kept pushing the envelope in the sixth as Komonosky opened the inning on base after being hit by a pitch and eventually found his way in scoring position at third after a Shepherd single with two outs. Evansville could not capitalize on its opportunity, but continued to show their ability to threaten.
It was another two-out rally in the seventh that added the third and final run to the Aces tally as freshman Adam Euler doubled off the center field wall with two down. Euler gave way to senior Kenton Crews as a pinch runner and the veteran quickly showcased his quickness for the Aces advancing to third and eventually home on a pair of wild pitches that pushed Evansville's lead to 3-1.
Gray's tremendous day on the mound came to an end with the start of the seventh inning as sophomore Michael Parks took over. Parks induced a fly out to the first batter he faced, but gave up a single and hit a batter in the next two at bats. With Georgia primed to tie the game or even take the lead, Parks forced Fernando Gonzalez to ground into a double play to end the inning and the Bulldogs threat.
In the top of the eighth, Evansville put runners on first and second with just one out, but junior righty Jack Gowen struck-out back-to-back Aces to end the inning. In the Bulldogs half of the eighth, Georgia placed runners on first and second with no outs. After Parks got a pop out for the first out, Evansville turned to freshman Jakob Meyer to get the Aces out of the inning. Meyer gave up a single that scored a run for the Bulldogs in the first at-bat, but locked down Georgia's attempts to tie the game with a groundout on a fielder's choice and a fly out to right field.
With one last chance in the ninth, Meyer struck-out the lead-off batter and forced a groundout in the next at-bat to quickly back Georgia into their final out. The Bulldogs responded with a single, putting the tying run on base. Again in a high-pressure situation, Evansville handled it well as Meyer induced a pop up that ended the game and earned the Aces a 3-2 season-opening win.
Gray finished the contest with the win, pitching six innings and allowing just four hits and one earned run, while striking-out four. Meyer received the save, the first of his collegiate career, pitching the final 1.2 innings and striking-out three, while not allowing a hit.
Evansville generated plenty of offense with eight hits on the afternoon, while leaving 12 on base in the win.
The Aces and Bulldogs continue their series with a twin bill on Saturday afternoon beginning at 11 AM (CT). Senior left-hander Nathan Croner gets the ball in the first game, while junior righty Caleb Reinhardt will start on the mound for the Aces in game two.
Team Effort Key as Aces Overwhelm Valpo, 57-43
Putting in a full team effort, the University of Evansville women's basketball team pulled-away late in the first half and held onto its lead in a 57-43 win over Valparaiso on Friday night in Valparaiso, Ind.
Junior Anna Newman powered Evansville in the victory, showing grit in getting to the line time and time again. Newman led all scorers with 17 points, scoring 15 of those at the free-throw line to break an Evansville single-game program record. Also in double-figures for the Aces was sophomore Abby Feit, who tallied her fourth double-double of the season with 14 points and 10 boards. On Valparaiso's side, Shay Frederick was the lone player to reach double-digits, scoring 10 points.
Evansville's defense was the star of the night from start to finish in a dominant effort for the Aces on the defensive end. In the opening quarter, Evansville limited the hosts to just seven points, scoring 12 itself. Valpo responded with a better offensive period in the second, amassing a total of 15 points in the second quarter. A key point in the contest came with less than eight minutes to play in the opening half. After Valpo stormed back from a 14-9 deficit with a 9-0 run to take the lead, the Aces answered. Down 18-14, the Aces mounted an 18-4 run to close the half and take a 10-point lead to the break.
A slow offensive period in the third saw Valpo with a chance to claw its way back into the contest. Valparaiso scored the first seven points of the second half to cut their deficit to just nine at 32-29, but Newman got to the line to deliver Evansville's first points of the half and spark the Aces. Feit got in on the fun following Newman's free throws, hitting a jumper and then adding a triple on the next trip down the floor to push the Aces lead back to eight at the end of the third.
In the fourth, Evansville scored 18 points with 12 of those coming from Newman at the charity stripe as the junior continued to exhibit the ability to get to the line. After Valpo got as close as six in the opening minute of the final quarter, Evansville pulled away, leading by as many as 15 and matching Valpo down the stretch in the 57-43 win.
Less than a week after shooting just 17.3% (9-52) against Loyola on Saturday, the Aces bounced-back to hit 18 of their 43 shots (41.9%) of their shots on the night, while limiting Valpo to just 21.1% (12-57) shooting from the field. Evansville also dominated the glass, out-rebounding Valpo, 46-30.
The Aces and Valpo close out their weekend series with a 5 PM matchup on Saturday in Valparaiso, Ind.
Aces Fall to Skyhawks in Season Opener
UT Martin plated three runs in the bottom of the second inning on their way to a 6-1 victory over the University of Evansville softball team in Friday's opening game of the Black & Gold Tournament.
Evansville (0-1) recorded a run on three hits while drawing three walks. UT Martin (1-0) scored six runs on six hits.
It was the Purple Aces who got on the board in the top half of the first. Eryn Gould drew a leadoff walk before Mea Adams singled up the middle to advance Gould to second. Elyse Hickey drew a walk to load up the bases for Lindsay Renneisen, who was also able to force a walk to bring in the first run of the game.
The Skyhawks tied it up in the bottom of the first before scoring three times in the second. Kaci Fuller, who was 2-for-4 with four RBI in the game, had a bases clearing triple to break the game open. UTM scored two more runs in the fourth before hanging on for the 6-1 win.
In the top of the 7th, Evansville made a comeback attempt when Bella Coffey recorded the Aces' first hit since the first inning. Macey Harrington followed with another 1-out single to get Coffey into scoring position, but Alexis Groet recorded the final two outs to clinch the win.
UTM starter Erin Gallagher picked up the win, tossing six frames of 1-run, 1-hit ball. Megan Brenton made the start for UE, allowing four runs in 1 2/3 innings. Jaime Nurrenbern threw 3 1/3 frames, giving up two runs while Erin Kleffman pitched a scoreless 6th inning.
Saturday's action opens with a 12:30 p.m. rematch between the Aces and Skyhawks before UE faces host Alabama State in a 5:30 p.m. contest.
Women's Golf Opens Spring in Alabama
This weekend, the University of Evansville women's golf team opens up its spring slate at the ASU Spring Kickoff in Prattville, Alabama.
Hosted by Alabama State University, the tournament will be held at the Robert Trent Jones Course. Sunday begins with two rounds of action before Monday's final trip around the course.
Evansville is set for an exciting return to the course after gaining momentum in the spring of 2020. The Purple Aces return to the course where they were victorious a season ago in the ASU Spring Classic, pacing the competition on the way to the tournament championship.
UE had three of the top five individual finishers in the event, led by Sophia Rohleder. Last season, she paced the team with a 76.83 stroke average. She came home third in the victory in Alabama before tying for 10th at the Benbow Invitational, which was Evansville's final event of the shortened spring season.
Caitlin O'Donnell had an excellent performance in last year's team win. She came home in fourth place and shot her season-low round of 72 in the middle round. Her 2019-20 season finished with an 82.07 stroke average. Taking 5th place in last year's ASU Spring Classic was Alyssa McMinn. A final round of 73 helped her to reach the top five. Her season average checked in at an 80.78.
The trio returns in 2021 along with sophomore Allison Enchelmayer and junior Taylor Keating. UE also welcomes a pair of freshmen – Newburgh native Carly Frazier and Evansville product Mallory Russell, who is a Memorial High School grad.
Evansville Heads to Des Moines to Face Drake
As the regular season hits the homestretch, the University of Evansville men's basketball team makes its final road trip, traveling to Drake for a series on Sunday and Monday
The teams open play on Sunday with a 3 p.m. game that will be carrier on the MVC TV Network, which includes Fox Sports Indiana in the Evansville area
Monday's finale will begin at 6 p.m. on ESPN+...the Purple Aces Radio Network will also have full coverage
Setting the Scene
Facing the toughest part of its 2020-21 schedule, the Purple Aces look to halt a 4-game skid in Des Moines
It marks the third of four series that pits the Aces against the top four teams in the MVC
UE has stayed within striking distance in each game, but late runs by the opposition have been the difference
Drake is receiving votes in both national polls and is battling Loyola for the top spot in the MVC
The Knapp Center is another arena that has not been good to the Aces - UE has dropped nine of the last 10 games at the venue
Last Time Out
Evansville had another solid showing on Wednesday in Terre Haute, trimming a 7-point halftime deficit down to just one in the second half before a run by the Sycamores put the game out of reach
ISU shot 64.8% on their way to an 87-73 win as Tyreke Key scored 34 points
Leading the Aces was Jawaun Newton, who went 7-of-9 from the field on his way to 18 points
Shamar Givance had a stellar all-around game, finishing with 10 points, 8 rebounds and 6 assists...his assist tally tied his career mark
Swapping Points
One of the stories around the 20-21 UE squad has been its strong 3-point shooting...over the course of the season, UE has outscored the opposition from outside by an average of 12.3 points per game
On the flipside, UE has been outscored by an average of 13.5 PPG in the paint...the Aces have lost eight out of nine games this year opponent finishes at +18 or more in the paint
Evansville is a perfect 4-0 on the season when winning the battle in the paint
Just One
An outstanding 10-point, 8-rebound, 6-assist effort at Indiana State put Shamar Givance into some elite company
He is the only player in the MVC who is averaging 4.2 assists per game and 4.0 rebounds per contest
Givance has been back in top form over the last six games, averaging 13.2 points over that span following the Bradley series where he averaged 2.5 PPG
His 4.2 assists per game is second in the Valley...he has multiple assists in 18 consecutive games and tied his career high with eight helpers at Indiana State
A tenacious defensive player - Givance has forced 12 steals in the last six games
Scouting the Opponent
Standing at 21-2 overall and 12-2 in conference play, Drake is receiving votes in both national polls
The Bulldogs are coming off back-to-back wins against Loyola and at UNI on Wednesday
Drake won its first 18 games of the season including non-conference victories against Kansas State and Air Force
With leading scorer ShanQuan Hemphill out due to injury, the Bulldogs leading scorer is Roman Penn with 11.5 points per game...he leads the MVC with 5.6 assists per game and his season total of 128...that ranks 27th in the nation
Tremell Murphy has posted 9.9 PPG while D.J. Wilkins checks in with 9.7
Volleyball Back Home to Face Bradley
Following a successful trip to Loyola that saw the University of Evansville volleyball team earn a split, the Purple Aces return home this weekend to host Bradley
Matches will take place on Sunday and Monday with each one beginning at 6 p.m. with ESPN+ having both broadcasts
Last Time Out
Trailing 13-9 in the fifth set of Monday's finale at Loyola, the Aces reeled off the final six points to defeat the Ramblers by a 3-2 margin on the strength of a 15-13 decision
Alondra Vazquez led UE with 17 kills while Rachel Basinski recorded 24 digs
Brooke Springer tied the Evansville program mark with 11 block assists in the winning effort
Record-Tying Performance
Freshman Brook Springer tied the Purple Aces program record with 11 block assists in Monday's contest at Loyola
Her final total tied the record, which was set by Meaghan Holmes against UT Martin in 2013
Springer's total lifted her to the top of the MVC with 1.38 blocks per set
She has added a total of 10 kills through her first four collegiate matches
Stepping Up
Junior Alondra Vazquez has seen her offensive numbers increase as the season has moved along and it culminated in a strong series at Loyola where she posted 4.0 kills per game
Her season-high of 23 kills came in the opener before she added 17 in the win on Feb. 15...she also averaged 2.5 digs on the weekend
Vazquez' season average of 3.72 kills per set currently ranks second in the MVC and she has recorded 17 or more kills in five of the Aces' eight matches
Racking up the Digs
Rachel Basinski has seen increased playing time over the last two weekends, working at the Aces' libero
After averaging 0.95 digs per set over the first three weekends of her freshman campaign, Basinski settled into her role at Loyola and recorded 4.5 per set while playing a pivotal role in the Aces earning the split
She notched 21 digs in the opener against the Ramblers before registering a career-high 24 in the series finale...she also added six assists in victory
Contribute to AceNotes
To have content considered for inclusion in AceNotes, please submit a Marketing Request Form. Deadline for submission to AceNotes is 10:00 a.m. on the requested date of publication. Only articles concerning UE related/sponsored activities will be accepted. Articles submitted to AceNotes may be edited for length and clarity. Submitter contact information is at the end of each article.