| | |
| --- | --- |
| AceNotes Today | Friday, February 19, 2021 |
Lunar New Year Movie Night
Hello everyone!
Join the International Club today, Friday (Feb. 19), @ 7pm to celebrate Lunar New Year with a movie night.
There will be free snack bags and drinks!!
Don't forget to RSVP on UEngage.
See you there!
Campus is Invited - UE Connect Virtual Lunch and Learn presents Betsy Knott '99 "Turning Your Degree Upside Down"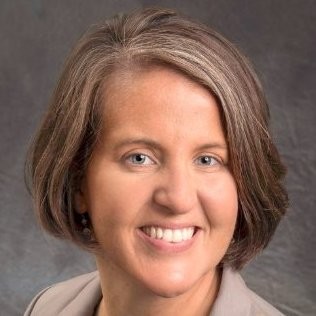 UE campus members and alumni are invited to join us virtually Tuesday, February 23 at 12:15 p.m. CST for the UE Connect Virtual Lunch and Learn "Turning Your Degree Upside Down," presented by Betsy Knott '99.
Currently, Betsy is the Director of the Career Center at Marietta College in Marietta, OH. Betsy earned her bachelor's degree in Accounting from the University of Evansville in 1999. She then earned her master's in Management from the University of Denver in 2001.
Betsy, who is originally from Indiana, is enjoying her second stint as an Ohio resident after previously working at Kenyon College. She has spent nearly 20 years in higher education, and enjoys working with students and alumni, and helping them find the very best version of themselves. Betsy brings to Marietta College extensive experience in higher education and career development. Her background includes posts at Kenyon College, Augustana College, Wabash College and most recently the University of Indianapolis.
She is a former NCAA Division I volleyball player (UE) and is still among the leaders in assists, attack percentage and games played at the University of Evansville. She enjoys spending time with her rescued dog Bongo.
Topic: UE Connect Virtual Lunch and Learn - Flipping Your Degree Upside Down
Time: Feb 23, 2021 12:15 PM Central Time (US and Canada)
Join Zoom Meeting
https://zoom.us/j/97582202086
Meeting ID: 975 8220 2086
Passcode: 291170
Comments or Questions? Contact Nichole Coffey at 812-488-2900 or ns50@evansville.edu.
University of Evansville Theatre Opens Zoombox, a Spring 2021 Student-Directed Series, with "SIGNIFICANT OTHER," by Joshua Harmon
The University of Evansville Theatre opens the spring semester with Joshua Harmon's SIGNIFICANT OTHER, at 7:30 p.m., Friday, Feb. 19, and Saturday, Feb. 20, as part of ZOOMBOX, a student-directed play series on the online platform Zoom.
Engulf yourself in the world of Jordan Berman and take a journey through the awkward phase of what it means to "settle down." Come along for the ride as he experiences heartbreak, a rift with his BFF, the rollercoaster of one's late-twenties, and the ever-relatable feeling of worry about never finding someone to love. Come for the drama, stay for the tart comedy, and leave with poignant memories of a lovely story about humanity and human foibles.
Leila Bowman, a senior design and technology major, from Buford Ga., directs SIGNIFICANT OTHER; Hannah Tarr, a sophomore theatre studies major, from Floyds Knobs, Ind., is the Zoom Environmental Designer; Emily Bloomer, a senior design and technology major, from Kingwood Texas., is the costume designer/stylist; Steph Voteau, a junior theatre studies major, from St. Louis, Mo., is the dramaturg; and Chea Coats, a first-year stage management major, from The Colony, Texas., is the stage manager.
The cast features Jake Conrad, a sophomore performance major, from Olympia Wash., as Jordan; Amelia Overholt, a sophomore performance major, from Fort Collins, Colo., as Laura; Allie Forte, a sophomore performance major, from New Albany, Ind., as Vanessa; Lillian Grace Carlson, a first-year performance major, from Minneapolis, Minn., as KiKi; Kate Durchholz, a sophomore theatre management major, from Evansville, Ind., as Helene/DJ; Nathan Viscaino, a sophomore performance major, from Redmond, Ore., as Will/Conrad/Tony; and Jeff Parkinson, a sophomore performance major, from Mercer Island, Wash., as Zach/Evan/Rodger.
SIGNIFICANT OTHER was developed during a residency at the Eugene O'Neill Theatre Center's National Playwrights Conference in 2013. Preston Whiteway, Executive Director; Wendy C. Goldberg, Artistic Director. World premiere produced in New York City by Roundabout Theatre Company (Todd Haimes, Artistic Director; Harold Wolpert, Managing Director; Julia C. Levy, Executive Director; Sydney Beers, General Manager) at the Harold and Miriam Steinberg Center for Theatre/Laura Pels Theatre, on June 18, 2015. SIGNIFICATNT OTHER is presented by arrangement with Concord Theatricals on behalf of Samuel French, Inc., www.concordtheatricals.com.
Tickets are FREE, but registration is required. To secure your spot, visit www.uealumnionline.com.
THE HUSTACE WORLD VIEW Paintings by Cedric Hustace
ART EXHIBIT IN KRANNERT GALLERY: THE HUSTACE WORLD VIEW
Paintings by
CEDRIC HUSTACE
February 21 – April 4, 2021
Public Reception for the Artist: Thursday, March 18, 2021, 6:30pm
This exhibit is part of the Emerging Contemporary Artist Lecture Series, sponsored by the Department of Art, with the generous support of the Efroymson Family Fund.
6th Annual High School Changemaker Challenge RESULTS
What A Day!!
The 6th Annual UE High School Changemaker Challenge was hosted February 15th live from Evansville, Indiana. Participants engaged from literally across the globe! We celebrate ALL of the HSCC Participants, Finalists and Winners!

We extend a special 'Thank You' to our judges, community partners and especially our sponsor, Toyota.
UE High School Changemaker Challenge RESULTS
Social & Environmental Justice
Grace Davidson – North High School, Evansville, IN; Helping victims of sexual assault receive compassionate care
Ilya Budd – Arcola, Illinois; Rethinking recycling
Barak Hall – Evansville Christian School, Evansville, IN; Sustainable housing
Health
Patricia Solliday – White River Valley High School, Switz City, IN; Portable health care for the elderly
Ali Scott – Northeastern High School, Richmond, IN; Basic health care for K-12 kids in need
Omaima Khan – Signature School, Newburgh, IN; Clean needle exchange
If you didn't have an opportunity to watch the YouTube Premiere, we encourage you to do so at:
UE Theatre Welcomed Melissa Moschitto and Lynde Rosario of The Anthropologists for Workshop Series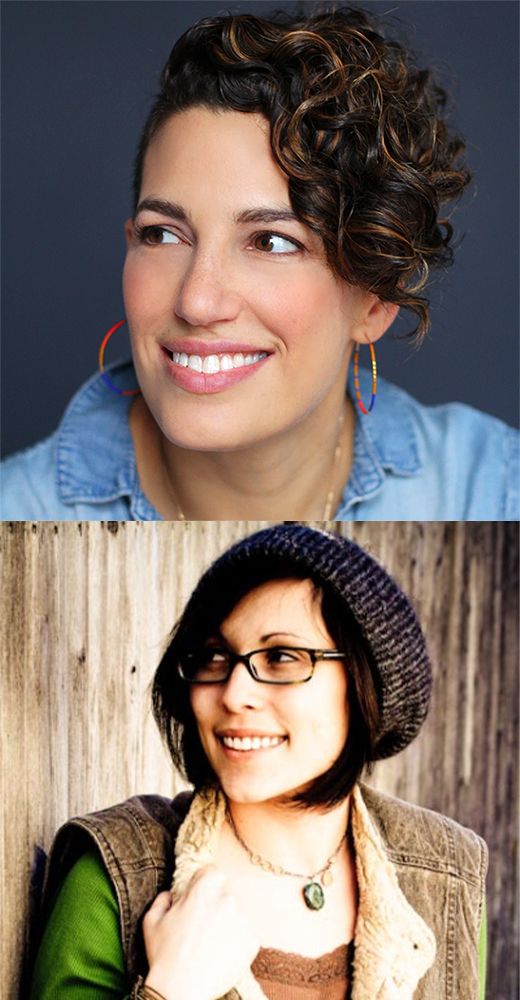 UE Theatre hosted another installment of their 2020–21 Workshop Series on Feb. 7 & 14, 2021, with guest artists Melissa Moschitto and Lynde Rosario of The Anthropologists. Students were provided with the opportunity to explore The Anthropologists' devising methodology. In addition, Moschitto and Rosario discussed how to apply the We See You White American Theatre demands into the devising process.
The Anthropologists commit to exploring current social topics from an anthropological perspective in order to break down and unleash cultural discoveries. They create original, ensemble-devised theatre using improvisation, composition, and highly stylized movement inspired by found text, source material, and artifacts (paintings, songs, poems, etc.).
Melissa Moschitto is a director, writer, producer, and the Founding Artistic Director of The Anthropologists. Her favorite directing projects outside of The Anthropologists include A BARN PLAY by Lizzie Donahue (UP Theater Company), DADDY'S BLACK & JEWISH by performance artist Lian Amaris (Nuyorican Poets Cafe), and WALKABOUT OR REVERSE CONTINENTAL DRIFT SYNDROME (The Flea). She has international experience as a directing apprentice for Compania Atalaya under the direction of Ricardo Iniesta and worked on MEDEA, LA EXTRANJERA. Moschitto holds a B.A. in Theater from the University of Massachusetts, Amherst and has studied with the Laban/Bartenieff Institute for Movement Studies, Liz Lerman Dance Exchange, SITI Company, and at the La Mama Umbria International Director's Symposium.
Lynde Rosario is the dramaturg and literary manager for the Denver Center for the Performing Arts Theatre Company. She has previously worked with Curious Theatre Company, Athena Project, Letter of Marque Theatre Company, and The Anthropologists. She is a board member and the co-vice president of the Literary Managers and Dramaturgs of the Americas, Mountain West region, as well as a board member for the National New Play Network. She has a B.A. in Drama from Hofstra University and an M.F.A. in Dramaturgy from The American Repertory Theatre/Moscow Art Theatre Institute for Advanced Theatre Training at Harvard University.
Children of Fallen Heroes Scholarship
On March 23, 2018, the President signed Public Law 115-141, the Consolidated Appropriations Act, 2018, which included an amendment to Section 473(b) of the Higher Education Act, authorizing the Children of Fallen Heroes Scholarship.
Under this scholarship, a Pell-eligible student whose parent or guardian died in the line of duty while performing as a public safety officer is eligible to receive a maximum Pell Grant for the award year for which the determination of eligibility is made.
Eligibility
Student must be Pell-eligible and have a Pell-eligible EFC.
Student must be less than 24 years of age or enrolled at an institution of higher education at the time of his or her parent's or guardian's death.
For purposes of the Children of Fallen Heroes Scholarship, a public safety officer is:

As defined in section 1204 of title I of the Omnibus Crime Control and Safe Streets Act of 1968 (42 U.S.C. 3796b); or
A firefighter or police officer, defined as an individual who is serving in accordance with State or local law as an officially recognized or designated member of a legally organized public safety agency and provides scene security or directs traffic in response to any fire drill, fire call, or other fire, rescue, or police emergency, or at a planned special event.
If you believe you are eligible for this, please contact the Office of Student Financial Services.
Student Safety Event: Situational Awareness & Pre-Attack Indicators
Join VERUS SECURITY in learning the secret signs of deception on February 22, 2021 at 12 pm in Eykamp 251.
Recognizing threats is a key element in preventing them. How well are you able to recognize and identify the warning signs of risk? In this course, VERUS SECURITY teaches you how to understand both the verbal and nonverbal cues attackers provide - even when they are unaware of doing so! Protect yourself! Through videos, class participation, and lecture focusing on real-life attack situations and outcomes, you'll learn:
The secret cues and clues found in body language
Grooming gestures
Facial Tells
Eye accessing (Neuro-Linguistic Programming)
The importance of de-escalation
And much more.
P r e p a r e . P r e v e n t . P r o t e c t .
Sponsored by the Office of Counseling Services.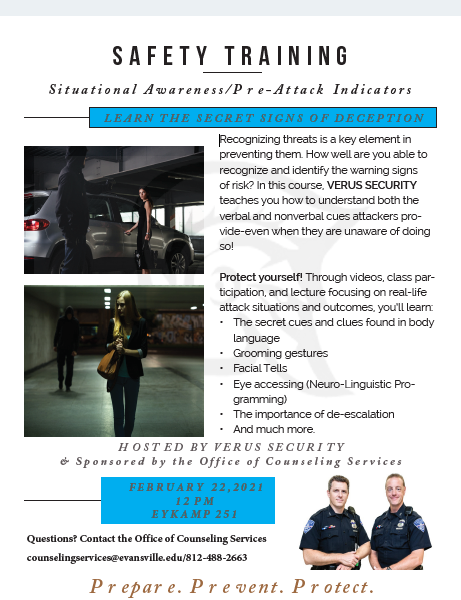 Submit your 2021-2022 FAFSA
File the 2021-22 FAFSA by April 15 at https://www.fafsa.ed.gov
Continuing students should file the 2021-22 Free Application for Federal Student Aid (FAFSA) to apply for federal, state and University need-based financial aid, including all federal student loans. UE's FAFSA code is 001795.
Filing by April 15 is essential for Indiana residents to receive state aid, and highly recommended for all.
Questions regarding the FAFSA should be directed to the Student Financial Services (Olmsted Administration Hall, Room 105) at 812-488-2364.
Aces Set for Season-Opening Series at Georgia
The long wait since March 10, 2020 comes to an end Friday when the University of Evansville baseball team opens the 2021 campaign with a four-game series at SEC foe Georgia on Friday, Saturday, and Sunday in Athens, Ga.
Previewing the Matchup: Georgia
Evansville and Georgia are set to do battle for the seventh time when the two sides meet on February 19 with the Bulldogs owning a 6-1 advantage in the series.
The Aces are 35-72 all-time against teams from the SEC and will play four times against the SEC this season with three against Georgia this weekend and a midweek matchup against Kentucky on March 3.
The Bulldogs were 14-4 last season and finished the season ranked third in the nation when the season ended abruptly on March 13.
Evansville will look to utilize its end-of-season momentum from 2020 to fuel its start to 2021. The Aces closed the 2020 campaign with a 5-4 victory over Indiana in the grand opening of German American Bank Field at Charles H. Braun Stadium on March 10.
Shane Gray looks to continue his form from 2020 into the start of the 2021 campaign. Gray struck-out a team-high 19 batters in 22.2 innings last season.
Consistency Returns
After the COVID-19 shortened season in 2020, Evansville returns nearly all of its roster from a season ago.
Just one Ace who played for Evansville in 2020 does not return for the 2021 campaign.
Evansville also added 10 newcomers to the team in the offseason to bolster the Aces depth.
Record on Opening Day
Entering this season, Evansville is 3-7 over its last 10 seasons in season openers and 2-6 in opening series during that same stretch.
Evansville has not had any issues scoring in season openers, averaging 5.1 runs per game in openers.
Craig Hauls in Awards
After being named to Collegiate Baseball National Players of the Week, MVC Player of the Week, and to the MVC Scholar-Athlete team, junior Tanner Craig looks to continue his momentum in 2021.
Before the season began, Craig was named to The Valley's Preseason team, the 2021 Bobby Bragan Collegiate Slugger Award watch list, Perfect Game's all-MVC team, and was named NCBWA Second-Team All-America.
Women's Basketball Hits the Road for Weekend Series at Valparaiso
Playing its first road games in the month of February, the University of Evansville women's basketball team embarks on a trip for a weekend series at Valparaiso on Friday and Saturday in Valparaiso, Ind.
Last Time Out: Loyola 61, Evansville 31
For the second-straight night, sophomore Abby Feit powered the Aces with nine points, picking-up four boards for Evansville. Feit also showed her aggressiveness by drawing a team-high seven fouls in the loss.
Just behind Feit were juniors Anna Newman (seven points) and A'Niah Griffin (six points).
The Ramblers had three in double-figures led by Allison Day, who tallied 16 points in 19 minutes on the floor.
Much like Friday, Loyola controlled the opening 10 minutes, out-scoring the Aces 18-4 in the first stanza.
Evansville shot just 7.1% (1-14) from the floor in the opening quarter, while the Ramblers hit 7-of-17 (41.2%) shots from the field.
Evansville bounced-back in the second half, scoring nine points in the quarter and showcasing strong defense, limiting Loyola to just 10 in the period as the Ramblers led 28-13 at the break.
The Ramblers resumed their efficient shooting night in the third quarter, scoring a game-high 24 points right out of the gate in the second half, pushing their lead to 52-21 with 10 minutes remaining.
The final quarter saw Evansville out-score the Ramblers, 10-9, as Loyola picked-up the 61-31 win.
Previewing the Matchup: Valparaiso
Evansville and Valparaiso are meeting for the 19th time when the two sides meet on Friday with Valpo owning a 10-8 advantage in the series.
Valpo enters Friday's matchup having won back-to-back games against the Aces.
In the last meeting between the two sides, Valpo captured a 72-54 win over Evansville on Feb. 6, 2020 at the ARC.
Evansville's 31 points against Loyola on Saturday was its lowest scoring output since scoring 30 points in a 69-30 loss at Dayton on Dec. 15, 2018.
As the season passes the midway point for all 10 teams, both Evansville and Valpo are playing for MVC Tournament seeding. The Aces are eyeing their first time out of the #10 seed since 2017 Hoops in the Heartland and Valpo is looking to avoid playing on Thursday, currently sitting in seventh in the MVC.
One of Evansville's flaws this season has been a struggle to rebound the ball. This weekend, the Aces face Valpo, the team who sits in 10th in the MVC in both offensive and defensive rebounding.
Evansville returns to the ARC, a place that has caused the Aces some problems in the past. The last three contests that the two teams have played in the ARC have been won by Valpo by an average of 34.7 points. On the inverse, Evansville is 5-5 at home all-time against Valpo, including its last home MVC win on Feb. 15, 2019.
Defense Holds Strong
Despite practicing just once since Feb. 1, the Aces continued their strong defense against Loyola.
Evansville held the Ramblers under 40% shooting in both games, marking the third-straight game and fourth game in the last five that UE has held their opponents to less than 40% from the field.
Partee Steps Up
With Evansville's offense struggling on Saturday night, junior forward NaTaya Partee stepped-up her game and turned-in good minutes for the Aces.
Averaging just 8.1 minutes per game this season, Partee played over 17 minutes against Loyola on Saturday, making good use of her increased minutes, scoring four points and pulling-down five boards to help the Aces.
Softball to Open Season in Montgomery, Ala
The long wait is finally over as the University of Evansville softball team will open its 2021 season this weekend at the Black & Gold Tournament in Montgomery, Alabama.
Hosted by Alabama State, the Purple Aces will play four games in three days. UE opens on Friday with a 10 a.m. game against Middle Tennessee State before a pair of games on Saturday. A 10 a.m. contest against UT Martin opens the day before UE faces Alabama A&M at 3 p.m. The final game on Sunday morning pits UE against MTSU once again at 10 a.m.
UE finished its shortened 2020 campaign with a 12-11 mark but was playing some of its best softball as the season came to a close in the second week of March. Evansville won four of its last six games heading into Missouri Valley Conference play. In its final non-conference tournament in Louisville, the Aces defeated Big Ten squad Illinoi by a 9-1 final. On March 10, the Aces welcomed Purdue Fort Wayne to Cooper Stadium for the home opener, earning a dominant 11-0 victory.
This season, the Aces return the majority of their output from 2020. Jessica Fehr anchored the offense, batting a team-high .446. She led the team with 19 runs scored, 21 RBI and 14 walks while notching three home runs. Fehr's 21 RBI was tied for the conference lead while her average was second.
In her first season at UE, Alyssa Barela batted .314 while picking up three homers and 7 RBI. Just behind her was Halie Fain, who was one of the MVC's top performers on the basepaths. She converted 14 out of 16 stolen base attempts, tying her for second in the Valley.
Izzy Vetter, Erin Kleffman and Jaime Nurrenbern are back in the circle for Evansville. Vetter had the Aces lowest ERA in 2020, completing the season at 4.07. She also had a team-high 63 strikeouts. One of the losses for UE is Emily Lockhart, who led last year's squad with seven victories and 61 2/3 innings of work.
This weekend's action will be live streamed by Alabama State's YouTube channel with live stats being available for most games.
Contribute to AceNotes
To have content considered for inclusion in AceNotes, please submit a Marketing Request Form. Deadline for submission to AceNotes is 10:00 a.m. on the requested date of publication. Only articles concerning UE related/sponsored activities will be accepted. Articles submitted to AceNotes may be edited for length and clarity. Submitter contact information is at the end of each article.