| | |
| --- | --- |
| AceNotes Today | Thursday, February 18, 2021 |
University of Evansville Theatre Opens Zoombox, a Spring 2021 Student-Directed Series, with "SIGNIFICANT OTHER," by Joshua Harmon
The University of Evansville Theatre opens the spring semester with Joshua Harmon's SIGNIFICANT OTHER, at 7:30 p.m., Friday, Feb. 19, and Saturday, Feb. 20, as part of ZOOMBOX, a student-directed play series on the online platform Zoom.
Engulf yourself in the world of Jordan Berman and take a journey through the awkward phase of what it means to "settle down." Come along for the ride as he experiences heartbreak, a rift with his BFF, the rollercoaster of one's late-twenties, and the ever-relatable feeling of worry about never finding someone to love. Come for the drama, stay for the tart comedy, and leave with poignant memories of a lovely story about humanity and human foibles.
Leila Bowman, a senior design and technology major, from Buford Ga., directs SIGNIFICANT OTHER; Hannah Tarr, a sophomore theatre studies major, from Floyds Knobs, Ind., is the Zoom Environmental Designer; Emily Bloomer, a senior design and technology major, from Kingwood Texas., is the costume designer/stylist; Steph Voteau, a junior theatre studies major, from St. Louis, Mo., is the dramaturg; and Chea Coats, a first-year stage management major, from The Colony, Texas., is the stage manager.
The cast features Jake Conrad, a sophomore performance major, from Olympia Wash., as Jordan; Amelia Overholt, a sophomore performance major, from Fort Collins, Colo., as Laura; Allie Forte, a sophomore performance major, from New Albany, Ind., as Vanessa; Lillian Grace Carlson, a first-year performance major, from Minneapolis, Minn., as KiKi; Kate Durchholz, a sophomore theatre management major, from Evansville, Ind., as Helene/DJ; Nathan Viscaino, a sophomore performance major, from Redmond, Ore., as Will/Conrad/Tony; and Jeff Parkinson, a sophomore performance major, from Mercer Island, Wash., as Zach/Evan/Rodger.
SIGNIFICANT OTHER was developed during a residency at the Eugene O'Neill Theatre Center's National Playwrights Conference in 2013. Preston Whiteway, Executive Director; Wendy C. Goldberg, Artistic Director. World premiere produced in New York City by Roundabout Theatre Company (Todd Haimes, Artistic Director; Harold Wolpert, Managing Director; Julia C. Levy, Executive Director; Sydney Beers, General Manager) at the Harold and Miriam Steinberg Center for Theatre/Laura Pels Theatre, on June 18, 2015. SIGNIFICATNT OTHER is presented by arrangement with Concord Theatricals on behalf of Samuel French, Inc., www.concordtheatricals.com.
Tickets are FREE, but registration is required. To secure your spot, visit www.uealumnionline.com.
All-Campus Art Project
Whether you are the next Picasso or you can only draw a stick-person, the Office of Religious Life needs your help! Between now and April 9, on a normal piece of printer paper, draw what you imagine your spirituality looks like. Then drop off your masterpiece at the Center for Diversity, Equity, & Inclusion. At the end of the semester, we'll "stitch" all these drawings together to create a "quilt" displayed in Neu Chapel. Submissions from students, faculty, and staff are all welcome. Contact the Director of Religious Life (jk383) with any questions.
This Week in Religious Life
CHRISTIAN WORSHIP
Due to pandemic restrictions, UE will not offer Protestant worship in Neu Chapel this semester. There are several churches in walking distance of our campus that are open for virtual and/or in-person worship on Sundays.
Methodist Temple (masks required)
8:30am, traditional worship
11:00am, contemporary worship
Redeemer Lutheran (masks required)
8:00am and 10:30am, traditional worship
A Catholic Mass is offered each Sunday in Neu Chapel at 1PM.
ASH WEDNESDAY
Ash Wednesday is Wednesday, February 17. If you plan to commemorate the beginning of Lent in person, there are several opportunities either on-campus or within walking distance. A Catholic Mass will be offered at 5PM in Neu Chapel led by Bishop Siegel. Methodist Temple will offer a Protestant service at 12PM (noon).
OTHER EVENTS
Visit the UE YouTube page to see the new video series, "Spiritual Practices in Tough Times." Twice a month, this series will highlight a spiritual practice from Christianity, Judaism, or Islam that can help you de-stress.
The Muslim and Christian Prayer Rooms in Neu Chapel are available for use 24/7. Contact the Muslim Student Association for keycard access to the Muslim Prayer Room.
This Wednesday's Newman Night is virtual. Join in on backyard.co for video chat and games.
If you'd like to try out a Newman small group, you can signup at https://docs.google.com/forms/d/e/1FAIpQLSecFpCOiycpWm-GylEffN-8CLo9PcI15IxAp1oeVjlr70khTA/viewform?usp=pp_url.
The Center for Diversity, Equity, and Inclusion invites you to 'Spill the Tea on Implicit Bias and Politics'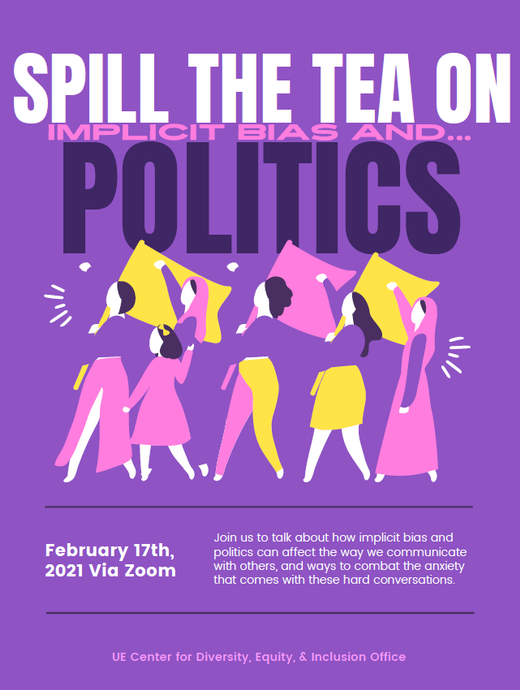 Join the Center for Diversity, Equity, and Inclusion at 6:00 PM on Wednesday, February 17th for the second part of their four part program: "Spill the Tea on Implicit Bias and Politics: 21 Days to Break a Habit" . Learn about Empathy and Civics from the Director of the Center for Innovation and Change, Erin Lewis; listen to student testimonial, and take part in a moderated discussion on implicit biases in politics. Follow along with @uediversity on Instagram for additional programming.
The Center plans on holding this online event on Wednesday even if the snow cancels in-person class.
Register for the Spill the Tea on Implicit Bias and Politics at: https://zoom.us/meeting/register/tJYrdeqhqDosHd3LjrC4nHP3ZvFRiWBl2hgX.
Keep and eye out on social media and Acenotes for part three"....Implicit Bias and Ability" and part four "...Implicit Bias and the LGBTQ+ Community".
THE HUSTACE WORLD VIEW Paintings by Cedric Hustace
ART EXHIBIT IN KRANNERT GALLERY: THE HUSTACE WORLD VIEW
Paintings by
CEDRIC HUSTACE
February 21 – April 4, 2021
Public Reception for the Artist: Thursday, March 18, 2021, 6:30pm
This exhibit is part of the Emerging Contemporary Artist Lecture Series, sponsored by the Department of Art, with the generous support of the Efroymson Family Fund.
6th Annual High School Changemaker Challenge RESULTS
What A Day!!
The 6th Annual UE High School Changemaker Challenge was hosted February 15th live from Evansville, Indiana. Participants engaged from literally across the globe! We celebrate ALL of the HSCC Participants, Finalists and Winners!

We extend a special 'Thank You' to our judges, community partners and especially our sponsor, Toyota.
UE High School Changemaker Challenge RESULTS
Social & Environmental Justice
Grace Davidson – North High School, Evansville, IN; Helping victims of sexual assault receive compassionate care
Ilya Budd – Arcola, Illinois; Rethinking recycling
Barak Hall – Evansville Christian School, Evansville, IN; Sustainable housing
Health
Patricia Solliday – White River Valley High School, Switz City, IN; Portable health care for the elderly
Ali Scott – Northeastern High School, Richmond, IN; Basic health care for K-12 kids in need
Omaima Khan – Signature School, Newburgh, IN; Clean needle exchange
If you didn't have an opportunity to watch the YouTube Premiere, we encourage you to do so at:
Children of Fallen Heroes Scholarship
On March 23, 2018, the President signed Public Law 115-141, the Consolidated Appropriations Act, 2018, which included an amendment to Section 473(b) of the Higher Education Act, authorizing the Children of Fallen Heroes Scholarship.
Under this scholarship, a Pell-eligible student whose parent or guardian died in the line of duty while performing as a public safety officer is eligible to receive a maximum Pell Grant for the award year for which the determination of eligibility is made.
Eligibility
Student must be Pell-eligible and have a Pell-eligible EFC.
Student must be less than 24 years of age or enrolled at an institution of higher education at the time of his or her parent's or guardian's death.
For purposes of the Children of Fallen Heroes Scholarship, a public safety officer is:

As defined in section 1204 of title I of the Omnibus Crime Control and Safe Streets Act of 1968 (42 U.S.C. 3796b); or
A firefighter or police officer, defined as an individual who is serving in accordance with State or local law as an officially recognized or designated member of a legally organized public safety agency and provides scene security or directs traffic in response to any fire drill, fire call, or other fire, rescue, or police emergency, or at a planned special event.
If you believe you are eligible for this, please contact the Office of Student Financial Services.
UE Theatre Salon Series Welcomed Matthew Myhrum '96
This week's installment of the UET Salon Series was held on Wednesday, Feb. 10, with Matthew Myhrum '96.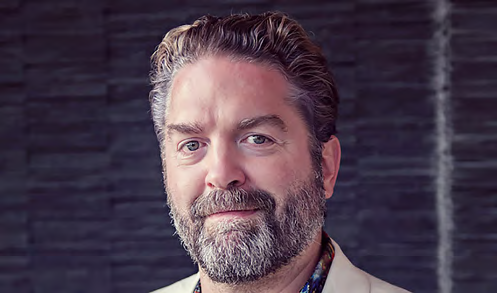 Myhrum currently works in the event visualization industry after building a strong storytelling background as a theatrical set designer. In his early career, he also worked as a studio assistant for a TV show designer, allowing him to learn how to design digitally as well as tangibly. In 2008, Myhrum was hired by Preston Bailey, a renowned event designer, to work in his design department. After working for Bailey for two years, Myhrum left and created his own business, Matthew Myhrum Event Visualization, in 2011. He has been running his own business for a decade, communicating event design for a wide array of clients. Myhrum describes his design process as being based off a single mission: To bring a planner/designer's ideas to life visually so that they can evaluate and sell those designs to their clients. Some of Myhrum's clients have included: Encore Live, International Event Company, Stark Production Group, and Total Entertainment.
This semester, UE Theatre students will have the opportunity to experience over 25 workshops and salons with various professionals from the entertainment industry.
UE Theatre Welcomed Paul Tazewell, Tony Award-winning Costume Designer of HAMILTON, for Workshop Series
UE Theatre hosted another session of their 2020–21 Workshop Series on Thursday, February 11, 2021, with Paul Tazewell, a costume designer for TV/Film/Broadway productions.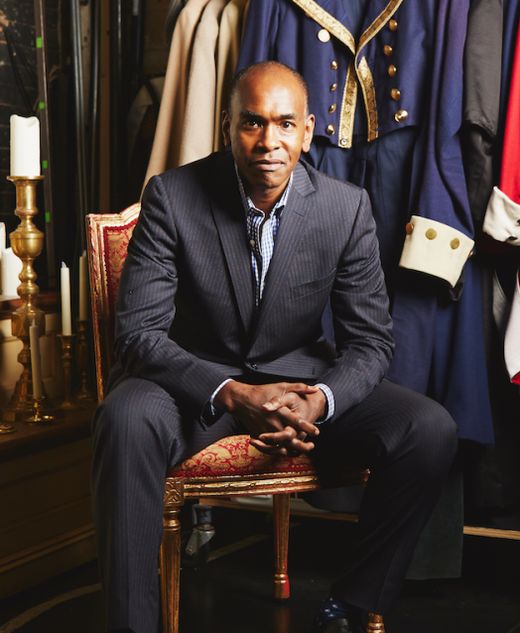 Tazewell began his Broadway career with the groundbreaking musical, BRING IN DA NOISE, BRING IN DA FUNK. He is known for his work on both of Lin-Manuel Miranda's Tony Award-winning productions, HAMILTON and IN THE HEIGHTS. Select Broadway credits include: AIN'T TOO PROUD, THE COLOR PURPLE, DR. ZHIVAGO, and MEMPHIS. In the United States and across the globe, Tazewell has designed for renowned companies such as The Metropolitan Opera, The Bolshoi Ballet, The English National Opera, Theatre du Chatelet, The Public Theater, The National Theater, The Kennedy Center, The Guthrie Theater, Arena Stage, Houston Grand Opera, San Francisco Opera, and many more. Select TV/film credits include: HARRIET, HAMILTON, WEST SIDE STORY (upcoming), THE IMMORTAL LIFE OF HENRIETTA LACKS, and JESUS CHRIST SUPERSTAR, LIVE! In 2006, he received an Emmy Award for his work on NBC's THE WIZ, LIVE! He has also received a Tony Award for his costume designs for HAMILTON. Tazwell's other notable honors include two Lucille Lortel Awards, four Helen Hayes Awards, a Princess Grace Foundation Fellowship, and The Princess Grace Statue Award. Paul holds an M.F.A. from New York University and a B.F.A. from the North Carolina School of the Arts. He has instructed students as a guest artist at both New York University and North Carolina School of the Arts and held a faculty position at Carnegie Mellon University.
UE Theatre Presented PERICLES in Collaboration with Play on! Shakespeare
UE Theatre presented a virtual reading of William Shakespeare's PERICLES, directed by Taylor Bailey '09, in collaboration with the ground-breaking organization Play on! Shakespeare. The organization strives to enhance the understanding of Shakespeare's plays in performance for theatre professionals, students, and audiences by engaging with contemporary translations and adaptations.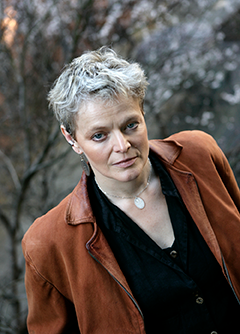 PERICLES has been translated by Ellen McLaughlin. Ellen McLaughlin is an award-winning playwright and actor. Her plays include TONGUE OF A BIRD, A NARROW BED, IPHIGENIA AND OTHER DAUGHTERS, TROJAN WOMEN, INFINITY'S HOUSE, HELEN, THE PERSIANS, OEDIPUS, AJAX IN IRAQ, KISSING THE FLOOR, SEPTIMUS AND CLARISSA, PERICLES and PENELOPE. Her work has been performed in New York Off-Broadway and regionally, as well as overseas. Producers include The Public Theater, National Actors' Theater, Classic Stage Co., New York Theater Workshop, The Guthrie, The Intiman, The Mark Taper Forum, Oregon Shakespeare Festival, Actors' Theater of Louisville, and The Almeida Theater in London. Among her honors are the Susan Smith Blackburn Prize and the Lila Wallace Reader's Digest Writer's Award. Her TROJAN WOMAN was nominated for a 2017 Drama Desk Award for Best Adaptation. She has taught playwrighting at Barnard College since 1995. Other teaching posts include Princeton University and Yale School of Drama. As an actor, she is most well known for having originated the part of the Angel in Tony Kushner's ANGELS IN AMERICA, appearing in all workshops and productions of the play through its Broadway original run.
Spiritual Lending Library
The Center for Diversity, Equity, & Inclusion now offers a lending library of spiritual resources. From prayer books to memoirs, from poetry to theology, the library includes selections from eleven religious traditions, including no tradition at all. Anyone from the UE community is welcome to stop by the Center's conference room and check out a book. Contact the Director of Religious Life (jk383) with questions.
Submit your 2021-2022 FAFSA
File the 2021-22 FAFSA by April 15 at https://www.fafsa.ed.gov
Continuing students should file the 2021-22 Free Application for Federal Student Aid (FAFSA) to apply for federal, state and University need-based financial aid, including all federal student loans. UE's FAFSA code is 001795.
Filing by April 15 is essential for Indiana residents to receive state aid, and highly recommended for all.
Questions regarding the FAFSA should be directed to the Student Financial Services (Olmsted Administration Hall, Room 105) at 812-488-2364.
UE Men Set for Rematch at Indiana State
In the finale of a unique home-and-home Missouri Valley Conference series, the University of Evansville men's basketball team travels to Terre Haute to face Indiana State on Wednesday evening at 4 p.m. CT. The Purple Aces Radio Network and ESPN+ will have full coverage.
Setting the Scene
UE looks to halt a 9-game skid against the Sycamores in Wednesday's contest while also looking to put an end to a road losing streak versus ISU...the last Evansville win inside the Hulman Center was more than 10 years ago - January 26, 2011
Evansville looks to regain its outside shooting touch...UE has hit 9 or fewer triples in five of the last six games...prior to that, UE hit 10 or more 3-pointers in 7 out of 8 games between Dec. 21 and Jan. 16
The Sycamores have won eight of their last nine games
Last Time Out
A game that featured pivotal runs by both teams saw Indiana State overcome an 8-point deficit with four minutes remaining in the first half to take a 37-35 lead at the break on Sunday at the Ford Center
In the second half, ISU led by as any as 13 tallies before hanging on for a 76-70 victory
Shamar Givance and Jawaun Newton led the Aces with 14 points apiece while Samari Curtis scored 13 and Noah Frederking finished with 10
Points off turnovers played a huge role in the game as the Aces gave up a season-high 21 points in that department
Quite a Streak
Noah Frederking has put together a streak of four consecutive double figure contests while reaching the 10-point mark in 12 games this season...he has registered 6 points or more in 18 out of 19 games
Frederking led the Aces with 14.5 PPG in the Loyola series going 7-for-12 from outside and 11-of-21 overall
His outside shooting has been steller over the last three games with 9 of his 16 attempts finding the bottom of the net
Quite a Streak
Noah Frederking has put together a streak of four consecutive double figure contests while reaching the 10-point mark in 12 games this season...he has registered 6 points or more in 18 out of 19 games
Frederking led the Aces with 14.5 PPG in the Loyola series going 7-for-12 from outside and 11-of-21 overall
His outside shooting has been steller over the last three games with 9 of his 16 attempts finding the bottom of the net
Scouting the Opponent
On Sunday, Indiana State took a 76-70 win over the Aces at the Ford Center for their 8th win in the last nine games...their record stands at 12-8 overall and 9-6 in the Valley
ISU was led by Tyreke Key, who scored 29 points...he hit 12 of his 17 attempts to push his season scoring average to a team-leading 16.6 points per game
Jake LaRavia and Cooper Neese check in with 12.2 and 10.8 points per game, respectively
LaRavia has a team-high 44 assists and 29 steals while sitting second with 6.0 rebounds per game and a total of 17 blocked shots
Contribute to AceNotes
To have content considered for inclusion in AceNotes, please submit a Marketing Request Form. Deadline for submission to AceNotes is 10:00 a.m. on the requested date of publication. Only articles concerning UE related/sponsored activities will be accepted. Articles submitted to AceNotes may be edited for length and clarity. Submitter contact information is at the end of each article.