| | |
| --- | --- |
| AceNotes Today | Monday, February 15, 2021 |
Campus Closed Feb. 15 Due to Inclement Weather
Due to a severe winter storm predicted to arrive overnight, campus will be closed Monday, February 15. All buildings will be locked except Ridgway, which will be open for dining. The National Weather Service is predicting 1-3 inches of snow overnight, with total snowfall prediction of 6-12 inches during the winter storm. The wind-chill will be near or below zero, so please use caution while outside.
CLASSES: No face-to-face classes will meet, but professors may move classes to a virtual format. Online classes are not automatically cancelled and will be held at the discretion of the professor.
DINING: Cafe Court and Aces Place will be open to serve students on a regular schedule. Chick-fil-A and Rademachers will be closed. Details regarding any further adjusted schedules will be posted on the UE Residence Life Facebook page. Any follow-up messages will also be communicated through digital media and/or printed signs on the first floor of Ridgway.
EMPLOYEES: Campus is closed. Employees are not to report to campus with the exception of the Office of Public Safety and Physical Plant, or if instructed by your supervisor. Employees with access to work remotely may be required to attend any timely or urgent virtual meetings. Please check with your immediate supervisor for guidance.
EVENTS: All activities and programs are also cancelled unless otherwise noted. If there is a scheduled athletics event, a cancellation decision will be made later in the day. Planned admission events will be handled on a case-by-case basis.
All-Campus Art Project
Whether you are the next Picasso or you can only draw a stick-person, the Office of Religious Life needs your help! Between now and April 9, on a normal piece of printer paper, draw what you imagine your spirituality looks like. Then drop off your masterpiece at the Center for Diversity, Equity, & Inclusion. At the end of the semester, we'll "stitch" all these drawings together to create a "quilt" displayed in Neu Chapel. Submissions from students, faculty, and staff are all welcome. Contact the Director of Religious Life (jk383) with any questions.
This Week in Religious Life
CHRISTIAN WORSHIP
Due to pandemic restrictions, UE will not offer Protestant worship in Neu Chapel this semester. There are several churches in walking distance of our campus that are open for virtual and/or in-person worship on Sundays.
Methodist Temple (masks required)
8:30am, traditional worship
11:00am, contemporary worship
Redeemer Lutheran (masks required)
8:00am and 10:30am, traditional worship
A Catholic Mass is offered each Sunday in Neu Chapel at 1PM.
ASH WEDNESDAY
Ash Wednesday is Wednesday, February 17. If you plan to commemorate the beginning of Lent in person, there are several opportunities either on-campus or within walking distance. A Catholic Mass will be offered at 5PM in Neu Chapel led by Bishop Siegel. Methodist Temple will offer a Protestant service at 12PM (noon).
OTHER EVENTS
Visit the UE YouTube page to see the new video series, "Spiritual Practices in Tough Times." Twice a month, this series will highlight a spiritual practice from Christianity, Judaism, or Islam that can help you de-stress.
The Muslim and Christian Prayer Rooms in Neu Chapel are available for use 24/7. Contact the Muslim Student Association for keycard access to the Muslim Prayer Room.
This Wednesday's Newman Night is virtual. Join in on backyard.co for video chat and games.
If you'd like to try out a Newman small group, you can signup at https://docs.google.com/forms/d/e/1FAIpQLSecFpCOiycpWm-GylEffN-8CLo9PcI15IxAp1oeVjlr70khTA/viewform?usp=pp_url.
The Center for Diversity, Equity, and Inclusion invites you to 'Spill the Tea on Implicit Bias and Politics'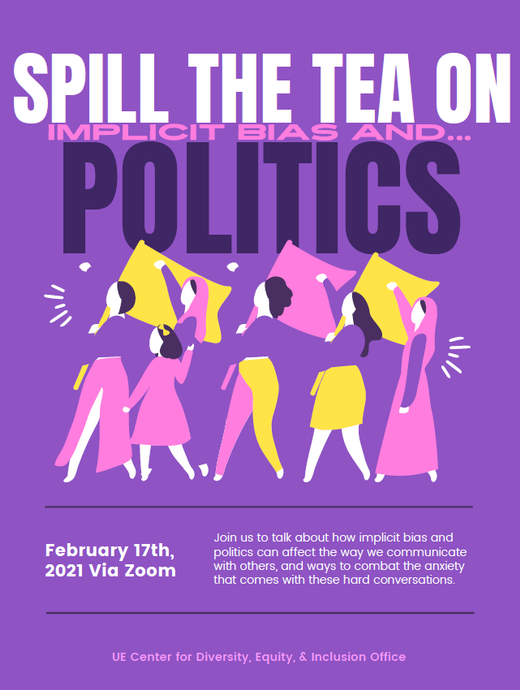 Join the Center for Diversity, Equity, and Inclusion at 6:00 PM on Wednesday, February 17th for the second part of their four part program: "Spill the Tea on Implicit Bias and Politics: 21 Days to Break a Habit" . Learn about Empathy and Civics from the Director of the Center for Innovation and Change, Erin Lewis; listen to student testimonial, and take part in a moderated discussion on implicit biases in politics. Follow along with @uediversity on Instagram for additional programming.
The Center plans on holding this online event on Wednesday even if the snow cancels in-person class.
Register for the Spill the Tea on Implicit Bias and Politics at: https://zoom.us/meeting/register/tJYrdeqhqDosHd3LjrC4nHP3ZvFRiWBl2hgX.
Keep and eye out on social media and Acenotes for part three"....Implicit Bias and Ability" and part four "...Implicit Bias and the LGBTQ+ Community".
Save the Date: Commencement Ceremonies
Since the academic year began last fall, we have remained hopeful for in-person graduation ceremonies. Our Coronavirus Task Force has been closely monitoring the COVID-19 situation, and trends are thankfully moving in the right direction. With great excitement, we invite you to save the date for in-person Commencement ceremonies:
Friday, May 7 at 7:00 p.m. - Class of 2020 (postponed from May 2020)
Saturday, May 8 at 10:00 a.m. - Class of 2021, College of Education and Health Sciences and College of Engineering and Computer Science
Saturday, May 8 at 7:00 p.m. - Class of 2021, William L. Ridgway College of Arts and Sciences and Schroeder Family School of Business Administration
Commencement ceremonies will be held at the Ford Center in downtown Evansville. Each ceremony will be a ticketed event with a limited number of guests for each student. Ceremony plans are pending approval from the Vanderburgh County Health Department. Additional details will be communicated at a later date.
THE HUSTACE WORLD VIEW Paintings by Cedric Hustace
ART EXHIBIT IN KRANNERT GALLERY: THE HUSTACE WORLD VIEW
Paintings by
CEDRIC HUSTACE
February 21 – April 4, 2021
Public Reception for the Artist: Thursday, March 18, 2021, 6:30pm
This exhibit is part of the Emerging Contemporary Artist Lecture Series, sponsored by the Department of Art, with the generous support of the Efroymson Family Fund.
Submit your 2021-2022 FAFSA
File the 2021-22 FAFSA by April 15 at https://www.fafsa.ed.gov
Continuing students should file the 2021-22 Free Application for Federal Student Aid (FAFSA) to apply for federal, state and University need-based financial aid, including all federal student loans. UE's FAFSA code is 001795.
Filing by April 15 is essential for Indiana residents to receive state aid, and highly recommended for all.
Questions regarding the FAFSA should be directed to the Student Financial Services (Olmsted Administration Hall, Room 105) at 812-488-2364.
UE Library Display Cases
Do you have a club you want people to know about? Do you have an event you want others to attend? How about showing off your class work? If you said YES, then the Library has a display case for you! Contact Julie Wilson at jw223@evansville.edu or (812) 488-1062 for more information or to make a reservation.
Congratulations to Our Ace Certificates Recipients
Congratulations to those students who completed the ACE Pathway in Fall 2020 earning the ACE Certificate!
Kayla Blake, Keaton Carr, Savannah Cook, Brittany Corley, Nicholas Galloway, Minka Gill, Haylee Harmeyer, Lauren Meyer, Rachel Pritts, Andrea Ruiz Ramis, Adriana Sheridan, Kirsten Spears, Taylor Thomas, Benjamin Venero Concha, and Emma Wininger.
The ACE Pathway is a guided checklist for students in preparation for career-readiness. And, the ACE Certificate is awarded to those students completing each element in the categories of self-evaluation, communication and professional image development, and engagement and connection.
The ACE Pathway is open to all current students and can be accessed via Blackboard: COURSES (ACE Pathway): Request to Join. This 0-credit course will remain open until graduation allowing students to complete each element at their own pace. Step-by-step guidance is provided for creating a professional resume, cover letter, preparing for mock interviews, and so much more. Join anytime to be career ready!
Questions? Contact the Center for Career Development at 812-488-1083 or Kelly Bargeloh (kb396).
Women's Golf Opener Now Set for March
Due to COVID-19 protocols, the University of Evansville women's golf team will not take part in the season-opening Amelia Island Collegiate, which was set for February 15-16 in Amelia Island, Fla.
The Purple Aces now set their sights on the Benbow Invitational, which is scheduled for March 8-9 in Jacksonville Beach, Fla.
Vazquez Leads Aces in Road Contest at Loyola
Junior Alondra Vazquez recorded a season-high 23 kills and helped the University of Evansville volleyball team
battle Loyola in five sets before the Ramblers made a huge run in the fifth game to take a 3-2 win on Sunday afternoon.
Vazquez posted 23 kills for UE (2-5, 1-4 MVC) while Chloe Bontrager and Melanie Feliciano added 10 apiece. Allana
McInnis and Cecilia Thon added 26 and 16 assists, respectively, while Rachel Basinski had 21 digs. Brooke Springer had a nice game on the defensive side, earning six block assists. Loyola (5-1, 4-1 MVC) saw Anna Feldkamp and Emily Banitt post 15 kills apiece.
Game 1
The opening five points of the day belonged to the Ramblers, who would lead for the duration of the set. They would extend the lead to double figures at 19-9 before finishing with a 25-13 win.
Game 2
Evansville put together a strong showing in game two. Trailing 9-7, a kill by Cecilia Thon started a 3-0 stretch that put the Aces in front. Hannah Watkins added a kill before Alondra Vazquez recorded a service ace that saw UE extend its lead to 16-12. Loyola got back within one at 16-15, but Evansville countered with a Feliciano kill that pushed the lead back to a pair. With her team clinging to a 21-20 lead, Alondra Vazquez had three kills that lifted her team to a 25-21 victory to tie the match.
Game 3
It was the Ramblers who posted the opening four tallies before the Aces back. Facing the early deficit, Chloe
Bontrager and Melanie Feliciano recorded kills while the defense forced five errors to give Evansville a 7-6 edge. Another Vazquez kill pushed the lead to three points at 11-8, but the Ramblers countered with a run that was capped off by a Kat Warpinski service ace that gave them an 18-17 advantage. UE fought back to tie it up at 19-19 before a late run gave Loyola a 25-21 decision and a 2-1 match lead.
Game 4
UE found itself in an early 8-3 hole, but it was Alondra Vazquez putting the match on her shoulders to help the
Aces rally to tie it up for the first time at 13-13. She had five kills in the rally with Bontrager adding one of her own. Another tally by Vazquez put the Aces in front at 16-15. The big run came with the Aces trailing by a 23-22 score. Bontrager added a kill before a Loyola error gave Evansville the lead. Feliciano finished it off with a kill that sent the match to a fifth set with Evansville's 25-23 triumph.
Game 5
An error by the Ramblers gave UE a 3-2 lead, but the tides turned as Loyola scored the next eight points to go in
front by a 10-3 margin. The deficit was too much to overcome as Loyola clinched the match with a 15-5 victory in game five.
UE will look to earn a series split when the teams meet up on Monday at 2 p.m. in Chicago.
Second Half Run Lifts Sycamores to Win over Aces
A 7-0 rally in the opening portion of the second half pushed Indiana State to a 76-70 victory over the University of Evansville men's basketball team on Sunday afternoon inside the Ford Center.
ISU (12-8, 9-6 MVC) trailed by eight points with just under four minutes remaining in the opening half. A late run saw them take a 2-point lead at the break before a 7-0 stretch in the second frame gave them the lead for good. Evansville (8-11, 6-7 MVC) was led by Shamar Givance and Jawaun Newton, who finished with 14 points apiece. Samari Curtis added 13 while Noah Frederking recorded 10. Tyreke Key hit 12 field goals on his way to a game-high 29 points for ISU.
"We kept fighting and we did have some good runs, but they (ISU) finished the first half well. Instead of us extending the lead, they cut into it and actually took the lead at the half," UE head coach Todd Lickliter said. "We just could not manufacture the points that we needed today and turned it over too many times."
Through the first 20 minutes, the Purple Aces shot 66.7% with 14 out of 21 attempts finding the bottom of the net. UE scored the first five points of the day with Jawaun Newton scoring on the opening possession before Jax Levitch converted the first triple of the game. Indiana State responded with nine in a row to take their first lead at 9-5.
Newton ended a drought of nearly five minutes with a basket before Samari Curtis found an open Evan Kuhlman who knotted it at 9-9. With ISU up by a 19-15 score, the Aces scored the next nine points to open up a 24-19 advantage. Curtis got it started with a 3-point play before finishing it off with a field goal. UE's defense held the Sycamores scoreless for a span of four minutes.
Evansville's hot shooting continued as back-to-back field goals from Iyen Enaruna cemented a 31-23 UE lead with 3:50 remaining in the half. Indiana State scored the next five points over the ensuing 48 seconds and continued to rally back over the final moments of the half. A Tyreke Key jumper at the buzzer capped off a 14-4 run that sent ISU to the half with a 37-35 lead.
Baskets from Curtis and Newton saw the Aces knot the score at 39-39 at the 16:47 mark, but the next seven points belonged to the Sycamores as they changed the course of the game to take a 46-39 lead with 13:48 remaining. Just over two minutes later, their lead would reach double figures before a basket at the 7:59 mark gave them their largest lead at 60-47.
The lead hovered around ten points until the final minute when a Newton field goal made it a 74-67 game. Jax Levitch got the Aces even closer with a triple that cut ISU's lead to 74-70, but with just eight ticks left in the contest, the run was not enough with the Sycamores taking a 76-70 win.
UE finished the game shooting 54.3% while the Sycamores finished at 59.6%. Both teams finished with 24 rebounds. Newton was the Aces top performer on the boards, finishing with seven.
On Wednesday, the teams will square off once again in a 4 p.m. CT game in Terre Haute.
Slow Start Too Tough to Overcome in Loss to Loyola
Slowed by offensive struggles in the first half, the University of Evansville women's basketball team fell to Loyola, 61-31, in the series finale on Saturday night inside Meeks Family Fieldhouse.
For the second-straight night, sophomore Abby Feit powered the Aces with nine points, picking-up four boards for Evansville. Feit also showed her aggressiveness by drawing a team-high seven fouls in the loss. Just behind Feit were juniors Anna Newman (seven points) and A'Niah Griffin (six points). The Ramblers had three in double-figures led by Allison Day, who tallied 16 points in 19 minutes on the floor.
Much like Friday, Loyola controlled the opening 10 minutes, out-scoring the Aces 18-4 in the first stanza. Evansville shot just 7.1% (1-14) from the floor in the opening quarter, while the Ramblers hit 7-of-17 (41.2%) shots from the field. Evansville bounced-back in the second half, scoring nine points in the quarter and showcasing strong defense, limiting Loyola to just 10 in the period as the Ramblers led 28-13 at the break.
The Ramblers resumed their efficient shooting night in the third quarter, scoring a game-high 24 points right out of the gate in the second half, pushing their lead to 52-21 with 10 minutes remaining. The final quarter saw Evansville out-score the Ramblers, 10-9, as Loyola picked-up the 61-31 win.
Evansville returns to action on Friday and Saturday when the Aces travel to take on Valparaiso in Valparaiso, Ind.
Aces Volleyball Travels to Chicago for Weekend Series
This weekend, the University of Evansville volleyball team is back on the road for a 2-game series at Loyola. The teams open the series with a 1 p.m. match on Sunday before squaring off on Monday at 2 p.m. with both games being carried live on ESPN+.
Last Time Out
Melanie Feliciano led the Purple Aces with 11 kills in Monday's series finale against UNI
The Panthers finished with a 3-0 win behind a 19-kill performance by Emily Holterhaus
Alondra Vazquez posted six kills while Hannah Watkins and Brooke Springer had four and three, respectively
Off to a Nice Start
Freshman Elise Moeller made her college debut at Indiana State and finished with a solid total of six kills in 17 attempts on her way to hitting .294
She set her season marks with seven kills and 24 attempts in the rematch versus ISU on Jan. 29
Rachel Basinski has seen increased playing time as the Aces libero and set her early career mark with eight digs in the opening match against UNI
Brooke Springer made her college debut in the series against the Panthers and registered 4 and 3 kills, respectively while adding a total of five block assists
Emilee Scheumann also made her debut versus UNI and had a kill in the second contest
Numbers are Climbing
The outstanding start to the season continued for Alondra Vazquez, who recorded 17 kills in the opener against UNI
Through six matches, she ranks 5th in the MVC with 3.59 kills per game and has 17 or more kills on three occasions
After posting a team-high 17 double-doubles in 2019, Vazquez has added three more in 2021
Scouting the Opponent
Loyola stands at 4-1 overall and is 3-1 in Missouri Valley Conference play
Their lone setback was a 3-1 defeat at Valparaiso, but they rebounded with a road sweep at Southern Illinois last weekend
Sarah Murczek paces the offense with 3.15 kills per set while Grace Hinchman anchors the defense with an average of 4.85 digs
Contribute to AceNotes
To have content considered for inclusion in AceNotes, please submit a Marketing Request Form. Deadline for submission to AceNotes is 10:00 a.m. on the requested date of publication. Only articles concerning UE related/sponsored activities will be accepted. Articles submitted to AceNotes may be edited for length and clarity. Submitter contact information is at the end of each article.