| | |
| --- | --- |
| AceNotes Today | Friday, February 12, 2021 |
UEAAA Celebrates Black History Event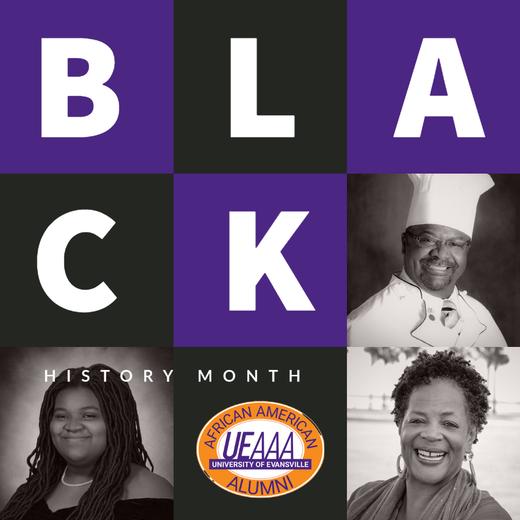 You are invited!
The University of Evansville African American Alumni Association (UEAAA), UE's Black Student Union (BSU) & UE's Fellow Scholars will host a virtual African Feast to Celebrate Black History on Tuesday, February 16, 2021 at 6:30 p.m. CST.
Our feast will be delectable African themed stews w/bread, an array of delicious cookies, and tea/lemonade. The meal is through a generous donation by Ivy Tech Community College Hospitality and Culinary Arts Program, prepared by Ms. Clarissa Boone, Lab Tech. The cookies are being provided as a donation from business owner and former Ivy Tech student, Cakes by Shea. Many thanks to Alumni Chef Watez Phelps and his team.
UE Student HarMonee Baltzell will present a PowerPoint presentation on "The Early Days of African American Music." Renowned poet, writer, and spoken word artist, Tamara Madison, will come to us in her own way on Black History. The evening will culminate with a Q & A time slot, the importance of UEAAA, the ZPC Scholarship, and closing prayer.
Alumni, Staff & UE Students, if you plan to feast with us, please register to attend on or before Saturday, February 13. (We need to know how many meals to prepare.) Your meals can be picked up at the Diversity House on Weinbach Ave. prior to event time, beginning at noon.
UEAAA, BSU, & Fellow Scholars invite all interested to sign on and enjoy the evening with us!
Bettye Poole
President, UEAAA
This event is free, but donations to the ZPC Scholarship are accepted.
This Week in Music
Dr. Emily Britton, horn, and Professor Ross Erickson, percussion, will present a video recital this Wednesday, February 10, at 7:30 pm. The overall theme of the concert will center on children's fairy tales with pieces titled "Enchanted Forest," "Three Billy Goats Gruff," "Dragons in the Sky" and other fantasy conjuring titles. They will be accompanied by Thomas Drury on piano, Bonnie Farr on oboe, Jesse Schartz on bassoon, Cyrus Williams as narrator.
Be a part of the magic by watching the performance on Wednesday at 7:30 p.m. or any time after Wednesday evening for the rest of the week at the following link: https://www.evansville.edu/majors/music/calendar.cfm
The Center for Diversity, Equity, and Inclusion invites you to 'Spill the Tea on Implicit Bias and Politics'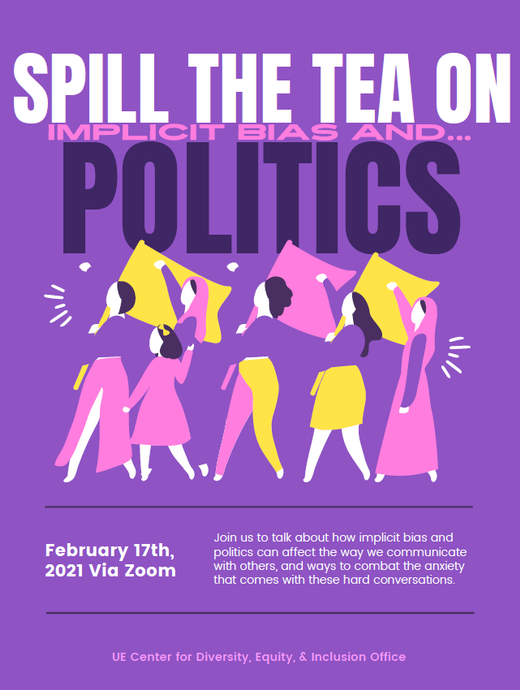 Join the Center for Diversity, Equity, and Inclusion at 6:00 PM on Wednesday, February 17th for the second part of their four part program: "Spill the Tea on Implicit Bias and Politics: 21 Days to Break a Habit" . Learn about Empathy and Civics from the Director of the Center for Innovation and Change, Erin Lewis; listen to student testimonial, and take part in a moderated discussion on implicit biases in politics. Follow along with @uediversity on Instagram for additional programming.
The Center plans on holding this online event on Wednesday even if the snow cancels in-person class.
Register for the Spill the Tea on Implicit Bias and Politics at: https://zoom.us/meeting/register/tJYrdeqhqDosHd3LjrC4nHP3ZvFRiWBl2hgX.
Keep and eye out on social media and Acenotes for part three"....Implicit Bias and Ability" and part four "...Implicit Bias and the LGBTQ+ Community".
Save the Date: Commencement Ceremonies
Since the academic year began last fall, we have remained hopeful for in-person graduation ceremonies. Our Coronavirus Task Force has been closely monitoring the COVID-19 situation, and trends are thankfully moving in the right direction. With great excitement, we invite you to save the date for in-person Commencement ceremonies:
Friday, May 7 at 7:00 p.m. - Class of 2020 (postponed from May 2020)
Saturday, May 8 at 10:00 a.m. - Class of 2021, College of Education and Health Sciences and College of Engineering and Computer Science
Saturday, May 8 at 7:00 p.m. - Class of 2021, William L. Ridgway College of Arts and Sciences and Schroeder Family School of Business Administration
Commencement ceremonies will be held at the Ford Center in downtown Evansville. Each ceremony will be a ticketed event with a limited number of guests for each student. Ceremony plans are pending approval from the Vanderburgh County Health Department. Additional details will be communicated at a later date.
Black History Month Challenge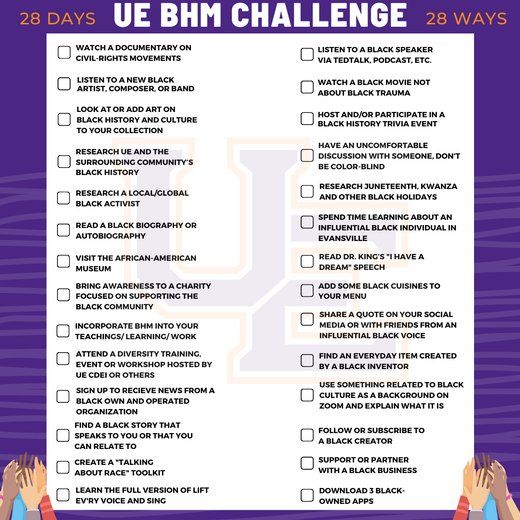 During Black History Month join the UE BHM Challenge sponsored by the Center for Diversity, Equity and Inclusion! In this challenge you will find 28 ways for 28 days of Black History Month to actively learn, engage, support, and uplift Black culture from Evansville and around the world. Items listed in the challenge can be done personally or in a social group! Do some personal research on Juneteenth or grab a friend and some popcorn and watch Just Mercy. Either way you do it, #BHMChallenge yourself! Happy Black History Month!
Watch a documentary on civil-rights movements
Listen to a new Black artist, composer, or band
Look at or add art on Black history and culture to your collection
Research UE and the surrounding community's Black history
Research a local/global Black activist
Read a Black biography or autobiography
Visit the African-American museum
Bring awareness to a charity focused on supporting the Black community
Incorporate BHM into your Teachings/ Learning/ Work
Attend a diversity training, event or workshop hosted by UE CDEI or others
Sign up to receive news from a Black own and operated organization
Find a Black story that speaks to you or that you can relate to
Create a "Talking about Race" Toolkit
Learn the full version of Lift Ev'ry Voice and Sing
Listen to a Black speaker via TedTalk, PodCast, etc.
Watch a Black movie not about Black trauma
Host and/or participate in a Black history trivia event
Have an uncomfortable discussion with someone, don't be color-blind
Research Juneteenth, Kwanza and other Black holidays
Spend time learning about an influential Black individual in Evansville
Read Dr. King's "I Have a Dream" speech
Add some Black cuisines to your menu
Share a quote on your social media or with friends from an influential Black Voice
Find an everyday item created by a Black inventor
Use something related to Black culture as a background on zoom and explain what it is
Follow or Subscribe to a Black creator
Support or partner with a Black business
Download 3 Black-owned apps
Time Is Almost up to Get Textbooks for Spring 2021 Courses
If you still are in need of any textbooks for your Spring 2021 classes, please come into the bookstore this week to get them. We will start emptying our shelves and sending all books back to publishers next week in order to make room for the arriving shipments of books for the Summer sessions.
Bargain Book Blowout
Do you need a gift for a loved one? Or just looking for something new to read? Well look no further than the campus bookstore! We're having a big bargain book blowout, with all bargain titles priced for only $1! This sale will run until March 2nd and quantities are limited, so come visit us as soon as possible! [Please note, this is an in-store only sale.]
New Bookstore Hours Effective Immediately
Due to the ongoing COVID-19 situation, the bookstore is changing their hours of operation to the following until further notice:
Monday-Friday: 9a-4p
Saturday: 10a-2p
Sunday: Closed
Eykamp Prize: Call for Nominations
The Eykamp Prize was established by Richard and Rita Eykamp in 2015 to honor Faculty Achievement at the University of Evansville. Recipients of the prize will receive an award of $10,000 in recognition of extraordinary contributions to the University of Evansville as University Citizens. Examples of such contributions include deep and successful involvement in recruiting students; expanding the number, scope, and competitiveness of grant funding for their department; bringing positive public awareness to the University through scholarship, knowledge, and understanding of their discipline.
Nominations for the Eykamp Prize may come from any member of the University of Evansville community. Nominees should be tenured or tenure-track faculty members at the University of Evansville who have not received the award in the previous five years. Nominations can be submitted in writing or via e-mail to Dr. Michael Austin, Executive Vice President for Academic Affairs and Provost, at ma352@evansville.edu by March 12, 2021. Nominations should include the name of the faculty member and a brief statement of the reasons that he or she is being nominated.
Recipients of the Eykamp Prize will be selected by an Awards Committee appointed by the EVPAA and Provost that includes members of the faculty and staff, academic administrators, and at least one member of the Board of Trustees. The award will be announced and presented at the May Commencement Ceremony.
Previous recipients in the last five years are: 2016 – Dr. Mark Valenzuela; 2017 – Dr. Lora Becker; 2018 – Dr. David Dwyer; 2019 – Dr. Kristy Miller; and 2020 – Dr. Jerrilee LaMar.
Walking Club?! New Club on Campus! Check it out
Hey everyone!
You have to crawl before you walk, so crawl if you want, but if not check out and join the new UE Walking Club!
Walk or run with a friend, by yourself, or even walk your dog.
Not interested yet?!
Well you can earn the first ever UE Walking Club shirt after completing 100 miles in 100 days!
One small step at a time, you can get active and stay healthy by joining this club.
The 100 mile challenge runs from February 1st to May 11th
Contact Jamie Vance at jv102@evansville.edu to sign up or to learn more!
Congratulations to Our Ace Certificates Recipients
Congratulations to those students who completed the ACE Pathway in Fall 2020 earning the ACE Certificate!
Kayla Blake, Keaton Carr, Savannah Cook, Brittany Corley, Nicholas Galloway, Minka Gill, Haylee Harmeyer, Lauren Meyer, Rachel Pritts, Andrea Ruiz Ramis, Adriana Sheridan, Kirsten Spears, Taylor Thomas, Benjamin Venero Concha, and Emma Wininger.
The ACE Pathway is a guided checklist for students in preparation for career-readiness. And, the ACE Certificate is awarded to those students completing each element in the categories of self-evaluation, communication and professional image development, and engagement and connection.
The ACE Pathway is open to all current students and can be accessed via Blackboard: COURSES (ACE Pathway): Request to Join. This 0-credit course will remain open until graduation allowing students to complete each element at their own pace. Step-by-step guidance is provided for creating a professional resume, cover letter, preparing for mock interviews, and so much more. Join anytime to be career ready!
Questions? Contact the Center for Career Development at 812-488-1083 or Kelly Bargeloh (kb396).
Men's Basketball Welcomes Indiana State on Sunday
A pivotal home game is on tap for the University of Evansville men's basketball team when the Purple Aces welcome Indiana State on Sunday afternoon at 3 p.m. The Purple Aces Radio Network and ESPN3 will have full coverage.
Setting the Scene
This is a huge contest that will have implications within the Missouri Valley Conference standings...Indiana State is currently in 4th place with an 8-6 league mark while the Aces sit in 5th with a 6-6 record
Following Sunday's game, the squads reconvene in Terre Haute on Wednesday, Feb. 17 for a 4 p.m. CT game
The Sycamores have been on a roll, winning seven of their last eight games this season and are currently the only MVC team to defeat Loyola this year
In the series against the Aces, ISU has won eight in a row dating back to January of 2018...prior to that, Evansville had the upper hand, winning five out of seven
Last Time Out
It was another hard-fought contest when the Aces faced Loyola on Sunday in Chicago...the Ramblers led by as many as 14 points before the Aces got back within two possessions late in the second half
Trailing by 13 at the break, Evansville improved greatly in the second half...UE shot just 30.4% to open the game, but hit 51.9% of its attempts in the final 20 minutes to close the gap
Shamar Givance scored a team-best 17 points while Jawaun Newton knocked down 8 of his 11 attempts to register 16
Noah Frederking added 14 tallies while draining 4 of his 5 long range attempts
Pinpoint Accuracy
To say that Jawaun Newton has been efficient is a great understatement...since 1/2/21, Newton an unbelievable 57-for-99 from the field, 71.9% inside the arc and has shot 57% or higher in seven of the last 10 games
He connected on 8 of his 11 attempts in game 2 at Loyola, including all eight tries from inside the arc...in the Valparaiso series, Newton hit 12 of his 15 shots from inside while averaging 14.5 points
At Bradley, Newton set his career mark with 22 points in the opening contest...the junior hit 9 of his 14 attempts, including 4 out of 6 from outside...the final tally surpassed his previous mark of 19, which came on two occasions earlier in the season
Quite a Streak
UE's top scorer in the Loyola series was Noah Frederking, who averaged 14.5 points per game...he scored 15 in the opener before a 4-for-5 performance from outside saw him tally 14 on Sunday
In the 2-game series, Frederking was 7-for-12 from outside and 11-of-21 overall
Frederking has scored at least seven points in 16 out of 18 games this season and has reached double figures in 11 of those contests
After scoring 2 points game one against Illinois State, Frederking has rebounded to average 11.0 PPG in the last 7 games
Frederking has hit multiple 3-pointers in each of the last 7 games and 16 times in 18 games overall this season
Scouting the Opponent
Indiana State comes into Sunday's game with a record of 11-8 while going 8-6 in league play
The Sycamores are 7-1 over their last eight games including series sweeps over Bradley, Illinois State and Southern Illinois...on January 10, ISU dealt Loyola their only league loss of the season - a 76-71 win in Terre Haute
Tyreke Key paces ISU with 15.9 points per game and is third on the team with 5.3 rebounds
Jake LaRavia and Cooper Neese check in with 11.7 and 11.2 points per game, respectively
LaRavia has a team-high 44 assists and 29 steals while sitting second with 6.1 rebounds per game and a total of 16 blocked shots
Aces Return to the Court against Loyola with Momentum
After more than two weeks away from competition, the University of Evansville women's basketball team makes its way back to the court with a weekend series against Loyola on Friday and Saturday night inside Meeks Family Fieldhouse.
Last Time Out: Evansville 70, Indiana State 63 (OT)
Four Aces finished in double-figures with sophomore Abby Feit pacing Evansville with a game-high 19 points, adding nine boards, four blocks, and four assists.
The four blocks tied a career-high for Feit, who has reached the mark three times in her collegiate career.
Joining Feit in double-figures were redshirt-senior Lola Reed and junior A'Niah Griffin with 12 points and sophomore Sydney Thurwalker with 10 points.
Reed's effort on the night neared a triple-double as the second-year Aces player recorded eight rebounds and six assists to go along with her 12-point scoring performance.
For the Sycamores, Marie Hunter led the way with 16 points, 14 of which came in the opening half.
Indiana State grabbed an early advantage inside the first five minutes of the game, running out to as large as a seven-point lead just 1:40 into the contest. Evansville answered and held with the Sycamores for the first half, trailing by just two at the break.
Out of the half, Evansville raced-out to a 21-12 advantage in the third quarter, building its lead as large as nine at 45-36 with 3:17 left in the period.
The Sycamores would push back, out-scoring Evansville, 18-11, in the fourth and getting two important free throws with nine seconds remaining in regulation from Jamyra McChristine to send the game to overtime.
In overtime, it was all Evansville. The Aces scored seven of the first eight points in the overtime period, pulling-away for a 70-63 victory over Indiana State.
Previewing the Matchup: Loyola
Evansville and Loyola are meeting for the 40th time in the all-time series with the Ramblers owning a 27-12 advantage in the series.
Loyola enters the weekend having won seven-straight against the Aces.
In the last meeting between the two sides, Loyola earned a 77-47 win over the Aces in Chicago on Feb. 8, 2020.
Evansville's 70-63 overtime-win over Indiana State last Wednesday was the Aces first victory in The Valley since a 59-56 road victory over the Sycamores on March 1, 2019.
Entering last Wednesday, Evansville had led for just 11 minutes and 25 seconds in seven Missouri Valley Conference contests so far this season. In the 70-63 win over Indiana State, Evansville led for over 20 minutes.
Evansville's 70 points against the Sycamores were the most it had scored in MVC play this season.
This weekend's series pits two of the lowest scoring offenses in not only the MVC, but the nation. Loyola averages 60.4 points per game (8th in MVC, 250th in NCAA DI), while Evansville averages 58.9 points per game (9th in MVC, 268th in NCAA DI). The only MVC team with a lower scoring average is SIU at 56.6 points per game.
The last three games in the series have been won by a team scoring 70-or-more points. In the previous 10 meetings, a team reached 70 just once.
Griffin's Efficiency
Junior A'Niah Griffin has taken a major step forward this season in her shooting efficiency.
Through eight games this season, Griffin sits 333rd in the nation in effective field-goal percentage at 54.6%.
Last season, Griffin was 2,213th in the nation with an effective field-goal percentage of 40.2.
Back-to-Back in the Valley
Evansville is looking for its first back-to-back victories in the MVC since running off six-straigh conference wins during the 2016-17 season.
UE Men's Basketball Faculty/Staff Ticketing Update
In response to Governor Holcomb's executive order and in consultation with Mayor Lloyd Winnecke and VenuWorks, the Ford Center will open to 25% capacity for the three remaining University of Evansville men's basketball games. A limited number of complimentary faculty/staff tickets will be made available for each of these games. Please bring your UE ID to the Carson Center ticket office during regular business hours (Monday-Friday, 8:30 a.m.-5:00 p.m.) to claim your tickets. Each employee MUST be present to receive the tickets which will be assigned in seating pods of two (2). No exceptions will be made and seat locations will be assigned at the sole discretion of the ticket office. Please contact the Carson Center ticket office at (812) 488-2237 with any questions.
Contribute to AceNotes
To have content considered for inclusion in AceNotes, please submit a Marketing Request Form. Deadline for submission to AceNotes is 10:00 a.m. on the requested date of publication. Only articles concerning UE related/sponsored activities will be accepted. Articles submitted to AceNotes may be edited for length and clarity. Submitter contact information is at the end of each article.