| | |
| --- | --- |
| AceNotes Today | Thursday, February 11, 2021 |
UE Campus Closed Thursday Due to Inclement Weather
DUE TO INCLEMENT WEATHER: The campus will be closed during normal business hours tomorrow (Thursday), February 11. All buildings will be locked. Due to Icy conditions, please use care when crossing streets and sidewalks.
DINING: All dining venues will remain open on Thursday. Rademachers will open at 9 a.m. Details regarding adjusted schedules will be posted on the UE Residence Life Facebook page and any follow-up messages will be communicated through digital media and/or printed signs on the first floor of Ridgway.
EMPLOYEES: Campus is closed. Employees are not to report to campus with the exception of the Office of Public Safety and Physical Plant, or if instructed by your supervisor. Employees with access to work remotely may be required to attend any timely or urgent virtual meetings. Please check with your supervisor if you have any questions.
EVENTS: All events, including Wellness Day activities and programs, have been cancelled. If there is a scheduled athletics event, a cancellation decision will be made later in the day. Planned admission events will be handled on a case-by-case basis.
UEAAA Celebrates Black History Event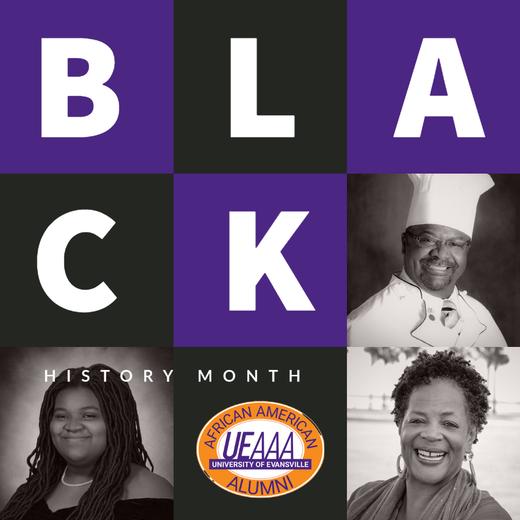 You are invited!
The University of Evansville African American Alumni Association (UEAAA), UE's Black Student Union (BSU) & UE's Fellow Scholars will host a virtual African Feast to Celebrate Black History on Tuesday, February 16, 2021 at 6:30 p.m. CST.
Our feast will be delectable African themed stews w/bread, an array of delicious cookies, and tea/lemonade. The meal is through a generous donation by Ivy Tech Community College Hospitality and Culinary Arts Program, prepared by Ms. Clarissa Boone, Lab Tech. The cookies are being provided as a donation from business owner and former Ivy Tech student, Cakes by Shea. Many thanks to Alumni Chef Watez Phelps and his team.
UE Student HarMonee Baltzell will present a PowerPoint presentation on "The Early Days of African American Music." Renowned poet, writer, and spoken word artist, Tamara Madison, will come to us in her own way on Black History. The evening will culminate with a Q & A time slot, the importance of UEAAA, the ZPC Scholarship, and closing prayer.
Alumni, Staff & UE Students, if you plan to feast with us, please register to attend on or before Saturday, February 13. (We need to know how many meals to prepare.) Your meals can be picked up at the Diversity House on Weinbach Ave. prior to event time, beginning at noon.
UEAAA, BSU, & Fellow Scholars invite all interested to sign on and enjoy the evening with us!
Bettye Poole
President, UEAAA
This event is free, but donations to the ZPC Scholarship are accepted.
This Week in Music
Dr. Emily Britton, horn, and Professor Ross Erickson, percussion, will present a video recital this Wednesday, February 10, at 7:30 pm. The overall theme of the concert will center on children's fairy tales with pieces titled "Enchanted Forest," "Three Billy Goats Gruff," "Dragons in the Sky" and other fantasy conjuring titles. They will be accompanied by Thomas Drury on piano, Bonnie Farr on oboe, Jesse Schartz on bassoon, Cyrus Williams as narrator.
Be a part of the magic by watching the performance on Wednesday at 7:30 p.m. or any time after Wednesday evening for the rest of the week at the following link: https://www.evansville.edu/majors/music/calendar.cfm
Save the Date: Commencement Ceremonies
Since the academic year began last fall, we have remained hopeful for in-person graduation ceremonies. Our Coronavirus Task Force has been closely monitoring the COVID-19 situation, and trends are thankfully moving in the right direction. With great excitement, we invite you to save the date for in-person Commencement ceremonies:
Friday, May 7 at 7:00 p.m. - Class of 2020 (postponed from May 2020)
Saturday, May 8 at 10:00 a.m. - Class of 2021, College of Education and Health Sciences and College of Engineering and Computer Science
Saturday, May 8 at 7:00 p.m. - Class of 2021, William L. Ridgway College of Arts and Sciences and Schroeder Family School of Business Administration
Commencement ceremonies will be held at the Ford Center in downtown Evansville. Each ceremony will be a ticketed event with a limited number of guests for each student. Ceremony plans are pending approval from the Vanderburgh County Health Department. Additional details will be communicated at a later date.
Wellness Day At Paoli Peaks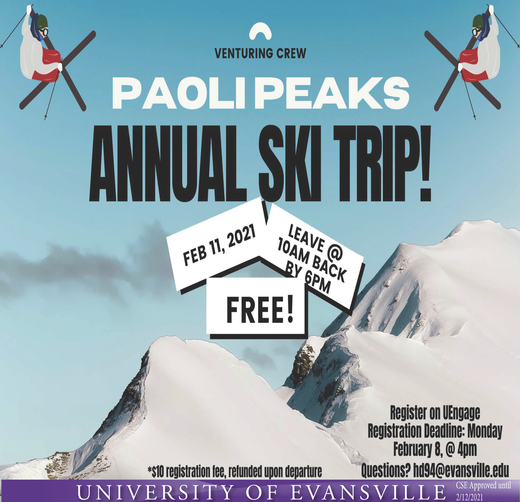 Need plans for the first Wellness Day on Feb. 11th? Venturing Crew has you covered for FREE!. Come hit the slopes with your friends at Paoli Peaks, and try your luck at skiing or snowboarding or show off your skills as a seasoned athlete. Sign up on UEngage. Last day to sign up is Feb. 8, 2021. If you have any questions, contact hd94@evansville.edu. Everyone is welcome!
*$10 deposit required, refunded on departure.
Department of Art presents: DUALITY-Reagan Furqueron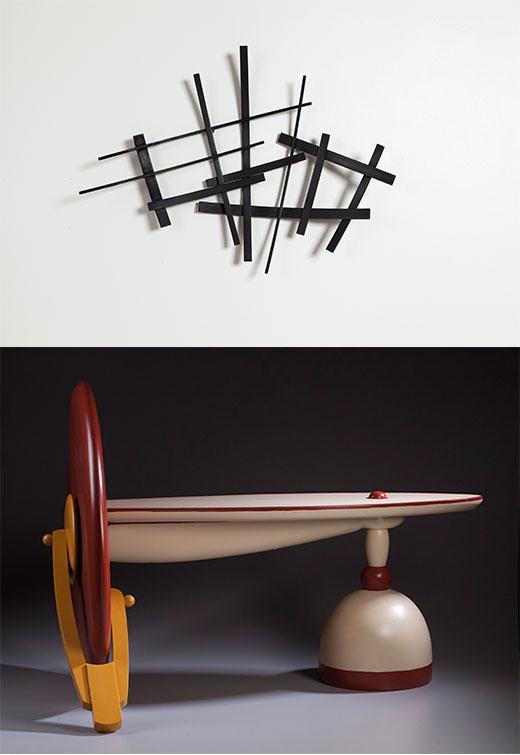 Melvin Peterson Gallery
January 19 – February 27, 2021
Reagan Furqueron is an artist and educator living in Indianapolis, Indiana. He received his BFA from Texas Tech University and a MFA from Rochester Institute of Technology's School for American Crafts in Woodworking/Furniture Design. He is an Associate Professor at Herron School of Art and Design IUPUI He has work in international and national private and permanent collections including The Museum of Art and Design in NYC. This exhibition is sponsored by The Efroymson Family Fund.
Artist's Exhibition: January 19 - February 27, 2021
Student Lecture: Wednesday, February 3, 10:00am
Student Workshop in the Sculpture Studio: Wednesday, February 3, 2:00pm
Public Reception for the Artist and Lecture: Thursday, February 4, 6:30, Lecture at 7p.
Masks and Safe-Distancing are required at all events.
Gallery Hours
MTFS: Noon - 3:00pm
WTH: Noon – 6:00pm
Wellness Day Yoga Link
Take a break from catching up on studies or work with a gentle yoga class from Megan Sicard! Carve out about 30 minutes and follow along on YouTube at your own convenience. https://youtu.be/DV6MtZzNHDY
The Fitness Center's Namaste on Zoom yoga challenge series also continues every Monday and Wednesday at 6:00 p.m. through February 24th. There is no expectation to complete the series; simply join anytime you need to find your zen! (Zoom Meeting ID: 966 1326 0926, Passcode: ueyoga)
Time Is Almost up to Get Textbooks for Spring 2021 Courses
If you still are in need of any textbooks for your Spring 2021 classes, please come into the bookstore this week to get them. We will start emptying our shelves and sending all books back to publishers next week in order to make room for the arriving shipments of books for the Summer sessions.
Reimagining the Department of Music
On Monday, the University of Evansville announced a plan to not only retain the Department of Music, but to transform the program to better serve the campus and the greater Evansville community. The Department of Music will be renamed the UE Music Conservatory, and all current music majors, minors, and performance ensembles will be retained. This exciting news was announced in a video for the UE community.
This reimagined program – which includes the creation of the UE Music Conservatory and plans for a fully renovated Wheeler Concert Hall – is the result of a collaborative effort including the Department of Music co-chairs, music faculty, Friends of UE Music, donors, members of the Board of Trustees, and the administration.
The University would like to thank G. Richard and Rita Eykamp, Sharon McCarthy (Mrs. Burkley McCarthy), and John C. and Diane Schroeder for their leadership gifts that will serve as the foundation for the renovation of Wheeler Concert Hall.
After receiving hundreds of letters from faculty, students, alumni, parents and the greater Evansville community, UE worked together and finalized a plan that increases revenue and reduces costs that will make the program sustainable for decades to come.
The University wants to thank everyone involved for their dedication to the Department of Music that exuded the changemaker spirit of this campus to reimagine the program in a way that benefits the University community, students, community partners, and the entire community of Evansville.
Submit your 2021-2022 FAFSA
File the 2021-22 FAFSA by April 15 at https://www.fafsa.ed.gov
Continuing students should file the 2021-22 Free Application for Federal Student Aid (FAFSA) to apply for federal, state and University need-based financial aid, including all federal student loans. UE's FAFSA code is 001795.
Filing by April 15 is essential for Indiana residents to receive state aid, and highly recommended for all.
Questions regarding the FAFSA should be directed to the Student Financial Services (Olmsted Administration Hall, Room 105) at 812-488-2364.
UE Library Display Cases
Do you have a club you want people to know about? Do you have an event you want others to attend? How about showing off your class work? If you said YES, then the Library has a display case for you! Contact Julie Wilson at jw223@evansville.edu or (812) 488-1062 for more information or to make a reservation.
Congratulations to Our Ace Certificates Recipients
Congratulations to those students who completed the ACE Pathway in Fall 2020 earning the ACE Certificate!
Kayla Blake, Keaton Carr, Savannah Cook, Brittany Corley, Nicholas Galloway, Minka Gill, Haylee Harmeyer, Lauren Meyer, Rachel Pritts, Andrea Ruiz Ramis, Adriana Sheridan, Kirsten Spears, Taylor Thomas, Benjamin Venero Concha, and Emma Wininger.
The ACE Pathway is a guided checklist for students in preparation for career-readiness. And, the ACE Certificate is awarded to those students completing each element in the categories of self-evaluation, communication and professional image development, and engagement and connection.
The ACE Pathway is open to all current students and can be accessed via Blackboard: COURSES (ACE Pathway): Request to Join. This 0-credit course will remain open until graduation allowing students to complete each element at their own pace. Step-by-step guidance is provided for creating a professional resume, cover letter, preparing for mock interviews, and so much more. Join anytime to be career ready!
Questions? Contact the Center for Career Development at 812-488-1083 or Kelly Bargeloh (kb396).
UE Softball Pauses Team Activities
Due to COVID-19 protocols, the University of Evansville softball team will not take part in the season-opening tournament in Natchitoches, Louisiana and has paused all team activities at this time.
The Purple Aces were set to travel to Northwestern State for a weekend tournament in Natchitoches, La. As of right now, this is the only modification to the Aces schedule.
UE is now on track to open the season on Friday, Feb. 19 at the Black & Gold Tournament in Montgomery, Ala.
Tanner Craig Named to Bobby Bragan Collegiate Slugger Award Watch List
Continuing to earn national recognition, University of Evansville junior Tanner Craig has been named to the 2021 Bobby Bragan Collegiate Slugger Award Watch List, it was announced Wednesday afternoon.
The award, created by the Bobby Bragan Youth Foundation, was open to nominations from all Division I baseball programs in the country. The BBCSA is based on performance at the plate, academics and personal integrity. This year's watch list consists of 48 players representing 17 conferences around the country, including all five power conferences. Craig is joined by Dallas Baptist junior Blayne Jones as the only two members of the watch list from the Missouri Valley Conference.
The honor of being named to the watch list follows a shortened 2020 campaign in which Craig put in a monster performance in 16 games. Craig led the team in home runs (7), OPS (1.238), runs (10), hits (20), RBI (19), total bases (44), slugging percentage (.759), walks (13), and on-base percentage (.479), while finishing second on the team in batting average (.345). Craig was named to Collegiate Baseball's National Players of the Week, MVC Player of the Week, and to the MVC Scholar-Athlete team in 2020.
The winner of the BBCSA will be announced in June and honored at a gala in the fall at the Fort Worth Club. Texas Tech's Hunter Hargrove won the initial BBCSA in 2017. Dallas Baptist's Devlin Granberg took home the honor in 2018 with Texas Tech's Josh Jung winning the award in 2019.
Maggie Franz Named MVC Diver of the Week
University of Evansville junior Maggie Franz was recognized as the Missouri Valley Conference Diver of the Week, announced by the league on Wednesday.
Franz dove her way to the top spot on the 3-meter board, during last Saturday's meet in Terre Haute, Ind., with a score of 235.95, 32 points better than the next diver.
Franz also took second place on the 1-meter board, scoring 242.40.
The Aces return to the pool on Friday to take on Southern Illinois, with diving starting at 10 a.m. and swimming beginning at 1 p.m.
UE Men's Basketball Faculty/Staff Ticketing Update
In response to Governor Holcomb's executive order and in consultation with Mayor Lloyd Winnecke and VenuWorks, the Ford Center will open to 25% capacity for the three remaining University of Evansville men's basketball games. A limited number of complimentary faculty/staff tickets will be made available for each of these games. Please bring your UE ID to the Carson Center ticket office during regular business hours (Monday-Friday, 8:30 a.m.-5:00 p.m.) to claim your tickets. Each employee MUST be present to receive the tickets which will be assigned in seating pods of two (2). No exceptions will be made and seat locations will be assigned at the sole discretion of the ticket office. Please contact the Carson Center ticket office at (812) 488-2237 with any questions.
Contribute to AceNotes
To have content considered for inclusion in AceNotes, please submit a Marketing Request Form. Deadline for submission to AceNotes is 10:00 a.m. on the requested date of publication. Only articles concerning UE related/sponsored activities will be accepted. Articles submitted to AceNotes may be edited for length and clarity. Submitter contact information is at the end of each article.