| | |
| --- | --- |
| AceNotes Today | Wednesday, February 10, 2021 |
UE Campus Closed Due to Inclement Weather
DUE TO INCLEMENT WEATHER: The campus will be closed today. All buildings will be locked. All online and in-person classes are cancelled.
DINING: All dining venues will remain open today. Rademachers will close at 2:30pm. Chic-fil-A will close at 8pm. Details regarding adjusted schedules will be posted on the UE Residence Life page and any follow-up messages will be communicated through digital media and/or printed signs on the first floor of Ridgway.
EMPLOYEES: Campus is closed. Employees are not to report to campus with the exception of the Office of Public Safety and Physical Plant, or if instructed by your supervisor. Employees with access to work remotely may be required to attend any timely or urgent virtual meetings. Please check with your supervisor if you have any questions.
EVENTS: All activities and programs are also canceled unless otherwise noted. If there is a scheduled athletics event, a cancellation decision will be made later in the day. Planned admission events will be handled on a case-by-case basis.
Today's UE Connect Virtual Lunch and Learn - POSTPONED
Due to inclement weather and the closure of campus today, all activities and programs are also canceled, including the UE Connect Lunch and Learn scheduled for today, February 10, at Noon CST. The Office of Alumni and Parent Relations and the Center for Career Development are working to reschedule the event for a future date. Please watch AceNotes for a notification for when "Goal Setting and Staying Motivated," presented by Jalessa Slade '10, M'10 will be rescheduled.
Campus is also invited to attend any of the future UE Connect Virtual Lunch and Learns. Zoom links for each of the events will be sent out prior to the event.
February 23, 2021 at 12:15 p.m. CST
"Turning Your Degree Upside Down," Presented by Betsy Knott '99.
March 18, 2021 at 12:15 p.m. CST
"Financial Empowerment," Presented by Ben Joergens.
April 7, 2021 at 12:00 p.m. CST
"Life After Graduation and Balancing Your Career," Presented by Alyse Knust.
Questions or Comments: Contact Nichole Coffey at 812-488-2900 or ns50@evansville.edu.
UEAAA Celebrates Black History Event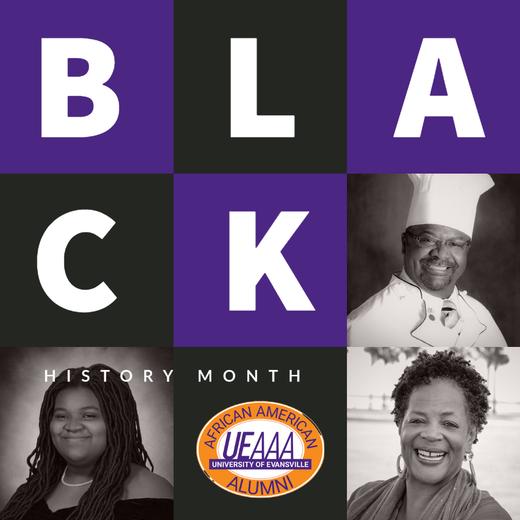 You are invited!
The University of Evansville African American Alumni Association (UEAAA), UE's Black Student Union (BSU) & UE's Fellow Scholars will host a virtual African Feast to Celebrate Black History on Tuesday, February 16, 2021 at 6:30 p.m. CST.
Our feast will be delectable African themed stews w/bread, an array of delicious cookies, and tea/lemonade. The meal is through a generous donation by Ivy Tech Community College Hospitality and Culinary Arts Program, prepared by Ms. Clarissa Boone, Lab Tech. The cookies are being provided as a donation from business owner and former Ivy Tech student, Cakes by Shea. Many thanks to Alumni Chef Watez Phelps and his team.
UE Student HarMonee Baltzell will present a PowerPoint presentation on "The Early Days of African American Music." Renowned poet, writer, and spoken word artist, Tamara Madison, will come to us in her own way on Black History. The evening will culminate with a Q & A time slot, the importance of UEAAA, the ZPC Scholarship, and closing prayer.
Alumni, Staff & UE Students, if you plan to feast with us, please register to attend on or before Saturday, February 13. (We need to know how many meals to prepare.) Your meals can be picked up at the Diversity House on Weinbach Ave. prior to event time, beginning at noon.
UEAAA, BSU, & Fellow Scholars invite all interested to sign on and enjoy the evening with us!
Bettye Poole
President, UEAAA
This event is free, but donations to the ZPC Scholarship are accepted.
This Week in Music
Dr. Emily Britton, horn, and Professor Ross Erickson, percussion, will present a video recital this Wednesday, February 10, at 7:30 pm. The overall theme of the concert will center on children's fairy tales with pieces titled "Enchanted Forest," "Three Billy Goats Gruff," "Dragons in the Sky" and other fantasy conjuring titles. They will be accompanied by Thomas Drury on piano, Bonnie Farr on oboe, Jesse Schartz on bassoon, Cyrus Williams as narrator.
Be a part of the magic by watching the performance on Wednesday at 7:30 p.m. or any time after Wednesday evening for the rest of the week at the following link: https://www.evansville.edu/majors/music/calendar.cfm
Save the Date: Commencement Ceremonies
Since the academic year began last fall, we have remained hopeful for in-person graduation ceremonies. Our Coronavirus Task Force has been closely monitoring the COVID-19 situation, and trends are thankfully moving in the right direction. With great excitement, we invite you to save the date for in-person Commencement ceremonies:
Friday, May 7 at 7:00 p.m. - Class of 2020 (postponed from May 2020)
Saturday, May 8 at 10:00 a.m. - Class of 2021, College of Education and Health Sciences and College of Engineering and Computer Science
Saturday, May 8 at 7:00 p.m. - Class of 2021, William L. Ridgway College of Arts and Sciences and Schroeder Family School of Business Administration
Commencement ceremonies will be held at the Ford Center in downtown Evansville. Each ceremony will be a ticketed event with a limited number of guests for each student. Ceremony plans are pending approval from the Vanderburgh County Health Department. Additional details will be communicated at a later date.
Black History Month Challenge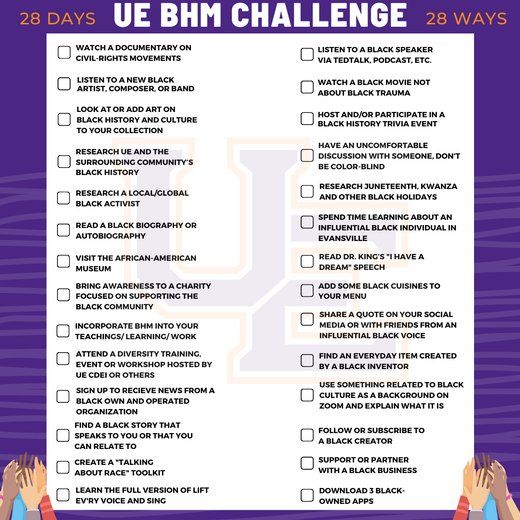 During Black History Month join the UE BHM Challenge sponsored by the Center for Diversity, Equity and Inclusion! In this challenge you will find 28 ways for 28 days of Black History Month to actively learn, engage, support, and uplift Black culture from Evansville and around the world. Items listed in the challenge can be done personally or in a social group! Do some personal research on Juneteenth or grab a friend and some popcorn and watch Just Mercy. Either way you do it, #BHMChallenge yourself! Happy Black History Month!
Watch a documentary on civil-rights movements
Listen to a new Black artist, composer, or band
Look at or add art on Black history and culture to your collection
Research UE and the surrounding community's Black history
Research a local/global Black activist
Read a Black biography or autobiography
Visit the African-American museum
Bring awareness to a charity focused on supporting the Black community
Incorporate BHM into your Teachings/ Learning/ Work
Attend a diversity training, event or workshop hosted by UE CDEI or others
Sign up to receive news from a Black own and operated organization
Find a Black story that speaks to you or that you can relate to
Create a "Talking about Race" Toolkit
Learn the full version of Lift Ev'ry Voice and Sing
Listen to a Black speaker via TedTalk, PodCast, etc.
Watch a Black movie not about Black trauma
Host and/or participate in a Black history trivia event
Have an uncomfortable discussion with someone, don't be color-blind
Research Juneteenth, Kwanza and other Black holidays
Spend time learning about an influential Black individual in Evansville
Read Dr. King's "I Have a Dream" speech
Add some Black cuisines to your menu
Share a quote on your social media or with friends from an influential Black Voice
Find an everyday item created by a Black inventor
Use something related to Black culture as a background on zoom and explain what it is
Follow or Subscribe to a Black creator
Support or partner with a Black business
Download 3 Black-owned apps
Test Your Trivia Knowledge at Nerd Wars - Registration Deadline Wednesday, February 10
The Honors Program invites you to register for this year's Nerd Wars trivia competition, scheduled for Tuesday, March 16 at 6:00pm. To adhere with social distancing guidelines, Nerd Wars will be held this year in various classrooms in Koch and over Zoom, but will still feature many of its great traditions, including the Nerdiest Dressed competition, snacks/giveaways, and the chance to win fabulous prizes. Form your team of up to 5 participants (students, faculty, administrators and staff are welcome to participate) and join us in a trivia battle for prizes, bragging rights, and the coveted Nerd Wars trophy.
Register online now at this link: https://forms.gle/5ausY8z5KkZRFnaG7
Registration this year is FREE. The deadline to register is Wednesday, February 10.
Please contact Hannah Tarr (ht80) or Samantha Schmidt (ss747) with any questions.
This Week in Religious Life
WORSHIP
Due to pandemic restrictions, UE will not offer Protestant worship in Neu Chapel this semester. There are several churches in walking distance of our campus that are open for virtual and/or in-person worship on Sundays.
Methodist Temple (masks required)
8:30am, traditional worship
11:00am, contemporary worship
Redeemer Lutheran (masks required)
8:00am and 10:30am, traditional worship
OTHER EVENTS
1. Visit the UE YouTube page to see the new video series, "Spiritual Practices in Tough Times." Twice a month, this series will highlight a spiritual practice from Christianity, Judaism, or Islam that can help you de-stress.
2. Newman Nights will be held every other week this semester. The next Newman Night will be on February 17.
3. If you'd like to join a Newman Club small group, you can sign up here: https://docs.google.com/forms/d/e/1FAIpQLSecFpCOiycpWm-GylEffN-8CLo9PcI15IxAp1oeVjlr70khTA/viewform?usp=pp_url.
I-House Ivory Coast
This Wednesday in I-House we have Adom Kouame. She is an accounting and management double major from Ivory Coast. She is a major fan of yoga and enjoys her free time dancing and going on walks. Her favorite part of UE is Moore hall, in which she is a resident assistant. Join us this Wednesday at 7 pm on Eykamp 253/254 and learn more about Adom and her amazing culture.
Zoom link is also provided at the I-House Instagram page for COVID related issues.
Time Is Almost up to Get Textbooks for Spring 2021 Courses
If you still are in need of any textbooks for your Spring 2021 classes, please come into the bookstore this week to get them. We will start emptying our shelves and sending all books back to publishers next week in order to make room for the arriving shipments of books for the Summer sessions.
UE Theatre Salon Series Welcomed Taylor Bailey '09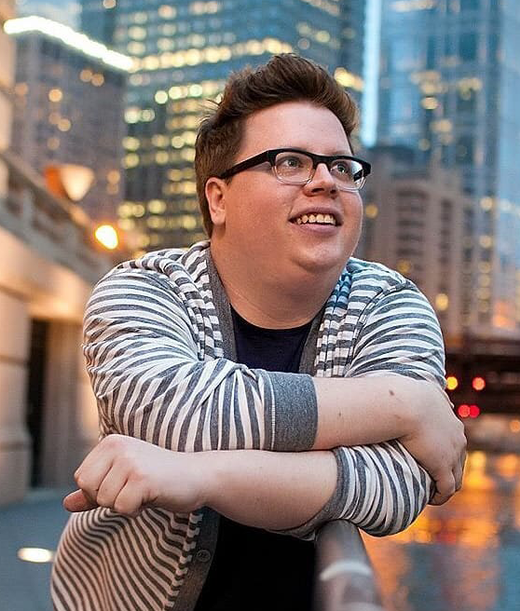 This week's installment of the UET Salon Series was held on Wednesday, Feb. 3, with Taylor Bailey '09.
After graduating from UET in 2009, Bailey spent four years in Chicago where he worked on numerous productions with The Neo-Futurists as the Operations Manager and Education Coordinator. He also served as the program developer and coordinator for Neo-Access, a multi-hinged strategy for diversity and inclusion. Bailey has worked with various organizations as a freelance director, performer, dramaturg, and producer, including First Floor Theater, Victory Gardens Theater, American Theater Company, The Agency Theater Collective, TimeLine Theater, About Face Productions, and others. He also served as the Associate Artistic Director of Sideman Productions in Dallas for two years. Bailey has additional experience as a teaching artist, IT coordinator, and project manager. Currently, he serves as the Associate Creative Director for Play on! Shakespeare in Oregon.
In his position as Associate Creative Director of Play on! Shakespeare, Bailey works towards achieving the organization's mission statement, which is "to enhance the understanding of Shakespeare's plays in performance for theatre professionals, students, and audiences by engaging with contemporary translations and adaptations." On Sunday, Feb. 7, Bailey directed the UET presentation of a virtual reading of Shakespeare's PERICLES, which was performed for an invited audience.
UET will continue its Play on! Shakespeare reading series on Sunday, Feb. 14, with the presentation of Shakespeare's EDWARD III.
This semester, UE Theatre students will have the opportunity to experience thirteen workshops with professionals from the entertainment industry.
Reimagining the Department of Music
On Monday, the University of Evansville announced a plan to not only retain the Department of Music, but to transform the program to better serve the campus and the greater Evansville community. The Department of Music will be renamed the UE Music Conservatory, and all current music majors, minors, and performance ensembles will be retained. This exciting news was announced in a video for the UE community.
This reimagined program – which includes the creation of the UE Music Conservatory and plans for a fully renovated Wheeler Concert Hall – is the result of a collaborative effort including the Department of Music co-chairs, music faculty, Friends of UE Music, donors, members of the Board of Trustees, and the administration.
The University would like to thank G. Richard and Rita Eykamp, Sharon McCarthy (Mrs. Burkley McCarthy), and John C. and Diane Schroeder for their leadership gifts that will serve as the foundation for the renovation of Wheeler Concert Hall.
After receiving hundreds of letters from faculty, students, alumni, parents and the greater Evansville community, UE worked together and finalized a plan that increases revenue and reduces costs that will make the program sustainable for decades to come.
The University wants to thank everyone involved for their dedication to the Department of Music that exuded the changemaker spirit of this campus to reimagine the program in a way that benefits the University community, students, community partners, and the entire community of Evansville.
Counseling Services Hosts Coping with COVID, Support Group for Students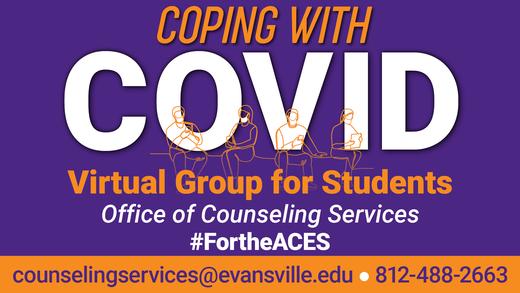 According to the UE COVID-19 Fall 2020 Survey, "of the 275 students who submitted a complete survey almost all of them (96%) identified at least one factor that contributed to feelings of stress, anxiety, or depression."
How are you really doing in the midst of the pandemic?
The Office of Counseling Services is hosting a virtual 4-week group to discuss the impact of COVID-19 on your mental health. The group will meet weekly beginning on Wednesday, February 10th through March 3rd from 4-5 pm via zoom. Topics will include self-care while living in a pandemic, how covid-19 disrupted your life, staying connected, and more. Email counselingservices@evansville.edu to sign up for the group. The group is limited to 8 students and operates on a first-come, first-serve basis.
For more information, find the event on UEngage: https://uengage.evansville.edu/event/6877970.
Bargain Book Blowout
Do you need a gift for a loved one? Or just looking for something new to read? Well look no further than the campus bookstore! We're having a big bargain book blowout, with all bargain titles priced for only $1! This sale will run until March 2nd and quantities are limited, so come visit us as soon as possible! [Please note, this is an in-store only sale.]
New Bookstore Hours Effective Immediately
Due to the ongoing COVID-19 situation, the bookstore is changing their hours of operation to the following until further notice:
Monday-Friday: 9a-4p
Saturday: 10a-2p
Sunday: Closed
Eykamp Prize: Call for Nominations
The Eykamp Prize was established by Richard and Rita Eykamp in 2015 to honor Faculty Achievement at the University of Evansville. Recipients of the prize will receive an award of $10,000 in recognition of extraordinary contributions to the University of Evansville as University Citizens. Examples of such contributions include deep and successful involvement in recruiting students; expanding the number, scope, and competitiveness of grant funding for their department; bringing positive public awareness to the University through scholarship, knowledge, and understanding of their discipline.
Nominations for the Eykamp Prize may come from any member of the University of Evansville community. Nominees should be tenured or tenure-track faculty members at the University of Evansville who have not received the award in the previous five years. Nominations can be submitted in writing or via e-mail to Dr. Michael Austin, Executive Vice President for Academic Affairs and Provost, at ma352@evansville.edu by March 12, 2021. Nominations should include the name of the faculty member and a brief statement of the reasons that he or she is being nominated.
Recipients of the Eykamp Prize will be selected by an Awards Committee appointed by the EVPAA and Provost that includes members of the faculty and staff, academic administrators, and at least one member of the Board of Trustees. The award will be announced and presented at the May Commencement Ceremony.
Previous recipients in the last five years are: 2016 – Dr. Mark Valenzuela; 2017 – Dr. Lora Becker; 2018 – Dr. David Dwyer; 2019 – Dr. Kristy Miller; and 2020 – Dr. Jerrilee LaMar.
Walking Club?! New Club on Campus! Check it out
Hey everyone!
You have to crawl before you walk, so crawl if you want, but if not check out and join the new UE Walking Club!
Walk or run with a friend, by yourself, or even walk your dog.
Not interested yet?!
Well you can earn the first ever UE Walking Club shirt after completing 100 miles in 100 days!
One small step at a time, you can get active and stay healthy by joining this club.
The 100 mile challenge runs from February 1st to May 11th
Contact Jamie Vance at jv102@evansville.edu to sign up or to learn more!
Isaac Rohleder Picks up Win on Final Day in Florida
Isaac Rohleder picked up a victory against the University of Connecticut as the University of Evansville men's golf team wrapped up the Earl Yestingsmeier Match Play at Lake Jovita Country Club.
Rohleder defeated Tommy Dallahan to give UE a point in the final round. As a team, the Purple Aces came home in 6th place. Full results from Tuesday include are below.
(4) UConn def. (6) Evansville, 5-1
Jared Nelson (UConn) def. Dallas Koth (UE), 3&1
Caleb Manuel (UConn) def. Spencer Wagner (UE), 1 up
Isaac Rohleder (UE) def. Tommy Dallahan (UConn), 1 up
Jimmy Paradise (UConn) def. Caleb Wasmer (UE), 4&3
Finn Boynton (UConn) def. Jessie Brumley (UE), 2&1
Rodrigo Sanchez (UConn) def. Carson Parker (UE), 3&1
UE is back in action in one month when they head to Florida once again for the Benbow Invitational.
UE Men's Basketball Faculty/Staff Ticketing Update
In response to Governor Holcomb's executive order and in consultation with Mayor Lloyd Winnecke and VenuWorks, the Ford Center will open to 25% capacity for the three remaining University of Evansville men's basketball games. A limited number of complimentary faculty/staff tickets will be made available for each of these games. Please bring your UE ID to the Carson Center ticket office during regular business hours (Monday-Friday, 8:30 a.m.-5:00 p.m.) to claim your tickets. Each employee MUST be present to receive the tickets which will be assigned in seating pods of two (2). No exceptions will be made and seat locations will be assigned at the sole discretion of the ticket office. Please contact the Carson Center ticket office at (812) 488-2237 with any questions.
Contribute to AceNotes
To have content considered for inclusion in AceNotes, please submit a Marketing Request Form. Deadline for submission to AceNotes is 10:00 a.m. on the requested date of publication. Only articles concerning UE related/sponsored activities will be accepted. Articles submitted to AceNotes may be edited for length and clarity. Submitter contact information is at the end of each article.