| | |
| --- | --- |
| AceNotes Today | Tuesday, February 9, 2021 |
Join Us Wednesday for a UE Connect Virtual Lunch and Learn - "Goal Setting and Staying Motivated"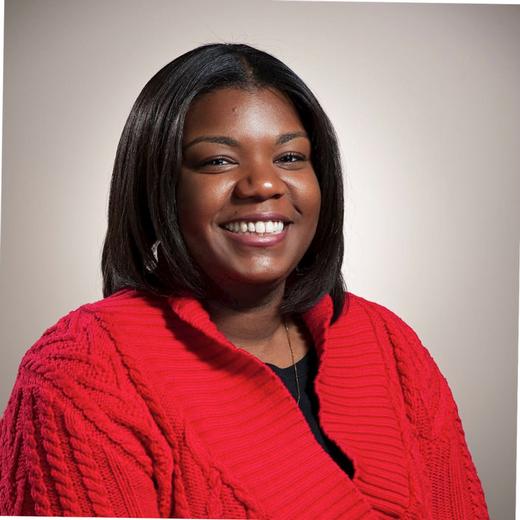 Wednesday, February 10
12:00 p.m. CST
Via Zoom
All of campus is welcome to join the UE Connect Lunch and Learn presented by Jalessa Slade '10, M'10. Jalessa earned her bachelor's and master's in Health Services Administration from UE in 2010. Since then, she has worked with several area organizations including the United Way, Carver Community Organization, and the Evansville African American Museum. Jalessa is currently the President & CEO of Slade Consulting, LLC.
Bring your lunch and join in the online chat via Zoom.
Topic: UE Connect Virtual Lunch and Learn - Goal Setting and Staying Motivated
Time: Feb 10, 2021 12:00 PM Central Time (US and Canada)
Join Zoom Meeting
https://zoom.us/j/98051671338
Meeting ID: 980 5167 1338
Passcode: 107775
Questions or Comments: Contact Nichole Coffey at ns50@evansville.edu or 812-488-2900.
Save the Date: Commencement Ceremonies
Since the academic year began last fall, we have remained hopeful for in-person graduation ceremonies. Our Coronavirus Task Force has been closely monitoring the COVID-19 situation, and trends are thankfully moving in the right direction. With great excitement, we invite you to save the date for in-person Commencement ceremonies:
Friday, May 7 at 7:00 p.m. - Class of 2020 (postponed from May 2020)
Saturday, May 8 at 10:00 a.m. - Class of 2021, College of Education and Health Sciences and College of Engineering and Computer Science
Saturday, May 8 at 7:00 p.m. - Class of 2021, William L. Ridgway College of Arts and Sciences and Schroeder Family School of Business Administration
Commencement ceremonies will be held at the Ford Center in downtown Evansville. Each ceremony will be a ticketed event with a limited number of guests for each student. Ceremony plans are pending approval from the Vanderburgh County Health Department. Additional details will be communicated at a later date.
Test Your Trivia Knowledge at Nerd Wars - Registration Deadline Wednesday, February 10
The Honors Program invites you to register for this year's Nerd Wars trivia competition, scheduled for Tuesday, March 16 at 6:00pm. To adhere with social distancing guidelines, Nerd Wars will be held this year in various classrooms in Koch and over Zoom, but will still feature many of its great traditions, including the Nerdiest Dressed competition, snacks/giveaways, and the chance to win fabulous prizes. Form your team of up to 5 participants (students, faculty, administrators and staff are welcome to participate) and join us in a trivia battle for prizes, bragging rights, and the coveted Nerd Wars trophy.
Register online now at this link: https://forms.gle/5ausY8z5KkZRFnaG7
Registration this year is FREE. The deadline to register is Wednesday, February 10.
Please contact Hannah Tarr (ht80) or Samantha Schmidt (ss747) with any questions.
Writing Center to have "Soft Open" Monday, February 8
The Writing Center will be all digital again this spring, and though the hours will be done differently— busy hours will sometimes have up to four tutors on them and hours that traditionally had no visitors may not be staffed at all— students are encouraged to make an appointment at evansville.mywconline.edu starting Sunday! We look forward to helping everyone uncover their own academic voices and are grateful to be able to offer this service in a way that protects everyone's health.
This Week in Religious Life
WORSHIP
Due to pandemic restrictions, UE will not offer Protestant worship in Neu Chapel this semester. There are several churches in walking distance of our campus that are open for virtual and/or in-person worship on Sundays.
Methodist Temple (masks required)
8:30am, traditional worship
11:00am, contemporary worship
Redeemer Lutheran (masks required)
8:00am and 10:30am, traditional worship
OTHER EVENTS
1. Visit the UE YouTube page to see the new video series, "Spiritual Practices in Tough Times." Twice a month, this series will highlight a spiritual practice from Christianity, Judaism, or Islam that can help you de-stress.
2. Newman Nights will be held every other week this semester. The next Newman Night will be on February 17.
3. If you'd like to join a Newman Club small group, you can sign up here: https://docs.google.com/forms/d/e/1FAIpQLSecFpCOiycpWm-GylEffN-8CLo9PcI15IxAp1oeVjlr70khTA/viewform?usp=pp_url.
Wellness Day At Paoli Peaks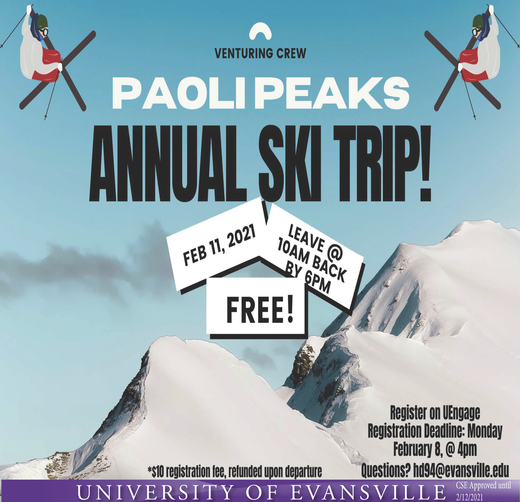 Need plans for the first Wellness Day on Feb. 11th? Venturing Crew has you covered for FREE!. Come hit the slopes with your friends at Paoli Peaks, and try your luck at skiing or snowboarding or show off your skills as a seasoned athlete. Sign up on UEngage. Last day to sign up is Feb. 8, 2021. If you have any questions, contact hd94@evansville.edu. Everyone is welcome!
*$10 deposit required, refunded on departure.
Department of Art presents: DUALITY-Reagan Furqueron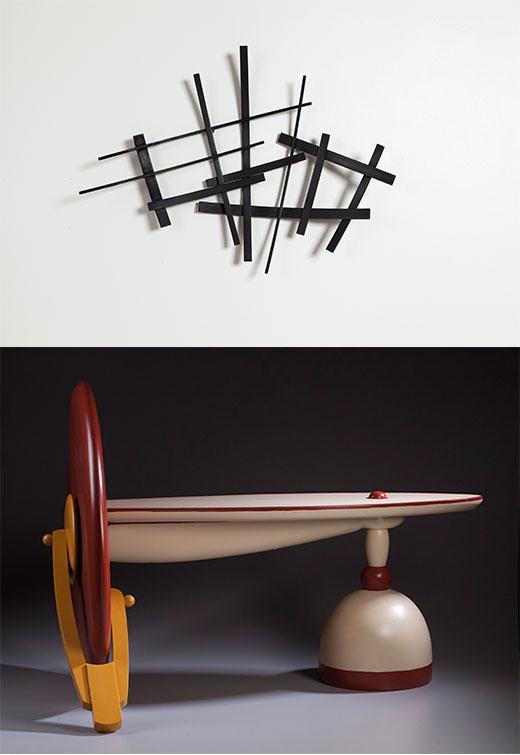 Melvin Peterson Gallery
January 19 – February 27, 2021
Reagan Furqueron is an artist and educator living in Indianapolis, Indiana. He received his BFA from Texas Tech University and a MFA from Rochester Institute of Technology's School for American Crafts in Woodworking/Furniture Design. He is an Associate Professor at Herron School of Art and Design IUPUI He has work in international and national private and permanent collections including The Museum of Art and Design in NYC. This exhibition is sponsored by The Efroymson Family Fund.
Artist's Exhibition: January 19 - February 27, 2021
Student Lecture: Wednesday, February 3, 10:00am
Student Workshop in the Sculpture Studio: Wednesday, February 3, 2:00pm
Public Reception for the Artist and Lecture: Thursday, February 4, 6:30, Lecture at 7p.
Masks and Safe-Distancing are required at all events.
Gallery Hours
MTFS: Noon - 3:00pm
WTH: Noon – 6:00pm
UE Theatre Salon Series Welcomed Taylor Bailey '09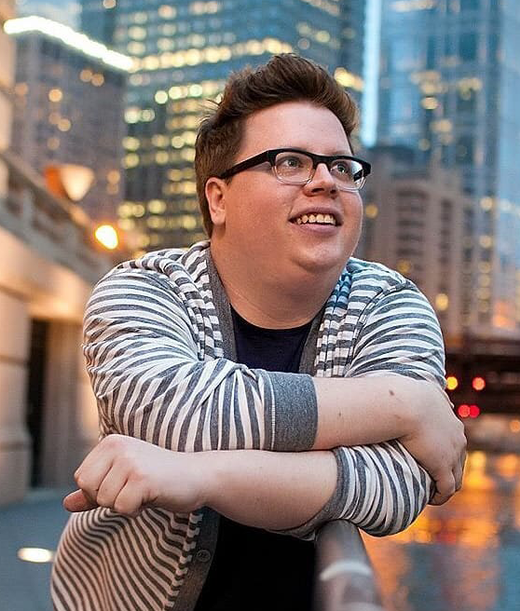 This week's installment of the UET Salon Series was held on Wednesday, Feb. 3, with Taylor Bailey '09.
After graduating from UET in 2009, Bailey spent four years in Chicago where he worked on numerous productions with The Neo-Futurists as the Operations Manager and Education Coordinator. He also served as the program developer and coordinator for Neo-Access, a multi-hinged strategy for diversity and inclusion. Bailey has worked with various organizations as a freelance director, performer, dramaturg, and producer, including First Floor Theater, Victory Gardens Theater, American Theater Company, The Agency Theater Collective, TimeLine Theater, About Face Productions, and others. He also served as the Associate Artistic Director of Sideman Productions in Dallas for two years. Bailey has additional experience as a teaching artist, IT coordinator, and project manager. Currently, he serves as the Associate Creative Director for Play on! Shakespeare in Oregon.
In his position as Associate Creative Director of Play on! Shakespeare, Bailey works towards achieving the organization's mission statement, which is "to enhance the understanding of Shakespeare's plays in performance for theatre professionals, students, and audiences by engaging with contemporary translations and adaptations." On Sunday, Feb. 7, Bailey directed the UET presentation of a virtual reading of Shakespeare's PERICLES, which was performed for an invited audience.
UET will continue its Play on! Shakespeare reading series on Sunday, Feb. 14, with the presentation of Shakespeare's EDWARD III.
This semester, UE Theatre students will have the opportunity to experience thirteen workshops with professionals from the entertainment industry.
Reimagining the Department of Music
On Monday, the University of Evansville announced a plan to not only retain the Department of Music, but to transform the program to better serve the campus and the greater Evansville community. The Department of Music will be renamed the UE Music Conservatory, and all current music majors, minors, and performance ensembles will be retained. This exciting news was announced in a video for the UE community.
This reimagined program – which includes the creation of the UE Music Conservatory and plans for a fully renovated Wheeler Concert Hall – is the result of a collaborative effort including the Department of Music co-chairs, music faculty, Friends of UE Music, donors, members of the Board of Trustees, and the administration.
The University would like to thank G. Richard and Rita Eykamp, Sharon McCarthy (Mrs. Burkley McCarthy), and John C. and Diane Schroeder for their leadership gifts that will serve as the foundation for the renovation of Wheeler Concert Hall.
After receiving hundreds of letters from faculty, students, alumni, parents and the greater Evansville community, UE worked together and finalized a plan that increases revenue and reduces costs that will make the program sustainable for decades to come.
The University wants to thank everyone involved for their dedication to the Department of Music that exuded the changemaker spirit of this campus to reimagine the program in a way that benefits the University community, students, community partners, and the entire community of Evansville.
UE SAA Book Club: Join us
All UE SAA members are welcomed and encouraged to join the UE SAA Book Club! Each month one book is read and discussed. (Currently they are meeting via Zoom.) The February book selection is The Guest List by Lucy Foley. They will be meeting on Wednesday Feb 24th at 12 noon to discuss the book. Contact Kathy Taylor at ks6@evansville.edu for the Zoom link. Happy Reading!
Community Art Project
Whether you are the next Picasso or you can only draw a stick-man, the Office of Religious Life needs your help! Between now and April 9, on a normal piece of printer paper, draw what you imagine your spirituality looks like. Then drop off your masterpiece at the Center for Diversity, Equity, & Inclusion. At the end of the semester, we'll "stitch" all these drawings together to create a "quilt" displayed in Neu Chapel. Submissions from students, faculty, and staff are all welcome. Contact the Director of Religious Life (jk383) with any questions.
Counseling Services Hosts Coping with COVID, Support Group for Students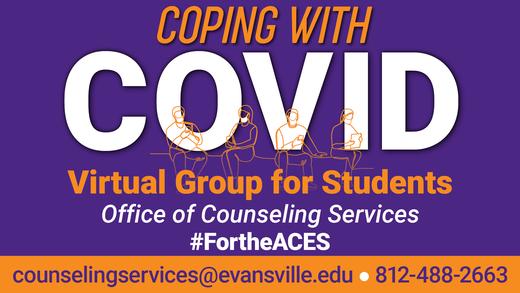 According to the UE COVID-19 Fall 2020 Survey, "of the 275 students who submitted a complete survey almost all of them (96%) identified at least one factor that contributed to feelings of stress, anxiety, or depression."
How are you really doing in the midst of the pandemic?
The Office of Counseling Services is hosting a virtual 4-week group to discuss the impact of COVID-19 on your mental health. The group will meet weekly beginning on Wednesday, February 10th through March 3rd from 4-5 pm via zoom. Topics will include self-care while living in a pandemic, how covid-19 disrupted your life, staying connected, and more. Email counselingservices@evansville.edu to sign up for the group. The group is limited to 8 students and operates on a first-come, first-serve basis.
For more information, find the event on UEngage: https://uengage.evansville.edu/event/6877970.
Submit your 2021-2022 FAFSA
File the 2021-22 FAFSA by April 15 at https://www.fafsa.ed.gov
Continuing students should file the 2021-22 Free Application for Federal Student Aid (FAFSA) to apply for federal, state and University need-based financial aid, including all federal student loans. UE's FAFSA code is 001795.
Filing by April 15 is essential for Indiana residents to receive state aid, and highly recommended for all.
Questions regarding the FAFSA should be directed to the Student Financial Services (Olmsted Administration Hall, Room 105) at 812-488-2364.
UE Library Display Cases
Do you have a club you want people to know about? Do you have an event you want others to attend? How about showing off your class work? If you said YES, then the Library has a display case for you! Contact Julie Wilson at jw223@evansville.edu or (812) 488-1062 for more information or to make a reservation.
Evansville Baseball Announces 2021 Schedule
After a shortened season last spring, University of Evansville head baseball coach Wes Carroll has announced the 2021 slate for the Aces.
The schedule features 56 games with exactly half of the season slate being played in Missouri Valley Conference competition with 28 games coming in Valley play. German American Bank Field at Charles H. Braun Stadium will truly be home sweet home for the Aces in 2021 as 35 of the 56 games on the schedule are slated to be played at Evansville's newly renovated confines.
"I am thrilled to finally be able to release our 2021 schedule," said Aces head baseball coach Wes Carroll. "Obviously there have been significant changes throughout the last couple of months but we have been fortunate to put together a very competitive schedule. We look forward to playing on German American Bank Field at Charles H Braun Stadium for a full year."
The Aces ended last season on a high note, defeating in-state foe Indiana, 5-4, in the first game following renovations at German American Bank Field. Just days later, the season was ended due to the Coronavirus pandemic.
Evansville will look to utilize the momentum built at the end of last season when they open the 2021 campaign against SEC powerhouse Georgia in Athens on February 19, 20, and 21. The Aces and Bulldogs will match-up for the first time since 1996.
On February 26-28, the Aces mark their home opener, welcoming NIU to German American Bank Field for a three-game set, beginning a stretch of five of six weekends at home.
A midweek contest against another SEC foe in Kentucky on March 2, splits a pair of weekends at home. Evansville comes back home for the weekend of March 5-7 for a four-game set against Western Illinois, a team the Aces swept when they last met in 2018.
The MVC slate will look slightly different this season with the Conference increasing weekend series in The Valley to four game sets as opposed to the three-game series played in previous seasons. Conference play begins March 12-14 as Evansville travels to face Southern Illinois on the road in Carbondale.
Beginning a set of three-straight home weekends, the Aces take on Butler for a four-game series on March 19-21. Last season, Evansville took all three contests from the Bulldogs in a series played at Bosse Field.
For a second-straight weekend, Evansville is challenged by a team from the Big East as Xavier comes to the River City for four games from March 26 to 28. Closing-out its homestand, the Aces face South Dakota State on April 2-4, a team Evansville has faced just twice, capturing a pair of wins over the Jackrabbits in 2005.
The stretch of MVC weekends begins on April 9-11 as the Aces head to Peoria, Ill. to face Bradley. After the weekend series against the Braves, the Aces bring Missouri State into German American Bank Field from April 16 to 18.
Back on the road, Evansville challenges Illinois State on April 23-25 before returning home for back-to-back home series. Preseason 24th-ranked Dallas Baptist represents the next hill for the Aces on April 30-May 2 as the calendar flips to May.
As the regular season wanes, Evansville and Southern Illinois meet for the second time this season, this time in a non-conference series from May 7 to 9 in Evansville.
The final road weekend of the season takes place from May 14-16 as Evansville makes the trip to Valparaiso.
Evansville closes the regular season and celebrates senior weekend on May 20 through 22 when Indiana State comes to German American Bank Field for four games.
The 2021 MVC Baseball Championship takes place in Carbondale, Ill., hosted by SIU, beginning on May 26 and ending with a champion crowned on May 29.
UE Men's Golf Wraps up Opening Day
Another University of Evansville team was back in action today with the Purple Aces men's golf squad completing the opening day of the Earl Yestingsmeier Match Play at Lake Jovita Country Club.
Playing a bracketed format, the Aces opened as the #6 seed and took on top seeded Ball State. The Cardinals won the opening round by a 4.5-1.5 margin. Each individual win resulted in a point for the team while a tie saw each team receive 0.5 points. Caleb Wassmer earned UE's victory on the day, defeating BSU's Timothy Wiseman. Dallas Koth earned a half point for the Aces, tying Joey Ranieri.
In the second round of the day, the Aces took on #5 seed DePaul where the Blue Demons finished with a 4-2 triumph. Isaac Rohleder picked up a win over Conor Glennon to earn a point for his squad. Wassmer wrapped up his day with a tie while Spencer Wagner also forced a tie to wrap up Evansville's scoring.
The final round of play is set for Tuesday morning with UE facing the University of Connecticut, who is the fourth seed in the tournament.
UE Men's Basketball Ticket Update
In response to Governor Holcomb's executive order and in consultation with the Vanderburgh County Health Commission, Mayor Lloyd Winnecke, VenuWorks and other local health authorities, the Ford Center will open to 25% capacity for the three remaining University of Evansville men's basketball games.
Beginning Tuesday, February 9, previous season ticket holders will have exclusive access to purchase tickets to the final three home games (2/14 vs. Indiana State, 2/26-27 vs. Missouri State).
Tickets may be purchased by calling the Carson Center Ticket Office at (812) 488-2237 beginning at 8:30 a.m. on Tuesday, February 9. Seats must be purchased in socially distanced seating pods of two or four and the best available seats will be assigned at the time of purchase. All available tickets will be $15. Specific seat requests, including regular season ticket locations, will not be accommodated. Purchased tickets will ONLY be available for pickup from Ford Center will call beginning two hours before tip-off for each game that is purchased.
Tickets will be available online at Tickermaster.com to the general public beginning the morning of Thursday, February 11, and will remain on sale until 25% of Ford Center capacity is reached.
As a way to honor first responders at the Feb. 14 game against Indiana State, available lower bowl tickets will be donated so first responders and frontline essential workers. First responders include police, firefighters and ambulance/paramedics while the frontline essential workers consist of doctors and hospital workers who have put everything on the line in the battle against COVID-19. An allotment of tickets has been dispersed to several of these organizations within the City of Evansville.
For the game on the 14th, upper bowl tickets will be for the general public while both lower and upper bowl will be on sale for both games in the Missouri State series.
Please call or text the Carson Center Ticket Office at (812) 488-2237 with any questions or to purchase your tickets.
Aces Fall to UNI on Monday Afternoon
Melanie Feliciano recorded 11 kills but Emily Holterhaus led all players with 19 to help UNI take a 3-0 win over the University of Evansville volleyball team on Monday afternoon inside Meeks Family Fieldhouse.
Feliciano added six digs and two block assists for the Purple Aces (2-4, 1-3 MVC) while Alondra Vazquez had six kills and five digs. Allana McInnis posted 23 assists while tying Cecilia Thon for the team lead with eight digs. Hannah Watkins had three block assists with Feliciano and Brooke Springer added two apiece. Holterhaus was UNI's (2-5, 2-2 MVC) top performer with 19 kills. She hit an efficient .425. Tayler Alden had 29 assists and 10 digs.
Game 1
Evansville found itself in an early 6-3 hole before kills by Hannah Watkins and Melanie Feliciano got the Aces back on track. UE fought back to tie it at 11-11 before taking the lead on a block assist from Watkins and Feliciano. The Panthers tied it back up at 17-17 but UE would open its largest lead of the set at 21-18. UNI stormed back to tie it up at 22-22. Feliciano put the Aces back in front with a kill before the Panthers posted the final three points of the set to open the day with a 25-23 win.
Game 2
UNI jumped out to a 6-1 advantage and extended it to double figures at 16-5. Trailing by a 22-10 margin, the Aces added to their tally with an Emilee Scheumann kill and a block by Brooke Springer and Kyndal Grace Patterson, but UNI finished the set and took a 2-0 lead on the strength of a 25-14 decision.
Game 3
UE jumped out to a 3-1 lead with Feliciano notching an ace and Watkins adding a kill. After the Panthers took their first lead at 7-5, the Aces tied it up with a block assist by Springer and Feliciano. UNI would retake a 12-9 lead and go up by five at 15-10. A pair of Feliciano kills saw UE get back within a pair (18-16), but the Panthers sealed the match with a late run, winning by a final of 25-19.
Next weekend, the Ace trek to Chicago for a 2-game series at Loyola. The teams will meet on Sunday, Feb. 14 at 1 p.m. before a rematch on Monday, Feb. 15 at 2 p.m.
UE Men's Basketball Faculty/Staff Ticketing Update
In response to Governor Holcomb's executive order and in consultation with Mayor Lloyd Winnecke and VenuWorks, the Ford Center will open to 25% capacity for the three remaining University of Evansville men's basketball games. A limited number of complimentary faculty/staff tickets will be made available for each of these games. Please bring your UE ID to the Carson Center ticket office during regular business hours (Monday-Friday, 8:30 a.m.-5:00 p.m.) to claim your tickets. Each employee MUST be present to receive the tickets which will be assigned in seating pods of two (2). No exceptions will be made and seat locations will be assigned at the sole discretion of the ticket office. Please contact the Carson Center ticket office at (812) 488-2237 with any questions.
Contribute to AceNotes
To have content considered for inclusion in AceNotes, please submit a Marketing Request Form. Deadline for submission to AceNotes is 10:00 a.m. on the requested date of publication. Only articles concerning UE related/sponsored activities will be accepted. Articles submitted to AceNotes may be edited for length and clarity. Submitter contact information is at the end of each article.