| | |
| --- | --- |
| AceNotes Today | Monday, February 8, 2021 |
Black History Month Challenge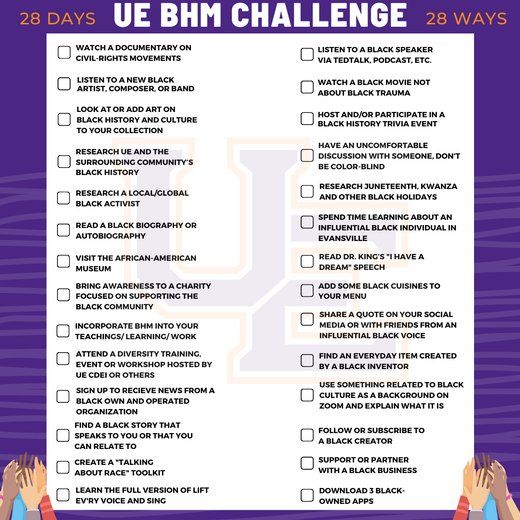 During Black History Month join the UE BHM Challenge sponsored by the Center for Diversity, Equity and Inclusion! In this challenge you will find 28 ways for 28 days of Black History Month to actively learn, engage, support, and uplift Black culture from Evansville and around the world. Items listed in the challenge can be done personally or in a social group! Do some personal research on Juneteenth or grab a friend and some popcorn and watch Just Mercy. Either way you do it, #BHMChallenge yourself! Happy Black History Month!
Watch a documentary on civil-rights movements
Listen to a new Black artist, composer, or band
Look at or add art on Black history and culture to your collection
Research UE and the surrounding community's Black history
Research a local/global Black activist
Read a Black biography or autobiography
Visit the African-American museum
Bring awareness to a charity focused on supporting the Black community
Incorporate BHM into your Teachings/ Learning/ Work
Attend a diversity training, event or workshop hosted by UE CDEI or others
Sign up to receive news from a Black own and operated organization
Find a Black story that speaks to you or that you can relate to
Create a "Talking about Race" Toolkit
Learn the full version of Lift Ev'ry Voice and Sing
Listen to a Black speaker via TedTalk, PodCast, etc.
Watch a Black movie not about Black trauma
Host and/or participate in a Black history trivia event
Have an uncomfortable discussion with someone, don't be color-blind
Research Juneteenth, Kwanza and other Black holidays
Spend time learning about an influential Black individual in Evansville
Read Dr. King's "I Have a Dream" speech
Add some Black cuisines to your menu
Share a quote on your social media or with friends from an influential Black Voice
Find an everyday item created by a Black inventor
Use something related to Black culture as a background on zoom and explain what it is
Follow or Subscribe to a Black creator
Support or partner with a Black business
Download 3 Black-owned apps
Test Your Trivia Knowledge at Nerd Wars - Registration Deadline Wednesday, February 10
The Honors Program invites you to register for this year's Nerd Wars trivia competition, scheduled for Tuesday, March 16 at 6:00pm. To adhere with social distancing guidelines, Nerd Wars will be held this year in various classrooms in Koch and over Zoom, but will still feature many of its great traditions, including the Nerdiest Dressed competition, snacks/giveaways, and the chance to win fabulous prizes. Form your team of up to 5 participants (students, faculty, administrators and staff are welcome to participate) and join us in a trivia battle for prizes, bragging rights, and the coveted Nerd Wars trophy.
Register online now at this link: https://forms.gle/5ausY8z5KkZRFnaG7
Registration this year is FREE. The deadline to register is Wednesday, February 10.
Please contact Hannah Tarr (ht80) or Samantha Schmidt (ss747) with any questions.
Writing Center to have "Soft Open" Monday, February 8
The Writing Center will be all digital again this spring, and though the hours will be done differently— busy hours will sometimes have up to four tutors on them and hours that traditionally had no visitors may not be staffed at all— students are encouraged to make an appointment at evansville.mywconline.edu starting Sunday! We look forward to helping everyone uncover their own academic voices and are grateful to be able to offer this service in a way that protects everyone's health.
This Week in Religious Life
WORSHIP
Due to pandemic restrictions, UE will not offer Protestant worship in Neu Chapel this semester. There are several churches in walking distance of our campus that are open for virtual and/or in-person worship on Sundays.
Methodist Temple (masks required)
8:30am, traditional worship
11:00am, contemporary worship
Redeemer Lutheran (masks required)
8:00am and 10:30am, traditional worship
OTHER EVENTS
1. Visit the UE YouTube page to see the new video series, "Spiritual Practices in Tough Times." Twice a month, this series will highlight a spiritual practice from Christianity, Judaism, or Islam that can help you de-stress.
2. Newman Nights will be held every other week this semester. The next Newman Night will be on February 17.
3. If you'd like to join a Newman Club small group, you can sign up here: https://docs.google.com/forms/d/e/1FAIpQLSecFpCOiycpWm-GylEffN-8CLo9PcI15IxAp1oeVjlr70khTA/viewform?usp=pp_url.
UE SAA Book Club: Join us
All UE SAA members are welcomed and encouraged to join the UE SAA Book Club! Each month one book is read and discussed. (Currently they are meeting via Zoom.) The February book selection is The Guest List by Lucy Foley. They will be meeting on Wednesday Feb 24th at 12 noon to discuss the book. Contact Kathy Taylor at ks6@evansville.edu for the Zoom link. Happy Reading!
Community Art Project
Whether you are the next Picasso or you can only draw a stick-man, the Office of Religious Life needs your help! Between now and April 9, on a normal piece of printer paper, draw what you imagine your spirituality looks like. Then drop off your masterpiece at the Center for Diversity, Equity, & Inclusion. At the end of the semester, we'll "stitch" all these drawings together to create a "quilt" displayed in Neu Chapel. Submissions from students, faculty, and staff are all welcome. Contact the Director of Religious Life (jk383) with any questions.
Counseling Services Hosts Coping with COVID, Support Group for Students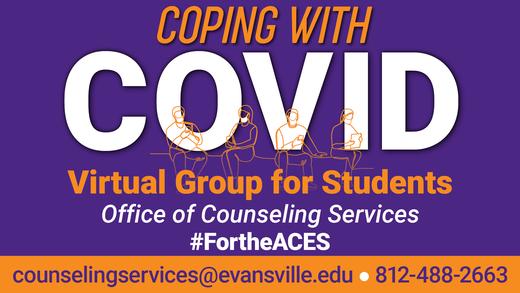 According to the UE COVID-19 Fall 2020 Survey, "of the 275 students who submitted a complete survey almost all of them (96%) identified at least one factor that contributed to feelings of stress, anxiety, or depression."
How are you really doing in the midst of the pandemic?
The Office of Counseling Services is hosting a virtual 4-week group to discuss the impact of COVID-19 on your mental health. The group will meet weekly beginning on Wednesday, February 10th through March 3rd from 4-5 pm via zoom. Topics will include self-care while living in a pandemic, how covid-19 disrupted your life, staying connected, and more. Email counselingservices@evansville.edu to sign up for the group. The group is limited to 8 students and operates on a first-come, first-serve basis.
For more information, find the event on UEngage: https://uengage.evansville.edu/event/6877970.
Bargain Book Blowout
Do you need a gift for a loved one? Or just looking for something new to read? Well look no further than the campus bookstore! We're having a big bargain book blowout, with all bargain titles priced for only $1! This sale will run until March 2nd and quantities are limited, so come visit us as soon as possible! [Please note, this is an in-store only sale.]
New Bookstore Hours Effective Immediately
Due to the ongoing COVID-19 situation, the bookstore is changing their hours of operation to the following until further notice:
Monday-Friday: 9a-4p
Saturday: 10a-2p
Sunday: Closed
Eykamp Prize: Call for Nominations
The Eykamp Prize was established by Richard and Rita Eykamp in 2015 to honor Faculty Achievement at the University of Evansville. Recipients of the prize will receive an award of $10,000 in recognition of extraordinary contributions to the University of Evansville as University Citizens. Examples of such contributions include deep and successful involvement in recruiting students; expanding the number, scope, and competitiveness of grant funding for their department; bringing positive public awareness to the University through scholarship, knowledge, and understanding of their discipline.
Nominations for the Eykamp Prize may come from any member of the University of Evansville community. Nominees should be tenured or tenure-track faculty members at the University of Evansville who have not received the award in the previous five years. Nominations can be submitted in writing or via e-mail to Dr. Michael Austin, Executive Vice President for Academic Affairs and Provost, at ma352@evansville.edu by March 12, 2021. Nominations should include the name of the faculty member and a brief statement of the reasons that he or she is being nominated.
Recipients of the Eykamp Prize will be selected by an Awards Committee appointed by the EVPAA and Provost that includes members of the faculty and staff, academic administrators, and at least one member of the Board of Trustees. The award will be announced and presented at the May Commencement Ceremony.
Previous recipients in the last five years are: 2016 – Dr. Mark Valenzuela; 2017 – Dr. Lora Becker; 2018 – Dr. David Dwyer; 2019 – Dr. Kristy Miller; and 2020 – Dr. Jerrilee LaMar.
Walking Club?! New Club on Campus! Check it out
Hey everyone!
You have to crawl before you walk, so crawl if you want, but if not check out and join the new UE Walking Club!
Walk or run with a friend, by yourself, or even walk your dog.
Not interested yet?!
Well you can earn the first ever UE Walking Club shirt after completing 100 miles in 100 days!
One small step at a time, you can get active and stay healthy by joining this club.
The 100 mile challenge runs from February 1st to May 11th
Contact Jamie Vance at jv102@evansville.edu to sign up or to learn more!
Introducing UE's newest Admission Ambassadors
Congratulations to UE's newest Admission Ambassadors:
Sarah Andresen
Kayla Blake
Bre Burke
Mary Butler
Cassie Doyle
Crispin Ewen
Abbi Kaup
Carina Kessens
Dalton Lampert
Devon Langley
Julia Libby
Rehema Mageto
Madison O'Daniel
Alex Ortiz
Taylor Rapp
Grace Reisinger
Logan Replogle
Lane Smith
Haley Worland
Vazquez, Feliciano Combine for 32 Kills as Aces Fall to UNI
Down early, the University of Evansville volleyball team battled back in a 3-1 loss to UNI on Sunday afternoon inside Meeks Family Fieldhouse.
Junior Alondra Vazquez (17 kills) and sophomore Melanie Felciano (15 kills) combined for 32 kills in the match to lead the Aces. Senior Allana McInnis recorded 29 assists, while Feliciano finished off the day with a double-double, adding 12 digs to her 15 kill total. Three Panthers finished with double-digit kills with Emily Holterhaus leading with 15 kills.
Set #1
A back-and-forth first set saw Evansville and UNI play to a tie eight times in the opening stanza. After an Aces attack error gave UNI a three-point advantage at 13-10, Evansville battled back to tie the set at 13 and keep pace with the Panthers all the way to 17-17 following a kill by Melanie Feliciano. UNI would close the set on a 8-4 run, capturing the first set victory, 25-21.
Set #2
Evansville owned the early advantage in set two, as a pair of kills from Chloe Bontrager helped the Aces build a 5-2 lead on the Panthers. UNI responded to the Aces early run with six-straight points to grab an 8-5 lead. The Panthers lead grew as large as six at 13-7 and 19-13, but Evansville battled back. The Aces got as close as three in the waning points of the set as Feliciano's kill cut the score to 22-19 before UNI edged out the 25-20 set win.
Set #3
The third set resembled the first as both teams grappled for control in the early going. A service ace from Alondra Vasquez punctuated Evansville's run midway through the set as the Aces pulled out to a 15-11 lead. UNI made a run following Evansville's four-point lead, getting within one at 17-16. After the Panthers got within one point, the Aces ran off back-to-back points on kills by Feliciano and Brook Springer to regain a three-point lead. Evansville's ability to stave off UNI late paid off as three kills from Vazquez helped seal a 25-21 third-set win for Evansville. The Aces limited the Panthers to just .146 hitting in the third set, their lowest of the match, while Evansville recorded its highest hitting rate of the day with .255.
Set #4
The Panthers were quick out of the gate to start the fourth set, taking an 8-3 lead and forcing a timeout for the Aces. Evansville responded with a run as they did all day as Feliciano recorded two kills to bring UE back within two at 9-7. After UNI went ahead 10-7, the Aces came back to tie the match at 10 on a UNI service error and a pair of Panther attacking errors. A closely contested set for most of the middle portions, UNI scored five-straight points to take a 21-15 lead. Evansville again showcased its fight, battling back to tie the set at 23 on a block by Hannah Watkins. The following point was won by the Panthers on a block and UNI grabbed the 3-1 match win on an Evansville attack error.
Evansville is back in action against UNI on Monday at 4 PM inside Meeks Family Fieldhouse to close-out the weekend series against the Panthers.
Givance and Newton Lead Aces in Road Loss to Loyola
The junior duo of Shamar Givance and Jawaun Newton combined to score 33 points in a hard-fought 69-58 defeat at Loyola on Sunday afternoon inside Gentile Arena.
Givance recorded 17 points while going 5-for-5 from the line while Newton knocked down 8 out of 11 attempts to finish with 16. Noah Frederking connected on four of his five outside tries to finish with 14 for the Purple Aces (8-10, 6-6 MVC). Loyola (17-3, 12-1 MVC) had four players finish in double figures, led by Braden Norris, who led all players with 19 points. Cameron Krutwig finished with another double-double, posting 14 points and 11 boards.
"I told our guys that we are trying to grow as a program and as a team. We need to have the right approach – you either win big or get ready to win big. In the second half, we narrowed our vision and had a great approach – we tried to win the next four minutes," Aces head coach Todd Lickliter said. "Facing a team that is first in the league and offense and defense while receiving votes in the top 25 is a big test for us but we fought to the end and did a lot of stuff right."
A 1-for-5 start by UE saw the Ramblers take a 5-2 lead before Jawaun Newton found Jax Levitch cutting to the basket to score the Aces second field goal of the game. Evansville's defense had a nice start, forcing five turnovers in the opening five minutes. In Saturday's game, the Ramblers turned it over just six times in the entire contest.
Shamar Givance, who tallied a game-high 10 points in the first half, connected on a field goal that cut Loyola's advantage to 7-6 at the 15:25 mark. Over the next 7:33, the Aces would be held scoreless while the Ramblers added nine unanswered points to go up 16-6. Givance ended the stretch with a 3-pointer. Evansville was 0-for-6 with four turnovers during the scoreless drought.
Loyola led by as many as 13 in the opening period and would hold that deficit at the break, leading 30-17. Both teams had 10 turnovers in the first half.
Noah Frederking opened the second half with a triple to get the Aces within 10, but over the next two minutes, Loyola converted a pair of field goals to open up a 14-point lead. Frederking converted another triple before an and-one by Givance saw the Aces make it a 36-28 game inside of the 17-minute mark.
UE's rally continued. After going 2-of-2 from long range on Saturday, Trey Hall knocked down a triple with 11:34 left in the game to cut the Loyola lead to four – 41-37. The Ramblers responded with seven in a row as the half moved past the midway point before a jumper by Newton at the 7:45 mark made it a single-digit game – 48-39. The sixth field goal of the game by Newton, coupled with the fourth outside shot by Frederking, saw the Aces claw back within four tallies with exactly five minutes on the clock.
Following a time out, the Ramblers converted on the offensive end and used a Keith Clemons triple to go back up by nine with just over two minutes left and would fend off the Evansville challenge to finish with a 69-58 win. The Ramblers finished the game shooting 57.9% with the Aces checking in at 42.0%.
Next up for UE is a home-and-home against Indiana State. The Aces welcome the Sycamores to the Ford Center on Sunday, Feb. 14 for a 3 p.m. game before the teams square off in Terre Haute on Wednesday, Feb. 17 in a 4 p.m. CT contest.
Purple Aces Overtake Valparaiso While Setting Program Records
Saturday the Purple Aces hit the road to take on Indiana State and Valparaiso at Vigo County Aquatic Center in Terre Haute, Ind., setting two program records.
The men took down Valpo 203-58, while the women won against the Crusaders 246-45, but fell to Indiana State 165-133.5.
Sarah Jahns and Maya Cunningham highlighted the day for UE, both smashing program records.
Jahns pushed herself to the top of the record books in the 1000-yard freestyle with a time of 10:16.23, topping her previous personal record by over two seconds. She also swept the 200-yard backstroke (2:01.92) and the 500-yard freestyle (5:03.85).
Cunningham earned the new school record in the 200-yard butterfly with a time of 2:03.19. She also placed second in the 200-yard IM (2:07.26) ranking her sixth all-time in that event.
The Aces relays had a great showing with both the men's (1:26.58) and women's (1:37.70) 200-yard freestyle teams taking first.
Also finishing in first was the men's 400-yard medley, which was made up of Credence Pattinson, Eli James, Riccardo Di Domenico and Jackson Kennedy. Pattinson also took the 100-yard backstroke (51.50) title, while James won the 100-yard breaststroke (57.64).
Di Domenico also swam in 50-yard freestyle (21:30) and the 100-yard butterfly (49.21), taking first in both events. His performance in the 100-yard butterfly moved him to third fastest all time, overcoming his previous time of 49.33.
Kennedy added two more victories as well in the 200-yard freestyle (1:43.22) and the 200-yard backstroke (1:57.77).
Griffin Hammet put his name in the record books with a time of 1:54.97 in the 100-yard butterfly, earning him first place in the meet. He also took first in the 200-yard IM (1:58.17).
Maggie Franz dove her way to the top of the podium with a score of 235.95 off of the 3-meter board.
The Ace's next event will be back in Evansville on February 12 against Southern Illinois.
Guillen Scores Penalty as Aces Fall at Lipscomb
Despite a late attacking effort, the University of Evansville men's soccer team dropped its season opener at Lipscomb, 3-1, on Saturday night in Nashville, Tenn.
"You have to give credit to Lipscomb. They came out and were prepared for the match," said Aces head men's soccer coach Marshall Ray. "I thought we did well at halftime of making some adjustments and coming out and putting some pressure on them and creating a few chances with Nkosi (Graham) getting in behind. We fell asleep twice and they punished us."
The man of the match for Evansville, freshman Pablo Guillen recorded the first shot of the evening in the fifth minute that missed right of goal. After the Bisons earned a pair of corner kicks, it was Lipscomb who reached the scoreboard first, as Javanne Smith found Tyeese Spicer for the first goal of the night. Before the close of the opening half, Guillen unleashed another shot that missed its target as the Aces trailed 1-0 at the break.
Nearly 20 minutes into the second half, Lipscomb added a second goal, this time in the 65th minute as Javanne Smith scored off an assist from Hayes Wood. Four minutes later, Lipscomb scored its third of the evening as Javanne Smith scored his second to make it 3-0 in the 70th minute.
Inside the final five minutes, Evansville showed its resiliency, continuing to push for a goal. The Aces earned a penalty kick as Lipscomb goalkeeper Michael Sibley came out of the box and touched the ball, resulting in a yellow card and an opportunity for Evansville. Guillen stepped to the spot and calmly delivered the Aces first goal of the night and season, slotting the ball in the upper right corner to narrow the Aces deficit in a 3-1 loss to Lipscomb.
On the night, Evansville recorded five shots to nine for Lipscomb, while the Bisons earned nine corners to the Aces one.
"We'll watch video and get better. We look forward to opening conference play against Drake next week," said Ray.
Evansville makes its home debut on February 13 when the Aces welcome in MVC foe Drake for a Noon kickoff at Arad McCutchan Stadium.
Anna Lowry Takes Second Win of the Season at Murray State
Senior Anna Lowry captured the individual victory at the Murray State Open to highlight the day for the University of Evansville men's and women's cross country teams on Friday.
Following a season-opening win two weeks ago at the Belmont Opener, Lowry secured her second-straight win with a dominant performance at Miller Memorial Golf Course in Murray. Lowry's time of 18:17.5 was more than 30 seconds better than the second-place finisher and more than a minute better than the closest attached runner.
As a team, the Aces women's team captured a seventh-place finish, while Evansville's men's team came home in sixth.
Following Lowry for Evansville was senior Izzy Dawson, finishing in 30th with a time of 21:13.1. Also finishing in the top 40 for the Aces was junior Emma Boebinger with a time of 22:08.7 in 39th-place.
Senior Lauren Meyer came home in 42nd for Evansville with a time of 22:26.9. Rounding-out the results for the Evansville contingent were a pair of freshmen in Tess Crowley, who set a PR with a time of 22:47.3, finishing in 44th and Kennedy Jester who finsihed in 46th with a time of 25:08.3.
For the men's team, it was sophomore Peter Epur who powered the Aces effort. Epur finished in 14th with a PR time of 27:12.5. Coming in just behind Epur was senior J.J. Pedersen, who finished inside the top 25 in 22nd with a time of 27:52.4.
Another Ace picking-up a top 30 finish was freshman Joshua Myers, finishing in a time of 28:01.5 in 28th-place.
Two more Aces earned spots inside the top 50 as senior Timmy Miller completed the 8k in a time of 29:02.7 in 42nd and sophomore Jackson McPheeters recorded a 48th-place finish, crossing the line in 29:37.9.
Ryan Melvin was the next Ace to record a time, finishing in 55th with a time of 30:37.9. Closing-out the Evansville effort were junior Carson Kline in 58th, finishing in 33:08.5 and freshman Luke Watts who set a PR with a time of 34:52.3, crossing the finish line in 59th-place.
UE Puts Forth Strong Effort in Setback at Loyola
Facing one of the top 30 teams in the nation on the road, the University of Evansville men's basketball team fought to the final whistle in a 68-55 loss to Loyola on Saturday afternoon at Gentile Arena.
Evansville (8-9. 6-5 MVC) played hard throughout the entire game before a game-changing stretch by Loyola (16-3, 11-1 MVC) saw them take a 16-point lead in the second half. The Purple Aces got back within single digits before the Ramblers hung on for the win.
"Loyola is such a versatile team; they are so good on both ends of the floor," UE head coach Todd Lickliter said. "We knew it would be a great test and our guys have shown that they will always fight back. If we use it right, this challenge will help us in our pursuit to be a great team."
Noah Frederking had an outstanding effort on Saturday, leading the Aces with 15 points. He was 6-for-10 from the field while knocking down three triples. Jawaun Newton scored nine while Shamar Givance and Iyen Enaruna registered seven apiece.
Making the first start of his career, Iyen Enaruna made an immediate impact. After winning the opening tip, Enaruna grabbed an offensive board and scored on the first possession. Shamar Givance added a 3-pointer that gave the Aces an early 5-2 advantage. With the Ramblers up 7-5, Evan Kuhlman came in and knocked down a triple. On the next possession, he found a cutting Noah Frederking for a field goal that put the Aces on top – 10-7.
A 9-2 stretch by the Ramblers put them back in front by a 16-12 tally before Trey Hall ended a 3-minute scoreless stretch with his first triple of the day. As the half approached the final five minutes, Hall and Frederking hit 3-pointers that cut Loyola's lead to 22-21, but a 9-0 run by Loyola gave them their first double figure lead of the game at 31-21 at the 1:51 mark. UE cut one off that deficit to trail by a 36-27 margin at the half. Frederking led the Aces with eight points in the first half. Cameron Krutwig had 11 points and six rebounds through the first 20 minutes of play.
Five of Evansville's first seven shots of the second half found the bottom of the net with UE getting back within three points – 38-35. After Loyola pushed its lead back to five at 44-39, they put forth their top stretch of the game, recording 13 of the next 15 points to stretch their advantage to 57-41 with 12:08 remaining. They converted seven consecutive field goals.
Evansville has gained a reputation around the Missouri Valley Conference for never giving up and today was no different. The defense clamped down to force five Rambler misses in a row while a triple by Samari Curtis spearheaded a 7-0 run to make it a 9-point game inside of the 8-minute mark.
Loyola's lead hovered around the 10-point mark over the remainder of the game. UE got within single figures a few times, but Loyola kept answering before taking the win. Krutwig led the Ramblers with 10 points and 11 rebounds while going 8-for-13 from the field.
UE Volleyball Home to Face UNI in a Pair of Matches
A 2-game set against UNI opens the month of February for the University of Evansville volleyball team when the Purple Aces welcome the Panthers this weekend. Game one is set for Sunday, February 7 at 2 p.m. before Monday's contest begins at 4 p.m. inside Meeks Family Fieldhouse. Both games will be carried live on ESPN+.
Last Time Out
On Sunday, the Aces earned a non-conference split with a 3-2 win over Saint Louis before falling by a 3-0 final to #24 Western Kentucky in Bowling Green
Trailing 2-1 against the Billikens, the Aces stormed back with a 25-22 win in the fourth game before finishing the match with a 15-12 decision in the fifth
Alondra Vazquez posted 20 kills and 14 digs while Melanie Feliciano had 17 kills and 16 digs in the victory
1-2 Punch
Through the first week of action, UE has been led by Alondra Vazquez and Melanie Feliciano on the offensive end
Vazquez ranks third in the MVC with 3.73 kills per set while Feliciano checks in with 3.27, putting her 9th in the league
They have led the team in kills in each of the opening four matches of the season
Playing Some Defense
Serving as Evansville's libero in 2021, Laura Ruiz has adjusted nicely, recording 3.53 digs per set in the opening week of action
After posting 73 digs in her entire freshman season, Ruiz has already accumulated 53 in UE's first four matches
Ruiz set her season mark with 17 in the opener against the Sycamores and the contest against Saint Louis...UE is 2-0 when she has over 12 digs
Scouting the Opponent
UNI enters the series with an 0-5 mark including a pair of losses to Drake to open their conference season
In non-conference action, the Panthers took on Big East squad Marquette along with 15th-ranked Creighton on the road
Emily Holterhaus paces the UNI offense with 3.47 kills per set while the defense is led by Baylee Petersen's 3.68 digs per contest…Peterson is the daughter of UNI head coach Bobbi Petersen
Men's Golf Set for Season Opener on Monday
The University of Evansville men's golf team officially starts the spring 2021 season on Monday with a trip to Lake Jovita Country Club in Dade City, Florida for the Earl Yestingsmeier Match Play.
Set to begin on Monday, the two-day event will consist of three rounds of match play competition, two rounds Monday and one round Tuesday. Teams are seeded 1 through 7 based upon 2019-20 year-end Golfstat rankings and then placed into a bracket. As the No. 1 seed, Ball State has a bye in the first round. The team that loses by the widest margin in the first round will sit out the second round and then play in the fifth-place match in the final round. The team that loses in both of the first two rounds will sit out the final round and finish in seventh place. Each team match will consist of six individual matches. Lineup order for each team is based upon 2019-20 year-end Golfweek player rankings, with the top-rated player in the No. 1 position and so on.
A shotgun start with continuous play opens up on Monday at 8:30 a.m. where the first and second rounds will be played. The final round of action on Tuesday is also set for an 8:30 a.m. shotgun start. Evansville will face Eastern Michigan in the opening round.
Dallas Koth finished with a 72.90 stroke average last season to lead the Aces squad. Matthew Ladd was just behind him with a 73.18. Koth was on a roll in the spring when the pandemic put a halt to the season. In the first event of 2020, Koth took second place at the ASU Spring Classic, carding a 3-round score of 211 (5 under par) to come home in second place.
Koth continued his strong start with a tie for 8th place at the Don Benbow Invitational. In five spring rounds, he finished with a 72.20 average. Two more returners finished with averages near the 74 mark. Spencer Wagner finished the 2019-20 campaign with a 74.10 average with three rounds in the 60's in the spring of 2019. His lowest effort – a 68 – came in the final fall round at the APSU Intercollegiate.
Isaac Rohleder was another player who was nearing the top of his game last spring. After averaging 75.20 strokes in the fall of 2019, Rohleder cut that down by three strokes, finishing his five spring rounds with a 72.20. His 1-under 215 at the ASU Spring Classic earned him a tie for fifth place while his 2-under 69 in the final. Koth, Ladd and Wagner earned spots on the 2020 Missouri Valley Conference Men's Scholar-Athlete First Team.
Contribute to AceNotes
To have content considered for inclusion in AceNotes, please submit a Marketing Request Form. Deadline for submission to AceNotes is 10:00 a.m. on the requested date of publication. Only articles concerning UE related/sponsored activities will be accepted. Articles submitted to AceNotes may be edited for length and clarity. Submitter contact information is at the end of each article.