| | |
| --- | --- |
| AceNotes Today | Friday, February 5, 2021 |
Writing Center to have "Soft Open" Monday, February 8
The Writing Center will be all digital again this spring, and though the hours will be done differently— busy hours will sometimes have up to four tutors on them and hours that traditionally had no visitors may not be staffed at all— students are encouraged to make an appointment at evansville.mywconline.edu starting Sunday! We look forward to helping everyone uncover their own academic voices and are grateful to be able to offer this service in a way that protects everyone's health.
Beach Party Movie Night
Join us Saturday night at 8:00 as we watch legendary Mitch Buchannon lead his elite squad of lifeguards on a mission to prove that you don't have to wear a badge to save the bay as they go undercover to take down a ruthless businesswoman whose devious plans threaten the future of the bay in the movie Baywatch. Come experience a movie theatre atmosphere complete with popcorn, candy, and drinks! Oh and don't forget to wear your favorite beachwear for some extra fun!
Please arrive with your group of friends so we can seat you in the same Eykamp theatre!
Please RSVP on UEngage!
Wellness Day At Paoli Peaks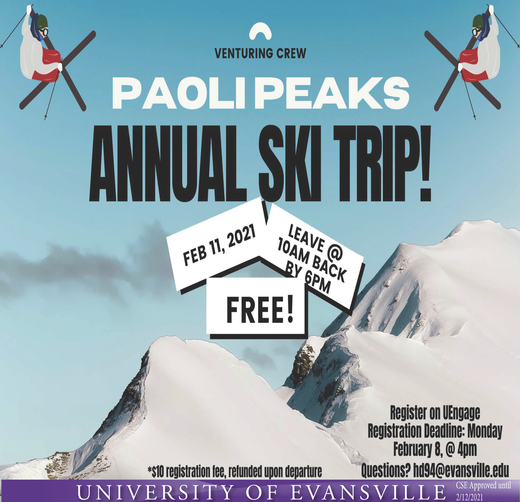 Need plans for the first Wellness Day on Feb. 11th? Venturing Crew has you covered for FREE!. Come hit the slopes with your friends at Paoli Peaks, and try your luck at skiing or snowboarding or show off your skills as a seasoned athlete. Sign up on UEngage. Last day to sign up is Feb. 8, 2021. If you have any questions, contact hd94@evansville.edu. Everyone is welcome!
*$10 deposit required, refunded on departure.
Student Leadership Conference
The 2021 Student Leadership Conference will be held on March 13th from 10:00 am until 2:30 pm. This year the conference will be focused on the overarching theme of Overcoming. Speakers include alumni, peers, and a keynote from Dr. Lauren Cook from the University of California, Los Angeles. During the conference, you will be able to hear about overcoming mental health challenges, how to use creative problem solving in a team, how to cope during challenging times, and how to use your voice as a leader.
Due to UE's Covid policies, we will be offering both an in-person and a virtual option for attendees. We would love to have you as part of the day and hope you can join us! More information can be found on UEngage or feel free to reach out with any questions. You can also take the first step and register at the link below. Hope to see you there!
Register Here: https://forms.office.com/Pages/ResponsePage.aspx?id=Mn3Vp_fKjUmhj-Qp-N8faPZlUoDo1R5IqdtheBCPwNxUREZSUDZUTDFNMVI1WVZaM0taVEtTTFQySS4u
Counseling Services Hosts Coping with COVID, Support Group for Students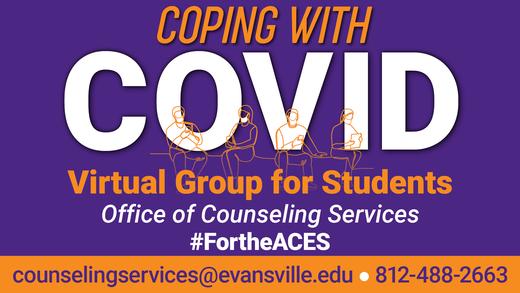 According to the UE COVID-19 Fall 2020 Survey, "of the 275 students who submitted a complete survey almost all of them (96%) identified at least one factor that contributed to feelings of stress, anxiety, or depression."
How are you really doing in the midst of the pandemic?
The Office of Counseling Services is hosting a virtual 4-week group to discuss the impact of COVID-19 on your mental health. The group will meet weekly beginning on Wednesday, February 10th through March 3rd from 4-5 pm via zoom. Topics will include self-care while living in a pandemic, how covid-19 disrupted your life, staying connected, and more. Email counselingservices@evansville.edu to sign up for the group. The group is limited to 8 students and operates on a first-come, first-serve basis.
For more information, find the event on UEngage: https://uengage.evansville.edu/event/6877970.
UE Theatre Hosted Andrew Femenella, Becca Blackwell, & Agnes Borinsky's "Authentic Personhood & Gender Identity is/in the Work" Discussion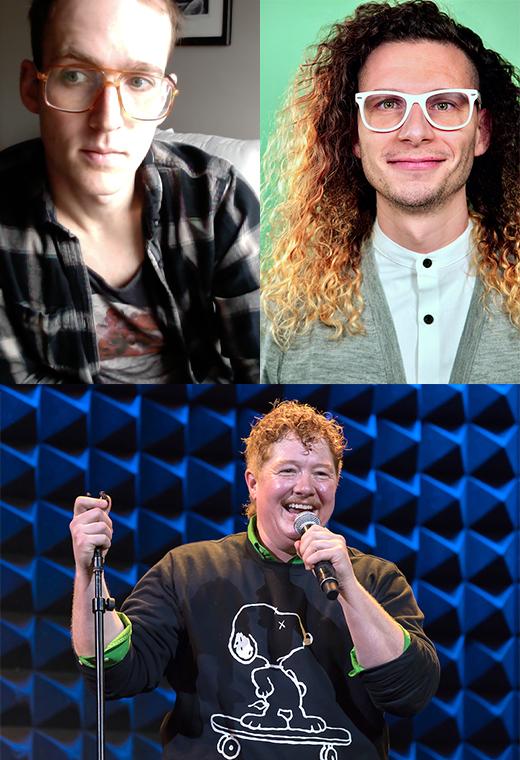 UE Theatre hosted another session of their 2020–21 Workshop Series on Monday, February 1, 2021. Andrew Femenella (right), Becca Blackwell (bottom), and Agnes Borinksy (left) engaged in a discussion with students about identity and its relation to being a theatre artist.
Femenella is a casting director and artist based in New York City. They have worked with Emmy-award winning casting directors Christine Kromer, Carmen Cuba, Katja Blichfield and Jessica Daniels. Femenella, who is fluent in three languages (English, American Sign Language, and Spanish), works to bring a practical intersectional approach to their work to help shine a light on overlooked performers and communities. They were the inaugural recipient of the Casting Society of America's Rosalie Joseph Humanitarian Award. For their work with Christine Kromer on season one of Netflix's RUSSIAN DOLL, they received a 2020 Artios Award for Excellence in Casting.
Blackwell is an NYC-based trans actor, performer, and writer. They work collaboratively with playwrights and directors to expand the sense of personhood through performance. Some of Blackwell's collaborations have been with Young Jean Lee, Half Straddle, Jennifer Miller's CIRCUS AMOK, Richard Maxwell, Erin Markey, Sharon Hayes, Theater of the Two Headed Calf and Lisa D'Amour. Their film/TV credits include: HIGH MAINTENANCE, RAMY, MARRIAGE STORY, SHAMELESS, DEADMAN'S BARSTOOL, and JACK IN THE BOX. They have toured their solo shows THEY, THEMSELF AND SCHMERM and SCHMERMIE'S CHOICE across the US. Blackwell was a recipient of the Doris Duke Impact Artist Award, the Franklin Furnace award, and the Creative Capital Award.
Borinsky is a writer from Baltimore, who lives in Los Angeles. Her recent projects include ULYSSES S. GRANT IN THE NEW WORLD at PAM, BRIEF CHRONICLE, BOOKS 6–8, with I Am a Slow Tide, WEIRD CLASSROOMS at University Settlement, DING-DONG IT'S THE OCEAN with Rady & Bloom, and OF GOVERNMENT with Clubbed Thumb. 3 Hole Press published her play, BRIEF CHRONICLE, BOOKS 6–8, and SASHA MASHA, her young adult novel. She is convener, with the help of the Bushwick Starr, of the Working Group for a New Spirit, an editrix at Riting.org, a member of Masrah Ensemble, and has collaborated on all sorts of projects in basements, backyards, gardens, circus tents, classrooms, bars, and theatres. Borinksy is a member of New Dramatists, an alumna of Brooklyn College, as well as the Los Angeles Permaculture Academy.
UE Theatre Hosted Brandon Kirkham's '05 Puppetry Workshop
UE Theatre hosted another session of their 2020–21 Workshop Series on Sunday, Jan. 31, 2021 with Brandon Kirkham as the guest artist. He previously tasked workshop attendees with a challenge in puppetry; the session allowed participants to showcase their work and receive feedback.
Kirkham received his MFA in Theatre Design from Ohio University, a BS in Theatre Design & Technology from the University of Evansville, and holds a graduate certificate in Puppet Arts from the University of Connecticut. He is a proud member of Puppeteers of America, UNIMA USA, Brown County Arts Alliance, and the Indiana Puppetry Guild.
He is a freelance designer, builder, and artisan with more than a decade of professional experience in theatres and shops across the country. From his studio in the historic art colony of Nashville, Indiana, he designs costumes, sets, and puppets for theatre, and builds custom puppets, props, and crafts for all types of clients. Kirkham brings a wide range of skills and approaches to his work and especially loves projects that combine multiple disciplines and require unique design solutions.
From 2010 to 2019, Kirkham worked at First Stage, a theatre organization for young people and families in Milwaukee, Wisconsin. He served as Design Supervisor, Costume Crafts Artisan, and Properties Artisan, and designed more than fifty productions for that company. Kirkham has also designed for Milwaukee Chamber Theatre, Skylight Music Theatre, Hope Summer Repertory Theatre, Florentine Opera Company, and others. As a builder of puppets, crafts, and props his work has been seen at Lyric Opera of Chicago, Steppenwolf Theatre Company, Pioneer Theatre Company, Milwaukee Repertory Theatre, Enchantment Theatre Company, Kohl's Wild Theatre at the Milwaukee County Zoo, Utah Museum of Natural History, and many more. Kirkham spends his summers in New Mexico as Costume Crafts Head for the Santa Fe Opera.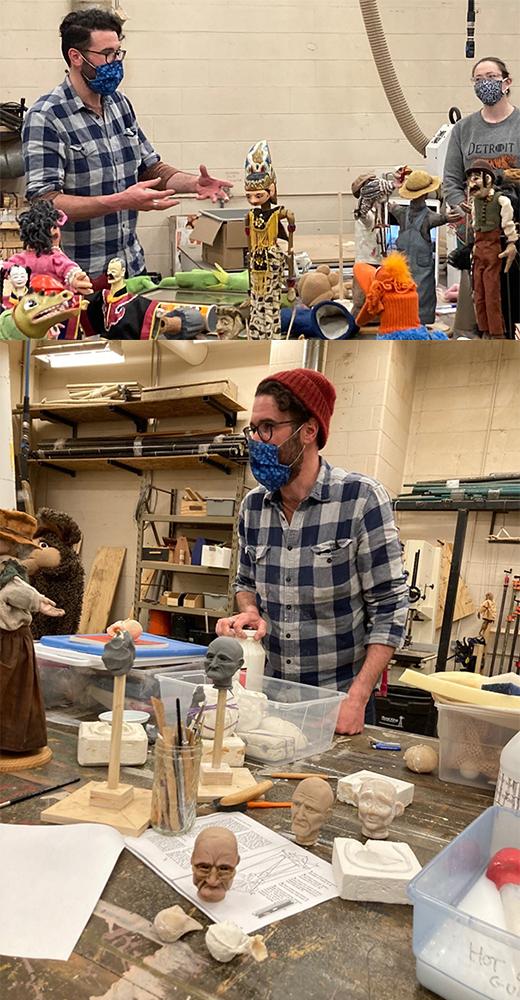 Submit your 2021-2022 FAFSA
File the 2021-22 FAFSA by April 15 at https://www.fafsa.ed.gov
Continuing students should file the 2021-22 Free Application for Federal Student Aid (FAFSA) to apply for federal, state and University need-based financial aid, including all federal student loans. UE's FAFSA code is 001795.
Filing by April 15 is essential for Indiana residents to receive state aid, and highly recommended for all.
Questions regarding the FAFSA should be directed to the Student Financial Services (Olmsted Administration Hall, Room 105) at 812-488-2364.
Online Drop-In Academic Peer Coaching Available
Now more than ever, time management, study strategies, test preparation, organization, and school-life balance habits are important concepts to master. If you've found yourself struggling and you want someone to help you talk through the academic issues you're facing, the Academic Peer Coaches are available for drop-in coaching through Zoom!
Go here to see the online drop-in peer coaching schedule: https://www.evansville.edu/advising/academic-success-lab.cfm
Working with an academic coach can help get your academic life back into balance and start the new year on better academic ground.
Individual coaching is still available as well.
New Bookstore Hours Effective Immediately
Due to the ongoing COVID-19 situation, the bookstore is changing their hours of operation to the following until further notice:
Monday-Friday: 9a-4p
Saturday: 10a-2p
Sunday: Closed
Calling All Nerds! Register Your Team for Nerd Wars Today
The Honors Program invites you to register for this year's Nerd Wars trivia competition, scheduled for Tuesday, March 16 at 6:00pm. To adhere with social distancing guidelines, Nerd Wars will be held this year in various classrooms in Koch and over Zoom, but will still feature many of its great traditions, including the Nerdiest Dressed competition, snacks/giveaways, and the chance to win fabulous prizes. Form your team of up to 5 participants (students, faculty, administrators and staff are welcome to participate) and join us in a trivia battle for prizes, bragging rights, and the coveted Nerd Wars trophy.
Register online now at this link: https://forms.gle/5ausY8z5KkZRFnaG7
Registration this year is FREE. The deadline to register is Wednesday, February 10.
Please contact Hannah Tarr (ht80) or Samantha Schmidt (ss747) with any questions.
Eykamp Prize: Call for Nominations
The Eykamp Prize was established by Richard and Rita Eykamp in 2015 to honor Faculty Achievement at the University of Evansville. Recipients of the prize will receive an award of $10,000 in recognition of extraordinary contributions to the University of Evansville as University Citizens. Examples of such contributions include deep and successful involvement in recruiting students; expanding the number, scope, and competitiveness of grant funding for their department; bringing positive public awareness to the University through scholarship, knowledge, and understanding of their discipline.
Nominations for the Eykamp Prize may come from any member of the University of Evansville community. Nominees should be tenured or tenure-track faculty members at the University of Evansville who have not received the award in the previous five years. Nominations can be submitted in writing or via e-mail to Dr. Michael Austin, Executive Vice President for Academic Affairs and Provost, at ma352@evansville.edu by March 12, 2021. Nominations should include the name of the faculty member and a brief statement of the reasons that he or she is being nominated.
Recipients of the Eykamp Prize will be selected by an Awards Committee appointed by the EVPAA and Provost that includes members of the faculty and staff, academic administrators, and at least one member of the Board of Trustees. The award will be announced and presented at the May Commencement Ceremony.
Previous recipients in the last five years are: 2016 – Dr. Mark Valenzuela; 2017 – Dr. Lora Becker; 2018 – Dr. David Dwyer; 2019 – Dr. Kristy Miller; and 2020 – Dr. Jerrilee LaMar.
Walking Club?! New Club on Campus! Check it out
Hey everyone!
You have to crawl before you walk, so crawl if you want, but if not check out and join the new UE Walking Club!
Walk or run with a friend, by yourself, or even walk your dog.
Not interested yet?!
Well you can earn the first ever UE Walking Club shirt after completing 100 miles in 100 days!
One small step at a time, you can get active and stay healthy by joining this club.
The 100 mile challenge runs from February 1st to May 11th
Contact Jamie Vance at jv102@evansville.edu to sign up or to learn more!
Cross Country Set for Second Meet of the Season
After a successful first meet of the season, the University of Evansville men's and women's cross country teams head to the Murray State Open on Friday.
The women's team gets under way in the 5k at 2 PM with the men's team taking to the course for its 8k at 2:45 PM.
Joining Evansville in the meet are host Murray State, Jacksonville State, Morehead State, North Alabama, SIUE, and Campbellsville.
The Aces women's team opened the season at the Belmont Opener on January 24 and got a classic performance from senior Anna Lowry to lead the team. Lowry captured the individual victory in the 5k with a time of 17:42, helping power Evansville to an eighth-place team finish.
On the men's side, Evansville also opened at the Belmont Opener, putting in a strong team performance to capture a sixth-place finish. Four Aces finished inside the top 50, led by newcomers JJ Pedersen and Peter Epur in 33rd and 34th, respectively.
Aces Series at UNI Rescheduled
The Missouri Valley Conference has announced scheduling shifts for two women's basketball series.
The Indiana State-Valparaiso women's basketball series will move from Thursday-Friday (Feb. 11-12) to Saturday-Sunday (Feb. 13-14) at Hulman Center in Terre Haute, Ind., and both games will start at 2 p.m. ET and will air on The Valley on ESPN.
The recently postponed Evansville-UNI women's basketball series will now be played on Saturday-Sunday (Feb. 27-28) at the McLeod Center in Cedar Falls, Iowa. The Saturday game will tip at 1 p.m. CT; and the Sunday game will tip at 12 p.m. CT. Both games will air on The Valley on ESPN. The scheduled Indiana State-UNI volleyball match on Sunday will shift from 2 p.m. CT to 6 p.m. CT to accommodate the basketball moves.
Contribute to AceNotes
To have content considered for inclusion in AceNotes, please submit a Marketing Request Form. Deadline for submission to AceNotes is 10:00 a.m. on the requested date of publication. Only articles concerning UE related/sponsored activities will be accepted. Articles submitted to AceNotes may be edited for length and clarity. Submitter contact information is at the end of each article.