| | |
| --- | --- |
| AceNotes Today | Wednesday, February 3, 2021 |
Wellness Day At Paoli Peaks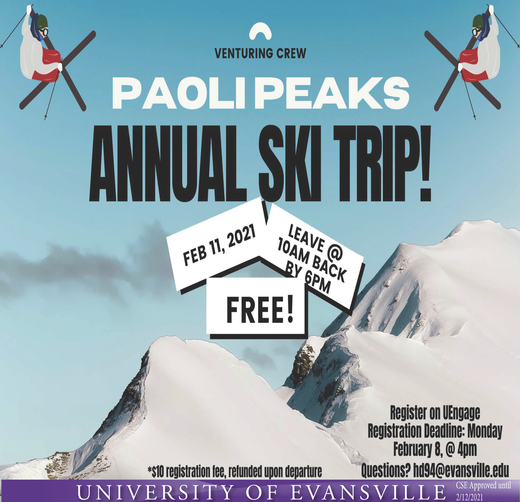 Need plans for the first Wellness Day on Feb. 11th? Venturing Crew has you covered for FREE!. Come hit the slopes with your friends at Paoli Peaks, and try your luck at skiing or snowboarding or show off your skills as a seasoned athlete. Sign up on UEngage. Last day to sign up is Feb. 8, 2021. If you have any questions, contact hd94@evansville.edu. Everyone is welcome!
*$10 deposit required, refunded on departure.
Student Leadership Conference
The 2021 Student Leadership Conference will be held on March 13th from 10:00 am until 2:30 pm. This year the conference will be focused on the overarching theme of Overcoming. Speakers include alumni, peers, and a keynote from Dr. Lauren Cook from the University of California, Los Angeles. During the conference, you will be able to hear about overcoming mental health challenges, how to use creative problem solving in a team, how to cope during challenging times, and how to use your voice as a leader.
Due to UE's Covid policies, we will be offering both an in-person and a virtual option for attendees. We would love to have you as part of the day and hope you can join us! More information can be found on UEngage or feel free to reach out with any questions. You can also take the first step and register at the link below. Hope to see you there!
Register Here: https://forms.office.com/Pages/ResponsePage.aspx?id=Mn3Vp_fKjUmhj-Qp-N8faPZlUoDo1R5IqdtheBCPwNxUREZSUDZUTDFNMVI1WVZaM0taVEtTTFQySS4u
I-House Black History Month
This week in I-House, we have Harmonee Baltzell. I-House's goal is to honor black history month so we are partnering with the Black Student Union of UE to provide a safe for educational and cultural development. Harmonee is a very active member of BSU and she will be sharing her experiences and her perspectives on this theme.
30th Anniversary of Archaeology and Art History Alumni Lecture February 3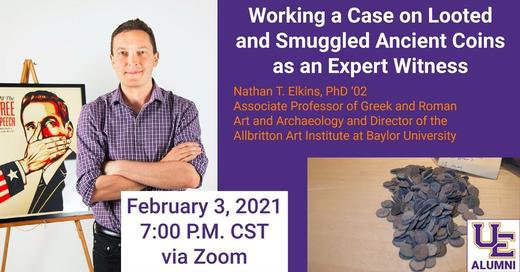 Please join us for the second lecture in a series of alumni talks in celebration of the 30th anniversary of the Department of Archaeology and Art History at the University of Evansville. UE alumnus Dr. Nathan Elkins ('02), Associate Professor of Greek and Roman Archaeology and Art History at Baylor University, will present "Working a Case on Looted and Smuggled Ancient Coins as an Expert Witness" on Wednesday February 3 at 7:00 pm by Zoom. To register: https://www.uealumnionline.com/Looting
This Week in Religious Life
WORSHIP
Due to pandemic restrictions, UE will not offer Protestant worship in Neu Chapel this semester. Mass will still be offered on Sundays, 1PM. There are also several churches in walking distance of our campus that are open for virtual and/or in-person worship on Sundays.
Methodist Temple (masks required)
8:30am, traditional worship
11:00am, contemporary worship
Redeemer Lutheran (masks required)
8:00am and 10:30am, traditional worship
OTHER EVENTS
Starting on Wednesday, February 3, check out UE's YouTube page as we start a new, biweekly video series on spiritual practices. Using practices from Christianity, Judaism, and Islam, we'll learn how to de-stress, unwind, and re-center.
On Wednesday, February 3, 7PM, Newman Club will host Kairon Unfried for a Zoom conversation called "When God Winks" about listening for God.
If you'd like to join a Newman Club small group, you can sign up here: https://docs.google.com/forms/d/e/1FAIpQLSecFpCOiycpWm-GylEffN-8CLo9PcI15IxAp1oeVjlr70khTA/viewform?usp=pp_url.
Online Drop-In Academic Peer Coaching Available
Now more than ever, time management, study strategies, test preparation, organization, and school-life balance habits are important concepts to master. If you've found yourself struggling and you want someone to help you talk through the academic issues you're facing, the Academic Peer Coaches are available for drop-in coaching through Zoom!
Go here to see the online drop-in peer coaching schedule: https://www.evansville.edu/advising/academic-success-lab.cfm
Working with an academic coach can help get your academic life back into balance and start the new year on better academic ground.
Individual coaching is still available as well.
New Bookstore Hours Effective Immediately
Due to the ongoing COVID-19 situation, the bookstore is changing their hours of operation to the following until further notice:
Monday-Friday: 9a-4p
Saturday: 10a-2p
Sunday: Closed
Calling All Nerds! Register Your Team for Nerd Wars Today
The Honors Program invites you to register for this year's Nerd Wars trivia competition, scheduled for Tuesday, March 16 at 6:00pm. To adhere with social distancing guidelines, Nerd Wars will be held this year in various classrooms in Koch and over Zoom, but will still feature many of its great traditions, including the Nerdiest Dressed competition, snacks/giveaways, and the chance to win fabulous prizes. Form your team of up to 5 participants (students, faculty, administrators and staff are welcome to participate) and join us in a trivia battle for prizes, bragging rights, and the coveted Nerd Wars trophy.
Register online now at this link: https://forms.gle/5ausY8z5KkZRFnaG7
Registration this year is FREE. The deadline to register is Wednesday, February 10.
Please contact Hannah Tarr (ht80) or Samantha Schmidt (ss747) with any questions.
Eykamp Prize: Call for Nominations
The Eykamp Prize was established by Richard and Rita Eykamp in 2015 to honor Faculty Achievement at the University of Evansville. Recipients of the prize will receive an award of $10,000 in recognition of extraordinary contributions to the University of Evansville as University Citizens. Examples of such contributions include deep and successful involvement in recruiting students; expanding the number, scope, and competitiveness of grant funding for their department; bringing positive public awareness to the University through scholarship, knowledge, and understanding of their discipline.
Nominations for the Eykamp Prize may come from any member of the University of Evansville community. Nominees should be tenured or tenure-track faculty members at the University of Evansville who have not received the award in the previous five years. Nominations can be submitted in writing or via e-mail to Dr. Michael Austin, Executive Vice President for Academic Affairs and Provost, at ma352@evansville.edu by March 12, 2021. Nominations should include the name of the faculty member and a brief statement of the reasons that he or she is being nominated.
Recipients of the Eykamp Prize will be selected by an Awards Committee appointed by the EVPAA and Provost that includes members of the faculty and staff, academic administrators, and at least one member of the Board of Trustees. The award will be announced and presented at the May Commencement Ceremony.
Previous recipients in the last five years are: 2016 – Dr. Mark Valenzuela; 2017 – Dr. Lora Becker; 2018 – Dr. David Dwyer; 2019 – Dr. Kristy Miller; and 2020 – Dr. Jerrilee LaMar.
School of Business Maintains Accreditation by AACSB International
The University of Evansville Schroeder Family School of Business Administration has maintained its accreditation by the Association to Advance Collegiate Schools of Business (AACSB) International.
AACSB International is the longest-serving global accrediting body for business schools that offer undergraduate, master's, and doctoral degrees in business and accounting. The AACSB accreditation is the hallmark of excellence in business education. Less than 5% of the world's business programs have earned this distinction.
Achieving accreditation is a rigorous process in which the school focuses on developing and implementing a plan to align with AACSB's accreditation standards. After accreditation is achieved, the school takes part in a five-year continuous improvement peer review to maintain high quality and extend accreditation.
"AACSB congratulates the University of Evansville and Dean Beverly Brockman on extending accreditation," said Stephanie M. Bryant, executive vice president and chief accreditation officer of AACSB International. "The intense peer-review process confirms a school's continued focus on excellence in all areas, including teaching, research, curriculum development, and student learning. UE's dedication to delivering high quality business education will create the next generation of great leaders."
The peer review team from AACSB concluded that Schroeder School faculty are deeply engaged in student learning and advising, research, service to community nonprofit boards, and professional consulting. The team also commended the robust program of student engagement within the School. Examples of student engagement include LEAD Forward, a leadership training program for students; the ACES Passport career development program; numerous business-focused student clubs; study abroad opportunities at Harlaxton College in the United Kingdom; and the 100% internship completion rate prior to graduation.
"It's a wonderful feeling to maintain our AACSB accreditation and continue the work of preparing business leaders of the future," said Beverly Brockman, dean of the Schroeder Family School of Business Administration. "Our ongoing goal is to not only provide an exceptional learning environment, but also equip students with the skills and experience to achieve long-term professional success."
Brockman also noted the excellent outcomes for Schroeder School graduates. For the graduating classes of 2019 and 2020, an average of 96% were employed or in graduate school within 3 months. Additionally, the starting salary for graduates was over $49,000.
Religious Life Summer Job
Do you enjoy working with teenagers? Are you passionate about building bridges between religions? Are you available June 19-27? Then you should apply to be a College Mentor for this year's session of Open Table, a spiritual summer program right here on the UE campus. College Mentors help to facilitate small groups, participate in all program activities and field trips, and chaperone high schoolers in the dorm.
Professor Kimberling Coauthors Research Paper
Clark Kimberling, UE professor of mathematics, and Peter Moses, an engineer in England, have a research paper in the current issue of Journal for Geometry and Graphics. This is an international journal with offices at the University of Innsbruck in Austria. Entitled "Permutation ellipses," the article presents geometric and algebraic properties of several newly discovered elliptical curves. An abstract can be viewed at https://www.heldermann.de/JGG/JGG24/JGG242/jgg24018.htm
Calling all changemakers!
Calling all changemakers: watch the video that captures the spirit of Harlaxton and UE's changemaking culture, two of the many things that make UE special.
"People would say we have a duty to the students, to allow them to have those moments to reflect and become the people they need to be to help us through the future," says Dr. Holly Carter, principal of Harlaxton College.
Share your Harlaxton story!
Have you studied abroad at Harlaxton? Do you have special memories of your time across the pond? We want to hear your story and how Harlaxton has made an impact in your life!
The Office of Marketing and Communciations is collecting stories from Aces who have had the opportunity to attend Harlaxton College. Stories will be compiled and added to the yourHarlaxton webpage.
If you'd like to share your story, please contact university relations coordinator Julie Bryant at jb855@evansville.edu or copy editor Parker Franklin at pf60@evansville.edu.
Softball Releases 2021 Schedule
When the 2020 season was cut short for the University of Evansville softball team due to the pandemic, it was an unfortunate break for a Purple Aces squad who won four of its six games leading to MVC play. With the majority of that team coming back, the Aces are ready to get back on the field in 2021.
Evansville wrapped up last season with a 12-11 mark, but was playing its best softball at the time of the cutoff. UE went 3-2 in the Red & Black Challenge in Louisville with a win over Big Ten opponent Illinois highlighting the weekend. An 11-0 victory against Purdue Fort Wayne in the home opener saw the Aces grab even more momentum heading into the league slate, which was set to begin four days later.
"We are really happy with the way the schedule turned out this spring. Our ladies are so excited to finally be able to get back on the diamond and compete against other teams," UE head softball coach Mat Mundell said. "We do understand there may be challenges along the way the team has done a tremendous job of being open and understanding. We hope to build off the foundation we set last spring. We are just so grateful for the opportunity to be able to play again."
With student-athletes able to get their year back for 2020 competition and the 2021 MVC Softball Championship coming to Cooper Stadium, the program is on the rise heading into the season. A trip to Natchitoches, Louisiana marks the season opener with the Aces taking part in the Natchitoches Historic District Development Commission Lady Demon Classic, which will be hosted by Northwestern State. UE begins on Friday, Feb. 12 against UT Martin before wrapping up opening day with a game against Arkansas Pine Bluff.
Day two of the season pits the Aces against the host Lady Demons. Last season, they were 15-7 and earned 30 wins in 2019. Game two of the day will be a rematch against Arkansas Pine Bluff. The tournament will be completed on the 14th with a morning game versus Northwestern State.
Another trip south awaits the Aces when they travel to Montgomery, Alabama for week two of action. The Black & Gold Tournament will be hosted by Alabama State. UE starts the weekend on Friday, Feb. 19 against Middle Tennessee State before facing the ASU Hornets to complete the day. On the 20th, the Aces take on UT Martin for the second weekend in a row before squaring off against Alabama A&M. Sunday's action features a rematch against MTSU.
Week three of the season pits the Aces against a pair of Tennessee schools at the Frost Classic. Set for Feb. 27 and 28, UE faces Tennessee Tech in the opening game each day before facing Chattanooga in the afternoon. In 2019, Chattanooga want 37-17 on its way to the Southern Conference Championship and a berth in the NCAA regionals.
March begins on Wednesday the 3rd with a doubleheader at Bellarmine. Home action starts that weekend with a 4-game series versus Purdue Fort Wayne on the 6th and 7th. There will be a doubleheader each day. Information for the weekend of March 13 will be announced soon.
Missouri Valley Conference play opens on March 20-21 with a 3-game set against Loyola. In the shortened 2020 season, the Ramblers were 12-9. A midweek contest pits the Aces against SIU Edwardsville. They were rolling a year ago – winning 13 out of their 18 games. League play continues on the 27th with a 3-game home set against Valparaiso before UE welcomes UT Martin for a doubleheader on the 30th. It will be the third time the squads will face off in 2021.
In its first conference road series, the Aces travel to UNI on Friday, April 2 and Saturday the 3rd. It is the first of three consecutive weekends on the road. UE heads to Southern Illinois on April 10-11 before continuing at Drake on the 17th and 18th of April. SIU had the league's top record in 2020 – 15-6.
On April 21, UE returns home for a doubleheader against Indiana State before welcoming Illinois State for a 3-game series on the 24th and 25th. Following a trip to Indiana State on the 28th, the Aces host Bradley in their final home series of the regular season on May 1-2. A road trip to Missouri State completes the regular season on May 8-9.
The MVC Tournament will be held at Cooper Stadium and runs from May 12-15.
Evansville Women's Basketball Pauses Activities
The Missouri Valley Conference has postponed the Evansville-UNI women's basketball series (Feb. 4-5) at the McLeod Center in Cedar Falls, Iowa, due to positive COVID-19 test results among Evansville's Tier I personnel, which consists of student-athletes, coaches, managers and staff. The Conference will announce make-up dates for the series/games at a later date.
Additionally, the Indiana State-Missouri State women's basketball series (Feb. 5-6) at JQH Arena in Springfield, Mo., has been cancelled due to COVID-19 concerns. The series will not be rescheduled.
MVC athletically-related activities will take place only to the extent permitted by local environments and applicable national, state, local and institutional guidelines in order to safeguard the health and safety of participants, staff and fans. Schedule updates throughout the season will be posted on mvc-sports.com.
Contribute to AceNotes
To have content considered for inclusion in AceNotes, please submit a Marketing Request Form. Deadline for submission to AceNotes is 10:00 a.m. on the requested date of publication. Only articles concerning UE related/sponsored activities will be accepted. Articles submitted to AceNotes may be edited for length and clarity. Submitter contact information is at the end of each article.