| | |
| --- | --- |
| AceNotes Today | Monday, February 1, 2021 |
W-2s Have Been Processed
W-2 forms have been processed for all employees and student workers. If you have provided consent for electronic W-2's, you can view/print your W-2 now. Simply log into Self-Service, and go to "Tax Information". Click the option "W-2 Information" and then click on "2020 W-2 Statement".
W-2's will be mailed for those employees and student workers who did not provide their consent to electronic W-2's.
If you have any questions, please contact Dawn Bury at ext. 2159 or db287@evansville.edu.
COVID-19 Testing Required for All Students
Given the current positive cases of COVID-19 in our local community, state, and across the country, the University has made revisions to testing requirements for the Spring 2021 semester. All full-time and part-time students must complete one of the following before returning to UE or the Stone Center for Health Sciences:
Submit a negative COVID-19 test
Submit documentation that you have had COVID-19 in the last 90 days
Submit documentation that you have received two doses of the COVID-19 vaccine
Negative test results must be:
• Administered no sooner than seven days prior to arrival.
• Uploaded no later than two days prior to the requested time.
Part-time students
Part-time students who are taking classes on the University of Evansville or the Stone Center for Health Sciences campus, or who have a need to be on campus prior to February 1, must submit a negative COVID test prior to beginning classes for the spring semester.

Students enrolled in All On-Line Courses
Students who are enrolled in ALL ON-LINE COURSES and have no obligation to be on the University of Evansville campus, or the Stone Center for Health Sciences campus, before February 1st are not required to submit a negative COVID test prior to beginning classes for the spring semester.

COVID-19 Clearance: Notifying Your Professors
After submitting your test result or a certificate of a second shot of the COVID-19 vaccine, you will receive an email from UE confirming your clearance and ability to participate in classes. This email must be forwarded to your professors prior to the start of classes.
Students attending class remotely must also update results no later than two days before the start of class. This requirement is for all students enrolled in online, hybrid, and face-to-face classes.
Submitting Test Results and Vaccine Documentation
The COVID-19 test must be an antigen or PCR test from an approved medical facility with documented results. Students will need to upload their documentation through the designated portal. Once results are uploaded and cleared by the University, students will receive an email confirmation that they are cleared to return to campus. The clearance email will be required upon arrival for move-in, as well as attending classes.
Students may be exempt from the required testing if they receive the COVID-19 vaccine. A validated certificate of a second shot of the vaccination must be submitted prior to your return. If you have only received one shot, a validated negative test must be supplied.
Upload your test: Be Safe - Test Upload

Students in University Housing
Similar to the fall semester, students living in university housing as well as Approved University Housing (fraternity houses), must schedule an appointment for moving into their assigned space.
Residence Hall Move-In Appointments
Village and Fraternity Move-In Appointments
Move-in appointments will not be approved without providing documentation of a negative COVID-19 test result as described above.
Students living Off-Campus
For students who do not live on campus, a negative test result must be submitted two days prior to the beginning of classes (January 17) but no sooner than seven days prior to the beginning of classes (January 12).
Additional information can be found on the Spring Testing link on the coronavirus webpage at www.evansville.edu/coronavirus.
30th Anniversary of Archaeology and Art History Alumni Lecture February 3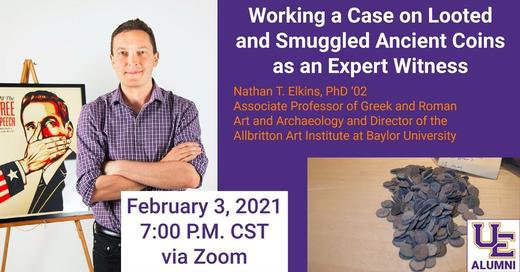 Please join us for the second lecture in a series of alumni talks in celebration of the 30th anniversary of the Department of Archaeology and Art History at the University of Evansville. UE alumnus Dr. Nathan Elkins ('02), Associate Professor of Greek and Roman Archaeology and Art History at Baylor University, will present "Working a Case on Looted and Smuggled Ancient Coins as an Expert Witness" on Wednesday February 3 at 7:00 pm by Zoom. To register: https://www.uealumnionline.com/Looting
This Week in Religious Life
WORSHIP
Due to pandemic restrictions, UE will not offer Protestant worship in Neu Chapel this semester. Mass will still be offered on Sundays, 1PM. There are also several churches in walking distance of our campus that are open for virtual and/or in-person worship on Sundays.
Methodist Temple (masks required)
8:30am, traditional worship
11:00am, contemporary worship
Redeemer Lutheran (masks required)
8:00am and 10:30am, traditional worship
OTHER EVENTS
Starting on Wednesday, February 3, check out UE's YouTube page as we start a new, biweekly video series on spiritual practices. Using practices from Christianity, Judaism, and Islam, we'll learn how to de-stress, unwind, and re-center.
On Wednesday, February 3, 7PM, Newman Club will host Kairon Unfried for a Zoom conversation called "When God Winks" about listening for God.
If you'd like to join a Newman Club small group, you can sign up here: https://docs.google.com/forms/d/e/1FAIpQLSecFpCOiycpWm-GylEffN-8CLo9PcI15IxAp1oeVjlr70khTA/viewform?usp=pp_url.
Spill the Tea
Join the Center for Diversity, Equity & Inclusion Office for a conversation about how racism and implicit bias go hand & hand in our society, and how we can respond to those microaggressions that occur.
VIA Zoom February 1st @5pm
If you have any questions, please contact Abby Martin at am843@evansville.edu.
Topic: 21 Days to Break a Habit: Spill the Tea on Implicit Bias and...racism
Time: Feb 1, 2021 05:00 PM Central Time (US and Canada)
Join Zoom Meeting
https://zoom.us/j/96658714033
Meeting ID: 966 5871 4033
Passcode: 714000
One tap mobile
+16465588656,,96658714033# US (New York)
+13017158592,,96658714033# US (Washington D.C)
Dial by your location
+1 646 558 8656 US (New York)
+1 301 715 8592 US (Washington D.C)
+1 312 626 6799 US (Chicago)
+1 669 900 9128 US (San Jose)
+1 253 215 8782 US (Tacoma)
+1 346 248 7799 US (Houston)
Meeting ID: 966 5871 4033
Find your local number: https://zoom.us/u/aeax13jHhm
School of Business Maintains Accreditation by AACSB International
The University of Evansville Schroeder Family School of Business Administration has maintained its accreditation by the Association to Advance Collegiate Schools of Business (AACSB) International.
AACSB International is the longest-serving global accrediting body for business schools that offer undergraduate, master's, and doctoral degrees in business and accounting. The AACSB accreditation is the hallmark of excellence in business education. Less than 5% of the world's business programs have earned this distinction.
Achieving accreditation is a rigorous process in which the school focuses on developing and implementing a plan to align with AACSB's accreditation standards. After accreditation is achieved, the school takes part in a five-year continuous improvement peer review to maintain high quality and extend accreditation.
"AACSB congratulates the University of Evansville and Dean Beverly Brockman on extending accreditation," said Stephanie M. Bryant, executive vice president and chief accreditation officer of AACSB International. "The intense peer-review process confirms a school's continued focus on excellence in all areas, including teaching, research, curriculum development, and student learning. UE's dedication to delivering high quality business education will create the next generation of great leaders."
The peer review team from AACSB concluded that Schroeder School faculty are deeply engaged in student learning and advising, research, service to community nonprofit boards, and professional consulting. The team also commended the robust program of student engagement within the School. Examples of student engagement include LEAD Forward, a leadership training program for students; the ACES Passport career development program; numerous business-focused student clubs; study abroad opportunities at Harlaxton College in the United Kingdom; and the 100% internship completion rate prior to graduation.
"It's a wonderful feeling to maintain our AACSB accreditation and continue the work of preparing business leaders of the future," said Beverly Brockman, dean of the Schroeder Family School of Business Administration. "Our ongoing goal is to not only provide an exceptional learning environment, but also equip students with the skills and experience to achieve long-term professional success."
Brockman also noted the excellent outcomes for Schroeder School graduates. For the graduating classes of 2019 and 2020, an average of 96% were employed or in graduate school within 3 months. Additionally, the starting salary for graduates was over $49,000.
Religious Life Summer Job
Do you enjoy working with teenagers? Are you passionate about building bridges between religions? Are you available June 19-27? Then you should apply to be a College Mentor for this year's session of Open Table, a spiritual summer program right here on the UE campus. College Mentors help to facilitate small groups, participate in all program activities and field trips, and chaperone high schoolers in the dorm.
UE Theatre Salon Series Welcomed André Holland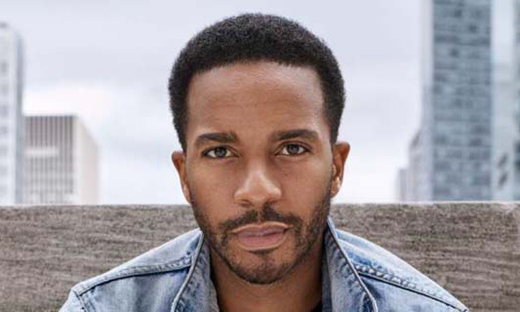 This week's installment of the UET Salon Series was held on Wednesday, Jan. 27, with André Holland.
André Holland is an actor for both the stage and screen, and occasionally works as a producer as well. He had his Broadway debut in 2009 with the Tony Award-winning revival of August Wilson's JOE TURNER'S COME AND GONE. André has also worked on THE WHIPPING MAN with Manhattan Theatre Club and on numerous productions through The Public Theater's Shakespeare in the Park. In 2017, he returned to Broadway to perform in the Tony Award-winning production of August Wilson's JITNEY. His film credits include MIRACLE AT ST. ANNA, 42, SELMA, and MOONLIGHT, which won the Academy Award for Best Picture. Most recently, he was seen in CASTLE ROCK on Hulu and in Ava DuVernay's film adaptation of A WRINKLE IN TIME. He currently stars on Netflix's THE EDDY. André was born and raised in Alabama and studied at both Florida State University and New York University, the latter being where he received his MFA.
This semester, UE Theatre students will have the opportunity to experience thirteen workshops with professionals from the entertainment industry.
Professor Kimberling Coauthors Research Paper
Clark Kimberling, UE professor of mathematics, and Peter Moses, an engineer in England, have a research paper in the current issue of Journal for Geometry and Graphics. This is an international journal with offices at the University of Innsbruck in Austria. Entitled "Permutation ellipses," the article presents geometric and algebraic properties of several newly discovered elliptical curves. An abstract can be viewed at https://www.heldermann.de/JGG/JGG24/JGG242/jgg24018.htm
Calling all changemakers!
Calling all changemakers: watch the video that captures the spirit of Harlaxton and UE's changemaking culture, two of the many things that make UE special.
"People would say we have a duty to the students, to allow them to have those moments to reflect and become the people they need to be to help us through the future," says Dr. Holly Carter, principal of Harlaxton College.
Share your Harlaxton story!
Have you studied abroad at Harlaxton? Do you have special memories of your time across the pond? We want to hear your story and how Harlaxton has made an impact in your life!
The Office of Marketing and Communciations is collecting stories from Aces who have had the opportunity to attend Harlaxton College. Stories will be compiled and added to the yourHarlaxton webpage.
If you'd like to share your story, please contact university relations coordinator Julie Bryant at jb855@evansville.edu or copy editor Parker Franklin at pf60@evansville.edu.
Volleyball Defeats Saint Louis to Earn Sunday Split
In a non-conference doubleheader hosted by Western Kentucky, the University of Evansville volleyball team rallied for a 3-2 win over Saint Louis before falling to WKU by a 3-0 final on Sunday at E.A. Diddle Arena.
Match 1 – Saint Louis
Alondra Vazquez and Melanie Feliciano recorded 20 and 17 kills, respectively, to lift the Aces (2-2, 1-1 MVC) to a 3-2 victory over Saint Louis. Allana McInnis notched 26 assists while Cecilia Thon accounted for 14 helpers and 15 digs. Laura Ruiz led the Purple Aces with 17 digs while Hannah Watkins posted a solo block and four block assists. Chloe Bontrager and Kate Tsironis also had four block assists. Saint Louis (0-2) was led by a 22-kill game from Maya Taylor.
Game 1
In a back-and-forth set, it was the Billikens who picked up the early 7-4 edge before kills by Chloe Bontrager and Alondra Vazquez put Evansville in front by a 10-9 tally. Nine ties led to an 18-18 score before SLU posted two in a row and went on to take the opening game, 25-21.
Game 2
Saint Louis once again had the early edge, jumping out to an 8-3 advantage. The Billikens led by as many as six points (14-8) before Evansville rallied back. UE took advantage of SLU errors to get within a pair at 16-14 before tying it up at 18-18 with Vazquez adding another kill in the run. Saint Louis retook the lead at 22-20 but this time, Evansville had the late rally. Melanie Feliciano recorded two late kills to give the Aces a 25-23 decision to tie the match.
Game 3
Evansville fell into another early hole in the third game with SLU opening up a 10-3 lead. Kills by Feliciano and Bontrager helped to cut the deficit to four (11-7), but Saint Louis countered to finish the game on a 14-4 stretch to take a 25-11 win.
Game 4
With the score knotted at 8-8, the Billikens went on an 8-3 stretch to open up a 16-11 lead. Facing the deficit, the Aces went on a game-changing run. A Vazquez kill and a Cecilia Thon service ace saw UE cut the gap to three (18-15). Following a point by SLU, it was Kate Tsironis registering a kill that was the start of a 6-0 run that turned a 19-16 deficit into a 22-19 lead. It was Vazquez capping it off with three consecutive kills. It was fitting that it was Vazquez who also had the clinching kill in a 25-22 win that sent the game to a fifth and deciding set. The junior had six kills in game four.
Game 5
The opening portion of the fifth frame was the Billikens open up a 2-point lead on four occasions, including a 7-5 edge. Evansville fought right back, using back-to-back Vazquez kills to take a 9-8 lead – its first advantage in the fifth game. A Saint Louis error gave the Aces a 2-point lead and, following a Billiken time out, Laura Ruiz posted a service ace that gave UE an 11-8 advantage. SLU cut the gap to two, but Evansville had the answer with Melanie Feliciano capping off a 15-12 win to give the Aces their second match victory of the season.
Match 2 – #24 Western Kentucky
In the second match of the day, it was 24th-ranked Western Kentucky picking up a 3-0 triumph over Evansville. The Hilltoppers (5-0) hit .278 and were led by Lauren Matthews, who had nine kills. Vazquez and Feliciano had six kills apiece for UE.
Game 1
UE held strong in the opening moments of the first set as the Hilltoppers led by a 9-7 score with a Hannah Watkins kill getting UE within a pair. Western Kentucky would score the next five points to push its gap to seven points before taking the opening game by a 25-16 final.
Game 2
Once again, the Aces kept the nationally-ranked WKU squad in its sight, trailing by a 5-4 score before a huge 12-2 run changed the course of the game. Two Evansville errors saw WKU cap off the run to take a 17-6 lead. Allana McInnis ended the stretch with a kill, but the deficit was too much to overcome with Western Kentucky posting a 25-14 victory to take a 2-0 lead in the match.
Game 3
WKU used a 10-2 stretch in the middle of the third stanza to clinch a 3-0 win in the match. Holding a 10-5 lead, the Hilltoppers reeled off the next six tallies to take a 16-5 lead. Vazquez posted a kill to get UE back on track, but Western Kentucky used its firepower to pull away and clinch the match with a 25-11 decision.
Next up for UE is a 2-game set against Northern Iowa on Feb. 7 and 8 inside Meeks Family Fieldhouse.
UE Leads Wire-to-Wire in 70-52 Win Over Valpo
The University of Evansville men's basketball team scored the first seven points of the game and never trailed as the Purple Aces earned a 70-52 win over Valparaiso on Sunday afternoon inside the Ford Center.
Shamar Givance led a trio of double-digit UE (7-8, 5-4 MVC) scorers with 10 points. He was 8-of-13 from the field and posted a game-high four assists. Jawaun Newton and Samari Curtis posted 17 apiece. Newton knocked down 7 of his 10 attempts and tied his career mark with eight rebounds. Curtis was also 7-of-10 from the field.
"I thought we were focused and had a good mindset as far as playing with the type of purpose that we needed to," UE head men's basketball coach Todd Lickliter exclaimed following the win. "Our guys really complemented each other and played to their strengths. You look at Jax Levitch – he did not take a shot, but he had a really good game. Shamar, Jawaun and Samari had open lanes because of the shooting ability that Jax and all of our guys have."
A 3-for-3 start from the field extended to a 7-of-8 stretch that saw the Purple Aces hold an early 16-6 advantage. Jawaun Newton hit two early shots as the Aces opened up a 7-0 lead. It was Shamar Givance capping off the early stretch with his first triple of the game to complete the 16-6 start. Seven of the 16 points were scored by Newton.
Ben Krikke hit his first five attempts including two from outside to help the Crusaders (6-10, 3-4 MVC) get within four points at 27-23 at the 7:30 mark before Noah Frederking drained his first 3-point try on a feed from Jax Levitch to push the lead back to seven points. Over the final moments of the half, Evan Kuhlman took over on the offensive end adding five points to send the Aces to the break with a 37-27 lead. Kuhlman's first triple came with an assist from Newton that cemented the double-digit halftime lead. UE finished the half shooting 66.7% with 16 of its 24 attempts finding the bottom of the net. Valpo finished the period at 47.8%.
Evansville's hot shooting continued in the second half, converting four of its first six attempts on the way to a game-high 48-31 lead at the 16-minute mark. Samari Curtis scored five in a row and added another field goal with 13 minutes remaining to push the advantage to 58-37. Valpo kept the Aces off the scoreboard for a 5-minute span while cutting nine points off of the UE advantage. A triple by Eron Gordon started a 9-0 stretch that made it a 58-46 game with eight minutes remaining.
Newton ended the scoreless drought when he converted an in-bound pass from Levitch. It was the first field goal in a 6-0 run that saw the Aces regain control. Over the remainder of the game, the lead would reach as many as 23 points (70-44) and would not go under 17 with Evansville ending a 3-game skid with a 70-52 win.
Krikke led Valpo with 18 points. He knocked down 7 out of 9 field goal tries and was 2-for-2 from outside. Gordon tallied 13.
Evansville hit a season-high 29 field goals in the win with 23 being inside the arc. For the game, UE shot 60.4% while hitting 23 out of 30 inside attempts. Valparaiso shot 47.5%. The rebounding edge also favored the Aces to the tun of a 27-19 final.
On Monday, the teams will square off in a 6 p.m. game at the Ford Center.
Sycamores Defeat Aces in Home Opener
Alondra Vazquez and Melanie Feliciano led the University of Evansville volleyball squad once again, but in the rematch against Indiana State, it was the Sycamores finishing with a 3-1 win at Meeks Family Fieldhouse on Friday evening.
Vazquez led the Purple Aces (1-1, 1-1 MVC) with 17 kills. She added another double-double with 10 digs. Feliciano added 15 kills and 10 digs. Laura Ruiz led UE with 12 digs while Allana McInnis added 26 assists, 10 digs and an ace. Chloe Bontrager and Elise Moeller recorded 8 and 7 kills, respectively. Moeller added three block assists while Hannah Watkins tied for the match-high with four.
Indiana State (1-1, 1-1 MVC) was led by a 16-kill effort from Mallory Keller
Game 1
The opening two points of the night belonged to Evansville as Allana McInnis posted an ace. The Sycamores fought back to take their first lead at 5-4. With the set tied at 9-9, ISU scored three in a row before extending their lead to five points at 18-13. Evansville used a 9-3 rally to push its way back in front with Laura Ruiz capping it off with an ace to put the Aces in front – 22-21. Despite UE's momentum, Indiana State countered with the next four points to earn the opening set, 25-22.
Game 2
After falling into a 1-0 hole, the Aces flexed their muscle in the second frame, scoring the first four point before extending that lead to 17-6. Chloe Bontrager notched a kill that gave UE a 9-2 edge and they added to it from there with Vazquez and Feliciano adding kills that made it a double-digit game. The Sycamores fought back to get within five points, but Feliciano's sixth kill of the set clinched a 25-19 win. Vazquez had seven kills in the second game.
Game 3
Indiana State had their most dominant effort of the night in the third stanza. They posted eight of the first 11 points before taking a 2-1 match lead on the strength of a 25-14 victory. ISU hit .371 in the set while holding the Aces to .032.
Game 4
UE jumped out to a 2-0 lead in the fourth set, but ISU countered with seven in a row, forcing an Aces timeout. The break was just what Evansville needed as they went on a 12-5 run to retake the lead at 14-12. Vazquez had two kills in the rally while Kate Tsironis finished the stretch with one of her own. Indiana State reeled off the next three to go back in front before UE came back to tie it up at 18-18. A game-changing stretch by the Sycamores saw them score the next four tallies before clinching the match with a 25-22 win.
Up Next
On Sunday, the Aces travel to Bowling Green, Ky. for a pair of matches. They open against Saint Louis at 2:30 p.m. before playing Western Kentucky at 6 p.m.
Men's Basketball Back Home to Face Valparaiso
For the first time in three weeks, the University of Evansville men's basketball team will take to the Ford Center floor when Valparaiso comes to town for a 2-game series. The Purple Aces and Crusaders open the series on Sunday, January 31 at 3 p.m. before finishing on Monday, February 1 with a 6 p.m. contest. Both games will be carried live on ESPN3 and the Purple Aces Radio Network.
Setting the Scene
A COVID stoppage, coupled with a bye week, have altered the UE schedule
Evansville was set to travel to Indiana State on January 20, but that trip will be rescheduled; the COVID stoppage impacted just one game since UE was headed into its bye week
This weekend's opponent - Valpo - has also dealt with stoppages in MVC play
They have had two series postponed including a home one versus Bradley and a road trip to SIU
Evansville looks to get back on track as they have dropped their last three games
Last Time Out
On Jan. 17, the Aces dropped the second of two games at Bradley by a final of 86-55
The Braves jumped out to an early 15-3 lead and would never relinquish the lead
They shot 56.7% in the first half while going 7-for-11 from outside (63.6%) in the opening 20 minutes
A bright spot for Evansville was the performance by junior Iyen Enaruna - he scored 17 points on a 5-of-6 shooting day to set his career high
Jax Levitch added a game-high nine rebounds
Getting Better and Better
Iyen Enaruna's progress throughout his first season at UE has been evident - over his first ten games, he scored eight or more points on one occasion, but since then, he has done so in three of the last four games
That culminated with a career-high 17 points at Bradley on Jan. 17 where he was 5-for-6 from the field and 6-of-11 from the line; he added seven rebounds in the effort, also a career mark
In the series against Illinois State, Enaruna scored eight points in each contest
Enaruna has taken his efficiency to a new level over the last seven games, hitting 65.4% of his tries (17 out of 26)
He Makes a Difference
Jawaun Newton continues to evolve to new heights and is coming off of a weekend that saw him set his career-high with 22 points in the opener at Bradley
The junior hit 9 of his 14 attempts, including 4 out of 6 from outside; the final tally surpassed his previous mark of 19, which came on two occasions earlier in the season
After missing the first three games of the year, Newton burst onto the scene with 19 points against EIU where the Aces halted a 22-game skid
Newton matched that total on January 9 against Illinois State where he hit 8 of his 12 field goal attempts while going 3-for-5 from long range
Scouting the Opponent
Valparaiso halted a 5-game skid over the weekend, sweeping a road series against Illinois State before taking a 91-85 double overtime win against Bradley on Jan. 28
On January 23, the Crusaders opened with a 69-60 victory over the Redbirds before earning a 70-66 triumph in game two
Ben Krikke leads Valparaiso with 12.5 points per game while shooting a team-high 53.1%
In the finale at Illinois State, Krikke scored a game-high 25 points while hauling in 15 caroms
Donovan Clay is just behind him with 11.5 PPG and leads the squad with 5.5 rebounds per game and a total of 24 blocked shots
Spring 2021 Student Athletic Ticketing Update
There will be extremely limited student attendance at athletic events this spring due to COVID-19. For on-campus events (women's basketball, volleyball, men's soccer, women's soccer, baseball and softball) tickets will be available on a first-come, first-served basis at the door beginning one hour before the scheduled start of the game/match. Once we have met our student attendance capacity, additional students will not be permitted to enter the venue. As a reminder, a limited number of student tickets for men's basketball games at the Ford Center must be claimed from the Carson Center ticket office during regular business hours (Monday-Friday, 8:30 AM - 5:00 PM) in advance of the game. No tickets will be made available to students at the Ford Center box office. A valid University of Evansville student ID is required for all home events. Face masks and social distancing will be required throughout all home events - failure to cooperate could lead to ejection from the event. Be sure to check GoPurpleAces.com for the most up to date athletic schedules. Please direct all questions to the Carson Center ticket office at js914@evansville.edu. Thank you and GO ACES!
Contribute to AceNotes
To have content considered for inclusion in AceNotes, please submit a Marketing Request Form. Deadline for submission to AceNotes is 10:00 a.m. on the requested date of publication. Only articles concerning UE related/sponsored activities will be accepted. Articles submitted to AceNotes may be edited for length and clarity. Submitter contact information is at the end of each article.