| | |
| --- | --- |
| AceNotes Today | Thursday, January 28, 2021 |
1098-T's Have Been Processed
1098-T forms have been processed for students. By providing consent for electronic 1098-T, you can view/print your 1098-T now. Simply log into Self-Service, and go to "Tax Information". Click the option "1098 Information".
1098-T will be mailed to those students who do not provide their consent to electronic 1098-T.
W-2s Have Been Processed
W-2 forms have been processed for all employees and student workers. If you have provided consent for electronic W-2's, you can view/print your W-2 now. Simply log into Self-Service, and go to "Tax Information". Click the option "W-2 Information" and then click on "2020 W-2 Statement".
W-2's will be mailed for those employees and student workers who did not provide their consent to electronic W-2's.
If you have any questions, please contact Dawn Bury at ext. 2159 or db287@evansville.edu.
COVID-19 Testing Required for All Students
Given the current positive cases of COVID-19 in our local community, state, and across the country, the University has made revisions to testing requirements for the Spring 2021 semester. All full-time and part-time students must complete one of the following before returning to UE or the Stone Center for Health Sciences:
Submit a negative COVID-19 test
Submit documentation that you have had COVID-19 in the last 90 days
Submit documentation that you have received two doses of the COVID-19 vaccine
Negative test results must be:
• Administered no sooner than seven days prior to arrival.
• Uploaded no later than two days prior to the requested time.
Part-time students
Part-time students who are taking classes on the University of Evansville or the Stone Center for Health Sciences campus, or who have a need to be on campus prior to February 1, must submit a negative COVID test prior to beginning classes for the spring semester.

Students enrolled in All On-Line Courses
Students who are enrolled in ALL ON-LINE COURSES and have no obligation to be on the University of Evansville campus, or the Stone Center for Health Sciences campus, before February 1st are not required to submit a negative COVID test prior to beginning classes for the spring semester.

COVID-19 Clearance: Notifying Your Professors
After submitting your test result or a certificate of a second shot of the COVID-19 vaccine, you will receive an email from UE confirming your clearance and ability to participate in classes. This email must be forwarded to your professors prior to the start of classes.
Students attending class remotely must also update results no later than two days before the start of class. This requirement is for all students enrolled in online, hybrid, and face-to-face classes.
Submitting Test Results and Vaccine Documentation
The COVID-19 test must be an antigen or PCR test from an approved medical facility with documented results. Students will need to upload their documentation through the designated portal. Once results are uploaded and cleared by the University, students will receive an email confirmation that they are cleared to return to campus. The clearance email will be required upon arrival for move-in, as well as attending classes.
Students may be exempt from the required testing if they receive the COVID-19 vaccine. A validated certificate of a second shot of the vaccination must be submitted prior to your return. If you have only received one shot, a validated negative test must be supplied.
Upload your test: Be Safe - Test Upload

Students in University Housing
Similar to the fall semester, students living in university housing as well as Approved University Housing (fraternity houses), must schedule an appointment for moving into their assigned space.
Residence Hall Move-In Appointments
Village and Fraternity Move-In Appointments
Move-in appointments will not be approved without providing documentation of a negative COVID-19 test result as described above.
Students living Off-Campus
For students who do not live on campus, a negative test result must be submitted two days prior to the beginning of classes (January 17) but no sooner than seven days prior to the beginning of classes (January 12).
Additional information can be found on the Spring Testing link on the coronavirus webpage at www.evansville.edu/coronavirus.
IC Meet & Greet
Welcome back everyone! Join the International Club this Thursday (Jan. 28) at 7pm for a Meet and Greet.
Get a chance to catch up with old friends and make new friends!
To maintain COVID-19 safety guidelines, we will be meeting over zoom.
Make sure to check your email for a zoom link!
See you then!
Spill the Tea
Join the Center for Diversity, Equity & Inclusion Office for a conversation about how racism and implicit bias go hand & hand in our society, and how we can respond to those microaggressions that occur.
VIA Zoom February 1st @5pm
If you have any questions, please contact Abby Martin at am843@evansville.edu.
Topic: 21 Days to Break a Habit: Spill the Tea on Implicit Bias and...racism
Time: Feb 1, 2021 05:00 PM Central Time (US and Canada)
Join Zoom Meeting
https://zoom.us/j/96658714033
Meeting ID: 966 5871 4033
Passcode: 714000
One tap mobile
+16465588656,,96658714033# US (New York)
+13017158592,,96658714033# US (Washington D.C)
Dial by your location
+1 646 558 8656 US (New York)
+1 301 715 8592 US (Washington D.C)
+1 312 626 6799 US (Chicago)
+1 669 900 9128 US (San Jose)
+1 253 215 8782 US (Tacoma)
+1 346 248 7799 US (Houston)
Meeting ID: 966 5871 4033
Find your local number: https://zoom.us/u/aeax13jHhm
Department of Art presents: DUALITY-Reagan Furqueron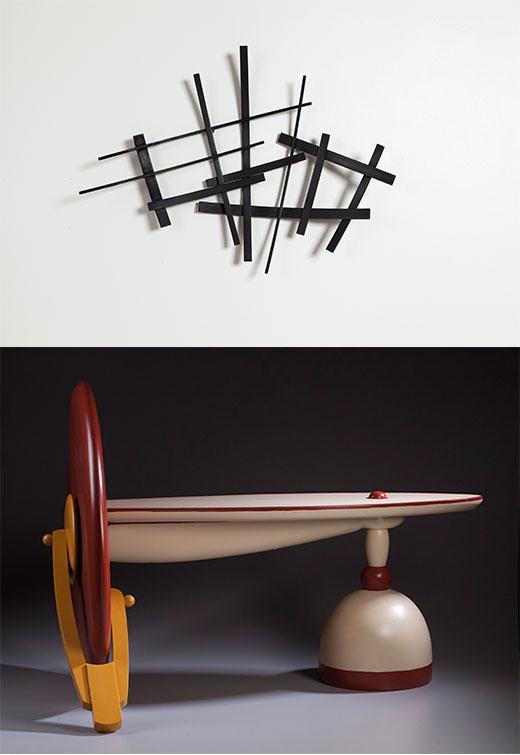 Melvin Peterson Gallery
January 19 – February 27, 2021
Reagan Furqueron is an artist and educator living in Indianapolis, Indiana. He received his BFA from Texas Tech University and a MFA from Rochester Institute of Technology's School for American Crafts in Woodworking/Furniture Design. He is an Associate Professor at Herron School of Art and Design IUPUI He has work in international and national private and permanent collections including The Museum of Art and Design in NYC. This exhibition is sponsored by The Efroymson Family Fund.
Artist's Exhibition: January 19 - February 27, 2021
Student Lecture: Wednesday, February 3, 10:00am
Student Workshop in the Sculpture Studio: Wednesday, February 3, 2:00pm
Public Reception for the Artist and Lecture: Thursday, February 4, 6:30, Lecture at 7p.
Masks and Safe-Distancing are required at all events.
Gallery Hours
MTFS: Noon - 3:00pm
WTH: Noon – 6:00pm
Fraternity Recruitment
Formal fraternity recruitment signup is LIVE! The in-person events for recruitment this semester include Open House and Preference Night. Those two events are designed to give you all an opportunity to meet brothers from various fraternities and hold in-person conversations with them. Preference night will take place at the fraternity houses, so you'll have a chance to physically step foot in and get a perspective of the different houses. Strict COVID-19 safety protocols are in place and will be followed by each fraternity to ensure a safe event for the campus community. Best of all this semester rush is FREE!
Click this link to sign up: https://forms.gle/uKtxHJ9w7Wf82qWN9
UE Theatre Hosted Brandon Kirkham's '05 Puppetry Workshop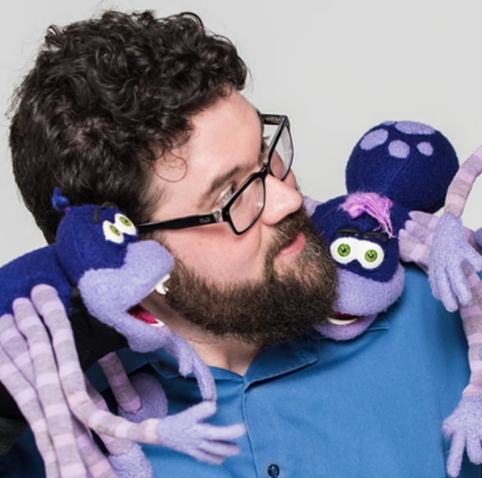 UE Theatre hosted another session of their 2020–21 Workshop Series on Saturday, January 23, 2021. Brandon previously tasked workshop attendees with a challenge in puppetry; the session allowed attendees to showcase their progress.
Brandon received his MFA in Theatre Design from Ohio University, a BS in Theatre Design & Technology from the University of Evansville and holds a graduate certificate in Puppet Arts from the University of Connecticut. He is a proud member of Puppeteers of America, UNIMA USA, Brown County Arts Alliance, and the Indiana Puppetry Guild.
Brandon Kirkham is a freelance designer, builder, and artisan with more than a decade of professional experience in theatres and shops across the country. From his studio in the historic art colony of Nashville, Indiana, he designs costumes, sets, and puppets for theatre, and builds custom puppets, props, and crafts for all types of clients. Brandon brings a wide range of skills and approaches to his work and especially loves projects that combine multiple disciplines and require unique design solutions.
From 2010 to 2019, Brandon worked at First Stage, a theatre organization for young people and families in Milwaukee, Wisconsin. He served as Design Supervisor, Costume Crafts Artisan, and Properties Artisan, and designed more than fifty productions for that company. Brandon has also designed for Milwaukee Chamber Theatre, Skylight Music Theatre, Hope Summer Repertory Theatre, Florentine Opera Company, and others. As a builder of puppets, crafts, and props Brandon's work has been seen at Lyric Opera of Chicago, Steppenwolf Theatre Company, Pioneer Theatre Company, Milwaukee Repertory Theatre, Enchantment Theatre Company, Kohl's Wild Theatre at the Milwaukee County Zoo, Utah Museum of Natural History, and many more. Brandon spends his summers in New Mexico as Costume Crafts Head for the Santa Fe Opera.
Musical Madness Interest Meeting
It's that time of year again for Musical Madness!
Each year UE organizations come together to show off their musical (or lack of) skills as they perform a short performance for the UE campus community and potential UE students.
There will be an Interest Meeting on Thursday, January 28 at 5:00 pm. Only one member of your organization needs to attend to learn about the event but please remember that at least three members of your organization will need to be active participants. If your organization is interested but unable to attend Thursday's meeting, please let me know.
Join the call-out meeting using the information below.
Join Zoom Meeting
Meeting ID: 827 4863 1432
Passcode: musicmad
Dr. Deborah Becker Published
Congratulations to Dr. Deborah Becker on her recent article, "Finding Your Way With the INACSL Standards of Best Practice: Simulation?: Development of an Interactive Web-Based Guide and Roadmap" published in Clinical Simulations in Nursing. This guide was developed to ensure quality simulation-based learning. The Finding Your Way Guide is a web-based and interactive guide to introduce novices to implementing INACSL standards in simulation. It identifies a starting point and provides learning activities and resources to support the implementation of the standards.
Physics Department's Dr. Harmon Publishes in Journal of Applied Physics; Article Chosen as an Editor's Pick
Nicholas Harmon, assistant professor in physics, published "A technique to measure spin-dependent trapping events at the metal–oxide–semiconductor field-effect transistor interface: Near zero field spin-dependent charge pumping" in the Journal of Applied Physics with coauthors from the University of Iowa and Penn State. Journal editors designated the article as especially noteworthy by making it an Editor's Pick. Harmon analyzed results from a new experimental approach at Penn State and devised a model to explain the phenomena. It is hoped that the technique will be able to measure microscopic properties of some transistors; the increased understanding could lead to enhanced device performance. The abstract is available at https://aip.scitation.org/doi/10.1063/5.0027214.
2020 Nursing Grads Achieve 100% First-Time Pass Rate on NCLEX-RN
The class of 2020 graduates of the University of Evansville's Dunigan Family School of Nursing achieved a 100 percent first-time pass rate on the National Council Licensure Examination (NCLEX-RN). The national average for the first-time pass rate was 87.5 percent in 2020.
Senior-level nursing students were halfway through their final semester when the COVID-19 pandemic made its way to the United States. Despite the sudden change in learning formats and clinical rotations, the students adapted quickly.
"I was very impressed to see them maintain a resilient focus and push through adversity," said Jerrilee LaMar, PhD, RN, CNE, chair of the Dunigan Family School of Nursing. "While they didn't get to finish their studies in the classroom together or have a pinning ceremony, they did receive a high-quality education that prepared them for success." LaMar also recognized the compassionate faculty that were instrumental in helping students along the way.
The Dunigan Family School of Nursing incorporates several strategies into the program to prepare students for the NCLEX-RN. Several years ago, the faculty developed a review course for seniors. In the course, students take practice exams that identify strengths and weaknesses in specific areas. The faculty, who serve as mentors, help students write individualized study strategies that prepare them for the NCLEX exam.
To prepare students earlier on in the curriculum to think like a nurse, the faculty developed a course to strengthen students' understanding of complex issues and decision-making to answer questions seen on the NCLEX exam. This course was piloted with the junior-level students, and the results were so successful that it became part of the required curriculum. Additionally, underclassmen are paired with a senior nursing student as an additional resource for help along the way.
"All of our 2020 graduates are now working as nurses in the healthcare field, and many of them are working with COVID-19 patients," said LaMar. "We are immensely proud to see them applying their skills and passion to help those struggling most during the pandemic."
Professor Mohammad K. Azarian Appointed to Human Rights of Mathematicians Committee
University of Evansville Professor of Mathematics, Mohammad K. Azarian, has been appointed by the American Mathematical Society (AMS) to serve a three-year term on the Human Rights of Mathematicians Committee. According to the Committee's charge: The AMS is committed to speaking whenever mathematicians are deprived of the opportunity to practice their profession due to violations of the freedoms enumerated in the Universal Declaration of Human Rights and the Affirmation adopted by the U.S. National Academy of Sciences. This Committee will assist the Society in such matters by reviewing alleged violations of human rights of mathematicians and by recommending appropriate action to the AMS.
Aces Game at Indiana State Rescheduled for February 17
The Missouri Valley Conference has announced a rescheduling date for the Evansville-Indiana State men's basketball postponement from Jan. 20.
Evansville and Indiana State will play its rescheduled contest on Wednesday, Feb. 17, at Hulman Center in Terre Haute, Ind., at 4 p.m. CT. The game will air on The Valley on ESPN.
The date shifts for the Evansville-Indiana State/Southern Illinois-Valparaiso games represent the 30th and 31st changes to the league schedule since Christmas. Through Wednesday, Jan. 27, the Valley has played 38 of its 90 scheduled league games, and all previous postponements have been rescheduled. Schedule updates throughout the season will be posted on mvc-sports.com.
Resilient Aces Defeat Sycamores in Overtime Thriller
Tasked with playing with just eight available players, the University of Evansville women's basketball team battled to a 70-63 overtime victory over Indiana State on Wednesday night inside Meeks Family Fieldhouse.
Four Aces finished in double-figures with sophomore Abby Feit pacing Evansville with a game-high 19 points, adding nine boards, four blocks, and four assists. The four blocks tied a career-high for Feit, who has reached the mark three times in her collegiate career. Joining Feit in double-figures were redshirt-senior Lola Reed and junior A'Niah Griffin with 12 points and sophomore Sydney Thurwalker with 10 points. Reed's effort on the night neared a triple-double as the second-year Aces player recorded eight rebounds and six assists to go along with her 12-point scoring performance. For the Sycamores, Marie Hunter led the way with 16 points, 14 of which came in the opening half.
Indiana State grabbed an early advantage inside the first five minutes of the game, running out to as large as a seven-point lead just 1:40 into the contest. Evansville answered and held with the Sycamores for the first half, trailing by just two at the break. Out of the half, Evansville raced-out to a 21-12 advantage in the third quarter, building its lead as large as nine at 45-36 with 3:17 left in the period.
The Sycamores would push back, out-scoring Evansville, 18-11, in the fourth and getting two important free throws with nine seconds remaining in regulation from Jamyra McChristine to send the game to overtime.
In overtime, it was all Evansville. The Aces scored seven of the first eight points in the overtime period, pulling-away for a 70-63 victory over Indiana State.
Evansville passed the ball well on Wednesday night, assisting on 16 of its 25 made baskets and shooting 43.9% (25-57) from the field. The Aces defensive effort again showed, limiting the Sycamores to just 24-74 (32.4%) shooting from the field and 22.2% (6-27) shooting from beyond the arc.
The Aces get more than a week off before heading back on the road in MVC play with a road series at UNI in Cedar Falls, Iowa on February 4 and 5.
Spring 2021 Student Athletic Ticketing Update
There will be extremely limited student attendance at athletic events this spring due to COVID-19. For on-campus events (women's basketball, volleyball, men's soccer, women's soccer, baseball and softball) tickets will be available on a first-come, first-served basis at the door beginning one hour before the scheduled start of the game/match. Once we have met our student attendance capacity, additional students will not be permitted to enter the venue. As a reminder, a limited number of student tickets for men's basketball games at the Ford Center must be claimed from the Carson Center ticket office during regular business hours (Monday-Friday, 8:30 AM - 5:00 PM) in advance of the game. No tickets will be made available to students at the Ford Center box office. A valid University of Evansville student ID is required for all home events. Face masks and social distancing will be required throughout all home events - failure to cooperate could lead to ejection from the event. Be sure to check GoPurpleAces.com for the most up to date athletic schedules. Please direct all questions to the Carson Center ticket office at js914@evansville.edu. Thank you and GO ACES!
Contribute to AceNotes
To have content considered for inclusion in AceNotes, please submit a Marketing Request Form. Deadline for submission to AceNotes is 10:00 a.m. on the requested date of publication. Only articles concerning UE related/sponsored activities will be accepted. Articles submitted to AceNotes may be edited for length and clarity. Submitter contact information is at the end of each article.