| | |
| --- | --- |
| AceNotes Today | Friday, January 15, 2021 |
Spring Semester PPE/COVID Testing Stipend
A stipend in the amount of $85 is being made available to assist UE students with the cost of necessary PPE and/or COVID testing.
Traditional students enrolled in the spring 2021 semester who have a valid 2020-2021 FAFSA on file and bank information entered on WebAdvisor, can expect to receive the stipend automatically as a direct deposit on Friday, January 15, 2021. This stipend is made possible through emergency funding from the CARES Act HEERF Grant that was made available for expenses that resulted in additional costs related to participation in academic and college-related activities due to COVID-19.
If you are a traditional student who has not filed a FAFSA and would like to be considered for this stipend, or any future COVID-related assistance, please submit the 2020-21 FAFSA at fafsa.gov and enter your bank information on WebAdvisor prior to the start of the spring 2021 semester.
Please contact the Office of Student Financial Services if you have any questions or need further assistance.
Martin Luther King, Jr. Celebration - January 18, 2021
UE's annual MLK Celebration will be held in a virtual format for 2021 due to COVID-19 guidelines. Zoom links are in each of the event titles below.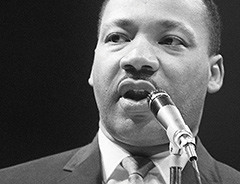 Symbolic March
During the Civil Rights March of 1965, activists gathered in Selma, Alabama, to complete a 54-mile trek to the state capital in Montgomery. This year, in celebration of Martin Luther King Jr. Day, UE will commemorate those 54 miles by encouraging you and others to continue the same mission. Join us by participating in a virtual march to raise awareness for social injustice in the United States.
You can participate by logging your miles spent walking, running, biking, or even swimming. The race will be held from January 1 to January 18, and together we will plan to complete the 54th mile at 11:00 a.m. on January 18. You can register online and even purchase a T-shirt to celebrate the march.
While this race is free to participants, individuals can make donations toward positive social change. All proceeds, including T-shirt sales, will go directly towards UE's Zerah Priestly Carter Scholarship and the Center for Diversity, Equity, and Inclusion. To make a donation, visit UE Alumni Online.
Virtual Celebration – 11:45 a.m.
Previous celebrations have included an outdoor rally that occurred prior to the symbolic march. This year, a virtual celebration will be held to kick-off the day's activities.

Local Leaders Panel Discussion – 2:00 p.m.
Join us for a panel discussion that includes UE community members as well as leaders in the Evansville community. The panel will be led by Melissa Moore, a UE alum and Secretary for the Legal Aid Society Board of Vanderburgh County.

Lectureship – 7:00 p.m.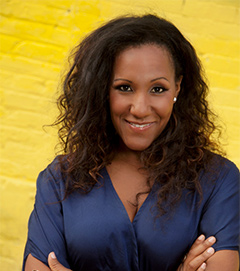 Each year, the Martin Luther King Lectureship is made possible by the generous support of William G. and Rose M. Mays. The 2021 lectureship will feature keynote speaker Karith Foster. For nearly two decades, speaker, humorist, and author Karith Foster has created a seismic shift in mindsets by addressing issues of free expression, diversity, and inclusion. Foster is the former co-host of controversial radio personality Don Imus and a former Fortune 500 human resources executive administrator, and is known as the visionary behind INVERSITY, a philosophy and methodology intentionally designed to revolutionize and transform the way we address issues of diversity and leadership. A nationally renowned public speaker, Foster has presented at the United Nations and to executives of the Chamber of Commerce C100, as well as Harvard, Stanford and other organizations.
After the lectureship, the 2021 Mays Legacy Award will be presented.
Take the Purple Pledge!
The Spring 2021 semester is just a few days away, and a large majority of our students will return to campus this weekend. As classes soon begin, we would like to remind everyone of the health and safety guidelines that are in place.
This fall was a very successful semester in protecting the campus community, and we greatly appreciate your hard work towards this. The Coronavirus Task Force asks that you maintain this commitment throughout the spring semester, and you can do so by taking the Purple Pledge today.
By taking the Purple Pledge, you agree to:
Protect yourself (practice good hygiene, complete the daily CampusClear screening)
Respect others (wear a mask, social distance, and limit your close contact circle)
Safeguard the UE community (actively work to reduce the spread of COVID-19)
Even if you took the Purple Pledge in the fall, we ask that you complete this again as we begin a new year.
Stay safe and healthy this semester,
The Coronavirus Task Force
COVID-19 Testing Required for All Students
Given the current positive cases of COVID-19 in our local community, state, and across the country, the University has made revisions to testing requirements for the Spring 2021 semester. All full-time and part-time students must complete one of the following before returning to UE or the Stone Center for Health Sciences:
Submit a negative COVID-19 test
Submit documentation that you have had COVID-19 in the last 90 days
Submit documentation that you have received two doses of the COVID-19 vaccine
Negative test results must be:
• Administered no sooner than seven days prior to arrival.
• Uploaded no later than two days prior to the requested time.
Part-time students
Part-time students who are taking classes on the University of Evansville or the Stone Center for Health Sciences campus, or who have a need to be on campus prior to February 1, must submit a negative COVID test prior to beginning classes for the spring semester.

Students enrolled in All On-Line Courses
Students who are enrolled in ALL ON-LINE COURSES and have no obligation to be on the University of Evansville campus, or the Stone Center for Health Sciences campus, before February 1st are not required to submit a negative COVID test prior to beginning classes for the spring semester.

COVID-19 Clearance: Notifying Your Professors
After submitting your test result or a certificate of a second shot of the COVID-19 vaccine, you will receive an email from UE confirming your clearance and ability to participate in classes. This email must be forwarded to your professors prior to the start of classes.
Students attending class remotely must also update results no later than two days before the start of class. This requirement is for all students enrolled in online, hybrid, and face-to-face classes.
Submitting Test Results and Vaccine Documentation
The COVID-19 test must be an antigen or PCR test from an approved medical facility with documented results. Students will need to upload their documentation through the designated portal. Once results are uploaded and cleared by the University, students will receive an email confirmation that they are cleared to return to campus. The clearance email will be required upon arrival for move-in, as well as attending classes.
Students may be exempt from the required testing if they receive the COVID-19 vaccine. A validated certificate of a second shot of the vaccination must be submitted prior to your return. If you have only received one shot, a validated negative test must be supplied.
Upload your test: Be Safe - Test Upload

Students in University Housing
Similar to the fall semester, students living in university housing as well as Approved University Housing (fraternity houses), must schedule an appointment for moving into their assigned space.
Residence Hall Move-In Appointments
Village and Fraternity Move-In Appointments
Move-in appointments will not be approved without providing documentation of a negative COVID-19 test result as described above.
Students living Off-Campus
For students who do not live on campus, a negative test result must be submitted two days prior to the beginning of classes (January 17) but no sooner than seven days prior to the beginning of classes (January 12).
Additional information can be found on the Spring Testing link on the coronavirus webpage at www.evansville.edu/coronavirus.
Fitness Center Open
The Fitness Center is open and we're excited to see your masked smiling faces. Hours are 8am-5pm until January 19th. Normal hours resume on January 19th - 6:30am - 2pm and 3pm - 10pm. Please make sure to remember the Fitness Center will shut down and close from 2pm-3pm each day for sanitizing the equipment and facility. Time to kick those New Years resolutions back into action! We will be having a virtual yoga challenge to begin the semester and information on Intramurals, dance 2 fit classes, Zumba, and open-swim will be provided in the near future. Come work out with us!
Consent to Receive Electronic W-2s and 1095-Cs
The Office of Accounting/Payroll will be issuing W-2s for 2020 no later than January 31, 2021. You may choose 1 of 2 options to receive your W-2:
Electronic W-2 – If you provide your consent, you will be able to view/print in Self-Service as soon as they are ready. Notification will be sent through Ace Notes.
Paper W-2 – If you prefer, you can continue to receive your W-2 in the mail.
An electronic W-2 will give you earlier access than a mailed copy. It is IRS compliant and can be submitted with your tax return as usual.
To give consent for the electronic W-2, log in to Self-Service (https://selfservice.evansville.edu), and go to "Tax Information". Select "Receive my W-2 only in electronic form" and save.
If you are eligible to participate in the university's health plans, you may also give consent to receive your 1095-C form electronically here also. If you choose to withhold your consent to view/print your online W-2 and 1095-C, a paper copy will be mailed to your home address.
If you have questions, please contact Dawn Bury at ext 2159 or db287@evansville.edu.
Join UE Orchestras
Students, staffs, faculties, and administrators are invited to play in the University Symphony Orchestra and String Chamber Ensemble.
The University Symphony Orchestra meets on Monday at 5:30 p.m. and Wednesday at 6:30 p.m.
The String Chamber Ensemble meets on Thursday at 4 p.m. in the Krannert Hall of Fine Arts.
Join us!
Please E-mail Dr. Chun-Ming Chen, director of orchestral activities at cc319@evansville.edu for more information.
Order Textbooks Online Now
The campus bookstore highly suggests your place textbooks orders ahead of the start of classes, as there will be longer than average wait times for in-store shopping due to COVID-19 restrictions. Ordering is available 24/7 at evansville.bncollege.com. We're starting to fulfill orders as Financial Aid is now open.
ChangeLabs Receive Honorable Mention at 2020 Civvys!
The Center for Innovation & Change is pleased to report two of its ChangeLab projects received Honorable Mentions at the 2020 Civvys Awards. This event, hosted by the American Civic Collaboration Awards, highlights best practices in civic collaboration among National, Youth, and Local categories in America.
The first project receiving Honorable Mention was COVID Between the Coasts, a collaborative project with Que Pasa Midwest and WNIN. This ChangeLab was led by Darrin Weber, PhD, assistant professor of mathematics; and Tamara Wandel, PhD, associate professor of communications. During the fall semester, students conducted research to see how COVID-19 had specifically affected the Midwest, as the media largely reported on the pandemic from the East and West Coasts.
Evansville Adaptive Watersports was the second Honorable Mention at the Civvys. This project was the winning idea of Philip Jacobs at UE's first Community Changemaker Challenge. Afterwards, the project was guided by 3 ChangeLab students: Jamie Born, Ashlyn Thompson, and Jalyn Davis. This fall, Evansville Adaptive Watersports successfully launched and is making a difference in the lives of area residents with disabilities.
Congratulations to all who were involved with these two ChangeLabs! The complete list of results is available here.
Dr. Hochwender Presents on the Importance of Native Plants to Sustain Biodiversity
As part of a pollinator workshop for the Warrick County Soil and Water Conservation District (SWCD), UE's own Dr. Cris Hochwender gave a presentation on using native plants to sustain biodiversity entitled "Choosing plants to sustain wildlife: plants that enhance diversity by defending against herbivores and feeding pollinators." The video can be watched at https://www.youtube.com/watch?v=XP5wTD3ggUw. He suggests that at 2x speed, the video is almost bearable. Two other talks as part of Warrick County SWCD's workshop can be found at:
https://www.youtube.com/watch?v=cEBQnSRGGbs&feature=youtu.be and https://www.youtube.com/watch?v=mIUSnRK-l7s.
Dr. Cris Hochwender has carried out ecological research for 25+ years, and he has developed UE's Native Plant Garden provides a venue where over 100 species of native flowers, grasses, shrubs, and trees can be viewed. This native plant diversity has great value for several reasons, including beneficial ecosystem services through improved ground water storage, support for native insects (including insect herbivores and pollinators), and the food resources to other animals (e.g., birds via seeds and/or prey items). Unfortunately, habitat destruction has led to the loss of wetlands, prairies, and forests, resulting in reduced numbers of native plant species. As one would expect, the loss of floral diversity has caused a reduction in the number of herbivores and pollinators, and a reduction in ecosystem services. The University of Evansville's native plant garden represents one effort to restore native plants. Native plants are valuable as host plants for butterfly larvae, as well as beneficial to native bee pollinators. Bees are of special note because native bees are in critical need of help because of habitat loss and pesticides. Moreover, bees are wonderfully diverse, partitioning their niche space based on nesting habit, tongue length, and body size/color. Just in Indiana, 416 species of bees occur, including species from six different families.
You can begin your native plant garden or enhance the native garden you already have. In an effort to encourage homeowners to plant native plants, Warrick County SWCD is selling native plants inexpensively. Orders forms can be found at https://extension.purdue.edu/warrick/article/39667 , but must be submitted by January 15, 2021.
Contact Cris Hochwender (ch81@evansville.edu) if you have any questions about the native plant garden or restoration efforts at UE.
Evansville Closes Home Stand with Bradley Series
Closing a four-game homestand, the University of Evansville women's basketball team faces Bradley this weekend on Friday and Saturday in a Missouri Valley Conference series inside Meeks Family Fieldhouse.
Evansville vs. Bradley | 6 PM | Jan. 15 & 16
Evansville, Ind.
Meeks Family Fieldhouse
Last Time Out: Drake 76, Evansville 43
Freshman Rylie Stephens led the way for Evansville for the second-straight game, tying a career-high with 14 points.
Sophomore Abby Feit also finished in double figures with 12 points, adding three rebounds and an assist.
Recording a game-high 27 points was Drake's Grace Berg, who hit 10-16 shots from the field and six of her seven free-throw attempts.
Both teams struggled to find their scoring early as Evansville and Drake went the first 4:51 without scoring before Jossie Hudson hit a layup to give the Aces a 2-0 lead.
After Evansville captured an 8-6 lead to close the first quarter, Drake ran out to a 33-16 lead at the half after out-scoring the Aces 27-8 in the second period.
Drake's hot-shooting continued in the third as the Bulldogs hit 69.3% from the field in the period, pushing their lead to 60-26 with 10 minutes to play.
Evansville finished the game strong, out-scoring the Bulldogs in the final stanza as Drake captured the 76-43 win.
Evansville and Drake combined for 54 turnovers on the evening with each team recording 27 giveaways in the game.
Rebounds proved to be important in the contest as Drake grabbed 39 rebounds, including 13 on the offensive end, while the Aces finished with 20 boards.
Previewing the Matchup: Bradley
Evansville and Bradley are meeting for the 56th time in the series with the Braves owning a 35-20 advantage in the all-time series.
Bradley secured the victory the last time these two sides met, winning 71-53 on March 7, 2020 inside Meeks Family Fieldhouse.
The Braves enter the weekend series on a three-game winning streak, most recently sweeping SIU, 77-55 and 80-68.
13 of Evansville's 20 wins in the series have come at home, including the last two wins for the Aces against Bradley.
The Aces have failed to reach the 60-point mark in each of their four MVC contests. In non-conference play, Evansville exceeded the 60-point mark in all five contests.
Bradley boasts an explosive offense, the third-best in the MVC, averaging 73.5 points per game. Evansville's defense also enters with a strong pedigree, allowing opponents to just 66.2 points per contest.
Stephens Back on Top
After leading the Aces in scoring in her collegiate debut, Stephens again led Evansville in both games of the series with Drake.
In the series-opener against Drake, Stephens scored a team-best 10 points on 4-of-9 shooting from the field, to go along with three steals and a pair of assists.
On Friday, Stephens matched a career-high with 14 points, going 5-of-11 from the floor.
On the season, Stephens sits third on the team in scoring, while playing just 18 minutes per game.
Aces in Rare Company Against Drake
Evansville became one of three teams to hold the Bulldogs to single digits in a quarter, doing so in both games in the series.
On Thursday, the Aces allowed DU just nine second quarter points.
Friday, Evansville limited Drake to a season-low six points in the first quarter.
In non-conference play, Creighton and Iowa State held Drake to nine and eight points respectively.
MVC Announces Schedule Updates for February
The Missouri Valley Conference has announced scheduling adjustments for men's basketball, which includes the rescheduling of previously postponed series as well as game-date changes for a number of other contests.
Included in those adjustments are a few changes to the University of Evansville men's basketball schedule in February. UE was originally slated to play at Drake on February 13 and 14, however, that has now been moved to the next weekend. The opening game of the series against the Bulldogs will be on Sunday, February 21 at 3 p.m. inside the Knapp Center while the series finale will be on Monday the 22nd with the time to be announced later.
Evansville's home game against Indiana State has also been moved. This game was originally slated for February 17th, but will now be played on Sunday, Feb. 14 at the Ford Center with a tip time of 3 p.m.
New dates for these games are as follows:
Sunday, February 14 – UE vs. Indiana State – Ford Center – 3 p.m.
Sunday, February 21 – UE at Drake – Des Moines, Iowa – 3 p.m.
Monday, February 22 – UE at Drake – Des Moines, Iowa - TBA
Contribute to AceNotes
To have content considered for inclusion in AceNotes, please submit a Marketing Request Form. Deadline for submission to AceNotes is 10:00 a.m. on the requested date of publication. Only articles concerning UE related/sponsored activities will be accepted. Articles submitted to AceNotes may be edited for length and clarity. Submitter contact information is at the end of each article.