| | |
| --- | --- |
| AceNotes Today | Thursday, December 10, 2020 |
Last Chance: Rapid-Result Testing for Employees
The University will offer a final opportunity for employees to receive free voluntary COVID-19 testing before Winter Break. Testing will be available on December 14 and 15.

The Indiana State Department of Health (ISDH) provided University of Evansville the Abbott BinaxNOW rapid-result COVID-19 testing kits. These tests, which are much less invasive than standard deep nasal swabs, only swab the inside tip of the nostril. The results of the test will be available approximately 15 – 30 minutes after testing through the NAVICA mobile app.

Testing information:
Who can get a rapid-result test:
• Individuals who are symptom-free and have not tested positive for COVID-19 in the last 90 days.

Who should not get a rapid-result test:
• Those experiencing symptoms should NOT participate in the rapid-result testing program. If you have symptoms, you will need to receive a standard PCR COVID-19 test at a local medical facility.
• Individuals who have tested positive in the last 90 days will not be allowed to receive this antigen rapid-result test, as they are expected to have antibodies that will result in a positive test.

Rapid-result Testing Location:
Eykamp Hall, Room 253, Ridgway University Center
• Monday, December 14, from 11 a.m. – noon
• Tuesday, December 15, from 11 a.m. – noon

Register online at https://form.jotform.com/203224542322038.

Before your appointment, please follow these important testing steps:
• Download the NAVICA mobile app.
• Follow the prompts and create an account.
• On the Test Center Page click the blue "Display NAVICA ID" Button.

• Arrive 5 minutes before your scheduled time, use the main stairwell, and check in at Room 253 in Eykamp Hall on the second floor of Ridgway University Center.
• Bring a photo ID.
• Bring your mobile device to scan your test so you can receive your results.

If you test positive, you will be asked to:
1. Take a standard PRC COVID-19 test (nasal swab) at a local medical facility,
2. Complete the UE self-reporting form, and
3. Create a plan to self-isolate.

Fall Feedback for Spring Success
We have finally made it to the finish line this semester, and we're proud of each of our students for helping to make it a successful one!
As we look ahead to Spring 2021, we want to know how we can improve based on your feedback. In particular, we want to know about:
• Your overall educational experience while taking in-person or online classes
• Your emotional health and wellness
• Your experience in quarantine (if you tested positive for COVID or had close contact with someone who did)
Students: share your thoughts in this survey: uesurvey.evansville.edu/COVIDFA2020
The survey takes 10-15 minutes to complete, and all responses will remain anonymous unless you provide an email for follow-up. Having as much feedback as possible before winter break will be very helpful, so please complete the survey by 5:00 p.m. on Friday, December 18. While the survey will remain open through Winter Break, early responses will have a greater impact on our Spring 2021 plans.
With your feedback, UE faculty, administrators, and staff will be better able to focus our efforts and resources in helping to ensure you have a safe and successful spring semester.
Early Timecard Submission for 12/24/20 Payroll
In order to process the December 24th payroll before the holiday break, the Accounting & Audit/Payroll Department is requesting the following:
All students and staff please submit timecards by Saturday, December 12th for the 12/6/20-12/19/20 pay period. Please note that this is a full week early so that your pay is not delayed.
Supervisors are asked to approve timecards before noon on Monday, December 14th.
Any supplemental pay request forms should be submitted to payroll before Friday, December 11th.
Thank you, and please contact Dawn Bury at EXT 2159 or db287@evansville.edu if you have questions.
Check out The Holiday Hub!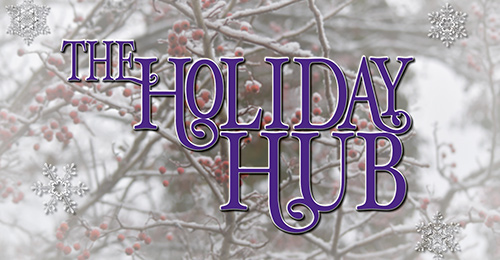 The holiday season is finally upon us! In previous years, UE has held a Christmas on Campus event that includes carriage rides, a tree-lighting ceremony, Vespers service, a visit from Purple Santa, and more. Health and safety guidelines prevented us from having our on-campus event, but we still wanted to find a way to celebrate with our students, faculty, staff, and alumni. Let's welcome the spirit of the season with The Holiday Hub!
The Holiday Hub is an online page that incorporates many of the well-loved elements from our annual event, along with materials for the virtual environment we have come to know so well. We invite you to check out all of the fun and festive content, which includes video messages, coloring pages, a Vespers message, and more. There may even be a visit from Purple Santa!
We hope you have a wonderful holiday season while you are home for the holidays.

"Our Time is Now": Martin Luther King, Jr. 2021 Celebration
The University of Evansville will host a celebration for Dr. Martin Luther King, Jr. on January 18, 2021. The annual event will be held in a virtual format this year to accommodate COVID-19 guidelines. Each activity will be available online, and the event is free and open to the public. Zoom links for each of the day's activities are on the CDEI webpage. The 2021 theme is "Our Time is Now" and highlights one of King's famous quotes, "The time is always right to do what is right."
The schedule of events is available below.
Symbolic March – January 1-18, 2021
To commemorate the 54-mile Civil Rights March of 1965, UE will hold a virtual symbolic march. Between the dates of January 1-18, participants can log miles online through walking, running, biking, or swimming. At 11:00 a.m. on the day of the celebration, UE encourages participants to complete the 54th mile together.
While there is no registration fee, individuals can make donations toward positive social change at uealumnionline.com/MLKDay2021. All proceeds will go directly towards UE's Zerah Priestly Carter Scholarship and the Center for Diversity, Equity, and Inclusion.
Virtual Celebration – 11:45 a.m.
The celebration will culminate with the 54-mile march and kick-off the rest of the activities for the day. Speakers will include President Pietruszkiewicz; Rob Shelby, PhD, chief diversity officer; members of the Black Student Union; and lectureship keynote speaker Karith Foster.
Local Leaders Panel Discussion – 2:00 p.m.
The discussion will include leaders from the Evansville community. The panel will be led by Melissa Moore, a UE alumna and secretary for the Legal Aid Society Board of Vanderburgh County.
Lectureship – 7:00 p.m.
Made possible by the generous support of William G. and Rose M. Mays, the 2021 lectureship will feature keynote speaker Karith Foster. For nearly two decades, the speaker, humorist, and author has created a seismic shift in mindsets by addressing issues of free expression, diversity, and inclusion. A nationally renowned public speaker, Foster has presented at the United Nations and to executives of the Chamber of Commerce C100, as well as Harvard, Stanford and other organizations.
Cleaning Supply Reminder: Keep Spray Bottles and ½ Gallon Bottles with Pumps
The pandemic has created many shortages of various products and cleaning supplies are no exception. Spray bottles and pumps are among those items currently in short supply. Please KEEP SPRAY BOTTLES and 1/2 GALLON BOTTLE PUMPS for refills! By keeping these, supplies of disinfectant and hand sanitizer can be replenished promptly.
For replenishment of cleaning supplies (disinfectant, hand sanitizer, paper towel, etc.), please complete the request form at https://uesurvey.evansville.edu/cleaningsupplies
Thank you for your continue help in keeping campus safe!
Winners of High School Truth, Meaning, and Value Essay Competition Announced
The Department of Philosophy and Religion would like to announce the winners of the 2nd Annual Tri-State Truth, Meaning, and Value Essay Competition. Eligible contestants are high school students who live in counties surrounding the university. This year's question was provided by Dr. Jones: "How can we be happy and live meaningfully in the Internet age?" Each essay was assessed on its academic merit, creativity, expression of practical wisdom, and proper use of grammar and form.
This year's first-place winner was Andrew Belcher (Madisonville North Hopkins High School) for his essay, "Hey Siri—How Can I Be Happy?: Finding Meaning in a Digital World." The second-place winner was Malena Ferrero (Castle High School) for her essay, "Living Your Own Life." The third-place winner was Reagan Lawrence (South Spencer High School) for an essay titled, "Looking Past the Phone."
The first-place winner will receive a $500 cash prize, and the second and third place winners will receive a cash prize of $250 and $100, respectively. All three winners will also receive a $1,000 scholarship to the university.
Two awards of "Honorable Mention" went to Emma Willett (Union County High School) and Elizabeth Pace (North High School).
Contestants were given the following context for the essay question which was to be answered with a 1,500 essay:
"Modern technologies have changed how we work, learn, play, and socialize, and have even changed how we think. The internet in particular has revolutionized industry, inspired and fueled achievements that were unthinkable to previous generations, and democratized information by creating and providing global access to the largest information repository in the history of humankind. But despite benefiting from these technological advances, in many ways we have failed to flourish in the new world that we have created. The technology that was meant to bring us together often leaves us feeling more isolated than before. Depression and anxiety disorders are on the rise. Misinformation and conspiracy theories spread rapidly across social media. Political divisions have deepened and become increasingly bitter. Many of us are, to put it simply, unhappy.
Unhappiness is probably not an inevitable result of technology, but our current problems do suggest that we may need new strategies for living well in our new digital world. How can we be happy and live meaningfully in the internet age?"
Aces Open Home Schedule with Win over EIU
A new home season brought renewed optimism for the University of Evansville men's basketball team, who opened up its home schedule with a hard-fought 68-65 victory over Eastern Illinois inside the Ford Center.
The win marked the first under the direction of head coach Todd Lickliter and put an end to a 22-game winless streak. Evansville (1-3) has knocked on the door a few times in the early part of the season and was able to put it all together tonight.
"These guys earned it and that is what made it fun. I thought we earned it in the first half with our defense," Lickliter said. "I am so proud to be the head coach at Evansville and it is fun to coach a team who is together, supports one another and pulls for one another; I will never take that for granted because that does not always happen. This group is truly supportive of one another. Eastern Illinois is a good team and this was a good stepping stone."
Seeing his first action of the season, Jawaun Newton scored a career-high 19 points. He did most of his damage from the free throw line, draining 11 of his 13 tries. Evan Kuhlman finished with 15 points and a team-best seven rebounds while Jax Levitch, Shamar Givance and Noah Frederking scored 11 points apiece.
"I felt good; I wanted to bring energy tonight and keep us all together," Newton exclaimed. "When we keep the ball moving like we did tonight, we are really tough to guard."
Eastern Illinois (2-4) was led by Josiah Wallace and Marvin Johnson, who scored 17 points apiece.
Evansville owned the first half of play, holding the Panthers to just 19 points on the way to a 15-point halftime lead. Jax Levitch got the night started with a triple before his team established a 12-6 edge at the 13:14 mark. All five starters scored in the opening sequence. After EIU cut the UE lead to four, the Purple Aces rallied with an 8-0 run to push the lead to double figures for the first time at 21-8. Frederking drilled a triple in the run before a long ball from Kuhlman capped off the run with 8:17 on the clock.
A quick jolt saw Eastern Illinois get within six tallies (23-17) with just over five minutes left, but the Aces completed the opening stanza on an 11-2 run as they opened their largest lead of the game – 34-19 – heading into the break. Newton had four points in the stretch as the Aces had the momentum going into the final 20 minutes. The Aces defense held EIU to just 33.3% (7/21) shooting in the first half.
Just as things were turning Evansville's way, the Panthers came out of the half red hot. Over the first four minutes, EIU hit its first six baskets, including three triples, to get within five points. Shamar Givance got his squad back on track with a second chance layup before Levitch was true from downtown to push the lead back to 10 with 14:28 remaining.
Another spurt by the Panthers knotted the game at 50-50 as the game entered the final eight minutes. Kashawn Charles turned an offensive rebound into the game-tying triple with 7:28 left. One of the turning points came just over three minutes later when Givance intercepted a Panther pass and took it the length of the floor to extend the lead to 62-57 at the final media time out. Neither team would find the bottom of the rim over the next three minutes until Marvin Johnson hit a basket with 70 ticks on the clock to get his team back within three.
Over the final minute, the Aces fended off the late challenge, hitting four out of five free throws, to clinch its first win of the season.
UE finished with a 28-27 rebounding edge while outshooting the Panthers by a 49.8%-46.2% margin.
A quick turnaround will see the Aces back in action on Saturday with a trip to Saint Louis. The 2 p.m. game will be carried live by NBC Sports Network.
Contribute to AceNotes
To have content considered for inclusion in AceNotes, please submit a Marketing Request Form. Deadline for submission to AceNotes is 10:00 a.m. on the requested date of publication. Only articles concerning UE related/sponsored activities will be accepted. Articles submitted to AceNotes may be edited for length and clarity. Submitter contact information is at the end of each article.