| | |
| --- | --- |
| AceNotes Today | Thursday, November 19, 2020 |
Check out the new Crescent magazine!
Welcome the new and improved Crescent!

The Crescent is an online publication run entirely by students. This is an opportunity for students of all majors to not only earn academic credit, but to collaborate with a team while gaining hands-on experience as designers, photographers, writers, and editors. Crescent staff members come away with ample material for their portfolios and resumes, and several graduates have found jobs because of the strength of their work for The Crescent.
Visit them at https://www.crescent.evansville.edu!

Flu Shots are Still Available at the UE Health Clinic
Flu shots are still available at the UE Health Clinic for all students and employees!
Getting a flu shot is an important step for protecting yourself and your fellow Aces from getting the flu this season. With COVID-19 still a concern and living in a residential community, this precaution becomes more important than ever, especially as it can help keep valuable resources available to those with COVID-19.
Flu shots are not required by the University, but strongly recommended. This year, flu shots are FREE for all students, as well as employees and their dependents enrolled in UE health insurance. Employees not covered by UE health insurance may receive a flu shot for $20. You always have the option to get your flu shot from your primary care provider or choose the best location or provider for your health.
Vaccines are available Monday-Friday, 8:00 a.m. - 5:00 p.m.
International Education Week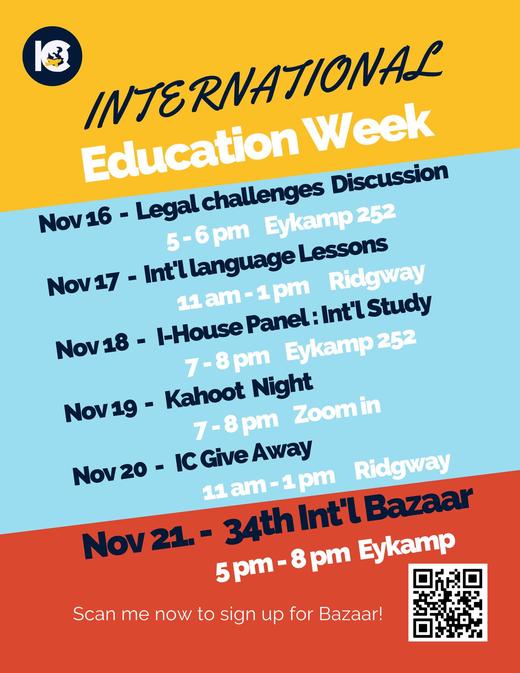 International Education Week (IEW) is a joint initiative of the U.S. Departments of State and Education. This annual event is observed nationally from November 16th - November 20th. At UE, IEW will be observed from November 16, 2020 - November 21, 2020. Join #IEW2020 to celebrate the benefits of international education and exchange through the programs organized by the International Club!
International Bazaar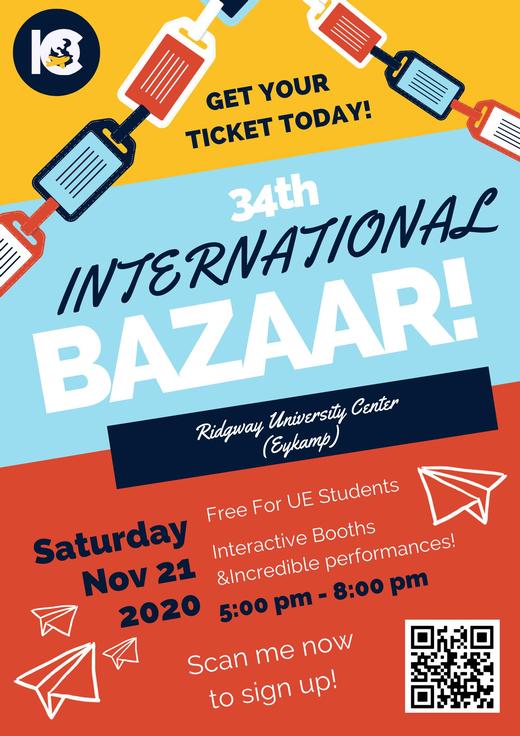 The annual International Bazaar is coming up soon. It is going to be Saturday November 21st. Due to the COVID-19 pandemic, we will be limiting the number of people in the room. But do not worry. Bazaar will happen from 5pm to 8pm so there is plenty of time for you and your friends check out the biggest event of campus. Join us and learn more about the diversity on your campus!
Intramural Double's Pickleball and Cornhole Tournament
The intramural department is hosting a double's pickleball tournament and a cornhole tournament! Double's Pickleball will take place Tuesday, November 17th and Cornhole will be Thursday November 19th both beginning at 7:00pm. The tournament will take place in the fitness center, all participants must wear a mask and maintain distance before, during, and prior to the event. If interested, visit imleagues.com to sign up your team, or contact the Assistant Director of Intramural Sports, Drew at ah519@evansville.edu.
Support Physical Therapy Club's Thanksgiving Food Drive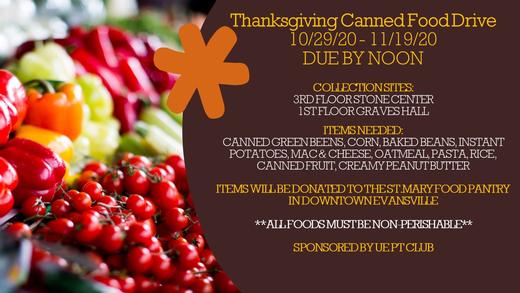 UE's PT Club is sponsoring a Thanksgiving Canned Food Drive to support our neighbors in need. The food items will be donated to the Food Pantry at St. Mary and John Catholic Church in downtown Evansville. Collection sites are the 1st floor of Graves Hall and the 3rd floor of Stone Center through November 19 by Noon. The items needed are canned green beans, corn, baked beans, instant potatoes, mac & cheese, oatmeal, pasta, rice, canned fruit, and creamy peanut butter.
The St. Mary Food Pantry opened its doors more than 20 years ago when the parish realized the great need to provide food for the hungry in downtown Evansville. They began by assisting a few families each month. Since then, the Food Pantry has grown tremendously, now assisting more than 250 households per month.
AcesHaven Food Pantry Available for Students Prior to Thanksgiving Break
AcesHaven is a student established resource center that features a fully stocked food pantry to help students who are facing food insecurities. University breaks can be especially challenging for students without resources, but there is help available! Please visit the food pantry or other resources below BEFORE Thanksgiving Break.
Aces Haven Pantry
If you are unsure about how you will get your next meal, please stop by our pantry, as we believe no Purple Ace should be hungry. AcesHaven is located in Neu Chapel, right inside the back entrance (closest to Memorial Plaza). Please take only what you need, as we want to make sure we have enough for everyone seeking assistance. It will be unlocked from 7am-10pm each day and will operate on the honor system. Neu Chapel will be closed for break, so please visit before end of day Wednesday.
Electronic Food Pantry
Additionally, we have established an electronic food pantry that allows us to transfer donated AceBucks to students who have a verified need. Please contact Student Financial Services to discuss this option.
Student Leadership Speaking Opportunity
This year's Student Leadership Conference will be focused on the topic of Overcoming. We are looking for 3 students who would like to share their experiences with overcoming challenges, mental health, stress, fear, failure, even the unknown. The conference will take place on March 13th, 2021. If you or a student you know would be interested in speaking please complete the following application. Questions can be emailed to Kaitlyn Luczak (kl241). Applications are needed by January 30th, 2021.
Applications can be found here: https://form.jotform.com/203134610048140
Library Resources from a Distance
With less than 2 weeks left of the in-person semester, I wanted to remind everyone about how students and faculty access library resources from off-campus.
The key is a BARCODE!
Once set up, you can access articles/eBooks from off-campus in 2 ways:
Quest – sign in to see full text article links with UE email/password. FT links will take you to proxy server log in screen. Log in with last name & library barcode. Example screen on library homepage.
Off-campus access/Proxy server - Log in with last name & library barcode. Long list of every database UE subscribes to. Must go through the proxy server to access the Washington Post from home. Confused about the best resource? Check out the Databases by Subject page.
To get a barcode, come to the library! We are open many, many hours.
FREE Baking Pumpkins
The Student Activities Board (SAB) has a surplus of baking pumpkins that they are giving away for FREE! If you enjoy canning or baking with fresh pumpkin to make all the holiday treats, please stop by the Center for Student Engagement during normal business hours to get your free baking pumpkins!
Available while supplies last - no amount limit.
Changes to UE International Insurance Program
On November 3, 2020, UE insurance partner announced a few changes to the UE international insurance program including the following:
Europ Assistance, UE's international travel assistance partner has changed its name to Generali Global Assistance (Generali). However, services remain the same.
The new GardaWorld program now provides expanded information offerings (country briefings, alerts, medical network, and additional security information) and a mobile phone app that can be downloaded for real-timed information and alerts.
For more information, please visit the Risk Management and Travel websites located on UE MyPortal.
2020-21 Student Consumer Information
The U.S. Department of Education requires universities to disclose consumer information to prospective and enrolled students, parents, and employees. This information is available on the University of Evansville website at https://www.evansville.edu/student-financial-services/student-consumer-information.cfm.
Questions may be directed to the Office of Student Financial Services at 800-424-8634, 812-488-2364, or studentfinancialservices@evansville.edu.
A paper copy of this information is available upon request. Information included on the Consumer Information page:
Academic Programs
Accrediting and Licensing Agencies
Alcohol and Drug Policy/Prevention Programs
Athletics Program Participation Rates and Financial Support Data
Code of Conduct
Copyright Infringement Policy and Peer to Peer File Sharing Information
Cost of Attendance
Diversity – Student Body Diversity by Gender, Ethnicity, and Pell Grant Status
Emergency Response and Evacuation Information
Employment and Graduate School Information for Recent UE Graduates
Family Educational Rights and Privacy Act (FERPA)
Federal Student Financial Aid Penalties for Drug Law Violations
Financial Aid Credit Balance Refund Policy
Financial Aid Information
General Information
Graduation Rates by gender, race and ethnicity, and selected financial aid groups
Graduation Rates for General Student Body
Graduation Rates for Student-Athletes
Grievance and Complaint Procedures
Health Insurance Portability and Accountability Act (HIPAA)
Missing Person Protocol
Net Price Calculator
Program Closure Policy
Refund Policy and Return of Title IV Funds
Retention and Graduation Rates of Degree-Seeking, First-Time, Undergraduate Students
Satisfactory Academic Progress Policy
Security and Fire Safety Report
Services and Facilities for Students with Disabilities
Student Loan Forgiveness, Cancellation, and Discharge
Study Abroad
Teacher Preparation Accountability
Textbook Information
Transfer Policies on Credits that Transfer to UE
Transfer Articulation Agreement Partner Colleges
Vaccination Policies
Verification Policy
Veteran Information
Voter Registration Information
November 2020 Risk Management Tip: Slips, Trips & Falls
As winter approaches slips, trips, and falls are a major cause of injury that occurs to both visitors and employees. They can occur in any business, but are of particular concern to businesses with considerable public and employee foot traffic such as those in retail, higher education, medical, and service industries.
What can you do to make a positive impact?
Be aware of your immediate surroundings
Wear comfortable, properly fitting non-slip shoes
Be aware of the type of surface you are walking on and its condition
Adjust to environmental and walking surface conditions
Pay attention to "Wet Floor" warning signs to warn of known hazards
Practice Good Housekeeping
Keep walkways and hallways free of debris, clutter and obstacles
Only carry items that allow you to see clearly where you are going
Use handrails when going up or down stairs and not skip steps
Eliminate or minimize distractions while walking, such as looking at your cell phone
Report unsafe conditions to Office of Public Safety at 812-488-2051.
Be Safe With Each Step!
2020 Employee Holiday Schedule
The University of Evansville will be closed during the holidays to allow our employees to enjoy this special time with their families, and this year, we extended the traditional winter holiday break by one week from the traditional . The following November – December – January holiday schedule will be observed:
Thanksgiving
Wednesday, November 25: Open (classes are scheduled, with offices open until 3 p.m.)
Thursday, November 26: Closed
Friday, November 27: Closed
Winter Holiday Break
Closed Wednesday, December 16 through Friday, January 1
Offices reopen Monday, January 4, 2020
2021-2022 FAFSA is Open
File the 2021-22 FAFSA by April 15 at www.fafsa.gov.
Continuing students should file the 2021-22 Free Application for Federal Student Aid (FAFSA) to apply for federal, state and University need-based financial aid, including all federal student loans. UE's FAFSA code is 001795.
Filing by April 15 is essential for Indiana residents to receive state aid, and highly recommended for all.
Questions regarding the FAFSA should be directed to the Student Financial Services (Olmsted Administration Hall, Room 105) at 812-488-2364.
Cirino and Vandagriff Announce Forthcoming Book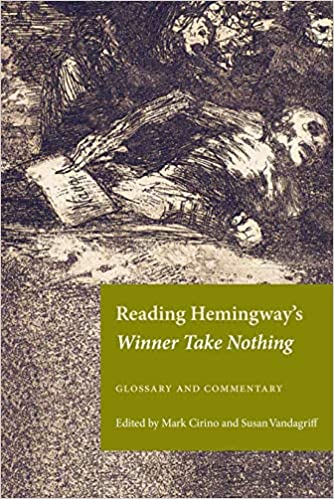 Mark Cirino and alumna Susan Vandagriff have co-edited a book—Reading Hemingway's Winner Take Nothing— that will be published by Kent State University Press in 2021. Cirino is the Chair of the English department and Melvin M. Peterson Endowed Chair in English. He has written or edited six previous books about Ernest Hemingway. Vandagriff (English and Creative Writing '15) is Assistant Professor and Scholarly Communications Librarian at University of Colorado Colorado Springs. She has published previously in The Hemingway Review.
Cirino and Vandagriff's book is a collection of annotations and interpretations devoted to Hemingway's third collection of short stories, Winner Take Nothing, which was originally published in 1933.
Men's Basketball Finalizes Non-Conference Schedule
With a berth in the Wade Houston Tipoff Classic in Louisville, Kentucky set to open the season, the University of Evansville men's basketball team has finalized the non-conference portion of its 2020-21 schedule.
The Purple Aces make the trek to Louisville for a pair of games in the Wade Houston Tipoff Classic at the KFC Yum! Center. UE will open the season against host Louisville Cardinals in a 3 p.m. CT game on the ACC Network. It will mark the latest season opener for the Purple Aces since the 1995-96 campaign when the team began the season on Nov. 28 against Chicago State. The Cardinals had a stellar 2019-20 season, going 24-7 overall, 15-5 in the ACC and 17-1 in home games.
For the first time in program history, the Aces will meet up against Prairie View A&M on Nov. 27 in a 12 p.m. CT game at the KFC Yum! Center. The Panthers are coming off of a 19-13 campaign, which included a 14-4 record in the SWAC. A 3-game swing away from home will be completed on December 2 when the Aces travel to UT Martin. It is the first meeting since the 2015 CIT and the first trip to Martin, Tennessee since 2006.
A Dec. 6 contest against IUPUI will mark the home opener at the Ford Center. Last season, the Aces picked up a 70-64 road win over the Jaguars inside Indiana Farmers Coliseum. UE is a perfect 3-0 against the Jags. Home action continues on the 9th of December against Eastern Illinois. The Panthers won 17 games last year. EIU and UE have not met on the hardwood since the 2015 CIT when the Aces earned an 83-68 triumph.
Evansville's final non-conference road tilt will be on Dec. 12 at Saint Louis. The Aces and Billikens will match up for the first time since the 1998 Big Island Invitational in Hilo, Hawaii. SLU holds a slight 15-14 lead in the series and is coming off of back-to-back 23-win seasons.
Two more home games will complete the non-conference slate, starting on Dec. 15 when UE plays host to Southeast Missouri State before facing Belmont on the 21st. The Aces improved to 10-5 against the Redhawks with a 66-50 win in November of 2017 as a precursor to the Cancun Challenge. The Bruins were 26-7 last season and defeated Murray State to win the Ohio Valley Conference Championship. UE has won the last two meetings in the series in 2014 and 15.
Contribute to AceNotes
To have content considered for inclusion in AceNotes, please submit a Marketing Request Form. Deadline for submission to AceNotes is 10:00 a.m. on the requested date of publication. Only articles concerning UE related/sponsored activities will be accepted. Articles submitted to AceNotes may be edited for length and clarity. Submitter contact information is at the end of each article.