| | |
| --- | --- |
| AceNotes Today | Wednesday, November 18, 2020 |
Check out the new Crescent magazine!
Welcome the new and improved Crescent!

The Crescent is an online publication run entirely by students. This is an opportunity for students of all majors to not only earn academic credit, but to collaborate with a team while gaining hands-on experience as designers, photographers, writers, and editors. Crescent staff members come away with ample material for their portfolios and resumes, and several graduates have found jobs because of the strength of their work for The Crescent.
Visit them at https://www.crescent.evansville.edu!

Share your holiday traditions and greetings!
The holiday season is quickly approaching, and our fall semester is quickly coming to a close! As you prepare to head home for the holidays, UE wants to know: what is your favorite holiday tradition?
The University would like to feature a video sharing the holiday traditions of students around the world and in America, and we need your help! If you'd like to be included in this project, please record a video sharing your favorite tradition. Our students and faculty come from diverse backgrounds, and the holiday season is a great time to learn about cultures and traditions!
Additionally, if you are an international student or come from a multicultural background, we would like to learn more about your holiday greetings. Please record a short video sharing your holiday greetings in your native language and UE will create a video showing holiday messages from around the world!
All videos can be uploaded to a designated OneDrive folder. You may also provide a link to the file on OneDrive, Dropbox, or Google Drive and email jb855@evansville.edu. Please upload all videos by Wednesday, November 18!
Some video guidelines to keep in mind when recording:
Film your video horizontally (wide screen)
Don't record your video extremely closeup (in case cropping is necessary)
Leave a 2 or 3-second gap before you start speaking so your voice isn't cut off in the videos
If you choose to record outside, make sure there is no wind noise or other sounds in the background
If you have any questions, please contact Julie Bryant, university relations coordinator, at jb855@evansville.edu.
Flu Shots are Still Available at the UE Health Clinic
Flu shots are still available at the UE Health Clinic for all students and employees!
Getting a flu shot is an important step for protecting yourself and your fellow Aces from getting the flu this season. With COVID-19 still a concern and living in a residential community, this precaution becomes more important than ever, especially as it can help keep valuable resources available to those with COVID-19.
Flu shots are not required by the University, but strongly recommended. This year, flu shots are FREE for all students, as well as employees and their dependents enrolled in UE health insurance. Employees not covered by UE health insurance may receive a flu shot for $20. You always have the option to get your flu shot from your primary care provider or choose the best location or provider for your health.
Vaccines are available Monday-Friday, 8:00 a.m. - 5:00 p.m.
International Education Week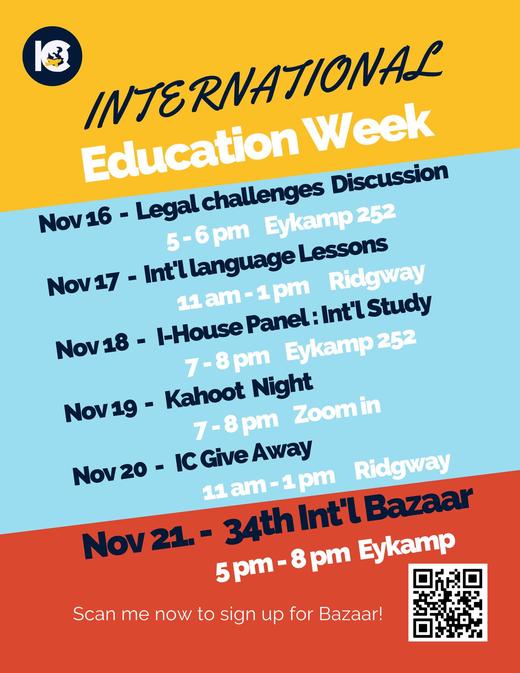 International Education Week (IEW) is a joint initiative of the U.S. Departments of State and Education. This annual event is observed nationally from November 16th - November 20th. At UE, IEW will be observed from November 16, 2020 - November 21, 2020. Join #IEW2020 to celebrate the benefits of international education and exchange through the programs organized by the International Club!
International Bazaar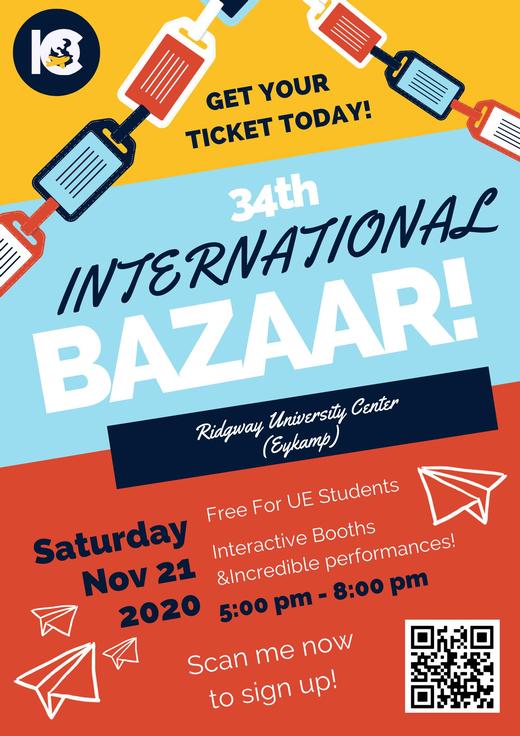 The annual International Bazaar is coming up soon. It is going to be Saturday November 21st. Due to the COVID-19 pandemic, we will be limiting the number of people in the room. But do not worry. Bazaar will happen from 5pm to 8pm so there is plenty of time for you and your friends check out the biggest event of campus. Join us and learn more about the diversity on your campus!
Beethoven 250 Series Continues with Live-Streamed Concert
Professors of Music Garnet Ungar and Anne Fiedler, and guest artist Yu-Han Kuan will perform live from Neu Chapel on Tuesday, November 17, at 7:30 p.m. Continuing the "Beethoven 250" series begun in the Spring semester 2020, the concert honors the 250th anniversary of Beethoven's birth. The program will include the Sonata in D Major, Op. 10, No. 3, Andante favori, and the famous "Waldstein" sonata. Please join us on YouTube at https://youtu.be/hlBFbbcqBQg.
Special Presentation: The Legacy of Racism for Children: Psychology, Law, & Public Policy
Join us on November 17th, 7pm-8pm, for a presentation and discussion with Dr. Margaret Stevenson, author of the recently published Oxford University Press book, "The Legacy of Racism for Children: Psychology, Law, and Public Policy." In her book, Stevenson reviews the ways in which law and policy shape the lives of marginalized children and adolescents – racial and ethnic minorities – who historically and presently are at heightened risk for experiencing disadvantageous consequences of law and policy. Topics include the intersection of race and ethnicity with child dependency court, familial incarceration, the "school to prison pipeline," police/youth interactions, and jurors' perceptions of racial minority child and adolescent victims and defendants.
Hosted by the University of Evansville's Psi Chi chapter, Psychology Club, and the Department of Law, Politics, & Society
https://zoom.us/webinar/register/WN_oxd3nIsPR1uqjmb0HviHRg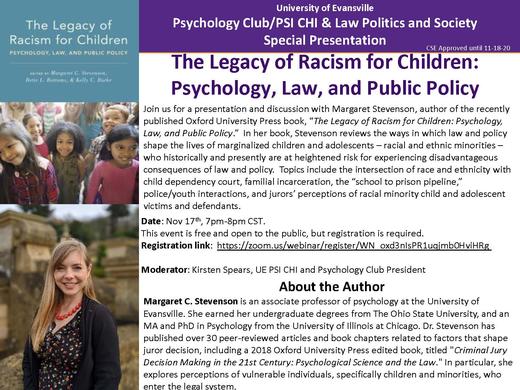 Library Resources from a Distance
With less than 2 weeks left of the in-person semester, I wanted to remind everyone about how students and faculty access library resources from off-campus.
The key is a BARCODE!
Once set up, you can access articles/eBooks from off-campus in 2 ways:
Quest – sign in to see full text article links with UE email/password. FT links will take you to proxy server log in screen. Log in with last name & library barcode. Example screen on library homepage.
Off-campus access/Proxy server - Log in with last name & library barcode. Long list of every database UE subscribes to. Must go through the proxy server to access the Washington Post from home. Confused about the best resource? Check out the Databases by Subject page.
To get a barcode, come to the library! We are open many, many hours.
Winter Intersession Courses
There is still time to register for Winter Intersession courses. The online courses run December 10, 2020 to January 15, 2021, and students may take up to two courses. For registration and payment deadlines and information, visit the Registrar area.
Winter Intersession Courses

| | | | | |
| --- | --- | --- | --- | --- |
| ACCT | 398 | 3 | Internship in Accounting | Morgan |
| ACCT | 211 | 3 | Introduction to Managerial Accounting | Taylor |
| ART | 105 | 3 | Introduction to the Visual Arts | Larmann |
| ASTR | 101 | 3 | Descriptive Astronomy | Braun |
| AT | 180 | 3 | Introduction to Athletic Training | Tilly |
| BIOL | 107 | 4 | General Biology | Aldred |
| BUS | 100 | 3 | Introduction to Business | Fenton J |
| BUS | 398 | 3 | Internship in Business | Morgan |
| CHEM | 103 | 3 | Chemistry of Adult Beverages | Miller |
| CHEM | 118 | 4 | Principles of Chemistry | Miller-Morong |
| COMM | 380 | 3 | Intercultural Communication | Thomlison |
| COMM | 130 | 3 | Introduction to Communication | Wandel |
| COMM | 221 | 3 | Media Writing | Wandel |
| COMM | 333 | 3 | News Copyediting | Wandel |
| ECON | 101 | 3 | Principles of Macroeconomics | Bayar |
| ECON | 102 | 3 | Principles of Microeconomics | Bayar |
| ECON | 398 | 3 | Internship in Economics | Morgan |
| ES | 103 | 3 | Fundamentals of Environmental Science | Thananatthanachon |
| ETH/PHIL | 121 | 3 | Introduction to Ethics | Kretz |
| EXSS | 150 | 2 | Introduction to Health Sciences | Laughbaum |
| EXSS | 320 | 3 | Nutrition for Performance and Health | Rodd |
| EXSS | 488 | 1-2 | Internship | Rodd |
| EXSS | 488 | TBD | Internship | Wilson |
| FIN | 361 | 3 | Fundamentals of Finance | Brockman C |
| FIN | 478 | 3 | Risk Management | Khan |
| GEOL | 130 | 3 | Environmental Geology | Swenty |
| GT | 225 | 3 | Lifespan Development | Hennon |
| HSA | 405/505 | 3 | Health Care Systems | Stroube |
| HSA | 498/529 | 1 | Health Service Field Experience | Stroube |
| LAW | 201 | 3 | Legal Environment of Business | Fenton |
| LSCM | 350 | 3 | Humanitarian Logistics | Obaze |
| MATH | 105 | 3 | College Algebra | Dwyer-Salminen |
| MATH | 134 | 3 | Surveys of Calculus | Dwyer-Salminen |
| MATH | 221 | 4 | Calculus 1 | Dwyer-Salminen |
| MATH | 222 | 4 | Calculus 2 | Dwyer-Salminen |
| MATH | 323 | 4 | Calculus 3 | Dwyer-Salminen |
| MATH | 324 | 3 | Differential Equations | Dwyer-Salminen |
| MATH | 365 | 3 | Probability | Gruenwald |
| MGT | 497 | 3 | Global Strategic Management | Fenton H |
| MGT | 377 | 3 | Organizational Behavior | Fenton H |
| MGT | 331 | 3 | International Business Strategy | Fox |
| MUS | 156 | 3 | Music in America | Strandberg |
| NEUR | 125 | 3 | Introduction to Behavioral Neuroscience | Campese |
| NUTR | 304 | 3 | Nutrition Concepts and Controversies | Rea |
| PH | 190 | 3 | Introduction to Public Health | Patel-Dovlatabadi |
| PH | 195 | 3 | Global Health Issues | Patel-Dovlatabadi |
| PH | 488 | 1-3 | Internship | Patel-Dovlatabadi |
| PH | 598 | 1-3 | Public Health Practicum | Patel-Dovlatabadi |
| PHYS | 121 | 4 | Algebra Physics 1 (includes lab(121L)) | Stamm |
| PSCI | 100 | 3 | World Politics | Kim |
| PSYC | 121 | 3 | Introduction to Psychology | Campese |
| PSYC | 245 | 4 | Statistics for Psychologists | Campese |
| PSYC | 225 | 3 | Lifespan Development | Hennon |
| PSYC | 226 | 3 | Child and Adolescent Psychology | Hennon |
| PSYC | 229 | 3 | Social Psychology | Stevenson |
| PSYC | 320 | 3 | Psychology and the Law | Stevenson |
| PSYC | 431 | 3 | Stereotyping, Racism, and Prejudice | Stevenson |
| QM | 227 | 3 | Introduction to Statistics | Khormali |
| REL | 212 | 3 | Living World Religions | Gupta |
| SOC | 105 | 3 | Introduction to Sociology | Plikuhn |
| SOC | 230 | 3 | Social Problems in the Modern World | Plikuhn |
| SOC | 350 | 3 | Popular Culture | Plikuhn |
| SPAN | 211 | 3 | Intermediate Spanish 1 | Rodriguez Quevedo |
| STAT | 166 | 1 | Introduction to R for Data Science | Weber |
2020-21 Student Consumer Information
The U.S. Department of Education requires universities to disclose consumer information to prospective and enrolled students, parents, and employees. This information is available on the University of Evansville website at https://www.evansville.edu/student-financial-services/student-consumer-information.cfm.
Questions may be directed to the Office of Student Financial Services at 800-424-8634, 812-488-2364, or studentfinancialservices@evansville.edu.
A paper copy of this information is available upon request. Information included on the Consumer Information page:
Academic Programs
Accrediting and Licensing Agencies
Alcohol and Drug Policy/Prevention Programs
Athletics Program Participation Rates and Financial Support Data
Code of Conduct
Copyright Infringement Policy and Peer to Peer File Sharing Information
Cost of Attendance
Diversity – Student Body Diversity by Gender, Ethnicity, and Pell Grant Status
Emergency Response and Evacuation Information
Employment and Graduate School Information for Recent UE Graduates
Family Educational Rights and Privacy Act (FERPA)
Federal Student Financial Aid Penalties for Drug Law Violations
Financial Aid Credit Balance Refund Policy
Financial Aid Information
General Information
Graduation Rates by gender, race and ethnicity, and selected financial aid groups
Graduation Rates for General Student Body
Graduation Rates for Student-Athletes
Grievance and Complaint Procedures
Health Insurance Portability and Accountability Act (HIPAA)
Missing Person Protocol
Net Price Calculator
Program Closure Policy
Refund Policy and Return of Title IV Funds
Retention and Graduation Rates of Degree-Seeking, First-Time, Undergraduate Students
Satisfactory Academic Progress Policy
Security and Fire Safety Report
Services and Facilities for Students with Disabilities
Student Loan Forgiveness, Cancellation, and Discharge
Study Abroad
Teacher Preparation Accountability
Textbook Information
Transfer Policies on Credits that Transfer to UE
Transfer Articulation Agreement Partner Colleges
Vaccination Policies
Verification Policy
Veteran Information
Voter Registration Information
UE Theatre New Works Festival Presented two Zoom Productions
UE Theatre presented two productions, via Zoom, last weekend, 1918: THE DISTANCE BETWEEN US, by Diana Burbano and directed by Dámaso Rodriguez, on Friday, Nov. 6, and FOR STEVE WOZNIAK, ON HIS 67th BIRTHDAY, written by Jiehae Park and directed by Nicole Watson, on Saturday, Nov. 7.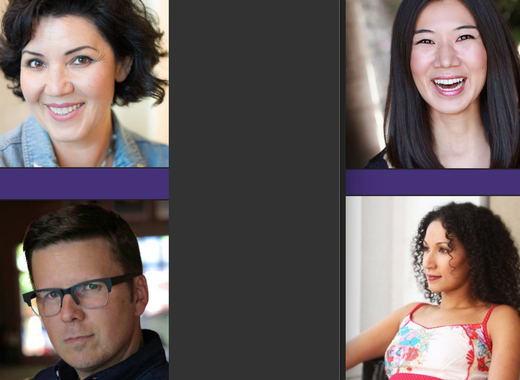 To supplement the education of theatre students this semester, the UE Theatre New Works Festival has been established as a project to allow for first-year, sophomore, and junior students to collaborate, via Zoom, with ten guest playwrights and directors on new plays throughout the course of the fall semester. Several of the productions will be recorded an made available for public viewing at a later date.
2020 Employee Holiday Schedule
The University of Evansville will be closed during the holidays to allow our employees to enjoy this special time with their families, and this year, we extended the traditional winter holiday break by one week from the traditional . The following November – December – January holiday schedule will be observed:
Thanksgiving
Wednesday, November 25: Open (classes are scheduled, with offices open until 3 p.m.)
Thursday, November 26: Closed
Friday, November 27: Closed
Winter Holiday Break
Closed Wednesday, December 16 through Friday, January 1
Offices reopen Monday, January 4, 2020
Cirino and Vandagriff Announce Forthcoming Book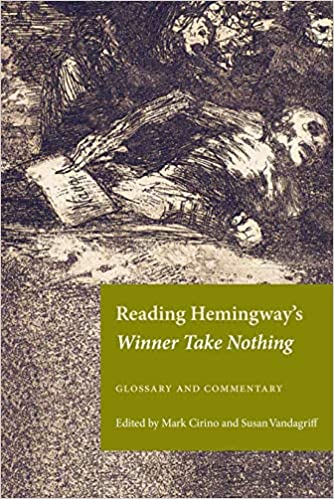 Mark Cirino and alumna Susan Vandagriff have co-edited a book—Reading Hemingway's Winner Take Nothing— that will be published by Kent State University Press in 2021. Cirino is the Chair of the English department and Melvin M. Peterson Endowed Chair in English. He has written or edited six previous books about Ernest Hemingway. Vandagriff (English and Creative Writing '15) is Assistant Professor and Scholarly Communications Librarian at University of Colorado Colorado Springs. She has published previously in The Hemingway Review.
Cirino and Vandagriff's book is a collection of annotations and interpretations devoted to Hemingway's third collection of short stories, Winner Take Nothing, which was originally published in 1933.
UE Men Add Three Student-Athletes for 2021
With the early signing period underway, University of Evansville head men's basketball coach Todd Lickliter has announced the signing of three student-athletes to join the Purple Aces squad in the fall of 2021.
Included in the class are incoming freshmen Blake Sisley and Troy Boynton along with Blaise Beauchamp, who will join the program as a transfer.
"We have a championship vision for our program and I am very confident that Blaise, Blake and Troy will be instrumental in helping us realize that vision," Lickliter exclaimed. "We are extremely excited to announce that they are officially Aces!"
BLAISE BEAUCHAMP
A 6-foot-2 guard from Minnetonka, Minnesota, Blaise Beauchamp will be a sophomore at UE next fall. Beauchamp is currently attending Lincoln Trail College in Illinois where he will embark on his freshman season in January. Known as a sharpshooter from outside the arc, Beauchamp most recently played at Bella Vista College Prep in Scottsdale, Arizona. He also attended Hopkins HS in Minnetonka and Findlay Prep in Nevada.
TROY BOYNTON
Troy Boynton is a 6-4 guard who is currently a senior at Baylor Prep in Chattanooga, Tennessee. Originally from Fort Lauderdale, Florida, Boynton spent his junior season there playing for Westminster Academy where he recorded 10.0 points, 5.5 assists and 5.1 rebounds per game while helping the team to a 20-9 record.
BLAKE SISLEY
Blake Sisley comes to UE following a remarkable career at Heritage Hills High School in Lincoln City, Ind. In his junior season, he helped the boy's basketball team to its first sectional championship since 2003. The 6-8 forward recorded 19.4 points and 7.6 rebounds per game last season for the Patriots. He was a 65% shooter as his team finished with a 22-3 record.
UE Athletics posts 99% Graduation Success Rate
The NCAA has released the 2020 Graduation Success Rate (GSR) and Federal Graduation Reports and the University of Evansville athletic department finished with a remarkable GSR of 99%. This level meets the criteria established by the NCAA that will result in an increased level of revenue distribution for the Missouri Valley Conference and Purple Aces athletic program.
Beginning in Spring 2020, a portion of Division I revenue was distributed to member schools based on the academic achievement of student-athletes. The model allows schools with higher graduation rates and academic success to qualify for more funds. The 2020 GSR release contained aggregate data for the 2010-11 through the 2013-14 freshman cohorts.
"Our graduation success rate is the ultimate highlight of what it means to be a student-athlete," University of Evansville President Christopher M. Pietruszkiewicz exclaimed. "We are extraordinarily proud of our athletes for their commitment to excelling in the classroom and our coaches for helping them to become professionals outside of athletics."
With its tally, the Purple Aces finished in a first-place tie in the Missouri Valley Conference. The successful rate for UE athletics results in the second year of earning additional academic credit funds for GSR performances that exceed that of the entire university student body.
"This a testament to the work that our student-athletes put into the classroom, as well as the time and effort our coaches put in to recruit the type of student-athlete that can succeed in a rigorous academic environment like the University of Evansville," UE Director of Athletics Mark D. Spencer expressed.
Criteria to earn NCAA academic units along with information about the NCAA Graduation Success Rates are included below.
THE CRITERIA
A school earns an academic unit by meeting any ONE of the three standards.
Graduation Success Rate for most recently available year is equal to or greater than 90 percent. The average of single-year rates for all teams is used.
Difference between student-athlete and student body percentages in the most recently published Federal Graduation Rate is equal to or greater than 13 percentage points.
Academic Progress Rate for previous year is equal to or greater than 985. The average of single-year scores for all teams is used to determine eligibility for this standard.
NCAA GSR INFORMATION
All colleges and universities are required by NCAA legislation and federal law (the Student Right-to-Know act from 1990) to report student graduation rates, and those institutions offering athletics aid are required to report for their student-athletes as well. The NCAA acquires student-athlete graduation rate data from the Department of Education's Integrated Post-Secondary Data System Graduation Rate Survey (IPEDS-GRS).
The student-athlete graduation rate calculated directly based on IPEDS-GRS (which is the methodology the U.S. Department of Education requires) is the proportion of first-year, full-time student-athletes who entered a school on athletics aid and graduated from that institution within six years. This federal rate does not account for students who transfer from their original institution and graduate elsewhere; they are considered non-graduates at both the college they left and the one from which they eventually graduate.
The NCAA GSR differs from the federal calculation in two important ways. First, the GSR holds colleges accountable for those student-athletes who transfer into their school. Second, the GSR does not penalize colleges whose student-athletes transfer in good academic standing. Essentially, those student-athletes are moved into another college's cohort.
Contribute to AceNotes
To have content considered for inclusion in AceNotes, please submit a Marketing Request Form. Deadline for submission to AceNotes is 10:00 a.m. on the requested date of publication. Only articles concerning UE related/sponsored activities will be accepted. Articles submitted to AceNotes may be edited for length and clarity. Submitter contact information is at the end of each article.