| | |
| --- | --- |
| AceNotes Today | Monday, November 9, 2020 |
FREE WITH UE STUDENT ID!! Evansville Philharmonic Mad Hot Ballroom Demonstration. Sunday, November 15th, 1:15pm.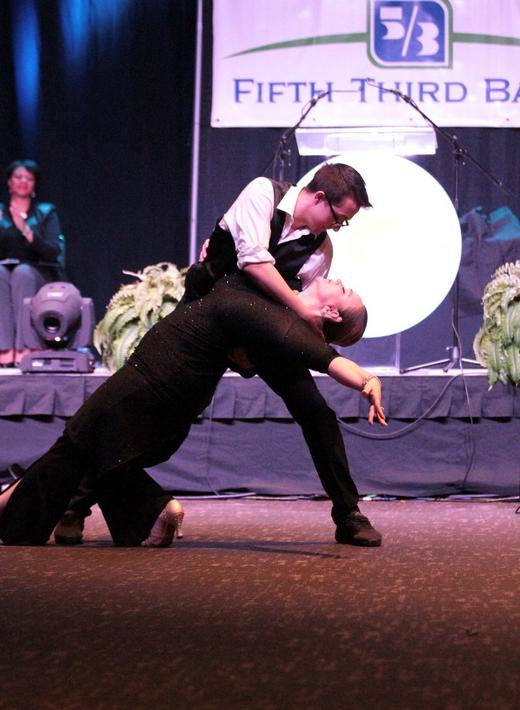 FREE WITH UE STUDENT ID: Evansville Philharmonic Mad Hot Ballroom Demonstration. Sunday, November 15th, 1:15pm. UE Ballroom Club President Joseph Shoup (Vocal Performance Education) and Vice President August Martinez (Communications & Exercise Science) will demonstrate a Bronze Level American Smooth Tango prior to the EPO's show this Sunday. Students dance at 1:15pm, main show at 2:00pm FREE W/ UE ID!
To reserve your ticket, call 812-425-5050 ext. 300, and ask for Jeanne in the Box Office. You can reserve a single seat, or if you want to attend with your student family unit, let her know that when you call. Give the name of any of your UE professors to reserve. You will need your ID to pick up at Will Call (Main Street entrance at the Victory Theatre). All seats are distanced and masks are required. Very limited audience, with temperature checks to get in. Questions? Text 812-449-1044. Come support your fellow students and enjoy the amazing Evansville Philharmonic Orchestra!
International Bazaar
The annual International Bazaar is coming up soon. It is going to be Saturday November 21st. Due to the COVID-19 pandemic, we will be limiting the number of people in the room. But do not worry. Bazaar will happen from 5pm to 8pm so there is plenty of time for you and your friends check out the biggest event of campus. Join us and learn more about the diversity on your campus!
Veterans Day Program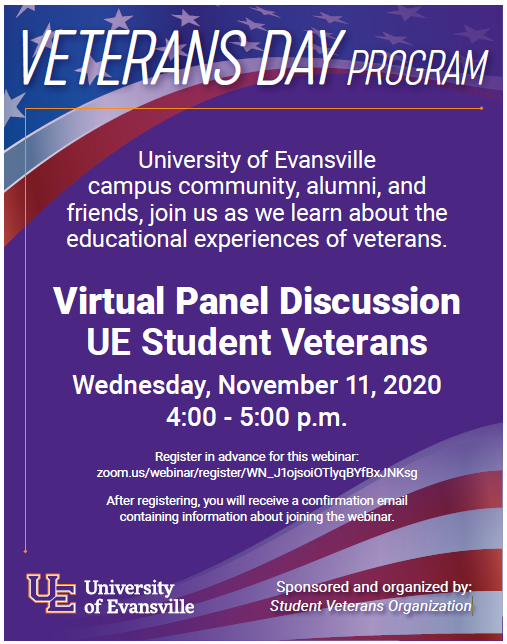 University of Evansville campus community, alumni, and friends, join us as we learn about the educational experiences of veterans.
Virtual Panel Discussion
UE Student Veterans
Wednesday, November 11, 2020
4:00 - 5:00 p.m.
Register in advance for this webinar: https://zoom.us/webinar/register/WN_J1ojsoiOTlyqBYfBxJNKsg
After registering, you will receive a confirmation email containing information about joining the webinar.
Sponsored and organized by:
Student Veterans Organization
IM Badminton Tournament
The intramural department is hosting a double's badminton tournament, Thursday November 12th at 7:00pm. The tournament will take place in the fitness center, all participants must wear a mask and maintain distance before, during, and prior to the event. If interested, visit imleagues.com to sign up your team, or contact the Assistant Director of Intramural Sports, Drew at ah519@evansville.edu.
Support Physical Therapy Club's Thanksgiving Food Drive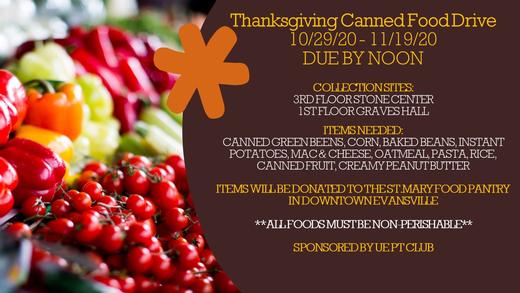 UE's PT Club is sponsoring a Thanksgiving Canned Food Drive to support our neighbors in need. The food items will be donated to the Food Pantry at St. Mary and John Catholic Church in downtown Evansville. Collection sites are the 1st floor of Graves Hall and the 3rd floor of Stone Center through November 19 by Noon. The items needed are canned green beans, corn, baked beans, instant potatoes, mac & cheese, oatmeal, pasta, rice, canned fruit, and creamy peanut butter.
The St. Mary Food Pantry opened its doors more than 20 years ago when the parish realized the great need to provide food for the hungry in downtown Evansville. They began by assisting a few families each month. Since then, the Food Pantry has grown tremendously, now assisting more than 250 households per month.
Extra Credit Opportunity
The neuromarketing lab is conducting a survey for the Habitat for Humanity organization. We are looking for responses to various taglines. The survey will be given through Qualtrics and will ask to record for your visual reaction. Your video will only be for the purpose of this research and will not be shown or distributed to anyone besides the neuromarketing research team. The survey is worth 3 extra credit points. The deadline to complete the survey will be November 13 by the end of the day.
Contact Brittani Bullock, bb272@evansville.edu and Lora Becker lb47@evansville.edu to participate.
UE Theatre Salon Series Welcomed Isaac Katzanek and Julie Ann Arbiter
This week's installment of the UET Salon Series PRODUCTION MANAGEMENT, was held on Wednesday, Oct. 28, with Isaac Katzanek '11 and Julie Ann Arbiter '11. These two alums shared their experiences on working in production management in the professional world then and now.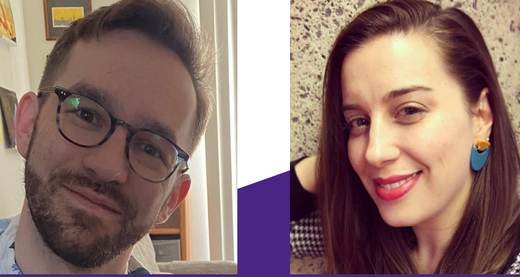 A native of Las Vegas, Isaac graduated from UET with a BFA in Design and Technology, and moved to New York City where he began freelancing in lighting, sound, and technical direction positions. He transitioned to production management through positions at the Roundabout Theatre Company and the Williamstown Theatre Festival. These experiences led to his being named the Production Manager at Aurora Productions, the leader in production management for Broadway, Off-Broadway, and national tours. After serving as the Production Manager for the inaugural team at New York's The Shed, Isaac moved to the West Coast to accept the position of Production Manager at the Geffen Playhouse, in Los Angeles.
After graduating from UET with a BS in Stage Management, Julie Ann worked as a freelance stage manager and event planner in her hometown of Houston. Two years later, she moved to New York City where her freelance work helped her transition from stage management to production management. For five years, Julie Ann gained a wide breadth of experience working in production management for the Public Theatre on HAMILTON, Shakespeare in the Park, at Joe's Pub, and with the Mobile Shakespeare Unit. In January of 2019, Julie Ann moved back to her hometown to accept the position of Associate Production Manager at the Alley Theatre.
This semester, UE Theatre students will have the opportunity to experience twelve workshops with professionals from the entertainment industry.
2020 Employee Holiday Schedule
The University of Evansville will be closed during the holidays to allow our employees to enjoy this special time with their families, and this year, we extended the traditional winter holiday break by one week from the traditional . The following November – December – January holiday schedule will be observed:
Thanksgiving
Wednesday, November 25: Open (classes are scheduled, with offices open until 3 p.m.)
Thursday, November 26: Closed
Friday, November 27: Closed
Winter Holiday Break
Closed Wednesday, December 16 through Friday, January 1
Offices reopen Monday, January 4, 2020
Fall Healthy Behavior Challenge- The Great Start-Up
Sign up for the fall healthy behavior challenge today! Email ac375@evansville.edu to register for this 8 week challenge. This new challenge is focused on starting your day on the right foot for a successful, healthy day to follow! Participants can earn $150.00 in HRA credits. Challenge will run 11/8/2020- 01/08/2021.
Joanne Scott Massey - When Clay & Paint Collide
Exhibit: September 28 – November 25, 2020
Student Workshop: Sept. 29, 1:15-4pm
Student Gallery Lecture: Sept 30, 10:00-11:30am
Artist's Reception & Public Gallery Lecture: October 1, 6:30-8:00pm (Lecture at 7:00)
All events are in the Melvin Peterson Gallery
Masks and Safe Distancing will be observed
Emerging Contemporary Artist Lecture Series supported by the Efroymson Family Fund and the Dept.of Art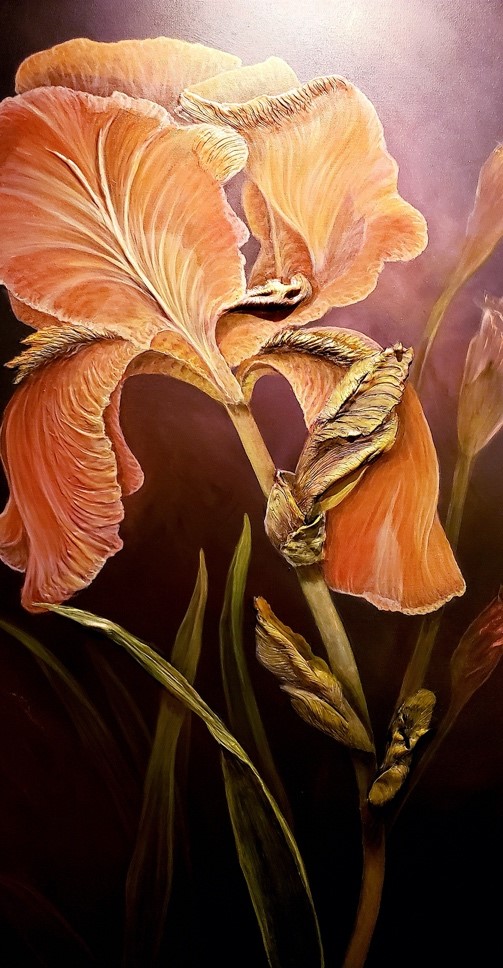 Orenda: The Art of Terra Kilgore
Painting, Drawings and Ceramic Art by Evansville Artist, Terra Kilgore. UE Krannert Gallery. October 11-November 25. A public reception for the Artist: Thursday, October 22, 6:30pm. (Masks and safe-distancing will be observed.) Artist: Thursday, October 22, 6:30pm. (Masks and safe-distancing will be observed.)
Emerging Contemporary Artist sponsored by the Efroymson Family Fund with the UE Dept. of Art.
Bio
I currently reside in Evansville, Indiana but I grew up on my family's farm in Western Kentucky. That area would provide inspiration that I still use in my work today. I have many passions, but I have always been most passionate about is art, and art education. I studied art education at Murray State University and during this time was able to explore several art mediums to better teach a wide variety of art styles and techniques. I was always a shy, quiet child and learned at an early age to use art for my own expression and communication. Still, as an adult, I use art to communicate what I can't in words. I am currently a middle school visual arts teacher. I feel it is important for growing children to explore their own feelings, opinions, and be able to express through the language of visual arts.
Artist Statement
Time constantly passes over us leaving behind the remains of what once was. My art largely deals with the passing of time and the commonality of times effect on everything and everybody. I explore time not being a beginning or an ending, but a never-ending cycle. An example of this idea is evident in my painting Rerum Gestarum (Events of Circumstance). Rerum Gestarum is about striving for solidarity and meaning in life, all with the acknowledgement of life's unpredictable frailness and eventual physical ending, but still existing in time even after we are gone. Growing up on a farm, I was exposed to acres of nature, machinery, and livestock I would spend my time walking down fencerows, exploring creeks, and examining the life cycles of a farm. I was fascinated by expansive spaces, gnarled tree roots, abandoned grain-bins, rusted tools and the expendable livestock. All these things combined started my fascination with cycles of both living organisms and objects.
My earliest artistic influences stem from surrealist artists such as Dali, Magritte, and the organic style of art nouveau. My emphasis in college was clay where I learned and experimented with clay and glaze techniques and recipes. After college I quickly abandoned traditional firing techniques in place of a more primitive alternative pit firing. Much like with my paintings, I use the idea of leaving a fingerprint in time; a fossil. I fire organic material to "paint" a carbon image directly onto the clay's surface.
My current style is largely influenced by artist, Ben Mahmoud, and his large acrylic paintings, specifically "The Retrospective". Recurring themes in my work are items that are decayed or are associated with decay, icons of time, and viewing windows to show a moment in that particular time and space. I use recycled materials such as paint, newspaper, house siding, bones, and other organic material in most of my pottery, paintings, and jewelry. I recycle materials to add to an idea of items having a previous life, and being repurposed. I also utilize shadow boxes, focal points, and linear perspective to help guide what my work is trying to communicate to the viewer. I am interested in art that subtly tells a story using lighting, focal points, and or composition. I hope to continue experimenting with different mediums, and using my work to communicate with an ever changing society.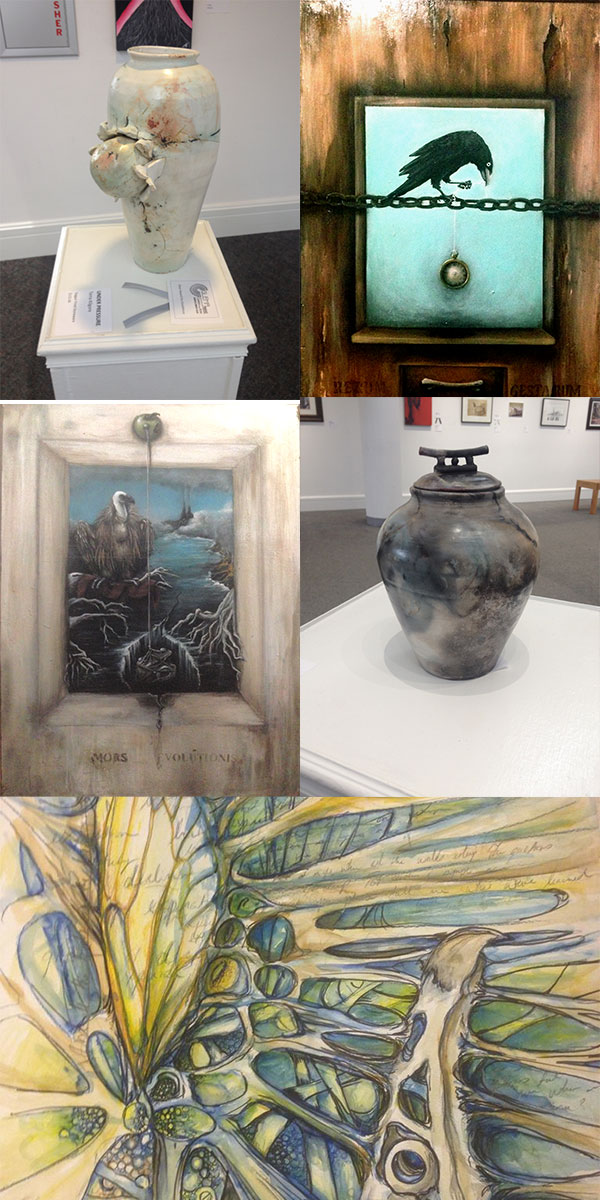 Archaeology Alumnus Andrew Reinhard to Present on Archaeogaming on Wednesday
This lecture is part of a series of alumni talks in celebration of the 30th Anniversary of the Department of Archaeology and Art History at the University of Evansville. To kick off our program, UE alumnus Dr. Andrew Reinhard ('94), Director of Publications at the American Numismatic Society in New York, will speak about the archaeology of video games on Wednesday November 11 at 7:00 pm. Dr. Reinhard will discuss ideas of rapid consumerism and accelerated nostalgia while exploring video games as examples of digital built heritage and the second homes of billions of 21st-century humans. To register, visit www.uealumnionline.com/GameAfter
Katie Darby Mullins first poetry book, "Neuro, Typical" debuts November 17th
Katie Darby Mullins' first book of poetry, "Neuro, Typical: Chemical Reactions & Trauma Bonds" (Summer Camp Press) will be released November 17th. The publisher notes: "So often, it's easy to look at a moment of swift, tragic growth and see it as the defining line: life was before and after that event. But what if the events just keep coming?
Neuro, Typical is a story in poems of Mullins's recovery from a brain-stem stroke told in disorganized clips and stories: the focus shifts from the physical to the mental and spiritual, from fixed "timeline" events like a housefire to trying to define a relationship there doesn't seem to be a word for." Noted poet Kaveh Akbar says it should be read "because when Horace pronounced, over 2000 years ago, "dulce et util!", that poems must delight and instruct, he was talking about poems like the ones in this gorgeous little volume."
Contribute to AceNotes
To have content considered for inclusion in AceNotes, please submit a Marketing Request Form. Deadline for submission to AceNotes is 10:00 a.m. on the requested date of publication. Only articles concerning UE related/sponsored activities will be accepted. Articles submitted to AceNotes may be edited for length and clarity. Submitter contact information is at the end of each article.