| | |
| --- | --- |
| AceNotes Today | Thursday, November 5, 2020 |
Share your holiday traditions and greetings!
The holiday season is quickly approaching, and our fall semester is quickly coming to a close! As you prepare to head home for the holidays, UE wants to know: what is your favorite holiday tradition?
The University would like to feature a video sharing the holiday traditions of students around the world and in America, and we need your help! If you'd like to be included in this project, please record a video sharing your favorite tradition. Our students and faculty come from diverse backgrounds, and the holiday season is a great time to learn about cultures and traditions!
Additionally, if you are an international student or come from a multicultural background, we would like to learn more about your holiday greetings. Please record a short video sharing your holiday greetings in your native language and UE will create a video showing holiday messages from around the world!
All videos can be uploaded to a designated OneDrive folder. You may also provide a link to the file on OneDrive, Dropbox, or Google Drive and email jb855@evansville.edu. Please upload all videos by Wednesday, November 18!
Some video guidelines to keep in mind when recording:
Film your video horizontally (wide screen)
Don't record your video extremely closeup (in case cropping is necessary)
Leave a 2 or 3-second gap before you start speaking so your voice isn't cut off in the videos
If you choose to record outside, make sure there is no wind noise or other sounds in the background
If you have any questions, please contact Julie Bryant, university relations coordinator, at jb855@evansville.edu.
IM Badminton Tournament
The intramural department is hosting a double's badminton tournament, Thursday November 12th at 7:00pm. The tournament will take place in the fitness center, all participants must wear a mask and maintain distance before, during, and prior to the event. If interested, visit imleagues.com to sign up your team, or contact the Assistant Director of Intramural Sports, Drew at ah519@evansville.edu.
This Week with Student Christian Fellowship
1) FRIDAY, NOVEMBER 6 - FOCUS (SCF's Monthly Worship Gathering)
• This Friday @ 5pm in Neu Chapel
• Join us for fellowship, musical worship, and Biblically-based teaching
2) FRIDAY, NOVEMBER 6 - S'more Fun
• Following our FOCUS gathering we will be having a time of bonfire and S'mores
• This Friday @ 7:30 at (3012 Oak St. Evansville, IN)
3) SATURDAY, NOVEMBER 7 - 12 Hour Prayer Vigil (Virtual) for Peace and Unity
• Pray with us for our country, for our city, and for our campus that there be unity and peace in this time of turmoil and strife
• Join us and sign-up for a 15 minute time slot (or more) this Saturday from 7am-7pm
• https://docs.google.com/document/d/1qViNekJaYFoX87y5EMHGBI2sBOu6XToELkRxB5ndKF4/edit?usp=sharing
This Week in Newman Club
Check out what Newman Catholic Club is up to this week! All are welcome!
Newman Night:
Fr. Tyler Tenbarge and Sister Jessica Vitente will be answering questions about vocations you may have. Wednesday (11/4) at 7pm in Eykamp.
*First FIVE people will get a tshirt!*
Catholic Mass:
Mass in Neu Chapel resumes! Sunday (11/8) at 1pm in Neu Chapel.
Small Group:
Annie Sheridan's small group's theme is Fear Not: How to Live Fully in Christ. Tuesdays 7pm at Newman House*.
Lesley Gerster and Michaela Kunkler's small group's theme is Pope John Paul's Letters to Women. Thursdays 7:30pm at Newman House.
Liturgy of the Hour:
Join for prayer at the Newman House* at 6:30pm on Thursdays.
Rosary:
Participate in the Rosary on Sundays after mass at 2pm at the Newman House.
Other:
Pick up your FREE spiritual books outside outside the Newman House* lawn. These will be available all day Thursday and 8:30am-1pm on Friday.
*Newman House: 1901 Lincoln Ave
Want to be updated about Newman and become a member?! Follow us on instagram at ue_newman and become a member using the link https://docs.google.com/forms/d/e/1FAIpQLSfF145Vhanwk7UFrJhzYBHAPOPhNnkfbKTmzraNuMh3jy41Yw/viewform.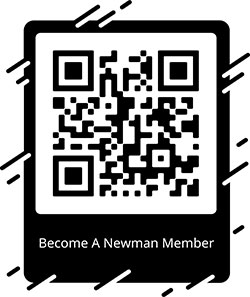 Louisville Mega Caverns on Nov. 7
The Venturing Crew has organized an excursion into the Louisville Mega Caverns. This event is open to the entire UE community with a fee of $40. There will be high ropes, underground zip-lining, and lots of friends and memories to make. Sign up on UEngage before November 4, 2020. If you have any queries, contact hd94@evansville.edu.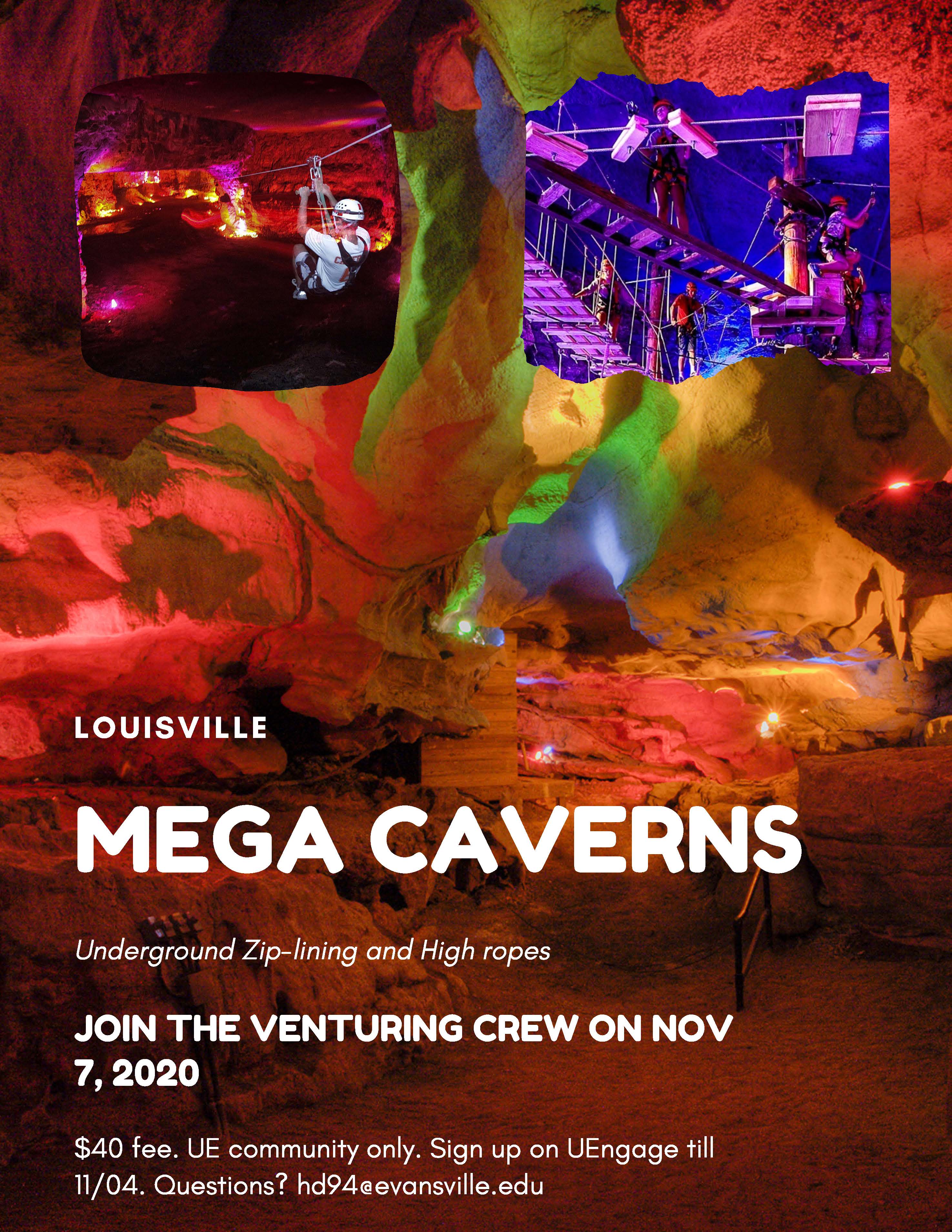 UE Nursing's Mental Health Seminar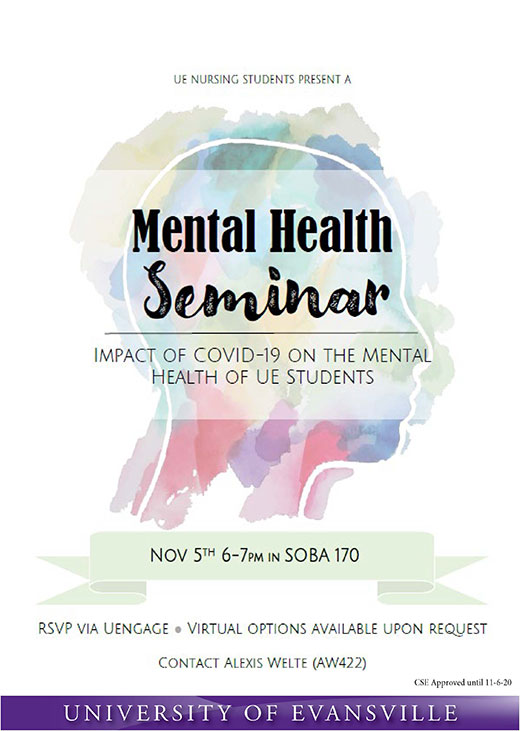 Senior Nursing Community Health Project focusing on the impact of isolation during COVID-19 on the mental health of UE College Students includes: guest speakers, presentation of research, mental health resources, stress/anxiety-reducing techniques, and how to stay connected during the pandemic
RSVP required through UEngage. Limit of 50 people
2020 Employee Holiday Schedule
The University of Evansville will be closed during the holidays to allow our employees to enjoy this special time with their families, and this year, we extended the traditional winter holiday break by one week from the traditional . The following November – December – January holiday schedule will be observed:
Thanksgiving
Wednesday, November 25: Open (classes are scheduled, with offices open until 3 p.m.)
Thursday, November 26: Closed
Friday, November 27: Closed
Winter Holiday Break
Closed Wednesday, December 16 through Friday, January 1
Offices reopen Monday, January 4, 2020
New Gerontology Course Offered for Spring 2021
Looking for a course for the spring? Consider the new Gerontology course: GT 411- Aging and Elders in Film! This course will explore the ways that films reflect and create social constructs for later life, examine biases and stereotypes, and analyze film's depiction and construction of aging across the life course through an intersectional lens of gender, class, race and ethnicity, (dis)ability, and sexual orientation.
GT 411- Aging and Elders in Film satisfies one of the requirements for the Gerontology Certificate. For more information, please contact Dr. Mari Plikuhn, Associate Professor of Sociology and Director of the Gerontology Center, at plikuhn@evansville.edu.
Fall Healthy Behavior Challenge- The Great Start-Up
Sign up for the fall healthy behavior challenge today! Email ac375@evansville.edu to register for this 8 week challenge. This new challenge is focused on starting your day on the right foot for a successful, healthy day to follow! Participants can earn $150.00 in HRA credits. Challenge will run 11/8/2020- 01/08/2021.
Changelab Habitat
The neuromarketing lab is conducting a survey for the Habitat for Humanity organization. We are looking for responses to various taglines. The survey will be given through Qualtrics and will ask to record for your visual reaction. Your video will only be for the purpose of this research and will not be shown or distributed to anyone besides the neuromarketing research team. The survey is worth 3 extra credit points. The deadline to complete the survey will be November 5 by the end of the day.
Contact Brittani Bullock, bb272@evansville.edu and Lora Becker lb47@evansville.edu to participate.
Professor Kretz's Book "Ethics, Emotion, Education, and Empowerment" Just Released
Universities teach courses in ethics, but do they teach students how to be ethical in practice? Lisa Kretz's Ethics, Emotion, Education, and Empowerment explores the ways that philosophical ethics are currently taught and argues that dominant approaches fail to adequately support ethical action, in part because emotions are all too often ignored or repressed in university classrooms. In isolation, abstract theoretical content fails to motivate. The ability to reason through an ethical dilemma does not, by itself, of necessity impact ethical action. Empowered action requires intentional emotional engagement. Kretz argues that part of the reason affective pedagogy fails to get sufficient uptake is due to the operations of oppression. There is a long history of the reason-emotion dualism undermining recognition of the necessary and valuable epistemic roles emotions play in moral life, and serving as a political tactic to undermine the experience of oppressed groups. This impoverishes ethical pedagogy because it is to the detriment of teacher's abilities to teach ethics in a comprehensive way and strips the potential of supporting students to enact their own reflectively held ethical beliefs and values. Using the example of the environmental crisis, Kretz makes a case for supporting students as engaged activists aware of their capacity to ethically change the world. Available for purchase through Barnes and Noble https://www.barnesandnoble.com/w/ethics-emotion-education-and-empowerment-lisa-kretz/1137540004,
Roman & Littlefield Press https://rowman.com/ISBN/9781793614452/Ethics-Emotion-Education-and-Empowerment, and Amazon. In the Acknowledgements Professor Kretz notes: "My students--all of you--thank you for inspiring me, teaching me, and perpetually keeping me on my toes. It is a responsibility, privilege, and gift to teach and learn with you."
Edwards Publishes Research Article
Dale Edwards, professor and chair of biology, recently published a peer-reviewed research article in the Journal of Parasitology. The article titled "Host Diversity Affects Parasite Diversity: A Case Study Involving Unionicola spp. Inhabiting Freshwater Mussels" is available in the October issue of the journal.
Congratulations to the Civil Engineering Scholarship Recipients
Five UE civil engineering students received the 2020 Asphalt Pavement Association of Indiana (APAI) scholarship.
Robert Coulter (Civil Engineering Sophomore)
Holli Buretta (Civil Engineering Senior)
Leta Bassett (Civil Engineering Senior)
Reid McIntire (Civil Engineering Senior)
Dalton Selvidge (Civil Engineering Senior)
The APAI Scholarship Program exists to financially assist students enrolled at Indiana colleges and universities majoring in civil engineering, construction management or construction technology and who have an interest in a career in the heavy/highway or asphalt construction industry. The scholarship recipients were selected after interviewed by the APAI scholarship committee. The scholarship award will be presented during the 2020 Virtual APAI Winter Conference.
Congratulations to the scholarship recipients.
Contribute to AceNotes
To have content considered for inclusion in AceNotes, please submit a Marketing Request Form. Deadline for submission to AceNotes is 10:00 a.m. on the requested date of publication. Only articles concerning UE related/sponsored activities will be accepted. Articles submitted to AceNotes may be edited for length and clarity. Submitter contact information is at the end of each article.