| | |
| --- | --- |
| AceNotes Today | Wednesday, October 28, 2020 |
Flu Shots are Still Available at the UE Health Clinic
Flu shots are still available at the UE Health Clinic for all students and employees!
Getting a flu shot is an important step for protecting yourself and your fellow Aces from getting the flu this season. With COVID-19 still a concern and living in a residential community, this precaution becomes more important than ever, especially as it can help keep valuable resources available to those with COVID-19.
Flu shots are not required by the University, but strongly recommended. This year, flu shots are FREE for all students, as well as employees and their dependents enrolled in UE health insurance. Employees not covered by UE health insurance may receive a flu shot for $20. You always have the option to get your flu shot from your primary care provider or choose the best location or provider for your health.
Vaccines are available Monday-Friday, 8:00 a.m. - 5:00 p.m.
Happening Today - Career Connections - Museums, Parks, Cultural Resource Management
Career Connections allows students an opportunity to talk to professionals in their field to learn more about the skills and background necessary for their profession as well as how they advanced in their positions. Students will develop an understanding for the day-to-day activities of these professionals who started their careers with a particular major. Most professionals are UE alumni who support our students with their goals through professional networking and mentoring opportunities.
Register for the event on Handshake: https://app.joinhandshake.com/events/579646
Join the following UE alumni professionals on zoom at this event: Jennifer Evans, Development Director at Mesker Park Zoo & Botanic Garden, Jalessa Slade, Interim Executive Director at Evansville African American Museum, Kaman Hillenburg, Collections Manager at Evansville Museum, Alyssa Reynolds, Architectural Historian at Cultural Resource Analysts and Laurie Byers, Director of Communication Engagement at Wesselman Woods, and Julie McDonald, Park Ranger at US Army Corp. of Engineers.
CHANGELAB Presentation Management and Tips Webinar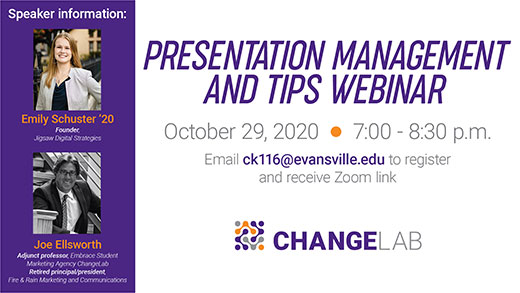 CHANGELAB Presentation Management and Tips Webinar!
Speakers:
Emily Schuster, Founder Jigsaw Digital Strategies
Joe Ellsworth, Adjunct Professor Embrace Student Marketing Agency Changelab, Retired principal/president, Fire & Rain Marketing and Communications
October 29th
7:00p.m. to 8:30p.m.
email ck116@evansville.edu to register
SAI Sells Candy Grams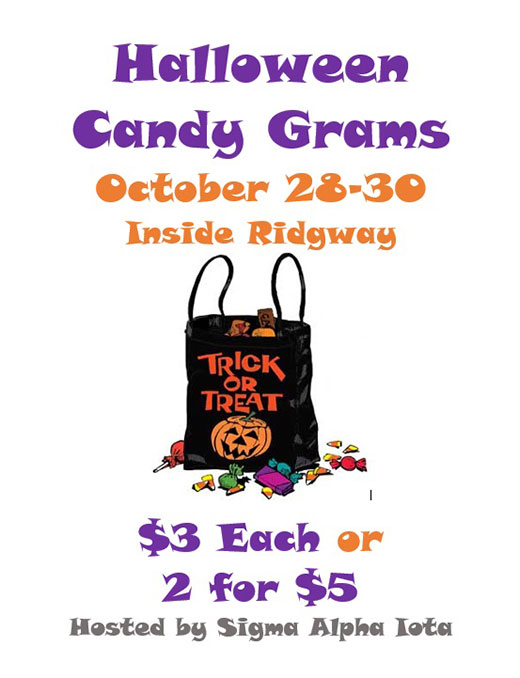 As the fall fundraiser for our chapter, Sigma Alpha Iota will be selling candy grams in advance of Halloween from Wednesday the 28th through Friday the 30th from 11 to 1 pm. From a table in Ridgway, we will be selling individually wrapped bags of candy and will offer the opportunity for buyers to write a note (that they will deliver themselves) to a person of their choice. Come stop by our table share some candy and some love this spooky season!!
SAA Purple Aces Pumpkin Palooza! - Win Prizes
Student Alumni Ambassadors invites you to participate in our Purple Aces Pumpkin Palooza!
How to Participate on Social Media:
1) Snap a pic of your pumpkin
2) Tag @UEAlumni
3) Use the hashtag #UESAAPumpkins
If you do not have or do not want to post on social media, you can email a picture of your pumpkin to alumni@evansville.edu!
Submit by midnight on Halloween to win cool prizes and get connected with campus! Prizes will be given to each category: UE Spirit, Most Creative, Spookiest, and Best All Around!
Changelab Habitat
The neuromarketing lab is conducting a survey for the Habitat for Humanity organization. We are looking for responses to various taglines. The survey will be given through Qualtrics and will ask to record for your visual reaction. Your video will only be for the purpose of this research and will not be shown or distributed to anyone besides the neuromarketing research team. The survey is worth 3 extra credit points. The deadline to complete the survey will be November 5 by the end of the day.
Contact Brittani Bullock, bb272@evansville.edu and Lora Becker lb47@evansville.edu to participate.
Research Survey and Potential Award
I'm doing a social psychology study related to education and looking to recruit subjects. The link below is a test for logic ability. There are 10 questions (two sets of questions) that will take you about 10-15 minutes to complete. A $75 award is awarded for the top five overall scores(there are only 20 people complete this survey now). Please note that if you are preparing for or taking the GMAT, please do not participate in this experiment.
https://survey.az1.qualtrics.com/jfe/form/SV_b9IqRpm42a6439b
If you have questions, prior to participation, you may email the researchers at jx4@evansville.edu.
Thank you so much for participating in our study.
Calling All ChangeLab Students - Past and Present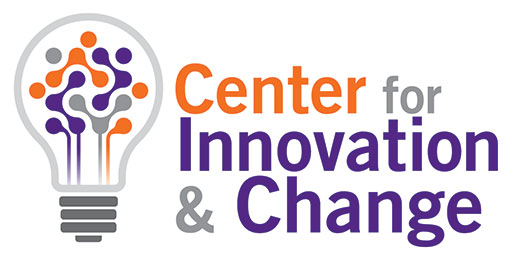 Presentation Management and Tips
Don't miss our next free webinar containing valuable advice on how to plan your next presentation and polish its delivery. The session will be led by Mr. Joe Ellsworth, retired President, Fire & Rain Marketing and Communications, and Ms. Emily Schuster, Founder of Jigsaw Digital Strategies.
Thursday, October 29
7:00 – 8:30 pm
RSVP to ck116@evansville.edu by October 28 to receive the Zoom link.
Biology Faculty Awarded NSF Grant
Dr. Joyce Stamm has been awarded a grant from the National Science Foundation (NSF) as a co-principal investigator on a three-year, $300,000 project: " A Multi-institutional Course-Based Undergraduate Research Experience in Genetics". This project, which is led by Dr. Jacob Kagey at the University of Detroit Mercy, and has co-principal investigators from a total of four institutions, seeks to make research experiences more accessible to undergraduate students, and to examine how the number of different research experiences students have affects their academic and career success. The grant is part of NSF's Improving Undergraduate STEM Education (IUSE) program, which seeks to enhance STEM education for undergraduate students by using different approaches and new knowledge about teaching and learning.
Dr. Stamm has been collaborating with Dr. Kagey on this project since 2017, by incorporating a semester-long research project, where students map genetic mutations that cause tumor formation in fruit flies, in her Biology 331 (Genetics) course. These mutations can offer clues to what goes wrong in similar diseases in humans. To date, two papers including fourteen UE student co-authors have been published describing the results of this work. More recently, Dr. Julie Merkle has also joined the project, which now includes faculty at a total of seven institutions. The NSF grant will allow the expansion of the project to a total of 20 institutions, with a goal of making research experiences more accessible for students historically underrepresented in biomedical research, including those at community colleges and institutions with large minority populations.
Contribute to AceNotes
To have content considered for inclusion in AceNotes, please submit a Marketing Request Form. Deadline for submission to AceNotes is 10:00 a.m. on the requested date of publication. Only articles concerning UE related/sponsored activities will be accepted. Articles submitted to AceNotes may be edited for length and clarity. Submitter contact information is at the end of each article.