| | |
| --- | --- |
| AceNotes Today | Tuesday, October 27, 2020 |
Flu Shots are Still Available at the UE Health Clinic
Flu shots are still available at the UE Health Clinic for all students and employees!
Getting a flu shot is an important step for protecting yourself and your fellow Aces from getting the flu this season. With COVID-19 still a concern and living in a residential community, this precaution becomes more important than ever, especially as it can help keep valuable resources available to those with COVID-19.
Flu shots are not required by the University, but strongly recommended. This year, flu shots are FREE for all students, as well as employees and their dependents enrolled in UE health insurance. Employees not covered by UE health insurance may receive a flu shot for $20. You always have the option to get your flu shot from your primary care provider or choose the best location or provider for your health.
Vaccines are available Monday-Friday, 8:00 a.m. - 5:00 p.m.
CHANGELAB Presentation Management and Tips Webinar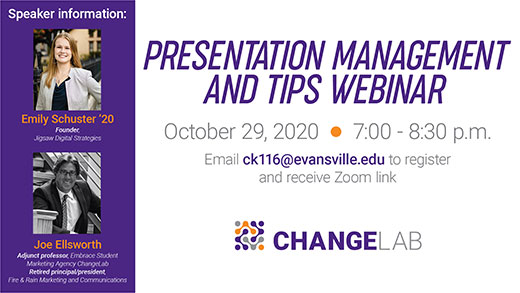 CHANGELAB Presentation Management and Tips Webinar!
Speakers:
Emily Schuster, Founder Jigsaw Digital Strategies
Joe Ellsworth, Adjunct Professor Embrace Student Marketing Agency Changelab, Retired principal/president, Fire & Rain Marketing and Communications
October 29th
7:00p.m. to 8:30p.m.
email ck116@evansville.edu to register
I-House China/Taiwan
Brian Tong is the first American generation of his family. His father is from China and his mother is from Taiwan. He is an exercise science major and this Wednesday at 7pm in Eykamp, he will share a little bit about his story and how was this cultural transition for him and for his family. Brian loves animes, listening to K-pop and playing piano. His favorite part of UE is the "smallness of the campus what allows for close-knit community as well as more of a "family" feeling around campus." Join us at 7pm this Wednesday in Eykamp for I-House!
UEvents Online Series-Lecture Event – The Neuroscience of Stress and Resilience During a COVID-19 Holiday Season by Lora Becker, PhD
Wednesday, November 4, 2020
6:00 p.m. CST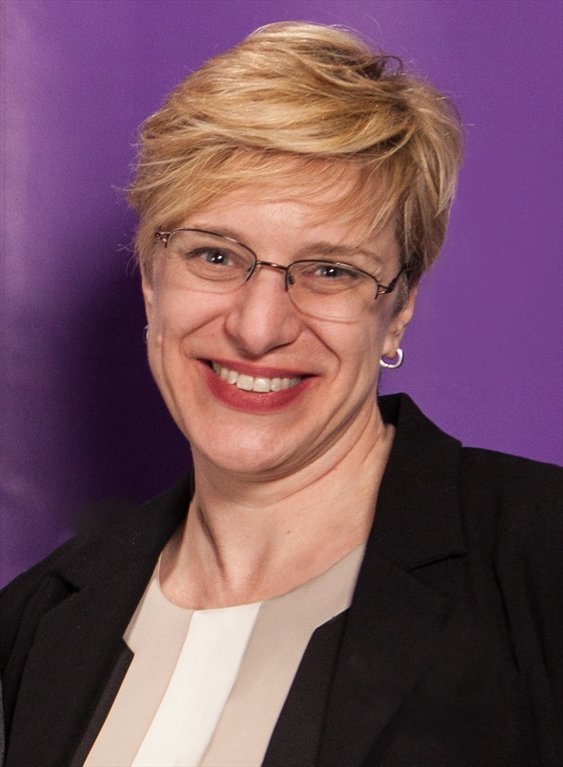 We look forward to the winter holidays when we gather with friends and family to reflect on the year and share the joy of the season.
This is also a time that can be very stressful! All of the planning, negotiations, family disagreements, and loss of loved ones can make this season of joy quickly turn into a season of anxiety and stress.
This year is bringing a new challenge to the holiday season, COVID-19. In this lecture, Lora Becker, PhD, will explain our human stress response and provide suggestions, backed by neuroscience findings, on how to bolster resilience so that we can enjoy our traditions, if not in the most traditional way.
Register at www.uealumnionline.com/NeuroscienceLecture
Tonight - Virtual Presentation by New York Times Bestselling Author Stephanie Land
The Honors Program invites the campus community to join us for our common read speaking event, a presentation by New York Times bestselling author Stephanie Land, today at 6:00pm. Ms. Land will join us virtually via Zoom to discuss her memoir, Maid: Hard Work, Low Pay, and A Mother's Will to Survive. The book recounts Ms. Land's struggles as a member of the "working poor", struggling to provide for herself and her daughter while battling against poverty, homelessness and bureaucracy. Her inspiring true story is currently in development to become a Netflix series.
Maid was the Honors Program common read book choice for this year's incoming honors freshmen as well as the freshmen from the Fellows Scholars Program.
We invite you to attend the presentation to hear firsthand about Ms. Land's experiences and learn more about the challenges faced every day by overworked and underpaid American workers.
The Zoom link information is below:
https://zoom.us/j/98195580638?pwd=bmtJNWViWXNGWTVCN09MaHgyZk1OQT09
Meeting ID: 981 9558 0638
Passcode: honors
SAI Sells Candy Grams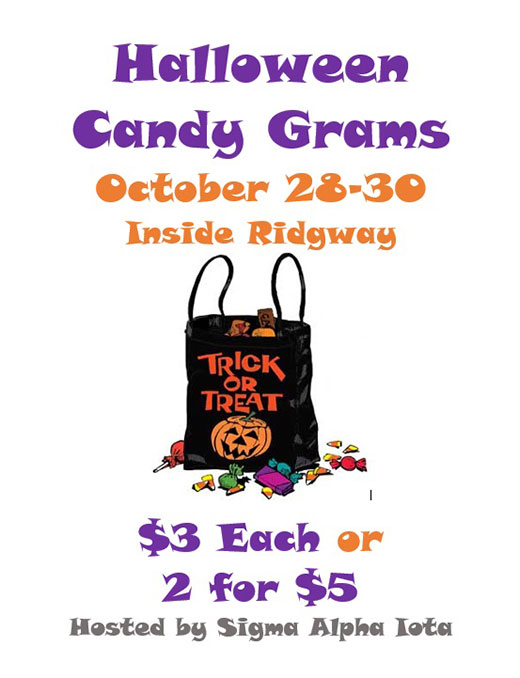 As the fall fundraiser for our chapter, Sigma Alpha Iota will be selling candy grams in advance of Halloween from Wednesday the 28th through Friday the 30th from 11 to 1 pm. From a table in Ridgway, we will be selling individually wrapped bags of candy and will offer the opportunity for buyers to write a note (that they will deliver themselves) to a person of their choice. Come stop by our table share some candy and some love this spooky season!!
Making a Real Polyjuice Potion
On Halloween night, underneath a full moon, I will be making the iconic Polyjuice Potion based on the recipe given on Pottermore.
This will be livestreamed through YouTube, so come witness the process!
Note: this is a 25+ hour process, you are by no means expected to watch the whole time. However, you are encouraged to leave the video on in the background and check in on the potion's progress.
UE goes to the Louisville Mega Caverns
The Venturing Crew has organized an excursion into the Louisville Mega Caverns. There will be high ropes, underground zip-lining, and lots of friends and memories to make. Sign up on UEngage before November 4, 2020. If you have any queries, contact hd94@evansville.edu.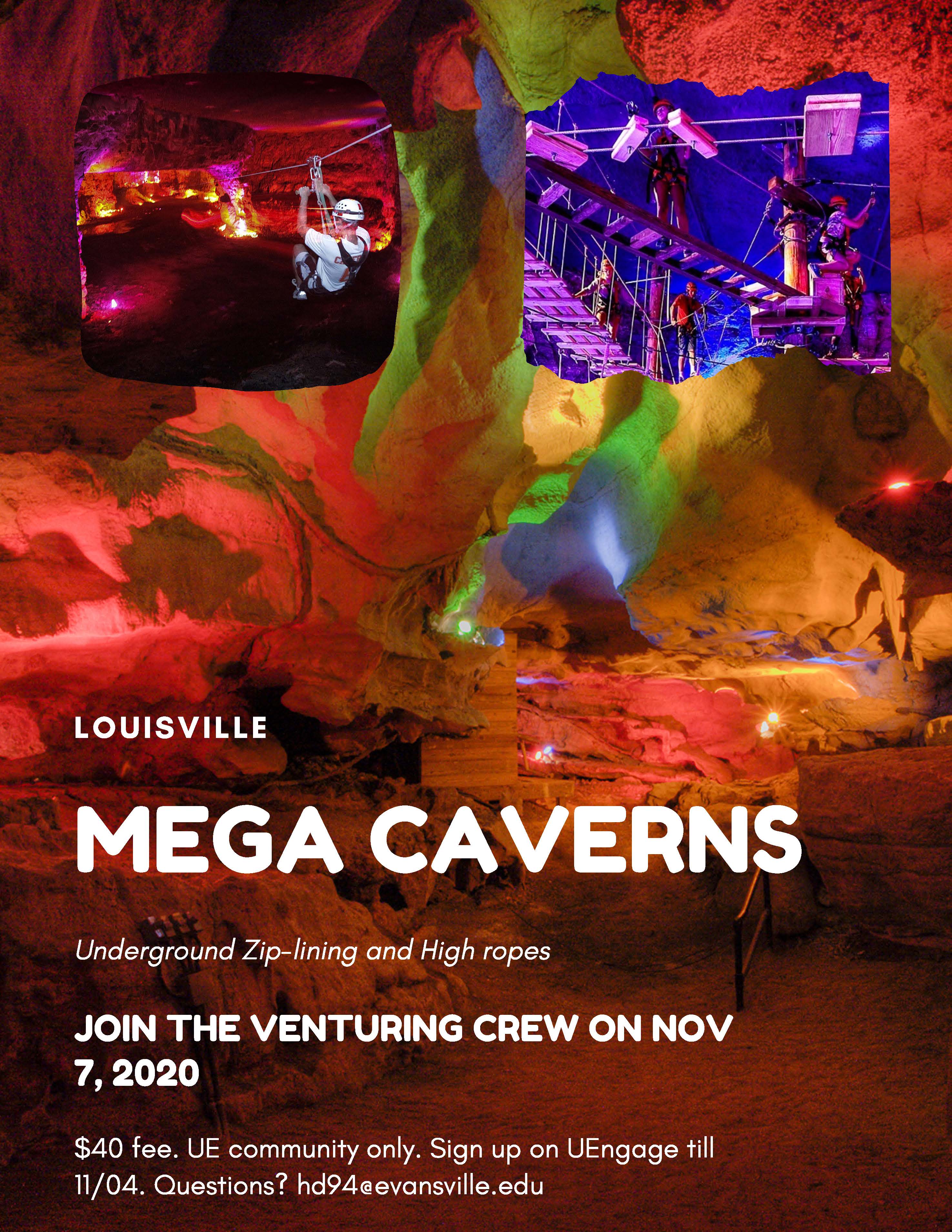 Research Survey and Potential Award
I'm doing a social psychology study related to education and looking to recruit subjects. The link below is a test for logic ability. There are 10 questions (two sets of questions) that will take you about 10-15 minutes to complete. A $75 award is awarded for the top five overall scores(there are only 20 people complete this survey now). Please note that if you are preparing for or taking the GMAT, please do not participate in this experiment.
https://survey.az1.qualtrics.com/jfe/form/SV_b9IqRpm42a6439b
If you have questions, prior to participation, you may email the researchers at jx4@evansville.edu.
Thank you so much for participating in our study.
Career Connections - Museums, Parks, Cultural Resource Management
Career Connections allows students an opportunity to talk to professionals in their field to learn more about the skills and background necessary for their profession as well as how they advanced in their positions. Students will develop an understanding for the day-to-day activities of these professionals who started their careers with a particular major. Most professionals are UE alumni who support our students with their goals through professional networking and mentoring opportunities.
Register for the event on Handshake: https://app.joinhandshake.com/events/579646
Join the following UE alumni professionals on zoom at this event: Jennifer Evans, Development Director at Mesker Park Zoo & Botanic Garden, Jalessa Slade, Interim Executive Director at Evansville African American Museum, Kaman Hillenburg, Collections Manager at Evansville Museum, Alyssa Reynolds, Architectural Historian at Cultural Resource Analysts and Laurie Byers, Director of Communication and Engagement at Wesselman Woods.
Calling All ChangeLab Students - Past and Present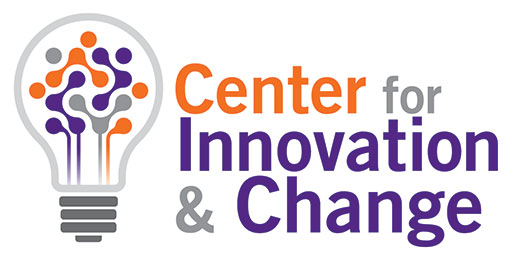 Presentation Management and Tips
Don't miss our next free webinar containing valuable advice on how to plan your next presentation and polish its delivery. The session will be led by Mr. Joe Ellsworth, retired President, Fire & Rain Marketing and Communications, and Ms. Emily Schuster, Founder of Jigsaw Digital Strategies.
Thursday, October 29
7:00 – 8:30 pm
RSVP to ck116@evansville.edu by October 28 to receive the Zoom link.
Perceived trauma from COVID-19 survey
We are inviting you to participate in a research study. Your participation in this online survey is completely voluntary. If you decide to participate in the survey, you are free to withdraw at any time. This study aims to investigate/understand perceived trauma associated with COVID-19 induced social isolation. You can participate if you are an adult individual 18 years or older in the Evansville community. Although the results of this study may be published, no information that could identify you will be included. This study involves minimal risk, however some of the survey questions may pertain to sensitive topics that could be emotional for some participants. University of Evansville Psychology students may have the potential to earn extra credit in their course as a result of participating however non-University of Evansville students will not be compensated for their participation in our research.
You can participate through the following link: https://uoebusiness.co1.qualtrics.com/jfe/form/SV_0d2QPcSSclIlYY5
Still Available: CARES Act Higher Education Emergency Relief Fund (HEERF) Grant Application
Emergency funding through the HEERF Grant is still available for expenses that resulted in additional costs related to your participation in academic and college-related activities due to COVID-19.
Please be aware that funding is limited and a valid 2020-21 Free Application for Federal Student Aid (FAFSA) submission is required for grant consideration. Applications will be processed as received until federal funds provided have been exhausted.
2021-2022 FAFSA is Open
File the 2021-22 FAFSA by April 15 at www.fafsa.gov.
Continuing students should file the 2021-22 Free Application for Federal Student Aid (FAFSA) to apply for federal, state and University need-based financial aid, including all federal student loans. UE's FAFSA code is 001795.
Filing by April 15 is essential for Indiana residents to receive state aid, and highly recommended for all.
Questions regarding the FAFSA should be directed to the Student Financial Services (Olmsted Administration Hall, Room 105) at 812-488-2364.
Winter Intersession Courses
Get ahead by taking Winter Intersession online courses. Complete a missing required course, lighten your spring load, and take advantage of the longer winter break. Classes run December 10, 2020 to January 15, 2021, and students may take up to two courses. Discuss it with your advisor and begin registration November 2, 2020.
Check out the list of courses.
Winter Intersession Courses

| | | | | |
| --- | --- | --- | --- | --- |
| ACCT | 398 | 3 | Internship in Accounting | Morgan |
| ACCT | 211 | 3 | Introduction to Managerial Accounting | Taylor |
| ART | 105 | 3 | Introduction to the Visual Arts | Larmann |
| ASTR | 101 | 3 | Descriptive Astronomy | Braun |
| AT | 180 | 3 | Introduction to Athletic Training | Tilly |
| BIOL | 107 | 4 | General Biology | Aldred |
| BUS | 100 | 3 | Introduction to Business | Fenton J |
| BUS | 398 | 3 | Internship in Business | Morgan |
| CHEM | 103 | 3 | Chemistry of Adult Beverages | Miller |
| CHEM | 118 | 4 | Principles of Chemistry | Miller-Morong |
| COMM | 380 | 3 | Intercultural Communication | Thomlison |
| COMM | 130 | 3 | Introduction to Communication | Wandel |
| COMM | 221 | 3 | Media Writing | Wandel |
| COMM | 333 | 3 | News Copyediting | Wandel |
| ECON | 101 | 3 | Principles of Macroeconomics | Bayar |
| ECON | 102 | 3 | Principles of Microeconomics | Bayar |
| ECON | 398 | 3 | Internship in Economics | Morgan |
| ES | 103 | 3 | Fundamentals of Environmental Science | Thananatthanachon |
| ETH/PHIL | 121 | 3 | Introduction to Ethics | Kretz |
| EXSS | 150 | 2 | Introduction to Health Sciences | Laughbaum |
| EXSS | 320 | 3 | Nutrition for Performance and Health | Rodd |
| EXSS | 488 | 1-2 | Internship | Rodd |
| EXSS | 488 | TBD | Internship | Wilson |
| FIN | 361 | 3 | Fundamentals of Finance | Brockman C |
| FIN | 478 | 3 | Risk Management | Khan |
| GEOL | 130 | 3 | Environmental Geology | Swenty |
| GT | 225 | 3 | Lifespan Development | Hennon |
| HSA | 405/505 | 3 | Health Care Systems | Stroube |
| HSA | 498/529 | 1 | Health Service Field Experience | Stroube |
| LAW | 201 | 3 | Legal Environment of Business | Fenton |
| LSCM | 350 | 3 | Humanitarian Logistics | Obaze |
| MATH | 105 | 3 | College Algebra | Dwyer-Salminen |
| MATH | 134 | 3 | Surveys of Calculus | Dwyer-Salminen |
| MATH | 221 | 4 | Calculus 1 | Dwyer-Salminen |
| MATH | 222 | 4 | Calculus 2 | Dwyer-Salminen |
| MATH | 323 | 4 | Calculus 3 | Dwyer-Salminen |
| MATH | 324 | 3 | Differential Equations | Dwyer-Salminen |
| MATH | 365 | 3 | Probability | Gruenwald |
| MGT | 497 | 3 | Global Strategic Management | Fenton H |
| MGT | 377 | 3 | Organizational Behavior | Fenton H |
| MGT | 331 | 3 | International Business Strategy | Fox |
| MUS | 156 | 3 | Music in America | Strandberg |
| NEUR | 125 | 3 | Introduction to Behavioral Neuroscience | Campese |
| NUTR | 304 | 3 | Nutrition Concepts and Controversies | Rea |
| PH | 190 | 3 | Introduction to Public Health | Patel-Dovlatabadi |
| PH | 195 | 3 | Global Health Issues | Patel-Dovlatabadi |
| PH | 488 | 1-3 | Internship | Patel-Dovlatabadi |
| PH | 598 | 1-3 | Public Health Practicum | Patel-Dovlatabadi |
| PHYS | 121 | 4 | Algebra Physics 1 (includes lab(121L)) | Stamm |
| PSCI | 100 | 3 | World Politics | Kim |
| PSYC | 121 | 3 | Introduction to Psychology | Campese |
| PSYC | 245 | 4 | Statistics for Psychologists | Campese |
| PSYC | 225 | 3 | Lifespan Development | Hennon |
| PSYC | 226 | 3 | Child and Adolescent Psychology | Hennon |
| PSYC | 229 | 3 | Social Psychology | Stevenson |
| PSYC | 320 | 3 | Psychology and the Law | Stevenson |
| PSYC | 431 | 3 | Stereotyping, Racism, and Prejudice | Stevenson |
| QM | 227 | 3 | Introduction to Statistics | Khormali |
| REL | 212 | 3 | Living World Religions | Gupta |
| SOC | 105 | 3 | Introduction to Sociology | Plikuhn |
| SOC | 230 | 3 | Social Problems in the Modern World | Plikuhn |
| SOC | 350 | 3 | Popular Culture | Plikuhn |
| SPAN | 211 | 3 | Intermediate Spanish 1 | Rodriguez Quevedo |
| STAT | 166 | 1 | Introduction to R for Data Science | Weber |
Ebeling Presents at Bible and Archaeology Fest
Associate Professor of Archaeology Jennie Ebeling was one of twenty international scholars to speak in the Biblical Archaeology Society's 23rd Annual Bible and Archaeology Fest October 24-25 by Zoom. In a presentation entitled "Expectation vs. Reality: Great Fails in Biblical Archaeology," Ebeling talked about the failures of American Biblical Archaeology in its heyday in the first half of the 20th century and the challenges American archaeologists working in Israel face today.
Biology Faculty Awarded NSF Grant
Dr. Joyce Stamm has been awarded a grant from the National Science Foundation (NSF) as a co-principal investigator on a three-year, $300,000 project: " A Multi-institutional Course-Based Undergraduate Research Experience in Genetics". This project, which is led by Dr. Jacob Kagey at the University of Detroit Mercy, and has co-principal investigators from a total of four institutions, seeks to make research experiences more accessible to undergraduate students, and to examine how the number of different research experiences students have affects their academic and career success. The grant is part of NSF's Improving Undergraduate STEM Education (IUSE) program, which seeks to enhance STEM education for undergraduate students by using different approaches and new knowledge about teaching and learning.
Dr. Stamm has been collaborating with Dr. Kagey on this project since 2017, by incorporating a semester-long research project, where students map genetic mutations that cause tumor formation in fruit flies, in her Biology 331 (Genetics) course. These mutations can offer clues to what goes wrong in similar diseases in humans. To date, two papers including fourteen UE student co-authors have been published describing the results of this work. More recently, Dr. Julie Merkle has also joined the project, which now includes faculty at a total of seven institutions. The NSF grant will allow the expansion of the project to a total of 20 institutions, with a goal of making research experiences more accessible for students historically underrepresented in biomedical research, including those at community colleges and institutions with large minority populations.
Fernando Morales named head coach of Puerto Rico National Team
After serving as the captain of the Puerto Rico National Team in his days as a player, University of Evansville head volleyball coach Fernando Morales has been named the head coach of the Puerto Rico Women's Volleyball National Team.
This appointment will not have any impact on Morales' work with the Purple Aces as the national team plays most of their games during the summer.
"It is always an athlete's dream to be able to represent their country and I was able to do it for 10 years. To get the opportunity to do it as a coach is a dream come true," Morales said. "We have a great group and having the support from the veteran players in the national team is very big for me. We think we can do great things together and we will work hard towards our goals."
"I want to thank Mark Spencer and Sarah Solinsky for understanding what this means and giving me the green light to follow this dream," Morales continued. "I have a great staff in Melissa (Rabell) and Jesus (Echevarria), it is going to be a lot of work but very doable with their help."
Morales will assume the head coaching duties as the team prepares to make a run to the 2024 Olympics. There are two ways for his team to qualify. They will play in the regional qualifier that includes North America, Central America and the Caribbean with the chance to advance to the Olympics. In 2022, his Puerto Rico will take part in the World Championships in the Netherlands, which also provide the opportunity to become one of the 12 teams that will play in the Olympics.
"We are very happy that Fernando accepted the challenge, he is a very talented young coach who knows how to reach his players. We have no doubts that our plan will be implemented to take our team to the highest level, "exclaimed president of the Puerto Rican Volleyball Federation Dr. César Trabanco.
His college coaching career began in 2018 as an assistant at UE before being named the interim head coach in early 2019. After serving in an interim capacity through the first two months of the season, he was elevated to the head coaching position in October of 2019.
The impact Morales had on the UE program was immediate. He led the team to a 16-14 record in 2019 along with a 6th place finish in the Missouri Valley Conference. It was the first winning record for UE since 2010 and the first berth in the conference tournament since 2008. On the individual side – freshman Melanie Feliciano had one of the best debut seasons in the Aces record books. Her 456 kills was the most for an Evansville freshman in program history and she finished in the top three in kill average in the MVC and among all freshmen in the NCAA.
He directed senior Gabriela Macedo to a record-breaking performance on the defensive side of the floor, setting the single season program mark with 704 digs, second-best in Valley history. She set the single-match mark with 46.
Last year, Morales worked with the Puerto Rico National Team as an assistant coach. The team played in the NORCECA Women's Qualification Tournament, which also included Canada, Mexico and the Dominican Republic.
His dedication towards his country spans over a decade. As a player, he was the National Team Captain and took his career to the professional level where he played for 19 seasons, 12 of them coming overseas.
Contribute to AceNotes
To have content considered for inclusion in AceNotes, please submit a Marketing Request Form. Deadline for submission to AceNotes is 10:00 a.m. on the requested date of publication. Only articles concerning UE related/sponsored activities will be accepted. Articles submitted to AceNotes may be edited for length and clarity. Submitter contact information is at the end of each article.