| | |
| --- | --- |
| AceNotes Today | Monday, October 26, 2020 |
Flu Shots are Still Available at the UE Health Clinic
Flu shots are still available at the UE Health Clinic for all students and employees!
Getting a flu shot is an important step for protecting yourself and your fellow Aces from getting the flu this season. With COVID-19 still a concern and living in a residential community, this precaution becomes more important than ever, especially as it can help keep valuable resources available to those with COVID-19.
Flu shots are not required by the University, but strongly recommended. This year, flu shots are FREE for all students, as well as employees and their dependents enrolled in UE health insurance. Employees not covered by UE health insurance may receive a flu shot for $20. You always have the option to get your flu shot from your primary care provider or choose the best location or provider for your health.
Vaccines are available Monday-Friday, 8:00 a.m. - 5:00 p.m.
SAI Sells Candy Grams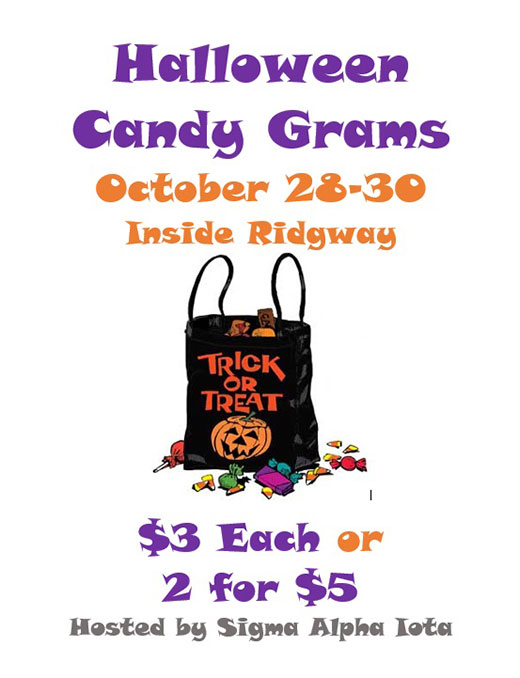 As the fall fundraiser for our chapter, Sigma Alpha Iota will be selling candy grams in advance of Halloween from Wednesday the 28th through Friday the 30th from 11 to 1 pm. From a table in Ridgway, we will be selling individually wrapped bags of candy and will offer the opportunity for buyers to write a note (that they will deliver themselves) to a person of their choice. Come stop by our table share some candy and some love this spooky season!!
Guest Speakers from the Securities and Exchange Commission
Rania Mousa, Associate Professor of Accounting and Mead Johnson Nutrition Endowed Chair in Business, would like to invite accounting and business students to attend an exciting virtual talk event with three guest speakers from the Securities and Exchange Commission (SEC) for the first time ever! The SEC is one of the largest federal agencies, which seeks to inform and protect investors, facilitate capital formation, enforce securities laws, and regulate securities markets.
This is a list of the SEC speakers:
Jonathan White – Securities Compliance Examiner, Office of Compliance, Inspections and Examinations, Chicago Office.
Nathan Haselhorst – Senior Staff Accountant, Office of Compliance, Inspections and Examinations, Chicago Office.
Ryan Murphy – Enforcement Accountant, Boston Office.
The speakers will discuss topics which are covered extensively in Forensic Accounting course including financial statement and occupational fraud schemes, fraud detection and prevention methods, money laundering schemes, and anti-money laundering and due diligence rules.
The virtual talk will take place on Tuesday, October 27, from 4:00-6:00 pm CST. For security reasons, the speakers will use Cisco WebEx platform. If you are interested in attending the event, please reach out to Dr. Rania Mousa via email (rm190) to receive an invite.
Research Survey and Potential Award
I'm doing a social psychology study related to education and looking to recruit subjects. The link below is a test for logic ability. There are 10 questions (two sets of questions) that will take you about 10-15 minutes to complete. A $75 award is awarded for the top five overall scores(there are only 20 people complete this survey now). Please note that if you are preparing for or taking the GMAT, please do not participate in this experiment.
https://survey.az1.qualtrics.com/jfe/form/SV_b9IqRpm42a6439b
If you have questions, prior to participation, you may email the researchers at jx4@evansville.edu.
Thank you so much for participating in our study.
Career Connections - Museums, Parks, Cultural Resource Management
Career Connections allows students an opportunity to talk to professionals in their field to learn more about the skills and background necessary for their profession as well as how they advanced in their positions. Students will develop an understanding for the day-to-day activities of these professionals who started their careers with a particular major. Most professionals are UE alumni who support our students with their goals through professional networking and mentoring opportunities.
Register for the event on Handshake: https://app.joinhandshake.com/events/579646
Join the following UE alumni professionals on zoom at this event: Jennifer Evans, Development Director at Mesker Park Zoo & Botanic Garden, Jalessa Slade, Interim Executive Director at Evansville African American Museum, Kaman Hillenburg, Collections Manager at Evansville Museum, Alyssa Reynolds, Architectural Historian at Cultural Resource Analysts and Laurie Byers, Director of Communication and Engagement at Wesselman Woods.
Calling All ChangeLab Students - Past and Present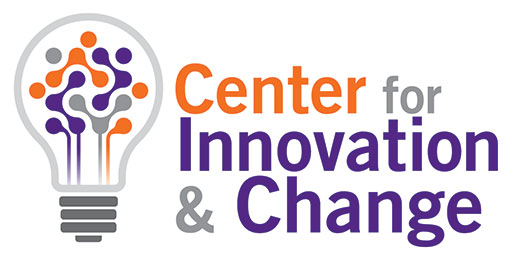 Presentation Management and Tips
Don't miss our next free webinar containing valuable advice on how to plan your next presentation and polish its delivery. The session will be led by Mr. Joe Ellsworth, retired President, Fire & Rain Marketing and Communications, and Ms. Emily Schuster, Founder of Jigsaw Digital Strategies.
Thursday, October 29
7:00 – 8:30 pm
RSVP to ck116@evansville.edu by October 28 to receive the Zoom link.
Perceived trauma from COVID-19 survey
We are inviting you to participate in a research study. Your participation in this online survey is completely voluntary. If you decide to participate in the survey, you are free to withdraw at any time. This study aims to investigate/understand perceived trauma associated with COVID-19 induced social isolation. You can participate if you are an adult individual 18 years or older in the Evansville community. Although the results of this study may be published, no information that could identify you will be included. This study involves minimal risk, however some of the survey questions may pertain to sensitive topics that could be emotional for some participants. University of Evansville Psychology students may have the potential to earn extra credit in their course as a result of participating however non-University of Evansville students will not be compensated for their participation in our research.
You can participate through the following link: https://uoebusiness.co1.qualtrics.com/jfe/form/SV_0d2QPcSSclIlYY5
The Honors Program Invites You to a Virtual Event with New York Times Bestselling Author Stephanie Land
The Honors Program invites the campus community to join us for our common read speaking event, a presentation by New York Times bestselling author Stephanie Land, on Tuesday, October 27 at 6:00pm. Ms. Land will join us virtually via Zoom to discuss her memoir, Maid: Hard Work, Low Pay, and A Mother's Will to Survive. The book recounts Ms. Land's struggles as a member of the "working poor", struggling to provide for herself and her daughter while battling against poverty, homelessness and bureaucracy. Her inspiring true story is currently in development to become a Netflix series.
Maid was the Honors Program common read book choice for this year's incoming honors freshmen as well as the freshmen from the Fellows Scholars Program.
We invite you to attend the presentation to hear firsthand about Ms. Land's experiences and learn more about the challenges faced every day by overworked and underpaid American workers.
The Zoom link information is below:
https://zoom.us/j/98195580638?pwd=bmtJNWViWXNGWTVCN09MaHgyZk1OQT09
Meeting ID: 981 9558 0638
Passcode: honors
Joanne Scott Massey - When Clay & Paint Collide
Exhibit: September 28 – November 25, 2020
Student Workshop: Sept. 29, 1:15-4pm
Student Gallery Lecture: Sept 30, 10:00-11:30am
Artist's Reception & Public Gallery Lecture: October 1, 6:30-8:00pm (Lecture at 7:00)
All events are in the Melvin Peterson Gallery
Masks and Safe Distancing will be observed
Emerging Contemporary Artist Lecture Series supported by the Efroymson Family Fund and the Dept.of Art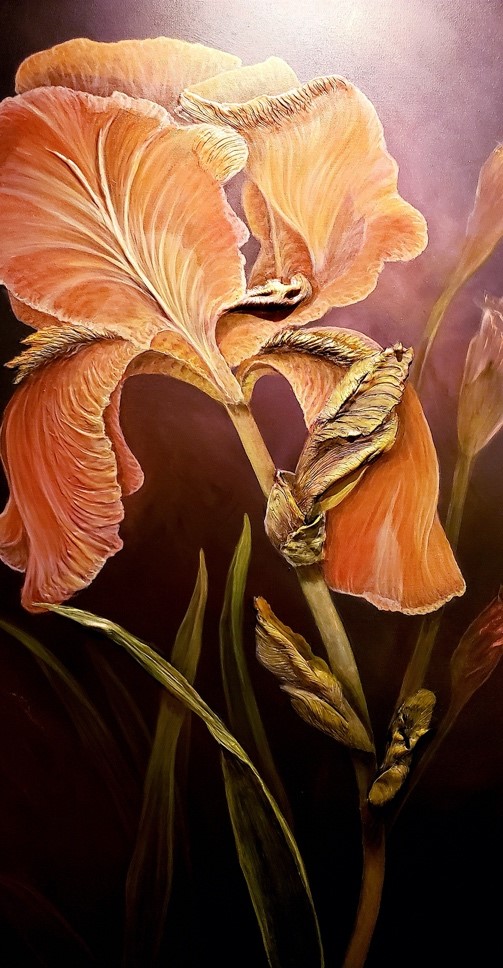 Orenda: The Art of Terra Kilgore
Painting, Drawings and Ceramic Art by Evansville Artist, Terra Kilgore. UE Krannert Gallery. October 11-November 25. A public reception for the Artist: Thursday, October 22, 6:30pm. (Masks and safe-distancing will be observed.) Artist: Thursday, October 22, 6:30pm. (Masks and safe-distancing will be observed.)
Emerging Contemporary Artist sponsored by the Efroymson Family Fund with the UE Dept. of Art.
Bio
I currently reside in Evansville, Indiana but I grew up on my family's farm in Western Kentucky. That area would provide inspiration that I still use in my work today. I have many passions, but I have always been most passionate about is art, and art education. I studied art education at Murray State University and during this time was able to explore several art mediums to better teach a wide variety of art styles and techniques. I was always a shy, quiet child and learned at an early age to use art for my own expression and communication. Still, as an adult, I use art to communicate what I can't in words. I am currently a middle school visual arts teacher. I feel it is important for growing children to explore their own feelings, opinions, and be able to express through the language of visual arts.
Artist Statement
Time constantly passes over us leaving behind the remains of what once was. My art largely deals with the passing of time and the commonality of times effect on everything and everybody. I explore time not being a beginning or an ending, but a never-ending cycle. An example of this idea is evident in my painting Rerum Gestarum (Events of Circumstance). Rerum Gestarum is about striving for solidarity and meaning in life, all with the acknowledgement of life's unpredictable frailness and eventual physical ending, but still existing in time even after we are gone. Growing up on a farm, I was exposed to acres of nature, machinery, and livestock I would spend my time walking down fencerows, exploring creeks, and examining the life cycles of a farm. I was fascinated by expansive spaces, gnarled tree roots, abandoned grain-bins, rusted tools and the expendable livestock. All these things combined started my fascination with cycles of both living organisms and objects.
My earliest artistic influences stem from surrealist artists such as Dali, Magritte, and the organic style of art nouveau. My emphasis in college was clay where I learned and experimented with clay and glaze techniques and recipes. After college I quickly abandoned traditional firing techniques in place of a more primitive alternative pit firing. Much like with my paintings, I use the idea of leaving a fingerprint in time; a fossil. I fire organic material to "paint" a carbon image directly onto the clay's surface.
My current style is largely influenced by artist, Ben Mahmoud, and his large acrylic paintings, specifically "The Retrospective". Recurring themes in my work are items that are decayed or are associated with decay, icons of time, and viewing windows to show a moment in that particular time and space. I use recycled materials such as paint, newspaper, house siding, bones, and other organic material in most of my pottery, paintings, and jewelry. I recycle materials to add to an idea of items having a previous life, and being repurposed. I also utilize shadow boxes, focal points, and linear perspective to help guide what my work is trying to communicate to the viewer. I am interested in art that subtly tells a story using lighting, focal points, and or composition. I hope to continue experimenting with different mediums, and using my work to communicate with an ever changing society.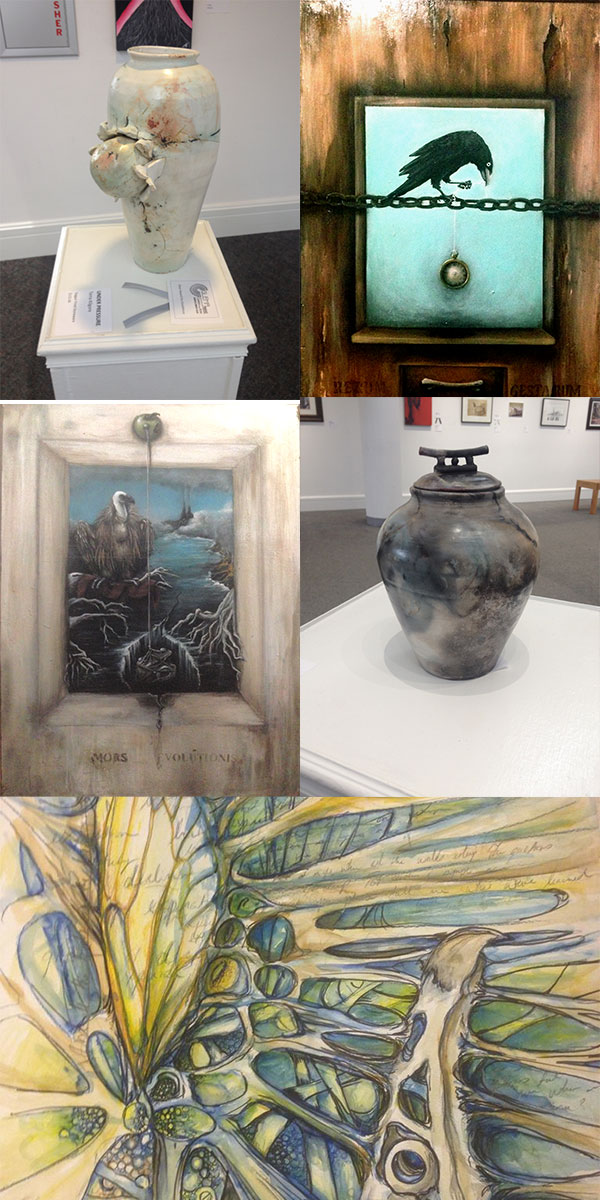 Ebeling Presents at Bible and Archaeology Fest
Associate Professor of Archaeology Jennie Ebeling was one of twenty international scholars to speak in the Biblical Archaeology Society's 23rd Annual Bible and Archaeology Fest October 24-25 by Zoom. In a presentation entitled "Expectation vs. Reality: Great Fails in Biblical Archaeology," Ebeling talked about the failures of American Biblical Archaeology in its heyday in the first half of the 20th century and the challenges American archaeologists working in Israel face today.
Biology Faculty Awarded NSF Grant
Dr. Joyce Stamm has been awarded a grant from the National Science Foundation (NSF) as a co-principal investigator on a three-year, $300,000 project: " A Multi-institutional Course-Based Undergraduate Research Experience in Genetics". This project, which is led by Dr. Jacob Kagey at the University of Detroit Mercy, and has co-principal investigators from a total of four institutions, seeks to make research experiences more accessible to undergraduate students, and to examine how the number of different research experiences students have affects their academic and career success. The grant is part of NSF's Improving Undergraduate STEM Education (IUSE) program, which seeks to enhance STEM education for undergraduate students by using different approaches and new knowledge about teaching and learning.
Dr. Stamm has been collaborating with Dr. Kagey on this project since 2017, by incorporating a semester-long research project, where students map genetic mutations that cause tumor formation in fruit flies, in her Biology 331 (Genetics) course. These mutations can offer clues to what goes wrong in similar diseases in humans. To date, two papers including fourteen UE student co-authors have been published describing the results of this work. More recently, Dr. Julie Merkle has also joined the project, which now includes faculty at a total of seven institutions. The NSF grant will allow the expansion of the project to a total of 20 institutions, with a goal of making research experiences more accessible for students historically underrepresented in biomedical research, including those at community colleges and institutions with large minority populations.
Art Professor Todd A. Matteson Exhibits Artwork in Indiana State Museum
Associate Professor Todd A. Matteson had two pieces accepted into the 96th Annual Hoosier Art Salon Exhibition at the Indiana State Museum of Art. The exhibit ran from August 29-October 25, 2020. The online exhibition can be seen by visiting the Hoosier Salon website. The Hoosier Salon 96th Annual Exhibition showcases 147 pieces of art by 124 Indiana artists. Twenty-five artists are in the Hoosier Salon Annual Exhibition for the first time. In all, 643 works by 241artists were submitted for the Hoosier Salon 96th Annual Exhibition.
Contribute to AceNotes
To have content considered for inclusion in AceNotes, please submit a Marketing Request Form. Deadline for submission to AceNotes is 10:00 a.m. on the requested date of publication. Only articles concerning UE related/sponsored activities will be accepted. Articles submitted to AceNotes may be edited for length and clarity. Submitter contact information is at the end of each article.