| | |
| --- | --- |
| AceNotes Today | Thursday, October 22, 2020 |
Flu Shots are Still Available at the UE Health Clinic
Flu shots are still available at the UE Health Clinic for all students and employees!
Getting a flu shot is an important step for protecting yourself and your fellow Aces from getting the flu this season. With COVID-19 still a concern and living in a residential community, this precaution becomes more important than ever, especially as it can help keep valuable resources available to those with COVID-19.
Flu shots are not required by the University, but strongly recommended. This year, flu shots are FREE for all students, as well as employees and their dependents enrolled in UE health insurance. Employees not covered by UE health insurance may receive a flu shot for $20. You always have the option to get your flu shot from your primary care provider or choose the best location or provider for your health.
Vaccines are available Monday-Friday, 8:00 a.m. - 5:00 p.m.
Guest Speakers from the Securities and Exchange Commission
Rania Mousa, Associate Professor of Accounting and Mead Johnson Nutrition Endowed Chair in Business, would like to invite accounting and business students to attend an exciting virtual talk event with three guest speakers from the Securities and Exchange Commission (SEC) for the first time ever! The SEC is one of the largest federal agencies, which seeks to inform and protect investors, facilitate capital formation, enforce securities laws, and regulate securities markets.
This is a list of the SEC speakers:
Jonathan White – Securities Compliance Examiner, Office of Compliance, Inspections and Examinations, Chicago Office.
Nathan Haselhorst – Senior Staff Accountant, Office of Compliance, Inspections and Examinations, Chicago Office.
Ryan Murphy – Enforcement Accountant, Boston Office.
The speakers will discuss topics which are covered extensively in Forensic Accounting course including financial statement and occupational fraud schemes, fraud detection and prevention methods, money laundering schemes, and anti-money laundering and due diligence rules.
The virtual talk will take place on Tuesday, October 27, from 4:00-6:00 pm CST. For security reasons, the speakers will use Cisco WebEx platform. If you are interested in attending the event, please reach out to Dr. Rania Mousa via email (rm190) to receive an invite.
Career Connections - Government, Law, Languages and Criminal Justice
The Center for Career Development would like to invite you to a virtual informative networking event to be held on Thursday, October 22 from 4:00 to 5:15 pm. This event allows students to talk with professionals in their field and learn more about the skills and background necessary for these careers. You can talk with professionals to hear how they advanced in their positions.
Register for the event on Handshake. https://evansville.joinhandshake.com/events/579616
Join the following UE alumni professionals on zoom at this event: Kari Kauffman Dahling - Sorman & Frankel, Ltd., Dan Robinson - Farmer Scott Ozete Robinson & Schmitt, David Gorman - FBI, Mario Reid - EVPD and Luke Douglas - Vanderburgh County Health Department.
This Week in Newman Club
Check out what Newman Catholic Club is up to this week! All are welcome!
Newman Night:
No Newman Night this week.
Events:
Bonfire this Friday the 23rd at 8pm at the Newman House (1901 Lincoln Ave). There will also be FREE FOOD!
Small Group:
Small group with Lesley and Michaela this Thursday at 7:30pm at the Newman House (1901 Lincoln Ave). They will be taking a break from Pope John Paul's Letters to Women and playing a Kahoot game. All are welcome!
Catholic Mass:
Bishop Siegel will be having mass at USI this Sunday the 25th at 4pm.
Want to be updated about Newman and become a member?! Follow us on instagram at ue_newman and become a member using the link https://docs.google.com/forms/d/e/1FAIpQLSfF145Vhanwk7UFrJhzYBHAPOPhNnkfbKTmzraNuMh3jy41Yw/viewform.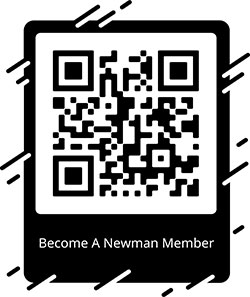 Pre-Advising Workshops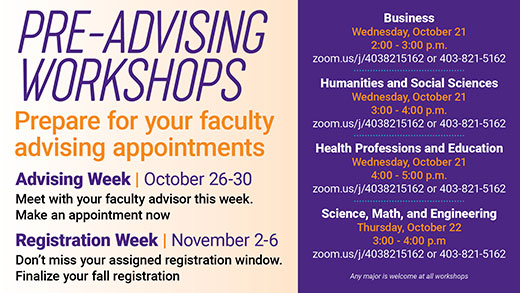 Pre-Advising Workshops!
Prepare for your faculty advising appointments
Advising Week | October 26 – 30
Meet with your faculty advisor this week. Make an appointment now.
Registration Week | November 2 – 6
Don't miss your assigned registration window. Finalize your Fall registration.
Workshop dates & times:
Business
Wednesday, October 21
2:00 – 3:00 p.m.
https://zoom.us/j/40382152162
or 403-821-5162
Humanities and Social Sciences
Wednesday, October 21
3:00 – 4:00 p.m.
https://zoom.us/j/40382152162
or 403-821-5162
Health Professions and Education
Wednesday, October 21
4:00 – 5:00 p.m.
https://zoom.us/j/40382152162
or 403-821-5162
Science, Math, and Engineering
Thursday, October 22
3:00 – 4:00 p.m.
https://zoom.us/j/40382152162
or 403-821-5162
Any major is welcome at all workshops!
UE Ballroom Dance Presents World Champion Ballroom Dance Teacher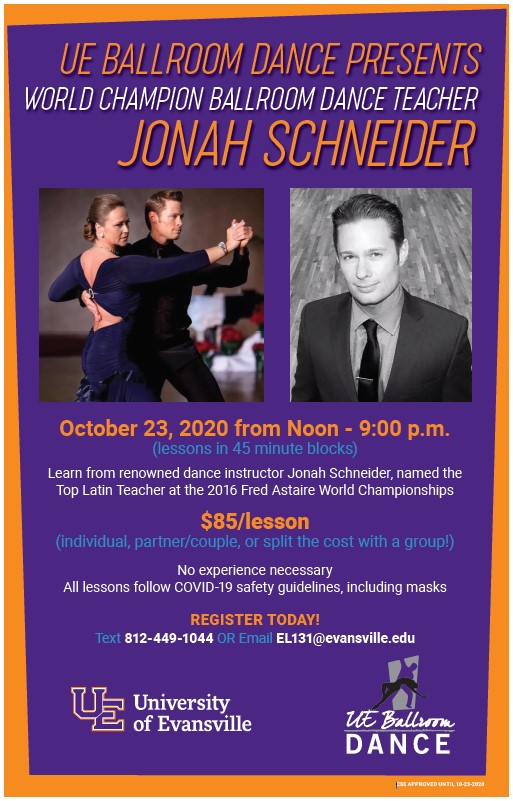 UE Ballroom Dance Presents World Champion Ballroom Dancer Jonah Schneider!
October 23, 2020 from Noon - 9:00 p.m.
(lessons in 45 minute blocks)
Learn from renowned dance instructor Jonah Schneider, named the
Top Latin Teacher at the 2016 Fred Astaire World Championships
$85/lesson
(individual, partner/couple, or split the cost with a group!)
No experience necessary
All lessons follow COVID-19 safety guidelines, including masks
REGISTER TODAY!
Text 812-449-1044 OR Email el131@evansville.edu
Perceived trauma from COVID-19 survey
We are inviting you to participate in a research study. Your participation in this online survey is completely voluntary. If you decide to participate in the survey, you are free to withdraw at any time. This study aims to investigate/understand perceived trauma associated with COVID-19 induced social isolation. You can participate if you are an adult individual 18 years or older in the Evansville community. Although the results of this study may be published, no information that could identify you will be included. This study involves minimal risk, however some of the survey questions may pertain to sensitive topics that could be emotional for some participants. University of Evansville Psychology students may have the potential to earn extra credit in their course as a result of participating however non-University of Evansville students will not be compensated for their participation in our research.
You can participate through the following link: https://uoebusiness.co1.qualtrics.com/jfe/form/SV_0d2QPcSSclIlYY5
Campus Events
We have had great success containing COVID-19 so far this semester, even as cases have continued to climb in Southern Indiana and the counties that surround us. Vanderburgh County has been hit especially hard with new cases over the past few weeks, and the Vanderburgh County Health Department (VCHD) has issued a recommendation that gatherings be limited to 50 or fewer individuals. Our UE Coronavirus Task Force has reviewed the most recent data from the Indiana State Department of Health (ISDH) and concurs with the VCHD recommendation to limit attendance to events. Therefore, effective immediately, on campus indoor events will be limited to 50 or fewer individuals.
The Honors Program Invites You to a Virtual Event with New York Times Bestselling Author Stephanie Land
The Honors Program invites the campus community to join us for our common read speaking event, a presentation by New York Times bestselling author Stephanie Land, on Tuesday, October 27 at 6:00pm. Ms. Land will join us virtually via Zoom to discuss her memoir, Maid: Hard Work, Low Pay, and A Mother's Will to Survive. The book recounts Ms. Land's struggles as a member of the "working poor", struggling to provide for herself and her daughter while battling against poverty, homelessness and bureaucracy. Her inspiring true story is currently in development to become a Netflix series.
Maid was the Honors Program common read book choice for this year's incoming honors freshmen as well as the freshmen from the Fellows Scholars Program.
We invite you to attend the presentation to hear firsthand about Ms. Land's experiences and learn more about the challenges faced every day by overworked and underpaid American workers.
The Zoom link information is below:
https://zoom.us/j/98195580638?pwd=bmtJNWViWXNGWTVCN09MaHgyZk1OQT09
Meeting ID: 981 9558 0638
Passcode: honors
Sending Good Vibes To...
Stop by Ridgway from 10-2 to sign the "Sending Good Vibes to..." banner to be displayed next week! Help spread positivity and good vibes to the UE community.
The banner will be located by the Information Desk.
Big Brothers Big Sisters
Big Brothers Big Sisters, a one-on-one mentoring club, will be coming to UE in Spring 2021. Big Brothers Big Sisters' is a community-based mentoring program that matches youths age 6-18, predominantly from low-income, single-parent households, with adult volunteer mentors who are typically young (20-34) and well-educated (the majority are college graduates). We will be working to pair dedicated UE students with a youth in the community to facilitate life-long bonds. These meetings are one-on-one and in-person in order to create meaningful relationships. If you are interested, please attend the virtual kick-off meeting on Thursday at 6:30PM. The Zoom link is attached below: https://us02web.zoom.us/j/84938333821
If you cannot attend, or have any questions, please contact vr37@evansville.edu.
Cleaning Supply Reminder
Need replenishment of cleaning supplies (disinfectant, hand sanitizer, paper towel, etc.)? Please complete a request form at https://uesurvey.evansville.edu/cleaningsupplieshttps://uesurvey.evansville.edu/cleaningsupplies.
Remember to keep spray bottles and ½ gallon bottles pumps. By keeping these, supplies of disinfectant and hand sanitizer can be replenished promptly.
Thank you for your help in keeping campus safe!
Still Available: CARES Act Higher Education Emergency Relief Fund (HEERF) Grant Application
Emergency funding through the HEERF Grant is still available for expenses that resulted in additional costs related to your participation in academic and college-related activities due to COVID-19.
Please be aware that funding is limited and a valid 2020-21 Free Application for Federal Student Aid (FAFSA) submission is required for grant consideration. Applications will be processed as received until federal funds provided have been exhausted.
Purple UE Masks are Available for Purchase
In need of additional face masks? Rep the UE logo wherever you go with our purple UE masks!

Reusable masks with the UE Logo that were distributed to students and employees at the beginning of the semester are now available for purchase for $7.70 each at Ace's Place and Rademacher's Café located in the Ridgway University Center. These masks are flexible and comfortable with the following features:
2-ply with pocket for filter, if desired
Adjustable nose piece
Adjustable ear loops with toggle
Contours to the face
100% cotton jersey outside, 100% cotton lining inside
Masks will cost $7.70 each, and with your help, all proceeds from the sale of these masks will go towards the COVID PPE fund to help reduce these pandemic expenses.
Alcohol Awareness Week
This week, October 18-24, is National Collegiate Alcohol Awareness Week
The facts:
• Did you know that a "standard drink" varies depending on the type of alcohol you're drinking? 12oz beer = 5oz wine = 1.5oz liquor.
• Each one of these "standard drinks" will raise the blood alcohol concentration (BAC) of a 160lb person by approximately .02 percent. A lighter person's BAC will rise even higher.
• Things that influence BAC include weight, gender, body mass, how much and how fast you drink, and the amount of food in the stomach.
• Binge drinking is common among 18-24 year olds and happens when men consume 5 or more drinks and women 4 or more drinks in 2 hours.
• Alcohol leaves your body at a rate of .015 percent per hour (less than one drink per hour) regardless of gender, body type, and size. The only thing that will sober you up is time.
Take a quick 10 question alcohol screening assessment.
If you are a student and think you may have a problem with alcohol, Counseling Services can be a resource for you and can assist you in getting the best help. Call 812-488-2663 for an appointment or come to the office on the 2nd floor of Ridgway inside the Student Life suite.
UE Theatre Salon Series Featured Alumni Nick Mills and David Ryan Smith
This week's installment of the UET Salon Series, PUBLIC THEATER MOBILE SHAKESPEARE, was held on Wednesday, Oct. 21, with Nick Mills '03, David Ryan Smith '00. These two alums shared their experiences on working in the the Public Theater Mobile Shakespeare Unit.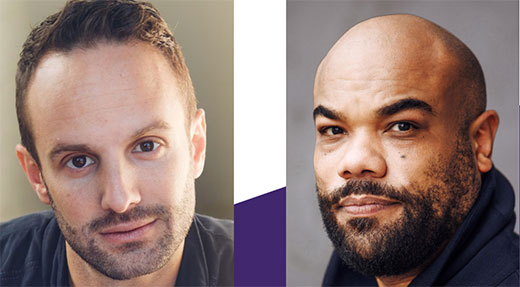 The Public Theater Mobile Shakespeare Unit presents free Shakespeare to prisons, homeless shelters, and community centers throughout New York's boroughs. The Mobile Unit has served thousands of audiences with critically acclaimed productions over the years.
Nick Mills '03 appeared on Broadway in the Tony Award-winning play THE HUMANS and the stage adaptation of George Orwell's 1984. Nick has also worked with the Roundabout Theatre Company, as well as Off-Broadway and in regional theatres. His television experience includes guest star appearances on the Emmy Award-winning shows SUCCESSION and MR. ROBOT. Nick is a graduate of the MFA Acting Program at New York University's Tisch School of the Arts.
David Ryan Smith '00 has appeared on Broadway in ONE MAN, TWO GUVNORS, and PASSING STRANGE. He has worked with numerous Off-Broadway companies including Playwrights Horizons, SoHo Rep Theatre, and Signature Theatre. His regional credits include work with Actors Theatre of Louisville, Repertory Theatre of St. Louis, and Baltimore Center Stage. In 2016, David was named one of the "Six Theatre Workers You Should Know," by American Theatre magazine. David is a graduate of the MFA Acting Program at the American Conservatory Theater.
This semester, UE Theatre students will have the opportunity to experience twelve workshops with professionals from the entertainment industry.
Art Professor Todd A. Matteson Exhibits Artwork in Indiana State Museum
Associate Professor Todd A. Matteson had two pieces accepted into the 96th Annual Hoosier Art Salon Exhibition at the Indiana State Museum of Art. The exhibit ran from August 29-October 25, 2020. The online exhibition can be seen by visiting the Hoosier Salon website. The Hoosier Salon 96th Annual Exhibition showcases 147 pieces of art by 124 Indiana artists. Twenty-five artists are in the Hoosier Salon Annual Exhibition for the first time. In all, 643 works by 241artists were submitted for the Hoosier Salon 96th Annual Exhibition.
Contribute to AceNotes
To have content considered for inclusion in AceNotes, please submit a Marketing Request Form. Deadline for submission to AceNotes is 10:00 a.m. on the requested date of publication. Only articles concerning UE related/sponsored activities will be accepted. Articles submitted to AceNotes may be edited for length and clarity. Submitter contact information is at the end of each article.