| | |
| --- | --- |
| AceNotes Today | Wednesday, September 30, 2020 |
Robert Dion Interviewed by Radio Canada about Presidential Debate
The first presidential debate of the 2020 election attracted a large audience in the United States, and it also drew the attention of many people in other nations all over the world.
On the morning after the debate, political science professor Robert Dion was interviewed live (and in French) on Radio Canada's morning show, "Y a pas deux matins pareils" to help explain the importance of this debate for the presidential campaign.
The Department of Law, Politics, and Society is proud of its long record of combining an appreciation of civic knowledge and engagement with an understanding of and concern for the world beyond our borders, whether that is the East Midlands, South Korea, or our neighbors to the north.
Get your flu shot and be a #FluFighter!
Getting a flu shot is an important step for protecting yourself and your fellow Aces from getting the flu this season. With COVID-19 still a concern and living in a residential community, this precaution becomes more important than ever, especially as it can help keep valuable resources available to those with COVID-19.
Flu shots are not required by the University, but strongly recommended. This year, flu shots are FREE for all students, as well as employees and their dependents enrolled in UE health insurance. Employees not covered by UE health insurance may receive a flu shot for $20. You always have the option to get your flu shot from your primary care provider or choose the best location or provider for your health.
Learn more and schedule your appointment today at www.evansville.edu/flu.
Now Available: CARES Act Higher Education Emergency Relief Fund (HEERF) Grant Application
Emergency funding through the HEERF Grant is available for expenses that resulted in additional costs related to your participation in academic and college-related activities due to COVID-19. Please be aware that funding is limited and a valid 2020-21 Free Application for Federal Student Aid (FAFSA) submission is required for grant consideration. Applications will be processed as received until federal funds provided have been exhausted.
High Contact Sports
Due to the high probability of the virus being spread through high contact sports, there are no informal contact sports allowed to be played on campus at this time. This includes soccer, basketball, volleyball, etc.
A Fun Weekend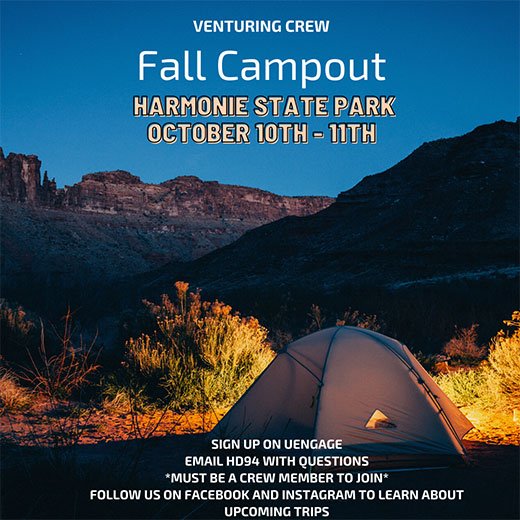 Join the Venturing Crew for an awesome weekend of exploring and camping at Harmonie State Park. Join us on the weekend of Oct. 10-11 to enjoy campfire cooking, outdoor games, and making great friends. There will be a labyrinth, a waterfall, a roof-less church, and a beautiful park. Take a break with us! Sign up on UEngage. Questions? Email hd94@evansville.edu.
Business School Students - Network with UE Alumnus Hassan Taki Eddin '17
Students! You are invited to chat with UE alumnus, Hassan Taki Eddin '17, about his career journey, obtain career advice, and build your UE network. Students can tune in to network face-to-face with Hassan via Zoom or join the event live on the UE Alumni Association's Facebook page.
UE Connect Online with Hassan Taki Eddin '17 - "Your Career, Your Future"
Date: September 30, 2020
Time: Noon - 12:45 p.m. CST
Hassan is a A senior associate with PwC in New York. During his networking session, Hassan will discuss different financial roles and how to prepare yourself for a career in the corporate world.
Register today for the networking event at www.uealumnionline.com/ueconnectonlinesept30.
Questions or Comments? Contact Nichole Coffey at ns50@evansville.edu or 812-488-2900.
Have a Great Idea for a ChangeLab?
If you have a great idea for a ChangeLab, or if you are teaching a class you'd like to run as a Changelab, please contact Erin Lewis by text at 812-449-1044 to discuss. Students, faculty, and staff are invited to submit ideas!
Winter Intersession Financial Aid
If you are seeking financial aid to help pay for Winter Intersession courses at UE, please submit the Winter Intersession Application to the Office of Student Financial Services by November 16, 2020. Our office will help you examine your options for aid, which in most cases is limited to loans.
Entrepreneurship Club To Begin
The Entrepreneurship Club will begin hosting activities in the next couple of weeks!
We will be utilizing zoom for club activities including book discussions, talks with local entrepreneurs, podcast reviews and more! All will be dedicated to building entrepreneurial ideas and discussions.
If you are interested in participating in this club, please respond to ro32@evansville.edu to be added to our mailing list.
Social Media Hub: are your accounts up-to-date?
The UE Social Media Hub lists the social media accounts for the various academic areas and institutional departments on campus. This can include Facebook, Twitter, Instagram, YouTube, and LinkedIn.
Several accounts are already linked to this page - but some departments may have created new accounts that we don't know about. If your most up-to-date acounts are not included on the Social Media Hub, please let us know. We are happy to add them so the UE community, as well as future students, can follow them and stay updated.
If you have accounts you would like included on the Social Media Hub, please email the page information/links to Julie Bryant, university relations coordinator.
Contact:
Julie Bryant
jb855@evansville.edu
812-488-2236
Purple UE Masks are Available for Purchase
In need of additional face masks? Rep the UE logo wherever you go with our purple UE masks!

Reusable masks with the UE Logo that were distributed to students and employees at the beginning of the semester are now available for purchase for $7.70 each at Ace's Place and Rademacher's Café located in the Ridgway University Center. These masks are flexible and comfortable with the following features:
2-ply with pocket for filter, if desired
Adjustable nose piece
Adjustable ear loops with toggle
Contours to the face
100% cotton jersey outside, 100% cotton lining inside
Masks will cost $7.70 each, and with your help, all proceeds from the sale of these masks will go towards the COVID PPE fund to help reduce these pandemic expenses.
Senior Nursing Students Selling Masks
The senior nursing students will be selling UE masks to benefit the University of Evansville campus community. We will be hosting a mental health seminar in hopes of encouraging students who may be struggling with anxiety, depression, or poor mental health as a result of isolation and quarantine due to COVID-19. The proceeds will be utilized to fund the mental health seminar and for items given to attendees.

$9.00 each mask.
Contact Kaylee Wagler to order at kw312@evansville.edu
Call or text with any questions at (812) 259-9469
Please include your name, which design you want, and the best way to contact you when ordering.
Payment: Venmo to @Megan_Dickey_13
or
Cash/Check made out to the University of Evansville in the Nursing Office.
Orders will NOT be accepted after October 8th.
Thank you!
-University of Evansville Senior Nursing Students
UE Offers Review Course for Fundamentals of Engineering Exam
The University of Evansville College of Engineering and Computer Science has announced 2020-21 dates for the annual review and preparation course for those planning to take the Fundamentals of Engineering Exam.
All classes will be held Thursday evenings beginning at 6:30 p.m. in the Koch Center for Engineering and Science on the UE campus or virtually through Zoom. Classes are divided into relevance per discipline. Fees are adjusted accordingly.
Candidates for civil engineering will attend from October 1 - January 28.
Candidates for mechanical engineering and other disciplines will attend from October 1 – January 14.
Electrical and computer engineering candidates will attend October 29 - November 19.
Registration forms and payment must be returned by 4:00 p.m. on Wednesday, September 30, 2020. Contact Kimberly Higgins at kh209@evansville.edu or at 812-488-2651 for more information on registration. Early registration is encouraged as space as limited.
Contribute to AceNotes
To have content considered for inclusion in AceNotes, please submit a Marketing Request Form. Deadline for submission to AceNotes is 10:00 a.m. on the requested date of publication. Only articles concerning UE related/sponsored activities will be accepted. Articles submitted to AceNotes may be edited for length and clarity. Submitter contact information is at the end of each article.