| | |
| --- | --- |
| AceNotes Today | Tuesday, September 22, 2020 |
Suicide Awareness Month: Myths and Facts
MYTH: Suicide attempts or deaths happen without warning.
FACT: While warning signs are often missed, leading to shock or surprise at a person's attempt or actual death by suicide, most people who have suicidal thoughts or intensions have expressed these feelings in both subtle and obvious ways. These warning signs can include (but are not limited to):
Previous suicide attempts.
Substantial interest in themes of death, expressing suicidal thoughts, or lack of interest in the future.
Depression or substance abuse (increased risk if both are present).
Major changes in sleep or eating patterns.
Withdrawal from friends/ family or other major behavioral changes (activities, hygiene, etc.)
A sudden lifting of spirits (a sudden, 180 degree turn in mood), when there have been other indicators, may point to a decision to end the pain of life through suicide.
The Office of Counseling Services is located on the 2nd floor of Ridgway University Center, the first door to the left inside the Student Life suite. We are available to take appointments and meet with students in the office Monday-Friday, 8am-5pm. We see students for a variety of needs and can also send outreaches to students who may be in need of services. Additionally, our office offers on-call counseling for crisis emergencies, such as thoughts of suicide or self-injury; a counselor is available after hours or on the weekends by calling the Office of Public safety (812-488-2051) as asking for the on-call counselor.
counselingservices@evansville.edu
Ph: 812-488-2663
What constitutes a "Close Contact?"
The CDC says a close contact is someone who was within six feet for at least 15 minutes, masked or unmasked, 48 hours prior to the onset of symptoms by the positive person.
Health Sciences Students - Network with UE Alumna Amanda Wright '97
Students! You are invited to chat with UE alumna, Amanda Wright '97, about her career journey, obtain career advice, and build your UE network. Students can tune in to network face-to-face with Amanda via Zoom or join the event live on the UE Alumni Association's Facebook page.
UE Connect Online with Amanda Wright '97 - "Becoming Professionally Versatile"
Date: September 29, 2020
Time: 12:15 - 1:00 p.m. CST
Amanda is a practicing physician assistant as well as a faculty member at Vanderbilt University. During her networking session, Amanda will discuss the career possibilities as a PA and how becoming a versatile employee adds value to your professional image.
Register today for the networking event at www.uealumnionline.com/ueconnectonlinesept29.
Questions or Comments? Contact Nichole Coffey at ns50@evansville.edu or 812-488-2900.
Conversations with Chris to feature FDNY Battalion Chief David Morkal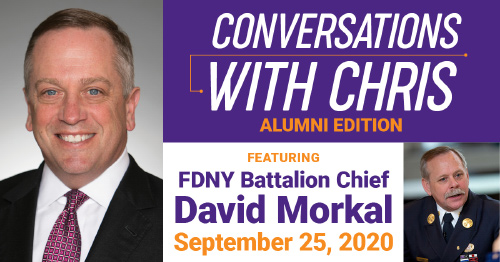 Join us for a YouTube Premiere of Conversations with Chris on Friday, September 25! UE's President Chris Pietruszkiewicz will interview Class of 1981 alum David Morkal and discuss his time as a student at UE, his career, and more.
Battalion Chief David Morkal is a 30-year veteran with the FDNY. Promoted to Lieutenant the week after the World Trade Center attacks, Chief Morkal has taken every opportunity to study leadership and enhance his leadership knowledge.
Morkal holds a Bachelor of Fine Arts in Theatre from UE and worked in technical theatre across the country before joining the FDNY.
Conversations with Chris will premiere at 6PM and can be viewed by visiting evansville.edu/live. (Please note: the interview will not premiere on the webpage until 6PM.)
After the conclusion of Conversations with Chris (approximately 7PM), check back on our Facebook page for a special Facebook Live event!
Online Academic Peer Coaching Now Available
If you need better time management, study strategies, test preparation skills, organizational habits, and a healthier school-life balance, an Academic Coach can help!
Academic Coaches are waiting throughout the week to hear about your situation and offer advice, strategies, and motivation. Coaching is available through Zoom on a drop-in basis nearly every day of the week. Why feel stuck and overwhelmed? Get coaching now!
Go here to see the online drop-in peer coaching schedule: https://www.evansville.edu/advising/academic-success-lab.cfm
Working with an academic coach can help get your academic life back into balance.
Academic Coaches are also available on an individual basis. If you'd like your own Academic Coach to work with you 1-1 each week, please ask!
Chad Hart
ch299@evansville.edu
Parking Restrictions in place for Front Oval on 9/25/2020
Parking in the front oval will be restricted beginning at 5:30pm on Friday, September 25th. All vehicles must be moved from the oval by that time. The restrictions are being implemented to allow the Evansville Fire Department to stage a fire truck on the oval in tribute to University of Evansville Alumni and FDNY Battalion Chief, David Morkal. The parking restrictions will be removed at 7:30pm that evening.
ECO General Assembly Meeting
Don't miss this week's Environmental Concerns Organization meeting on Thursday, September 24th at 7:00 PM! We will be holding this semester's first conservation conversation, voting on shirts and holding signups for several upcoming events! This meeting will be entirely online, so reach out to mw346 for the link to join.
Display Cases in the Library
Do you have a club you want people to know about? Do you have an event you want others to attend? How about showing off your class work? If you said YES, then the Library has a display case for you! Contact Julie Wilson at jw223@evansville.edu or (812) 488-1062 for more information or to make a reservation.
Writing Center Delayed 24-48 Hours
The online Writing Center will be having a "soft" open on Tuesday, September 22, with a full opening on Wednesday, September 23rd. You will be able to make online appointments starting Monday afternoon via the University of Evansville's Writing Center website. Thank you!
Follow @THEUEFLASH on Instagram
Follow @theueflash on Instagram for your UE Student Engagement information. COVID-19 has changed a lot of things on campus including how we get the word out about what you can get involved with. (RIP Flush Flash) We'll post regularly, but if you're just here for the flash, look for it every Friday morning for a roundup of what's happening over the weekend and the week ahead.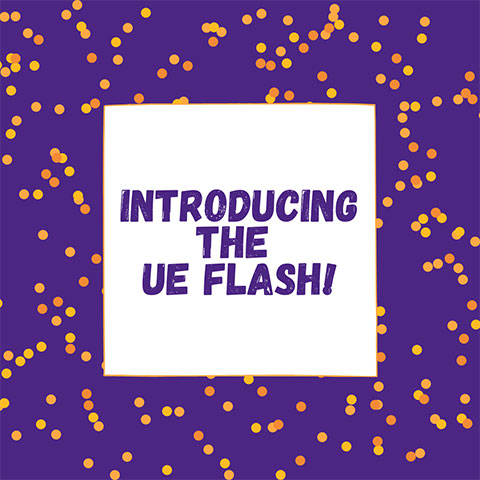 UE Launches Aces Opportunity Grant for Qualified Indiana Freshmen
The University of Evansville has launched the Aces Opportunity Grant to make its transformative education accessible to students who display the greatest financial need.

Through the Aces Opportunity Grant, qualified freshmen entering in the fall of 2021 whose families earn less than $50,000 will pay no tuition out of pocket. Eligible Indiana students who submit a UE application for admission will automatically be considered for this grant.
"The Aces Opportunity Grant makes UE accessible to all Indiana students so that a financial barrier is not an obstacle to high impact, private education," said president Christopher M. Pietruszkiewicz. "The grant program is a strong statement that all students should have choices about how to plan for a successful future in a small classroom environment and, at the same time, to make a positive impact on our communities by joining our commitment to service in a changing world."
The Aces Opportunity Grant works by bridging the gap between the scholarships and grants students receive and UE's tuition costs.
"We know quality higher education is expensive," said Kenton Hargis, UE's director of admission. "But we want to help more students find a way to say yes to UE."
For more information about the University of Evansville and the Aces Opportunity Grant, visit the University's website at evansville.edu/AcesOpportunityGrant.
Entering Overtime Hours for Non-Exempt Employees
Please note the clarification made on page four of the Time Entry Online instructions in WebAdvisor for non-exempt hourly staff and administrators who complete a timecard.
The UE TimeOnline system will automatically calculate the amount of overtime you are eligible for based on the hours worked that are entered. Therefore, enter your total hours worked per day and UE TimeOnline will calculate your overtime entitlement. Overtime will not be calculated within the same week that holiday, sick or vacation hours are entered, unless the employee works more than 40 hours during that week, per FSLA guidelines.
Congratulations to our 2020 Commencement Award Recipients!
The University of Evansville would like to congratulate the following staff and faculty members! They received a 2020 Commencement award for this year's virtual celebration.
Eykamp Prize - Jerrilee LaMar, PhD, RN, CNE
Jerrilee is associate professor and chair in the Dunigan Family School of Nursing. The Eykamp Prize is awarded annually to a faculty member that displays extraordinary service to UE. Dr. LaMar was nominated for her commitment to student recruitment and success, innovation in teaching, and the development and mentoring of students.
Outstanding Teacher Award - Mike Roscoe, PhD, PA-C
Mike Roscoe is the director and chair of the Master of Physician Assistant Science program. He also serves as an associate professor for the PA program. Dr. Roscoe was nominated by students and faculty for demonstrating passion for academic excellence, motivating and encouraging students, and inspiring future leaders.
Outstanding Senior Service Award - Megan Hawkins
Megan Hawkins, a graduate of the Elementary Education program, was nominated for demonstrating a commitment to high academic achievement, a commitment to service, and exemplary leadership. The Outstanding Senior Service Award is named for respected alumni Mabel Dillingham Nenneker and Guthrie May.
If you haven't yet had a chance to view the virtual celebration, you can find it on the Commencement Corner.
Contribute to AceNotes
To have content considered for inclusion in AceNotes, please submit a Marketing Request Form. Deadline for submission to AceNotes is 10:00 a.m. on the requested date of publication. Only articles concerning UE related/sponsored activities will be accepted. Articles submitted to AceNotes may be edited for length and clarity. Submitter contact information is at the end of each article.