| | |
| --- | --- |
| AceNotes Today | Thursday, September 10, 2020 |
History Lecture – Evansville in WWII with Dr. James MacLeod
You're invited to attend the History Lecture – Evansville in WWII with Dr. James MacLeod.
Friday, September 11, 2020
7:00 p.m.
During World War Two, the city of Evansville was one of the most important cities in the country, manufacturing hundreds of ships, thousands of fighter planes and literally billions of other items that contributed hugely to the Allies' victory. It was an exhilarating time of great change and opportunity for everyone who lived and worked in Evansville, but also a period of extremely difficult challenges and of profound loss. In this captivating lecture, illustrated with scores of images, James MacLeod explains how all of this industry came to be in Evansville, reveals the enormous impact that it had on social, economic and cultural life, and analyzes how the city dealt with what was a time of astonishing transformation.
Sign up: www.uealumnionline.com/historylecture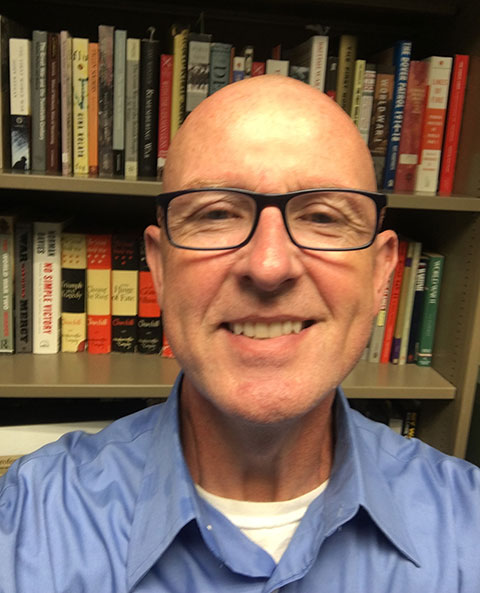 Writing Center to Open September 21
The UE Writing Center is almost ready to "open its doors"— hypothetically, of course! We'll be opening from 10-6 Monday through Thursday, 10-4 on Fridays, and 12-4 on Sundays starting on September 21st at the latest. However, we have tutors hired and the training is about to start. By September 16th, if you and a professor are concerned and need a tutor, please have your professor email me at kd60 and I will try to get you connected with one of our advanced and already trained tutors. Before that, we'll still be mastering how to be of best use online. We will be using the online system, My WC, that is already hooked up to the Writing Center website: many of our students who are tutoring aren't even in the same state. That said, we will always be able to find a way to make it work, and I look forward to solving these problems better and faster than we did last year. I know my tutors are looking forward to working with you, and I'm looking forward to it, too! Thanks for your patience as we learn a new normal.
Art Showcase Outside Writing Center for Ethan Stevens
Student Emma Stevens's brother, Ethan Stevens, has been working on paintings and clay for years, and he has an exhibit he put together. As they are both beloved members of the UE community and she is a tutor for the Writing Center, which will open soon, I am happy to announce he will have a showing of his work outside the Writing Center where Academic Advising used to be housed.
Some pieces will be available for purchase and the art will be on display for several weeks; however, Thursday, September 10th, you can come meet the artist himself at 4 PM. He will be there for at least an hour. This will be a VERY safe event: the doors will be opened for maximum air flow, the spacing will be limited, there will be hand sanitizer, and masks are required. However, it is an opportunity to support a member of our extended UE family who is spending this challenging time by creating art, and a way to remember what's so special about UE and a liberal arts community— the community.
Ethan is willing to sign any art you purchase, and for the entirety of the exhibit (throughout the next several weeks) I hope that people will stop by and take pictures with his art: we'll be using the hashtag "#ethansmileysart" because if this exhibit doesn't make you smile, I don't know what will. Come see our pop-up museum and meet the artist! We're excited to see you and to celebrate creativity and beauty.
Calling All Explorers
UE Venturing Crew 365 is the largest outdoor organization on campus, and we offer a ton of terrific activities each year!
If you enjoy ziplining, rock climbing, camping, kayaking, hiking, spelunking -- don't miss our open house on Tuesday, September 15th at 7 P.M! Here's the link https://zoom.us/j/99260058210. This semester may look a little different, but we are planning to make the absolute most of it. We have many great events planned, and we will tell you all about them on Tuesday.
Come learn about all the fun trips we have planned for this semester! We can't wait to get to know you.
UE Leadership Academy Fall Applications
Do you want to enhance your leadership skills? Would you like to learn how to make a difference on campus and in the community? If so, you should apply to the University of Evansville Leadership Academy!
We are now accepting applications!
In the two-year program, you can learn so many new skills about leadership within yourself, within a group setting, and within the community. If you love serving, meeting other people, and being a leader on campus, this is the organization for you!
Follow this link to the application: https://uengage.evansville.edu/submitter/form/start/429219
Class of 2021 - Join the Senior Class Committee
Class of 2021, make your impact at UE by joining the Senior Class Committee. Each year, the Senior Class Committee works closely with the Office of Alumni and Parent Relations, as well as the Office of Annual Giving, to help your class become familiar with the Alumni Office, gain some exposure to alumni, and help you transition from an active student into an active alumnus. We also want you to have fun, be engaged, and ultimately make your senior year memorable!
The committee meets (virtually) 1-2 times a month and communicates through email to plan social and networking events (virtual this year) geared towards seniors and young alumni. The committee also determines what your class gift will be and how to promote the gift to your classmates.
If you are interested in joining your Senior Class Committee, contact Nichole Coffey at ns50@evansville.edu or 812-488-2900.
Safe Zone Virtual Training Session I for LGBTQ+ Allies
The Center for Diversity, Equity, and Inclusion and Dr. Edward Curran (Assistant Professor of Spanish) have partnered to offer UE's first Safe Zone training of the semester. Ally training is an important opportunity for us to learn more about our campus friends, neighbors, and students. Students and employees are encouraged to attend while we learn and share together!
Thursday, September 10th - 4-6 pm via Zoom
Register in advance for this training session at https://zoom.us/webinar/register/WN_jmiNWYNHRN-CAaUJEyquSg
After registering, you will receive a confirmation email containing information about joining the webinar.
The Center for DEI
Fitness Center Open Beginning Monday, September 7
After careful review and consideration by the Coronavirus Healthcare Task Force, we are pleased to announce the UE Fitness Center will be open beginning Monday, September 7. The complete list of guidelines are available at the Coronavirus webpage, and we have included some of the highlights below:
Masks and face coverings are required
Students and employees who enter the fitness center must complete the #CampusClear health screening and will scan their own UE ID for access
There will be an occupancy limit in workout spaces, as well as removing or repositioning equipment to accommodate social distancing guidelines
Directional arrows will be on the floors to promote a safe traffic flow
Towels, showers, and lockers will not be used; access to lockers will only be permitted to those who have paid a fee
Student workers and staff will monitor the fitness center and perform enhanced cleaning procedures
The fitness center will be closed from 2-3PM on weekdays (Monday-Friday) for cleaning, but will otherwise be open for normal hours of operation:
Monday – Friday: 6:30AM-10:00PM
Saturday: 11:30AM-5:30PM
Sunday: 11:30AM-9PM
UE recognizes the importance of wellness during these challenging times, and we are committed to providing these opportunities in a safe environment for our campus community.
Employee Photography Exhibit
The 2020 UE Employee Photography Exhibit will be open from Monday, August 31 through Friday, October 2 in the Krannert Gallery. Please come by the Gallery to view the interesting and thoughtful photography created by your co-workers and UE retirees.
Lynn R. Penland
Dean Emerita

Keith Gehlhausen
Human Resources & Institutional Equity

Kevin Gray
Law, Politics, and Society

Hanns Pieper
Emeritus Faculty

Mark Valenzuela
Academic Affairs & Civil Engineering

Mark Randall
Electrical Engineering

Eric D. Braysmith
FYS

Adam Rager
Theatre

Mari Plikuhn
Law, Politics, & Society

Nancy Lockyear
Department of Art
Contribute to AceNotes
To have content considered for inclusion in AceNotes, please submit a Marketing Request Form. Deadline for submission to AceNotes is 10:00 a.m. on the requested date of publication. Only articles concerning UE related/sponsored activities will be accepted. Articles submitted to AceNotes may be edited for length and clarity. Submitter contact information is at the end of each article.