| | |
| --- | --- |
| AceNotes Today | Friday, August 21, 2020 |
Welcome Week Goes Virtual
All members of the Class of 2024 are encouraged to join in on the Welcome Week fun! Due to the current environment with COVID-19, this year's Welcome Week is going virtual. Orientation Leaders will provide information and guide our newest Aces through the annual welcome back events. Welcome Week schedules will be emailed to incoming students.
As previously communicated, Academic Convocation will also be virtual this year. All members of the UE community are invited to participate in this virtual viewing to officially welcome the Class of 2024. Academic Convocation will begin with a special Prologue at 8:50 a.m. on Tuesday, August 25, with the ceremony presented through YouTube Premiere by visiting evansville.edu/live. A digital PDF of the program will be available underneath the video.
Academic Convocation marks the beginning of each new year and establishes the foundation for our students to learn and grow not only as individuals, but also as members of our changemaking community. We look forward to having you join us for this ceremony on Tuesday!
Campus Check-in
The daily campus check-in process is now #CampusClear, a free self-screening app that students, visitors, faculty, and staff can use as part of the COVID-19 health screening process. This process is being implemented to improve the ease of use and to provide options for a mobile app or website version We are hopeful that many will find this as an improvement over the current check-in process.
In order to facilitate their unique needs, student-athletes, athletics department employees, and clinical students in the health sciences will have a unique check-in process and will not be required to use #CampusClear. You can access #CampusClear through the UE Website at www.evansville.edu/coronavirus by clicking on purple Campus Check-in button at the top of the page.
Please Clear Parking Lots for Student Check-Ins
As we prepare for student move-in we ask that all people move their cars from the following lots from Thursday, August 20 – Tuesday August 25.

The Lot between Hale and Powell
The Hale Drive
Lot M - Powell Residence Hall Lot
Lot N - Commuter lot
Lot F - AKA: The Lagoon
Lot G - Schroeder Residence Hall Lot

This will help provide adequate space for student move-ins.

Thank You!

#ForTheAces Virtual 5K Run/Walk
The University of Evansville athletic department is thrilled to announce the #ForTheAces Virtual 5K sponsored by ProRehab! Register for just $25 and receive an event t-shirt, commemorative sticker and fun, unique digital content. Registration is now open until September 4 and you can complete your 5K anytime between September 18-20. All proceeds for the event will go the UEvansville Fund to help offset the additional expenses that UE is experiencing with COVID-19. Please visit https://bit.ly/33rxpvJ for a list of FAQs. You can register for the event here: https://bit.ly/39WBxoW. All employees, students, alumni and friends are encouraged to participate! Contact Scott Peace at sp166@evansville.edu for more information.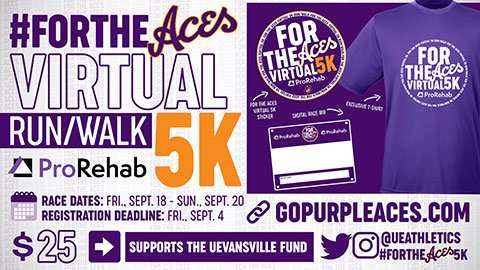 Employee Photography Exhibit
Please share your view of the world! All active and retired UE faculty, staff, and administrators are invited to submit their work(s) for a photography exhibition that will be on display from August 31, 2020 – October 4, 2020 in the Krannert Gallery.
Images of all sizes are welcome, though 16" x 20" would be the maximum size for display cases. Photographs should be framed and suitable for hanging in the Krannert Gallery.
On the back of each framed photograph, please provide:
Your name and current/former UE department
A title for your image.
Details such as location or meaning/memory attached to the photo. The more details, the better!
Please bring your work to Carol McCraney in the Department of Law, Politics, and Society (SOBA 50) between Monday, August 24 and Friday, August 28. All entries will be returned at the close of the exhibition.
If you have any questions, please contact Carol at cm177@evansville.edu.
President's Club Car Decals for 2020-21 are Coming!
The Office of University Advancement is working to get the 2020-21 President's Club car decals out as quickly as possible. Until you receive the new decal, your previous 2019-20 decal will be honored by campus security. Please self-register your car for this fiscal year, do not wait to receive your decal. If you need last year's decal, or are interested in becoming a President's Club member, please contact the Office of Annual Giving at x2374. Thank you for your patience!
Welcome New Faculty
The University of Evansville community would like to extend a warm welcome to the new 2020-2021 faculty members.
Michelle Ardigo, Assistant Program Director/Associate Professor of Nurse Anesthesia. Dr. Ardigo obtained her Bachelor of Science in Biological Sciences from California Polytechnic University, a Bachelor of Science in Nursing (Sigma Theta Tau) from Johns Hopkins University in Baltimore, Maryland, a Master of Science in School of Nurse Anesthesia from Saint Mary's University/Abbott-Northwestern in Minneapolis, Minnesota, and a Doctor of Nurse Practice (Sigma Theta Tau) from Maryville University in St. Louis, Missouri.
Beverly Brockman, Dean/Schroeder Family School of Business Administration. Dr. Brockman received a Bachelor of Business Administration in Finance and a Master of Business Administration from the University of Kentucky, and a Ph.D. in Marketing from University of Alabama. She joins UE from the University of Tennessee at Chattanooga, where she has worked for almost fifteen years.
Christopher Brockman, Visiting Professor of Finance. Dr. Brockman earned his Bachelor of Science in Accounting and Finance from the University of Kentucky. He went on to continue his education at the University of Alabama, where he received his MS and PhD in Finance. He comes to UE from the University of Tennessee at Chattanooga, where he taught the past fifteen years.
Mitchell Critel, Assistant Professor of Theatre. Professor Critel earned a Bachelor of Fine Arts in Technical Theatre Production from the University of Nebraska-Lincoln and a Master of Fine Arts in Technical Direction from the University of Missouri-Kansas City. He comes to U.E. from the Johnny Carson School of Theatre & Film at the University of Nebraska-Lincoln.
Josh Fenton, Clinical Assistant Professor of Business Law and AOL Coordinator. He graduated with a BS in Aeronautics (Summa Cum Laude) from Embry-Riddle Aeronautical University in Daytona Beach, Florida in 2008 and earned a Juris Doctor degree (Summa Cum Laude) from Nova Southeastern University School of Law in Fort Lauderdale, Florida in 2011. Professor Fenton was an adjunct for the School of Business before becoming a full-time faculty member.
Omid Khormali, Assistant Professor of Mathematics. Dr. Khormali earned a Bachelor of Science in Pure Mathematics from the University of Tabriz in Iran, a Master of Science in Pure Mathematics (with emphasis on Algebra) from Tarbiat Modares University in Iran, a Master of Science in Data Science and a Ph.D. in Mathematics (with emphasis on Extremal Combinatorics) both from the University of Montana.
Kelly Pruden, Clinical Assistant Professor of Nursing. Professor Pruden graduated from Henderson Community College with an A.S.N. degree and received her B.S.N. and M.S.N. degrees in Education both from Western Governors University in Utah. She is certified as a Critical Care Registered Nurse, Stroke Certified Registered Nurse, ACLS, BLS, and NIHSS.
Stacey Yen, Visiting Assistant Professor of Theatre. Professor Yen obtained her Bachelor of Arts in American History from Brown University and a Master of Fine Arts in Acting from New York University Tisch School of the Arts, Graduate Acting Program.
TRACES Volunteer Mentoring Opportunity
The University of Evansville and the Evansville Vanderburgh School Corporation collaborate on a transition program called TRACES. These EVSC students are on UE's campus to learn life skills in the areas of vocational training, social/recreation, transportation, and general independence. We are looking for volunteer mentors around campus for the TRACES students that will provide them the opportunity to learn vocational skills such as being punctual, learning to work, staying on task, behaving appropriately while at work, and being productive. If you are interested in having a TRACES mentee, please email Amy Goodman (EVSC SE Transition Coordinator) at amy.goodman@evsck12.com to learn more.
2020 Fiddick Memorial Lecture Postponed
The history department regrets to announce the postponement of the 2020 Fiddick memorial lecture due to the ongoing coronavirus pandemic. We are, however, delighted to inform you that the same lecture, celebrating the milestone achievement of women's suffrage, will be delivered in Fall 2021. Full details of that event will be released closer to the time.
Michelle Lehman
ml281@evansville.edu
Safety and Security has a New Name and a New Look
As of August 17, 2020, the Office of Safety and Security has undergone some exciting changes.
The office is now the Office of Public Safety. The new name reflects our mission of ensuring a safe campus for our students, employees, and visitors. As the needs of the University community evolve, so must our approach to providing services. Now is the time to take the necessary steps to meet those changing needs. The Office of Public Safety philosophies include student engagement, a focus on education over enforcement, inclusiveness, equal application of University rules and regulations, strong relationships with our University partners, and a forward-looking mentality that will ensure we are always striving to improve.
The police style uniforms that had been worn for many years have been replaced. The new uniform is a gray polo shirt and black pants. The shirts are embroidered with the UE logo on the chest and have newly designed patches on each sleeve. The phrase "PUBLIC SAFETY", the UE logo, and "University of Evansville" is clearly visible on the patch.
All Public Safety Officers will have a University issued identification card displayed where it is easily seen. The ID card will include their name and a picture. This ID will help quickly verify their status as a University of Evansville Public Safety Officer. To help familiarize yourself with our officers and dispatchers, we encourage you to view our Office Staff under the Public Safety section of the University webpage.
Even during these uncertain times, the University has remained focused on the safety of our campus. A safe campus plays a crucial role in a successful academic environment and vibrant campus experience. The Office of Public Safety is committed to helping achieve those goals. We look forward to serving each of you as the University comes together again in the coming days and weeks.
School of Education Receives a $735,247 Grant from the Governor's Emergency Education Relief (GEER) Fund
The School of Education received a $735,247 grant from the Governor's Emergency Education Relief (GEER) Fund, created by the Coronavirus Aid, Relief, and Economic Security Act (CARES Act). These monies allow the Governor to provide support to local educational agencies (LEAs) and institutions of higher education (IHEs) on developing and improving the availability of distance/remote learning techniques and technologies for Indiana students. Indiana received $61.6 million in GEER funding. In collaboration with the Indiana Department of Education, the Commission for Higher Education, the Indiana State Board of Education, and the Governor's office, a needs-based, competitive grant program was created to support the unique challenges associated with distance/remote learning including device access, internet connectivity, and educator training/development.
The School of Education will use grant funds to support two components, a free community tutoring program for K-12 students to help students overcome projected learning gaps due to COVID-19 and professional development for teachers and University of Evansville students regarding best practices and effective strategies for delivering remote and digital instruction and to ensure improved student outcomes. The School of Education will be partnering with seven school corporations throughout Southern Indiana, including the Diocese of Evansville, Warrick County Schools, Loogootee Community Schools, North Lawrence Community Schools, Orleans Community Schools, Shoals Community Schools, and Tell City Schools. Grant activities will also be open to those in-service teachers and students in K-12 school corporations throughout Southern Indiana, with first considerations given to our partner schools.
First, monies will help the School of Education develop a free community tutoring program. UE students and current educators will be connected with students in partner schools and other K-12 school corporations and serve as tutors in a specified subject area and provide targeted interventions to assist in closing the learning gap for K-12 students. Tutoring will take place via Zoom or in-person if social distancing guidelines are followed.
The second component, professional development, will boost in-service and UE pre-service teachers' capacity to efficiently and effectively provide remote and virtual instruction. The School of Education will utilize Zoom session to introduce participants to the G Suite for Education. Training sessions will focus on teaching in a Google-infused classroom, as well as instructional best practices for online and hybrid learning, and will better prepare teachers for working in various instructional environments. This training will be open to all University of Evansville School of Education students and in-service teachers working in K-12 school corporations throughout Southern Indiana with first considerations given to our partner schools. Participants will receive stipends for participating in the workshops and for completion of the Google for Education Fundamentals Training certification. University of Evansville pre-service participants will also receive a one-year membership to GoReact for targeted instructional feedback from university faculty while completing in-person or virtual instruction for K-12 students.
Congratulations to the grant writing team that included Sylvia DeVault, Sharon Gieselmann, Lisa Hale, Alison Jones, Mary Kessler, Shari Millikan, and Leanne Nayden.
2019-2020 Staff and Administrator Employees of the Year
Annual Staff and Administrator Employee of the Year Awards
STAFF
Brooksie Smith is awarded February 2020 Employee Excellence Award!
The campus community may know Brooksie as the Administrative Assistant in the Department of Art or as the Program Coordinator for the Center for Innovation and Change. Brooksie is a valued and deeply appreciated employee for both departments. Brooksie also simultaneously serves the UE Board of Trustee Spouses as Liaison, UE Friends of Art Board of Directors, UE Parents Council, UE Welcome Committee, UE Social Committee, UE Secret Ace Originator, and UE Book Club Originator, UE Gives Back Day and UE United Way Gives Back Day. Brooksie has also supported 10 of our incoming students through the 'Connect An Ace' retention program. Brooksie is known as an encourager to everyone around her and is a very worthy recipient of the February 2020 Employee Excellence Award!
ADMINISTRATORS
Nicholas Messer Receives Employee Excellence Award for March 2020!
Nick has gained appreciation around campus for his efficiency as a Desktop Support Coordinator with OTS. He is kind and helpful in all of his efforts to keep employee computers running properly, supporting in-class tech set up and equipment for large meetings. Nick is known to be willing to assist others, very dependable and always timely in responding to the needs of the campus. The positive attitude that he daily shows along with his technical expertise does not go unnoticed. He is a great collaborator and easily works with the demands of multiple areas each day. Nick is one of a kind and an excellent addition to the University of Evansville!
University of Evansville Twenty-five Year Awards
Congratulations to those who were recognized at the Fall Conference for their twenty-five years of dedicated service to UE.
Doug Cook – Sergeant, Office of Public Safety
Doug Cook started at UE as a student in the fall of 1991 as a History Major and later attempted to double major in History and Criminal Justice. He realized he could not get all his classes in to graduate in four years. During this time, he was a work study student weekend relief dispatcher in the Safety & Security Office. Sgt. Bill Woehler suggested that he could finish his second degree using tuition remission as a full time Security Officer position. Chief Harold Matthews hired Doug in June 1995. He was promoted to Corporal in 2000 and then to Sergeant in February 2004. Doug worked closely with Chief Harold Matthews for almost 20 years. He was his boss, mentor, and like family to him.
Chief Jason Cullum commented, "In the short amount of time I have been here, I have come to know that Doug is an institution within this institution. Doug is well known within the campus community and is an invaluable resource for the Office of Public Safety. His knowledge of daily University life comes from his 25 years of dedicated service. As the new guy, I do not know how things would have gone without him in our office."
Doug said, "I have gone places and completed training I never would have dreamed of. I was never so honored as the day when Mr. Donny Dunville referred to me as 'One of the old timers' on this campus."
Deborah Hwang – Associate Professor of Computer Science
Dr. Deborah Hwang, Associate Professor of Computer Science, has been the director of the computer science program at the University of Evansville since 1995. She is the faculty advisor for the UE ACM student chapter and is active in computer science education organizations and women in technology organizations. Dr. Hwang has been active in the Consortium for Computing Sciences in Colleges. She served on their National Board as the Midwest Region Representative from 2005-2011, on the Service Committee, and as Webmaster since 2012. In the Midwest region, she served on the Conference Committee from 2000 to the present in various positions including Conference Chair, Site Chair, and Webmaster.
She was an ABET/CAC Computer Science Program Evaluator for four years and has taught computer science classes and served as a mentor for OPTIONS in the Engineering Summer Program for high school girls from 1996 to the present. Her NSF proposal in 2002 earned $205,008 for funding scholarships and academic support for Computer Science, Engineering, and Mathematics. Dr. Hwang was awarded the 2020 College of Engineering and Computer Science Dean's Teaching Award. As part of the IndianaComputes! Project, a consortium of Indiana universities and colleges including UE, she received a K-12 Teacher Professional Development in Computer Science contract awarded by the Indiana Department of Education.
Ray Lutgring – Dean, William L. Ridgway College of Arts and Sciences
Dr. Lutgring graduated from Indiana State University in 1990 with a bachelor's degree in chemistry. He went on to graduate school and earned a PhD in organic chemistry from Purdue University in 1995. Dr. Lutgring began teaching in the Department of Chemistry at the University of Evansville in 1995. He has taught a variety of chemistry classes, from lower-level and general education classes, through upper-level courses in his specialty areas of organic and biochemistry. He served as chair of the Department of Chemistry from 2003 to 2007. In 2007 he was appointed director of the University Honors Program and served in that role until 2013. Dr. Lutgring also served as Chair of the Faculty Senate in 2010 and served as chair of the Fiscal Affairs committee from 2008 until 2012. During the spring of 2012 he was asked to serve as Interim Dean of the College of Arts and Sciences. Dr. Lutgring was the appointed Dean of the William L. Ridgway College of Arts and Sciences in June 2013.
Brenda Miller – Administrative Assistant, Psychology and Communication
Brenda Miller is the administrative assistant currently for the departments of Psychology and Communication. She started her long venture with UE on August 18th, 1994, so today marks her 26th anniversary. She was hired to work for the Psychology and Sociology departments. She then worked only with Psychology and now works with the departments of Psychology and Communication.
On her first day, she was in an office with a desk, chair, phone, typewriter, a couple file cabinets with one file cabinet containing student files. The Technology Department brought a computer that day that they got for me from the Library. When she opened the desk to start to review some of the files, there were no office files in the desk, nor the other file cabinet. There was only a file folder that had some carbon paper and some onion skin paper (for those of you that know what that is) in the desk. At that point in time, she knew she had the opportunity to just sink or swim, so she chose to swim.
Dr. Mark Kopta said, "Brenda Miller has been a foundation of trust and reliability in our Psychology Department every year she's been with UE. We can depend on her dedication to thorough work as well as her pleasant disposition that graces our department."
Annette Parks – Professor of History
Dr. Annette Parks earned her PhD In Medieval History from Emory University in Atlanta and came to the University of Evansville in 1995 as part of a Lilly Foundation grant intended to bring more minority faculty to Indiana colleges and universities. She was promoted to full professor in 2014.
Dr. Parks teaches courses in History including the early world history survey, the Middle Ages, Renaissance and Reformation as well as history courses focusing on women's and gender studies. She also coordinates the Gender and Women's Studies minor and teaches the required introductory course.
Additionally, Dr. Parks has also worked to encourage and prepare students to participate in activities such as research conference presentations, serves as co-advisor for the UE chapter of the Phi Alpha Theta national history honor society, and the revival of UE's annual production of the Vagina Monologues.
Her research work currently focuses on the role of women as hostages and captives in the Middle Ages and she has had the opportunity to present her research to both domestic and international audiences and has several publications to her credit.
In her spare time, she is an avid fan of Atlanta Braves baseball and helping to keep the shoe industry afloat.
Don Rodd – Professor of Exercise Science and Physical Therapy
Dr. Don Rodd hails from Philadelphia, which is the better part of Pennsylvania! He earned his Bachelor of Science in Medical Technology and Master of Science in Neurophysiology from Marquette University. His PhD in Physiology focused on Neural control of metabolism.
In 1995 he was hired by the Biology Department to teach the Anatomy & Physiology classes. His first office in the Department of Biology was in the Koch Center in a room where chemicals were stored. In 1997 he moved to the School of Health Sciences which was then the Department of Physical Education. He helped to create the Exercise Science major with tracks as it exists today. He has been an Exercise Science and Clinical Laboratory Science advisor and has taught almost all the classes required in the Exercise Science major. In addition, Dr. Rodd created the UE Human Performance Laboratory that is used for classes and testing individuals in the UE and Evansville communities.
Dr. Rodd has been active professionally incorporating students in research when possible. He has been involved in and chaired several UE committees including being chair of the Faculty Senate twice.
Dr. Rodd and his family live in Evansville and both of his children are current UE students.
Douglas Stamps – Professor of Mechanical Engineering
Dr. Douglas Stamps is a professor of mechanical engineering. He teaches courses in thermodynamics, fluid mechanics, combustion, an introductory engineering course, and the professional practice sequence for seniors. He takes his subject matter seriously but not himself. He is a graduate of the University of Evansville. He experienced firsthand what it means to have teachers focus on the students and tries to emulate the best of what he saw while he was a student here. In the ASME Williston Award writing contest, he is proud to have mentored five national winners. He received the University's Outstanding Teacher of the Year award, the United Methodist Church Exemplary Teacher award, and the American Society of Engineering Educators IL/IN Section Teacher of the Year award, and Global Scholar among other teaching awards.
He is the author of the wildly popular book Learn LabVIEW Fast: A Primer for Automatic Data Acquisition and recently completed the much-anticipated sequel Learn CHEMKIN Fast: A Primer for Chemical Equilibrium and Chemical Kinetics Calculations. He has written and prosecuted two patents while at UE, one of which was with students. He joined the Undergraduate Research Committee when he arrived and has chaired that committee over the past two decades. He has served on several university committees and has worked with the UE Options program.
Garnet Ungar – Professor of Music
Garnet Ungar is Professor of Music. He performs, teaches, and lectures for several universities and teachers' organizations every year. Recent career highlights are Public Radio broadcasts in the US, Canada, and Hong Kong, recitals and residencies at Xinghai Conservatory in China, Kwassui University in Japan, Indiana University, the University of Michigan, the University of British Columbia, Hong Kong Baptist University, Tanglewood, the American Liszt Society in New York City, and the Arts and Letters Club in Toronto. He has also performed throughout Europe and South America.
His 2017 biography of Abbey Simon has been quoted in the Washington Post, the CBS News National Website, and the Juilliard Journal, and his two CDs have received glowing reviews. He regularly adjudicates piano competitions throughout the US and has served as judge for the Hong Kong Music Festival three times. Dr. Ungar obtained degrees in piano performance from the Universities of Toronto, Calgary, and Houston.
James Ware – Professor of Religion
Dr. James Ware is a Professor in the Department of Philosophy and Religion. He teaches courses in the Bible, the Gospels, Paul's letters, and ancient Christianity, as well as courses in ancient Greek language and literature. He serves as co-director of the Classical Studies program and as advisor for the Pre-Ministry track. He also serves as faculty advisor for the Newman Club. Dr. Ware is a member of the Society of Biblical Literature, the Institute for Biblical Research, the Catholic Biblical Association, the Fellowship of Catholic Scholars, and the Society for Hindu-Christian Studies.
He holds a Master's in Greek and Latin Classical Literature from Washington University in St. Louis, and a Master's and Ph.D. in New Testament and Ancient Christianity from Yale University. His scholarly work focuses on illumining the Bible by studying it in its ancient context. He has published a number of book chapters, and articles in periodicals such as the Journal of Biblical Literature, New Testament Studies, and the Journal of Theological Studies. He is also the author of a number of books. He is co-editor and translator of Philodemus on Frank Criticism. He is also author of the Synopsis of the Pauline Letters in Greek and English and of Paul and the Mission of the Church. His most recent book is Paul's Theology in Context: Creation, Incarnation, Covenant, and Kingdom, recently received a 2020 Catholic Press Association Book Award and earned second place in the category of best new books in the area of Theological and Philosophical Studies.
University of Evansville Announces Berger Awards for 2020
The 2019-20 academic year was unique with the eventual shutdown of face-to-face classes at the University of Evansville due to the COVID-19 pandemic. With the onset of the pandemic, many people engaged in service and service-like activities to help others in the Evansville community. As a result of this emphasis, the Berger Award Committee decided to award only in the Service category. The committee believed this decision best represented the desires of the UE faculty. Dr. Daniel Byrne and Mr. Steven Mussett received the 2020 Sydney and Sadelle Berger Award for Service presented by Charlie Berger during UE's Fall Conference.
Dr. Daniel Byrne is a well-respected and outspoken faculty colleague at UE. Since his arrival at UE in 2005 Dr. Byrne has been active in service, and over the years his involvement in service to UE and the greater Evansville community has increased tremendously. Dr. Byrne's UE colleagues have recognized his dedication to service as indicated by some of the information provided with his nomination:
"… few people have worked harder in faculty governance over the past few years, and his tireless efforts to make life better for all of us should be rewarded. Whether folks agree or disagree with Dan, it's hard to argue that his contributions to Service have been outstanding."
"The word 'tireless' fits him more than just about anyone at this institution. He eats, breathes, sleeps this university and deeply cares about its future."
Dr. Byrne has been involved in some of the more prominent service opportunities at UE. For example, he has been a member of the Faculty Senate Executive committee and the chair of the Faculty Senate, and the chair of the very important Faculty Senate Fiscal Affairs Committee. While all committees are important, the Fiscal Affairs Committee touches on all aspects of UE operations.
Dr. Byrne's expertise has brought value to many search committees including for the dean of the College of Arts and Sciences, the senior vice president for academic affairs, and several positions for the Department of Athletics. He also has served as an advisor for student groups such the Students for Obama, Society for History Scholars, Amnesty International, and Phi Alpha Theta History Honor Society.
Dr. Byrne's service also contributes greatly to the University's student-athlete population and Department of Athletics. He has been a member of the Athletics Committee, serving as chair for five years. He served on search committees for director of media relations as well as the men's soccer head coach. As a faculty member, he is deeply dedicated to the success of all students and has worked closely with student-athletes as a faculty advisor for the Women's Volleyball team.
In addition to his efforts at UE, Dr. Byrne has been active in service to the Evansville community in his work with the Hesburgh Lecture Series, the Fiddick Lecture series, Jobs for Justice, and the History Committee of the Evansville Museum. He has participated as an expert commentator for local media on various national and international events as well as lending his expertise to a variety of student programs and events. As just one example of the latter, he was a featured participant this year in a campus-wide forum, Racism and Sexism Unpacked, in response to student concerns.
Mr. Steven Mussett received the Berger Award for Service for his long-term service contribution to the University of Evansville. Some of the nominating comments encapsulate the great respect and esteem that his colleagues hold for Mr. Mussett:
"Steve has served and loved the UE community for 33 years. Over the years, he has contributed to just about every academic and administrative committee that have been formed at UE. He is well-liked and respected by faculty and administration across campus and puts forth considerable effort to be involved in the campus community."
"I cannot think of a more deserving candidate who personifies dedication and commitment the university -- the type of person I think this award is designed to recognize."
"What strikes me most about Steve is his dedication to and his belief in UE. This is not only displayed in his unsurpassed connectedness to faculty and staff on campus, but in his support of all the activities that are the lifeblood of our institution. I can't think of better ambassador for the University of Evansville than Steve Mussett."
Mr. Mussett has also been involved with some of the more prominent committees at UE including the Senate Executive Committee and the Fiscal Affairs Committee.
He has served on search committees for the university librarian, senior vice president for academic affairs, director of choral activities, as well as other librarian positions. His efforts have been invaluable in developing the University's strategic plan, as well as for the libraries' strategic plan.
Outside of the University, Mr. Musset's expertise is seen at WNIN and the Evansville Museum of Art, History, and Science, where he volunteers cataloging recordings and collections. He is also a member and officer in various groups such as the NOTIS Cataloging/Authorities Special Interest Group, Academic Libraries of Indiana, and Voyager Great Lakes Users' Group.
2019-2020 Faculty Retirees Recognized
Congratulations to our 2019-2020 Faculty Retirees. Due to the campus shut down, they were not able to receive the recognition that they deserved at the end of the spring semester. Thank you for your years of loyal dedication to the University of Evansville and our students.
Randy Abbott, Research Assistance Librarian
Randy Abbott, Research Assistance Librarian, began his career at the University of Evansville in February 1988 and upon his retirement as of May 31, 2020, he will have completed 32 years of service. It is impossible to gauge the number of UE students Randy has helped over the years, but just doing a simple estimate (350 students each year for 32 years) it is probably more than 11,000! Indeed, if we were to add the number of library instruction sessions and classes taught by Randy, he will have guided and taught tens of thousands of more students over the years. He taught World Cultures courses for 21 years; he taught "Women Mystery Writers & the Rise of Feminism" for 10 years; and he taught "University Success" for 4 years. He has been deeply involved in university and library service throughout his career, and he has contributed hundreds of book reviews and scholarly writings to many different reference works and subject-specific encyclopedias. The scope and expanse of his career is an inspiring example of an exemplary career for an academic librarian.
Steven Mussett, Catalog Librarian
Steven Mussett, Catalog Librarian, began his career at the University of Evansville in July 1987, and upon his retirement as of May 31, 2020, he will have completed almost 33 years of service. Steve has always referred to himself as the "catalog librarian," and he has been that primary steward of our cataloged library resources for many years, but he has also accomplished so much more for the university and the library. Steve volunteered to steer the library into the technological age, so the library could "keep up" with other institutions. His selfless actions have allowed the library to stay current in new technology without adding the layers of new personnel required to stay on the cutting edge. By any measure, Steve's work has been very successful and valuable, which has enabled our library to remain modern, efficient, and focused on meeting the needs of students and faculty. He is also a treasured colleague across the university campus.
Dr. Mary Ellen Wylie, Professor of Music
Dr. Mary Ellen Wylie, Professor of Music, retired from U.E. after a remarkable career of leading the U.E. Music Therapy Program, which has enjoyed national recognition under her leadership. In 2000 she became Director of the music therapy program. She taught courses in music therapy, supervised music therapy practica, and coordinated each student's music therapy internship. Mary Ellen is an experienced music therapist having worked with children with severe developmental delays and multiple disorders; adults with mental health issues; older adults; people with a terminal illness; and patients with cancer. She has given presentations at national, regional, and state music therapy conferences, published articles in the Journal of Music Therapy and in Music Therapy Perspectives, and served on the editorial board of Music Therapy Perspectives.
Dr. Wylie is Past President of the American Music Therapy Association and served over twelve years on the Board of Directors and Executive Committee of the organization. She has also held elected positions in the Great Lakes Region of AMTA, including President of the Region. In March of 2010 she was awarded the Honorary Life Member award from the Great Lakes Region for distinguished contributions made over the years. She has also been the recipient of the American Music Therapy Association Service Award, the Dean of Arts and Sciences Excellence in Teaching Award, and the UE Alumni Association Outstanding Teacher of the Year award.
Sympathy to the family of Sharon Gieselmann
The University extends its sympathy to Dr. Sharon Gieselmann, Department Chair in the School of Education, in the death of her father, John H. Rothrock. John was proud to serve the US Navy in the Pacific Theatre during WWII. He graduated from Indiana University with Bachelor of Science and Masters Degree in Education after his military service. He was a school teacher for forty years in the South Spencer School Corporation where he taught business education, drivers education, and served as Department Chair. John was active in the Methodist church and taught Sunday School well into his nineties at Rockport First United Methodist. He enjoyed farming and was an avid IU basketball fan. Visitation will be held on Tuesday, August 18 from 4 to 8 pm and funeral Services will be held on Wednesday, August 19 at 10 am. All services will be at Boultinghouse Funeral Home in Rockport, IN.
Contribute to AceNotes
To have content considered for inclusion in AceNotes, please submit a Marketing Request Form. Deadline for submission to AceNotes is 10:00 a.m. on the requested date of publication. Only articles concerning UE related/sponsored activities will be accepted. Articles submitted to AceNotes may be edited for length and clarity. Submitter contact information is at the end of each article.