| | |
| --- | --- |
| AceNotes Today | Tuesday, August 18, 2020 |
Farmers' Market this Friday
There will be a Farmers' Market this Friday, 21 August, from 7:30-9 a.m. at the UE Garden site. We have spaghetti squash, butternut squash, peppers, eggplant, PEARS, as well as leafy produce Swiss chard, kale, and basil. The sunflowers continue to produce opulently.
#ForTheAces Virtual 5K Run/Walk
The University of Evansville athletic department is thrilled to announce the #ForTheAces Virtual 5K sponsored by ProRehab! Register for just $25 and receive an event t-shirt, commemorative sticker and fun, unique digital content. Registration is now open until September 4 and you can complete your 5K anytime between September 18-20. All proceeds for the event will go the UEvansville Fund to help offset the additional expenses that UE is experiencing with COVID-19. Please visit https://bit.ly/33rxpvJ for a list of FAQs. You can register for the event here: https://bit.ly/39WBxoW. All employees, students, alumni and friends are encouraged to participate! Contact Scott Peace at sp166@evansville.edu for more information.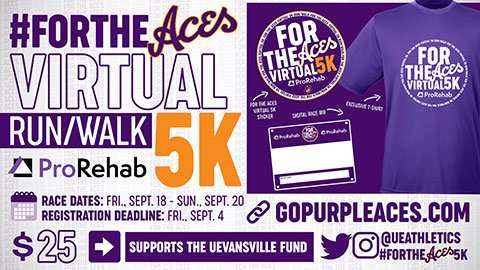 Harlaxton 50th Anniversary
Harlaxton is celebrating our 50th anniversary in the 2021-2022 year. To kick off this anniversary, we are hosting two weekend events at the Manor. One of these weekend events has already been so popular that it has sold out! But space remains for our weekend of June 25-28th, 2021. View details of the event and how to book. should you be interested in attending.
This information has been circulating in Harlaxton Society Circles, as well as a link to upload memories of your time at Harlaxton. We hope that as faculty you will consider both attending the event or uploading a photo and a memory. Upload photos and memories. These are being collected to be used for the 50th anniversary and also to be archived for the future.
We are all hopeful that the 50th anniversary will be a time for people to be able to come together and celebrate the amazing part that Harlaxton has played in the lives of our UE students and students from around the world.
Update from Office of Administrative Services & Risk Management
Like other areas on campus, the areas of Administrative Services & Risk Management are adjusting operations as campus opens. Effective Monday, August 17, Distribution Services will move to the following schedule:
Campus Mail, Packages and In-House Supply Orders
Distribution Services will deliver departmental mail, packages and in-house supply orders on Mondays, Wednesdays and Fridays.
Departmental mail, package and in-house supply order pickup will be available via a scheduled mail pickup appointment on Tuesdays and Thursdays.
Departments with summer scheduled mail pickup appointments will continue unless cancelled or (3) missed appointments.
Departments wanting to schedule a mail pick up appointment may contact MailPickup@evansville.edu
Student Packages
Student mail and packages are being accepted.
Students will be notified via email when packages arrive.
Students will be notified via email when packages arrive with instructions for pickup.
Contract Mailing
Departments may contact Anne Dale at ad58.
Laundry in Residence Halls
All laundry equipment has been serviced and inspected. In the event service is needed, students may submit a request at https://www.laundryview.com/selectProperty?property=3335892
They are here!
Good News! UE logo purple reusable masks have arrived and each UE student and employee will be receiving one.

Students
Students who arrived early can retrieve their mask from the check in location of their building. Students living in residence halls and villages will receive UE purple masks upon check-in beginning August 20th. Fraternity residents of Lambda Chi Alpha, Sigma Alpha Epsilon, and Sigma Phi Epsilon will receive their masks from their presidents beginning August 23.

Commuter students may pick up UE masks by presenting their student I.D. on Wednesday or Thursday, August 26 - 27, 10:00 a.m.- 4:00 p.m. from The Ridgway University Center information desk.

Employees
Employee masks are being prepared and will be distributed by area this week.

Welcome Back!!

Charlas: Informal Conversation in Spanish
Wanting to practice Spanish? This opportunity is for anyone at the intermediate or advanced Spanish language level. This Thursday will be last session of the summer. For more information, contact associate professor of Spanish Diana Rodríguez Quevedo at dr130@evansville.edu.
Academic Convocation Scheduled for August 25
Academic Convocation will be held on Tuesday, August 25, to welcome the entering class of 2020. New students will meet with their OL groups across the campus to view the ceremony together. The virtual viewing will premiere on YouTube at 9:00 a.m., with a special prologue to begin at 8:45 a.m.

A web page will be created to host the YouTube Premier video and include a digital PDF of the 2020 Academic Convocation program.
Take the Purple Pledge, Keep our Campus Safe
As we all look forward to returning to campus for Fall 2020, we do so in the understanding that the safety of all of us depends on the cooperation of all. The Purple Pledge is a student-initiated pledge entreating every member of the University of Evansville community to join together in observing the guidelines put forth to help control the spread of COVID-19.
Taking the pledge is voluntary, but I ask that you step forward with every student, faculty, staff, and administration member to sign.
Please take a moment to visit the Purple Pledge webpage and add your commitment in maintaining a safe environment on our campus.
W. Storm Poser
CEO, Student Government Association
Efroymson Family Fund Awards Grant to UE's Department of Art
The Efroymson Family Fund is continuing their support of UE's Department of Art with a grant of $9500 for the 2020-2021 year. This marks the ninth year for their sponsorship of programs at UE. This award funds the Efroymson Visiting Artist exhibits, workshops and lectures and also a student internship within the department for the year. A separate grant from the Efroymson Fund has provided new drafting tables and stools in art studios. Congratulations to Stephanie Frasier for her work securing these grants and creating the programs, and thank you to the Efroymson Family Fund!
Lora Becker Named President-Elect of The Honor Society of Phi Kappa Phi
Lora Becker, PhD, was recently elected to serve as president-elect for Phi Kappa Phi (PKP), a collegiate honor society that recognizes scholarship among all academic disciplines. Becker is a professor of psychology and director of the neuroscience program at UE.

In her role, Becker will serve on Phi Kappa Phi's 12-person board of directors. While her term lasts through 2022, her election is a six-year commitment including the successive terms as president and past-president. Voting for the title took place electronically at the beginning of the month, as the in-person convention was cancelled due to COVID-19.

Although meetings and activities will look different during the pandemic, Becker is looking forward to working with other PKP leaders and scholars. "Serving in this society has given me a deep understanding of how Phi Kappa Phi promotes academic excellence and provides service to others," said Becker. "Because of the diversity of fields represented within the organization, Phi Kappa Phi is well positioned to help find solutions to questions we face during these uncertain and challenging times in higher education."

Becker has been an active member of PKP not only within the University but also at the national level. After gaining membership in 2014, she became the president of the UE chapter just one year later. Becker has also served as chair of the biennial convention credentials committee (2016) and chair of the national bylaws committee (2016-18).

Under Becker's leadership, the local chapter at UE has provided several opportunities for students. One such opportunity includes the Phi Kappa Phi Fellowship, in which nominees across the nation are awarded scholarship at the post-graduate level. This year, graduate Émile Moura Coelho da Silva was selected as a fellow.

"Moving forward, we need to determine how we can encourage members to show their love of learning through service to others with a goal of engaging their communities and removing barriers to education," said Becker. She believes these initiatives will improve the narrative surrounding the value of education, support current discussions on social justice, and facilitate future conversations about higher education.

Phi Kappa Phi is the nation's oldest and most selective collegiate honor society, with chapters at over 300 colleges and universities in the United States and the Philippines. Inducting approximately 30,000 new members each year, membership is awarded to college juniors, seniors, and graduate students. More information about Phi Kappa Phi is available on their website at https://www.phikappaphi.org/.
Sympathy to the family of Sharon Gieselmann
The University extends its sympathy to Dr. Sharon Gieselmann, Department Chair in the School of Education, in the death of her father, John H. Rothrock. John was proud to serve the US Navy in the Pacific Theatre during WWII. He graduated from Indiana University with Bachelor of Science and Masters Degree in Education after his military service. He was a school teacher for forty years in the South Spencer School Corporation where he taught business education, drivers education, and served as Department Chair. John was active in the Methodist church and taught Sunday School well into his nineties at Rockport First United Methodist. He enjoyed farming and was an avid IU basketball fan. Visitation will be held on Tuesday, August 18 from 4 to 8 pm and funeral Services will be held on Wednesday, August 19 at 10 am. All services will be at Boultinghouse Funeral Home in Rockport, IN.
Contribute to AceNotes
To have content considered for inclusion in AceNotes, please submit a Marketing Request Form. Deadline for submission to AceNotes is 10:00 a.m. on the requested date of publication. Only articles concerning UE related/sponsored activities will be accepted. Articles submitted to AceNotes may be edited for length and clarity. Submitter contact information is at the end of each article.