| | |
| --- | --- |
| AceNotes Today | Wednesday, August 12, 2020 |
Homecoming/Family Weekend Canceled for 2020
In accordance with the Coronavirus Campus Reopening Guidelines, and careful consideration for the health and safety of our students, faculty, and staff, the Homecoming & Family Weekend has been canceled for 2020.
The Office of Alumni and Parent Relations is working with the Alumni Association Board and the Center for Student Engagement to offer some engaging virtual opportunities this fall. If your office or department would like to partner with us to reach alumni and families, we would welcome the collaboration.
Contact the alumni office for more details at alumni@evansville.edu or ext. 2586.
Harlaxton 50th Anniversary
Harlaxton is celebrating our 50th anniversary in the 2021-2022 year. To kick off this anniversary, we are hosting two weekend events at the Manor. One of these weekend events has already been so popular that it has sold out! But space remains for our weekend of June 25-28th, 2021. View details of the event and how to book. should you be interested in attending.
This information has been circulating in Harlaxton Society Circles, as well as a link to upload memories of your time at Harlaxton. We hope that as faculty you will consider both attending the event or uploading a photo and a memory. Upload photos and memories. These are being collected to be used for the 50th anniversary and also to be archived for the future.
We are all hopeful that the 50th anniversary will be a time for people to be able to come together and celebrate the amazing part that Harlaxton has played in the lives of our UE students and students from around the world.
Fall Conference 2020
The opening session of the University of Evansville Fall Conference is Tuesday, August 18 beginning at 1:00 p.m. The conference will be virtual in a Zoom Webinar format. Zoom meeting information will be sent to all UE employees by email from the Office of the President by Patti Lippert.
Fall Conference will continue Wednesday, August 19 with Concurrent Sessions. The Concurrent Sessions will also be in a Zoom virtual format. All UE employees are welcome to take part. This includes faculty, staff, and administrators. Access will be sent via email to employees the week before the conference.
Please address questions to Tracey Folden at 812-488-2509 or tf91@evansville.edu or Paula Heldt at 812-488-2479 or ph28@evansville.edu.
#ForTheAces Virtual 5K Run/Walk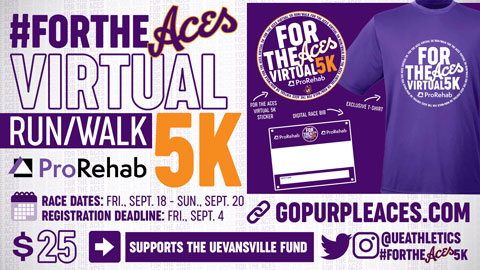 The University of Evansville athletic department is thrilled to announce the #ForTheAces Virtual 5K sponsored by ProRehab! Register for just $25 and receive an event t-shirt, commemorative sticker and fun, unique digital content. Registration is now open until September 4 and you can complete your 5K anytime between September 18-20. All proceeds for the event will go the UEvansville Fund to help offset the additional expenses that UE is experiencing with COVID-19. Please visit https://bit.ly/33rxpvJ for a list of FAQs. You can register for the event here: https://bit.ly/39WBxoW. All employees, students, alumni and friends are encouraged to participate! Contact Scott Peace at sp166@evansville.edu for more information.
"Race and..." - Conversations About Race in America
Social impacts from COVID-19, the deaths of Ahmaud Arbury, Breonna Taylor, and George Floyd, calls for reforms to policing and criminal justice, voter access for state primaries and the lead up to the presidential election, social movements, and more. These topics have a race dimension that will be a significant concern for many of our students and employees during the coming year.
Please join us for another live episode of "Race and...Conversations About Race in America." The discussion will take place on Zoom at 1PM on Wednesday, September 2, with Rob Shelby, PhD. In this webinar, Rob will welcome special guests Kyle Jones and Becca Patton of Student Christian Fellowship.
Click the Zoom link to join the discussion: https://zoom.us/j/93117127417?pwd=SzVncExmK1RMcmh6Um9UbzFlNm1Ldz09
If you missed previous conversations, the recordings are now available on the Center for Diversity, Equity & Inclusion's webpage.
Contact:
Rob Shelby
rs262@evansville.edu
812-488-2949
Center for Diversity, Equity, and Inclusion
Welcome to this Year's New Faculty
Please welcome this year's new faculty members to UE: Michele Ardigo (Nurse Anesthesia), Bev Brockman (SOBA Dean), Chris Brockman (Finance), Mitchell Critel (Theatre), Omid Khormali (Math), Kelly Pruden (Nursing), and Stacey Yen (Theatre)!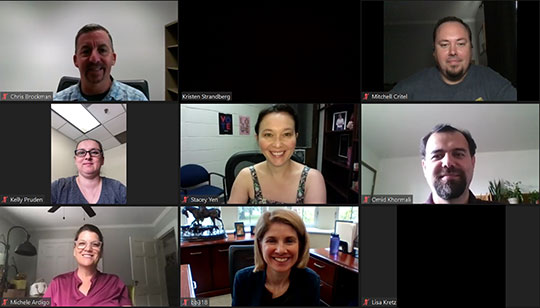 UE Welcomes Shelby Roscoe as Assistant to the VP for Enrollment and Marketing / Special Events Coordinator
The Office of Enrollment and Marketing welcomes Shelby Roscoe as Assistant to the VP for Enrollment and Marketing / Special Events Coordinator beginning on August 10.
Roscoe comes to UE from Signature School where she served as Academic Services Coordinator. She brings not only a wealth of expertise in college placement and academic programs in the high school arena but also substantial staff experience in higher education at Butler University where she served in the Offices of Advancement, Alumni and Parent Programs, Purchasing, and the College of Pharmacy and Health Sciences.
Shelby notes, "I'm happy to be joining the University of Evansville. I look forward to this opportunity and contributing to the UE mission."
Please join us in welcoming Shelby to the team!
Take the Purple Pledge, Keep our Campus Safe
As we all look forward to returning to campus for Fall 2020, we do so in the understanding that the safety of all of us depends on the cooperation of all. The Purple Pledge is a student-initiated pledge entreating every member of the University of Evansville community to join together in observing the guidelines put forth to help control the spread of COVID-19.
Taking the pledge is voluntary, but I ask that you step forward with every student, faculty, staff, and administration member to sign.
Please take a moment to visit the Purple Pledge webpage and add your commitment in maintaining a safe environment on our campus.
W. Storm Poser
CEO, Student Government Association
Efroymson Family Fund Awards Grant to UE's Department of Art
The Efroymson Family Fund is continuing their support of UE's Department of Art with a grant of $9500 for the 2020-2021 year. This marks the ninth year for their sponsorship of programs at UE. This award funds the Efroymson Visiting Artist exhibits, workshops and lectures and also a student internship within the department for the year. A separate grant from the Efroymson Fund has provided new drafting tables and stools in art studios. Congratulations to Stephanie Frasier for her work securing these grants and creating the programs, and thank you to the Efroymson Family Fund!
CiSM scholarships available for science and math majors!
Are you a science or math major? Are you interested in computers, data, or the intersection of both?
If so, we'd like to invite you to apply for NSF-funded scholarships of up to $1,500 to participate in the Computers in Science and Math (CiSM) Certificate Program this fall. For just a few more credits, you could complete an interdisciplinary certificate which future employers and professional programs will see attests to the fact that you "get it" - the way computers, data, science, and math are all intertwined and integral to modern (and future) society. You will have a few additional 'marketable' (or at least useful!) skills to boot!
To apply for the scholarship, email cism@evansville.edu with an unofficial transcript and a short essay (~250 word) describing your short-term (3-5 year) and long-term (8-10 year) goals, how you plan to accomplish them, and how your participation in the CiSM program relates to these goals. The application deadline is Monday, August 17. If you are awarded the scholarship, you should plan to enroll in ID121: Intro to Scientific Computing this fall; the class meets Tuesdays and Thursdays from 8:00 to 9:15 am.
Interested? Please check out the CiSM website: https://www.evansville.edu/majors/cism/, and email Dr. Joyce Stamm (js383@evansville.edu) with any questions.
UE Orchestras Seeking New Members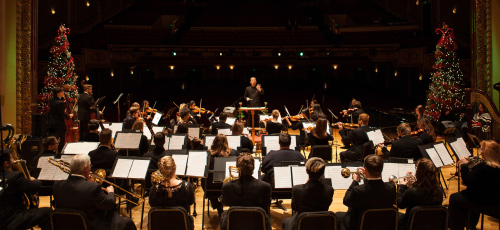 Students, staff, faculties, and administrators are invited to play in the University Symphony Orchestra and String Chamber Ensemble. The University Symphony Orchestra meets on Monday at 5:30 p.m. and Wednesday at 6:30 p.m. The String Chamber Ensemble meets on Thursday at 4 p.m. in the Krannert Hall of Fine Arts.
Please E-mail Chun-Ming Chen, director of orchestral activities at cc319@evansville.edu for more information.
Contact:
Chun-Ming Chen
cc319@evansville.edu
812-488-2881
Contribute to AceNotes
To have content considered for inclusion in AceNotes, please submit a Marketing Request Form. Deadline for submission to AceNotes is 10:00 a.m. on the requested date of publication. Only articles concerning UE related/sponsored activities will be accepted. Articles submitted to AceNotes may be edited for length and clarity. Submitter contact information is at the end of each article.