| | |
| --- | --- |
| AceNotes Today | Wednesday, August 5, 2020 |
Homecoming/Family Weekend Canceled for 2020
In accordance with the Coronavirus Campus Reopening Guidelines, and careful consideration for the health and safety of our students, faculty, and staff, the Homecoming & Family Weekend has been canceled for 2020.
The Office of Alumni and Parent Relations is working with the Alumni Association Board and the Center for Student Engagement to offer some engaging virtual opportunities this fall. If your office or department would like to partner with us to reach alumni and families, we would welcome the collaboration.
Contact the alumni office for more details at alumni@evansville.edu or ext. 2586.
Lot C Closed on Friday, August 7
On Friday, August 7, we will block off Lot C on the corner of Lincoln and Weinbach for the removal and disposal of hazardous chemicals from Koch Center. There is no estimate on how long this will take so the lot will most likely not be available most of the day. For any concerns or questions, please contact Amber Elkins at 812-488-2697.
Doug Cook
dc2@evansville.edu
Fall Conference 2020
The opening session of the University of Evansville Fall Conference is Tuesday, August 18 beginning at 1:00 p.m. The conference will be virtual in a Zoom Webinar format. Zoom meeting information will be sent to all UE employees by email from the Office of the President by Patti Lippert.
Fall Conference will continue Wednesday, August 19 with Concurrent Sessions. The Concurrent Sessions will also be in a Zoom virtual format. All UE employees are welcome to take part. This includes faculty, staff, and administrators. Access will be sent via email to employees the week before the conference.
Please address questions to Tracey Folden at 812-488-2509 or tf91@evansville.edu or Paula Heldt at 812-488-2479 or ph28@evansville.edu.
Farmers' Market this Friday
UE Gardeners will sponsor a Farmers' Market this Friday, August 7, 7:30-9:00 a.m. Recent deluges have kept kale, Swiss chard, and other plants growing, so our supply of produce is good. Honey from UE Garden beehives will be available; and ceramicists will be selling their work as well.
William Hemminger
bh35@evansville.edu
"Race and..." - Conversations About Race in America
Social impacts from COVID-19, the deaths of Ahmaud Arbury, Breonna Taylor, and George Floyd, calls for reforms to policing and criminal justice, voter access for state primaries and the lead up to the presidential election, social movements, and more. These topics have a race dimension that will be a significant concern for many of our students and employees during the coming year.
Please join us for another live episode of "Race and...Conversations About Race in America." The discussion will take place on Zoom at 1PM on Wednesday, September 2, with Rob Shelby, PhD. In this webinar, Rob will welcome special guests Kyle Jones and Becca Patton of Student Christian Fellowship.
Click the Zoom link to join the discussion: https://zoom.us/j/93117127417?pwd=SzVncExmK1RMcmh6Um9UbzFlNm1Ldz09
If you missed previous conversations, the recordings are now available on the Center for Diversity, Equity & Inclusion's webpage.
Contact:
Rob Shelby
rs262@evansville.edu
812-488-2949
Center for Diversity, Equity, and Inclusion
CiSM scholarships available for science and math majors!
Are you a science or math major? Are you interested in computers, data, or the intersection of both?
If so, we'd like to invite you to apply for NSF-funded scholarships of up to $1,500 to participate in the Computers in Science and Math (CiSM) Certificate Program this fall. For just a few more credits, you could complete an interdisciplinary certificate which future employers and professional programs will see attests to the fact that you "get it" - the way computers, data, science, and math are all intertwined and integral to modern (and future) society. You will have a few additional 'marketable' (or at least useful!) skills to boot!
To apply for the scholarship, email cism@evansville.edu with an unofficial transcript and a short essay (~250 word) describing your short-term (3-5 year) and long-term (8-10 year) goals, how you plan to accomplish them, and how your participation in the CiSM program relates to these goals. The application deadline is Monday, August 17. If you are awarded the scholarship, you should plan to enroll in ID121: Intro to Scientific Computing this fall; the class meets Tuesdays and Thursdays from 8:00 to 9:15 am.
Interested? Please check out the CiSM website: https://www.evansville.edu/majors/cism/, and email Dr. Joyce Stamm (js383@evansville.edu) with any questions.
Mentor M.E. summer program concludes
UE's mechanical engineering students had an opportunity to participate in Mentor M.E., a 10-week summer program for career exploration and professional development. Mechanical engineers from across the US were introduced as guest mentors each week, highlighting a wide variety of career paths and professional roles. Students participated in discussions with each mentor, discovering new career opportunities while gathering valuable advice and feedback.

"There are so many different things to think about career wise that this program showed me." -student feedback
Jessie Lofton
jb363@evansville.edu

Annual Fire Alarm System Testing
Beginning Thursday, July 30, Johnson Controls will be on campus conducting the annual fire alarm system testing. As each building is tested the alarm will go off intermittently between the hours of 7:30AM-5PM. Physical Plant and Security will know on a daily basis the buildings being tested. As the technicians move from building to building they will notify Security. Testing will be completed by Friday, August 7th. If you have any concerns, please contact the Facilities Dept. at ext. 2775.
Contact:
Stacey Beard
sb454@evansville.edu
Letterhead and Envelope Orders Due August 6
The 2020-21 letterhead and envelope orders are due August 6. If your department uses letterhead or envelopes during the fiscal year, this is the time to order. By placing one large order, we are able to get a substantial price break on boxes of envelopes and reams of letterhead. Smaller orders placed later in the year will unfortunately be more expensive.

REMINDER: Generic letterhead and envelopes are no longer available from the office supplies order form.
Check your email inbox for a message from the Office of Publications with ordering instructions. You may also email publications@evansville.edu or call ext. 2561 for more information.

Remember - orders are due August 6!

Contact:
Theresa Hoffherr
publications@evansville.edu

UE Orchestras Seeking New Members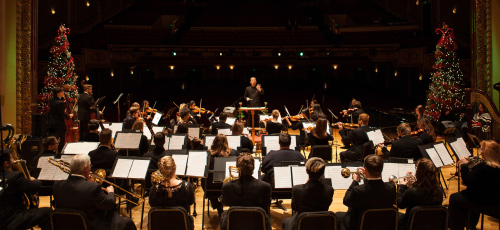 Students, staff, faculties, and administrators are invited to play in the University Symphony Orchestra and String Chamber Ensemble. The University Symphony Orchestra meets on Monday at 5:30 p.m. and Wednesday at 6:30 p.m. The String Chamber Ensemble meets on Thursday at 4 p.m. in the Krannert Hall of Fine Arts.
Please E-mail Chun-Ming Chen, director of orchestral activities at cc319@evansville.edu for more information.
Contact:
Chun-Ming Chen
cc319@evansville.edu
812-488-2881
UE Ranked Among the Best Colleges and Universities in Indiana for 2020
The University of Evansville was recently ranked among the Best Colleges and Universities in Indiana for 2020! The ranking comes from College Consensus, and you can see the complete list on their website.
To compile the list, College Consensus averaged the latest results from the most respected college ranking systems, along with thousands of real student review scores from the Internet. This creates a unique College Consensus rating for each school.
Contribute to AceNotes
To have content considered for inclusion in AceNotes, please submit a Marketing Request Form. Deadline for submission to AceNotes is 10:00 a.m. on the requested date of publication. Only articles concerning UE related/sponsored activities will be accepted. Articles submitted to AceNotes may be edited for length and clarity. Submitter contact information is at the end of each article.