The UE Gardeners will again offer a Farmers' Market from 7:30AM-9AM this Friday, July 17, at the garden site on 1600 John Street. Available produce will include onions, potatoes (red and white), basil (red and green), kale, sweet peppers, tomatoes, green beans, eggplant, summer squash, cucumbers, and (maybe, with luck) pears. There will also be fresh-picked sunflowers and zinnias. Please come, enjoy the garden space, and help this community-university project continue.
Check out the photos below to see what was picked from the UE Gardens last Friday! A similar harvest will be available this Friday.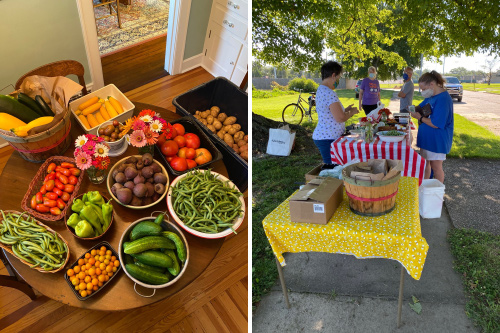 Interested in volunteering to help with the garden? Dr. Bill Hemminger will add you to a mailing list, and he regularly sends out notices of when he will be at the garden. You are welcome to come help, and volunteers are welcome to take produce relative to their efforts at the garden.
Contact:
Bill Hemminger
bh35@evansville.edu