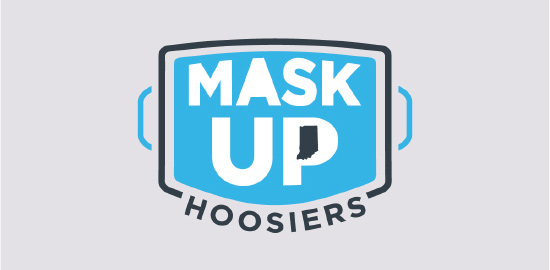 On July 1, Governor Holcomb announced a new campaign, #MaskUpHoosiers, for the State of Indiana. All Hoosiers are encouraged to mask up – and speak up about how wearing a face mask can protect others from contacting COVID-19.
Bust the Myths
Several myths are circulating about the importance (or lack thereof) for masks or face coverings. One common myth is that only people who have COVID-19 need to wear a mask. In reality, it is possible to spread the coronavirus before you show any symptoms. Recent studies show that many people with COVID-19 don't ever have any symptoms at all.
Another myth circulating is that you can only spread the coronavirus by coughing or sneezing. The truth is that COVID-19 can spread among people who are less than 6 feet apart by talking, singing, or shouting, in addition to coughing or sneezing.
Who Do You Wear Your Mask For?
Wearing a mask or face covering does so much more than protect you from contracting the coronavirus. It can protect those around you, including family, neighbors, or even strangers in public places. Who do you wear your mask for? Governor Holcomb is encouraging everyone to use the #MaskUpHoosiers hashtag to share an image of yourself on social media wearing your mask and answering the question.
Remember, we are #INthistogether!