| | |
| --- | --- |
| AceNotes Today | Thursday, April 23, 2020 |
ABLE Student Panel FlipGrid
In order to be able to honor Disability Awareness Month, which was March, ABLE (Aces Bettering Learning for Everyone) is hosting a student FlipGrid panel. The UE campus community is encouraged to watch as students from disability services speak about their struggles and what they've overcome. It's a unique opportunity that will not come around often. To watch, visit our FlipGrid at https://flipgrid.com/ueable where we will post videos each Friday!

For inquiries or information, email Josie Hayes at jh745@evansville.edu.
Josephine Hayes
jh745@evansville.edu
SAB (virtual) Open Mic Night Friday 4/24 7pm CST
Is quarantine helping get your creative juices flowing? Then join SAB's Open Mic Night on Friday, 4/24 at 7pm CST to showcase your talent! All singers, poets, comics, painters, drawers, artists, actors, generally talented Aces, family, and friends are welcome. Special guests Arbor Season will be our emcees for the event. Sign up at https://docs.google.com/forms/d/1f7DmjHgkHNXzvkkntf1CJpy4UzpZv92uNL8WsyyK4xE/edit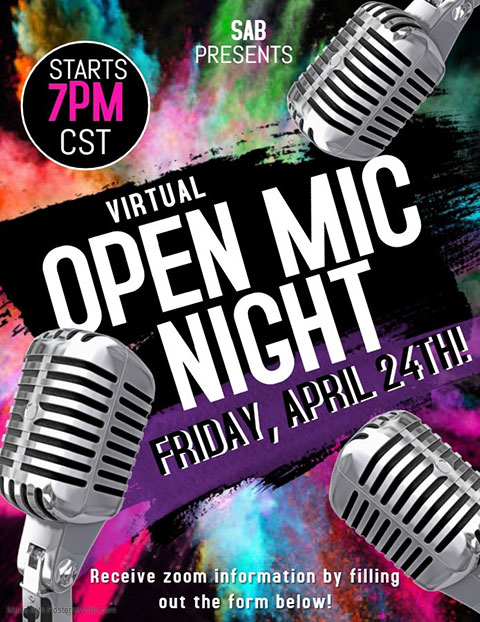 Megan King
mk225@evansville.edu
Andiron Lecture Series 2020-2021 (Call for Papers)
UE faculty and administrators as well as members of the Evansville community are invited to submit an abstract for papers on any aspect of their research or expertise for the 2020-2021 Andiron Lectures Series. All disciplines and fields of study are welcome to submit proposals.
Please send the following by email: A 50-word abstract with: Name, Academic Affiliation/Occupation, Paper title, and Contact Information.
to: Annette Parks at ap3@evansville.edu with a Cc to Cheryl Emmons at ce36@evansville.edu . Cheryl Emmons will forward these to the Andiron Lecture Committee for consideration.
Nominations for off-campus speakers can be sent by email to Annette Parks at ap3@evansville.edu with a Cc to Cheryl Emmons at ce36@evansville.edu; she will forward them to the Andiron Lecture committee for consideration.
Please note that if you have already agreed to present an Andiron Lecture for the 2020-21 series, Annette Parks at ap3@evansville.edu needs a title and a paragraph of biography for the series flyer with a Cc to Cheryl Emmons at ce36@evanville.edu when it is convenient for you to provide them.
Letterhead and Envelope Order
The 2020-21 letterhead and envelope orders are due May 4. If your department uses letterhead or envelopes during the fiscal year, this is the time to order. By placing one large order, we are able to get a substantial price break on boxes of envelopes and reams of letterhead. Smaller orders placed later in the year will unfortunately be more expensive.
REMINDER: Generic letterhead and envelopes are no longer available from the office supplies order form.
Check your email inbox for a message from the Office of Publications with ordering instructions. You may also email publications@evansville.edu or call ext. 2561 for more information.
Remember - orders are due May 4!
Final Installment of the UE Department of Music Online Concert Series
For our final installment of the UE Department of Music online concert series, we present the UE University Choir and Mixed Choir under the direction of Professor of Music, Dennis Malfatti in their performance of the monumental Theresa Mass by Joseph Haydn. Along with UE's choirs, this massive choral/orchestral masterpiece features soloists soprano Andrea Drury (head of vocal music for EVSC), soprano Alanna Keenan (Associate Professor of Music), tenor Benjamin Smith (Adjunct Instructor of Music), and baritone Eric McCluskey (Assistant Professor of Music) along with a chamber orchestra made of both UE students and faculty.
Written in honor of his patron's wife, Haydn's Theresa Mass is a multi-movement setting of the Catholic Latin mass featuring triumphant choruses, lyrical arias, and virtuosic symphonic writing. This piece along with Haydn's other choral-orchestral works from this period set the stage for the choral-orchestral works of Beethoven, Schubert, and Brahms among others.
https://soundcloud.com/dennis-malfatti/sets/ue-university-choir-and-mixed-choir-perform-haydns-theresa-mass
Academic Coaches - Tips And Advice
The Peer Academic Coaches are ready to help you get through this last part of the semester. Time management, creating to-do lists and task prioritization, study strategies and skills, and staying motivated are more important than ever. The Academic Coaches are ready to help you get back on track and finish strong!
Check out the drop-in coaching schedule here:
https://www.evansville.edu/advising/academic-success-lab.cfm
The Academic Coaches have also prepared a series of video messages giving advice and words of support and encouragement. Do you need a fresh injection of academic motivation and scholastic inspiration? Visit our FlipGrid at https://flipgrid.com/peercoaches - be sure to watch all of the videos!
You can do this, Aces!
2020-21 Margery Florence Kahn Scholarship Application now Available
It was the desire of the donor, Margery Florence Kahn, that her scholarship be awarded to "dedicated and conscientious students who exhibit a true passion for their chosen fields of study, and who, in the opinion of the members of the University of Evansville faculty, are likely to bring the same enthusiasm into the performance of their jobs or the practice of the professions which they will pursue following graduation."
All University of Evansville full-time undergraduate students who will be juniors or seniors in 2020-21 may apply. An essay of about 300 words must accompany the application, along with two to five faculty recommendation letters.
Download the Applications and Faculty Recommendation forms.
Completed applications and recommendation letters should be returned to the Office of Student Financial Services by May15th via email to Amanda Wood at aw505@evansville.edu.
Questions may be directed to the Office of Student Financial Services via email aw505@evansville.edu or by phone at (812) 488-2364.
Amanda Wood
aw505@evansville.edu
Refunds Currently Processed via Direct Deposit Only
Due to COVID-19, refunds will be processed via direct deposit only at this time. Students anticipating a refund (for housing, meal plans, or from excess financial aid), are encouraged to confirm or enter bank account information within WebAdvisor.
Once logged in to WebAdvisor, select Students. From the Students menu, go to Financial Information and select Bank Information. Enter your bank's routing number and your personal account (savings or checking) number.
Refunds will be direct deposited into the bank account that is entered.
Note: Due to offices working remotely at this time, students receiving refunds via paper check should be aware that the check writing process might be delayed up to 90 days.
Amy Sowders
as560@evansville.edu
AACSB International Recognizes Schroeder School of Business for Microlending Program
Today, AACSB International (AACSB)—the world's largest business education network—recognized the University of Evansville's Schroeder School of Business among 25 business schools as highlights of its Innovations That Inspire member challenge. An annual initiative, the challenge recognizes institutions from around the world that serve as champions of change in the business education landscape. This year's theme, "Catalysts for Innovation," emphasizes business education's efforts to elevate entrepreneurial thinking and new business creation.
The Schroeder School is recognized for its Access to Capital and Expertise for Emerging Entrepreneurs (ACE3) program, which is sponsored, funded, and co-managed by Old National Bank. Students in the program manage a $100,000 portfolio, which offers microloans to women and minority owned businesses. Students interface with clients, review business plans, and serve as underwriters for loans.
"The demand for innovation that engages experts across disciplines and addresses the needs of both local and global communities has never been more apparent than in these unprecedented times," said Thomas R. Robinson, president and CEO of AACSB. "We are honored to feature the Schroeder School for its valuable role in elevating entrepreneurship through research, teaching, and community engagement."
Now in its fifth year, the Innovations That Inspire challenge has highlighted more than 120 business school efforts that exemplify forward-looking approaches to education, research, community engagement or outreach, and leadership. To date, members of AACSB's Business Education Alliance have shared nearly 1,000 innovations, creating a robust repository in AACSB's DataDirect system to inform and inspire fellow members and the industry.
For an overview of all featured innovations, visit aacsb.edu/innovations-that-inspire.
UE Education Students Recognized by IACTE
Each year the Indiana Association of Colleges for Teacher Education (IACTE) recognizes outstanding future teachers from universities across the state. This year, recipients from the University of Evansville are Louis Kersh, special education major from Indianapolis, IN, Brett Weinzapfel, biology education major from Mt. Vernon, IN, and Megan Hawkins, elementary education major from Shoals, IN. These individuals were selected by the School of Education faculty for their accomplishments throughout their education programs and for their exceptional promise as future classroom teachers.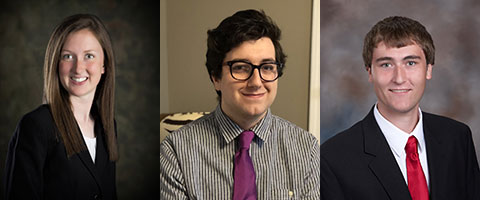 Megan Hawkins, Louis Kersh, Brett Weinzapfel
Sharon Gieselmann
sg78@evansville.edu
Contribute to AceNotes
To have content considered for inclusion in AceNotes, please submit a Marketing Request Form. Deadline for submission to AceNotes is 10:00 a.m. on the requested date of publication. Only articles concerning UE related/sponsored activities will be accepted. Articles submitted to AceNotes may be edited for length and clarity. Submitter contact information is at the end of each article.