| | |
| --- | --- |
| AceNotes Today | Tuesday, April 21, 2020 |
UE SAB Fan Fav Arbour Season Virtual Concert Tuesday 4/21 6pm CST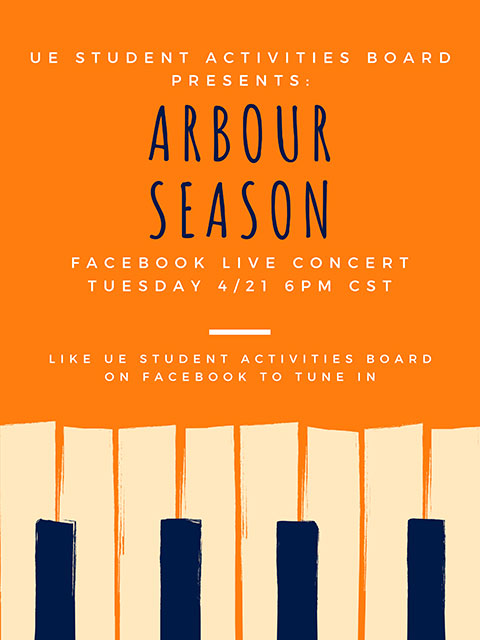 One of our all time favorite bands to come to UE, Arbour Season is BACK for a Facebook Live concert on Tuesday, April 21 at 6pm CST. Like the UE Student Activities Board page to join in on the good tunes, chill vibes, and lots of love.
Megan King
mk225@evansville.edu
Academic Coaches - Tips And Advice
The Peer Academic Coaches are ready to help you get through this last part of the semester. Time management, creating to-do lists and task prioritization, study strategies and skills, and staying motivated are more important than ever. The Academic Coaches are ready to help you get back on track and finish strong!
Check out the drop-in coaching schedule here:
https://www.evansville.edu/advising/academic-success-lab.cfm
The Academic Coaches have also prepared a series of video messages giving advice and words of support and encouragement. Do you need a fresh injection of academic motivation and scholastic inspiration? Visit our FlipGrid at https://flipgrid.com/peercoaches - be sure to watch all of the videos!
You can do this, Aces!
Solution Station Wednesday: How can we help?
We've all been through a big change this semester. Do you have questions, concerns, or needs that we can help with? How are you adjusting to online classes? Are you unsure about where to get assistance for a problem you're having, now that there's no way to walk into an office for help? Wondering if you should take a 'W'? Questions about being waitlisted in a course?

The Solution Station is online via ZOOM and we're ready to give you the help and information you need. If we don't know the answer, we'll find it!

Wednesday: 12:00 p.m. - 1:00 p.m. (Central Time)

Zoom ID: 856-620-3357
Zoom Link: https://zoom.us/j/8566203357

Inaugural Tri-State Truth, Meaning, and Value Essay Competition
The University of Evansville Department of Philosophy and Religion has launched the inaugural Tri-State Truth, Meaning, and Value Essay Competition in an effort to encourage regional high school students to think about the challenges facing humanity today and in the future.
The department plans to sponsor the essay competition annually, establishing a new concept each year for students to develop their essays around. This year, the department is asking students to answer the question, "What lessons should humanity learn from the 2020 coronavirus pandemic?"
Each essay will be judged by a panel of UE faculty members. Top three winners will be awarded a cash prize of up to $500, and two honorable mentions will also be awarded.
Essays should be around 1500 words in length, and they will be judged based on academic merit, creativity, and expression of practical wisdom. Proper use of grammar and form will also be considered.
More information about the competition as well as complete rules and a submission form can be found at www.evansville.edu/TMVessay.

Deposits for Student Financial Services
If you have a deposit for Student Financial Services, please call and schedule a drop-off appointment.
The Student Financial Services office is open each Monday and Thursday, between 10:00 a.m. - 1:00 p.m.
Keep funds secure. Please do not put checks or money underneath the door.

Becky Hamilton
bh9@evansville.edu
2020-21 Margery Florence Kahn Scholarship Application now Available
It was the desire of the donor, Margery Florence Kahn, that her scholarship be awarded to "dedicated and conscientious students who exhibit a true passion for their chosen fields of study, and who, in the opinion of the members of the University of Evansville faculty, are likely to bring the same enthusiasm into the performance of their jobs or the practice of the professions which they will pursue following graduation."
All University of Evansville full-time undergraduate students who will be juniors or seniors in 2020-21 may apply. An essay of about 300 words must accompany the application, along with two to five faculty recommendation letters.
Download the Applications and Faculty Recommendation forms.
Completed applications and recommendation letters should be returned to the Office of Student Financial Services by May15th via email to Amanda Wood at aw505@evansville.edu.
Questions may be directed to the Office of Student Financial Services via email aw505@evansville.edu or by phone at (812) 488-2364.
Amanda Wood
aw505@evansville.edu
AACSB International Recognizes Schroeder School of Business for Microlending Program
Today, AACSB International (AACSB)—the world's largest business education network—recognized the University of Evansville's Schroeder School of Business among 25 business schools as highlights of its Innovations That Inspire member challenge. An annual initiative, the challenge recognizes institutions from around the world that serve as champions of change in the business education landscape. This year's theme, "Catalysts for Innovation," emphasizes business education's efforts to elevate entrepreneurial thinking and new business creation.
The Schroeder School is recognized for its Access to Capital and Expertise for Emerging Entrepreneurs (ACE3) program, which is sponsored, funded, and co-managed by Old National Bank. Students in the program manage a $100,000 portfolio, which offers microloans to women and minority owned businesses. Students interface with clients, review business plans, and serve as underwriters for loans.
"The demand for innovation that engages experts across disciplines and addresses the needs of both local and global communities has never been more apparent than in these unprecedented times," said Thomas R. Robinson, president and CEO of AACSB. "We are honored to feature the Schroeder School for its valuable role in elevating entrepreneurship through research, teaching, and community engagement."
Now in its fifth year, the Innovations That Inspire challenge has highlighted more than 120 business school efforts that exemplify forward-looking approaches to education, research, community engagement or outreach, and leadership. To date, members of AACSB's Business Education Alliance have shared nearly 1,000 innovations, creating a robust repository in AACSB's DataDirect system to inform and inspire fellow members and the industry.
For an overview of all featured innovations, visit aacsb.edu/innovations-that-inspire.
Koth, Ladd, and Wagner Earn MVC Men's Golf Scholar-Athlete Honors
University of Evansville golfers Dallas Koth, Matthew Ladd and Spencer Wagner earned spots on the 2020 Missouri Valley Conference Men's Golf Scholar-Athlete First Team. The Purple Aces had three of the ten student-athletes named to the first team.
"I am so proud of those three for receiving the honor," UE head golf coach Jim Hamilton said. "Having three of the ten players on the First Team is something that is a first for our program. It is a credit to those guys and our entire team for their hard work in the classroom and on the course."
Matthew Ladd finished up his senior season with the Purple Aces and will leave with a career stroke average of 75.88, ninth in school history. His senior season saw him shoot the lowest round of the year (66) while recording a 73.18 average. Ladd is a Criminal Justice major with a 3.54 GPA.
The sophomore, Koth is a Sports Communications major with a 3.65 GPA, while junior Wagner is majoring in Management with a 3.50 GPA.
Koth, posted results in all seven events this year for the Purple Aces, earning a 73.13 stroke average in the fall with a season low 69 round at the EKU Raising Canes Invitational. Koth highlighted the spring with a second-place finish at the ASU Spring Kickoff at 5-under par 211, while posting a 72.2 stroke averaged in the two spring meets.
Wagner, also competed in all seven tournaments for the Purple Aces, posting an 73.87 stroke average in the fall, including a fall season low of 68 in the final round of the APSU Intercollegiate. Posted a 74.8 average in the two meets during the spring, including a seventh-place finish at 8-over par at the Benbow Invitational.
UE Education Students Recognized by IACTE
Each year the Indiana Association of Colleges for Teacher Education (IACTE) recognizes outstanding future teachers from universities across the state. This year, recipients from the University of Evansville are Louis Kersh, special education major from Indianapolis, IN, Brett Weinzapfel, biology education major from Mt. Vernon, IN, and Megan Hawkins, elementary education major from Shoals, IN. These individuals were selected by the School of Education faculty for their accomplishments throughout their education programs and for their exceptional promise as future classroom teachers.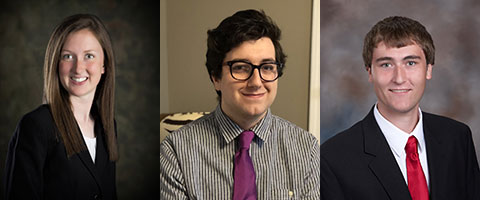 Megan Hawkins, Louis Kersh, Brett Weinzapfel
Sharon Gieselmann
sg78@evansville.edu
Contribute to AceNotes
To have content considered for inclusion in AceNotes, please submit a Marketing Request Form. Deadline for submission to AceNotes is 10:00 a.m. on the requested date of publication. Only articles concerning UE related/sponsored activities will be accepted. Articles submitted to AceNotes may be edited for length and clarity. Submitter contact information is at the end of each article.