| | |
| --- | --- |
| AceNotes Today | Monday, April 20, 2020 |
ABLE Student Panel FlipGrid
In order to be able to honor Disability Awareness Month, which was March, ABLE (Aces Bettering Learning for Everyone) is hosting a student FlipGrid panel. The UE campus community is encouraged to watch as students from disability services speak about their struggles and what they've overcome. It's a unique opportunity that will not come around often. To watch, visit our FlipGrid at https://flipgrid.com/ueable where we will post videos each Friday!

For inquiries or information, email Josie Hayes at jh745@evansville.edu.
Josephine Hayes
jh745@evansville.edu
UE SAB Fan Fav Arbour Season Virtual Concert Tuesday 4/21 6pm CST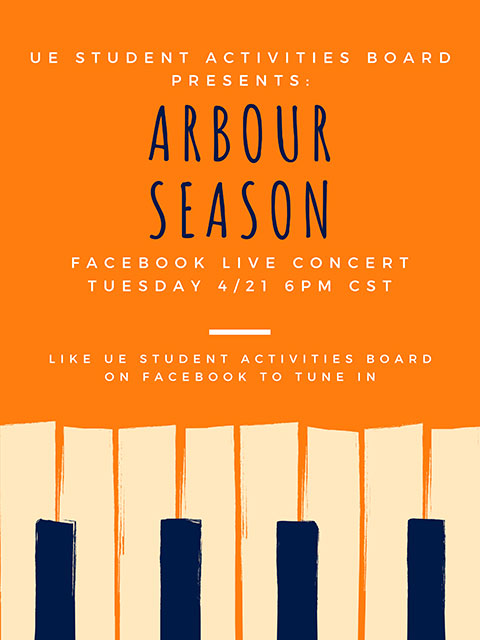 One of our all time favorite bands to come to UE, Arbour Season is BACK for a Facebook Live concert on Tuesday, April 21 at 6pm CST. Like the UE Student Activities Board page to join in on the good tunes, chill vibes, and lots of love.
Megan King
mk225@evansville.edu
Inaugural Tri-State Truth, Meaning, and Value Essay Competition
The University of Evansville Department of Philosophy and Religion has launched the inaugural Tri-State Truth, Meaning, and Value Essay Competition in an effort to encourage regional high school students to think about the challenges facing humanity today and in the future.
The department plans to sponsor the essay competition annually, establishing a new concept each year for students to develop their essays around. This year, the department is asking students to answer the question, "What lessons should humanity learn from the 2020 coronavirus pandemic?"
Each essay will be judged by a panel of UE faculty members. Top three winners will be awarded a cash prize of up to $500, and two honorable mentions will also be awarded.
Essays should be around 1500 words in length, and they will be judged based on academic merit, creativity, and expression of practical wisdom. Proper use of grammar and form will also be considered.
More information about the competition as well as complete rules and a submission form can be found at www.evansville.edu/TMVessay.

Barnes and Noble College Bookstore Updates
The University Bookstore, run by Barnes & Noble College, closed on March 24 due to the spread of COVID-19. The store will remain closed and continue to follow federal, state, and campus guidelines regarding a reopening date. BNC has expanded policies and programs to continue supporting students and ensuring there will be no interruption of service during this time.
Summer course material selection and delivery will also be uninterrupted.
Online shopping through the ecommerce site and mobile app remains open. They offer free shipping for all orders.
Extended the grace period for rental returns through the first week of Fall classes. Students unable to return rental books by May 7 will not be charged.
Returns can be shipped via UPS free of charge. For details and instructions, please visit the bookstore website.
Expansion of First Day™ inclusive access program to support a potential digital access model for Fall.
Barnes & Noble College is continually monitoring the situation in accordance with federal, state, and local guidelines and work closely with you on any individual campus needs for service and support.
If you have any questions, please don't hesitate to reach out to Becky Lamont, UE Bookstore manager, at SM8342@bncollege.com.

Deposits for Student Financial Services
If you have a deposit for Student Financial Services, please call and schedule a drop-off appointment.
The Student Financial Services office is open each Monday and Thursday, between 10:00 a.m. - 1:00 p.m.
Keep funds secure. Please do not put checks or money underneath the door.

Becky Hamilton
bh9@evansville.edu
Fall 2020 CHNG 310-06 Registration
Sunsteps is an ongoing changelab that will be continued next semester and potentially a semester after that. The aim of this class is to improve areas of the downtown Evansville riverfront particularly the steps. It includes planning, obtaining approval and executing parts of the improvements. Students in this class will continue the work of envisioning, designing, and implementing a vision to help make the Evansville riverfront steps meaningful, sustainable, comfortable, and inspiring. If you are interested in registering and have any questions, please feel free to contact me at ao90@evansville.edu.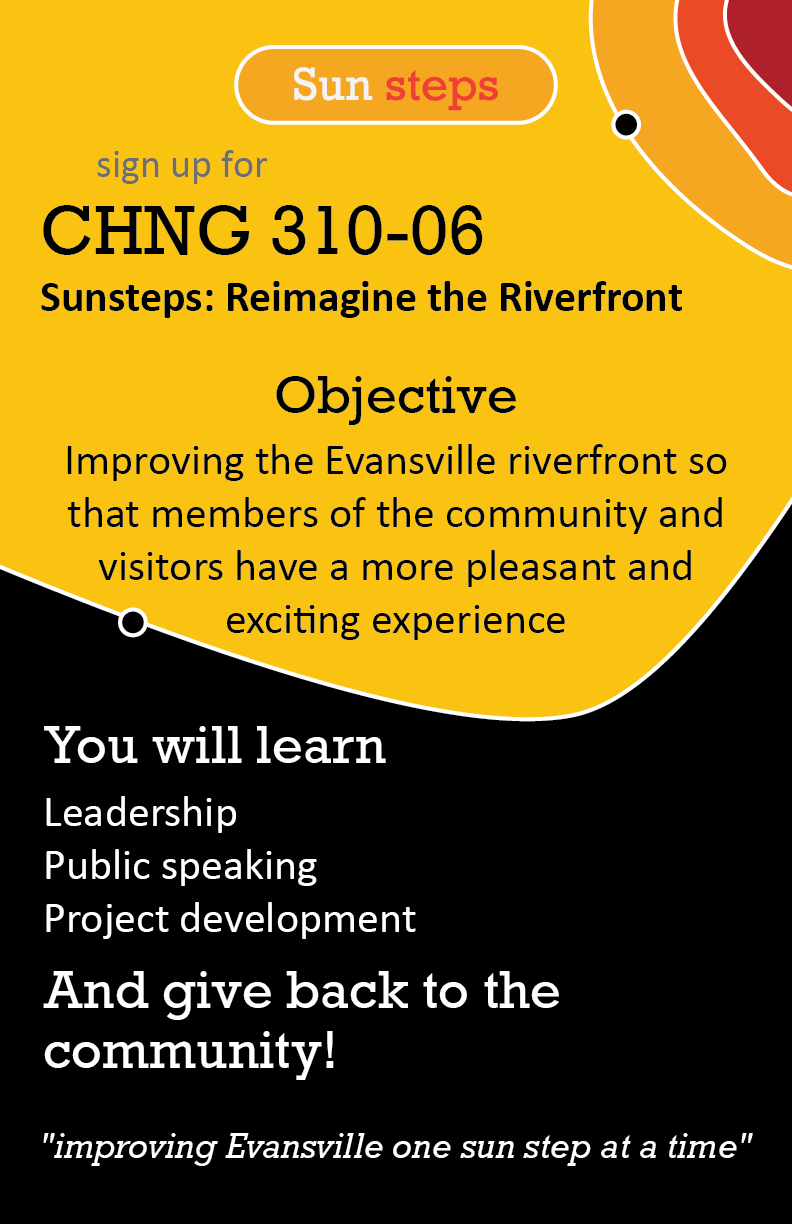 Anazuo Ohieku-Ajanaku
ao90@evansville.edu
Refunds Currently Processed via Direct Deposit Only
Due to COVID-19, refunds will be processed via direct deposit only at this time. Students anticipating a refund (for housing, meal plans, or from excess financial aid), are encouraged to confirm or enter bank account information within WebAdvisor.
Once logged in to WebAdvisor, select Students. From the Students menu, go to Financial Information and select Bank Information. Enter your bank's routing number and your personal account (savings or checking) number.
Refunds will be direct deposited into the bank account that is entered.
Note: Due to offices working remotely at this time, students receiving refunds via paper check should be aware that the check writing process might be delayed up to 90 days.
Amy Sowders
as560@evansville.edu
Reeves Foundation Scholarship
The Reeves Foundation was established in 1966 under terms of the Last Will and Testament of Mrs. Isabel B. Reeves, wife of Judge Ollie C. Reeves, who both resided for many years in Vanderburgh County and firmly believed in the attainment of higher education. Through their frugal efforts and generosity, this scholarship fund has been established to perpetuate their belief.
Applicants must be residents of Vanderburgh County in Indiana and applications are being accepted until May 1, 2020.
Download the Reeves Foundation Scholarship application.
Application and essay requirement can be submitted via mail to:
The University of Evansville
Office of Student Financial Services
1800 Lincoln Avenue
Evansville, IN 47722


Koth, Ladd, and Wagner Earn MVC Men's Golf Scholar-Athlete Honors
University of Evansville golfers Dallas Koth, Matthew Ladd and Spencer Wagner earned spots on the 2020 Missouri Valley Conference Men's Golf Scholar-Athlete First Team. The Purple Aces had three of the ten student-athletes named to the first team.
"I am so proud of those three for receiving the honor," UE head golf coach Jim Hamilton said. "Having three of the ten players on the First Team is something that is a first for our program. It is a credit to those guys and our entire team for their hard work in the classroom and on the course."
Matthew Ladd finished up his senior season with the Purple Aces and will leave with a career stroke average of 75.88, ninth in school history. His senior season saw him shoot the lowest round of the year (66) while recording a 73.18 average. Ladd is a Criminal Justice major with a 3.54 GPA.
The sophomore, Koth is a Sports Communications major with a 3.65 GPA, while junior Wagner is majoring in Management with a 3.50 GPA.
Koth, posted results in all seven events this year for the Purple Aces, earning a 73.13 stroke average in the fall with a season low 69 round at the EKU Raising Canes Invitational. Koth highlighted the spring with a second-place finish at the ASU Spring Kickoff at 5-under par 211, while posting a 72.2 stroke averaged in the two spring meets.
Wagner, also competed in all seven tournaments for the Purple Aces, posting an 73.87 stroke average in the fall, including a fall season low of 68 in the final round of the APSU Intercollegiate. Posted a 74.8 average in the two meets during the spring, including a seventh-place finish at 8-over par at the Benbow Invitational.
Nicholas Harmon publishes in IEEE journal
Dr. Harmon's article "Modeling of Near Zero-Field Magnetoresistance and Electrically Detected Magnetic Resonance in Irradiated Si/SiO2 MOSFETs" appeared in the recent edition of the IEEE Transactions on Nuclear Science. This research, in collaboration with the University of Iowa and Pennsylvania State University, introduces a model of a new magnetoresistance phenomena that arises due to electrons in semiconductors recombining through defects. The magnetoresistance originates from the spin-dependence (essentially the Pauli exclusion principle) of recombination (and is a variation of the Shockley Read Hall mechanism). This article has applications for electronic devices aboard spacecraft as the defects examined are produced by radiation similar to which is seen in space.

The abstract can be found at https://ieeexplore.ieee.org/abstract/document/9039723.
Nicholas Harmon
nh140@evansville.edu

Contribute to AceNotes
To have content considered for inclusion in AceNotes, please submit a Marketing Request Form. Deadline for submission to AceNotes is 10:00 a.m. on the requested date of publication. Only articles concerning UE related/sponsored activities will be accepted. Articles submitted to AceNotes may be edited for length and clarity. Submitter contact information is at the end of each article.