| | |
| --- | --- |
| AceNotes Today | Friday, April 17, 2020 |
UE Spirit Week Online Scavenger Hunt – The Final Clue! Pep and Vim is Here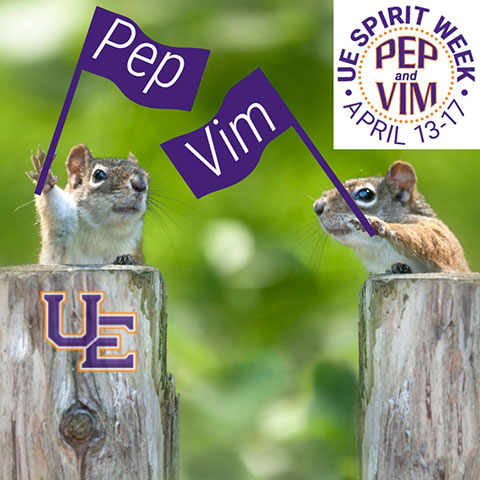 UE Spirit Week Fact: Did You Know… John Collins Moore was UE's original Changemaker, as he led the charge to charter the Moores Hill Male and Female Collegiate Institute in 1854? Today, alumni and friends of UE support Changemaking projects including Aces Haven and the Student Emergency Fund. To date, over $35,000 has been raised, helping 27 students through the Student Emergency Fund.
UE Spirit Week Online Scavenger Hunt
Happy Purple Friday! Pep and Vim is here! Show your love for UE by posting your purple Friday picture on social media. Be sure to make your post public, tag the UE Alumni Office @UEAlumni, and use the hashtags #UEPepandVim and #fortheAces.
Thank you for playing along all week with the UE Spirit Week Online Scavenger Hunt. Keep following us on Facebook, Twitter, and Instagram all day to learn more about philanthropy and all things Pep and Vim!
Follow the clue below to find today's UE Spirit Week fact located somewhere on the University of Evansville's website. Once you find the daily fact, you'll see a link to enter the UE Spirit Week drawing for a chance to win prizes!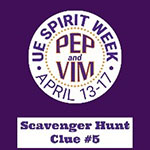 Clue #5:
"Find our last philanthropy fact with our 32,000+ Alumni, where you can learn
how to stay engaged and become a lifelong volunteer with UE.
How will you inspire change with UE?!"
Flood Social Media With Love for UE!
We encourage you to participate in UE Spirit Week and Pep and Vim by showing your love for UE. Fill up your friends' news feeds with purple! Share one of these messages on your social media:
"Why You Heart UE"
"How You've Been Impacted by Philanthropy at UE"
"Why You Give Back to UE"
When sharing, be sure to make your post public, tag the UE Alumni Association @UEAlumni, and use the hashtags #UEPepandVim and #FortheAces.
SAB Zoom-A-Palooza!
Zoom-A-Palooza is tonight at 6:00 p.m. Join in for all the fun, live music, caricatures, and lots of prizes! Register through UEngage to receive the invitation to the Zoom link.
Comments or questions? Please contact the Office of Alumni and Parent Relations at 812-488-2586 or alumni@evansville.edu.
Happy Purple Friday!
Just in case you were wondering, today is Friday! I hope you are wearing your purple today.
ABLE Student Panel FlipGrid
In order to be able to honor Disability Awareness Month, which was March, ABLE (Aces Bettering Learning for Everyone) is hosting a student FlipGrid panel. The UE campus community is encouraged to watch as students from disability services speak about their struggles and what they've overcome. It's a unique opportunity that will not come around often. To watch, visit our FlipGrid at https://flipgrid.com/ueable where we will post videos each Friday!

For inquiries or information, email Josie Hayes at jh745@evansville.edu.
Josephine Hayes
jh745@evansville.edu
UE SAB Fan Fav Arbour Season Virtual Concert Tuesday 4/21 6pm CST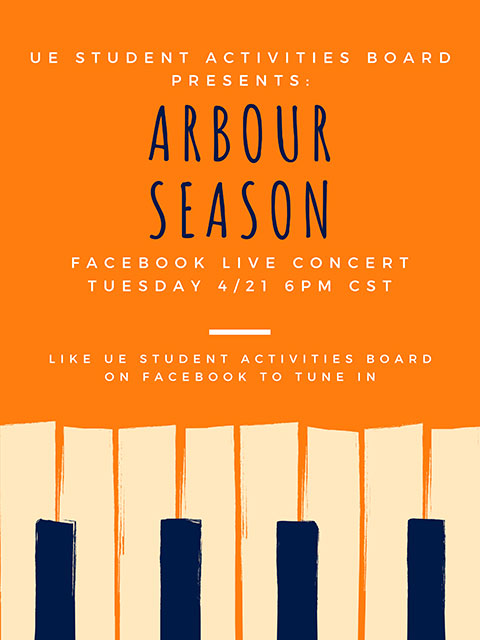 One of our all time favorite bands to come to UE, Arbour Season is BACK for a Facebook Live concert on Tuesday, April 21 at 6pm CST. Like the UE Student Activities Board page to join in on the good tunes, chill vibes, and lots of love.
Megan King
mk225@evansville.edu
Zoom-A-Palooza: a quarantined PurplePalooza This Friday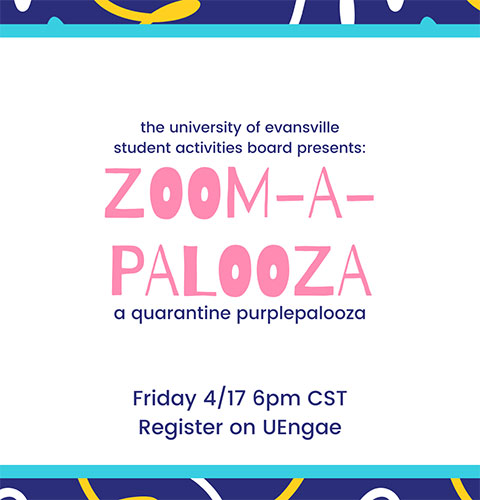 Due to the uncertainty of COVID-19, we unfortunately are unable to have our highly anticipated PurplePalooza. However, in light of making lemonade out of lemons, we are so excited to roll out the first (and hopefully last) ZOOM-A-PALOOZA! Register on UEngage at https://uengage.evansville.edu/submitter/form/start/401174 to receive a link Friday for the ZOOM PARTY OF THE CENTURY!

Join us for live music, lots of prizes, digital caricatures, and and more! You will NOT want to miss this! Prizes include a Nintendo Switch, Amazon FireStick TV, Apple Airpods and MUCH more! Seniors are eligible to be selected to receive a FREE hotel room for graduation weekend in September! (must be present to win)

Follow @uesab on Instagram and like us on Facebook at UE Student Activities Board for all the updates.

Go Aces! We will see you there.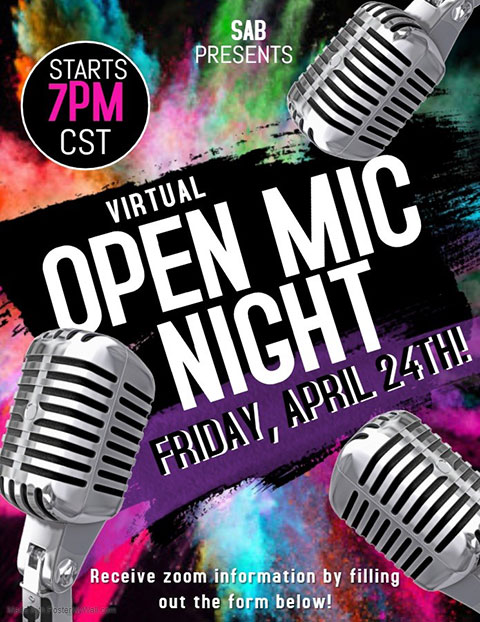 Megan King
mk225@evansville.edu
Barnes and Noble College Bookstore Updates
The University Bookstore, run by Barnes & Noble College, closed on March 24 due to the spread of COVID-19. The store will remain closed and continue to follow federal, state, and campus guidelines regarding a reopening date. BNC has expanded policies and programs to continue supporting students and ensuring there will be no interruption of service during this time.
Summer course material selection and delivery will also be uninterrupted.
Online shopping through the ecommerce site and mobile app remains open. They offer free shipping for all orders.
Extended the grace period for rental returns through the first week of Fall classes. Students unable to return rental books by May 7 will not be charged.
Returns can be shipped via UPS free of charge. For details and instructions, please visit the bookstore website.
Expansion of First Day™ inclusive access program to support a potential digital access model for Fall.
Barnes & Noble College is continually monitoring the situation in accordance with federal, state, and local guidelines and work closely with you on any individual campus needs for service and support.
If you have any questions, please don't hesitate to reach out to Becky Lamont, UE Bookstore manager, at SM8342@bncollege.com.

Third in Month Long Concert Series
This week in their Online Concert Series, the Department of Music presents the UE Wind Ensemble under the direction of Dr. Kenneth Steinsultz. Selections are from their recent CD and features, among other works, pieces written specifically for UE including Hymn to Evansville, the Sesquicentennial Anthem, and Hail to Evansville. Professor of Horn, Emily Britton is also featured in a concerto for French Horn and Wind Ensemble.
Deposits for Student Financial Services
If you have a deposit for Student Financial Services, please call and schedule a drop-off appointment.
The Student Financial Services office is open each Monday and Thursday, between 10:00 a.m. - 1:00 p.m.
Keep funds secure. Please do not put checks or money underneath the door.

Becky Hamilton
bh9@evansville.edu
ABLE Student Discussion FlipGrid
ABLE (Aces Bettering Learning for Everyone) is hosting a student discussion FlipGrid. The students and faculty are all encouraged to watch as students from disability services speak about their struggles and what they've overcome. It's a unique opportunity that will not come around often. To watch, visit our FlipGrid at https://flipgrid.com/ueable where we will be posting a new video each Friday!
For inquiries, please contact Josephine Hayes at jh745@evansville.edu.
2020-21 Dr. Marvin E. Hartig Memorial Scholarship
Family, friends and loved ones of the late Dr. Marvin E. Hartig are pleased to announce the application process for the Dr. Marvin E. Hartig Memorial Scholarship. This scholarship is dedicated to the loving memory of Dr. Hartig, Dean of Evansville College's Evening College in 1967, and administrator for the Center for Advanced Study, director of the Evansville chapter of the American Institute of Banking (AIB), and the international student advisor. In 1974, Dr. Hartig was appointed Dean of Academic Services. He retired in 1984 after serving his alma mater for thirty-five years and passed away in 2007.
This scholarship will be awarded annually to a deserving sophomore student. Preference will be given to a student working while being enrolled as a full-time student. International students are encouraged to apply.
Download the Dr. Marvin E. Hartig Memorial Scholarship application.
Deadline: Please return all materials to the Office of Student Financial Services by May 1, 2020. Application and essay can be submitted via email to:
Amanda Wood, administrative assistant to the Office of Student Financial Services, at aw505@evansville.edu.
The decision will be announced on Monday, June 29, 2020.
Questions: Amanda Wood, administrative assistant to the Office of Student Financial Services, at aw505@evansville.edu or 812-488-2364.

University of Evansville Libraries Wins Arch Madness 2020
The University of Evansville Libraries silk tapestry has won Arch Madness 2020, an artifact competition hosted by the David L. Rice Library at the University of Southern Indiana.
The silk tapestry, a part of our archival collection, defeated USI's University Archives and Special Collections "Marijuana and the Bible" booklet by a vote of 231 to 156, in the championship round. The silk tapestry automatically receives a bid to next year's Arch Madness competition in an attempt to defend our title.
About the silk tapestry:
The origins of this tapestry trace back to the missionary trips of the City United Methodist Church in Gary, Indiana. The image on the tapestry is known as Azure Dragon, which is one of the mythical creatures in Asian cultures. This particular item is believed to be a flag from the Chinese Qing dynasty, 1890-1912.
Other participants in the competition included:
USI's University Archives and Special Collections
Evansville Museum of Arts, History and Science
John James Audubon Museum
John M. Lawrence '73 Library
Newburgh Museum
USI's Archaeology Lab
New Harmony's Work Men's Institute
More information about the competition can be found at amusingartifacts.org.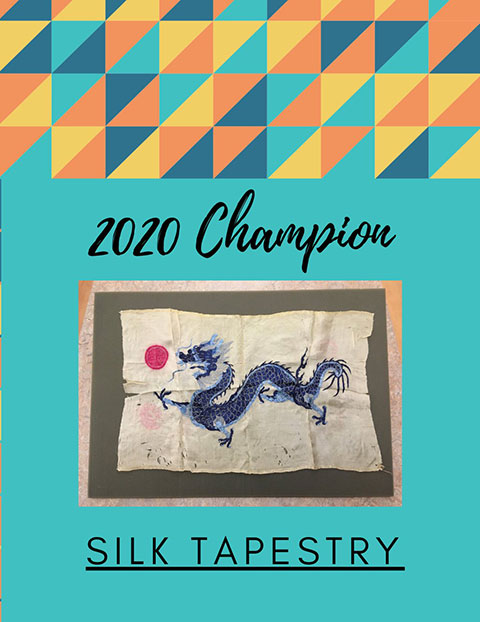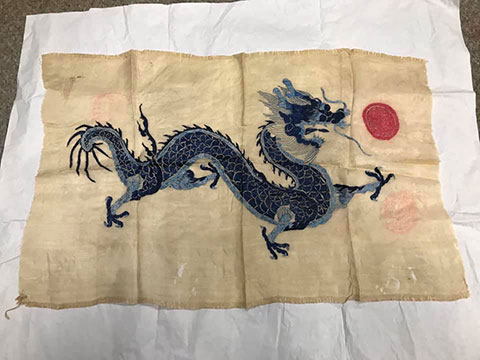 Kyle Stearns
ks583@evansville.edu
Richard Maass Publishes Book
UE associate professor of political science Richard Maass, PhD, has written a book titled The Picky Eagle that is being published by Cornell University Press.
In The Picky Eagle, Maass explains why the United States expanded westward to the Pacific but not north into Canada, south into Mexico, or overseas more than it did, focusing on the roles of democracy and xenophobia in limiting U.S. leaders' ambitions. It contains 23 historical case studies of U.S. foreign policy decision-making between 1775 and 1898.
Maass joined the UE Department of Law, Politics, and Society in 2014 after earning his PhD at Notre Dame and teaching as a visiting professor at Cornell. He studies international relations and political theory and is one of the University of Evansville's 2016-17 Global Scholars. He has published research on annexation, US foreign policy, terrorism, and Cicero's political thought. The Picky Eagle is Maass's first book.
The book will be released on May 15 and can be preordered online from all major booksellers. Use code 09FLYER to save 30% when ordering directly from Cornell University Press or by calling 800-848-6224.
More information about The Picky Eagle can be found on the Cornell University Press website.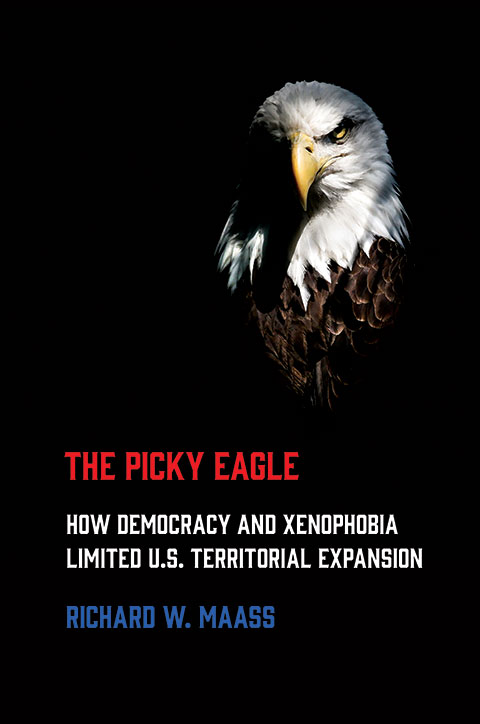 Nicholas Harmon publishes in IEEE journal
Dr. Harmon's article "Modeling of Near Zero-Field Magnetoresistance and Electrically Detected Magnetic Resonance in Irradiated Si/SiO2 MOSFETs" appeared in the recent edition of the IEEE Transactions on Nuclear Science. This research, in collaboration with the University of Iowa and Pennsylvania State University, introduces a model of a new magnetoresistance phenomena that arises due to electrons in semiconductors recombining through defects. The magnetoresistance originates from the spin-dependence (essentially the Pauli exclusion principle) of recombination (and is a variation of the Shockley Read Hall mechanism). This article has applications for electronic devices aboard spacecraft as the defects examined are produced by radiation similar to which is seen in space.

The abstract can be found at https://ieeexplore.ieee.org/abstract/document/9039723.
Nicholas Harmon
nh140@evansville.edu

UE Men's Basketball Adds Three to 2020 Squad
University of Evansville head men's basketball coach Todd Lickliter has announced the addition of three student-athletes who will begin their Purple Aces careers in the fall of 2020.
Included in Lickliter's first signing class at the helm of the UE program are: freshman Trey Hall along with transfers Jax Levitch and Emmette Page.
"I am excited to officially welcome our three newest Aces – Emmette, Jax and Trey – to the University of Evansville community," Lickliter exclaimed. "They each possess excellent skill, offensive and defensive versatility and a much-appreciated team-first attitude. Our future goals are very ambitious and I know the addition of Emmette, Jax and Trey will be a tremendous asset as we strive to reach those goals."
Trey Hall
A 6-foot-7 power forward out of Willimantic, Connecticut, Trey Hall will join the Aces squad as a freshman. Most recently, Hall played at Link Year Prep in Branson, Missouri where he finished with 14 points and 7 rebounds per games.
Before heading to Missouri, Hall played at New Hampton Prep in New Hampshire. He recorded an average of 15 points and 10 caroms on his way to All-Conference accolades as a freshman and sophomore. Hall garnered All-State honors in his second season while guiding the team to a 40-3 record in those two seasons. He also played for the Expressions of the EYBL (Elite Youth Basketball League) where he averaged 10 points and 7 boards.
Jax Levitch
Louisville native Jax Levitch joins the UE squad as a graduate transfer. Most recently, he played at UNC Asheville where he was named a 2019-20 Big South All-Academic performer. The top effort for the 6-7 forward was an 11-point, 9-rebound game against The Citadel in November.
Levitch began his college career at Purdue Fort Wayne where started all 33 games as a sophomore in 2017-18. He averaged 5.5 points and 4.1 rebounds that season while setting his season mark with 14 points in a win over Liberty. In his freshman campaign with the Mastodons, Levitch played in 25 games. Prior to his college career, he played at Trinity High School in Louisville before spending a postgraduate year at the Elev8 Sports Institute.
Emmette Page
Emmette Page joins the Evansville program from Northeast Community College in Nebraska. As a sophomore during the 2019-20 season, Page led the Hawks with 21.9 points per game. An accurate shooter – Page finished the year shooting 45.0% from the field and 84.6% from the free throw line. In seven conference games, he kept up that efficiency, posting 19.7 points. He left the school with the most points in program history with 1,098 while setting the single season mark with 658. Page was a 2-time Second Team All-Region XI honoree.
The 6-2 guard from Crystal, Minnesota average 15.7 PPG in his freshman season at Northeast while averaging our assist. In his time at Osseo High School, he helped his team to records of 21-8 and 25-7 on his way to Offensive Player of the Year accolades. Page set the single game scoring record at Osseo with 43.
Contribute to AceNotes
To have content considered for inclusion in AceNotes, please submit a Marketing Request Form. Deadline for submission to AceNotes is 10:00 a.m. on the requested date of publication. Only articles concerning UE related/sponsored activities will be accepted. Articles submitted to AceNotes may be edited for length and clarity. Submitter contact information is at the end of each article.